From Ian:
---
Adam Milstein:
Pro-Palestinian student group promotes anti-Semitism at US college conference
America has all too readily ignored genocidal anti-Semitism before. We must recognize that the modern campaign has roots in hatred that runs just as deep and bloody as the ideology that fueled support for Nazi Germany.

Before the massacre of 6 million Jews in the Holocaust, American universities welcomed leaders from Nazi Germany – even though their horrifying racist ideology was well-known – while setting quotas to severely limit the enrollment of Jewish students.

In the wake of the Holocaust, anti-Semitism was no longer acceptable on American college campuses. The hatred of the Jewish people was suppressed and marginalized for about 70 years.

However, as the memory of the Holocaust fades and slogans such as "Never Again" and "Never Forget" are becoming old clichés, Jew-hatred is coming back on campus in frightening ways.

Today universities are once again lending their platforms and legitimacy to mainstream the new anti-Semitism. The lessons of the past are seemingly forgotten, as elite institutions like Columbia University invite notoriously anti-Semitic world leaders such as Iran's former president Mahmoud Ahmadinejad and Malaysian Prime Minister Mahathir Mohamad to address their students, opening their safe spaces to intolerance, prejudice and hate.

The BDS movement and Students for Justice in Palestine are fundamentally anti-American as well as anti-Israel and anti-Semitic, because they reject our most cherished values.

SJP should be ostracized on college campus and students should be taught the facts about it and the BDS movement.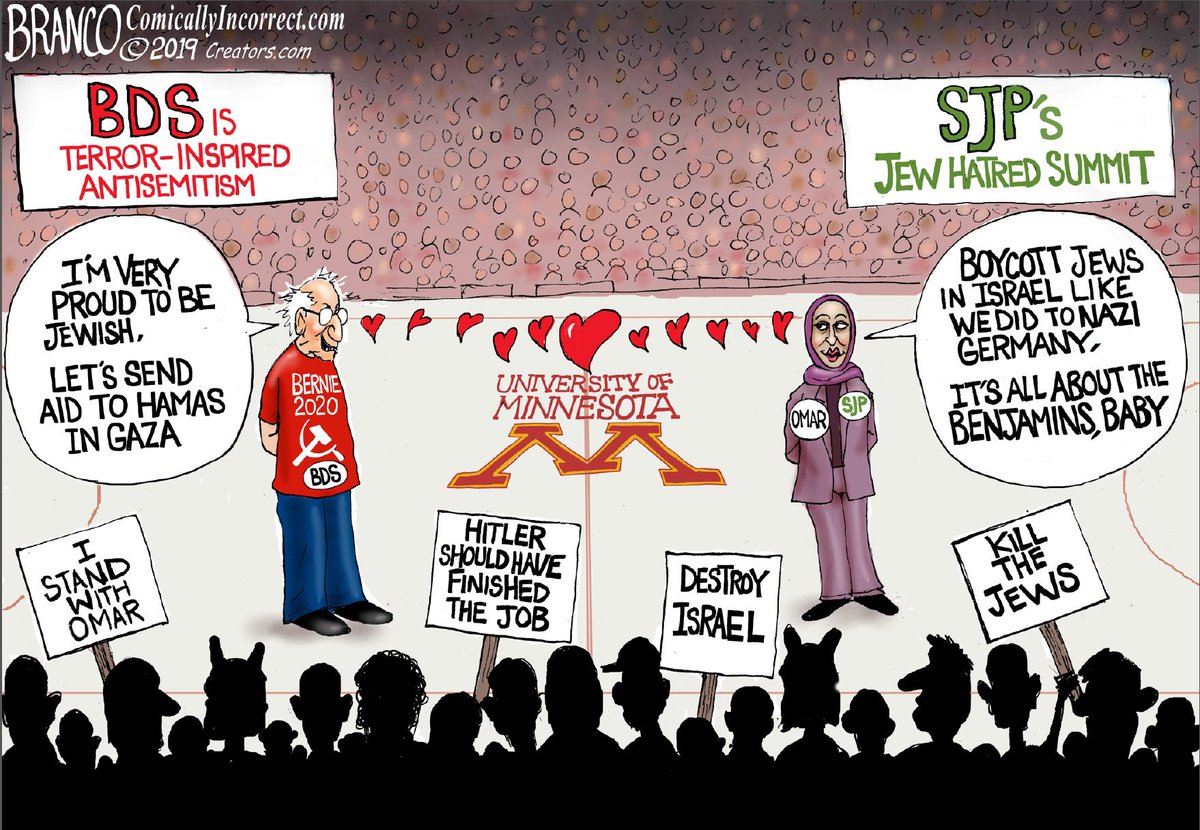 Qanta Ahmed:
The terrifying reaction to a panel debate on Islamophobia
Not mentioned in the reporting of the recent Policy Exchange event was the hour of repeated statements made by each of the panellists and the moderator, deploring and mourning lethal anti-Muslim xenophobia – the more accurate term to describe discrimination of a Muslim individual for their membership of the Ummah (the Muslim brethren).

Instead, Sayeeda Warsi denigrated the panel as 'disingenuous', a 'panto', and accused us of 'shutting down' Muslims attending the event. No balancing quote was sought by the Guardian from me, nor were Transport minister Nusrat Ghani's extensive arguments about the defence of pluralist Muslims as well as other minorities targeted by Islamism included in the piece. Baroness Hussein-Ece of the Liberal Democrats also joined the pile-on. Strangely, she even discounted the remarks of the leader of the world's biggest Muslim organisation from Indonesia.

At great personal risk, I have travelled to witness and lend support to the de-radicalisation of Taliban child soldiers in the former badlands of north west Pakistan. More recently, I have worked with colleagues at the University of Duhok in Iraqi Kurdistan to support not only the Yazidi and Muslim and Christian survivors of Isis's occupation, but also the rehabilitation of Isis child soldiers who were enslaved and indoctrinated. Nowhere have I been labelled as Islamophobic. Unlike in Britain, in these societies Muslims have no problem with describing a jihadist as a jihadist and calling out extremist ideologies.

None of my actions could be considered Islamophobic – quite the opposite. But speaking about the Muslim victims of Islamism and the extremism of some Muslims in today's Britain is apparently enough for me to be denigrated and demonised as Islamophobic by high-profile Muslims in Britain. From a distance, this looks worrying. Close-up, as I found, it's terrifying.

I flew a 6,700 mile round trip in 24 hours to make one key fact patently clear to the Conservative party: be under no mistake about what is at risk here. They should see the 'Islamophobia' campaign for what it is: what the late Christopher Hitchens referred to as a 'cultural fatwa', where all discussion of Islam let alone Islamism becomes off limits, followed by the formal criminalisation of exactly such discourse. The reaction to our panel's discussion of the subject makes our case. In even considering whether to outlaw so-called 'Islamophobia' you only empower Muslims who agree with Baroness Warsi and those like her with a weapon to silence pluralist Muslims like me.
A lost temple – new findings might shatter Biblical archeology paradigm
The historical, religious and mythic importance of Jerusalem is deeply ingrained in Jewish civilization, as well as in Western and Islamic cultures. The holiest site for observant Jews today is the Western Wall, the last remaining segment connected to the Jewish Temple in Jerusalem.

Destroyed by the Babylonians, rebuilt with the blessing of Cyrus the Great of Persia – and burned by the Romans when Titus conquered the Jewish city – it is a powerful site of divine promise, Jewish continuity and the ability to survive hardship. Jesus, the New Testament tells us, chased the money lenders out of the Temple. The prophet of Islam, Muhammad, used a winged horse to visit the Temple before ascending to heaven to converse with Adam and Moses.

The religious importance of the Temple Mount is so great that various answers have been suggested as to how the tensions around it can be resolved. The site, the holiest for the Jewish nation, also includes the Aqsa Mosque, the third holiest site in Islam, which is managed by Jordan – making the zone explosive on both theological and diplomatic fronts.

Under the 1948 UN resolution to recognize a Jewish state alongside a Palestinian one, it was suggested that Jerusalem should be controlled by an international actor, such as the UN itself. Former US president Bill Clinton suggested that Israeli sovereignty over the site might be extended to the inside of the Temple Mount, leaving the Jordanians with managing the top. This is important for many Jews, since archaeological excavations into the mountain are vital to discover the remains of the actual Temple.

King Hussein of Jordan suggested that God alone should be named the power that controls the site; legal expert Prof. Ruth Gavison suggested that Israeli sovereignty over the site should be valid but willingly suspended, meaning that Israel would agree to not fully exert it.

BUT WHAT IF Jerusalem is not the first location the Torah had in mind when it says "the place the Lord your God will choose as a dwelling for his name" (Deuteronomy 26:2)? What if the first divine site – the one spot on Earth where the divine presence of God manifested itself – was not in Jerusalem, but in the West Bank?
IDF attacks terror targets following rocket barrage from Gaza Strip
The Israeli Air Force struck several Hamas terror targets across the Gaza Strip overnight on Friday after a residential home in the southern Israeli city of Sderot sustained a direct hit by a rocket launched during a barrage.

The targets struck by IAF jets included a military compound belonging to the group's naval forces, a military compound belonging to the organization's air defense system, a missile simulator, training facilities, an arms manufacturing site, a military compound used as a weapons storehouse and "underground infrastructure" belonging to Hamas.

"The attack was carried out in response to the launching of rockets from the Gaza Strip into Israeli territory earlier in the evening," a statement released by the IDF said. "The IDF sees with great severity rocket attacks against Israeli territory, is in a high state of readiness and will continue to act as necessary against attempts to harm Israeli civilians."

While it is believed that Paletinian Islamic is behind the rocket barrages, Israel's military holds Hamas responsible "for all acts in and emanating from the Gaza Strip."

The Hamas-run Gaza Health Ministry said that 27 year-old Ahmed al-Sheri was killed in the strikes in Khan Younis and two others were wounded.

Hamas spokesman Fawzi Barhum was quoted by Safa Palestinian News Agency as saying Israel will bear the consequences of its actions, adding that, "all these crimes will not break the steadfastness of our people, and will not deter us from moving forward in the path of jihad and resistance in defense of our people and face aggression."

PIJ also released a statement following the retaliatory strikes, saying that Israeli Prime Minister Benjamin Netanyahu "is trying to cover up his corruption and failure by means of an escalation against the Gaza Strip and harming infrastructure, buildings and civilians, as happened in Khan Yunis, and Israel bears responsibility for this escalation," Safa reported.
— Israel Defense Forces (@IDF) November 1, 2019
— Joe Truzman (@Jtruzmah) November 1, 2019
— כאן חדשות (@kann_news) November 1, 2019
In response to rockets fired at Israel, we struck Hamas terror targets in Gaza including:

🎯 naval force & training compounds

🎯 compound with anti-missile simulator

🎯weapon manufacturing & storage sites

🎯 underground infrastructures

Terror targets civilians

We target terror.

pic.twitter.com/FkLUqWFGfm

— Israel Defense Forces (@IDF) November 2, 2019
Hamas may want calm, but at least one Islamic Jihad leader has different plans
After a night of Israeli airstrikes in retaliation for rocket fire from the Gaza Strip, it was unclear whether the fresh round of fighting between Israel and Palestinian terror groups in the coastal enclave was over or just beginning.

Ten rockets were fired into Israel Friday evening, one of which struck a home in the southern city of Sderot. A rocket was also launched from the Palestinian territory on Thursday, landing in an open field.

In response to the latest rocket fire, the Israel Defense Forces struck numerous Hamas targets in the Strip. The Hamas-run health ministry in Gaza later reported the death of 27-year-old Ahmed al-Sheri of Khan Younis in the strikes.

It can be assumed that the Gaza-ruling Hamas is not looking for an escalation of violence, though it appears fellow terror group Islamic Jihad is doing everything possible to set the area ablaze, with Hamas standing by and allowing it to do so for fear of public criticism were it to intervene.

Some in Israel have been quick to attribute the unruliness of Islamic Jihad in recent months to Iran's influence over the organization. Such influence is indeed long-standing and ongoing — but the situation is more complicated, involving a number of personal and political motives, and not necessarily "commands" from Tehran.

The growing trend of escalation by Islamic Jihad is being led by the figure thought to be the head of its military wing in northern Gaza, Baha Abu al-Ata.

Time after time, the Israeli security establishment takes pains to publish or leak al-Ata's name to various media outlets as the person behind the rocket fire and efforts to launch other attacks, in the hopes that Hamas will rein him in.

Hamas, however, is not doing so.

Al-Ata is a serious troublemaker in Gaza who no one wants to confront. That includes Hamas leaders Ismail Haniyeh and Yahya Sinwar, who fear him and the possibility of being accused of collaboration if they act against him.

Even Ziad al-Nakhala, Islamic Jihad's leader, hasn't succeeded in dealing with al-Ata, who is acting from a clear personal and organizational agenda.
Gideon Sa'ar: 'Israel's goal should be the dismantling of Hamas' military'
MK Gideon Sa'ar of the Likud Party commented on Saturday criticizing Israel's response to the rocket barrage last night originating from the Gaza Strip, during which a rocket hit a house in Sderot.

Sa'ar wrote on his Twitter account, "Israel's goal should be the dismantling of Hamas' military infrastructure and Islamic Jihad in Gaza. This is one of the significant reasons why it is necessary to end the political crisis as soon as possible and to establish a broad national unity government," said Sa'ar, who recently declared his intention to run for Likud leader in the next primaries.
One killed in Gaza, Hamas says 'Israel will bear the consequences'
After a barrage of rockets were shot from Gaza at Israel were shot down, the IDF struck terror targets in the Strip. One of the rockets hit a home in Sderot.

Gaza health officials claim that a 27-year-old was killed in the airstrike and two others were injured. According to Reuters, the man was initially taken to the hospital where he succumbed to his wounds. At the time of the strike, the three men were in a militant training camp, though it was not clear if he was a civilian or a gunman, Reuters reported.

Hamas responded to the airstrikes saying that "Israel will bear the consequences."

"The Israeli attacks against demonstrators and our people in Gaza are a continuation of crime and Israeli aggression against our people and against its courageous resistance," Hamas wrote in a statement, according to Ynet.

Palestinians have started circulating photos of the damage the airstrikes caused in Gaza.
High alert in Israeli south as Palestinians attend mass funeral, protests
People in the south of Israel woke up on Saturday to a very tense morning after the Israeli Air Force attacked Hamas targets the previous night in retaliation for the rocket that hit a house in Sderot, as well as several more rockets that were launched into the area surrounding Gaza but were intercepted by the Iron Dome missile defense system.

No further attacks have taken place since Friday night, despite Hamas threats.

As a result of the IAF operations, 27-year-old Palestinian Ahmad Mohamad a-Shakhri was killed and two other Palestinians were injured. A-Shakhri's funeral was attended by masses of Palestinians, calling for revenge against the State of Israel.

Following the air strikes, the IDF tweeted its list of targets, saying: "In response to rockets fired at Israel, we struck Hamas terror targets in Gaza including: naval force training compounds, a compound with an anti-missile simulator, weapon manufacturing & storage sites [and] underground infrastructures."

The IDF response followed the two rounds of rocket strikes that were launched toward Sderot and the area surrounding Gaza. During the first round, the Israeli Iron Dome system located and destroyed all seven missiles. But during the second round however, one hit a house in Sderot, causing property damage and light wounds for a 65-year-old Israeli woman who was injured when she fell while running to the bomb shelter.
Al-Quds Brigades: The enemy must not feel comfortable and live in peace
The Al-Quds Brigades, the military branch of terror organization Palestinian Islamic Jihad, issued a response to the escalating tensions between Israel and Gaza, saying, "we confirm that the threats of enemy leaders for a war in Gaza are not new for our people."

"The Al-Quds Brigades emphasize that they will continue to protect the people as long as aggression continues, and they will not let the Zionist entity establish new equations. This enemy must not feel comfortable and live in peace, as long as it commits crimes against the Palestinian people and occupies their land."

"We can confirm that we have the strength needed to face reality, we cannot hold our people under a constant and repetitive Zionist threat, that we deal with seriously, and we will make sure to deal with any Zionist aggression."

"The organization's obligation is to protect our people, and we allow them to protest the embargo. Some are wounded and some are killed, and that is why we will not allow them to stand defenseless and alone against the enemy."
Khaled Abu Toameh:
Palestinians call on Britain to apologize for Balfour Declaration
Palestinians on Saturday marked the anniversary of the Balfour Declaration by calling on Britain to apologize for the 1917 pledge supporting the establishment of a "national home for the Jewish people in Palestine." The Palestinians also called on Britain to "correct its historical mistake by immediately recognizing the State of Palestinian."

The PA government in Ramallah called on Britain to "quickly remove the injustices of the ominous Balfour Declaration by correcting its historic mistake and recognizing the independent Palestinian state on the borders of June 4, 1967, with Jerusalem as its capital."

Ibrahim Milhem, spokesperson for the PA government, said that the Palestinians "fell victim to the greed of colonialism, expansion and ethnic cleansing" as a result of the Balfour Declaration.

The PA Ministry of Foreign Affairs said that the Palestinian leadership "succeeded in thwarting all American and Israeli attempts to impose the new promise – the 'Deal of the Century' – on our people," a reference to US President Donald Trump's yet-to-be-announced Middle East peace plan.

In a statement marking the November 2 anniversary of the Balfour Declaration, the ministry called on Palestinians to rally behind PA President Mahmoud Abbas and the Palestinian leadership so they could continue confronting American and Israeli "schemes" against the Palestinians and their rights.

"These days, we are hearing about a new promise that is equally as dangerous as the Balfour Declaration – the Declaration of Trump, [US senior presidential adviser Jared] Kushner, [former US presidential Middle East envoy Jason] Greenblatt, and [US Ambassador to Israel David] Friedman," the ministry said. "Theirs is a promise to end Palestinian hope, destroy their right to establish a state and leave them to live as a minority under the Jewish state."
The housewives who took on the USSR to help Soviet Jewry
As the lights were dimmed in the main hall of Montreal's Salle Wilfrid-Pelletier concert venue, the audience gradually came to a hush. This was not just another show. The ticket holders were there to witness a performance by the legendary 200 year-old Bolshoi Ballet in a major Western city during the Cold War era – a rare spectacle indeed. But as the anticipation reached its peak and the curtain was finally raised, something happened. The dancers onstage and the majority of the audience looked on in horror as dozens of people seated in the front rows suddenly rose from their seats and silently filed out of the chamber. When they were gone, only one man was left standing in the large, now nearly empty front section. He was dressed in the pinstripe uniform of a prisoner.

The date was June 17th, 1974.

This unusual demonstration was part of a historic protest movement. The group responsible was an organization known as "The 35's", or more formally - "The Women's Campaign for Soviet Jewry". Formed in London in May of 1971, the group was named in honor of Raiza Palatnik, a 35 year old Jewish woman who had been imprisoned in an isolated cell five months earlier in Odessa in the Soviet Union. Palatnik was accused of "keeping and distributing materials slanderous to the State" and had even dared to request to immigrate to Israel. She had not been allowed any contact with her parents or lawyer.

Upon hearing of the case, a group of some thirty-five British women, most of who were around the age of 35, gathered outside the Soviet Consulate in the United Kingdom, dressed in black, with signs calling for Raiza Palatnik's release. "Towards the evening it was decided that we would sleep on the streets, and that had never been done since the suffragettes" says Zelda Harris, a founding member of the group.

Only around a dozen women spent the night on the street, but it was enough to get the attention of passersby who hooted and waved at them. "Taxi drivers were stopping and saying "Would you like a cigarette girls?'" Harris recalls. "At six o' clock in the morning, we hadn't hardly slept anyway, we got up and opposite us was a very swanky hotel, and we crept in, it was deadly quiet...we walked straight in to the ladies room. Imagine, thirteen women in black dresses, looking a bit scruffy…We had to wash up and use the toilet. The manager came in and said 'Who are you? What are you doing?!'" The media loved the stunt.

Within hours, The 35's received word from an Israeli diplomat that Palatnik, a quiet librarian turned political prisoner, had finally been moved to a regular jail cell. The tiny protest had made a real difference. The following week a thousand women in black from all over the UK marched along Whitehall to the Foreign Office. "That's when we knew we had a movement" says Harris.
Community is gone, but Putin claims to help Syrian Jews restore their holy sites
Moscow is helping Syrian Jews renovate their holy sites in the war-torn country, Russian President Vladimir Putin said this week, despite the fact that no Jews are known to live there and there is no formal community.

"We also help representatives of Judaism, we help Jews also in the restoration of their shrines in Syria, and we are in fact cooperating with them on an ongoing basis," he said during a press conference in Budapest. He was responding to a reporter's question about what the Kremlin is doing to improve the situation of Christians in the Middle East.

Once home to a thriving Jewish community, most Jews left Syria after the founding of the State of Israel. Some Syrians still remember how in the years before the outbreak of the civil war, a handful of Jews gathered for services in the Eliyahu Hanavi synagogue in downtown Damascus. But today, it is unclear if there are any Jews left in the country.

Last year, a resident of Qamishli, a town in the north of Syria, told The Times of Israel that they would openly embrace any Jews who chose to return.

"I don't understand the problem," a local shoemaker said. "The neighbors of our Prophet Muhammad, peace be upon him, were also Jews, so I see no reason why we should not have Jewish neighbors. Years ago, there were many Jewish families that used to live with us in peace."

It is unclear what exactly Putin was referring to when he spoke about cooperating with local Jews about restoring their shrines.
Russia nixed arms sales to Israel's enemies at its request, PM's adviser says
Russia acquiesced to Israeli requests and canceled certain arms sales to regimes that are antagonistic toward Israel, an adviser to the prime minister said this week, according to the Ynet news site.

In return, he said, Israel canceled arms sales that irked the Russians, including to Ukraine.

"Russia agreed to Israel's request and, for example, did not provide certain types of weapons to [Israel's] enemy nations such as Iran, which states at the highest levels its wish to erase Israel off the face of the Earth," Ariel Bulshtein, who is the prime minister's adviser for the country's Russian-speaking community, told Russian paper Izvestia Thursday, according to Ynet.

"Naturally we are unenthusiastic on [Russia] providing modern weapons to such regimes," he said.

He added that Israel agreed "at least twice, if not more," to Russian requests not to sell weapons to nations whose relations with Moscow are tense, such as Ukraine.
Israel advances 2,342 settler homes, capping off record year under Trump
Israel gave the green-light to advance construction plans for 2,342 settler homes in the West Bank, capping off a record year for such approvals since US President Donald Trump took office.

The Civil Administration's High Planning Subcommittee — the Defense Ministry body responsible for authorizing settlement construction — published on Thursday the protocol from a meeting it held earlier this month when it made the approvals.

The quarterly session was the last held during the 2019 calendar year, during which plans for 8,337 homes were advanced — the most since 2013. Each of Trump's nearly three years in office saw an increase in settlement approvals, with 6,742 green-lit in 2017 and 5,618 advanced in 2018.

Under unofficial settlement guidelines coordinated with the White House when Trump took office, Israel agreed that the Civil Administration committee would meet once every three months instead of once every month.

Breaking from its predecessors, the Trump administration has avoided criticizing settlement construction. Outgoing peace envoy Jason Greenblatt said he refers to Israeli localities over the Green Line as "neighborhoods and cities," while US Ambassador David Friedman has said he does not see anything wrong with Israel maintaining control over parts of the West Bank.
Today's activities for Gaza Family Day

- How to turn your pudding into a bomb

- Jewish grave stomping

- Fun with knives

pic.twitter.com/6zXoo6K8ZR

— The Mossad: Elite Parody Division (@TheMossadIL) November 1, 2019
Seth J Frantzman:
UN open to Turkish plan for northern Syria as 300,000 Kurds forced out
UN Secretary General Antonio Guterres appeared to back a Turkish plan to settle millions of mostly Arab refugees from other parts of Syria in an area where more than 180,000 Kurds had been forced to flee in recent weeks. The UN leader thanked Turkey for its strong cooperation and support and agreed to form a team to study Turkey's proposal and engage with Turkey. The UN's news service put out a statement amenable to Turkey's plan and seeking to study it.

In the discussions the UN chief did not critique Turkey's October military offensive which has led to human rights violations, including extrajudicial assassinations and videos of executions of prisoners by Turkish-backed Syrian rebel groups. The UN also did not say the 180,000 civilians, which its own experts have recorded fleeing, have a right to return to their homes in northern Syria. Instead, the UN now is studying how to implement a Turkish occupation of northern Syria and how to work with Ankara on a "safe zone." The UNHCR, which is supposed to ensure the right of the 180,000 people forced to flee by Turkey's offensive, will now be asked to study the proposal to replace them with 3.6 million other Syrian refugees who live in Turkey.

It now appears that NATO, the UN, Russia and other world powers will work to prevent the return of people who fled Turkey's offensive and to settle others in their place, with the imprimatur of UN approval. NATO has supported Turkey's offensive, claiming security concerns make it acceptable, asking only for restraint from Ankara. So far restraint has meant hundreds of thousands of people have become homeless in three weeks.

Turkey and its proxies now occupy a swath of northern Syria including Afrin where 160,000 Kurds were expelled in 2018, and Idlib where ISIS leader Abu Bakr al-Baghdadi was living, and Jarabulus. Turkey doesn't week to settle Syrian refugees in those areas, it only wants to send refugees from other parts of Syria to areas where Kurds live, using Turkish-backed Syrian rebel groups to cleanse the land first before resettlement occurs. Ankara calls this a "safe zone," but for the 300,000 people who have fled the fighting, it has not been safe. Reports in media describe executions and attacks on civilians. The US has helped Turkey achieve its goal by opening the airspace to a Turkish offensive and working to exclude Kurds from the UN-backed Geneva process for Syria's constitution. The US excluded its own Syrian Democratic Forces, a group the US helped create in 2015, from Geneva and has excluded other Kurdish groups in eastern Syria from participating. The UN, Turkey, Russia and others have also made sure to exclude representatives of the Kurdish minority in eastern Syria from participating. Russia embarked on joint patrols in eastern Syria with Turkey over the last days. Kurdish youth threw stones at the Turkish military vehicles, protesting the military occupation.
Iran unveils new anti-US murals at former embassy
Iran on Saturday unveiled new anti-American murals on the walls of the former US embassy as Tehran prepares to celebrate the 40th anniversary of the storming of what it labels the "den of spies."

The accusatory message of the paintings was one of a violent US that is thirsty for war and bent on tightening its grip on the world, yet weakening despite its military might.

The new murals — mainly painted in white, red and blue, the colors of the US flag — were unveiled by Maj. Gen. Hossein Salami, the head of Iran's Islamic Revolutionary Guard Corps, at the former mission turned museum.

One of them showed a crumbling Statue of Liberty, its right torch-bearing arm having broken off.

Another depicted the triangle of the Eye of Providence, the symbol used on the back of the US dollar bill, in a sea of blood in which skulls are floating.

A third showed the American Global Hawk drone that was shot down by Iran in June over the Strait of Hormuz, with bats flying out of it.
After 'Post' report, U.S. investigates German company link to Iran terror
The US ambassador to Germany, Richard Grenell, launched an inquiry into whether the giant German trade fair company IMAG conducts business with the American-designated terrorist organization the Islamic Revolutionary Guard Corps, The Jerusalem Post has learned on Thursday.

"Ambassador Grenell confirmed that the US is looking into the issue," a US official told the Post.

The investigation into the Germany company International Trade Fair Service (IMAG) follows a Thursday Post report about allegations levelled against the trade fair business for endangering Middle East security and aiding the IRGC. IMAG is a subsidiary of Messe München.

The United States government classifies the IRGC as a foreign terrorist organization. IMAG and Messe München's business activities could make the companies vulnerable to US secondary sanctions.

The powerful US ambassador has gone to great lengths to stop trade with the Islamic Republic of Iran because business with Tehran, according to Grenell and the United States government, finances terrorism and Tehran's nuclear weapons program.

Rabbi Abraham Cooper, the associate dean of the Simon Wiesenthal Center, told the Post: "Outrageous German entities doing business with and abetting Iran and its Revolutionary Guard should be sanctioned by US."
Of course he does. The catastrophic Obama-Iran nuclear deal was a huge win for Iran. That's why

@LindseyGrahamSC

and I are working on a bill to end civil nuclear waivers that let Iran build up its nuclear program & tear up the deal once and for all.

https://t.co/cO7jnMgqDf

— Senator Ted Cruz (@SenTedCruz) November 1, 2019
PUMA selfies against BDS
When I hear that BDS has targeted a specific company for a campaign my immediate response is to buy from that company.

Sometimes that is a little difficult. Who can buy a Caterpillar tractor? On the other hand, anyone can wear sports apparel.

Let PUMA and the BDSholes know by posting a selfie on TWITTER or Facebook or even on a BDS page, with clothes, shoes, caps, socks, whatever with the PUMA name and/or logo prominently displayed.

Action Items
Selfies Support PUMA against BDS https://www.facebook.com/groups/antibdspumaselfies/
Like, Join, Share, Post
Support PUMA – anti BDS selfies https://twitter.com/PumaBds @PumaBds
Retweet, Like, Post
Despicable fliers were found all throughout

@UCF

's campus, calling for legal protection to:

"Criticize the role of

#Jews

in the United States."

Never mind Pogroms.

Never mind the Holocaust.

Never mind ethnic cleansing by Arab states.

History, has fallen on deaf ears.

pic.twitter.com/GadcD4v6RZ

— Yoni Michanie (@YoniMichanie) November 1, 2019
City council in Germany's Dresden passes 'Nazi emergency' resolution
The Dresden city council passed a "Nazi emergency" resolution this week aimed at strengthening democracy and protecting minorities amid growing concern about far-right extremism in the German town.

"Anti-democratic, anti-pluralist, misanthropic and right-wing-extremist attitudes and actions, including violence in Dresden, are occurring with increasing frequency," the measure states.

"We have a Nazi problem in Dresden and have to do something about it," said Max Aschenbach, a council member who initiated the resolution.

The resolution calls for a greater awareness of "the causes and consequences of anti-Semitism, racism and position of extreme right to restore trust in democratic institutions and the appreciation of diversity and respectful solidarity."

Dresden is home to the anti-migrant group PEGIDA. The far-right Alternative for Germany party received more than 17 percent of the vote in city council elections this year.
Canadian Jewish Group Takes Toronto-Area Mosque to Task Over Article by Infamous Holocaust Denier
A leading Jewish advocacy group in Canada has strongly condemned a mosque in the Toronto area for publishing an article by a notorious Holocaust denier in its monthly magazine.

In an article featured in the October 2019 edition of Crescent Magazine, which bills itself as the "newsmagazine of the Islamic Movement," Kevin Barrett — a US Holocaust denier — claimed that the International Holocaust Remembrance Alliance (IHRA) definition of antisemitism, which has been adopted by numerous countries and international agencies, was a "racist, genocidal lie."

"Kevin Barrett's antisemitic rhetoric echoes that of neo-Nazis and white supremacists," said Michael Mostyn, chief executive officer of B'nai Brith Canada. "Why is this utter dreck being published in Canada and distributed around the world, and why would a Canadian house of worship want to be associated with it?"

The editor of Crescent Magazine is Zafar Bangash, imam of the Islamic Society of York Region (ISYR). The magazine also shares an address with ISYR, from where it is distributed across North America, the UK, South Africa and Malaysia. In April, Bangash used Crescent Magazine to falsely allege a "Zionist connection" to the devastating terrorist attack against two mosques in Christchurch, New Zealand, B'nai B'rith Canada noted.

Among the lies promoted by Barrett is the assertion that the figure of six million Jewish Holocaust victims is "exaggerated," that Japanese-Americans were imprisoned during WWII "at the instigation of mostly Jewish gangsters," and that "the United States and its allies deliberately murdered 10 million Germans during the postwar occupation."
Man tries to break into Jewish school while shouting antisemitic slurs
A man who tried to break into a Jewish school in southern France while shouting insults about Jews was prevented from entering by the guard and arrested after fleeing the scene.

In the incident Tuesday at the Or Torah school in Nice, the man had come intimidate students, witnesses told the Nice Matain newspaper. While confronting the would-be intruder, the guard sounded an alarm system that alerted faculty to a threat, prompting them to evacuate hundreds of children into a safe space within a matter of minutes.

The guard's "quick action," as Mayor Christian Estrosi called it in a statement, allowed police to arrest the man shortly after he fled. Neither the suspect nor the guard were named in the French media.

"I would like to acknowledge the cool-headed and courageousness of the guard," Estrosi wrote after praising the police's handling of the incident and condemning anti-Semitic violence and hate as "unacceptable."

In March 2012, a jihadist terrorist broke into the Otzar Hatorah school in Toulouse and killed three children and a rabbi before escaping on a scooter. The killings prompted an overhaul of the security arrangements of Jewish institutions throughout France and beyond.
Judge in Pittsburgh Synagogue Shooter's Case Promises Trial Won't Clash With Jewish High Holidays Next Year
The judge in the case of the neo-Nazi killer who murdered 11 worshippers at Pittsburgh's Tree of Life synagogue in October 2018 has declined to set a date for his trial — but she guaranteed that the trial would not conflict with the Jewish High Holidays in 2020.

After a pre-trial meeting on Thursday, Judge Donetta Ambrose said she would only consider selecting a date after all of the lawyers' motions were resolved.

But Judge Ambrose — responding to a letter of concern sent by Dor Hadash, one of the three Jewish congregations who worship at the Tree of Life building — vowed that neither jury selection nor the trial itself would take place during the Jewish High Holidays.

Accused mass-murderer Robert Bowers waived his right to appear at Thursday's meeting.

According to local broadcaster KDKA, prosecutors have expressed concern that the white supremacist will not go on trial until the Spring of 2021, which they described as an "unreasonable delay," and painful for the victims who would like to see a "pathway to resolution."
Jordan Peele's next big project: Al Pacino as a Nazi hunter
Al Pacino has played mobsters, murderers and Satan himself. Now he's flipping the script to play a fascist-fighter.

Amazon Prime Video has released a frenetic, violent teaser for Oscar winner Jordan Peele's upcoming series "Hunters," starring Pacino as a no-nonsense Nazi-killer in the late 1970s.

Pacino plays Meyer Offerman, who teams with a band of other vigilantes to take down "hundreds of high-ranking Nazi officials [who] are living among us and conspiring to create a Fourth Reich in the US," according to the show's original description.

"This is not murder," he says, with a thick Jewish accent in the 30-second clip. "This is mitzvah." His character is seen drawing a heavy, red "X" on a photo of a Nazi officer's face as a scream echoes in the background and the screen flashes with images of a car explosion, handcuffed hands gripping a chair and people getting beaten up. The sequence is horrifically punctuated by a knife plunging into a man's hand.

Created by David Weil ("Moonfall"), "Hunters" will premiere in 2020, and according to Deadline, it draws from real-life events.

The series is "edge-of-your-seat entertainment that is not only culturally relevant but deliciously original," Amazon Studios head Jennifer Salke told Deadline last year.

"When David Weil first shared [the idea] with me, I immediately knew that we had to be involved," "Get Out" director Peele said. "It's cathartic. It's noir. It's frighteningly relevant. It's exactly what I want to see on television. I am thrilled to be working with Amazon in bringing this incredible vision to the world."

The 10-episode series, which was originally titled "The Hunt," will also star Josh Radnor, Tiffany Boone, Carol Kane, Dylan Baker and Lena Olin.
Marilyn Monroe's Menorah Predicted to Sell For Up to $150,000 at New York Auction
A menorah that belonged to the late Hollywood icon Marilyn Monroe is expected to sell for up to $150,000 when it gets auctioned off next week in New York, The Jewish News reported.

A private collector who purchased the menorah in 1999 at a Christie's auction of Monroe's personal belongings asked Kestenbaum & Company to sell the religious item on November 7.

"Marilyn Monroe's spellbinding magnetism knows no bounds. We are thrilled to be able to offer Marilyn's personal Menorah at auction next week," Kestenbaum & Company director Daniel Kestenbaum said. "The market for memorabilia from the Golden Age of Hollywood goes from strength to strength, as does Fine Judaica, and as such this extraordinary item has remarkable provenance. We anticipate substantial interest from competing collectors."

The menorah, which features a wind-up mechanism that plays Israel's national anthem, was a gift to the American actress from the parents of her third husband, famous playwright Arthur Miller, after she decided to convert to Judaism when the couple married in June 1956.

Monroe, who was 30 at the time, studied Jewish texts with the Miller family's rabbi, Robert E Goldburg, before converting. The menorah was found among her possessions when she died in 1962, at the age of 36.
Matti Friedman:
Netflix's "The Spy" Manages to Convey the Ethnic Irony at the Heart of Eli Cohen's Life
I've been wondering for years why no one has ever made a good Mossad movie. From The Little Drummer Girl (1984) to Munich (2005) to awkward fictions in between, Hollywood has never managed a portrayal of the Israeli secret service that gets beneath the surface of the organization or its people—nothing approaching the gold standard set by the BBC's masterpiece Tinker, Tailor, Soldier, Spy (1979) about the British MI6 in the cold war.

By contrast, the Hollywood rendition of Israeli spy action, shoehorned into various genre clichés, tends to involve shooting people and/or blowing them up, interspersed with interludes of Jewish moral discomfort. "I'm proud of what you're doing," an Israeli mother says to her son, the Mossad agent Avner in Munich, to which he replies unhappily, "You don't know what I'm doing."

I therefore watched the new Netflix series The Spy with low expectations. It was hard to imagine that the series' star, the outrageous British comedian Sacha Baron Cohen, could possibly do justice to what is perhaps the great triumph and tragedy of Israeli intelligence: the story of Eli Cohen.

That true-life spy, the son of a Syrian-Jewish family who grew up in Egypt, arrived in Syria in 1962 using the cover identity of a Syrian Muslim businessman from Argentina named Kamel Amin Thabet. He made important friends and began radioing information to his handlers in Tel Aviv, including descriptions of Syria's deployment on the Golan Heights, which Israel would capture in June 1967.

But Cohen wasn't around to see that event, because two years earlier Syrian counterintelligence received new Soviet equipment that allowed them to pick up his transmissions. Soldiers burst in on him as he transmitted on his Morse set. The Syrians hanged him before a crowd in Damascus in May 1965.
---
---
We have lots of ideas, but we need more resources to be even more effective. Please
donate today
to help get the message out and to help defend Israel.