From Ian:
David Horovitz:
As Islamic Jihad sparks Gaza-Israel conflict, all eyes are on Hamas
Israel did its utmost in the first hours of the conflict to stress that it was solely targeting PIJ assets, not those of Hamas. The IDF was engaged in "a targeted campaign against PIJ," spokesman Kochav said repeatedly in his TV interview, and military officials made the same point in media briefings.

This contrasts sharply with previous Gaza escalations and potential escalations, when Israeli leaders have often stressed that no matter which terror group was attacking or threatening Israel, Hamas would be held responsible as Gaza's ruling force.

Hamas asserted victory in the last major round of conflict, in May 2021, when its rocket fire toward Jerusalem against a background of growing tensions in and around the Old City triggered an 11-day confrontation. To its delight, the fighting helped foster deadly Arab-Jewish confrontations inside Israel, West Bank riots, and even minor cross-border fire from Lebanon and Syria. It also featured heavy Israeli airstrikes on the Strip, causing considerable damage to Hamas and its infrastructure — though nowhere near as much as Israel would have wanted.

The question that will define the course of this new PIJ-prompted surge in violence is whether Hamas judges its interests to be best served by staying out or wading in.

In brief Friday night remarks delivered live to the Israeli public, but also aimed at least partially at Hamas, Prime Minister Yair Lapid insisted that "Israel isn't interested in a wider conflict in Gaza, but will not shy away from one either."

He also noted that "Islamic Jihad is an Iranian proxy" and that "the head of Islamic Jihad is in Tehran as we speak."

PIJ and its Iranian sponsors may be hoping for a new installment of May 2021's multi-front conflict against Israel — an installment that they, rather than Hamas, caused this time.

Hamas's ties with Iran have been relatively warm of late, although it is emphatically not a classic proxy of Tehran. And it is always interested in principle in confronting Israel. But does Hamas want to be dragged into a fresh round, by its much smaller local ally-rival and by Iran, at a time and in a context not of its choosing?

We'll know soon enough.
IDF: All senior Islamic Jihad officials in Gaza eliminated
The IDF launched the operation on Friday afternoon, taking out two of PIJ's important leaders in simultaneous strikes: northern command head Tayseer al-Jabari and anti-tank guided-missile section head Abdullah Kadoum.

Also struck in the opening of the operation on Friday afternoon were two cells that had been given orders to carry out anti-tank missile attacks.

Jabari replaced Baha abu al-Ata, who was killed in an IAF strike in 2019. Jabari, who was also responsible for coordination between PIJ and Hamas, was killed at 4:16 p.m. in his Shuja'iyya apartment. According to the IDF, he commanded over the launching of hundreds of rockets during Operation Guardian of the Walls last year, including anti-tank-guided missile attacks.

The IDF said that it had received a specific warning that he was planning an attack against Israeli targets before the arrest of PIJ West Bank chief Bassem Saadi earlier in Jenin.

"The enemy has begun a war against our people and against us and we will defend ourselves and our people," Islamic Jihad said in a statement.

The group's leader Ziad Nahalka, who is based in Damascus, said that "the enemy should expect fighting. Our military wing will stand abreast of all other resistance factions in our struggle against Israeli aggression. This campaign is no holds barred and Tel Aviv will also taste the wrath of the rockets of the resistance."

A senior IDF official said that the military is targeting Islamic Jihad and is trying to avoid civilian casualties and damage, but that it is ready for the situation to escalate, stressing that Israeli civilians must listen to all instructions from the Home Front Command.

"We couldn't allow Islamic Jihad to carry out an attack; it backfired on them," he said, adding that "there will be [rocket] barrages – there may also be casualties; all this is clear and this should also be told to the public."

Following the targeted killings, which were carried out by jets and armed drones, the IDF warned that the group would likely respond with rocket fire toward the Israeli home front. The military placed Iron Dome batteries in Jerusalem, Beersheba and other areas in order to intercept any projectile fired by the group.

The IDF closed roads near the Strip on Tuesday. On Wednesday, it called up 100 reservists to bolster the Gaza Division to assist in securing the area and keep civilians out of areas that could be targeted by Islamic Jihad.

The terrorist group has in the past fired anti-tank guided missiles toward Israeli vehicles, both civilian and military.

Both Qatar and Egypt have been trying to mediate with Hamas and Islamic Jihad in order to de-escalate the situation. Hamas is also working to prevent attacks by the terror group, including by putting pressure on the group and locating cells that might be planning to fire anti-tank-guided missiles toward Israeli targets.
Operation Breaking Dawn: Will Hamas join the fight? - analysis
Islamic Jihad is an Iranian proxy which, unlike Hamas, does not have any responsibility for the citizens of Gaza. The Islamic Republic funds and equips the Gaza-based terror group.

The group's chief Ziyad Nakhalah, who is based in Damascus, met with Iranian President Ebrahim Raisi in Tehran on Thursday and with Iran's Revolutionary Guard Corps Commander Hossein Salami on Saturday.

"The Israelis will pay yet another heavy price for their crime," Salami was quoted by Iranian news networks as saying.

IRGC Quds Force Commander Ismail Kaani also warned that Hezbollah would join the fight.

"Hezbollah plans to deal the Zionist entity it's final blow to and remove it from existence at the appropriate time," he was quoted as saying.

Gantz said Friday morning that security forces are preparing for all scenarios on all fronts, including in the North and the center of the country, and that the IDF will continue its operational activity in all sectors as needed.

"We do not seek conflict, yet we will not hesitate to defend our citizens if required," he said, adding that "the State of Israel and the IDF will continue its operations, knowing the responsibility we bear on our shoulders: to defend the communities and citizens of Israel's South, and to defend the citizens of the entire State of Israel."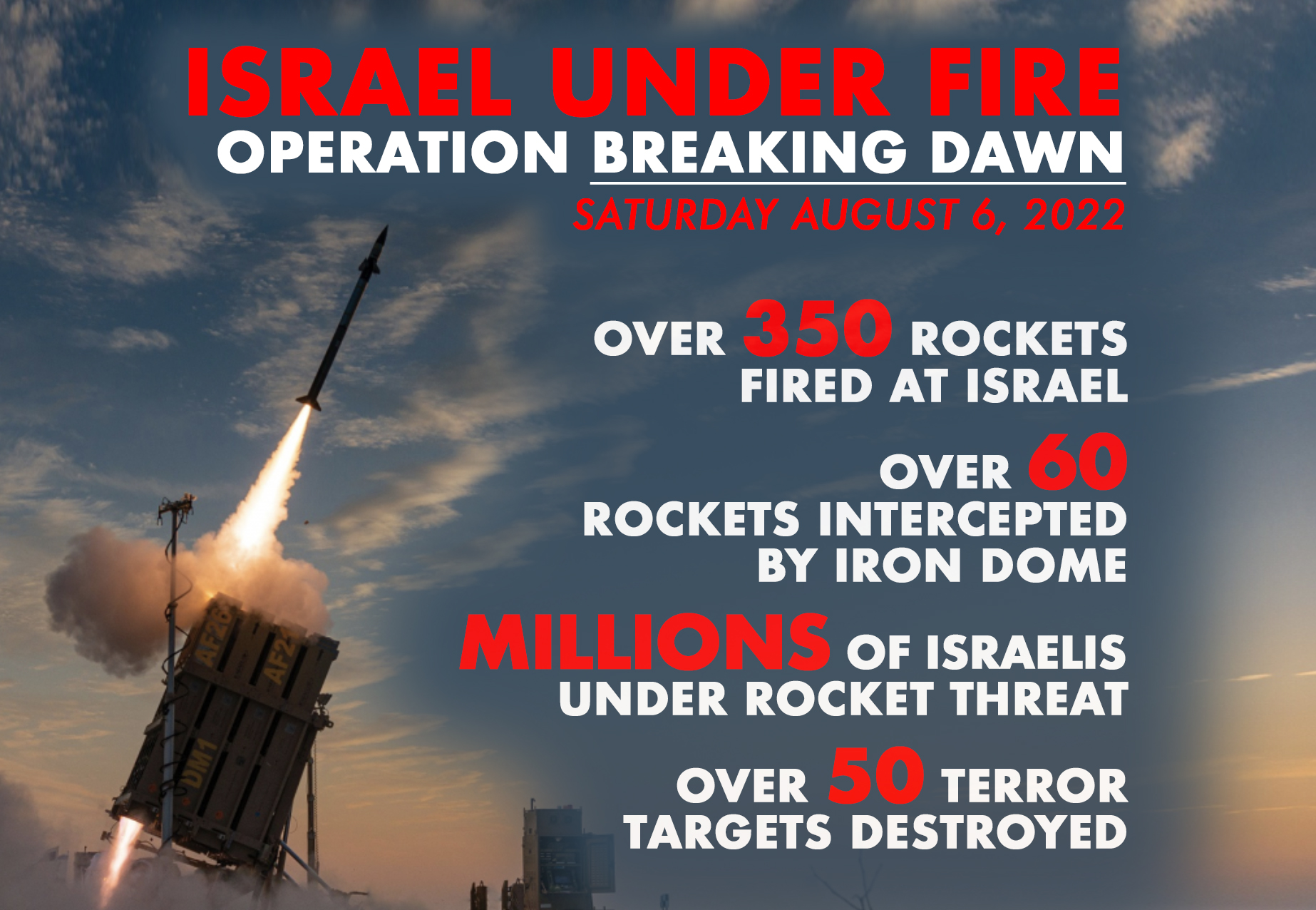 Full text of Israeli Prime Minister Yair Lapid's comments on Gaza military operation
The following are remarks by Israeli Prime Minister Yair Lapid on Operation Breaking Dawn, an IDF mission launched on Friday against Palestinian Islamic Jihad in the Gaza Strip:

"Approximately four hours ago, the Israel Defense Forces, in cooperation with the Israel Security Agency (Shin Bet), struck Islamic Jihad targets in Gaza. Among those killed were Taysir al-Jabari, one of the two most senior commanders in Islamic Jihad, as well as a cell preparing to launch an anti-tank missile attack against Israel.

The directive the security forces received from us was clear: Israel will not sit idly by when there are those who are trying to harm its civilians. This government has a zero tolerance policy for any attempted attacks—of any kind—from Gaza towards Israeli territory.

Terrorist organizations will not set the agenda in the area adjacent to Gaza, we will not tolerate any threat against our civilians. I thank Defense Minister Benny Gantz, the IDF and its commanders led by Chief of General Staff Lt. Gen. Aviv Kohavi, and the ISA led by Ronen Bar, for the quality of their intelligence and for their precise execution.

At the same time, we won't accept any ultimatums regarding the operations of the IDF and the security forces, including on other fronts. Everyone who needs to be arrested, will be arrested. Any attempt to harm civilians or soldiers will be met with a harsh response.

Today's activity in Gaza was against concrete threats which disrupted daily routine in southern Israel. Israel isn't interested in a wider conflict in Gaza, but will not shy away from one either.

I call on everyone to obey directives in the coming days. I have faith in the Israeli public, and I'm sure they will give full backing to our security establishment. However long it may take, we will eliminate the threat to our citizens.

The people of Israel are strong, they understand the importance of deterrence, they stand with the residents of the south. Our security forces are prepared with a set of powerful responses to any attack.

We will face the enemy with strength, together.

A word for the international media: Israel carried out a precise counter-terror operation against an immediate threat.

Our fight is not with the people of Gaza.

Islamic Jihad is an Iranian proxy that wants to destroy the State of Israel and kill innocent Israelis. The head of Islamic Jihad is in Tehran as we speak.

We will do whatever it takes to defend our people."
Israel says Gaza terrorists' failed rocket launch kills several Palestinian children
A rocket launched by Palestinian terror operatives Saturday misfired and hit a Palestinian home in the Strip's north, killing several people including children, Israeli military officials said.

Initial reports from Gaza claimed an Israeli strike in the Jabaliya refugee camp had killed seven civilians, including four children. Photos circulating on social media showed seven body bags.

But military officials said the Israel Defense Forces had not conducted any airstrike in the area in recent hours, and that rocket detection systems had shown the rocket launch and then explode inside the refugee camp.

"On our radar, we see the launch and impact and can see it was them failing and hitting themselves," a spokesman said.

A second official added: "We have videos that prove beyond any doubt that this is not an Israeli attack. It has been unequivocally proven that it was a failed Islamic Jihad rocket launch."

Israeli media outlets aired a video shared on social media that it said appeared to show the failed launch, citing the time and location it was taken. The authenticity of the video could not be independently confirmed.

The Head of the Prime Minister's Office's Public Diplomacy Directorate Elad Tene added: "All fire by the Islamic Jihad terrorist organization is a double war crime: it is shooting at civilians, and using Gazan civilians as human shields.

"This incident is an example of Islamic Jihad harming the residents of Gaza. All harm to innocent civilians is tragic."
Following the reports of the tragic events in Jabaliya, the IDF concluded an in-depth debrief. Based on all the IDF systems data, it appears that this event is the outcome of an Islamic Jihad rocket misfire. We did not conduct any activities in Jabaliya at the time of the event.

— Israel Defense Forces (@IDF) August 6, 2022
Footage now spreads of the Jihad rocket misfire that caused the Jabaliya massacre that killed many children and it is being confirmed pic.twitter.com/YdPY8yDhXS

— Gaza Report - ????? ??? (@gaza_report) August 6, 2022
IDF says ready for 'week of fighting' amid rocket barrages from Gaza
The Israel Defense Forces said Saturday it was prepared for a "week of fighting" against the Palestinian Islamic Jihad terror group in the Gaza Strip, as over 200 rockets were launched at Israel from the coastal enclave, with the central city of Modiin targeted as well as southern cities and towns.

The military launched Operation Breaking Dawn with airstrikes in Gaza on Friday afternoon in response to what officials said was an ongoing "concrete" threat by PIJ to target Israeli civilians and soldiers.

Islamic Jihad then began to fire relentless barrages of rockets at Israeli communities in southern and central Israel, with the rocket fire continuing into Saturday afternoon.

In the opening round of Israeli strikes, the military killed one of PIJ's senior commanders, Tayseer Jabari, whom officials said was planning to attack Israeli civilians near the border. Jabari replaced Baha Abu al-Ata as the group's commander in northern Gaza after the latter was killed in an Israeli strike in 2019.

In a briefing to reporters Saturday morning, military spokesperson Ran Kochav said the IDF had struck some 40 Islamic Jihad targets in the Gaza Strip, including six weapon manufacturing workshops, two weapons storage sites, six observation posts and five rocket-launching positions.

Later on Saturday, the IDF said it had struck several more PIJ sites, as well as a terror cell en route to launch mortars at towns in southern Israel.
Explainer: Palestinian Islamic Jihad, the Group Targeted by Israel in Gaza
Friday's air strikes killed Tayseer al-Jaabari, a senior commander who Israel said was the commander of the movement's northern region, responsible for planning attacks against Israeli citizens and military targets.

Up-to-date figures on PIJ's strength are difficult to come by, with estimates from last year ranging from about 1,000 to several thousand, according to the CIA's World Factbook.

Both Hamas, which has fought five conflicts with Israel since 2009, and PIJ are listed as terrorist organizations by the West. Both get funds and weapons from Iran, where PIJ leader Ziyad al-Nakhalah was reported to have been meeting Iranian President Ebrahim Raisi on the day of the strikes.

Unlike Hamas, PIJ refuses to join elections and appears to have no ambition to form a government in Gaza or the West Bank.

WEST BANK
It maintains a significant presence in the West Bank town of Jenin, where Bassam al-Saadi, a senior leader of the movement was arrested last week, setting off the crisis that led to Friday's strikes.

However its focus on militant activity means it does not have anything like the same infrastructure or responsibilities as Hamas, which has ruled Gaza since 2007, in charge of government and day-to-day needs of more than 2.3 million people.

Little more than a year since the 11-day war of May 2021, which inflicted huge damage on Gaza's economy, Israel's explicit focus on PIJ targets appears intended to convince Hamas to stay out of the fighting itself.

Zvika Haimovich, a former commander of the Israel Air Defense Forces who served in previous operations against Gaza in 2012 and 2014, said there were significant disagreements with PIJ that could make Hamas stay out.

"The direct immediate interest of Hamas is not to join this operation," he said.

"If Hamas joins this operation it will change totally the situation that we are talking about."
Air Strikes, Rocket Attacks Push Israel, Gaza into Second Day of Fighting
Israel struck in Gaza and Palestinians fired rockets at Israeli cities on Saturday after an Israeli operation against the Islamic Jihad militant group ended more than a year of relative calm along the border.

Israel on Friday killed one of the group's senior commanders in a surprise daytime air strike on a high-rise building in Gaza City which drew rocket salvos in response.

On Saturday, Israel said it struck Islamic Jihad militants preparing to launch rockets and militant posts. Additional bombings targeted five houses, witnesses said, sending huge clouds of smoke and debris into the air as explosions rocked Gaza City.

Palestinian militants fired at least 160 rockets across the border, setting off air raids sirens and sending people running to bomb shelters as far as the central Israeli city of Modiin, between Tel Aviv and Jerusalem.

Islamic Jihad said it had targeted Israel's main international gateway, Ben Gurion Airport, but the rocket fell short near Modiin, around 20 kilometers (12 miles) away, and the Civil Aviation Authority said the airport was operating as usual with flight routes adjusted.

Most of the missiles were intercepted and there were no reports of serious casualties, according to the Israeli ambulance service.

Egyptian, UN and Qatari efforts to end the fighting were underway. Further escalation would largely depend on whether Hamas, the Islamic militant group which controls Gaza, would opt to join the fighting.

The Israeli strikes have killed 14 Palestinians, including at least four more Islamic Jihad militants and a child, and have wounded at least 110 people, the Palestinian Health Ministry said.
Hamas has an Islamic Jihad problem in the Gaza Strip
A terse statement by Hamas leader Ismail Haniyeh said that he "affirmed during contacts with the Egyptian intelligence heads that what happened in the Gaza Strip is the responsibility of the occupation state alone." Haniyeh, in addition, "stressed the need to stop the bombing targeting the Gaza Strip."

Another statement released by Hamas spokesperson Fawzi Barhoum also failed to offer any hint that his group was planning to join the fighting. "The resistance, with all its military arms and factions, is united in this battle, will defend our people in the Gaza Strip with everything it possesses, and will defeat the occupation as it defeated it in all the battles," said Barhoum.

At this stage, it's obvious that Hamas does not want Islamic Jihad to drag it into another all-out confrontation with Israel. Hamas's biggest fear is that another war could trigger a revolt against its regime by the Palestinians in the Gaza Strip, who paid a heavy price during last year's military confrontation with Israel.

Hamas is now hoping that Egypt and Qatar will be able to achieve a new ceasefire between Israel and Islamic jihad. Although it is doing its utmost not to get involved in the fighting, Hamas is apparently worried that if the fighting escalates and the number of casualties rises in the Gaza Strip, it will no longer be able to continue sitting on the fence.

In the past, Hamas found itself in the same position that Islamic Jihad is in now, when it created a state-within-a-state under the rule of the Palestinian Authority in the Gaza Strip. The Palestinian Authority's failure to rein in Hamas in the 1990s ultimately saw the Islamists seize control of the Gaza Strip in the summer of 2007 after toppling the Palestinian Authority.

Paradoxically, Israel's military strikes against Islamic Jihad serve the interests of Hamas by undermining the organization that poses a threat to its rule over the Gaza Strip. But Hamas's failure to assist Islamic Jihad could also prove to be counterproductive, especially in wake of increased voices criticizing the rulers of the Gaza Strip for their neutral stance.
Hi, how has your weekend been? Here, as #IsraelUnderFire from Palestinian Islamic Jihad terrorists in #Gaza, with over 400 rockets rained down, at least 1,000,000 Israelis have been forced to seek bomb shelter! pic.twitter.com/J3DkkTylEw

— Arsen Ostrovsky (@Ostrov_A) August 6, 2022
361 rockets have been fired at Israel by terrorists in Gaza in the last 24 hours. 70 of them have fallen short and landed in Gaza. Palestinian terrorists are bombing their own people. pic.twitter.com/8REUL5EWcW

— Adam Milstein (@AdamMilstein) August 6, 2022
A strong statement of solidarity with Israel and condemn of Palestinian Islamic Jihad terrorists, made by British Foreign Secretary and likely next Prime Minister, @trussliz! https://t.co/GXimEng8TC

— Arsen Ostrovsky (@Ostrov_A) August 6, 2022
And I am deeply concerned that a UN official "forgot" to mention the 100+ rockets fired from #Gaza , by a terror group, in the last hour! https://t.co/m1aLqpIRrO

— Avital Leibovich (@AvitalLeibovich) August 5, 2022
You want to know why Israel has so little trust in UN? This. Because their officials are essentially mouthpiece for Palestinian terror groups. See Exhibits A & B: @TWennesland and @FranceskAlbs. pic.twitter.com/z3nRqIuuo5

— Arsen Ostrovsky (@Ostrov_A) August 6, 2022
Palestinian terrorists spent the entire week declaring that they were going to bomb Israel and moving assets around in the Gaza Strip - people and weapons - to do exactly that. The Israelis then hit those assets.

Here's the NYT wrapping their minds around that sequence. pic.twitter.com/Rau736eoLC

— Omri Ceren (@omriceren) August 6, 2022
This woman works for @un & it's not the first time she's supported terrorists. We've made multiple complaints about her to @antonioguterres but the UN don't care they're happy to employ antisemites supporters of terrorism like @FranceskAlbs https://t.co/zSvFo9g2DO https://t.co/jj7s2zfle5

— GnasherJew®????? #JusticeforMalkiRoth (@GnasherJew) August 6, 2022
From my interview on @WIONews (India) today, where I explained why #Israel was faced with need for pre-emptive strike against imminent threat from Palestinian Islamic Jihad terror group in #Gaza, in order to avert an even greater catastrophe. pic.twitter.com/e4BEApjBs8

— Arsen Ostrovsky (@Ostrov_A) August 6, 2022
Russia, now slaughtering civilians in Ukraine, "is seriously concerned about armed violence...provoked by Israeli air strikes." Omits mention that in past 24 hours Palestinian Islamic Jihad—an EU-designated terrorist group—launched 350 rockets at Israel; 94 fell short in Gaza.` pic.twitter.com/vbIMDSiQx8

— Hillel Neuer (@HillelNeuer) August 6, 2022
Hi @CNN, we fixed it for you: pic.twitter.com/PnZNERgZSp

— David Saranga (@DavidSaranga) August 6, 2022
#TelAviv under fire: an update from outside my house as Palestinian terrorists in #Gaza fire rockets on millions of Israelis. 361 rockets fired at Israel, dozens shot down by iron dome, 70 landed within Gaza endangering Palestinians as well

Stay tuned for more on #OperationDawn pic.twitter.com/U3cakNN774

— Emily Schrader - ????? ?????? (@emilykschrader) August 6, 2022
Israelis in Ashkelon under attack. Watch the moment of impact as a rocket hits the parking area in Ashkelon. No injuries.

pic.twitter.com/7xDBaAzTfo

— Emily Schrader - ????? ?????? (@emilykschrader) August 6, 2022
Direct hit on a home in Sderot. No injuries as the family was in the bomb shelter pic.twitter.com/CiRNzq2NL3

— Emily Schrader - ????? ?????? (@emilykschrader) August 6, 2022
Al Jazeera Arabic live from #Gaza when Islamic Jihad fired rockets at Tel Aviv and central Israel from a residential area.

?? Watch: pic.twitter.com/rHY08HNEsv

— Emily Schrader - ????? ?????? (@emilykschrader) August 6, 2022
Palestinian militants fired rockets from Gaza City a few hours ago towards Israel. pic.twitter.com/cs4oVzgSrD

— Joe Truzman (@JoeTruzman) August 6, 2022
The first official video published by a Palestinian militant group during this conflict showing mortar launches against southern Israel. The group is the Popular Front for the Liberation of Palestine - Abu Ali Mustafa Brigades. pic.twitter.com/kISTSZrOxO

— Joe Truzman (@JoeTruzman) August 6, 2022
The DFLP has published video of rocket fire against #Israel. pic.twitter.com/0uIdoNqxxg

— Joe Truzman (@JoeTruzman) August 6, 2022
Part two of the video. pic.twitter.com/m9IWmWydbq

— Joe Truzman (@JoeTruzman) August 6, 2022
For the Head of the Islamic Jihad's Women's Framework, female terrorists who kill innocent civilians are "glamorous role models."

We clearly have a different idea of what a role model is. pic.twitter.com/cbQFNKhMkZ

— Israel Defense Forces (@IDF) August 6, 2022
Islamic Jihad terrorists in #Gaza firing rockets from the heart of civilian areas in Gaza today. #OperationBreakingDawn pic.twitter.com/d4Q2VLr2UW

— Emily Schrader - ????? ?????? (@emilykschrader) August 6, 2022
Journalists on the roof of a #Gaza building literally documenting terrorists firing rockets at Israel from civilian areas. pic.twitter.com/zKZH4yd5RI

— Emily Schrader - ????? ?????? (@emilykschrader) August 5, 2022
They "can't get medicine" (false)

But they can get bombs.

Okay then… https://t.co/c4HBDlO00m

— Emily Schrader - ????? ?????? (@emilykschrader) August 6, 2022
IDF strikes military lookouts of terrorist organization Palestinian Islamic Jihad: pic.twitter.com/JbS8IJ2VAU

— Emily Schrader - ????? ?????? (@emilykschrader) August 5, 2022
Gazans sitting on Gaza City beach promenade watching IDF bombing Palestinian Islamic Jihad targets in #Gaza. They know it's not random and they have nothing to fear.
C/o @Abualiexpress#TheGazaYouDontSee #Palestine #GazaUnderAttack https://t.co/LFYzBzZ72U pic.twitter.com/CkMdGLX8iY

— Imshin (@imshin) August 6, 2022
Sorry for not tweeting much during operation #BreakingDawn.

Terrorist leaders will be eliminated. Rocket launchers will be destroyed. Civilians will be protected from both sides. We're going to be criticised by some celebrities. We're not going to care.

Am Israeli Chai ???? pic.twitter.com/8gTQBlRkcQ

— The Mossad: The Social Media Account (@TheMossadIL) August 6, 2022
Head of Amnesty's Ukraine office quits after group accuses Kyiv
The head of Amnesty International's Ukraine office has quit the human rights body in a disagreement with it after the group accused Ukraine's armed forces of endangering civilians by basing troops in residential areas during the Russian invasion.

Amnesty made the comments in a report published on Thursday that drew fierce criticism from the Ukrainian government. President Volodymyr Zelensky led denunciations of Amnesty's allegations, accusing the group of "trying to shift the responsibility from the aggressor to the victim." Amnesty's Ukraine head Oksana Pokalchuk said on Facebook late on Friday that she was resigning as she opposed the report's publication and now understood that she could not get it changed or removed.

Pokalchuk said Amnesty unwittingly "created material that sounded like support for Russian narratives of the invasion. In an effort to protect civilians, this study became a tool of Russian propaganda."

"It pains me to admit it, but we disagreed with the leadership of Amnesty International on values. That's why I decided to leave the organization."
#BREAKING Brave Amnesty Ukraine Director @OPokalchuk had to resign today - after she has exposed colonial, reality-twisting and Kremlin-friendly approach of @amnesty in the latter's scandalous report. Still, the AI SG @AgnesCallamard stays in office. #AgnesCallamardMustResign pic.twitter.com/PDeMfuMP6q

— Sergej Sumlenny (@sumlenny) August 5, 2022
If you're just joining us, at issue is this report just issued by @amnesty that criticizes the Ukrainian military for basing themselves in civilian areas. It's been met with a firestorm of criticism from Ukrainians and specialists in the law of war. https://t.co/i79yIVf1TV

— Ilya Lozovsky (@ichbinilya) August 5, 2022
Nasrallah blasts Israel over Gaza op: 'The resistance will have the upper hand'
The leader of the Lebanese Hezbollah terror organization, Hassan Nasrallah, fiercely condemned Israel's operation in the Gaza Strip Saturday and issued a warning to the Jewish state during a televised address.

Nasrallah warned Israel to "not miscalculate in Lebanon," a possible reference to potential Israeli strikes there, but also to the ongoing maritime dispute over gas drilling rights off the two countries' coasts.

Nasrallah backed the Palestinian right to "resistance," after Israel embarked on a campaign against the Palestinian Islamic Jihad (PIJ) terror group Friday.

He added: "Every honorable person should support this right and no one should question this right, because silence will open the doors to assassinations again to all leaders and cadres in Gaza."

The terror chief said Hezbollah was in contact with both PIJ and the Hamas terror group, adding that "the resistance will have the upper hand in the battle."

All three groups, but particularly Hezbollah and Islamic Jihad, are backed by Iran.
Thanks to the EU, Iran's Mullahs Will Continue Taking Even More Hostages
Recently the Belgian government proposed and ratified legislation that appears to pave the way to transfer terrorists who have been convicted abroad back to Iran.

Does Belgium not understand that returning convicted terrorists to Iran will further embolden and empower the mullahs to carry out more terrorist acts on the European soil while they maintain complete impunity? The new concession will also encourage Iran's regime to take even more European citizens as hostages and demand still more concessions from the EU.

"It has been a crime to kill prisoners for centuries. The difference is that if it amounts to a particular crime of genocide, there is an international convention that binds countries to take action and punish that genocide... There is no doubt that there is a case for prosecuting [Iranian President Ebrahim] Raisi and others. There has been a crime committed that engages international responsibility. Something must be done about it as has been done against the perpetrators of the Srebrenica massacre." — Geoffrey Robertson, human rights barrister and first president of the UN's Special Court for Sierra Leone, YouTube, August 27, 2021.

"The Iranian authorities are using Ahmadreza Djalali's life as a pawn in a cruel political game, escalating their threats to execute him in retaliation for their demands going unmet. The authorities are attempting to pervert the course of justice in Sweden and Belgium, and should be investigated for the crime of hostage taking." — Diana Eltahawy, Amnesty International Deputy Director for the Middle East and North Africa, May 19, 2022.

Even though the current Iranian government is a party to the International Convention against the Taking of Hostages, Tehran has long taken foreign hostages as pawns to extract economic concessions and achieve geopolitical and financial gains. The Obama administration, for instance, shipped $400 million in an unmarked plane to Iran for the release of four Iranian-American prisoners.

Appeasing terrorists, as we all know, only incentivizes them. It only breeds more terrorism and hostage-taking; it is an endless, deliciously profitable jobs and extortion program. The EU's policy, which ensures that Iran's ruling mullahs enjoy impunity, is a blow to the victims of the Iranian regime's terrorism and will simply endanger the security and safety of European citizens.
Scene 2--the red carpet and Mercedes sedans being rolled out for Iranian diplomats, while their bosses in Tehran are entertaining the secretary-general of PIJ. 2/2 pic.twitter.com/8O3uuzR4nT

— Jason Brodsky (@JasonMBrodsky) August 5, 2022
'The way Bristol Uni handled my David Miller complaint messed up my uni life'
It was shortly before the end of her first year as an undergraduate at Bristol University in 2019 that Nina Freedman sent the email that was to change her life for the next three years.

Sitting in her room at her student halls, the 18-year-old had filed a complaint to the authorities about the incendiary statements of Professor David Miller.

He was later to be sacked by the university, but at the time Jewish students were horrified that an established member of staff was openly speaking of the "Israel lobby" and dismissing claims of antisemitism in Labour as "mostly false".

Nina herself hadn't been at the shocking lecture during which Miller had given a Powerpoint presentation, including a jaw-dropping slide depicting a network of prominent Jewish individuals and organisations, with "Israeli government" at the top.

But after taking up the position of president at the Bristol University Jewish Society (JSoc), she believed it was her duty to act on behalf of those students who had been exposed to Miller's rantings.

"I felt like I had to," she told the JC in an exclusive interview, after being vindicated when the Office of the Independent Adjudicator (OIA) ordered Bristol to give her an apology and financial compensation.

Only now has she been freed from the confidentiality rules the university had imposed on her. Speaking for the first time about the complaint that left her trapped in a Kafkaesque nightmare, the former head girl from Yavneh College in Borehamwood, North London said: "I was elected to represent all the Jewish students at Bristol. I felt like it was down to me to make sure we got some kind of justice."
Jewish security organization foils terror threat against Labour MP
The British Community Security Trust organization foiled a planned terror attack against Liverpool MP Ian Byrne, according to a statement released by Byrne on Wednesday.

Byrne wrote in his statement that the threat had come from a far-right extremist who had been known to post antisemitic content online including threats to the Jewish community as well as comments about MP Sir David Amess, saying that Amess would not be the last MP to die.

Amess was a lawmaker in Parliament who was stabbed to death in October in what police treated as a terror attack.

Following specific threats towards Byrne, his family, and his office staff, the individual was photographed outside Byrne's office in West Derby, and the threat was dealt with.

"I would like to place on record my sincere thanks to the organizations from the Jewish community who flagged this threat to me and to the counter terrorism unit in Parliament," Byrne wrote in his statement.
German Jews Call for Resignation of New Documenta Art Festival Director as Antisemitism Scandal Festers
The scandal over antisemitic artworks on display at Germany's prestigious Documenta festival of contemporary art continued to fester on Friday, as Jewish activists demanded the resignation of the festival's interim director just two weeks after he was appointed to the post.

In an open letter widely reported on by German media outlets, Elio Adler — chair of the Jewish Values Initiative — said that interim director Alexander Farenholtz had been "overwhelmed" by the dispute over antisemitism that has completely overshadowed the current edition of the festival, which is staged in the city of Kassel every five years.

Farenholtz was appointed at the end of July to replace the previous director, Sabine Schormann, whom Adler said was forced to resign because she hadn't "found the right answers to the ongoing antisemitism scandal, which was fueled again and again by the constant discovery of anti-Jewish exhibits."

A key event in the art world's calendar, the fifteenth edition of the Documenta festival will be remembered for the row over antisemitism rather than any of the artworks exhibited.

Initial concerns were raised in the build-up to the festival in January, regarding the participation of artistic groups who support the campaign to isolate the State of Israel through a comprehensive boycott, among them the Indonesian curators of the festival, the artists collective known as ruangrupa.
Virginia school district apologizes for a swastika-like logo
A school district in Virginia has apologized for designing and distributing a logo that resembles a swastika, in the second case this month of a district releasing a logo that bears a resemblance to a Nazi emblem.

Hanover County Public Schools, just north of Richmond, this week unveiled T-shirts and conference materials with a logo of what the superintendent said was "four hands and arms grasping together." But local Jewish groups and others, including a Jewish candidate for Virginia's House of Delegates, instead saw something that looked too much like the swastika.

"We are deeply sorry for this mistake and for the emotions that the logo has evoked by its semblance to a swastika and, by extension, to the atrocities that were committed under its banner," Michael Gill, the district's superintendent, said in a statement Wednesday, in which he blamed the logo's creation on "one of our teachers" who said it had been done "without any ill-intent."

"Unquestionably, we condemn anything associated with the Nazi regime in the strongest manner possible," Gill wrote.

Gill's apology came after objections to the logo were raised by the Jewish Community Federation of Richmond, the Anti-Defamation League, the Virginia Holocaust Museum, the interfaith nonprofit Virginia Center for Inclusive Communities and other civil rights groups, including the local NAACP chapter.
Teenager gets 43-month sentence for brick attack on rabbi
A teenager who viciously attacked a Chigwell rabbi in May last year has been sentenced by Chelmsford Crown Court to 43 months in a youth offenders' institution, after pleading guilty to grievous bodily harm without intent, theft and aggravated criminal damage.

Souraka Djabouri, 19, admitted hitting Rabbi Rafi Goodwin over the head with a brick, in an assault after the rabbi stopped suddenly while driving, in order to avoid hitting a pedestrian who had walked out into the road from behind a parked van.

Djabouri, of Tudor Crescent, Ilford, first verbally abused the rabbi, invoking the fact that he was Jewish. Rabbi Goodwin drove off, but when he stopped at a junction, he found that Djabouri had followed him and had begun kicking at his car, damaging the wing mirror and the door.

The rabbi got out of the car to take pictures of Djabouri and another man who he believed were responsible for the damage. But he was assaulted with a brick and his phone was stolen. He needed urgent medical care as the assault necessitated stitches and resulted in serious swelling to his face and eye.

Djabouri and another man, 26-year-old Abderrahman Brahimi, were arrested by Essex Police, who treated the case as a hate crime. But prosecutors offered no evidence against Brahimi, and charges against him were dropped.

Djabouri pleaded guilty to grievous bodily harm, theft and criminal damage on July 6. Speaking before the sentencing, PC Thomas Tod, of Loughton CID, said: "Hate crime is a priority for Essex Police and it simply will not be tolerated. Our drive to secure justice in this case shows that. We work shoulder to shoulder with our Essex partners to take a tough stance against hatred, and we work closely with the CPS to make sure that, where we identify hate crime offenders, they are brought to justice."
New Project Spotlights World War II-Era Diplomats Who Saved Thousands of Jews During Holocaust
A new project currently filming throughout Europe and Israel aims to document the stories of non-Jewish diplomats who defied orders and saved hundreds of thousands of Jews from the Nazis during World War II.

"The Rescuers — Last-Chance Project" follows the 2011 movie "The Rescuers," in which Rwandan anti-genocide activist Stephanie Nyombayire and the late British historian Sir Martin Gilbert traveled across three continents interviewing relatives of diplomats who rescued Jews during the Holocaust, and the survivors saved by their efforts. The diplomats were all recognized by Yad Vashem as "Righteous Among the Nations" for risking their lives to save Jews.

The testimonies were recorded and added to the Joyce D. Mandell Rescuers Collection, the world's largest known World War II historical film compilation dedicated to testimonies about diplomats honored as "Righteous Among the Nations." The collection was integrated into the USC Shoah Foundation's Visual History Archive.

Emmy-winning director Michael King, who directed the 2011 film, is now expanding the initial project by tracking down people who knew 32 additional "Righteous Among the Nations" diplomats, as well as survivors rescued because of their efforts. The goal is to add their stories to the Mandell collection.

"The Rescuers — Last-Chance Project" will focus on diplomats from Brazil, Ecuador, China, France, Italy, Spain, Sweden, Yugoslavia, Switzerland, El Salvador, Peru, Poland, Portugal and Romania. King and his team recently concluded filming in Israel and are currently shooting in Europe, including the Swedish capital of Stockholm, The Algemeiner has learned.

The research project is being developed, researched and produced by King with help from historian Alexa D. Potter, the USC Shoah Foundation and the Andrew J. and Joyce D. Mandell Family Foundation.

"Using their influence and many times producing official documents such as passports and visas, there were diplomats who enabled individuals and families to flee the onset of the German government's proclamation to kill Jews wherever they could be located," Joyce Mandell recently told the Hartford Courant.

The new project is "a race against time," said King. "Our last chance to document first-hand accounts related to diplomats who were at the center of the 20th century's most unforgettable events."
---
---
Buy the EoZ book, PROTOCOLS: Exposing Modern Antisemitism today at Amazon!

Or order from your favorite bookseller, using ISBN 9798985708424.

Read all about it here!