From Ian:
'Pathetic and Unconvincing': Israel Rejects UN Investigator's Apology for 'Antisemitic' Remarks
Israel called an apology by UN investigator Miloon Kothari "pathetic and unconvincing" and reiterated its demand to disband the inquiry commission on the 2021 Israel-Hamas conflict over his "antisemitic" remarks.

"The hollow apology of commission of inquiry member Miloon Kothari is a pathetic and unconvincing maneuver, which doesn't compensate for the long record of anti-Israeli and antisemitic statements made by him and the other COI members," Israel's Foreign Ministry said in a statement. "In light of the antisemitic and anti-Israeli statements of the commissioners, and the fact that they do not meet the minimal standards of neutrality and impartiality required from individuals in these positions in the UN, Kothari and his colleagues must resign immediately."

"If the UN is committed to fighting antisemitism and to upholding its values, this is the only reasonable and acceptable result," the ministry's statement read.

Kothari, a member of the UN's International Commission of Inquiry (COI) expressed his "regret" on Thursday for using the words "Jewish lobby" when talking about its influence on social media.

"It was completely wrong for me to describe the social media as 'being controlled largely by the Jewish lobby,' Kothari wrote in a letter to United Nations Human Rights Council (UNHRC) President Federico Villegas. "This choice of words (…) perceived and experienced to be antisemitic was incorrect, inappropriate, and insensitive."

In recent days about 20 countries have condemned Kothari's remarks made during a podcast interview at the end of last month to Mondoweiss, an anti-Zionist web publication, as antisemitic.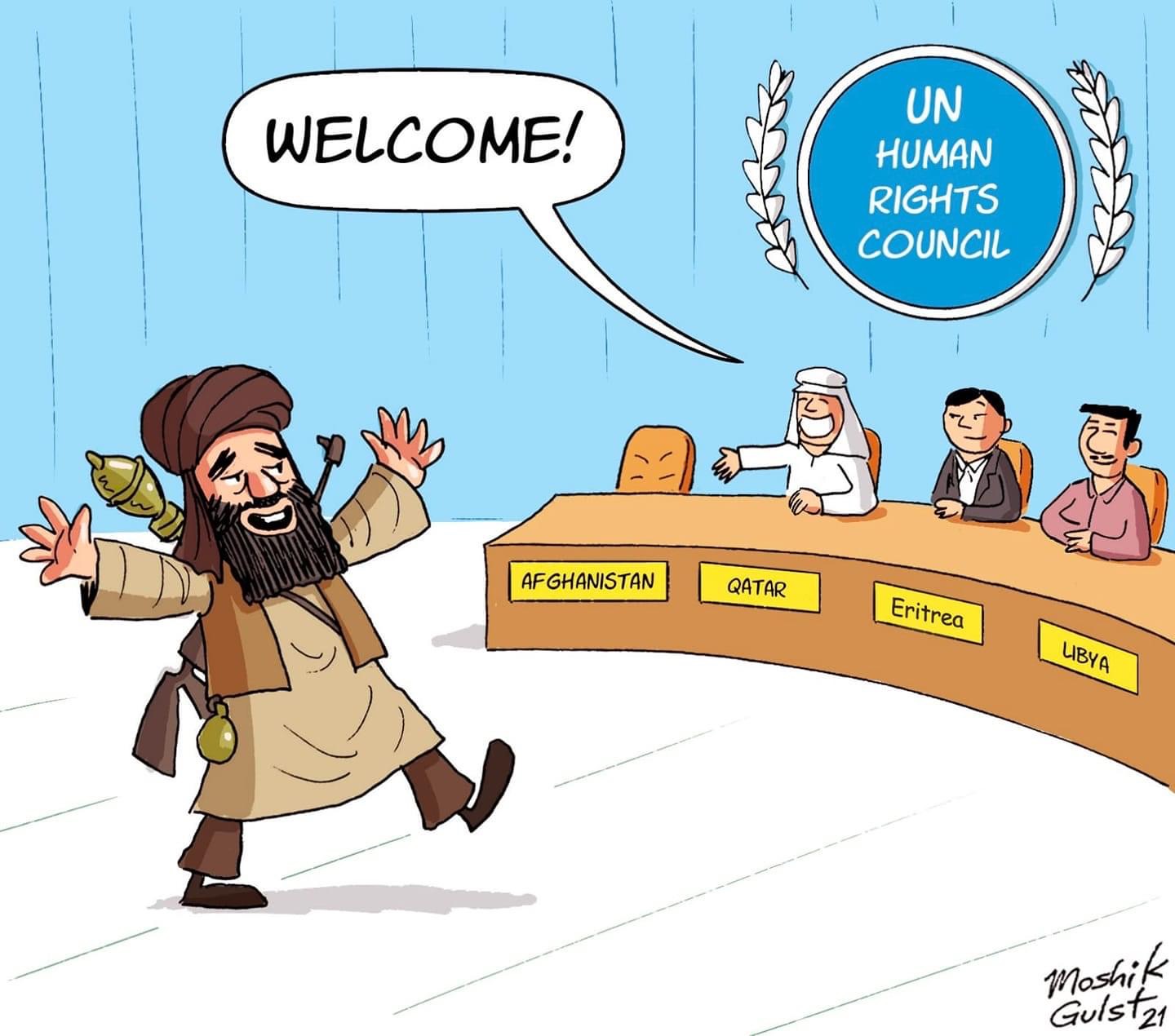 Bravo ???? Brazil! One of the strongest condemnations yet of Miloon Kothari, commissioner on the UNHRC inquiry against Israel, who ranted about "the Jewish Lobby." Also called out Kothari's antisemitism:????????????????????????????????????????????????????????????????????
???? UN Sec-Gen & UNHRC Chair https://t.co/6rqPpg1N6R

— Hillel Neuer (@HillelNeuer) August 4, 2022
Denmark and Bulgaria become latest countries to condemn the deplorable antisemitic remarks of @UN_HRC's Miloon Kothari. That makes it 20 countries! Message loud and clear: Democracies will not accept such blatant antisemitism, prejudice and bias from UN officials! pic.twitter.com/LWkELlpsj7

— Arsen Ostrovsky (@Ostrov_A) August 5, 2022
Jerusalem was never mentioned nor once referred to in the PLO Charter of 1964
Islamic scholars from previous centuries realized and noted the absurd, irreligious propaganda linking the importance and relevance of Jerusalem to Islam. Most notable of such learned men were Yaqut 1179 – 1229, Ibn Taymiya, 1263 – 1328 and Ibn Qayyim al-Jawziya, 1292-1350. Ironically the monster of Libya, Gaddafi, at a meeting of Arab leaders in March 2001, mocked the Arab Palestinian leadership for their false connection to Jerusalem.

Unfortunately, many Qurans published and printed after 1970 are revisionist in the extreme by alluding to Jerusalem and Palestinian rights in verses which originally made no such references. Another reason given by various scholars as to why Islam is in such dire straits currently. Revising Quranic text has politically assisted the false Palestinian claims but is beyond Islamic redemption.

It may be worth noting that the only time in the last 3000 years that Jerusalem was 'Jew free' was when Jordan invaded in 1948 and ethnically cleansed East Jerusalem, Judea and Samaria. During this period of Jordanian occupation, Jerusalem was totally defiled by its Muslim occupiers.

One can analyze from the facts above that any Palestinian Arab claim to Jerusalem is a myth.

The claim to Jerusalem by Palestinian Arabs is a false claim and is just the start of a land grab with the purpose of controlling the whole of the Middle East of which Islam currently controls 99.98 per cent. According to the eminent Arab historian Joseph Farah in his essay Myths of the Middle East, "Israel represents one tenth of one per cent of the land mass. But that's too much for the Arabs. They want it all and that is ultimately what the fighting is about today….no matter how many land concessions Israel makes, it will never be enough".

Unfortunately Israel and her supporters have been overwhelmed by an opposition only too willing to exploit myths and propagate hate to a silent , uninformed majority who through inertia , ignorance and bigotry have allowed such propaganda to permeate the media , academia and political and religious debate to Israel's detriment and delegitimize Israel's legal , historical , political and religious heritage.

It's time to challenge and what better weapon in the armory than to verify that the Quran unequivocally supports Zionism and that Palestinian claims to the geography mocks Allah and Mohammed and defies some of the Quran's most important tenets. Support for the Palestinian Arab religious claims are undoubtedly Islamophobic.
The Israel Guys: PALESTINIANS DON'T WANT a State of Their Own *proof*
You may be surprised to find out that fewer and fewer Palestinians actually want their own state. Surveys taken every few years show that more and more Palestinians and Israelis support the idea of one state for both peoples.

Even when the two-state solution idea originated, the PA never showed that they were a good partner for their side of the equation. The Second Intifada, shooting rockets from Gaza, teaching violence in their schools, and paying convicted murderers never pointed to a viable peace partner. Instead, the Palestinians have been clear that they want the entire land of Israel - thus their chant: from the river to the sea, Palestine will be free.

You may be surprised on today's program to find out just how little the Palestinians want to see a two-state solution enacted.
Israel launches new Gaza operation, kills top Islamic Jihad commander
The IDF has begun Operation Breaking Dawn against Palestinian Islamic Jihad in the Gaza Strip, striking multiple targets belonging to the group and killed close to a dozen operatives including the head of the group in the northern part of the enclave.

Defense Minister Benny Gantz approved a draft order of up to 25,000 soldiers in reserve duty for operational purposes and the IDF began calling up reservists in the Southern Command, Air Defense Array, Homefront Command and combat troops and officers.

"The goal of this operation is the elimination of a concrete threat against the citizens of Israel and the civilians living adjacent to the Gaza Strip," Prime Minister Yair Lapid said in a statement.

Dozens of targets across the Gaza Strip were hit, with casualties including the head of the group's northern command Tayseer al-Jabari.

Jabari replaced Baha abu al-Ata who was killed in an IAF strike in 2019. Jabari, who was also responsible for coordination between the group and Hamas, was killed at 4.16 PM in his apartment in Shuja'iyya. According to the IDF, he commanded over the launching of hundreds of rockets during Operation Guardian of the Walls last year, including anti-tank-guided missile attacks.

The IDF said that they had received a specific warning that he was planning an attack against Israeli targets before the arrest of Bassem Saadi earlier in the week in an arrest raid in the West Bank.

In addition, IAF jets and drones targeted two cells that were on the way to carry out anti-tank missile attacks, killing at least 12 Islamic Jihad operatives. Military bases and buildings used by operatives were also targeted.
New Video: IDF of strike which killed Palestinian Islamic Jihad military commander in northern Gaza Tayseer al-Jabari pic.twitter.com/M5ut1zmcTQ

— Amichai Stein (@AmichaiStein1) August 5, 2022
The Islamic Jihad, Hamas, and other terrorists groups in the Gaza Strip are dedicated to Israel's destruction.

Our message to them: Israel will always protect its citizens. #OperationBreakingDawn pic.twitter.com/zCaY9r5nsB

— Israel ????? (@Israel) August 5, 2022
Israelis close to Gaza ordered to stay near bomb shelters, avoid gatherings
Fearing massive rocket fire against Israeli cities, the IDF Home Front Command issued instructions on Friday for Israelis living close to the Gaza Strip after the IDF struck Islamic Jihad targets in Gaza.

The instructions are valid from Friday morning until 6 p.m. on Saturday, although the IDF may release more instructions after that time period.

According to the instructions, people living in proximity to Gaza were told not to have gatherings over 10 people in open spaces and 50 people in closed spaces. Places of work that have access to shelters were given the okay to keep working, but those that don't were instructed to close, as were education institutions.

The instructions for the west and center of the Negev and Lachish were the same except they could have gatherings of up to 100 people in closed spaces.

The rest of the country was given no special instructions.

Israel Police said in a statement that police alertness was being raised throughout the country. Furthermore, the Border Police was prepared to call in 10 companies of reservists.
Special instructions by @IDF Home Front command for Israelis within 80 km of the Gaza Strip, in wake of increased threat by Palestinian Islamic Jihad terrorists and commencement of Op. Breaking Dawn. pic.twitter.com/zE2ZRs0lKp

— Arsen Ostrovsky (@Ostrov_A) August 5, 2022
PA's Abbas condemns 'Israeli aggression against our people in the Gaza Strip'
Palestinian Authority President Mahmoud Abbas's office issues a statement tearing into Israel for its airstrikes in Gaza.

"The presidency condemns the Israeli aggression against our people in the Gaza Strip, demands its immediate cessation and holds the occupation forces responsible for this dangerous escalation," the statement says.

"The president calls on the international community to compel Israel to stop the aggression against our people everywhere, particularly in Gaza, and to provide them with international protection."
Islamic Jihad says Israel has 'started a war against our people,' vows to hit back
The Palestinian Islamic Jihad terror group said Friday afternoon that Israel had "started a war against our people" after the Israeli military said it had carried out strikes as part of an operation targeting the group.

"We collectively must defend ourselves and our people. We will not allow the enemy's policy of undermining the resistance and our national perseverance," the group said in a statement.

Islamic Jihad said it was mourning "the great jihadist commander Tayseer Jabari 'Abu Mahmud,' who was killed in a Zionist assassination in Gaza City."

Jabari, the group's leader in the north of the Strip, was killed in the Israel Defense Forces' opening salvo.

The military said it assessed that at least 15 PIJ operatives had been killed in the strikes.
I searched for a single Amnesty tweet criticising Hamas for deliberately using civilian areas to launch rockets and found nothing.

Yet Amnesty do this on Ukraine without blinking

What a bunch of spineless, anti-western, Antisemitic hypocrites.
https://t.co/6ufMU8rQ61

— David Collier (@mishtal) August 4, 2022
Hamas attack Israel.
Hamas hide in population centres.
Israel defends itself
Amnesty criticise Israel

Russia invades Ukraine
Russia attacks Ukrainian population centres
Ukraine defends itself
Amnesty criticise Ukraine.

Amnesty clearly do not like people who defend themselves.??

— David Collier (@mishtal) August 5, 2022
Amnesty be like... THIS is how you're supposed to do it... pic.twitter.com/SDmh7XWmPC

— The Mossad: The Social Media Account (@TheMossadIL) August 5, 2022
PreOccupiedTerritory:
Gaza Blogger Unsure Which Fake Massacre Photos to Use (satire)
Ahmed Sinni, a Hamas and Islamic Jihad supporter, cannot decide which images to alter or reuse from unrelated conflicts for propaganda purposes, the 24-year-old reported Friday.

Looking for ways to spread his movement's take on recent developments – mainly today's retaliatory and preemptive Israeli strikes on Palestinian Islamic Jihad positions and personnel in the Gaza Strip – Sinni was frustrated in his inability to find appropriately heart-rending images of the carnage. Despite seeking photos or videos that would showcase the alleged brutality and wanton violence of the Israeli military, he could find precious few bona fide images of the carnage.

Sinni then decided to take images from the Syrian civil war and recaption them to suit the situation. But the collection of bloody images available from Syria has put the young activist in a dilemma, as many of the images have already been recycled for similar purposes by Hamas over numerous previous rounds of violence. Palestinian militants waged their own propaganda campaign when the coastal territory was under assault by Israel last year, frequently showing photos of dead Syrian children and claiming they were Gazans killed by indiscriminate Israeli rocket and artillery fire.

"I'm not entirely sure I want to go there," said Sinni, who dismisses any notion of self-defense for Jews. "And although I know in my heart the Zionists are evil and cannot be trusted, I cannot risk my own credibility by using photos that were already employed for similar purposes. What if we get called out on it?"
Amnesty Accuses Ukraine of Basing Troops in Residential Areas, Angering Kyiv
Zelensky, in his nightly video message, said the group was trying to "amnesty the terrorist state" — a term he often uses for Russia.

"There are no conditions, and nor can there be, even hypothetically, under which any Russian attack on Ukraine becomes justified," said Zelensky, clearly agitated.

"Anyone who amnesties Russia and who artificially creates such an information context where some attacks by terrorists are supposedly justified or supposedly understandable, cannot fail to understand that, in doing so, they are helping the terrorists. And if there are such manipulative reports, then you share with them the responsibility for the killings of people."

Ukrainian Deputy Defense Minister Hanna Malyar said failing to criticize Russia's actions in the report "is like studying the actions of the victim without considering the actions of an armed rapist".

Foreign Minister Dmytro Kuleba said he was "outraged" by the report, and urged Amnesty to "stop creating a false reality".

Ukrainian officials say they take every possible measure to evacuate civilians from frontline areas. Russia denies targeting civilians in what it describes as a "special military operation."
Amnesty International was founded to defend prisoners of conscience jailed by oppressive regimes. But today what truly motivates its leadership is attacking the West. And to do so, Amnesty has routinely enabled misogynists, homophobes, tyrants & terrorists. Let's take a look: /2

— Hillel Neuer (@HillelNeuer) August 5, 2022
That Amnesty's Agnes Callamard falsely denigrates legitimate critics isn't new, nor her organization's lack of a moral compass. She who made a moral equivalence between Nazi Germany and the city of Minneapolis will also conflate Putin with his victims. /11https://t.co/IPuzNirluv

— Hillel Neuer (@HillelNeuer) August 5, 2022
Joe Truzman:
Palestinian Islamic Jihad Leader Behind the Rise in West Bank Militancy Arrested
Bassam al-Saadi, the head of Palestinian Islamic Jihad (PIJ) in the West Bank, was arrested Monday night in Jenin during a combined operation involving the Israel Defense Forces (IDF) and other Israeli security agencies.

A statement published by Israel's security agency, Shabak, alleged al-Saadi was behind the military buildup of PIJ in the West Bank, particularly in Jenin. He was also a driving force in the radicalization of PIJ operatives in the area. The statement added that al-Saadi was arrested at his home in a "special forces operation" with Asharaf al-Jada, a former "PIJ prisoner" and al-Saadi's "closest aide."

If the Shabak's statement is true, it will validate FDD's Long War Journal's assessment last year that a military build up of militant organizations was occurring in the West Bank. [See FDD's Long War Journal: Analysis: The Surge in Militant Activity in the West Bank]

During Monday night's operation, militants from Katibat Jenin clashed with Israeli security forces resulting in the death of one Palestinian, according to the Palestinian Health Ministry. The militant, Derar al-Kafrini, was later claimed by Katibat Jenin as one of its members. [More on Katibat Jenin and other groups: Analysis: Understanding the Militant Groups Behind the Violence in the West Bank]

In a bid to calm tensions, images of al-Saadi were leaked after his arrest to show that he was in good health and had not been gravely harmed in the operation.
UN envoy Tor Wennesland visits home of arrested PIJ leader in Jenin
United Nations Special Coordinator for the Middle East Peace Process Tor Wennesland has reportedly visited the home of arrested Palestinian Islamic Jihad leader Bassem Saadi in Jenin and met with his family members, Hebrew media reported on Friday afternoon.

Wennesland reportedly noted that Saadi seems to be in good health and a diplomatic source has stated that the visit took place as part of the efforts to prevent an escalation between Israel and the PIJ.
Just this week: #Iran President Raisi meting with #PalestinianIslamicJihad leader in Tehran.

PIJ is a brutal terrorist organization sworn to the destruction of Israel. It operates fully as an Iranian outpost in #Gaza.#Israel fully entitled to launch Op. #BreakingDawn. pic.twitter.com/iJsJF3ZwDM

— Arsen Ostrovsky (@Ostrov_A) August 5, 2022
Precisely because groups like Hamas and PIJ carry out terror attacks against Israel from Gaza. Stop shilling for the jihadists Matt! https://t.co/icgTcLfrnu

— Arsen Ostrovsky (@Ostrov_A) August 5, 2022
SHAMEFUL from @AP and @guardian! No, Israel did not 'strike Gaza.' Israel hit Palestinian Islamic Jihad terrorists in Gaza, only after days of relentless threats by PIJ to hit Israeli civilian centers! pic.twitter.com/GvCJNXuPDU

— Arsen Ostrovsky (@Ostrov_A) August 5, 2022
New CCTV images show #Iranian kill squad tracking #Israelis in Istanbul.

Same Iran that EU and US now rushing to stitch up a nuclear dear with in Vienna?https://t.co/HGBMTTzStk

— Arsen Ostrovsky (@Ostrov_A) August 5, 2022
Hamas Warns Jews not to Ascend to Temple Mount on 9 B'Av, Calls on Muslims to Storm the Compound
Hamas warned on Friday against Jewish plans to ascend the Temple Mount on Sunday, for the delayed observance of 9 B'Av fast day (the day of fasting falls on Shabbat this year, but we don't fast on Shabbat except when it falls on Yom Kippur – DI), the Safa news agency reported.

Accusing the "settlers" of planning to "storm the blessed Al-Aqsa Mosque on Saturday and Sunday," Hamas called on "our people and our nation to thwart the plans of temporal and spatial division."

This is very good news, folks. It suggests the Muslims understand full well the value of the Temple Mount and are prepared to throw their lives on the line, if need be, to prevent the Jewish legal owners of the land from taking it over – because that's when the Muslim insurgency in Eretz Israel will be terminated.

Jews don't get the message that's been so deeply internalized by the Arabs, though. A Channel 14 survey found that of the coalition voters, only 9% plan to fast on Sunday – compared to 45% of the opposition voters who will fast to mourn the loss of our holy Temple.

The official of the Hamas Jerusalem office, Harun Nasser al-Din (what a name), said in a press statement on Friday: "The Zionist calls to storm Al-Aqsa Mosque on Saturday and Sunday (6 and 7 of August) are desperate attempts to Judaize it and impose 'sovereignty' on it, as part of the occupation's plans to install 'temporal and spatial division.'"

The term "temporal and spatial division" is a reference to a statement by the PA's "Governor of Jerusalem" Adnan Ghaith, who last April told the Qatar News Agency (QNA) that the "illegal Israeli occupation has plans to impose a temporal and spatial division of the Al Aqsa Mosque."
The "child" https://t.co/KqMZJVDCxV pic.twitter.com/YBJulvZ9rD

— Aviva Klompas (@AvivaKlompas) August 5, 2022
Palestinians demand elections as discontent with leadership grows
Hundreds of Palestinian political activists and academics are preparing a petition to demand that the Palestinian Authority leadership hold general elections without delay.

The new petition, which will be announced in the coming weeks, reflects the widespread discontent with the Ramallah-based leadership. It also reflects the acute crisis that the PA leadership has been facing in recent weeks in light of protests by lawyers, engineers and teachers and the increased activities of gunmen in the northern West Bank.

The demand for holding new elections comes more than a year after PA President Mahmoud Abbas called off the parliamentary and presidential elections, which were supposed to have taken place in May and July 2021.

Although the 87-year-old Abbas cited Israel's refusal to allow the elections to take place in Jerusalem, many Palestinians argue that the real reason he called off the elections was his fear of losing the vote to his rivals in Hamas. He does not want to see his fragmented Fatah faction suffer another humiliation, similar to the one in 2006, when Hamas won the parliamentary election.
Middle Eastern countries top list of world's angriest, most negative countries
A Nazi Taught Interrogation Tactics to Syrians and Egyptians
Damascus, 1988. Plainclothes security personnel hover constantly around the main entrance of an elegant residential building. There are whispers that an "important" German fugitive lives on the second floor. As teenagers back then, whenever we got too close to that building, the security officers would order us to disperse, warning that only residents were allowed on the sidewalk.

The shutters were always closed, but occasionally, the occupant of that sunless flat would come out for a walk, passing a popular shawarma restaurant that faced his building. He would then walk up to Arnous Square and pass the Retired Officers Club, also known as al-Muharibeen al-Qudamaa (Old Fighters). Many of the older former officers seated in that club, sipping strong Arabic coffee, playing cards and smoking their shishas, knew exactly who the tall and humorless man was, but nobody ever said a word. They just pretended not to have seen him. Many had served in World War II when Syria was under French occupation. Some were cadets at the Homs Military Academy; others were soldiers in the French-run Army of the Levant. During the war, this man was their enemy. They fought on opposite sides of the battlefield; they with France and the Allies, he with Adolf Hitler and the Nazis. The man of whom I speak was Alois Brunner.

All we knew of this mysterious stranger was that he never smiled. When we saw him, he ran. One time he cussed at a group of boys whose soccer ball had accidentally hit him. We eventually learned that he was "Hitler's man" and that he was "good, not bad," having "killed the Jews during World War II." One of our friends, trying to be funny, raised the Nazi salute at a distance and barked: "Heil Hitler." The man didn't see him and neither did the security service personnel who were standing nearby. This came as a relief to me at the time, not because admiring Hitler in Syria was a crime. It wasn't. But because we knew the secret identity of a man that the regime was protecting.

The name Brunner is known among World War II historians and Nazi hunters. Austrian-born, SS officer Brunner joined the Nazis in 1931, when he was still a teenager. In January 1943, he was put in charge of the Drancy camp outside Paris, the last stop for Jews before they were sent to the gas chambers. He had been the right-hand man to Adolf Eichmann, a notorious Nazi officer and one of the organizers of the Holocaust. By some estimates, Brunner was responsible for the arrest and torture of 47,000 Jews in Austria, 44,000 in Greece, 23,000 in France and 14,000 in Slovakia.
Syrian Presidential Advisor Bouthaina Shaaban on Chinese TV: China Wants to Eliminate Poverty, Has a Humane Mentality of Collaboration; The West Is One-Sided and Racist, Ruins Countries pic.twitter.com/SNYHmNCUAn

— MEMRI (@MEMRIReports) August 5, 2022
Two years after over 200 were killed in the #BeirutBlast, #Lebanon awaits justice.

'Lebanon is not a real state. As long as anyone doesn't grasp this fundamental reality, they'll go deeper and deeper into the rabbit hole,' @AcrossTheBay tells @laura_i24.

#??????_????_????? pic.twitter.com/FSvU30epxn

— i24NEWS English (@i24NEWS_EN) August 5, 2022
'US won't wait forever for Iran to accept nuclear deal'
Indirect talks between Tehran and Washington resumed in Vienna with a meeting between Iran's chief nuclear negotiator and the EU's Enrique Mora, who coordinates the talks aimed at salvaging a 2015 nuclear deal, Iranian state media reported on Thursday.

Both Tehran and Washington have played down the prospect of a breakthrough in this round of talks, while the European Union's foreign policy chief Josep Borrell has warned there is no room left for further major compromises.

As Iran refuses to hold direct talks with the United States, Mora will shuttle between Ali Bagheri Kani and US Special Envoy for Iran Rob Malley, who tweeted on Wednesday he was heading to Vienna with his expectations "in check."

Signaling little flexibility to resolve remaining thorny issues, Bagheri Kani put the onus on the White House to compromise, saying in a tweet the United States should "show maturity & act responsibly."

White House national security spokesperson John Kirby said the negotiations "are pretty much complete at this point."

"We're not going to wait forever for Iran to take the deal. There's a deal on the table. They ought to take it," he told reporters in Washington on Thursday. "Time does appear to be getting very short in terms of being able to get to a deal."

Little remains of the 2015 deal, which lifted sanctions against Tehran in exchange for restrictions on its nuclear program. But then-President Donald Trump ditched the deal in 2018 and reimposed harsh sanctions.

In response, Tehran breached the deal in several ways including by rebuilding stocks of enriched uranium.

After 11 months of indirect talks in Vienna between Tehran and President Joe Biden's administration, however, the broad outline of a revived deal was essentially agreed in March.

But talks then broke down, chiefly because of Tehran's demand that Washington remove its Revolutionary Guards (IRGC) from a US terrorism list and the US refusal to do so.
U.S. Officials Resume Nuclear Talks As Last-Ditch Effort To Prevent Iran From Weaponizing
EU foreign policy chief Josep Borrell proposed a revised version of the nuclear deal in late July, saying that "space for additional compromises" had been "exhausted." Iran's foreign ministry spokesman Nasser Kanaani announced Wednesday a delegation would travel to Vienna to engage in talks, and U.S. envoy Rob Malley also stated Wednesday he would engage in further discussions.

"In order to reach a deal, Iran will have to drop demands that are extraneous to the JCPOA," a State Department spokesperson told the DCNF. "We hope that will be the case, though at this stage our overall expectations remain low."

Since negotiations failed earlier in 2021, Iran declared it has the capability to produce a nuclear weapon and ramped up enrichment processes in response to escalating U.S. sanctions. The Biden administration hopes a return to a plan similar to the 2015 Joint Comprehensive Plan of Action former President Donald Trump withdrew from in 2018 will ease security concerns in the Middle East by restricting Iran's nuclear program to peaceful uses.

Experts say the current version of the deal would not address other security issues, like Iran's support for terrorist proxy groups throughout the region and failure to maintain transparency regarding its nuclear activity.

"The deal on the table in Vienna would be a disaster for U.S. national security. It fails to destroy a single centrifuge, maintains Iran's pathways to nuclear weapons, requires no disclosure of clandestine nuclear activities and provides the world's leading state sponsor of terrorism with $1 trillion by 2030," Richard Goldberg, senior adviser at the Foundation for Defense of Democracies and Vandenberg Coalition advisory board member, told the DCNF.

President Biden said in July he remained committed to diplomacy but would employ "all forms of national power" to prevent a nuclear Iran.

The Department of State, the Iranian Permanent Mission to the United Nations in New York and the UN's International Atomic Energy Agency did not immediately respond to the DCNF's requests for comment.
PodCast:
Generation Jihad Ep. 75 — Zawahiri is dead. Al Qaeda is not.
Edmund Fitton-Brown — outgoing coordinator of the UN Security Council Analytical Support and Sanctions Monitoring team and longtime friend of the show — joins Bill to discuss the killing of Al Qaeda emir Ayman Zawahiri, who died in a U.S. drone strike last Sunday.

That the leader of Al Qaeda was killed in Kabul "comprehensively disproves" Taliban claims that Al Qaeda has no presence inside of Afghanistan. On the contrary, it proves that the group's top leadership uses the country as a safe haven.

They talk about what's next for Al Qaeda in Afghanistan and for its affiliates around the world as well as Zawahiri's possible successor.

Take a look around the globe today and you'll see jihadists fighting everywhere from West Africa to Southeast Asia. They aren't the dominant force in all of those areas, or even most of them. But jihadism has mushroomed into a worldwide movement, with al-Qaeda, the Taliban, ISIS and other groups waging guerrilla warfare and launching terrorist attacks on a regular basis.
Terror Threat: Al Qaeda's Next Leader Has Deep Ties to Iran
The man likely to become al Qaeda's next leader has spent decades using Iran as a base of operations and maintains deep ties to the hardline regime, signaling that two of the globe's leading terrorist forces could exponentially expand relations in the near future.

Saif al-Adel, al Qaeda's number two leader and longtime head of its security arm, fled to Iran in the early 2000s, along with other senior leaders, following the September 11 attacks. From there, he helped relay orders from the just-killed al Qaeda leader Ayman al-Zawahiri and orchestrate terrorist operations that killed dozens of people, including Americans, according to former U.S. officials and information on the Iran-al Qaeda axis published by a watchdog group.

Iran's Islamic Revolutionary Guard Corps (IRGC) protected al-Adel during his time in the country, and the regime permitted him to plan deadly terror attacks, including a May 2003 operation in Saudi Arabia that killed eight Americans. "Adel's suspected presence in Iran has raised further questions regarding Iranian influence on al Qaeda if Adel were to be named leader," according to United Against Nuclear Iran (UANI), an advocacy group that closely tracks Iran's regional terror operations.

These ties have only deepened since President Joe Biden's bungled withdrawal from Afghanistan that left the Taliban in power and the country in shambles. Senior leaders in Iran's Quds Force, an elite IRGC branch, remain in close contact with al Qaeda leaders, "and since the fall of Afghanistan, have provided some al Qaeda leaders with travel documents and safe haven," according to a European intelligence analysis. The Iran-al Qaeda alliance, former U.S. officials told the Free Beacon, has quietly grown for many years, making the prospect of a new nuclear deal with Iran—which will provide Tehran with billions in cash—beneficial for its allies in al Qaeda.

"When the U.S. government enriches Iranian terrorists through sanctions relief or a lack of enforcement, that money ultimately goes back to support al Qaeda," Gabriel Noronha, a senior Iran adviser for the State Department during the Trump administration, told the Free Beacon. "We know that Saif al-Adel has not just been living in Iran for most of the past 20 years—he's been hosted there by the regime along with other al Qaeda operatives. Since 2015, the Iranian regime has allowed al Qaeda to establish an operational headquarters in the country, providing them with documents, passports, funding, and logistical support like safe houses."

Al-Adel and his network of al Qaeda confidants used their time in Iran to build close "operational coordination" with Tehran's security forces, including the IRGC. While Iran was once at odds with al Qaeda due to religious differences, that has not been the case for many years now, according to Noronha and other former U.S. officials familiar with these ties.
---
---
Buy the EoZ book, PROTOCOLS: Exposing Modern Antisemitism today at Amazon!

Or order from your favorite bookseller, using ISBN 9798985708424.

Read all about it here!