From Ian:
---
Antisemitic Judensau relief preserved, Columbus statue toppled
Recently in these columns there appeared the disturbing story of a Protestant Church in Calbe, Germany, whose Pastor, Jürgen Kohtz, was forced by law to reinstall a relief of the Judensau after it had been dismantled for restoration work.

The Judensau – the Jews' Sow – is one of the more scurrilous images to have come out of the Church. Originating in Germany in the 13th century, when the only Christianity in Europe was Catholicism, it typically depicts Jews as piglets, suckling from their "mother" the sow, sometimes eating her excrement. In its even more obscene form, it depicts Jews engaging in sexual intercourse with the sow.

Martin Luther, who broke away from Catholicism in 1517 to found the Protestant Church, was a particularly eager exponent of the Judensau.

The Judensau found its way into popular German anti-Jewish sentiment, and of course the Nazis made full use of it. Following the First World War, when the German-Jewish industrialist and physicist Walther Rathenau was appointed Foreign Minister, the anti-Semitic masses – those who would later form the core of the Nazi Party – popularised the chant:

"Erschlag den Walther Rathenau / die gottverdammte Judensau"
("Kill that Walther Rathenau / the God-damned Jewish sow").

This was later expanded into the lyrics of a song:
"Auch der Rathenau, der Walther
Erreicht kein hohes Alter;
Knallt ab den Walther Rathenau,
Die gottverfluchte Judensau"
("Also this Rathenau, this Walther,
Do not let reach old age;
Knock off Walther Rathenau
This God-accursed Jewish sow").

It mattered not to them that Rathenau was deeply patriotic to Germany, his Fatherland; that he was unstintingly loyal to Germany; that he began the secret program to re-arm Germany, in contravention of the Treaty of Versailles, directly challenging the Allied powers who had defeated Germany in the recent World War; or that Rathenau defined himself as "a German of Jewish origin".

For the anti-Semites he was a Jew – and therefore marked for destruction.

These were not empty words.
One man's quest to take down antisemitic sculptures from German churches
They date back to the late Middle Ages and irritate to this day: The Judensau (literally "Jewish sow") is a Christian folk image that depicts Jews sucking on the teats or peering into the anus of a pig.

Mostly found in the form of reliefs or gargoyles on the exterior of German churches, some of them major historical landmarks, the images have been the subject of increasing public debate in recent years. And now Germany's highest court will weigh in on the matter when it hears the case of a Jewish man who says one such sculpture insults him personally.

Michael Duellmann has already lost his bids against St. Marien Church in Wittenberg in district court and on appeal.

"This is the first case regarding a Judensau that is going to the Federal Supreme Court," Duellmann's attorney, Christian Rohnke, told the Jewish Telegraphic Agency.

In fact it may be the first Judensau case to go to court at all, but it's certainly not the first time a German church has tried to lance this abscess. Last week, a landmarks commission in the town of Calbe ruled against a local church that was seeking to retire its Judensau, which had been removed temporarily for restoration. The commission insisted the sculpture be put back on the church facade. The church has not decided whether to appeal.

There are assumed to be about 40 Judensaus in Germany, the oldest dating to the 13th century. Intended to teach lessons about sin and virtue, they were usually placed inside where Jews would not see them.

But beginning in the 14th century, churches also placed them outside, according to the late Israeli historian Isaiah Shachar. In a 2017 interview with the Suddeutsche Zeitung newspaper, Shachar said there are Judensaus in Portugal, France, Poland and Sweden, but most are in German-speaking countries.

Opinion is split over how to deal with the sculptures. The German-Jewish historian Michael Wolffsohn recently told Deutschlandfunk radio that the Judensau is a "perversity," but he opposed taking them down, saying it's better to address the issue forthrightly than hide it from view.
"What's done is done and cannot be undone," he said.

But Germany's commissioner on antisemitism, Felix Klein, says all the Judensau reliefs should be taken down and put in museums.
Wolfram Kastner, an artist and activist, agrees.

"They have to be removed from the public space," he said.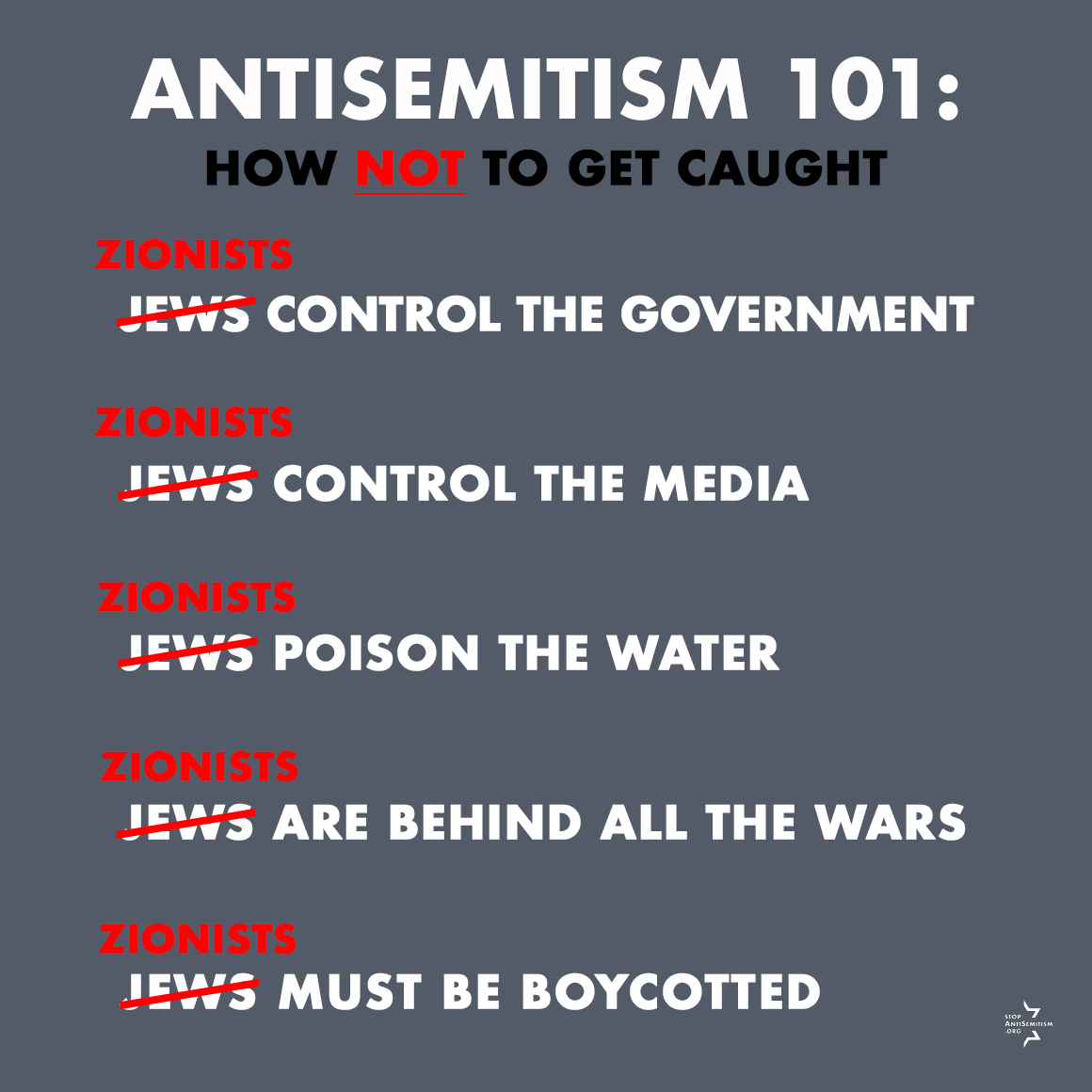 Sarsour Group Says 'No Zionists' at Civil Rights Rally
It was an event to celebrate freedom and protest ongoing bigotry and discrimination.

But the group Muslims4Abolition openly engaged in bigotry and discrimination in promoting its Juneteenth rally last Friday in New York. The event, an advertisement made clear, was "open to all, minus cops & Zionists."

Juneteenth marks a day in American history that celebrates the freedom of the last slaves, more than two years after Abraham Lincoln signed the Emancipation Proclamation (because slaves were still being kept in parts of the country).

It should surprise no one that an event which specifically excludes Zionists — those who believe in a homeland for the Jewish people — would draw support from Linda Sarsour and her organization MPower Change.

Sarsour has a history of espousing her own bigotry and excluding Zionists from progressive platforms. In a 2017 interview with The Nation, she claimed that people could not be both feminist and Zionist.

"It just doesn't make any sense for someone to say, 'Is there room for people who support the State of Israel and do not criticize it in the movement?'" Sarsour asked. "There can't be in feminism. You either stand up for the rights of all women, including Palestinians, or none. There's just no way around it."

She has repeatedly spread a blood libel linking US law enforcement personnel training in Israel to the shooting of unarmed black people in America.

"If you believe in the idea of ending police brutality and the misconduct of law enforcement officers across the country," she told the Islamic Society of North America's 2018 convention, "then you do not support an organization that takes police officers from America, funds their trips, takes them to Israel so they can be trained by the Israeli police and military, and then they come back here and do what? Stop and frisk, killing unarmed black people across the country."

Sarsour offered a similar line two years earlier, during a speech at the 20th anniversary of the "Million Man March" organized by the Nation of Islam's antisemitic leader Louis Farrakhan. "The same people who justify the massacres of Palestinian people and call it collateral damage are the same people who justify the murder of black young men and women," she said.

Sarsour has questioned Zionists who stand against white supremacy, because Sarsour believes that Israel was also built on supremacy — Jewish supremacy.
BLM & Palestine
A co-founder of the Black Lives Matter movement tells:


As for the enslavement of black people, UN Watch's Hillel Neuer knows all about the double standards that exist on that score. Watch him here

I guess what he says undermines at a stroke this articulate young woman's tribute to Mohammad and Islam at an English university's campus event of 2 June when 'staff, students and local residents from ... came together (while observing social distancing requirements) ... to support Black Lives Matter and to show solidarity in the struggle against racism'.
There is a disproportionate media focus on far-right terrorism, ignoring the greater numbers of terrorist incidents by the far-left.

All terrorist attacks are heinous, but, you have to ask yourself why the media isn't picking up AT ALL on crimes committed by the far left? pic.twitter.com/aKtr7Cy0a2

— (((GnasherJew®גנאשר))) #LabourAntisemitism 🔺 (@GnasherJew) June 24, 2020
Health experts said to warn virus will soar, with 1,000 daily cases by next week
Health Ministry officials predict that Israel will see 1,000 new coronavirus diagnoses per day within five days, with experts warning ministers the country is on the cusp of "losing control" over the renewed outbreak, according to a television report on Wednesday night.

The Health Ministry on Wednesday night reported 265 new coronavirus cases in the past 24 hours. The daily tally was slightly down compared to the morning's data, which showed 420 cases of coronavirus diagnosed in the previous 24 hours. The daily case count also surpassed 400 on Tuesday.

Of the 5,520 active cases, 46 people are in serious condition, 28 of whom are on ventilators, according to the ministry. Another 41 Israelis are in moderate condition and the rest have mild symptoms or are asymptomatic.

A medical worker test residents of Elad that is under closure, at a mobile testing station for COVID-19 on June 24, 2020. (Flash90)

There were no new fatalities Wednesday, with the death toll remaining at 308. The ministry said 19,533 tests were carried out on Tuesday, the highest daily number, with a 2.3 percent positive rate.

The surge in cases has prompted health officials to forecast a sharp rise in the coming days, with as many as 1,000 new daily cases foreseen within just five days, according to Channel 13.

"We are on the verge of losing control," health experts told the so-called coronavirus cabinet of senior ministers overseeing the government response to the pandemic.

Prof. Sigal Sadetzky, head of public health services in the Health Ministry, told Channel 12 that those involved in tracing the virus spread are "collapsing." But she also expressed confidence that health officials could contain the virus without imposing another nationwide lockdown.
No face mask in public? That'll be $145, please
Israel on Monday approved a series of steps regarding the country's handling of the coronavirus pandemic, including beefing up enforcement measures and authorizing the creation of a new national enforcement authority.

Among the steps approved following a meeting on Monday of the country's so-called "Coronavirus Cabinet," were an increase in the fine for not wearing a mask, from 200 shekels ($58) to 500 shekels ($145); increased enforcement of regulations by municipal inspectors; and the creation of a new national enforcement body under the aegis of the Public Security Ministry.

In addition, testing and protective measures for at-risk populations, especially the elderly, will be increased. The government will also evaluate, in coordination with the Civil Service Commissioner, the possibility of employees returning to work in "capsules," meaning restricting the numbers of workers in any particular workplace.
'Wear a mask. Save a life': Disabled figures rally public to wear masks
A number of disabled inspirational figures are leading a campaign to encourage their fellow Israelis to wear a mask during the coronavirus pandemic, as cases in Israel have spiked in recent weeks, registering on average around 200-300 new cases each day following the ease of lockdown restrictions.

The campaign was accompanied by a video which showed each of the inspirational figures putting on their mask, noting that if they can do it then so can the rest of the Israeli public.

Noam Gershony, who overcame a long and arduous recovery process on the way to the gold after suffering severe injuries when his Apache helicopter crashed to the ground near Ramot Naftali during the 2006 Lebanon War, organized the campaign alongside creative director Stephan Miller.

Those featured, in order of appearance, include Jessica Cox, the first American licensed pilot without arms; blind marathon runner Beza Nebeva; IDF war hero Zvi Shilon, who was injured by an IED placed along the Israeli-Gazan border; and finally Carmel Yogev, an Israeli who was born without an arm. They all put masks on joyously with ease.

"Don't give us any excuses. If I can do it: If I can put on a mask – and I can put on a mask – so can you," they each say in a joint statement within the video.

It closes with a message, "Wear a mask. Save a life."
If we can do it, so can you.#WearAMaskSaveALife@jess_feet @ZShilon pic.twitter.com/vP0JveLcZo

— noam gershony נועם גרשוני (@NoamGershony) June 24, 2020
Cabinet approves Shin Bet tracking, bill to head to Knesset
The cabinet and the Knesset voted on Wednesday to advance legislation that would enable the Shin Bet (Israel Security Agency) to use its digital tools to to track coronavirus patients. The bill passed a preliminary reading in the Knesset plenum by a vote of 44 to 33, but still must pass additional readings in a Knesset committee and the plenum next week in order to become law.

At the cabinet meeting, Prime Minister Benjamin Netanyahu said that he wants to accelerate the development of an app to allow for effective
contact tracing. However, he admitted that "this will take time – weeks and I hope not months. Until then, we are seeking to supplement" our efforts with the Shin Bet surveillance tool.

He said that he hopes the coronavirus spread will slow and there will not be a need to use it.

At press time on Wednesday evening, the Health Ministry reported an increase of 265 patients within the last day, bringing the number of active
cases to 5,520. The number of people with serious cases is 46, including 28 who are intubated.

The Health Ministry also reported a record number of people screened on Tuesday: 19,533.
Hadassah treats COVID-19 patient with new concentrated passive vaccine
Hadassah Medical Center has treated its first COVID-19 patient with a new "passive vaccine" that the hospital developed in conjunction with Israeli biopharmaceutical firm Kamada. According to Hadassah head Zeev Rotstein, "the patient reacted positively."
He said: "She started to improve hemodynamically… We have our fingers crossed for the successful treatment of this patient."

Though he could not share details about the patient, he described her as a young woman suffering from several underlying medical conditions. She has been hospitalized for weeks and is intubated. He said other treatments have not shown any results.

The antibody (immunoglobulin or IgG) concentrate was developed using plasma that Hadassah harvested from recovered corona patients: those who had the disease and now test negative for the virus.

Those who develop any virus, including the novel coronavirus, develop special antivirus proteins or antibodies in their plasma, which could therefore help sick patients cope with the disease. According to webmd.com, plasma is the yellow, liquid portion of blood that carries important proteins, minerals, nutrients and hormones to the right places in your body, and makes up more than half of the blood.

Passive immunization is when you are given antibodies formed by another patient who got the disease and developed them. An active vaccine, in contrast, is when you are injected with a dead or weakened version of a virus that tricks your immune system into thinking that you've had the disease, and your immune system creates antibodies to protect you.
'Recovered' COVID-19 patients suffer major ongoing physical, cognitive problems
As coronavirus patients recover from the illness, doctors and patients are discovering that COVID-19 is leaving the "recovered" with long-term debilitating physical, cognitive and psychiatric damage, sometimes even in people who only suffered mild symptoms.

Patients are suffering from phantom pains, memory loss, personality changes, psychological issues and extreme fatigue, along with lungs that won't heal, even months after being discharged from hospital, according to an investigation by Israel's Channel 12 TV.

Israel has recorded just over 20,000 COVID-19 cases, with some 300 fatalities. More than 15,500 patients confirmed with the disease have subsequently recovered, but the TV report highlighted numerous cases of patients no longer testing positive for the disease who are suffering a range of major ailments attributed to the virus.

Afik Suissa, 24, was one of Israel's youngest patients to be hospitalized and ventilated in serious condition. A resident of the southern port city of Ashdod, Suissa was hospitalized at the end of March. He had recently been in the US with two friends, touring in Miami and then Las Vegas.

The three returned to the country and Suissa immediately went into home quarantine in accordance with Health Ministry guidelines. But he quickly developed a fever that became worse and was hospitalized. Within days his condition had deteriorated so much he was put on a ventilator, which required sedation and the insertion of a breathing tube.

He eventually recovered and was discharged from the hospital last month. But he has since developed several issues, including phantom pains in one leg that require him to have physical therapy.

"The nerve in my foot is sending messages of pain to the brain," he said in the TV report Friday night. "It causes me to limp because I feel that there is a wound there," he said, even though there is no discernible injury. He also has an altered sense of taste.
Virulent Antisemitism at Florida State University
A Students for Justice in Palestine (SJP) chapter has offered yet another astounding defense of antisemitic vitriol — this time at Florida State University (FSU).

After the school's Student Senate president, Ahmad Daraldik, found himself in the hot seat due to his own past antisemitic social media posts and shockingly antisemitic website, he took to Facebook to explain himself on video. In a remarkable feat of situational irony, Daraldik's video only dug his hole deeper with a declaration that Israel commits the "same crimes" that the Nazis did.

To SJP, such rhetoric does not raise any red flags. In a laughably deceitful petition (endorsed by more than a dozen on-campus student organizations, including FSU College Democrats and six student senators) titled "#ImWithAhmad Solidarity Statement," the group bends over backwards to explain away what can only be described as hateful behavior.

The document begins with typical SJP talking points, denouncing a campaign to remove Daraldik from office as "discriminatory," "Islamophobic," "racist," and an effort to "smear and silence Palestinian students and critics of the State of Israel" based on purportedly innocuous social media posts. They also absurdly proclaim that Daraldik's critics are accusing him of antisemitism based on "flimsy evidence."

Of course, there is plenty of "evidence" of Daraldik's antisemitic views beyond a few obnoxious online posts. His entire website's goal is to explain how "the Holocaust never ended, it just moved to Palestine." The site is saturated with repugnant hate speech that would rival many white nationalist websites, asserting as its "thesis" that:
The mainstream media portrays the holocaust as that of Nazi Germany. While an atrocity, we must not ignore the holocaust of today. Over 11 million Palestinians have either been massacred, raped, imprisoned, put under siege, or bombed with illegal chemical weapons. This research serves to prove that the contemporary Holocaust in Palestine is very similar to that of Germany.

"More than 11 million Palestinians have either been massacred, raped, imprisoned, put under siege, or bombed?" That's certainly an interesting claim considering that about 5,000,000 people — less than half the above number — have been killed in warfare across the Middle East and North Africa during the past 70 years.
8,000 Florida State students call for ouster of leader for posts on Israel, Jews
More than 8,000 students at Florida State University have signed an online petition to remove the student senate president over social media posts described as anti-Semitic.

The Change.org petition against Ahmad Daraldik was launched two weeks ago and garnered over 3,000 signatures in the first three days, FSUNews.com reported.

Daraldik survived a vote of no confidence during a senate Zoom meeting on June 17.

He became the Student Government Association's leader earlier this month when his predecessor was removed over derogatory comments against the LGBTAQ community.

In 2013, Daraldik wrote on social media that "stupid jew thinks he is cool" in response to a photo of what looks like an Israeli soldier with his foot on a Palestinian child in a photo; the photo is said to have been staged. An Instagram post from last year compared Israel to Nazi Germany.

The posts reportedly have been removed.

"When I made that post in 2013 I was in Palestine witnessing death on a daily basis," Daraldik told FSUNews.com. "They were not directed to the Jewish community as a whole or at FSU."
And Moses! Just when you thought @ArielElyseGold could not get any lower ... pic.twitter.com/QEocqNn2nz

— Arsen Ostrovsky (@Ostrov_A) June 24, 2020
Birmingham University's Prof. Rebecca Gould seems to identify as Jewish only when criticising efforts to fight antisemitism
A professor at the University of Birmingham is on record claiming both that she is Jewish and also that she is not Jewish.

Prof. Rebecca Gould, who previously taught at the University of Bristol, was one of numerous signatories to a letter calling on the German Government not to equate the Boycott Divestment and Sanctions (BDS) movement with antisemitism. The signatories to the May 2019 letter all described themselves as "Jewish and Israeli scholars".

Meanwhile, in a 2019 academic article titled 'The Palestine Exception to Academic Freedom', which she co-authored with fellow academic Malaka Shwaikh, Prof. Gould said: "I am not Jewish according to any widely accepted definition".

Prof. Gould went on in that article to explain: "On my father's side, I am of Jewish descent. My father's ancestors were born in Lodz, in what was then the Pale of Settlement within the Russian empire and is now a part of Poland. They migrated to Australia in the nineteenth century, in search of new opportunities, before arriving in the US, where they became perfect capitalists, converted to Catholicism, and changed their name from the Jewish Goldstein to the gentile Gould to improve their economic prospects. Such is the extent of my ancestral link to Judaism."

The discrepancy in Prof. Gould's biography was brought to the attention of Campaign Against Antisemitism by a concerned member of the academic community. Prof. Gould has not responded to our request for comment.

Prof. Gould is apparently prepared to identify herself as Jewish in order to try to lend authority to a matter that impacts the Jewish community (an overwhelming majority of British Jews, for example, feel intimidated by tactics used to boycott Israel) but is much less certain of her Jewish identity on other occasions.
New York Times hires opinion editor from a news site critical of Israel
Weeks after The New York Times drew a barrage of criticism after publishing an op-ed calling for the military to be deployed in American cities, the newspaper has hired the editor of a progressive news site that is harshly critical of Israel to help lead its opinion efforts.

Charlotte Greensit has been the managing editor of The Intercept, a site launched and co-edited by the prominent journalist Glenn Greenwald, since 2015. Before that she worked for more than a decade at Time magazine.

Starting July 6, she will be managing opinion editor and associate editorial page editor at The Times, the newspaper announced Monday. She is one of three hires following a shakeup after the resignation of editorial chief James Bennet earlier this month.

Some of the Intercept's critics raised questions about Greensit's appointment at The Times, pointing to articles critical of Israel that she shared on Twitter.

Greenwald, The Intercept founder, has openly criticized Israel and its political leadership, while the publication's reporters have frequently scrutinized Israel's right-wing government, along with AIPAC, the pro-Israel lobby. Its political reporting team, led by Ryan Grim, has published multiple stories about Democratic candidates who receive funds from pro-Israel groups. A podcast last year was dedicated to "The case against AIPAC," the American Israel Public Affairs Committee.
AP Fails to Substantiate Dubious Claim That Palestinian Laborers Earn $3 Per Hour
The Associated Press has failed to either substantiate or retract the highly dubious claim that Palestinian laborers from the Jordan Valley village of Fasayil earn just $3 an hour working at nearby Israeli settlements. In his June 19 article, "Palestinians fear displacement from an annexed Jordan Valley," Joseph Krauss wrote:
Today, nearly ever man in the Palestinian village works for Jewish settlers in the sprawling modern farms in to the north and south.

The grazing lands to the west and east, leading down to the banks of the biblical Jordan River, have been swallowed up by the settlements or fenced off by the Israeli military. So instead of leading sheep out to pasture, the men rise before dawn to work in the settlements for around $3 an hour – or they move away.

Israeli employers in West Bank settlements are legally required to pay their Palestinian employees the same minimum wages applied in Israel for Israeli employees (28.46 NIS per hour, or $8.30, according to today's exchange rate, for those who work 186 hours per month). The daily minimum wage for an employee who works five days a week is 212 NIS, or $61.74.
Dear @Twitter

I hate censorship but what is your censorship policy? What makes you shut some mouths but not others? Why are those like Farrakhan kept as others are banned?

How can so many hatemongers & antisemitic conspiracy theorists even keep blue ticks?

Asking for a friend pic.twitter.com/IWTpQQYbSX

— David Collier (@mishtal) June 24, 2020
Nope, this hate was written by a former @NFL player who is verified on @Twitter and who has been tweeting racism and hate toward Jews and LGBT for months now. @TwitterSafety has done nothing.

This is @Twitter sanctioned hate. pic.twitter.com/Phi4EvfiM4

— AZ עם ישראל חי (@americanzionism) June 23, 2020
Tintin cover satirizing Hitler to go under the hammer
The cover of a Tintin story that satirized Hitler's German expansionism could go for more than a 350,000 euros ($395,000) when it comes up for auction in Paris Saturday.

In "King Ottakar's Sceptre," the boy detective's Belgian creator Herge was taking a dig at the Nazi leader after his annexation of Austria in 1938.

Tintin and his faithful hound Snowy find themselves trying to foil a plot by spies to overthrow the king of the fictional Balkan land of Syldavia.

The story was first published in the children's supplement of the conservative Brussels newspaper Le Petit Vingtieme. The cover shows Tintin tripping as he gets out of the plane in Prague and having to grab his new friend Professor Alembick's beard to right himself.

The drawing is part of a major sale of classic cartoon images at Artcurial auction house in the French capital, which was postponed in March because of the coronavirus pandemic.

Also going under the hammer is painting of Asterix and Obelix by their creator Albert Uderzo for a 1966 coloring book, which is expected to sell for up to 25,000 euros.

But the biggest bids are expected to go a 1954 ink drawing called "Le pirogue" (The Dugout Canoe) of the Marsupilami, the fictional South American animal invented by the legendary Belgian artist Andre Franquin.
Israeli arms developer unveils new anti-tank missile, with 32-kilometer range
Israeli weapons manufacturer Rafael Advanced Defense Systems this week unveiled a new anti-tank missile, the Spike NLOS.

The fifth-generation missile was touted by the Israeli arms manufacturer as having a range of 32 kilometers (20 miles), with a low-signature launch and "pinpoint accuracy."

It can target sites both within and out of sight using digital coordinates and can withstand adverse weather conditions, the manufacturer said.

The company is currently producing the missile for the Polish military, with the weapon unveiled as part of a contract with Warsaw.

Spike anti-tank missiles are already in use by the Israel Defense Forces, where they are renamed "Tammuz" missiles.

Israel is among the world's top arms exporters. Defense exports reached $7.2 billion last year, the Defense Ministry said Monday, a 5 percent drop from 2018. The figure represented a 23% decline from 2017, though it was still in line with a general trend of growth over the past decade for Israel's defense exports.

The ministry said most sales were for missiles, rockets and air defense systems. Manned aircraft and weapons launchers were also in demand. The main destinations for the country's exports were the Asia Pacific region, Europe and North America.
The Pixies reschedule July Tel Aviv show for 2021
Boston band The Pixies have finally rescheduled their July concert in Israel, moving it to July 13, 2021, at the Tel Aviv Expo.

All tickets that were purchased for the 2020 date will be moved to the new date, in the same seat, price and conditions, said promoter Shuki Weiss.

"We're trying to to find our way with many artists that were meant to perform in Israel this summer," said Weiss in a statement. "We see it as a big success when we can set a new date."

The Pixies are one of the final groups of performers to reschedule their 2020 performance in Israel. Celine Dion, the Red Hot Chili Peppers, Morrissey, Iron Maiden and others have all rescheduled their summer concerts for next summer.

The Pixies last performed in Israel in 2017, at the Caesarea amphitheater, and were in Israel in 2014, three years prior.

During the last two concerts, the American alternative rock band discovered their Israeli audience, performing two tight, 30-song shows to full arenas.
Sneak peak insideIsraeli short animated film on historic 'Cinema Rex' wins international award
A captivating new Israeli animated short film about a famed 1930s Jerusalem movie house was honored at the prestigious Annecy International Animated Film Festival.

"Cinema Rex" came away with the CANAL+ Youth Award on June 19, marking the first time that an Israeli film has won a prize at the annual event founded in 1960.

Running six minutes long, the film about a Jewish boy and an Arab girl who become friends through their discovery of the magic of films, is a proof of concept for a full-length animated feature currently in production, according to co-director Eliran Peled.

"We plan on expanding the story of the famous Cinema Rex and Jerusalem of the period from the perspective of just two children to that of a larger group of young friends," Peled, 28, told The Times of Israel.

"Cinema Rex" is named for a movie theater that operated between 1938 and 1940 on Princess Mary Road (now Shlomzion Hamalka Street) on the seam line between Jewish West Jerusalem and Arab East Jerusalem. While there were other cinemas operating in the city during the British Mandate era, Cinema Rex was the only one co-owned by an Arab and a Jew.

"It was a tense time in Jerusalem. People would fight all day, then come together to see films at Cinema Rex in the evening. It served as a bubble of sanity," Peled said of the theater.
NFL Quarterback Kirk Cousins Talks About His Love for 'All Things Jewish'
Minnesota Vikings quarterback Kirk Cousins talked about Judaism, the Torah and why he was a "huge fan of all things Jewish" while congratulating recent graduates of a Jewish youth program.

Cousins, who was raised Christian, began his video message by wishing a "mazal tov" to graduates of the Jewish Student Union (JSU), a program run by the Orthodox Union's youth group NCSY.

"Many of you might not know that I am a huge fan of all things Jewish," the 31-year-old said. "I have a mezuzah in my office. I take very seriously the Torah, the word of God. I believe it's an inherent word of God that is meant to be followed and if followed, enables us to live life the way it was meant to be lived, and I take very seriously what it says."

The NFL athlete — a Michigan State graduate and former Washington Redskin — cited the Torah throughout the clip and talked about the contributions Jews have made to the world in various fields, including innovation, business and comedy.

He described the Jewish people's "significant" role in American society, noting, "I find myself constantly wanting to get around Jewish people because of how sharp they are, how funny they are [and] how successful they are. And I say, 'These people know how to do life. They know how to do it right.' And I want to do life right so I just wanna get around them and learn."

Cousins encouraged JSU graduates to stay connected to their Jewish roots, saying, "I think when you do that, God blesses…don't let any area of your life to be unaffected by the Torah."
---
---
We have lots of ideas, but we need more resources to be even more effective. Please
donate today
to help get the message out and to help defend Israel.