From Ian:
---
Lee Smith:
How Russiagate Began With Obama's Iran Deal Domestic Spying Campaign
Meanwhile, Flynn continued to do the job the president had chosen him for. After Iran conducted a ballistic missile test and its Yemeni proxies attacked a Saudi naval ship, he announced in the White House press room: "As of today, we are officially putting Iran on notice." Former Obama aides fumed: The Trump administration had no choice but to stay in the JCPOA. Then they flipped through the dog-eared pages of the Iran Deal playbook and pushed into the press rumors regarding the loyalties of a combat veteran who served his country in uniform for more than three decades. Had Michael Flynn sold out his country to Russia?

On Feb. 9, Entous finally got his chance to publish the leaked intercept of the Kislyak call. He and Washington Post colleagues Greg Miller and Ellen Nakashima found nine current and former U.S. officials to confirm that Flynn had discussed sanctions with the Russian. It went unremarked that the article provided evidence of yet another leak of Flynn's name from a classified intercept, and thus proof of a massive spying operation targeting the Trump team.

Trump had been warned. Obama was serious when he told him not to bring on Flynn. The new president's hand was forced, and the national security adviser left the White House on Feb. 13. Within the year, prosecutors from Robert Mueller's special counsel investigation threatened to charge Flynn's son with lobbying violations if he didn't plead guilty to making false statements to the FBI.

By then, Russiagate was in overdrive—one of the most destructive conspiracy theories in U.S. history was well on its way to poisoning minds around the country. It appeared to cast an even deeper spell on the elite urban classes whose peers in the press and government had fueled it in the name of "resisting" Trump. And yet only a small fraction of those who imagined themselves to have the inside story of the Trump team's secret collusion with Russia to defeat Clinton understood the origins of the fantasy world they had been engulfed by.

Russiagate was not a hoax, as some conservative journalists call it. Rather, it was a purposeful extension of the Obama administration's Iran Deal media campaign, and of the secret espionage operation targeting those opposed to Obama's efforts to realign American interests with those of a terror state that embodies the most corrosive forms of anti-Semitism.

It's not hard to see why the previous president went after Flynn: The retired general's determination to undo the Iran Deal was grounded in his own experience in two Middle Eastern theaters of combat, where he saw how Iran murdered Americans and threatened American interests. But why Obama would choose the Islamic Republic as a partner and encourage tactics typically employed by third-world police states remain a mystery.
PA refuses UAE aid sent via Israel, won't be 'tool for normalization' – report
The Palestinian Authority government has refused to accept medical aid from the United Arab Emirates after it arrived on the first known direct commercial flight between Israel and the UAE, PA sources told multiple Arab media outlets.

The UAE-based airline made history Tuesday, as the plane loaded with 16 tons of coronavirus aid for Palestinians flew directly from Abu Dhabi to Tel Aviv.

Palestinian media, as well as Russia Today Arabic, quoted a government source Thursday saying the aid had been rejected, explaining Ramallah was refusing to be used as a "tool for normalization" between Israel and the UAE. The two countires do not have diplomatic relations.

The source reportedly said the transfer of the medical aid had only been coordinated with Israel and the World Health Organization (WHO), and not with the Palestinian Authority which governs Palestinians in the West Bank.

That, the source claimed, indicated that the UAE intended to use the aid to improve its ties with Jerusalem on the "pretext" of aid to Palestinians.

The source said any assistance to the Palestinian people must be provided through coordination with Palestinian authorities.

The Etihad cargo jet, painted in all white and lacking any marking, landed at Ben-Gurion Airport after seemingly flying a roundabout route through Iraq and either Jordan or Turkey.

Etihad, a state-owned long-haul carrier, confirmed the flight to Ben Gurion Airport. Emirati government officials did not respond to multiple requests for comment.
Shtayyeh: UAE did not coordinate with us delivery of medical supplies
The Palestinian Authority said on Thursday that it was unaware of the arrival of a United Arab Emirates (UAE) plane carrying humanitarian aid for the Palestinians at Ben-Gurion Airport.

Earlier, Palestinian sources said that the PA refused to receive the UAE aid because it was being transmitted through Israel.
According to the sources, the PA was outraged because the UAE chose to deliver the aid through Israel, and not directly to the Palestinians. Some PA officials and political activists accused the UAE of "promoting normalization" with Israel by allowing the plane to land at Ben-Gurion Airport.

The Etihad Airlines flight, direct from Abu Dhabi, landed in Israel on Tuesday night and was the first flight ever from the UAE to Israel. The cargo flight carried humanitarian aid for Palestinians in the West Bank and Gaza Strip, including 16 tons of medical supplies, personal protective equipment and 10 ventilators. The aid is in line with the United Nations COVID-19 Response Plan for the Occupied Palestinian Territory.

PA Prime Minister Mohammad Shatayyeh told reporters in Ramallah that the Palestinians were unaware of the arrival of the UAE aid at Ben-Gurion Airport.

"We have heard in the news that there is a United Arab Emirates plane carrying medical supplies to the Palestinians," Shtayyeh said. "This issue has never been coordinated with us and we have never been notified about it. Our ambassador in the United Arab Emirates does not know about it. It was not coordinated with us at all."

Relations between the PA and UAE have been strained over the Gulf state's embracing of former Fatah official Mohammed Dahlan, an arch-rival of Abbas.
You may have heard that UAE made its first direct flight to Tel Aviv to bring Palestinians aid to fight COVID-19.

Get this. The Palestinian Authority HAS REFUSED IT because UAE cooperated with Israel to facilitate its delivery.

Once again: Hatred for us > Love of their children pic.twitter.com/yRVdP6dhzr

— The Mossad: Espionage at = 2 metres (@TheMossadIL) May 21, 2020
JCPA:
Applying Israeli Sovereignty to Parts of Judea and Samaria according to the U.S. Peace Plan – Implications
Until Secretary of State Mike Pompeo's visit to Jerusalem on May 13, the Americans said that the decision to apply Israeli sovereignty to parts of Judea and Samaria, including the timing and details, was in Israel's hands. However, in the wake of the visit, State Department spokesperson Morgan Ortagus told Israeli journalists, "We really think this should be part of a peace process where Palestinians should have a say."

For Israel this would mean a very significant change, since an important component of the U.S. peace plan was the removal of the Palestinians' veto over altering the reality on the ground. It seems there are differing approaches on the issue within the U.S. government.

While the Israeli sovereignty move will incense the Palestinians, it is likely that the Palestinian Authority, which the Palestinians consider the most important achievement of their national movement, will continue to exist and will maintain a certain level of security cooperation with Israel in order to prevent the strengthening of its political enemies, particularly Hamas.

In any case, Israel does not intend to rule the Palestinians or apply its sovereignty to the Palestinian-populated parts of Judea and Samaria, nor, of course, to Gaza. So any alleged threat to Israel's Jewish and democratic identity is completely baseless.

The U.S. peace plan offers a realistic approach and understands that the false Palestinian narrative is the main obstacle to peace. This narrative asserts that there is no Jewish people, the Jews had no history of sovereignty in the Land of Israel, the Zionists are intolerable creatures, Zionism is the handiwork of colonialism, and until the injustice of the Jewish state's existence is fully rectified, the Palestinians must fight Zionism and refuse to come to terms with the Jewish nation-state's existence.

The application of Israeli sovereignty in parts of Judea and Samaria is not an obstacle to a two-state solution but an opportunity. Making that move requires the Israeli prime minister to accept the U.S. peace plan - which includes a future Palestinian state - as a basis for negotiations. Precisely because the plan is comfortable for Israel, and because of Israel's trust in the Trump administration, Israel will be prepared to accept the principle of a Palestinian state, under certain conditions, as an aspect of a settlement.

Extending Israel's sovereignty to the Jordan Valley will not have immediate security benefit compared with the prevailing status quo. It may even have some negative impact, but in the long run it will send a clear message that Israel is determined to have this area, which is critical for its security, as its eastern border.

If the U.S. supports Israel's unilateral implementation of sovereignty under the peace plan, according to the conditions it laid down for Israel, and if Israel does not exploit the current set of circumstances to apply its law/sovereignty in keeping with the plan, it could be regretted for generations.
Settler umbrella group protests Trump plan, but some mayors endorse it
In what is effectively a gesture against the Trump peace plan, the Yesha Council umbrella group of settlement mayors has adopted a series of principles that include supporting West Bank annexation while vehemently opposing the establishment of any Palestinian state.

The Trump plan, which was released in January, envisions Israel annexing roughly 30 percent of the West Bank and provides a list of conditions for the establishment of a Palestinian state on the remaining land beyond the Green Line.

The Yesha Council convened for the vote last week in the Ma'ale Adumim city settlement, but publicized its decision Wednesday.

A spokesman for the Yesha Council told The Times of Israel that 15 of the 24 mayors participated in the session and that the measure passed by a large majority. He declined to provide the exact numbers of the vote, saying the body never reveals such results.
(From L-R) Gush Etzion Regional Council chairman Shlomo Ne'eman, Prime Minister Benjamin Netanyahu and Yesha Council chairman David Elhayani at a Gush Etzion lookout point in the West Bank on November 19, 2019. (Haim Zach/GPO)

The resolution passed included six tenets:

1. The Yesha Council welcomes the positive change in the US policy toward [West Bank] settlement.
2. The Yesha Council calls on the new government and the Knesset to act to apply sovereignty in Judea, Samaria and the Jordan Valley as soon as possible.
3. Applying sovereignty is the responsibility of the State of Israel only (i.e., not something that requires American approval).
4. The Yesha Council opposes any recognition or agreement of any kind to the establishment of a Palestinian state.
5. The Yesha Council will not agree to a construction freeze in [settlements] or restrictions on construction in any locality.
6. The Yesha Council does not accept any map that creates isolated enclaves that will hamper their future development.
Russia said pushing 'mini-summit' to mend ties between US, Palestinians
Russia is reportedly seeking to arrange a meeting in the coming weeks between US and Palestinian officials to help renew ties between Washington and Ramallah, which have frayed during US President Donald Trump's presidency.

Citing unnamed Western diplomats, Channel 13 news reported Wednesday the planned meeting in Geneva is also aimed at preventing an escalation of violence in the West Bank and allowing the Palestinian Authority to propose changes to US President Donald Trump's Israeli-Palestinian peace plan, which it has rejected out of hand.

The European Union and United Nations were also part of the Russian effort, viewing it as an opportunity to jump-start peace talks and halt Prime Minister Benjamin Netanyahu's vow to annex parts of the West Bank that would become part of Israel under the US plan, the report said.

"The only way to stop annexation is to renew contact between the Palestinians and the US government," a Western diplomat was quoted saying.

The PA has boycotted the White House since Trump's 2017 recognition of Jerusalem as Israel's capital and the transfer of the US embassy to the city, the eastern part of which Palestinians claim for a future state.

The US has since cut hundreds of millions of dollars in aid to the Palestinians and the UN agency that supports Palestinian refugees, and closed the PLO representative office in Washington, further drawing the ire of the PA.
Russia, UN and Vatican condemn unilateral Israeli annexation plan
International opposition to Israeli annexation of parts of the West Bank continued to gain momentum Wednesday as representatives of the UN, Russia and the Vatican all expressed strong objections to the plan that could be implemented as early as July.

Prime Minister Benjamin Netanyahu has said he will advance plans to extend Israeli sovereignty to all settlements and to the Jordan Valley — some 30% of the West Bank — as a key policy of his new coalition government. Under the terms of the coalition deal, he is free to advance unilateral annexation from July 1, even though his key partner, Blue and White party leader Benny Gantz, opposes unilateral action and would prefer to negotiate with the other affected parties such as the Palestinian Authority and Jordan.

Speaking at a meeting of the United Nations Security Council, UN special Mideast envoy Nickolay Mladenov called on Israel to drop plans to annex parts of the West Bank while telling Palestinians to resume talks with the so-called Quartet, comprising the US, Russia, the EU and the United Nations.

"Israel must abandon threats of annexation," Mladenov said.

"I call on my colleagues in the Middle East Quartet to work with the UN and quickly come forward with a proposal that will enable the Quartet to take up its mediation role and work jointly with countries in the region to advance the prospect of peace," he added.

Following the Security Council meeting and separate talks with Palestinian officials, the Vatican said that Israel's possible annexation of large parts of the West Bank could further compromise peace talks.
Hungary, Austria stand against rest of EU blasting Israel
Hungary and Austria, the sole EU states that opposed sharp criticism of Israel by High Representative for Foreign Affairs Josep Borrell this week, warned against having a double standard against Israel on Wednesday.

The EU sets its foreign policy by consensus, but Borrell has repeatedly disregarded a minority of member states' opposition in his statements threatening or condemning Israel over the possibility that it may annex settlements in the coming months.

A Hungarian diplomatic source questioned the legality of statements that do not reflect a consensus in the EU, though EU officials have said the high representative may express his own position.

On Monday night, Borrell released the third such statement criticizing Israel in his own name. With the support of 25 out of 27 EU states, Borrell said: "We strongly urge Israel to refrain from any unilateral decision that would lead to the annexation of any occupied Palestinian territory and would be, as such, contrary to International Law."

Austrian Foreign Minister Alexander Schallenberg said his country rejects "prejudice" against Israel and called to hold a dialogue with the new government, sworn in on Sunday, Austrian news site Kurier reported.
Hungarian foreign minister: Israel can rely on us in the EU, UN
Hungary will continue to stand up for Israel in the European Union, United Nations and the International Criminal Court, Hungarian Foreign Minister Péter Szijjártó said Thursday in his first call with Israeli Foreign Minister Gabi Ashkenazi.

The call came less than a week after Hungary and Austria were the only two EU member states to oppose threatening sanctions if Israel moves forward with applying its laws to parts of the West Bank. The EU's foreign policy is set by consensus, which meant its High Commissioner for Foreign Affairs Josep Borrell made a warning statement in his own name, as did several EU states.

Szijjártó told Ashkenazi that he can "count on Hungary's fair and balanced standpoint."

The Hungarian Foreign Minister also said his country will "refrain from supporting statements that condemn Israel in both the EU and the UN," according to a readout of the call.
Perhaps the #EU @JosepBorrellF @vonderleyen @STerstalEU @GerAmbTLV @GermanyDiplo might be heard if they weren't funding and cooperating with terror-linked NGO "human rights" partners. cc @Ostrov_A @DSchwammenthal https://t.co/70EJPfufmf

— Prof Gerald M Steinberg (@GeraldNGOM) May 20, 2020
.@nmladenov:I respect you. You're a talented/sincere/dedicated diplomat. Your speeches are usually-not always-fair. But Pres. Abbas speech was no cry for help. Let's stop making excuses for PA leadership. His threat is an abrogation of his responsibilities https://t.co/ZGYzL05BFt

— Jason D. Greenblatt (@GreenblattJD) May 21, 2020
Wife of Hyper Cacher terrorist escapes from jihadist prison in Syria — monitor
Thirteen female suspected jihadists from France have escaped from prisons in Kurdish-controlled northern Syria, a Paris-based anti-terror monitor said Wednesday.

They included Hayat Boumedienne, the wanted partner of Amedy Coulibaly, who was one of the perpetrators of the January 2015 terrorist attacks in France, the Center for the Analysis of Terrorism (CAT) told AFP.

The 13, who were mainly held in the Al-Hol and Ain-Issa camps, accounted for about a tenth of the French suspected jihadist women held in Syria, said Jean-Charles Brisard, one of the co-founders of CAT.

He told AFP the women's escape showed the "inability of the local authorities to guarantee the detention of foreign jihadists."

"The main risk is that the jihadists will disperse and either reinforce jihadist organizations in Syria or Iraq, try to wage jihad somewhere else, or, in some cases, return clandestinely to Europe to commit attacks," he added.
Israeli Military DNA Testing Murder Weapon to ID Israeli Soldier's Killer
As part of an ongoing investigation into the May 12 killing of Israel Defense Forces Staff Sgt. Amit Ben-Yigal by Palestinian terrorists, Israeli security forces are using suspects' DNA samples to locate the murder weapon.

Ben-Yigal, 21, died after being struck in the head with a cinder block during a raid in the Palestinian village of Ya'bad in Judea and Samaria.

Three suspects in the case are in custody, the Hebrew-language news site Kipa reported on Wednesday, but it is not yet clear which of them is responsible for throwing the rock that killed Ben-Yigal.

The suspects are all members of the same family, according to the report. Soldiers from the Golani Reconnaissance Battalion that carried out the raid returned to the scene later in the day to collect cinder blocks from the vicinity, which are now being tested for DNA.
Egyptian Minister congratulates Minister Steinitz on retaining position
Egyptian Petroleum Minister Tarek al-Molla congratulated Energy Minister Yuval Steinitz on Thursday for retaining his ministerial position.

Al-Molla congratulated Steinitz in the name of the Eastern Mediterranean Gas Forum based in Cairo, "I am sure that we will continue with the important cooperation between Egypt and Israel created during your tenure. We've been following the news, and I'm glad to hear the good news, you deserve the job."Al-Molla and Steinitz have concluded that they will reconvene the regional Gas Forum again soon to finalize the agreement and become an international organization, which they have been promoting for the past year and a half.
West Bank Archaeological Sites Robbed During Early Months of Pandemic
95% of West Bank archaeological sites were robbed or vandalized during the first months of the pandemic.

Eitan Melet, a field coordinator from 'Preserving the Eternal', says the damage is done not only by individuals but is directed by high ranking officials from the PA
Hundreds of Fires in Israel, Many Deliberately Set by Arabs
According to the released data, about 255 fires broke out across Israel over the past day, including 196 fires in open areas, and 59 in urban areas. Firefighting planes operated in ten different locations, with 11 planes focusing on a fire set by Arabs near a military base in the Jordan Valley.

Over the past four days, 71 fires have erupted in Judea, Samaria, Benjamin and the Jordan Valley, of which many were deliberately set by Arabs.

Dozens of acres of pasture have been completely scorched, inflicting an immense economic damage on area farmers.

On Wednesday, fires raged near Mount Bracha in Samaria, near the military base in Bach 900 in the Jordan Valley, where so many firefighting aircraft where used. At one point, the fire even penetrated the IDF base and firefighters used IDF water tankers at the base to extinguish the fire. Another fire raged near the Roi settlement in the Jordan Valley, which involved 7 firefighting planes. Additional fires raged near Amichai, and near Shiloh.

On Tuesday, fire crews were working on a fire that was set by a Molotov cocktail thrown by Arabs near the Karmei Tzur settlement in Gush Etzion, causing four fires points. A similar event took place near the Beit Hagai and Othniel settlements.
Palestinian lighting a forest fire near a Jewish town (you can tell because the plates are white) https://t.co/ZjWM636wgE

— Lahav Harkov (@LahavHarkov) May 20, 2020
Abbas cries wolf again, and Israel stays silent - analysis
The PLO's members didn't pack their things and head back to Tunis on Wednesday, the morning after Palestinian Authority President Mahmoud Abbas declared that they had voided all agreements with Israel and the US – including the Oslo Accords that brought the PLO out of exile – in response to the possibility that Israel may annex parts of the West Bank.

More importantly, the PA didn't stop coordinating with the IDF on security matters, despite Abbas specifically mentioning those agreements as ones that are no longer valid.

Abbas has made this threat so many times in recent years that he's a bit like "The Boy who Cried Wolf."

Meanwhile, in Israel, there was plenty of noise in the media from activists and analysts decrying the security risks of no longer coordinating with the PA, but government officials maintained radio silence.

Everyone from the Prime Minister's Office to the new chairman of the Foreign Affairs and Defense Committee declined to comment.

Even MK Naftali Bennett, who was defense minister until a few days ago, pled the fifth.

And the reasoning behind that non-response is simple: The boy may be crying wolf, but no one wants to goad an actual wolf into showing up.

The possible collapse of the PA has long been a scenario of much concern for Prime Minister Benjamin Netanyahu and the security establishment, whether it is due to the octogenarian Abbas dying, or the PA running out of money, or an initiative like the one Abbas announced yet again this week.
Leaders of Hamas, Hezbollah, Asa'ib Ahl al-Haq, Houthis and Palestinian Islamic Jihad, published videos with the central theme being Jerusalem and the end of Israeli/American occupation. All subtitled in Hebrew to get the message across to #Israel. pic.twitter.com/yX9v5p9ev9

— Joe Truzman (@Jtruzmah) May 20, 2020
Hamas MP Marwan Abu Ras: Criminal Jewish Zionist Enemies of Allah Are Defiling the Al-Aqsa Mosque; It Is Forbidden by Shari'a Law to Watch the Filthy Zionist Propaganda Aired by Some Saudi TV Channels pic.twitter.com/GzdFxAAbI2

— MEMRI (@MEMRIReports) May 21, 2020
"We Will Pray in Jerusalem" by Lebanese Singer Ali Al-Attar: "Zionism Will Suffer the Most Horrible Holocaust" pic.twitter.com/R4lRR8DhGq

— MEMRI (@MEMRIReports) May 21, 2020
The Hamas terror organisation ("democratically" elected 14 years ago!!?) once again opens up a Twitter account, pleas to Twitter claiming to be Nelson Mandela.

Oh man! It's like watching a train wreck!

🍿 https://t.co/BgpFiRjG9c

— The Mossad: Espionage at ≥ 2 metres (@TheMossadIL) May 21, 2020
I'm noticing more Latin American Quds Day ads: "We want to express our profound solidarity w/ the Palestinian ppl. We demand a halt to the systematic & continued genocide the Zionist state of Israel has been committing w/ support from the imperialist U.S. against the Pal ppl." pic.twitter.com/ttGAHIpbby

— Joe Truzman (@Jtruzmah) May 20, 2020
PreOccupiedTerritory:
Saying 'Before Islamic Conquest of Palestine' Is Like 'Before The Big Bang' – Meaningless by Imam Aswalo Mafissis (satire)
Let us dispense once and for all with the wrong-headed notion that Jewish exile and longing for return can in any way trump the Islamic claim to Palestine, because exploring those Zionist lies is tantamount to asking an astrophysicist what happened "before" the Big Bang: just as the entire notion of time and space cannot precede spacetime itself, nothing can be said to exist before Islam. Whatever one might imagine, it remains irrelevant.

My coreligionists and I have grown tired of the sophistry and weak argumentation evil or deluded people use to try to justify the Zionist usurpation of the Islamic land of Palestine, perhaps chief among them the wearisome contention that any sovereign Jewish presence in the land that preceded the advent of Islam fourteen centuries ago has any bearing on the question of who may exert political control over that swath of territory. There was no "preceded the advent of Islam." The phrase itself is nonsensical. One might as well assert the right to live in, say, Rome, because his ancestors lived there before the Earth coalesced from the sun's accretion disc. Incoherent rubbish.

What the imperialist propagandists behind the Zionist usurpation of Islamic waqf, and their willing or unwitting apologists, fail to understand, is that their premises of precedence, indigenous status, and "liberation" simply do not apply, either ontologically or even semantically. I can claim I have an inherent right to all the water in the sun, and you'd be perfectly reasonable to consider me a few asteroids short of a belt as a result. But that is the intellectual level of arguments that invoke anything that was "already there" when Islam arrived. It's an existential impossibility. I urge everyone to ignore such distractions.
20 years after Lebanon pullout, IDF faces a stronger Hezbollah – in Syria too
Twenty years after Israel withdrew from southern Lebanon, the enemy it fought there — the Iran-backed Hezbollah — is stronger than ever, battle-hardened from its time in Syria backing the regime, expanding its operations to the Syrian Golan border, and constantly amassing more powerful weapons for a future war with the Jewish state.

At the same time, the once-small guerrilla fighting force, now a major player in Lebanese politics, is burdened with a yoke of major responsibilities to the country and faces an economic crisis as well as the ire of a population that is being crushed by that financial collapse, caused by decades of government mismanagement and greed. The American assassination of Qassem Soleimani, the Iranian general behind much of the Islamic Republic's expansionist activities, has also shaken Tehran and its proxies, including Hezbollah, as they seek a replacement for a nigh-irreplaceable figure.

The military this week also confirmed, in part, claims by an Israeli defense official earlier this month that Iran was beginning to pull its troops out of Syria in light of Israeli strikes against it. The army said that while Iranian forces and proxies were moving out of the country, this was not necessarily due to Israeli efforts, but rather to a more general lull in the fighting in the civil war, as well as to domestic Iranian pressure in light of the country's growing economic crisis and the aftermath of a massive coronavirus outbreak that has killed thousands.

The upshot is that the Israeli military does not believe Hezbollah is interested in a war at this time (nor is Jerusalem), but if or, more likely, when that conflict comes, it will be catastrophic, both for Israel — which will face cross-border attacks and massive rocket barrages the likes of which the country has never seen — and for Lebanon, particularly the parts being used by Hezbollah as cover for its attacks and operations, which will be leveled by Israeli aircraft, artillery and ground forces.

In the interim, Israel has not been sitting by idly while Hezbollah grows stronger. In what the IDF calls its "war between wars," the military has been carrying out strikes in Syria to counter Iranian efforts to transfer advanced weapons; exposing and attacking the group's operations in the Syrian Golan Heights; and working diplomatically and, reportedly, militarily to prevent the terrorist army's efforts to manufacture precision-guided missiles within Lebanon.
Hezbollah training Syria's 1st Corps to use in future war against Israel
Hezbollah is preparing the Syrian Arab Army's 1st Corps for a future war against Israel, training its commanders and soldiers as well as deploying it for intelligence gathering against the IDF in the Golan Heights.

Following the return of regime forces to the south of the country and the rebuilding of the SAA which was decimated over the course of the ongoing civil war, the influence of Lebanon's Hezbollah on the Syrian Arab Army (SAA) has been increasing dramatically.

Should the Lebanese terror group decide to carry out an attack from the Golan Heights, Hezbollah will use the SAA's 1st Corps which has significant weaponry and logistics available to them. Using the 1st Corps will not only provide Hezbollah with better mobility and firepower, but it will also provide the manpower.

Israel's military, which has accused the SAA of helping Hezbollah establish a permanent military presence on the Golan Heights, believes that the Lebanese terror group has been using it's Southern Headquarters operation led by the group's southern commander Hajj Hashem to not only gather intelligence on the IDF, but train forces for war with Israel.
Israel learned from Hezbollah's defeat at the hands of Turkey
Israel watched the fighting between Hezbollah's Radwan unit and Turkish forces in Syria's Idlib province very closely, learning that the elite unit found it difficult to stand up to a conventional army.

In early February, Turkey's military deployed tanks, armored vehicles, artillery and troops to Idlib to stop a Syrian regime offensive to retake the country's last opposition stronghold, which was backed by hundreds of Hezbollah troops as well as Shi'ite militias supported by the Iranian Revolutionary Guard Corps (IRGC).

While Hezbollah has lost thousands of fighters since the Lebanese terror group entered the fighting on the side of Syrian regime President Bashar Assad, the Turkish operation in Idlib – which is roughly half the size of neighboring Lebanon – caused losses not seen in years.
The losses included countless operatives belonging to Hezbollah's elite Radwan unit.

Israel's military was able to identify several Radwan operatives killed during the fighting with Turkey by patches worn by the fighters.
The unit, named after Hezbollah's military commander Imad Mughniyeh who was killed in Damascus in 2008 in an operation attributed to Israel, was established to carry out covert operations against Israel.

While operatives from the unit fighting in Syria for several years, gaining extensive operational experience, most have returned to south Lebanon.
Uruguay considers declaring Hezbollah a terror organization
Uruguayan President Luis Alberto Lacalle Pou claimed during a Zoom webinar on Wednesday, organized by the American Jewish Committee, that he considers declaring Hezbollah a terror organization.

Lacalle Pou took part in an AJC program named "AJC Advocacy Anywhere," where he was interviewed by Dina Siegel Vann, Director of the AJC Institute of Latin American Affairs. The Uruguayan president participated in the AJC's Project Interchange in the past.

Siegel Vann asked Lacalle Pou several questions as well as read questions from the audience, one of which asked him if he intends to blacklist Hezbollah as a terror organization, as other Latin American countries like Argentina, Paraguay and Honduras have done.

In his answer, Lacalle Pou related to the last time he was asked that same question 10 months ago, when he said "we follow the UN list, because Uruguay does not have its own." This time, Lacalle Pou answered sincerely, claiming that "I am in the process of changing my mind."
Senior Hizbullah Official Hashim Safi Al-Din: Israel Will Not Last 25 Years pic.twitter.com/U2McmWANtk

— MEMRI (@MEMRIReports) May 21, 2020
Iran's Mullahs Advancing Anti-Israel Agenda Despite Coronavirus
Recently, Iran's parliament, the Islamic Consultative Assembly, unanimously approved an "urgent bill" directed against Israel. We are therefore to assume, it would seem, that passing a bill against the State of Israel was more "urgent" for the Iranian regime than concentrating on protecting the lives of the Iranian population during this public health crisis.

Although the traditional anti-Israel marches are cancelled this year due to the spread of coronavirus, Iranian President Hassan Rouhani stated that people will be able instead to march by cars, join a motorized phalanx or join an online event organized by the Islamic Revolutionary Guard Corps (IRGC).

Not only have Iran's ruling clerics failed to rein in their rogue behavior amid the coronavirus; they seem instead to be exploiting the "distraction" to boost their expansion.

Iran has further entrenched itself in Syria and Lebanon, including that included building a new underground weapons-storage facility at Iran's Imam Ali military base in eastern Syria. They have boosted their support for Shia Iraqi militias and the Houthis in Yemen. They have rolled out a new missile on the way to developing intercontinental ballistic missiles capable of carrying nuclear weapons to Israel and any capital in Europe. And they have ratcheted up their anti-Israeli and anti-American agenda.
Iran has banned all use of Israeli tech. Really? That would set it back 50 years
Ahead of its annual al-Quds Day orgy of Israel-bashing on Friday, Iran's parliament has unanimously passed legislation banning "any cooperation" with Israel — specifically including the use of Israeli computer hardware and software — as a crime against God.

In normal years, al-Quds day is marked across the Islamic Republic by regime-orchestrated anti-Israel marches and speeches, the trampling and burning of Israeli and American flags, and other displays of hatred rather at odds with the regime's frequent assurances to the international community that its friendly and peace-loving leadership has no interest whatsoever in acquiring nuclear weapons.

But this year, bedeviled by the fiendish COVID-19 (which "supreme leader" Ali Khamenei has claimed was partly "built for Iran" by the similarly loathed United States), the regime is having to scale back its mass public displays of animosity to Israel.

And so Khamenei has this week resorted to calling online for a "final solution" to the Israel problem, and for arming the West Bank, "just as Gaza," in order to expedite it. Underlining the utter hypocrisy of his regime's ostensible humanitarian concern for the Palestinian people, he has been castigating the United Arab Emirates for committing nothing less than "the biggest treachery… [in] the history of the Arab world" — by delivering 16 tons of coronavirus aid for the Palestinians via Ben Gurion Airport.

And his parliament has resorted to criminalizing Israeli tech.
Iran Has Spent as Much as $30 Billion in Syria, Lawmaker Says
Iran has spent between $20 billion and $30 billion in Syria to prop up President Bashar al-Assad and fight Islamic State, a lawmaker told the semi-official Etemad newspaper, in a rare estimate by a government insider.

Iran "must get this money back from Syria," Heshmatollah Falahatpisheh, an outgoing member of parliament who was on the chamber's national security and foreign policy commission, said in an interview published Wednesday.

By comparison, Iran's entire defense budget last year came to some 700 trillion riyals, or $16.6 billion.

The Islamic Republic has sent its own troops into Syria and has backed other forces there, most prominently the Lebanese Hezbollah, since hostilities broke out in 2011.

It has also won leverage over Assad through financial assistance and investments. The economic and military aid has taken a toll on Iran's finances as its economy has been battered by U.S. and other international sanctions.
Expert: Cyberattack on Iran Port Showed only Fraction of Israel's Capabilities
An Israeli cyber-defense expert said on Wednesday that the cyber-attack on an Iranian port earlier this month, widely attributed to Israel, "served as a warning" and represented only a fraction of what the Jewish state could bring to bear.

The cyber-attack on Iran's Shahid Rajaee port resulted in major disruptions in the site's infrastructure and computer systems, rendering it unable to provide basic services for a time.

The attack was seen as a possible retaliation for a cyber-attack on Israel's water infrastructure in April that was attributed to Iran.

In an interview with Israeli news site N12, Lotem Finkelstein, the Threat Intelligence Group manager at Check Point Software Technologies and an expert on cyber-defense, called the attack a warning shot, saying Israel "didn't use the strongest tools."

He noted that Iran was at the top of Israel's security priorities and Israel possessed substantial information on Iran's cyber-security weaknesses.

Referring to a massive cyber-attack on Iran's nuclear program a decade ago, also generally believed to be an Israeli operation, Finkelstein said, "Israel can take the capabilities attributed to it from the attack on the Iranian [nuclear] reactor in the past and now in the port and darken Iranian cities."

He added, however, that the attack on the port was a signal more than an attempt at causing major damage.
Israeli Websites Attacked by Iranian Hackers with Shoddy Hebrew Syntax
You can turn Israel's enemies into minor-level hackers, but you can't teach them Hebrew. The terrible Hebrew that's been the curse of Hamas websites on Thursday brought to shame an otherwise fine hacking operation of, presumably, Iranian hackers. They took over segments of, or entire rightwing, Israeli websites – not government or other sensitive websites, mind you. But then they had no idea how to express in Hebrew their message, namely that "the countdown of Israel destruction has begun since a long time ago" (sic) which, come to think of it, ain't such good English either.

But in Hebrew it was hopeless gibberish, barely translatable: "The count opposite to destruction Israel nitchal (they wanted to write Hitchila, which would have meant "began," fem. 3rd person singular, but instead made up a meaningless verb conjugation) from before much time."

This bad exercise in communication was followed on the hacked websites with a terrible CGI job showing how Israeli urban centers such as Tel Aviv and Haifa are being demolished by bombs, or a nuclear attack, they did both. But they didn't hit Jerusalem. The video clip ends with the heart warming vision of thousands of Muslims on the Temple Mount, bowing in the direction of Mecca, with their behinds turned to the Gold Dome.

The clip concludes with the somewhat ambivalent declaration: "Israel will not see the 25 to the coming," by which they mean, of course, that Israel will be destroyed before the year 2025.
Honest Reporting: Iran's Cyberattack Against Israel
Israeli sites are coming under attack from a shadowy Iranian hacker group, with hundreds of sites taken over and used as a platform for threats. The hackers are using Facebook to organize, but the social media giant isn't taking action, and the media seem uninterested in the story.
German government condemns Iran's call to 'destroy Israel'
The German government has largely refused to criticize Iran's regime over the years for its lethal antisemitism and Holocaust denial.

The foreign policy spokesman of the Free Democratic Party in the Bundestag, Bijan Djir-Sarai, tweeted a question to German foreign minister Heiko Maas in response to Khamenei's anti-Israel tweet: "Europe and Germany urgently need a new Iran strategy. How long do you want to tolerate the aggressive policies of the mullah regime?"

In 2019, German Foreign Ministry state secretary Niels Annen, from the Social Democratic Party, celebrated Iran's Islamic revolution at Tehran's embassy in Berlin. Germany's president ,the social democrat Frank Walter-Steinmeier, congratulated Iran's radical anti-Western regime that same year in the name of the German people.

The US government under the Obama and Trump administrations designated Iran's regime the worst state-sponsor of terrorism.

Elan Carr, the US Special Envoy for Monitoring and Combating anti-Semitism, tweeted last week that "Iran's regime is the world's chief state sponsor of antisemitism. It must stop incitement and protect its Jewish community and other minorities."

Germany's social democratic foreign minister Heiko Maas along with his British and French counterparts set up a financial mechanism termed INSTEX to circumvent US sanctions against Iran. The Instrument in Support of Trade Exchanges allows for EU trade with Tehran's regime.

Germany remains the most important European trading partner for Iran.
Wow, just wow. This is a new kind of vile low from @JZarif, the very same smiling wolf in sheep's clothing who gets red carpet treatment across Europe! https://t.co/Ot9H1wdl2D

— Arsen Ostrovsky (@Ostrov_A) May 21, 2020
Iran FM: 'Disgusting' for Israel to object to 'final solution' poster
Iran's foreign minister on Thursday defended an anti-Israel poster shared by the country's leader that invoked the term "final solution," after Israeli and US leaders accused him of advocating genocide.

Citing the Nazi murder of Jews in the Holocaust, Mohammad Javad Zarif said it was "disgusting" for Israel to object to the poster, which he claimed advocated for a referendum on what type of government Palestinians want.

The term "final solution" is usually associated with Nazi Germany's efforts to eliminate all Jews.

"Disgusting that those whose civilization found a 'Final Solution" in gas chambers attack those who seek a real solution at the ballot box, through a REFERENDUM," Zarif wrote on Twitter.

"Why are US and West so afraid of democracy?" he added. "Palestinians should not have to pay for your crimes, or for your guilt."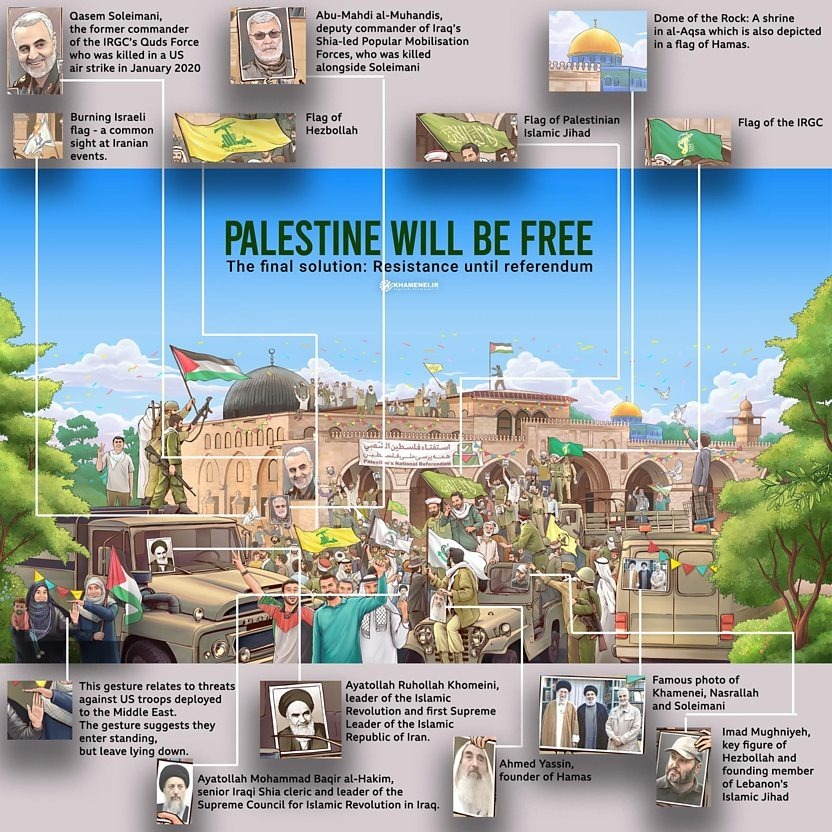 🩸🩸10/6/2020

Al Quds is going ahead under the guise of a end of
ramadam speech Key timings include:
2:00pm – Form-up on Curzon Street and screen erected.
3:00pm – Speeches start.
5:00pm – Move off toward Trafalgar Square via Piccadilly.https://t.co/i3YN7gmtt2 @Campaign4T

— Eye On Antisemitism (@AntisemitismEye) May 20, 2020
Shari'a Professor Dr. Abduljabbar Saeed on Jazeera TV: All Rocks and Trees Will Call on the Muslims to Kill the Jews; Victory Is Achieved over the Skulls of the Enemies pic.twitter.com/yot8DBb4FT

— MEMRI (@MEMRIReports) May 21, 2020
---
---
We have lots of ideas, but we need more resources to be even more effective. Please
donate today
to help get the message out and to help defend Israel.