From Ian:
---
Schools, kindergartens to gradually reopen from Sunday, deaths rise to 203
Schools and kindergartens will gradually reopen from Sunday in a combined format of in-class and remote learning, ministers decided Monday as they move to return the economy to normal operations. The decision is conditional on the continued decline of infection rates, with full approval due on Friday.

Approving plans presented by the Education Ministry at the meeting, the return of pupils to school will vary according to age group. Children aged 0-6 will return to kindergarten in small groups and attend on different days.

First to third graders will learn in school from Sunday to Thursday, but in groups limited to no more than 15 pupils. Break times will be staggered to ensure that groups do not meet each other. Pupils in fourth to twelfth grade will continue learning remotely at this stage.

The decision to reopen schools follows a significant slowdown in infections across the country. A total of 203 Israelis have died from the coronavirus and 15,466 cases have been confirmed to date. Currently, 129 patients are in serious condition, including 96 requiring ventilation.

Some 6,796 patients have recovered so far, leaving a total of 8,760 active cases.
Efraim Karsh:
The San Remo Conference — 100 Years On
There is probably no more understated event in the history of the Arab-Israeli conflict than the San Remo Conference of April 1920.

Convened for a mere week as part of the post-World War I peace conferences that created a new international order on the basis of indigenous self-rule and national self-determination, the San Remo conference appointed Britain as the mandatory for Palestine with the specific task of "putting into effect the declaration originally made on November 2, 1917, by the British Government [i.e., the Balfour Declaration], and adopted by the other Allied Powers, in favour of the establishment in Palestine of a national home for the Jewish people, it being clearly understood that nothing shall be done which may prejudice the civil and religious rights of existing non-Jewish communities in Palestine, or the rights and political status enjoyed by Jews in any other country."

This mandate was then ratified on July 24, 1922 by the Council of the League of Nations — the post-war world organization and the UN's predecessor.

The importance of the Palestine mandate cannot be overstated. Though falling short of the proposed Zionist formula that "Palestine should be reconstituted as the national home of the Jewish people," it signified an unqualified recognition by the official representative of the will of the international community of the Jews as a national group — rather than a purely religious community — and the acknowledgement of "the historical connection of the Jewish people with Palestine" as "the grounds for reconstituting their national home in the country."

It is a historical tragedy therefore that 100 years after this momentous event, the Palestinian leadership and its international champions remain entrenched in the rejection not only of the millennial Jewish attachment to Palestine, but of the very existence of a Jewish people (and by implication its right to statehood).

Rather than keep trying to turn the clock backward at the certain cost of prolonging their people's statelessness and suffering, it is time for this leadership to shed its century-long recalcitrance and opt for peace and reconciliation with their Israeli neighbors.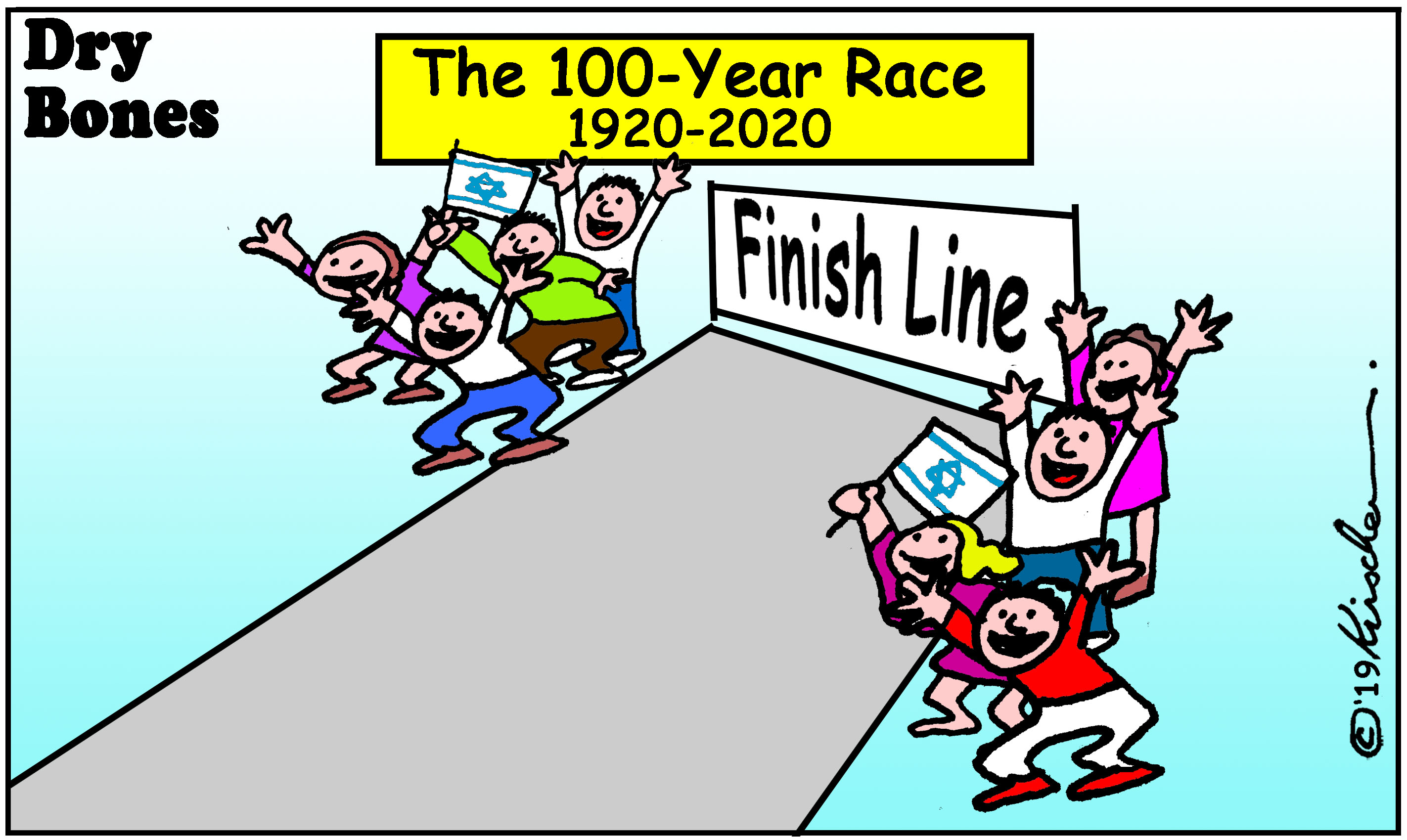 Netanyahu: 'A Century After San Remo, the Promise of Zionism is Being Realized'
Israeli Prime Minister Benjamin Netanyahu said in a video address on Sunday that "the promise of Zionism" would be realized in just a few months, when Israel extends its sovereignty to the Jordan Valley and parts of Judea and Samaria under the aegis of the US "Peace to Prosperity" plan.

In a video message to the European Coalition for Israel, an evangelical Christian group, marking the 100th anniversary of the San Remo Resolution, in which the world powers recognized the national rights of the Jewish people in the Land of Israel, Netanyahu said that soon Israel and its supporters would be celebrating "another historic moment in the history of Zionism."

"President Trump pledged to recognize Israeli sovereignty over the Jewish communities there [Judea and Samaria] and in the Jordan Valley. A couple of months from now, I am confident that that pledge will be honored, that we will be able to celebrate another historic moment in the history of Zionism. A century after [the] San Remo [Resolution], the promise of Zionism is being realized, because we never stop fighting for our rights," said Netanyahu.

He thanked the conference participants, saying, "Your efforts are part of that fight. Thank you for celebrating this historic occasion and securing the Jewish future."

Under the Trump plan, the political component of which was published in January, Israel can extend its sovereignty to almost all Jewish settlements in Judea and Samaria, as well as to the Jordan Valley. Then, after four years, a Palestinian state would be established if the Palestinian leadership had met a set of conditions, chief among them renouncing terrorism and ensuring rule of law.
Here's the link to my speech for @IMTIzionism commemorating the centennial of the San Remo Conference.https://t.co/u8urHU2DEZ

— Caroline Glick (@CarolineGlick) April 26, 2020
David Singer:
Jordan must not socially distance from Judea and Samaria's Arabs 
EU High Representative for Foreign Affairs Josep Borrell released the following statement:

…the EU's position on the status of the territories occupied by Israel in 1967 remains unchanged. The EU does not recognize Israeli sovereignty over the occupied West Bank. The EU reiterates that any annexation would constitute a serious violation of international law."

Borrell is way off the mark:
- Not ''sovereignty over the occupied West Bank" – but "sovereignty over 30% of Judea and Samaria – land designated for reconstitution of the Jewish National Home under internationally-negotiated agreements"
- Not "annexation" - but " the restoration of sovereignty lost 3000 years ago by the Jewish people in its biblical heartland"
- Not "a serious violation of international law": Israeli sovereignty is being applied in accordance with international agreements that the international community is obligated to uphold.

Trump should focus on Jordan - having occupied and ruled Judea and Samaria between 1948 and 1967 – to replace the PLO in negotiations with Israel on Trump's additional Arab State proposal.

The PLO – only founded in 1964 - expressly stipulated under article 24 of its Charter that it did:
"not exercise any territorial sovereignty over the West Bank in the Hashemite Kingdom of Jordan,"

The PLO reversed its position in 1968 after Israel gained control in the 1967 Six Day War.

Judea and Samaria's Arab residents were Jordanian citizens between 1950 and 1988. Socially distancing from them now is the last thing Jordan should be doing.
Episode 2 of Counterbalance is out. This week, @GadiTaub1 and I talk about Israel and the Jordan Valley, among other things | https://t.co/ANOIW3kTj9

— Mike (@Doranimated) April 27, 2020
Arab League to meet over Israel's plans to annex parts of West Bank
The Arab League said Monday it will convene an urgent virtual meeting this week to discuss how to galvanize opposition to Israeli plans to annex parts of the West Bank.

The extraordinary meeting — scheduled for Thursday at the request of the Palestinian leadership — will bring together Arab foreign ministers via videoconference, rather than a face-to-face meeting, due to the global coronavirus pandemic.

The Arab League's deputy secretary Hossam Zaki said the ministers will "discuss in their virtual meeting providing political, legal and financial support to the Palestinian leadership to confront the Israeli plans."

It comes after Prime Minister Benjamin Netanyahu and his political rival Benny Gantz signed a deal for a unity government that could accelerate the premier's plans to begin annexing parts of the West Bank as early as July 1.

Those Israeli plans — while subject to caveats, including agreement and coordination with the US — have drawn wide criticism including from the United Nations and the European Union.

Arab League chief Ahmed Aboul Gheit last week sent a message to UN Secretary General Antonio Guterres warning against the annexation plans, saying they risk "igniting tension in the region."
German far-right party to drop 'fascist' spokesman proud of 'Aryan' grandfather
Germany's far-right AfD party on Sunday said it had suspended a longtime spokesman, reportedly after he described himself as a fascist and praised his "Aryan grandfather."

Die Zeit newspaper wrote that Christian Lueth was relieved of his duties at the request of senior party figure Alexander Gauland following an internal review.

"He has been suspended," a spokesman for the AfD's parliamentary group confirmed to AFP.

Lueth had allegedly "repeatedly described himself as a fascist and referred to his grandfather's Aryan lineage," the paper wrote in its online edition, citing party sources.

Lueth's grandfather was a submarine commander during World War II and received an Iron Cross from Nazi leader Adolf Hitler, the newspaper said.

AfD co-leader Tino Chrupalla confirmed the suspension to Der Spiegel weekly, but declined to comment on the reason.

Spiegel said Lueth had not been officially sacked yet, "but it doesn't look good."
German Jewish head opposes BDS speaker, wants anti-Israel director fired
The president of the Germany's 105,000 member Central Council of Jews called on Saturday for the dismissal of Stefanie Carp, the anti-Israel director of the Ruhrtriennale music and cultural festival, who passionately defended a South African-based academic who supports the "global isolation" of the Jewish state as the opening speaker for the now cancelled event.

The Jerusalem Post sent a press query to Josef Schuster, the head of the Central Council, this week. He said "I have no understanding for the invitation of Achille Mbembe as opening speaker of the Ruhrtriennale - even if the event has now been cancelled due to corona," according to a report in the Neuen Osnabrücker Zeitung

Schuster called on the festival's organization to fire Stefanie Carp, the director of Ruhrtriennale, who has invited Boycott, Divestment, Sanctions speakers over the years to the festival to bash Israel.

Schuster said Mbembe propagates the view that Israel's conduct is worse than the former apartheid regime in South Africa. Schuster said that is historically false and unacceptable.

Schuster also criticized Mbembe's writings because they argue that Israel's interaction with the Palestinians in the context of the Palestinian-Israeli conflict is worse than the Holocaust.

"With that he [Mbembe] disqualifies himself." said Schuster, adding "I wonder what the director was thinking when she invited him. Apparently, her attitude has not changed at all."

Schuster said "I can no longer understand that she continues to be director of the Ruhrtriennale, and I appeal to those responsible to finally draw the necessary conclusions."

The Post reported on that Andreas Görgen,the director of the foreign ministry's department for culture and communication, tweeted a series of articles in support of Mbembe.

When asked about the Simon Wiesenthal Center's criticism of Görgen and his tweets in support of an academic who allegedly trivialized the Shoah and spreads antisemitism, the foreign ministry told the Post on Friday: ""We ask for your understanding that we won't comment on the issue mentioned."
7 killed in 2nd alleged Israeli airstrike in Syria in a week
At least four Iranian militants and three civilians were killed and another four people were wounded, including a child, after Syrian air defense systems were activated in response to an alleged Israeli airstrike targeting the Damascus area from Lebanese airspace early Monday morning, according to the Syrian Observatory for Human Rights (SOHR).

The attack marks the second airstrike in Syria blamed on Israel in the past week.

The civilian deaths and injuries were caused after shrapnel from Israeli missiles hit homes in the towns of Al-Hujaira and Al-Adliya in the Damascus area, according to Syria's state news agency SANA. SOHR reported that it was unclear whether the shrapnel was from Israeli missiles or Syrian air defense systems.

Images spread on social media reportedly from the scene showed a building with much of the upper floor damaged, along with reports that a man and his wife who lived in the building were killed.

The opposition-affiliated TV station Halab Today reported that witnesses from the areas affected by the alleged airstrikes stated that there was continuous ambulance traffic there for an hour after the strikes and that casualties were caused by the strikes.
Syrian air defense active over #Damascus tonight against reported #Israel|i airstrikes. #Syria pic.twitter.com/JZt3YcFAlT

— Joe Truzman (@Jtruzmah) April 27, 2020
Incendiary kites - near Ben Gurion Airport
Incendiary kites and balloons landed in three locations in Lod, including near a local high school and just five kilometers (three miles) from Ben Gurion International Airport.

Lod Mayor Yair Revivo turned to Public Security Minister Gilad Erdan (Likud) and a senior police official, demanding they take harsh action against the perpetrators, Israel Hayom reported.

Angry residents said that many complaints have been filed with the police, and that the city has an atmosphere of disorder and lack of control: Since the beginning of the Muslim holiday of Ramadan, dozens of fireworks have been shot into the air, and now incendiary balloons have joined them.

"A balloon landed near our trampoline, in our yard, and almost caused a fire and a tragedy," one resident told Israel Hayom.

Another resident told the site: "We are in danger of our lives. Everyone is talking about coronavirus but in this city there is no government, and there is fear."

Residents also protested outside Revivo's home, demanding he pressure the police to take care of the matter.

Israel Police told Israel Hayom: "There are ten squad cars spread throughout the city, and we have reinforced the police presence. We saw one balloon and we will handle it harshly. We call on the public to turn to us and complain. We also feel a drop in the shooting of explosives."
Meanwhile, in other news, Israel's Labor Party is finished
The item turned up almost an hour into Sunday's Channel 12 news, sandwiched between a speculative report on who will succeed Yaakov Litzman as health minister and coverage of an ongoing row between the attorney general and the acting state attorney: The Labor Party's central committee had voted to back its leader Amir Peretz and join the coalition Prime Minister Benjamin Netanyahu is aiming to lead alongside his Blue and White rival-turned-partner Benny Gantz.

"We are not joining a right-wing government," declared a delighted Peretz — which will have been news to Netanyahu, who hours earlier had reiterated his intention to annex parts of the West Bank a couple of months from now, as specifically mandated in the coalition agreement.

"Our strategic cooperation with Benny Gantz will return Labor to its place as a leading and influential political movement," added Peretz, who is set to become Israel's economy minister, still more preposterously.

Far from presaging Labor's revival, what its central committee has approved is quite the opposite: In permitting Peretz and his colleague Itzik Shmuli to become two irrelevant ministers among the 32, rising to 36, around Netanyahu's cabinet table, they are putting their dying party out of its misery.

Under one name or other, Labor oversaw the founding of modern Israel and led it through its first three turbulent decades of statehood — somehow steering the nascent state through the unwinnable War of Independence to the astounding success of the Six Day War, and shaping the nation's education and health systems, its infrastructure and economy, its foreign relations and its domestic priorities. It then entered what must now be recognized as a protracted but terminal decline with the shock of the Yom Kippur War.

And now, it exists in name only. Like turkeys voting for Christmas, its confused and exhausted members on Sunday assented to Peretz's request to be devoured by Netanyahu's Likud-led coalition, for the sake of one last photo op at the cabinet table.
Labor leader Peretz wins his party's backing to join Netanyahu-led government
The Labor party's central committee on Sunday voted in favor of joining the unity government on the basis agreed last week by Prime Minister Benjamin Netanyahu and Blue and White party chief Benny Gantz, upending repeated campaign promises to never serve under a prime minister facing criminal indictments.

In a vote, 64.2 percent of the dovish party's central committee supported party leader Amir Peretz's push to join the government. Around 3,800 members of the central committee were eligible to vote electronically on the proposal. The party, in a statement Sunday night, did not say how many had voted, but did report that participation was high.

"I thank all the committee members, those who supported [the move] and those who opposed," said Peretz in a statement. "Tonight, we won sweeping backing from party members to… change the government's agenda and economic policy to a democratic socialist one."

"We are not joining a right-wing government," he argued. "We are joining an egalitarian unity government with a rotating premiership. Our strategic cooperation with Benny Gantz will return Labor to its place as a leading and influential political movement."

Peretz said he intended to work in the coming days to "unify" the party.

The once-mighty left-wing party dominated Israeli politics for the country's first three decades, but has since fallen to a historic low of three seats in the 120-member parliament. Netanyahu's right-wing Likud is the largest faction, with 36.
PreOccupiedTerritory:
All 6 Israelis Not Ministers In New Gov't Bummed, Insulted (satire)
The half-dozen citizens whose names have not been included in the roster of ministers forming the new national unity government admitted today they feel left out, local sources report.

Right-leaning Likud and center-left-leaning Blue-and-White agreed last week to form a coalition in the wake of elections that gave neither of the major political camps a majority in the Knesset, leading to weeks of posturing, negotiations, and maneuvering that resulted in a government with a record number of ministers, one for every one of Israel's nine million citizens except six. Those six people expressed their hurt and offense to reporters Monday.

"I would have made an excellent minister of Bohemian subculture," lamented Guy Levy, 39, of Tel Aviv's Florentin neighborhood. "Just look at this tattoo, and the bookshelf of highbrow titles I keep prominently displayed in my apartment. But do I get the post? No, that has to go to Sigal Maimon next door, who wouldn't know a Van Dyke from a goatee if her life depended on it."

"Just don't tell her I said that – if she hears that, she might disqualify me for whatever subsidies she gets to distribute, and I'm already running low on some of my favorite microbrews," he added.
Khaled Abu Toameh:
Palestinians and the Virus of Normalization
If Hamas is opposed to any form of cooperation with Israel, why does it continue to allow medical supplies to be transferred from Israel into the Gaza Strip on an almost weekly basis?... It was also revealed that the sister of senior Hamas official Musa Abu Marzouk had been admitted to an Israeli hospital for two weeks for cancer treatments.

Yet, Hamas is now saying that the Palestinian "peace activists" who talked to Israelis through an online videoconference will face legal measures for their "crime."

If Hamas does not want any contact with Israel, it should close the Gaza Strip border with Israel and refuse to medical supplies or truckloads of goods and fuel. If Hamas does not want any contact with Israel, it should stop sending family members of its leaders to receive medical treatment in Israel. If Hamas does not want any form of contact with Israel, it should stop sending Palestinian doctors to receive training from Israelis.

If and when the "peace activists" go on trial in the Gaza Strip, the international community and all those who describe themselves as pro-Palestinian advocates will have a golden opportunity to call out Hamas for its hypocrisy and lies. Failing to do so will directly facilitate the intimidation that Hamas and Palestinian extremists apply to anyone who seeks a better future for the Palestinians or peace with Israel.
MEMRI: Gazan Journalist: Dialogue with Israelis Outside Resistance Framework Is Collaboration with Enemy
PMW:
PA against wheelchair accessibility for disabled at Cave of the Patriarchs
The Palestinian Authority is protesting Israel's plan to make the Cave of the Patriarchs wheelchair accessible and condemning it as "Judaization." This is in response to the decision by Israel's Defense Ministry in February this year to install an elevator to make the religious center wheelchair accessible within a year.

Currently the only access to the large religious site involves walking dozens of steps and people in wheelchairs have to forgo the visit or to be carried. The elevator to be installed will benefit both Jewish, Muslim, and Christian visitors to the holy site.

The PA's condemnation last week focused on the recent decision by Prime Minister Netanyahu to install the elevator following a visit to the Cave of the Patriarchs in Hebron. The PA refers to Netanyahu's visit as an "invasion":
PA TV newsreader: "This is as completion of a plan that was presented by [Israeli] Prime Minister Netanyahu during his last invasion of Hebron, whose results will be taking over the lands of the [Ibrahimi] Mosque (i.e., Cave of the Patriarchs) and assembling an electric elevator within the mosque as a service for the settlers who want to strengthen the settlement in this area."
[Official PA TV News, April 21, 2020]

All activities and building by Israel in Jerusalem and Hebron, even when it benefits the Arab population, are condemned as "Judaization" by the Palestinian Authority. In this recent attack coming at the time of the COVID-19 crisis, the PA said Israel is trying to "spread its epidemic of Judaization" against Hebron.
PA against accessibility for the disabled, Israel's installation of elevator at Cave of Patriarchs is "Judaization" and "an attack"

Read more about this here: https://t.co/SEQU5zKh1j pic.twitter.com/b7I7Tayaup

— Pal Media Watch (@palwatch) April 27, 2020
Egypt's Official Fatwa-Issuing Body Warns Against Extremist Fatwas On Coronavirus, Calls To Follow Instructions Of Medical Establishment
On March 16, 2020, Dar Al-Ifta, Egypt's official fatwa-issuing body, published a report on fatwas (religious rulings) issued across the Muslim world regarding the coronavirus pandemic. The fatwas reviewed in the report were collected by the Global Fatwa Index, a body established by Dar Al-Ifta in 2018 to fight extremist fatwas in the Muslim world. They include rulings issued by official religious bodies in the Muslim world (comprising 40% of the fatwas reviewed) and rulings issued by non-official elements (60%). The report describes the content of these fatwas and states the position of the Egyptian religious establishment regarding them. Its publication is part of the Egyptian regime's general efforts to renew the religious discourse in the country.

The report states that the Muslim Brotherhood (MB) and Salafist elements in Egypt use the epidemic to advance their ideas by issuing extremist and misleading fatwas aimed at spreading chaos and fear among Egyptians and undermining their faith in their leadership and government institutions. As examples of this, it presents fatwas that refer to the epidemic as divine retribution against Egypt for passing regulations banning the niqab (full-face veil) in certain public places, or as Allah's revenge on China for its oppression of the Muslim Uyghur minority. The report also comes out against fatwas that permit people to flee infected areas, stating that this contravenes the shari'a, and criticizes Salafists who take advantage of the epidemic to make a profit, for instance by issuing fatwas advocating the use of amulets as protection from the disease. Also condemned are fatwas by ISIS that urge Muslims to rejoice in the spread of the disease in China and Iran, and fatwas that call on ISIS members who have contracted COVID-19 to act as "biological bombs" by deliberately spreading the disease among the organization's enemies.

The report urges the Egyptians to heed only fatwas issued by the official religious institutions in the Muslim world, which call to follow the instructions of the medical authorities, including the instruction to suspend all public prayers, avoid making the pilgrimage to Mecca, and refrain from congregating and shaking hands, so as to avoid spreading the disease and protect human lives, as the shari'a commands. It also calls on the fatwa-issuing authorities in the Muslim world to refute fatwas circulated by extremist and terrorist organizations and to encourage the public to obey the directives of the authorities.
Lebanese International Affairs Expert Abdo Al-Laqis: COVID-19 Was Made by the U.S. and Deliberately Sent to China; It Is Designed to Kill off People over 65, Because They Are Unproductive pic.twitter.com/lIMR9pcTpe

— MEMRI (@MEMRIReports) April 27, 2020
COVID-19 and the IAEA: Where does the Iran mission stand?
During the COVID-19 outbreak, the IAEA should continue to pressure Iran to cooperate with its investigation and allow immediate and unrestricted visits to suspicious sites. Despite the IAEA's safeguards, Iran continues to expand its enrichment program to threatening levels. As noted above, it now has adequate low-enriched uranium for more than one nuclear weapon and continues to install faster centrifuges.

The agency should take pandemic-related precautions for its inspectors but maintain regular physical inspections at all Iranian nuclear sites. Tehran is likely to exploit any reduction in monitoring and could use the pandemic as an excuse to deny or delay access. Were it to manufacture an access crisis on the pretense of a COVID-19-related issue, Tehran could divert uranium and continue enriching it at clandestine facilities, using newer, easier-to-hide advanced centrifuge capabilities.

Remote monitoring mechanisms already employed by the IAEA are important, but only to enhance its mission. The IAEA should not rely heavily on these in the mistaken assumption that they can replace information obtained via physical visits. Nor should the agency be drawn into lengthy discussions about a roadmap for access, which will ultimately serve no purpose.

The IAEA's board of governors should support the agency's investigation and vote on a resolution to condemn any Iranian failure to cooperate. If it continues to stonewall, the board should vote to refer the matter to the UN Security Council for the re-imposition of sanctions lifted under the nuclear deal. Only international unity in the face of Tehran's ongoing obstruction will yield results.
How has coronavirus changed the Iranian threat to Israel?
Now, in light of the coronavirus's spread, Hook said Iran has become a "pariah" because it continued Mahan Air flights to China even after the outbreak began.

"Extortion is the only thing the regime has left in its arsenal, but the international community is losing its appetite for the world's leading sponsor of terrorism," he stated.

Another Trump administration source argued that since Soleimani's assassination, Iran is more hesitant to be as provocative with Israel as it had been.

At the same time, the source said that while "there's desperation…they have fewer and fewer resources to turn to" in Iran, they do not seem to want to reconsider their policies.

The impact of their economic crisis has been mostly felt by Iran's proxies who are "receiving less money and fewer weapons, which makes it harder [for Tehran] to maintain a grip on the region. They have less influence because of the maximum pressure campaign."

Trump's second national security adviser, HR McMaster, cited an ongoing legitimacy crisis for the Iranian regime, pointing to the regular demonstrations and strikes in the months ahead of the pandemic, Bloomberg's Eli Lake reported last week.

Pandemics "weaken the hands of authoritarian leaders," McMaster said, in that democracies can respond to criticism and debate by changing their path, while authoritarians do not have that option, but if Iranian citizens "lose faith in their leader, the only recourse is revolution or coup," Lake wrote.

Similarly, Oren Anolik, Head of the Policy Planning Bureau in the Foreign Ministry said Iranian anger at their government's behavior in response to the pandemic could be a positive thing for Israel.

"There is very low trust by Iranian people in their government. Maybe it'll bring about political change," he said.

"But," Anolik added, "a destabilized government might take more extreme steps to ensure its continued existence."
Pentagon downplays Iranian military satellite as 'a tumbling webcam in space'
The head of the US Space Command said the Pentagon believes that Iran's first successful launch of a military satellite into space does not pose any intelligence threat.

The Nour satellite placed into orbit on April 22 is classified by the US military as a small 3U Cubesat, three adjoined units each no more than a liter in volume and less than 1.3 kilograms (one pound) each, said General Jay Raymond in a tweet late Sunday.

"Iran states it has imaging capabilities — actually, it's a tumbling webcam in space; unlikely providing intel," he wrote.

"#spaceishard," Raymond added to the tweet.

While Raymond downplayed any threat from the satellite, the United States has warned that Tehran's ability to place it into space represents a significant advance in its long-range missile capability, posing a greater threat to US forces and allies in the Middle East.

Last week US Secretary of State Mike Pompeo accused Iran of violating a 2015 UN Security Council resolution against Tehran advancing any nuclear-capable ballistic missile activities.
Can Pompeo use Iran nuclear deal to extend embargo of conventional arms?
In addition, in March, new IAEA Director-General Rafael Grossi started to take a different tone with Iran than his predecessor, Yukiya Amano, who helped construct the 2015 deal.

Grossi has called out Iran for refusing to clarify questions relating to undeclared nuclear material found by both the Mossad and the IAEA at the Turquzabad site and for refusing to grant inspectors access to multiple other undeclared sites discovered by the Mossad.

The spy agency had mapped out a variety of undeclared sites from the Iranian nuclear files it appropriated from Tehran in January 2018, sources close to Mossad Director Yossi Cohen told The Jerusalem Post in September 2019.

This could enable the US to argue that Iran violated the deal from day one in 2015 by concealing aspects of its nuclear program from the IAEA, which in turn justified the US maximum-pressure campaign and means the US never lost its right to weigh in as a party to the deal.

Of course, ultimately, the arms embargo will come down to the UN Security Council, where the US has a seat – Iran deal or no Iran deal – and Washington's "maximum pressure" campaign has had powerful effects even without UN support.

By this argument, just as the US's unilateral sanctions on Iranian oil, without UN support, has hampered Iran's economy, it is possible that Washington could limit arms trade with the Islamic Republic even if the UN ban expires.

Yet, there are significant holes in the pressure campaign regarding China, Russia and some other key countries. These countries are observing the UN arms ban, and if the ban drops, they can be expected to elevate trade with Iran in those areas.

The key sunset clauses for the Iran nuclear deal are in 2023, 2025 and 2030.

But the October deadline will be a major fight with huge implications, and it is still unclear how much the US will be able to wield influence.

David, with all respect, you know this isn't true. You were physically there. https://t.co/LGx1YDQDet

— Omri Ceren (@omriceren) April 27, 2020
IRGC Commander-in-Chief General Hossein Salami: We Will Respond to Any U.S. Action Decisively and Swiftly; We Will Target Any Vessel of the Terrorist U.S. Military pic.twitter.com/Gyik32WgGQ

— MEMRI (@MEMRIReports) April 27, 2020
.@kenroth 100%. But your credibility here is 0 after @theintercept revealed last month that you solicited a Saudi billionaire for a $470,000 gift by promising not to use it to defend LGBT victims in the Middle East—just after you had reported that donor's enslavement of workers. https://t.co/kO7XB2JFLh

— Hillel Neuer (@HillelNeuer) April 27, 2020
---
---
We have lots of ideas, but we need more resources to be even more effective. Please
donate today
to help get the message out and to help defend Israel.