From Ian:
---
Palestinians' Blood Libels Against Israel, Jews
Instead of acknowledging their responsibility for failing to combat the drug trafficking, the leaders of Hamas have been trying to blame everyone but themselves.... These leaders are trying hard to convince Palestinians that Israel and Hamas's rivals in the Palestinian Fatah faction, headed by Palestinian Authority President Mahmoud Abbas, are responsible for flooding the Gaza Strip with illegal drugs.

The Palestinians' attempt to establish a connection between Israel and illegal drugs in the West Bank and Gaza Strip is no less dangerous than their terrorist attacks against Israel. The Palestinian Authority and Hamas are sending the following message to their people: The Jews are conspiring to destroy Palestinians by delivering illegal drugs to our communities. Therefore, we need to fight these Jews to prevent them from achieving

The Palestinians have never provided a shred of evidence to corroborate this false accusation against Israel. Why should they allow the truth to get in the way of a good story? Palestinian leaders are experts when it comes to blaming Israel and Jews, instead of the real sources, for all the miseries of their people.

Palestinian leaders are also unlikely to denounce the criminals and terrorists who planted the narcotics in the shampoo and cream bottles of ill women before they traveled for medical treatment in Egypt. Instead, Palestinian leaders will continue to incite their people against Israel and Jews, spreading blood libels of every sort at every turn. In that way, Palestinians will continue to hunt down Jews -- whether they are behind trees and rocks or in plain sight.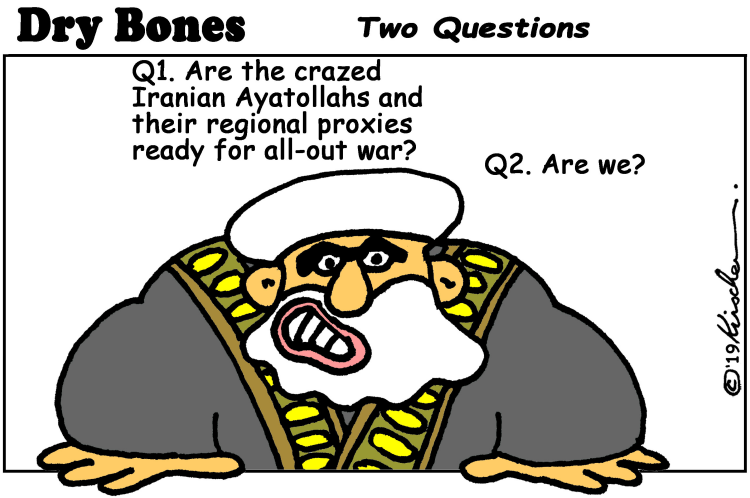 JPost Editorial:
Not a gimmick
'I had a call today with Prime Minister Netanyahu to discuss the possibility of moving forward with a Mutual Defense Treaty, between the United States and Israel, that would further anchor the tremendous alliance between our two countries," US President Donald Trump tweeted on Saturday. "I look forward to continuing those discussions after the Israeli Elections when we meet at the United Nations later this month!"

Netanyahu thanked Trump in a subsequent tweet: "The Jewish State has never had a greater friend in the White House... We will continue full steam ahead with our common battle against terrorism."

In Hebrew, Netanyahu tweeted: "On Friday, I received support from President Trump, and [Blue and White chairman] Benny Gantz received support from [talk show hosts] Ophira and Berko."

Thus a treaty between Israel and its greatest ally, the US, was reduced to an election campaign gimmick.

A mutual defense treaty between Israel and US would be a major development – whether good or bad remains to be seen.

The benefits of such a treaty seem obvious. It codifies American support for Israeli defense. The US has generally had our backs in times of trouble, but this would mean an official commitment on paper, that if Israel were under attack, the US would be there to help us, perhaps even with troops on the ground, something that has never happened before.

However, there are quite a few downsides to the treaty. Netanyahu himself opposed it in the 1990s, when then-prime minister Shimon Peres pursued it. On his first visit to Washington as prime minister in July 1996, Netanyahu argued that he would not even consider a treaty that could limit Israel's military independence. His defense minister, Itzik Mordechai, similarly said that the cost of a defense treaty could be greater than its usefulness to Israel. Former US president Bill Clinton also offered such a treaty to Netanyahu in exchange for concessions of Israeli sovereignty to the Palestinians, according to negotiator Dennis Ross' memoirs, and Netanyahu turned it down.
We thank you, Jason Greenblatt
I want to express gratitude to Jason who is a great leader. Everything that has happened under the president is because of his leadership and his team. We have honored Jason in the City of Jerusalem with the Friends of Zion Award and we will miss him dearly. We know Jason Greenblatt – nothing will change with his love of Israel and his commitment to Israel.

The award we bestowed on Greenblatt is earned by world leaders and influential figures that have gone "above and beyond" for the state of Israel and the Jewish people. Others who have received this award are: US presidents George W. Bush and Donald Trump, Prince Albert II of Monaco, Bulgarian president Rosen Plevneliev, Guatemalan President Jimmy Morales and, most recently, Honduran President Juan Orlando Hernández.

The Friends of Zion Museum reveals fascinating stories emphasizing the support and heroism of the many friends of the Jewish People and the State of Israel. It serves as a platform to fight global antisemitism and to stand strong against the BDS movement.

The Museum is launching a $100 million project to help educate pro-Israel supporters around the world about the Jewish state, its challenges, and its achievements. FOZ is developing an Ambassador Institute, which includes the first Christian Zionist think-tank, a communications center and an online university. It has become one of the top must-see sites in Israel for all tourists and Israeli residents.

Currently sitting on the board is IDF General (res.) Yossi Peled as the head of the FOZ Israeli Board of Trustees, along with other distinguished members. The Friends of Zion Museum was honored to have as its former international chairman, the late president Shimon Peres.
MEMRI:
The Attack On Saudi Oil Facilities: An Implementation Of Iran's Explicit Threats In Recent Months To Target Saudi Arabia, U.S., Global Economy
On September 14, 2019, two major oil facilities in Saudi Arabia – Khurais, the second-largest oil field in the country, and Abqaiq, the world's largest crude oil stabilization plant – were attacked using 10 drones armed with special munitions. The attack, for which the Houthi militia claimed responsibility (although the U.S. Foreign Secretary stated that there is no proof that the drones originated in Yemen), did severe damage to the facilities, thereby disrupting about half of the kingdom's daily oil production capacity, or 5% of the daily global oil supply.[1] This will clearly affect oil prices across the world and have an impact on the global economy.

The Saudi and U.S. aerial defense systems, deployed in several bases in Saudi Arabia explicitly for this purpose, failed to intercept the drones or foil the attack. Speaking today (September 14, 2019) on Al-Jazeera, General (ret.) Ma'moun Abu Nowar, a Jordanian commentator and a former air force commander, and Ahmad Al-Mo'aiad, a Houthi supporter in London, stressed that this was a complete failure of the U.S. and Saudi air defense systems. Al-Mo'aiad added that the UAE is also a potential target for attacks.

Iran Realizes Its Threat To Target Regional Oil Industry, Global Economy
Previous MEMRI reports have presented Iran's plan of action, which was openly articulated by the regime's political and military leadership. In response to a April 22, 2019 U.S. announcement on tightening the restrictions on Iranian oil exports,[2] top leaders of Iran's political system, armed forces and Islamic Revolutionary Guards Corps (IRGC) announced that they would not allow a situation whereby Iran's neighbors can export their oil to the world whereas Iran cannot do so. The Iranian plan was to prevent the Saudi oil export by force, thereby also harming U.S. interests and the global economy.

In a December 4, 2018 speech on Iranian state TV, President Rohani said: "America should know that we will sell our oil and that they cannot prevent Iran from selling its oil. If America will ever want to prevent Iran from selling oil, no oil will be exported from the Persian Gulf."[3] On August 21, 2019 Rohani stated that "the world powers know that if sanctions [are imposed on Iran's] entire oil industry, causing Iran's oil export to drop to zero, the international shipping lanes will no longer be safe, as they were in the past. Therefore, the unilateral pressure on Iran cannot benefit [the U.S.] and cannot guarantee its security in the region and the world."[4]
Iran: There will be no meeting between Trump and Rouhani at UNGA
Iran said on Monday there would be no meeting between Iranian President Hassan Rouhani and his US counterpart Donald Trump at the United Nations, Iranian state television reported, after the White House on Sunday left open the possibility of a potential meeting.

"Neither is such an event (Trump-Rouhani meeting in New York) on our agenda, nor will it happen. Such a meeting will not take place," Foreign Ministry spokesman Abbas Mousavi said in remarks carried by state TV. Tehran has repeatedly rejected such a meeting.

Mousavi rejected as "nonsense" remarks by Republican US Senator Lindsey Graham that it was time for the United States "to put on the table an attack on Iranian oil refineries" after the attacks on Saudi oil installations on Saturday that were claimed by Iran-aligned Houthis.
Trump: U.S. is 'locked and loaded' for potential response to Saudi attack
U.S. President Donald Trump said on Sunday that the United States was "locked and loaded" for a potential response to the attack on Saudi Arabia's oil facilities, after a senior official in his administration said Iran was to blame.

Trump also authorized the use of the U.S. emergency oil stockpile to ensure stable supplies after the attack, which shut 5% of world production.

"There is reason to believe that we know the culprit, are locked and loaded depending on verification, but are waiting to hear from the Kingdom as to who they believe was the cause of this attack, and under what terms we would proceed!" Trump said on Twitter.

Earlier in the day, a senior U.S. official told reporters that evidence from the attack, which hit the world's biggest oil-processing facility, indicated Iran was behind it, instead of the Yemeni Houthi group that had claimed responsibility.

U.S. Secretary of State Mike Pompeo also said there was no evidence the attack came from Yemen, where a Saudi-led coalition has been battling the Houthis for over four years in a conflict widely seen as a proxy war between Saudi Arabia and Shi'ite Muslim rival Iran.

"Amid all the calls for de-escalation, Iran has now launched an unprecedented attack on the world's energy supply," he said.

Iranian Foreign Ministry spokesman Abbas Mousavi dismissed the U.S. allegation it was responsible as "pointless." A senior Revolutionary Guards commander warned that the Islamic Republic was ready for "full-fledged" war.

"All American bases and their aircraft carriers in a distance of up to 2,000 kilometers around Iran are within the range of our missiles," the semi-official Tasnim news agency quoted Commander Amirali Hajizadeh as saying.
Trump pledges to help allies after attacks on Saudi oil facility
US President Donald Trump said on Monday the United States would help its allies despite US energy independence, after Washington blamed Iran
for an attack on Saudi Arabia that has closed 5% of global crude output.

"We don't need Middle Eastern Oil & Gas, & in fact have very few tankers there, but will help our Allies!" Trump wrote in a post on Twitter.

Trump said on Sunday the United States was "locked and loaded" for a potential response to the attack on Saudi Arabia's oil facilities.

Meanwhile, Russia on Monday urged countries in the Middle East and outside the region not to draw "hasty conclusions" on who staged the attacks on Saudi oil facilities.

A senior US official said earlier that evidence from the attack, which hit the world's biggest oil-processing facility, indicated Iran was behind it, instead of the Yemeni Houthi group that had claimed responsibility.
Houthi Military Media Publishes Propaganda Video with Hebrew Subtitles Threatening Israel with Cruise Missile Attacks: "There Is More to Come!" pic.twitter.com/483aKmGrsv

— MEMRI (@MEMRIReports) September 16, 2019
Police raids find huge arms cache linked to Islamic terror group
A significant arms cache, including a sniper rifle, a silencer and tracer rounds linked to the banned terrorist group al-Muhajiroun (lead by Anjem Choudary) have been found in Coventry, the Observer can reveal.

Officers from the West Midlands Counter Terrorism Unit and MI5 are investigating the weapons haul, which also includes a shotgun and 200 rounds of ammunition, following raids at several addresses in the city.

A statement from West Midlands Police, which assists the regional counter-terrorism unit, said: "Firearms and ammunition were recovered during the raids and a police investigation is ongoing." Four men have been arrested, one of whom has links to the al-Muhajiroun network, according to sources. The group, active in the UK since the mid-1980s, disappeared after the July 2005 attacks on London, but maintained a presence under various different names. It was eventually banned in 2009 under legislation outlawing "glorification" of terrorism.

Supporters of al-Muhajiroun, whose traditional centres of organisation are the East End of London and Luton, have carried out atrocities including the 2017 London Bridge attack, the July 2005 bombings and the murder of Lee Rigby in 2013, with a number fighting for Islamic State and al-Qaida abroad.

Recent reports suggest the group is regenerating, buoyed by the release of convicted terrorists from prison. The head of national counter-terror policing, Neil Basu, said the security services were working to disrupt terrorist activity by al-Muhajiroun.
Netanyahu says he is planning on annexing parts of Hebron
Prime Minister Benjamin Netanyahu on Monday said his plans to annex West Bank settlements after the upcoming election include the settlement of Kiryat Arba and the Jewish enclaves in Hebron.

Asked during an interview on Army Radio if these communities were included in his plan to extend Israeli sovereignty over settlements, Netanyahu said: "Of course, they'll be part of the State of Israel."

The Jewish community in Hebron is made up of several enclaves located deep in the heart of the largest Palestinian city. The several hundred Jews there live under heavy military guard amid tens of thousands of Palestinians.

Hebron differs from other Arab West Bank cities in that it is home to a Jewish community that, per the 1997 Hebron Agreement between Israel and the Palestinian Authority, lives in an area under Israeli control — about 20 percent of the city, known as H2. This community has existed for hundreds of years (though with several gaps during the 20th century).

Ahead of April's election and once again in recent days, Netanyahu vowed to extend sovereignty to all Jewish settlements in the West Bank — a move tantamount to annexation.
Oman rejects Netanyahu's promise to annex the West Bank
Oman rejected Prime Minister Benjamin Netanyahu's plan to annex West Bank settlements.

"Oman reiterates its rejection of Netanyahu's recent statements on the Palestinians, and supports the Palestinian people in all efforts to establish an independent Palestinian state with East Jerusalem as its capital," the Oman Ministry of Foreign Affairs said in a statement, according to Xinhua.

This announcement was in response to Netanyahu's post-election plan to annex the Jordan Valley.

"We will apply sovereignty in the Jordan Valley and the Northern Dead Sea as soon as the next government is established in the next Knesset," Netanyahu said.

"The final decision [to authorize the settlement] will only be advanced in the next government," the Prime Minister's Office said.

Attorney-General Avichai Mandelblit had initially refused to support the Mevo'ot Yericho vote, and accused Netanyahu of using the cabinet meeting to advance his personal electoral agenda.

Mandelblit rescinded his objection, however, after he was presented with new information, allegedly regarding US President Donald Trump's peace plan, which showed there was diplomatic urgency with regard to the vote to legalize the outpost. The attorney-general said that under these circumstances such a vote could be taken.
Annexing the Jordan Valley?
Check out season 2 of our podcast: https://t.co/5Ay2WGVjfg pic.twitter.com/U1sCkfgYzm

— NGO Monitor (@NGOmonitor) September 16, 2019
'EU get out': Right-wing activist vandalizes European Union mission in Israel
The European Union's diplomatic mission in Israel was vandalized Sunday with graffiti railing against the bloc and its largest member state, in an attack claimed by a right-wing anti-immigration activist.

The graffiti at the entrance to the EU offices in Ramat Gan read "German money kills Jews" and "EU get out."

Video clips showed Sheffi Paz, an anti-immigration activist in south Tel Aviv, and Merav Hajaj, the bereaved mother of a slain policewoman in a 2017 truck-ramming attack in Jerusalem, were behind the vandalism.

Paz, in footage aired by Hebrew media and apparently filmed by an accomplice, stands in front of the graffiti and says: "Stop subsidizing terrorists, stop financing illegal immigration and get out of Israel."

The Israel Police said it opened an investigation into the vandalism and said it was working to catch the perpetrators. It did not say whether Paz or Hajaj were under arrest.
Jordanian opposition leader Mudar Zahran banned from entering Israel
Self-proclaimed Jordanian opposition leader Mudar Zahran was denied entry into Israel on Thursday.

Zahran, who describes himself as the Secretary General of the Jordanian Opposition Coalition, has close connections with several far-Right Israeli officials. He was allegedly coming to Israel to meet with those officials and with settler leaders.

He has also strongly advocated for Jordan to be the Palestinian state, and reportedly has appealed to the far-Right in his claims that he is "a viable alternative to the Hashemite monarchy in Jordan."

According to a spokesperson from the Interior Ministry, Zahran arrived from the United Kingdom on Thursday but was "denied entry due to security reasons" and "flew back [to the UK] on Friday."

The official said there was no further information on the matter.
Hamas knows another war is coming, with or without Netanyahu
Hamas, the Palestinian Islamic Jihad and the other armed groups in the Gaza Strip believe another large-scale confrontation with Israel is bound to happen regardless of who wins the Sept. 17 election.

The only question is whether Israel will launch a ground offensive over a protracted several-day period rather than just engage in quick maneuvers, mostly from the air.

This assessment can explain why terrorists have recently been firing rockets on Israeli cities such as Ashkelon and Ashdod rather than on the communities that lie closer to the border.

Hamas wants to test Israel's red lines and patience and has let PIJ fire rockets, although it keeps saying that "rogue groups have been firing rockets and thus hurting the national Palestinian interest."

Hamas's claim is misleading. While Hamas has not been directly involved in the rocket fire in recent days, it has turned a blind eye when others do it, mainly because it has moved closer to Tehran, which controls the PIJ.

Hamas, as the de facto ruler of the Gaza Strip, has promised Egypt that it would not allow an escalation. It has made a similar pledge to Qatar, which sends Hamas hundreds of millions of dollars to ensure calm.
Red tape hobbles traumatized Gaza border residents hit with fibromyalgia
Increasingly frequent clashes between Israel and terrorist groups based in the Gaza Strip have been taking their toll on residents of communities adjacent to the border, where the number of people diagnosed with fibromyalgia has increased exponentially over the past few years.

The disorder is characterized by widespread musculoskeletal pain, fatigue, sleep, memory and mood issues. Data by the Health Ministry and Asaf, the Israeli fibromyalgia association, suggests that some 4% of Israelis – 240,000 people – are affected by fibromyalgia and its sibling-condition, Chronic Fatigue Syndrome, both of which affect more women than men.

There is no known cure for fibromyalgia and daily care focuses on managing its symptoms. It usually includes lifestyle changes and alternative treatments such as hydrotherapy, cognitive and behavioral therapy and in some cases, medication.

Fibromyalgia thus joins a host of other stress disorders afflicting the rocket-plagued south where, according to a report released in May by NATAL – Israel Trauma and Resiliency Center, there has been a significant increase in the number of Israelis suffering from symptoms of traumatic stress.

"People who have been diagnosed [with fibromyalgia] over military campaigns in the south or over rocket fire of 500 projectiles or more a day, shouldn't have to pay for treatments and medication themselves, nor should they be subjected to the prolonged, humiliating process of facing social security [eligibility] committees, which can drag on for years," Efrat Ohayon, who heads the fibromyalgia patients' struggle over the issue, told Zman Yisrael, the Hebrew sister site of The Times of Israel.
'Israeli' drone shot down in Gaza belonged to Palestinian terrorists
Social media in the Gaza Strip was in an uproar Monday after a day earlier it was reported that the Popular Front for the Liberation of Palestine had shot down a drone that belonged to the Palestinian Islamic Jihad.

The incident occurred last Friday. Armed PFLP operatives shot down a drone that was spotted flying near their outpost in Khan Younis in the northern Gaza Strip.

The organization rushed to announce it had shot down an Israeli drone and promised it would make public footage showing its "heroic action." But the celebrations didn't last for long.

On Sunday evening, Gaza-based media outlets reported that the drone had belonged to the Palestinian Islamic Jihad, not Israel. Later, reports said that Hamas had collected the pieces of the downed drone and was asking that other terrorist organizations active in Gaza coordinate drone activity with Hamas.

The PFLP proceeded to delete the posts bragging about having successfully intercepted an Israeli drone.

Gazans took to Twitter to mock the error itself and the organization's response.

"God help us, it's lucky they didn't try to kidnap a soldier," one user wrote.
As Iran Grows Increasingly Desperate, the U.S. and Israel Should Continue to Make It Pay a Price for Troublemaking
Over the weekend, the Iran-backed Yemenite Houthi rebels used drones to attack two major Saudi oil-processing sites. These attacks are part of a much larger pattern of provocative Iranian behavior—including further violations of the 2015 nuclear agreement—likely in response to increased American sanctions. But, argues Michael Pregent, Tehran is acting out of desperation, and Washington must make it continue to pay a price for its behavior:

Nothing is working. The Islamic Republic's Lebanese proxy, Hizballah, is not ready for a repeat of its 2006 war [with Israel]. Iranian rockets, missiles, and drones, which are stored in depots in Iraq and Syria, are [meanwhile] being hit by Israeli airstrikes. Iran thought Russia's S-300 and S-400 air defense systems were going to protect its offensive capabilities in Syria and that the U.S. would keep Israel from conducting airstrikes in Iraq—it was wrong in both cases.

[For their part], Iraqis are not rallying to the flag. They are not protesting these strikes, and that says a lot about the general population's distaste for Iranian influence and Tehran's militias in Iraq.

The status quo of the last 40 years was to reward Iran for its provocations, with the Islamic Republic redeploying the same tactics over and over again because it was rewarded over and over again. This time it is different.

The U.S. should do all it can to help its allies absorb Iran's attacks and make them unsuccessful. [It should also] persuade France not to pay [the Islamic Republic what amounts to a] $15-billion bribe, and hold Baghdad accountable for not acting to curb malign Iranian activity. It must also punish Iran for providing lethal aid to the Taliban while the latter kills Americans and negotiates with Washington in bad faith.
Eli Lake:
Yes, Iran Was Behind the Saudi Oil Attack
The Houthi rebels in Yemen lack the drones, missiles or expertise to attack infrastructure inside Saudi Arabia. A commander of Hizbullah, a subsidiary of Iran's Revolutionary Guards, told two George Washington University analysts in 2016: "Who do you think fires Tochka missiles into Saudi Arabia? It's not the Houthis in their sandals, it's us."

Iran pretends to seek peace as it makes war. Iranian diplomacy depends on its adversaries treating the aggression of its proxies as distinct from its statecraft. U.S. intelligence agencies have mapped the precise locations of Iranian bases and commanders in Yemen and the Middle East. If Trump wants to respond militarily without attacking Iranian territory, he has many targets outside the country.

During and after the negotiations for the nuclear deal, Iran armed and trained its proxies in Syria and later in Yemen. The attack on Saudi Arabia shows just how important it is that any future deal commit the Iranian regime to ending its adventures in the Middle East.
Iran Seizes Vessel in Gulf for Allegedly Smuggling Diesel Fuel: ISNA
Iran's Revolutionary Guards have seized a vessel in the Gulf for allegedly smuggling 250,000 litres of diesel fuel to the United Arab Emirates, Iran's semi-official Students News agency ISNA reported on Monday.

"It was detained near Iran's Greater Tunb island in the Persian Gulf…the crew have been handed over to legal authorities in the southern Hormozgan province," ISNA said, without elaborating on the nationalities of the crewmen.

The reported seizure coincided with raised international tensions following a weekend attack on a major oil installation in Saudi Arabia, Tehran's longtime regional foe.

Responsibility for the strike was claimed by Yemen's Iran-aligned Houthi movement, while the United States has blamed Iran itself for the strike. Iran denies the accusation.

Iran, which has some of the world's cheapest fuel prices due to heavy subsidies and the fall of its national currency, has been fighting rampant fuel smuggling by land to neighboring countries and by sea to Gulf Arab states.

Iran stepped up its fight against smuggling fuel earlier this month when its coast guards seized a vessel for smuggling fuel in the Gulf and detained its 12 Filipino crew members.
Kurdish Politician Shaswar Abdulwahid: Kurdish Oil Is Openly Being Transferred to Iran and Turkey pic.twitter.com/KcV7ETA5iP

— MEMRI (@MEMRIReports) September 16, 2019
Seth Frantzman:
Russia sends Su-57 stealth fighter to Turkey for 'Technofest'
Weeks after Turkish president Recep Tayyip Erdogan went to Moscow and discussed the Su-57 stealth fighter with Russian President Vladimir Putin, at least one of the planes has landed in Turkey for a festival that will be held this week.

Russia's TASS News Agency reported that the Sukhoi Su-57 arrived for Technofest 2019 and that the "multipurpose fighter jet Sukhoi Su-35 has arrived at Turkey's Ataturk Airport to take part" as well. The Su-35S is a possible fit for Turkey as Ankara struggles to decide whether it will become more of a military partner with Russia, or stick with the US.

Turkey acquired Russia's S-400 air defense system, even though it says it might want the US Patriot air defense system, too. It's all part of a strategy by Turkey to try to consider both countries and what they might be able to give it. But Turkey risks being indebted now to Moscow and losing key support in Washington. Thinking it may get the best of both worlds could also end up meaning less of both.

Russia is pleased for the moment. The Su-35 is said to be a "Fourth plus plus" super-maneuverable multipurpose fighter jet and can carry up to eight tons of bombs and missiles. Moscow is marketing these planes and air defense around, hoping to increase its military profile throughout Asia and the Middle East. The Su-35 has also entered service in China, a report at National Interest noted in September 13.
---
---
We have lots of ideas, but we need more resources to be even more effective. Please
donate today
to help get the message out and to help defend Israel.