From Ian:
---
Still Want To Boycott Israel? Israeli Scientists Find Cure For Cancer, Report Says
For all the Israel-haters out there, they'd better hope that that Israelis are forgiving if they are stricken with cancer, because if a new report out of Israel turns out to be true, scientists in the Jewish state have discovered a cure. And not just a cure for certain forms of cancer, but a complete cure for the deadly disease.

According to Dan Aridor, chairman of the board of Accelerated Evolution Biotechnologies Ltd. (AEBi) and CEO Dr. Ilan Morad, their treatment will not need time for the body to acculturate to it before it works. Aridor stated, "We believe we will offer in a year's time a complete cure for cancer. … Our cancer cure will be effective from day one ... and will have no or minimal side-effects at a much lower cost than most other treatments on the market. Our solution will be both generic and personal."

As the Jerusalem Post reports, "An estimated 18.1 million new cancer cases are diagnosed worldwide each year, according to reports by the International Agency for Research on Cancer. Further, every sixth death in the world is due to cancer, making it the second leading cause of death (second only to cardiovascular disease)."

The treatment is called MuTaTo (multi-target toxin), and works much like antibiotics do in targeting bacteria. MuTaTo is based on SoAP technology, which works by finding, binding and removing bacteria by utilizing bacteriophage-derived proteins. Bacteriophages are viruses that infect bacteria.

MuTaTo inserts DNA coding for a protein into a bacteriophage. Once inside, the protein shows up on the phage's surface, making it apparent to researchers who can use the phages to find interactions with other proteins, DNA sequences and small molecules. Unlike 2018 Nobel Prize-winning scientists George Smith and Gregory Winter, who used phage display to evolve new proteins or antibodies, the Israelis are producing peptides, which Morad says are better equipped for the job because they are smaller, less expensive and less difficult to manage.
Intel confirms massive Israel investment plan, which ministers say is worth $11b
Intel said Tuesday it was expanding its operations in Israel, where government ministers said the US computer chipmaker will invest nearly $11 billion in a new plant.

"Intel today announced it will submit a business plan to the government of Israel for continued investment in the company's Kiryat Gat manufacturing site," a statement from Intel's Israeli representatives said.

Daniel Benatar, the general manager of the company's manufacturing plant in Kiryat Gat, said the plan shows the tech firm "continues to demonstrate the strong performance of Intel Israel and we continue to lead in terms of corporate economic and social investment in Israel."

The tech giant said it would not comment on schedules, costs and technologies of the project.

Finance Minister Moshe Kahlon said late Monday he was informed by Intel of its decision "to invest another 40 billion shekels (almost $11 billion), an unprecedented decision expected to bring thousands of jobs to the south."

Economy Minister Eli Cohen said Intel had chosen to "build its most advanced plant here in Israel."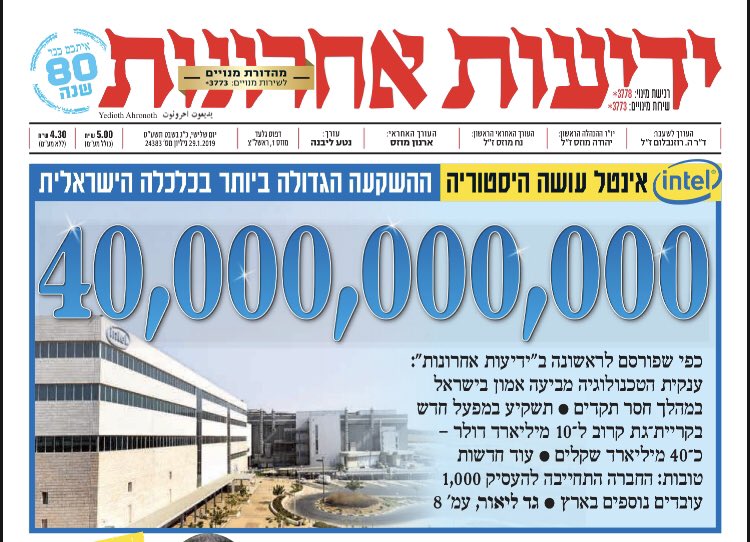 Desalination and the BDS.
The 2000s drought in Australia, which was also known as the Millennium drought was said by some to be the worst drought recorded since European settlement.

However plans for a desalination plant in Sydney were temporarily halted in 2005 after public opposition and the discovery of new underground aquifers.

By late 2006, however, with Sydney's water storage plunged to their lowest levels since the 1950s – around 33% of capacity – the authorities decided to reinstate the project. A $1.8 billion desalination plant was then constructed at Kurnell, in southern Sydney, opening in the summer of 2009-10.

Interestingly the Sydney Desalination Plant is powered by 100% renewable energy.

My brother, who was one of the project managers on the Kurnell desalination plant, was sent by his company for a month to the Middle East, to study their plants, many of which including the one at Durrat Al Bahrain, like most in Australia use the Israeli invented and manufactured reverse osmosis membrane and other technology.

Around this time the BDS activity was at the height of its activity, in the main holding their screaming sessions outside Max Brenner Chocolate shops.

Max Brenner, come off it, there's blood in your hot chocolate
Max Brenner you can't hide you support genocide.

The reason behind these slogans is the fact that Max Brenner supports the Golani Brigade.

The joke, not lost on those of us defending Max Brenner, was that the shop next door was 'Sababa', an Israeli owned falafel shop!! That they completely ignored. The funny part about this was that our leadership offered to support legal action against these idiots, but the franchise owner said the media coverage this was creating was the most amazing advertising possible and business was booming!

This photo is at a Max Brenner rally. The screaming mob is behind me. You see police and you also see 3 hijabbed Arab girls drinking Max Brenner hot chocolate!!

Whilst this was happening the Kurnell desalination plant was now in operation and producing fresh water for the first time.

I deliberately got into conversation with the leftist rabble asking them, if they would be not drinking Sydney water, given the fact that the plant was using the Israeli made reverse osmosis membrane. Most were shocked and horrified to hear what I had to tell them. Every one of them said they would buy bottled water.
Hang on!!
What about showering, cooking, watering the garden? No comment.
Report: Dem Rep. Rashida Tlaib Belongs To Holocaust Denier Group Which Calls Jews 'Satanic'
If there were any suspicions about the rabid anti-Semitism espoused by new Michigan Democratic Congresswoman Rashida Tlaib, they can likely be put to rest now: Tlaib belongs to a group whose founder apparently shared a video stating that Jews are "satanic" and aren't really Jewish.

As Peter Hasson of The Daily Caller reports, the Facebook group that Tlaib joined in February 2018, the "Palestinian American Congress," frequently demonizes Jews, and its Palestinian founder, Maher Abdel-qader, raised substantial funds for Tlaib for her congressional campaign as well as organizing some of her campaign events.

Claims of Abdel-qader's virulent anti-Semitism are buttressed by various facts: he reportedly shared on his Facebook page and on the page of the "Palestinian American Congress" an anti-Semitic video that claimed Jews aren't really Jews and their historical claim to Israel was a fiction they created. The video also parroted the usual anti-Semitic claim that Jews control the media as well as purveyed the idea that the Holocaust was fake, stating, "Research the truth about the Holocaust, and you'll definitely start to question what you thought you knew."

Hasson notes, "In several other posts to the group, Abdel-qader insisted that Israeli Jews aren't actually Jews and, in one October 2017 post, he accused Israeli settlers of training children 'to terrorize Palestinian civilians.'"

Hasson also points out that Tlaib, honoring Abdel-qader for his help with her campaign, during which she took a number of pictures with him and he sometimes was a speaker at her events, gave him a medal for his contributions, according to Voices of New York.
New York Times Covers Up Rashida Tlaib's Antisemitic Tweet
In an article today about Senate legislation opposing anti-Israel BDS (boycott, divest, sanctions) efforts, The New York Times covered up a tweet by Rep. Rashida Tlaib which had raised a firestorm earlier this month and was widely condemned as antisemitic ("Senate Advances Pro-Israel Bill as G.O.P. Looks for Democratic Divisions"). About legislators who backed an anti-BDS bill, Tlaib had employed the antisemitic "dual loyalty" charge, tweeting on Jan. 7:

They forgot what country they represent. This is the U.S. where boycotting is a right & part of our historical fight for freedom & equality. Maybe a refresher on our U.S. Constitution is in order, then get back to opening up our government instead of taking our rights away.

Dropping the "[t]hey forgot what country they represent" part of the tweet, Catie Edmondson reported today (page A15):

Ms. Tlaib took a swing at anti-B.D.S. legislation this month, writing on Twitter that "this is the U.S. where boycotting is a right & part of our historical fight for freedom & equality." Mr. Rubio fired back, "This 'dual loyalty' canard is a typical anti-Semitic line." The movement "isn't about freedom & equality, it's about destroying #israel."

Without Tlaib's "They forgot what country they represent" smear, Senator Marco Rubio's response doesn't make sense.
Alice Walker, David Icke and the New York Times?: Studies in the Mainstreaming of Paranoia
Alice Walker, David Icke and the New York Times: Studies in the Mainstreaming of Paranoia.

Michael Barkun

The following essay was written by Michael Barkun, a colleague in millennial studies who's written a book with extensive treatment of David Icke. He wrote a letter to the NYT about their Alice Walker interview which the NYT did not see fit to print. Here's a more substantial treatment, he's offered to the Augean Stables.

The New York Times Book Review each week includes a one-page interview with a well-known author called "By the Book." These interviews follow a formulaic routine and always include the question, "Which books are on your nightstand?" The subject of the December 16, 2018, interview, Alice Walker, the author of The Color Purpleand many other works, included among her responses to the question the following:

And the Truth Shall Set you Free, by David Icke. In Icke's books there is the whole of existence, on this planet and several others, to think about. A curious person's dream come true.

Like many others, I was shocked by Walker's reading preference. I had written extensively about David Icke in my book, A Culture of Conspiracy: Apocalyptic Visions in Contemporary America, and knew that not only the book she mentioned but Icke's many others were laced with vicious anti-Semitism, along with bizarre ideas drawn from occultism and science-fiction.

The published reaction to her interview came in two forms, one from the Times, the other from Walker herself.

The Times' initial reaction suggested that it was taken aback and befuddled by "The many readers [who] have expressed concern…" Rather than let the controversy play out in the Book Review's letter column, on December 20th it devoted an "Inside The Times" article – traditionally placed on page 2 – to an attempt to explain what had happened. "Readers were upset," the Times wrote, "that we didn't add context to Ms. Walker's endorsement of Mr. Icke…" In a lengthy Q-and-A format – ironically similar to that of the original Walker interview – "Inside the Times" explained at somewhat tedious length that "By the Book" interviews were in fact conducted by email and that they were only minimally edited.
Ilhan Omar Opposes Sanctions on Venezuela -- But Wants Them on Israel
Rep. Ilhan Omar (D-MN) rejected the Trump administration's new sanctions against Venezuela's state-owned oil company on Monday, doubling down on her defense of Nicolas Maduro's socialist regime last week.

Secretary of the Treasury Steven Mnuchin and National Security Advisor John Bolton announced the sanctions against Petróleos de Venezuela, S.A. (PdVSA) from the White House briefing room. Last week, the administration recognized the opposition, led by socialist Juan Guaidó, as the legitimate government of Venezuela, and other nations followed.

As Breitbart News reported, the U.S. was acting in accordance with a provision in the Venezuelan constitution that exists to prevent the deterioration of democracy in the case of an autocratic regime such as Maduro's.

Nevertheless, Omar raised against a "US backed coup" that aimed, she said, to bring a "far right" opposition to power. She insisted that sanctions, not socialism, were the reason behind Venezuela's deepening economic woes.

On Monday, she doubled down, tweeting that she opposed the adminstration's new sanctions against PdVSA:

However, Omar supports sanctions against Israel as part of the "boycott, divestment, sanctions" movement — which many critics have called antisemitic, since it only targets Israel and ignores Palestinian terror.
ADL chief too quick to forgive Rep. Omar for antisemitic comment: ZOA
Head of ADL Jonathan Greenblat was slammed for lauding a statement by Minnesota Congresswoman Ilhan Omar [Dem] in which she distanced herself from allegations of antisemitism, claiming in a Tweet from January 22 that she used an "antisemitic trope" unknowingly in 2012 when she said during a CNN interview that "Israel has hypnotized the world" to carry out "evil."

"Hats off to Rep Omar for her honest apology," Greenblatt wrote, before saying she is committed to "a more just world."

Omar never apologized for calling Israel "evil" and an "apartheid regime," said the ZOA in a statement on Monday. "Rep. Omar lacks credibility and her weak words of 'apology' can't be taken seriously. ... ZOA believes that it is a serious mistake for ADL/Greenblatt to accept Rep. Omar's limited 'apology.'"

Hundreds called on Omar to resign when it became known she called on US District Judge Michael Davis to show "compassion" during a 2016 trial of Somali-American men who planned to travel to Syria and join ISIS to fight and kill for radical Islamic values.

Eventually all men were given a sentence of at least 15 years, the Daily Mail reported.

This week, journalists and experts slammed Omar for her comments appearing to back Nicolás Maduro's regime in Venezuela and warning against a US backed coup in that country.
Anti-Semitism Is A Natural Choice for Grievance-Mongers
It doesn't matter that when the Second Wave of feminism was formed Jewish women at its helm were considered ethnic. They are now retroactively white, and we need women of color in feminism. Jews are more than white. When The Forward's reporter went to a Black Movement Center to talk about the recent wave of attacks on Jews by blacks in greater New York, he was told that Jews are now seen as hyperwhite.

Never mind that the victims of the Jew-haters are often Bukharan, and likely haven't set their foot on the European continent. As Abe Greenwald explained, Jew is what you don't like, only more so—in this case whitey.

When comrades informed Sobel that she doesn't get to be a person of color, instead of trying to employ the language of intersectionality, talk of being revicitimizied, or harmed, oppressed, and dismantling power structures, she should be mindful of the power structure within which she works: the power structure that gave us Tamika Mallory, Linda Sarsour, and Ilhan Omar. She should remind those around her that race is a social construct of limited usefulness. That, for instance, affirmative action privileges middle class blacks and nearly dooms working class Asians.

According to all available data, anti-Semitism in the United Sates is more pervasive among minorities. This is not surprising. Instead of encouraging these groups to think of themselves as victims, Jewish leftists should blow up the paradigm of intersectionality.

Many American non-whites bring their pre-existent Jew-hate into intersectional organizations. Look no further than the Women's March co-chairs. Affirming their grievance-centered worldview runs the risk of affirming anti-Semitism along with it. Why expect radical black nationalist groups to jump to our defense when their views ally more with those of neo-Nazis? Progressive Jews might just be digging our grave.

Besides, our own experience teaches that the way to get ahead in a republic like ours is not by nursing grievances, but by boring things, like honest hard work. Our natural allies are not intersectional activists and their flak, but hard-working people of any skin color.
Anti-Israel protest again sparks controversy at LGBTQ conference
An anti-Israel protest has again led to controversy at Creating Change, an LGBTQ conference that was the site of a raucous anti-Israel protest in 2016.

At the opening of this year's conference, organized by the National LGBTQ Task Force, a group of activists holding Palestinian flags took the stage unannounced and led a 13-minute protest for Palestinian liberation and against Zionism. The speakers were not interrupted or asked to leave by the event organizers.

JTA obtained video of the event, at which speakers led chants of "From the river to the sea, Palestine will be free" and "From Palestine to Mexico, all the walls have got to go."

The conference took place from Jan. 23 to 27 in Detroit.

The first speaker of the protest, who did not give their name, said the conference did not include pro-Palestinian programming because it could upset donors. The speaker invoked Rep. Rashida Tlaib, the Michigan Democrat who is the first Palestinian-American woman elected to Congress.

"In a state that elected the first Palestinian woman to the US Congress, there is still a ban on Palestine at Creating Change, because the Task Force is afraid that people are going to come here to seek their full liberation, and donors might get mad," the speaker said. "Right now, our content is being censored, our liberation is being silenced and our voices are being shut down because the Task Force is too cowardly to have a conversation on one of the leading social justice issues of our time: Palestinian freedom."

The second speaker of the protest, Mina Aria, called on the Task Force to fight "pinkwashing, Zionism, Islamophobia and colonial violence." Pinkwashing is a term that connotes what critics see as Israel's covering up of human rights abuses by trumpeting its LGBTQ-friendly policies.
Polish swimmer refuses to coach Malaysian team over its Israel athlete ban
A veteran Polish swimmer has rejected an offer to coach Malaysia's national swimming team, citing Kuala Lumpur's recent refusal to grant visas to Israeli athletes, which has caused the International Paralympic Committee (IPC) to strip the country of the right to host a major swimming event.

In a Facebook post, Bart Kizierowski — who represented his country at four Olympics — explained his decision to turn down the job.

"I was offered a very attractive coaching position from the Malaysian Swimming Federation," the 41-year-old wrote.

"Among other personal reasons, I declined that function due to recent statements made by Malaysian politicians regarding refusal of visa for athletes that are supposed to compete at the World Championships organized by that country. There is no place for that in sport."

The Star newspaper reported that sports officials in Malaysia had already announced his appointment. (h/t Zvi)
Airbnb faces federal court discrimination suit over delisting Jewish homes in 'West Bank'
We recently covered the story of a Palestinian-American who was sentenced by a Palestinian court to life in prison for selling property to Jews (he later was released after U.S. pressure). Other Palestinians have been murdered for similar actions.

Airbnb came under intense criticism for its actions from Israel and pro-Israel politicians in the U.S. There also have been lawsuits and arbitrations filed on the basis that Airbnb's actions are anti-Jewish discrimination. I predicted that Airbnb would try to ride out the storm, figuring it would go away.

In December 2018, it appeared that Airbnb was backing down, but it later claimed the statement indicating a reversal of the boycott was released in error. To the contrary, Airbnb recently issued a statement confirming that it was boycotting Jews in the West Bank. As a fig leaf, Airbnb also announced that it was delisting homes in two other "disputed areas," South Ossetia and Abkhazia.

That fig leaf may do more harm than good to Airbnb's legal defenses, because only in the West Bank does Airbnb distinguish between home owners based on religion or ethnicity. If Airbnb was delisting all homes in the West Bank, that would be one thing, but instead it is delisting only Jewish homes.
Group that loves terrorism to honor guy who loves terrorism https://t.co/uQdJ7qA32T

— Noah Pollak (@NoahPollak) January 28, 2019
The ADL's Soros, Hamas and Hitler Anti-Israel Conference
Jonathan Greenblatt introduced the ADL's Never is Now 2018 conference with a full-throated defense of George Soros. It was a strange decision for an organization that had once criticized the radical anti-Israel billionaire's defenses of anti-Semitism. But under Greenblatt, a former Obama official, the ADL had turned sharply to the left and Never is Now, the ADL's big shindig, was a disturbing demonstration.

Greenblatt's opening remarks at the December conference mentioned Soros twice and Israel only once.

And he did not mention Israel to defend it, but to sell out the Jewish State in defense of Soros.

"If your favorite politician is attacking George Soros," the ADL boss warned, "you must stand up and tell them to stop. And do so even if they profess love for Israel up and down."

Israel was less important than Soros. And that's not surprising coming from Greenblatt, who had formerly headed the Aspen Institute, which had received funding from Soros. Instead of standing up for Israel, Greenblatt was encouraging Jews to pick fights with pro-Israel politicians if they insulted Soros.

The ADL had once condemned Soros for using Israel to justify anti-Semitism, now it was all in on Soros and out on Israel.

And it got worse.

The ADL chose to invite Senator Cory Booker to hand out an award. Booker had not only betrayed Jewish voters by backing Iran's nuclear program, but just that summer had been caught posing with members of an anti-Israel and pro-terrorist BDS hate group while holding up an anti-Israel sign.

In September, Booker favorably quoted Stokely Carmichael at a Senate hearing. Carmichael had infamously said, "The only good Zionist is a dead Zionist we must take a lesson from Hitler."

The ADL could have chosen to invite any number of pro-Israel senators, including those who had voted against Iran. Instead it chose to invite a pro-Iran politico who palled around with BDS activists and found inspiration in the words of a black nationalist anti-Semite who praised Adolf Hitler.

So much for Never is Now.
Hizballah leader dispels BBC WS presenter's 'wondering'
When we reviewed the BBC's coverage of Operation Northern Shield earlier this month we noted that on December 4th 2018 listeners to BBC World Service radio heard Razia Iqbal suggest that Israel's presentation of the purpose of multiple tunnels quarried through solid limestone under an international border by a terror group dedicated to Israel's destruction might be made up.

Iqbal: "Well given that a war with Israel would not be in the interests of Hizballah, one wonders about the…err…the accuracy or the factual accuracy of those tunnels being potentially used for the way in which Israel is alleging that Hizballah might use them."

Ms Iqbal was no doubt interested to learn from Hizballah's leader, during a long interview he gave to the al Mayadeen network last week, that she can stop 'wondering' about the purpose of those tunnels.

As outlets including the Times of Israel reported:
"He confirmed Israeli leaders' accusations that "Part of our plan for the next war is to enter the Galilee, a part of our plan we are capable of, God willing. The important thing is that we have this capability and we have had it for years.""

BBC audiences have to date heard nothing about Nasrallah's acknowledgement of the existence and purpose of the cross-border tunnels or the UN Middle East envoy's recent statement at the UN Security Council concerning the failure to grant UNIFIL access to those tunnels on the Lebanese side.
Guardian 'photos of the week': Gaza and Syria. A case study in 'disproportionality'
In contrast, the Guardian published a mere 21 photos depicting the Syrian Civil War over the same 10 month period.

To get a sense of the scale of this imbalance, note that the Gaza riots have claimed 209 Palestinian lives, whilst roughly 16,000 Syrians died during that time, with another 800,000 or so driven from their homes (extrapolating from 2018 totals as reported by the Syrian Observatory for Human Rights).

Additionally, whilst four photos from the Gaza riots were used by Guardian editors as their featured photo of the week, no Syrian photos were featured.

Here are the 31 photos from Gaza – most of which, as you'll see, clearly portray the rioters in a sympathetic, even noble, light.

Jan. 12, 2019
This caption, and many others, falsely frame the protests as a legitimate demand for the 'right of return' to "their homeland", and ignore the fact that these violent protests are orchestrated by Hamas, an internationally proscribed terror group
Remembering the Holocaust, Poland blots out any mention of its complicity
The Polish government marked International Holocaust Remembrance Day on Sunday, but completely ignored the complicity of Poles who actively participated in crimes against Jews during World War II.

Rather, Warsaw seemed to stress Polish suffering and Polish efforts to rescue Jews, leading an Israeli Holocaust historian to charge that Poland is trying to make the Nazi genocide look like a "Polish rescue project."

Historians debate how many Poles aided the Nazi death machine during World War II, with estimates ranging from tens of thousands to hundreds of thousands.

But Poland has never admitted to complicity on any large scale and last year Warsaw passed a law prohibiting people from blaming the Polish nation for Holocaust atrocities.

Indeed, a new study on Holocaust remembrance in Europe argues that the Poles are among the "worst offenders" when it comes to efforts to rehabilitate Nazi collaborators and war criminals and "minimizing their own guilt in the attempted extermination of Jews."
Poland opens probe into Auschwitz protesters railing against 'Jewish invaders'
Polish prosecutors opened an investigation Monday into an anti-Semitic protest by dozens of far-right nationalists outside the gates of Auschwitz.

The incident took place on Sunday, in Oswiecim, the southern Polish town where Nazi Germany operated Auschwitz during World War II. It happened as Holocaust survivors gathered nearby to commemorate the anniversary of the camp's liberation, a day also recognized each year as International Holocaust Remembrance Day.

Piotr Rybak, a far-right activist with a past conviction for burning an effigy of a Jew in 2015, could be seen in TV footage saying, "We must tell Jewish invaders… that we are masters of this country."

Mariusz Slomka, a deputy district prosecutor in Oswiecim, said Monday that prosecutors are investigating. In Poland, it is a crime to incite hatred based on religion or race.
California church members cursed at during Holocaust remembrance walk
A nearby driver yelled obscenities and anti-Semitic remarks as members of a church in California walked to mark International Holocaust Remembrance Day.

About 100 members of the Church of Jesus Christ Temple Philadelphia in Salinas, California, had gathered on Sunday after services in the church parking lot to get ready for an annual walk in memory of the Holocaust and its victims. A man in a black BMW SUV drove by and yelled obscenities and insults against Israel and the Jewish people, local television station KSBW reported.

The driver circled back to yell at the marchers again, according to the report.

The walkers held a sign reading "Never Again. Remembering the Holocaust" and carried Israeli flags. The walkers included children, young parents pushing strollers and seniors.

The church has worked with the Jewish community in Salinas for a number of years, according to the report. Its pastor currently is visiting Israel on a religious pilgrimage.
Rabbi told 'you should have died in Auschwitz' in road rage abuse
A rabbi filmed as he was subjected to hateful and "vile" road rage abuse in Melbourne's south-east including being told he "should've died in Auschwitz".

In the 20-second video, a middle-aged male passenger in a grey vehicle can be heard calling the rabbi a "f---ing selfish c--- of a Jew" as they sit stationary at a red light.

"Want me to get out and show you what Hitler did, no worries dickhead," the man can be heard yelling.

"You should've died in Auschwitz."

In the background the female driver can be seen waving and smiling, with the verbal abuse seemingly sparked by the rabbi making a call on his mobile phone.

The rabbi, who asked for his name to be withheld due to fears of further abuse, said he was driving to a synagogue in Caulfield when he noticed another motorist yelling in his direction, about 10pm on Monday.

He admits he'd picked up his mobile phone to make a call while stopped at a red light on the Nepean Highway, but never imagined it would spark death threats and anti-Semitic abuse.

The rabbi said he moved to Australia five years ago for a peaceful life. He said the incident had left him questioning how something like that could happen in a modern Australia.

He said he would report the incident to police.
Germany extradites 'laserman' who murdered Holocaust survivor to Sweden
Germany said Friday it had extradited to Sweden John Ausonius, the convicted killer known as the "the laserman" for using a precision-scope rifle to target immigrants.

"He was extradited on Thursday," Frankfurt state prosecutor Nadja Niesen told AFP.

Ausonius, a 65-year-old Swedish citizen, has been found guilty of murder in both countries, most recently receiving a life term in Germany in February last year that was upheld on appeal in November.

Previously he was already serving a life sentence in Sweden for a six-month shooting spree in 1991-92.

Using the laser-scoped rifle, he had killed a 34-year-old Iranian man and wounded 10 other people from countries including Brazil, Greece, Syria and Zimbabwe.

In a sign of Ausonius's notoriety, Norwegian white supremacist mass murderer Anders Behring Breivik at his own trial mentioned the "laserman" as a figure who shared the same goals.
'Game of Thrones' actress says anti-Semitism changed her online habits
A Jewish actress on the cast of the television series "Game of Thrones" said that online anti-Semitic attacks over her posts on the Holocaust have made her change how she uses social media.

"I must say that I have disabled the comments on my Instagram simply because my skin wasn't thick enough," Laura Pradelska, who portrays Quaithe on the HBO hit series, said Monday during an interview with the BBC.

The abuse, she said, is "mostly to do with Israel, and it's completely uncalled for because I tend to post pretty pictures, of rehearsal, of work that I do."

In April 2017, Pradelska, who was born in Germany, recounted her grandmother's story of survival in the Holocaust during a Jewish community commemoration. That year, she also hosted a charity event whose proceeds went to Sheba Medical Center in Israel.

"I am outspoken, and I do work with organizations. That doesn't mean I necessarily have to have a political opinion, and I'm not really equipped to go into major discussions," she told the BBC. (h/t Zvi)
Hebrew U. Developed Water Purification of Nuclear Waste
Researchers at the Hebrew University in Jerusalem have developed a new and unique material that can bind the radioactive isotope Caesium-137 in water, thereby purifying it. This toxic isotope appeared after the nuclear explosion in Chernobyl in 1986, and the nuclear disaster in Fukushima in 2011. The new material is efficient, easy to prepare and does not require a large financial investment.

The Hebrew University research was carried out by the doctoral student Raval Bengiat in the laboratory of Prof. Yossi Almog, in collaboration with Prof. Danny Mandler of the Institute of Chemistry at the Hebrew University, and will be published in February in Chemistry — A European Journal in February.

One of the major problems with radioactive materials is pollution of soil and water with radioactive waste. This waste emits dangerous radiation even in minimal amounts, and its treatment is complicated and costly. Caesium-137 is able to be absorbed in bones and muscles.

In fact, only half of the material will break down after 30 years, continuing to be a dangerous pollutant that emit radiation for decades. Cesium salts, such as sodium and potassium, are highly soluble in water and do not tend to react with many substances, which makes it difficult to purify water from cesium contamination.

There are some chemicals that can bind cesium salts from aqueous solutions and sink them, but these are expensive and their use is limited.
Israeli Startup Wants to Lower Motorcyclist Fatalities by Providing an Extra Set of Eyes
As city roads become more congested, two-wheeled vehicles gain popularity. They do, however, tend to be less safe than the four-wheeled metal boxes we call cars. Ride Vision Ltd. wants to make things safer, with the help of some computer vision magic.

In 2016, in the US alone, 5,286 motorcyclists were killed in accidents, accounting for 14% of all traffic fatalities, while only amounting to 3% of all registered vehicles in the country, according to a report released last year by The US Federal Highway Administration.

Founded in 2018 by Israeli motorcyclists Uri Lavi and Lior Cohen, Ride Vision utilizes a set of sensors, computer vision, machine learning algorithms, and visual alerts to notify riders when they are about to collide with surrounding vehicles. The system can also store videos documenting the ride that can later be used in insurance claims and in court.

"Being more vulnerable, motorcyclists have to pay more attention to everything that goes on on the road. When a motorcyclist is focused on a car changing lanes on the left, he or she might not notice the car hitting the breaks just in front of them," Lavi said in a phone interview with Calcalist.

Scheduled to hit the markets next year, Ride Vision's system will be priced at about $300, with an additional monthly fee for video storage.
Samsung said to acquire Israel's phone camera startup Corephotonics
South Korea multinational Samsung Electronics Co. Ltd. has acquired Israeli startup Corephotonics, which brings high quality camera images to smartphones, for $155 million, Calcalist financial website reported on Monday.

Corephotonics has developed a dual-lens phone camera that can produce crystal-clear images even when the zoom function is used. Because the parallel 13-megapixel lenses also have their own sensors, the camera boasts improved low-light performance, producing cleaner images.

Essentially, by using two lenses with two different focal lengths, the phone camera is able to combine two simultaneous images into a high-quality image — much clearer and crisper than images produced with the digital zoom technology used in most smartphone cameras today.

In other words, when a user takes a photo, the phone camera actually takes two shots: one with a wide angle lens, and one with a fixed-focus telephoto lens, both designed by Corephotonics. Using an algorithm developed by the company, the images are then fused into one crisp, clear photo that could as well have been taken with a higher-end 20-megapixel smartphone camera — or even a compact digital camera.
Chef Jamie Oliver spotted chowing down in Tel Aviv market
Famous British chef Jamie Oliver was spotted in Tel Aviv's Carmel Market, reportedly in Israel to film segments for a cooking show.

The Naked Chef, as Oliver was lovingly known for one of his first cooking shows, hasn't posted anything about an Israel trip on social media, keeping to his usual roster of recipes and cooking tips.

But he was spotted by Nurit Goren, who runs tours in the Carmel Market and spends about 30 to 40 hours there each week.

Goren was in the middle of a tour in the market this morning, when she received a call from the owners of Julie, an Egyptian restaurant in the market, which Oliver was visiting at that moment.
Yehuda Glick visits Temple Mount on his wedding day
Likud MK Yehuda Glick visited the Temple Mount on his wedding day, after surprising the Knesset last month by announcing that he intends to remarry.

"The international place and center of love and peace," Glick wrote on Twitter on Monday, with the Temple Mount in the background. "I hope we continue to be God's vessel for love and good deeds in the world."

Glick had been a widower for the past year after his wife, Yaffa, passed away last January. He surprised the Knesset by announcing that he will marry Hadas Disin, head of a foundation that helps orphans and widows.

Disin is also a widow who lost her husband 17 years ago.

Glick, one of the strongest advocates for expanding access for Jews to pray at and visit the disputed holy site, is famous for visiting the Temple Mount and insisting of its importance to Judaism.
Australia-Israel mateship turns 70!
1949 was a big year in the story of the great friendship between Australia and Israel. In this year, the Australian government recognized the young and brave State of Israel as an independent nation, formally cementing our diplomatic relationship.

Four months later, Australia's external affairs minister and then-UN General Assembly president Dr H.V. Evatt, "Doc" for short, chaired the committee that recommended to the United Nations that Israel be welcomed into the international community of nations. Israel's ambassador to the UN, Abba Eban, thanked Doc Evatt for "the warmth and eloquence with which you welcomed Israel into the family of nations."

Two years earlier, Australia was the first country to vote 'Yes' to the 1947 UN Partition Plan that called for the establishment of a Jewish and Arab state – the first of many votes in the UN where Australia would stand firmly by Israel's side.

But Australia's strong connection to Israel goes back more than a century.

In 1917, Australian Lighthorsemen charged entrenched Ottoman machine gun positions in Beersheba in one of the last great cavalry charges. Their success led to rapid Allied advances in the Sinai-Palestine campaign and the capture of Jerusalem later that year – military victories that helped enable the creation of the State of Israel.

We remain committed to Israel's security. Australian soldiers serve on Israel's borders, in the Sinai overseeing the crucial peace between Israel and Egypt as well as in the north on Israel's borders with Lebanon and Syria.

The Australia-Israel relationship is stronger than ever, continuing to expand into new spheres. Reciprocal prime ministerial visits reinforced the seriousness of our close connection and laid the groundwork for stronger security and defense ties. The Australian government's recent decision to recognize Israel's capital and establish a Trade and Defense Office in west Jerusalem and to appoint a resident defense attaché, demonstrate that we're committed to broadening and deepening our relationship.
---
---
We have lots of ideas, but we need more resources to be even more effective. Please
donate today
to help get the message out and to help defend Israel.