From Ian:
---
JCPA:
The Gaza Escalation: A Message from Iran
Is Iran Involved in the Recent Clash with Gaza?

Because Iran is behind this escalation, things might deteriorate in the future. What we know is that the Iranians, actually General Qassem Soleimani, commander of Iran's Islamic Revolutionary Guard Corps, who is in charge of the terror activities of Iran in the Middle East, is in direct contact with the leaders of the military wing of Hamas and Islamic Jihad. He is trying to escalate the situation in order to send a message to Israel not to carry out any further attacks on Syria.

Is This a Severe Escalation with Gaza or Simply a Temporary Threat?

The message Iran is sending is that if Israel continues to hit Syrian targets, it will find itself fighting on a new front, in Gaza. This way, Israel will find itself fighting on two fronts at the same time, in both Gaza and Syria. This is the message of the Iranians, and their intention is to continue and escalate the situation, especially because President Trump is planning in the future to publish his new peace plan for the Middle East. The Iranians, together with Hamas and Islamic Jihad, are working together to sabotage this peace plan by terror activities from the borders of Gaza and Syria. So, Israel has to watch the borders very carefully and be ready to retaliate whenever a new attack is planned because the intention is to escalate and not to calm things down.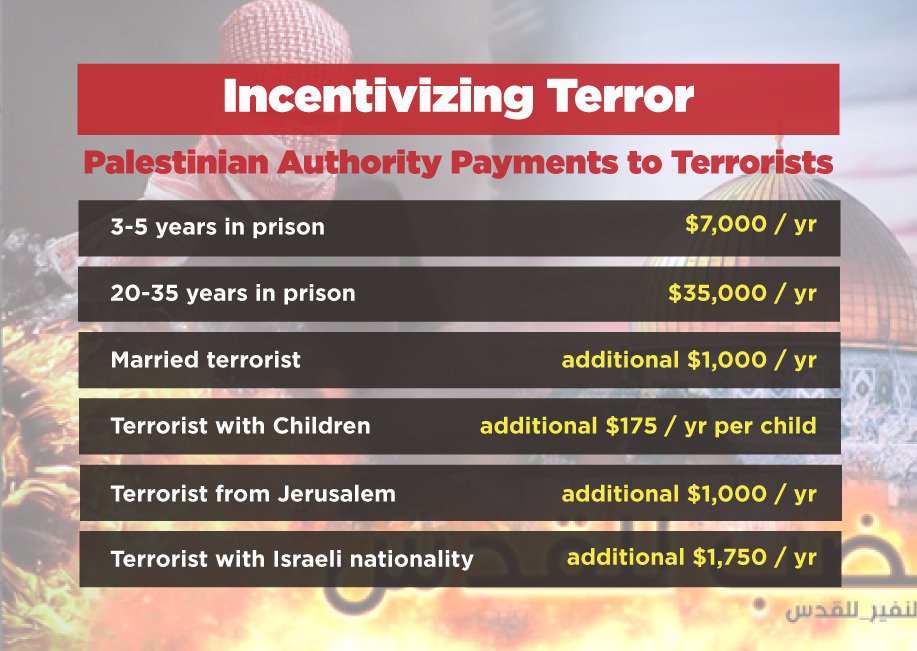 Gaza Health Crisis: WHO's to Blame?
Fifty four Palestinians died in Gaza while awaiting a medical travel permit from Israel.

This is according to a joint statement issued last week by several NGOs (non-governmental organizations): Human Rights Watch (HRW), Al Mezan Center for Human Rights, Amnesty International, and Physicians for Human Rights Israel (PHRI), that slams Israel for a 54% decrease in medical travel permits to residents of Gaza.

Except on closer examination, it appears that in most cases relevant to this 54% decrease, Israel didn't deny the permits: the Palestinian Authority did.
Joint statement

The joint statement statement purports to be based on a report by the UN's World Health Organization (WHO).

The NGOs (including the WHO) placed blame primarily on Israel, as in the following statement from HRW:
Israeli authorities approved permits for medical appointments for only 54 percent of those who applied in 2017, the lowest rate since the World Health Organization (WHO) began collecting figures in 2008. WHO reported that 54 Palestinians, 46 of whom had cancer, died in 2017 following denial or delay of their permits.

Yet what the statement leaves out is that the WHO numbers are actually related to permit denials by the Palestinian government.
The New York Times Says Gaza Poverty Causes War With Israel. Sorry, That Doesn't Make Sense.
One of the ways the New York Times demonstrates bias in news reports from the Middle East is with unstated, and unquestioned, assumptions.

In two recent articles, the assumption is that if economic conditions worsen in the Gaza Strip, the result will be attacks on Israel.

An example comes in this paragraph from a Times dispatch over the weekend:

Already beleaguered by Israel's decade-old blockade of the strip, Gazans were made to suffer even more last year when the Palestinian Authority, run by Fatah, imposed harsh new restrictions in a power struggle with Hamas, its archrival. An attempt at reconciliation between the two last fall has since bogged down, and a standoff over salaries and revenue has sent the territory's economy into free-fall, with many expecting a war with Israel as a result.

A front page Times report from earlier this month, also under the byline of the Times' Jerusalem bureau chief, David Halbfinger, sounded some similar notes. It appeared under the print headline, "Gaza Is Near Financial Collapse, Prompting Fears of Violence":
whether out of bluster or desperation, Gazans both in and out of power have begun talking openly about confronting Israel over its blockade in the kind of mass action that could easily lead to casualties and escalation…

One way or the other, "an explosion's coming," said Mr. Abu Shaaban, the cash-strapped Palestinian Authority pensioner. "We have only Israel to explode against. Should we explode against each other?"

The barely unstated assumption here is that economic difficulties in Gaza cause war with Israel.

Yet there are at least two big holes in this logic that the Times might discover if it probed more skeptically.
Rivlin: To say Jews collaborated with Nazis is 'a new low'
In his tweets Sunday, Morawiecki sought to elaborate on what he was trying to say. "The Holocaust, the genocide of Jews committed by Nazi Germans was an extremely terrifying crime. In these terrible times, there were individuals among all nations, who were ready to make gestures of the greatest mercy," the Polish prime minister said. "And unfortunately, there were also individuals, who by collaborating with Nazi Germans, showed the darkest side of human nature," he wrote.

Earlier in the day, Morawiecki spokeswoman Joanna Kopcinska said the prime minister's response to the journalist's question was "by no means intended to deny the Holocaust."

World Jewish Congress President Ronald S. Lauder issued a statement demanding an "immediate retraction and apology" from Poland. Lauder said that putting Jews in the same category as the other nationalities was "nothing short of an attempt to falsify history that rings of the very worst forms of anti-Semitism and Holocaust obfuscation."

Israeli President Reuven Rivlin also lashed out at the Polish prime minister on Sunday, saying: "To say that Jews collaborated with the Nazis is a new low ; we must teach the world and a few of its leaders, now more than ever, about this dark chapter in history and the atrocities that were carried out by the Nazis and their helpers."
Polish MP: I hope my prime minister is being stupid and not ruthless
Polish MP Michal Kaminski has his "fingers crossed" that Prime Minister Mateusz Morawiecki "is being stupid and not ruthless," after recent comments and actions regarding Holocaust memory that have upset Jews worldwide, as well as Israeli leaders.

Hours after Morawiecki drew accusations of Holocaust denial, when he said on Saturday that there were Polish perpetrators in the Holocaust "as there were Jewish perpetrators," he made waves again after paying his respects at the gravesite of fighters from the Holy Cross Mountains Brigade, a Polish underground military unit accused of collaborating with Nazis and killing Jews during World War II.

"It is again another huge mistake," said Kaminski, of the opposition party the Union of European Democrats, the only party which voted against the contentious "death camps law".

The Holy Cross Mountains Brigade, Kaminski told The Jerusalem Post, is "the only possible part of Polish resistance who actively collaborated with Germans...and he is visiting their graves and I cannot understand it."

Addressing Israeli charges that the prime minister's recent remarks and actions since the law was passed are provocative, Kaminski responded: "It looks like a provocation but I hope it's not – it's just stupidity."

"I deeply believe that both [former prime minister of Poland Jarosław] Kaczynski and Morawiecki are not antisemitic and I think it's a question of stupidity," Kaminski said.
Polish PM visits grave of Nazi collaborators, drawing fresh ire
Polish Prime Minister Mateusz Morawiecki drew fresh criticism on Saturday for paying his respects at the grave of Polish fighters who collaborated with Nazi Germany during World War II, hours after sparking outrage for claiming that Jews were involved in perpetrating the Holocaust.

The Polish prime minister's office on Saturday tweeted a photo of Morawiecki with his hands clasped at the grave of fighters from a Polish underground military unit, known as the Holy Cross Mountains Brigade. He lit a candle and laid a wreath at the Munich grave site.

The unit, which was rooted in a far-right prewar political movement, had also fought Germans. For tactical reasons, it collaborated with the Germans late in the war to focus on fighting communists, who were laying the groundwork for what would be decades of Soviet-backed rule.

An anti-racism group in Poland, Never Again, said it was "appalled" by Morawiecki's visit to the grave.

Jan Grabiec, spokesman for Poland's main opposition party, Civic Platform, criticized both Morawiecki's words in Munich and graveside visit, saying they contributed to Poland's worsening international image.

Earlier on Saturday, Morawiecki drew outrage in Israel for saying that alongside Poles, Jews were also responsible for perpetrating the Holocaust.
Are Russia and Israel on a Collision Course Over Syria?
Russian politicians have been surprisingly mute on the Israeli airstrikes in Syria that took place on February 11. Nothing notable has been said beyond an official statement from the Russian Foreign Ministry urging all sides to show restraint and avoid actions that could lead to further complications.

The quiet reflects the Kremlin's difficult position. Moscow has been cooperating closely with both Israel and Iran of late, and hence is in no position to unequivocally take sides between the two. As Irina Zvyagelskaya, a member of the Institute of Oriental Studies at the Russian Academy of Sciences, put it, "The situation for Russia is difficult as our country has good relations with Iran and Israel, which share deep differences."

Other political commentators say that nothing has changed despite the strikes, because Israel has always vowed to destroy military buildups near its borders. The action was entirely foreseeable, they argue, in view of Israeli Prime Minister Benjamin Netanyahu's comments during his visit to Moscow in late January.

At the same time, many Russians are wondering to what extent the Kremlin will allow Israel to continue to carry out preventive strikes on Syrian soil. The incident suggested that an Israeli-Syrian military engagement could evolve into a serious situation that could spin out of Russian control. This is worrisome to the Russians, as they are keen to maintain the balance of power in Syria.

On a broader level, the latest incident shows how ineffective Russian efforts have become to maintain a dominant position on the Syrian battlefield. The Turkish operation in Afrin, in the north of the country, made clear that Moscow is unable to forestall the growth of Ankara's influence. Iranian proxy forces are now close to the Israeli border, and Russia failed to accomplish anything significant at the Sochi Conference in late January.
David Singer:
Trump Promotes Jordan, Downgrades PLO and Defunds UNRWA
US Secretary of State Rex Tillerson was in Jordan this week delivering some very good news for Jordan – but not for the PLO and UNRWA.

Tillerson announced America's commitment to fund Jordan to the tune of $1.275 billion per annum for the next five years – an increase of $275 million per annum over the previous annual commitment of $1 billion per annum during 2015-2017.

Part of this increased funding seems certain to come from defunding UNRWA – which receives about $355 million per annum from America. $65 million to UNRWA has already been frozen following President Trump's earlier warning.

Tillerson stated that America's ongoing contribution to UNRWA is dependent upon what other non-donor States who can afford to contribute to UNRWA are willing to do.

Trump has also expressed his annoyance at countries that take America's money then show hostile intent in the United Nations when voting on matters inimical to American interests – such as America's decision to recognise Jerusalem as Israel's capital and move the US Embassy there.

Jordan had voted with 127 other nations at a rare emergency meeting of the General Assembly on 21 December 2017 asking nations not to establish diplomatic missions in Jerusalem.

Yet Jordan has not been punished financially by Trump for that decision but has seen its funding substantially increased.
Forget nixing Iran deal, for now DC just wants partners to agree to fix it
The United States has sketched out a path under which three key European allies would simply commit to trying to improve the Iran nuclear deal over time in return for US President Donald Trump keeping the pact alive by renewing US sanctions relief in May.

The approach, outlined in a State Department cable obtained by Reuters and an interview with a senior department official this week, still faces obstacles. The European allies are uncertain what will satisfy Trump and are reluctant to make such a commitment only to find that he asks them for more, two European officials and two former US officials said.

The cable's characterization of what the United States wants from the Europeans, which has not been previously reported, sets a lower standard than laid out by Trump in January and so might facilitate a meeting of the minds, five current European and four former US officials said.

"We are asking for your commitment that we should work together to seek a supplemental or follow-on agreement that addresses Iran's development or testing long-range missiles, ensures strong IAEA inspections, and fixes the flaws of the 'sunset clause,'" said the cable.
Austria to help Israel join Security Council as nonpermanent member
Austria has pledged to help Israel become a nonpermanent member of the U.N. Security Council, that country's chancellor, Sebastian Kurz, announced on Twitter, Saturday. Kurz made the announcement following a meeting with Prime Minister Benjamin Netanyahu on the sidelines of the Munich Security Conference.

Kurz tweeted a picture in which he and Netanyahu are seen shaking hands at the conference and wrote, "Excellent meeting with Prime Minister of #Israel, Benjamin @netanyahu during @MunSecConf. We want to continue to strengthen our bilateral relations and our multilateral cooperation.

"We agreed to support #Israel if it should decide to be a candidate for the #UNSC. We will also continue our determined fight against #antisemitism!"

He also retweeted a statement from Austrian spokesman Peter Launsky-Tieffenthal, who wrote, "Federal Chancellor @sebastiankurz also met Israeli Prime Minister @netanyahu for bilateral talks at # MSC2018. Both have reaffirmed their commitment to further develop bilateral relations and multilateral cooperation."

In a statement following their meeting, Netanyahu said, "Kurz promised me that Austria would change the voting pattern at the U.N. when it comes to Israel and would support the candidacy of Israel for nonpermanent membership in the U.N. Security Council."
Argentina Begins Trials, Sentencing of Senior Officials Who Corrupted Investigations Into Iranian Bombing of AMIA Jewish Center
More than twenty years of corrupted attempts to bring to justice the Iranian suspects in the 1994 bombing of the AMIA Jewish center in Buenos Aires came into sharp focus this week, as courts in Argentina moved ahead with prosecutions of two previous administrations for their role in covering up Tehran's responsibility for the atrocity.

On Thursday, Judge Claudio Bonadio – who has been investigating the claim that the former government of President Cristina Fernandez de Kirchner exonerated the Iranians over the AMIA bombing through a 2013 pact between the two countries – said that he was now passing several of the accused on for trial. Bonadio's inquiry was based on the original complaint against Kirchner and her colleagues drafted by the late federal prosecutor Alberto Nisman, who was found murdered in his Buenos Aires apartment on January 18, 2015. At the time, Nisman accused the government of having "made an alliance with the terrorists."

Among those being sent for trial are Carlos Zannini – a former aide to Kirchner who has been described as one of her most trusted confidantes – and the Argentine Islamist leader Jorge "Yussuf" Khalil, who retains close ties with the Iranian regime. Although both Kirchner and her former Foreign Minister Hector Timerman have also been indicted, Kirchner, who is now a senator, currently has immunity from prosecution, while Timerman was released from house arrest this month in order to receive medical treatment in the US for cancer.

A panel of judges still needs to be appointed to oversee the trial, which could begin before the end of the year if the selection of the judges runs smoothly.
Israel destroys Hamas tunnel following rocket fire
The Israel Air Force struck an underground network of terrorist tunnels in the Gaza Strip overnight on Sunday, after a rocket launched from the Hamas-run enclave struck southern Israel, the IDF announced.

It was the second Hamas tunnel in Gaza to be struck in as many days, and the sixth tunnel destroyed since late October.

"Hamas is responsible for everything that happens in the Gaza Strip, above and below ground," the statement read. "The army will continue to act to ensure security for the citizens of Israel using all means at its disposal."

Earlier on Sunday, incoming rocket sirens were activated in communities in the Sha'ar Hanegev region bordering the northern Gaza Strip. A rocket fell in open territory near the city of Sderot causing no damage or injuries.

According to Palestinian reports, jets fired some 10 missiles towards the Hamas tunnel. The tunnel was located in an agricultural area near the destroyed Dahiniye airport, east of Rafah in the southern part of the Strip close to the Israeli border. No casualties were reported.

The previous night, a home in the Sha'ar Hanegev community of Or Haner was directly hit by a rocket causing damage but no injuries to the family inside.

Delek, Noble sign accords for $15b in sales of Israeli natural gas to Egypt
The partners in Israel's Tamar and Leviathan natural gas fields, including a unit of US Noble Energy Inc and Delek Drilling LP, have signed $15 billion in deals to export natural gas to Egypt over 10 years.

In a filing to the Tel Aviv Stock Exchange on Monday, Delek Drilling LP, a partner in the Tamar and Leviathan fields offshore Israel, said Noble Energy Mediterranean and its partners in the fields have signed accords with Egypt's Dolphinus Holdings Ltd. for the sale of some 64 billion cubic meters of natural gas from the two fields.

One accord calls for the sale of 3.5 BCM of natural gas annually from the Leviathan field, for a total of 32 BCM, the filing said, with the partners estimating the total revenues from the sale from the Leviathan field to reach $7.5 billion.

In addition, the partners said they signed an additional accord for the sale of natural gas from the Tamar field, for a total of 32 BCM and some $7.5 billion.

Delek said the partners were considering various options for the supply of the gas to Egypt, including via a Jordanian-Israeli pipeline that is currently being built or the use of the existing East Mediterranean Gas pipeline. Delek Drilling and Noble plan to start negotiations with EMG for the use of the pipeline to Egypt, the companies said in a separate, emailed statement.

Another option is to transport the gas to Egypt by connecting the Israeli transmission system to its Egyptian counterpart, the statement said.
Hizbullah Secretary-General Hassan Nasrallah Threatens Israeli Gas and Oil Rigs: We Are Capable of Stopping Their Operation within a Few Hours pic.twitter.com/9FpdlyLEsm

— MEMRI (@MEMRIReports) February 18, 2018
Israel successfully carries out Arrow-3 test
After two canceled trials in as many months, a flight test of the Arrow-3 Weapons System was successfully carried out on Monday morning, led by Israel Aerospace Industries in collaboration with the air force.

The Defense Ministry announced that the test of the system – designed to defend against ballistic missile threats outside the atmosphere – was conducted at 2:30 a.m. at a test site in the country's center.

According to Boaz Levy, the general manager and executive vice president of Aerospace Industries Systems, Missiles & Space Group, it was a "very complex" test where the interceptor missile was launched from the atmosphere and flew to its orbit deep in space.
"During the interception test, we imagined a full operational scenario. In other words, the entire weapons system has been proven in this experiment. The interceptor itself flew a course as if it were heading towards a real target in the sky. If there was a real target there, it would have hit it."

Levy said the Arrow-3 "successfully carried out everything that had to be done during its flight and we are very satisfied with the results. This simulated target is difficult in its interception aspect, and this is the future threat that could threaten Israel."
PA slams Israeli bill to withhold money it uses to pay prisoners
The Palestinians on Sunday expressed outrage over an Israeli bill that allows the Israeli government to slash funds to the Palestinian Authority because of salaries paid to security prisoners and their families.

Condemning the bill as an act of "piracy," the PA government said it would continue to support the prisoners and the families of "martyrs."

On Sunday, the Ministerial Committee for Legislation approved the bill, which calls for deducting welfare payments paid to the prisoners and their families from the tax revenues that Israel transfers to the PA.

The bill will have to pass three readings in the Knesset plenum before it becomes law.

The bill would see Israel cut around NIS 1 billion ($285 million) from the annual tax revenues it collects for the Palestinians and hands over to them — equivalent to the amount, Israel says, that Ramallah pays to terrorists and their families, a practice Israel and the international community have attempted to end.
Hamas may wish to emulate Hezbollah, but Gaza is no Lebanon
A few minutes after Israeli warplanes struck a series of targets, mostly belonging to Hamas, in the Gaza Strip on Saturday, the terrorist group's military wing published a statement saying its air defense teams had banished the "cowardly enemy's" planes, implying there had been anti-aircraft fire toward them.

It wouldn't be the first — or last — time anti-aircraft fire has been directed at Israeli fighter jets in Gaza. The Israeli air force has for years operated under the understanding that Hamas has relatively simple shoulder-fired anti-aircraft missiles.

It is also not the first time Hamas has boasted of anti-aircraft abilities it probably doesn't possess.

But this time around, the remarks have added significance in light of the downing of an Israeli F-16 jet a week ago by the Syrian army in the north.

In other words, Hamas is striving to be — or to be perceived as — militarily comparable to the Syrian army, or Hezbollah at the least.

Quite apart from the sometimes pathetic attempts by Hamas to liken itself to Hezbollah, which has become one of the world's most well-armed armies, the Gaza-ruling Palestinian Sunni group that threatens Israel from the south and the Lebanese-Iranian Shiite group that threatens Israel from the north have become remarkably close over the past few months.
PMW:
To defy the US, Gaza triplets named "Jerusalem," "Capital," and "Palestine"
There is no limit to how far Palestinians are prepared to go to demonstrate their admiration for terrorists and express their Palestinian nationalism.

Having already named their daughter Dalal Mughrabi after the terrorist who led the most lethal attack against Israel, in which 12 children and 25 adult Israeli civilians were murdered, a couple from Gaza has now named their newborn triplets "Jerusalem," "Capital," and "Palestine."

These names were chosen to protest US President Trump's recognition of Jerusalem as Israel's capital in December 2017. The official PA daily reported on the naming, and quoted the father Nidal Al-Saiqli saying he called his children by these names "to emphasize that Jerusalem is the eternal capital of Palestine." [Feb. 3, 2018]

Reporting on the naming of the triplets, Fatah's Information and Culture Commission wrote that Dalal Mughrabi, the terrorist murderer after whom the couple's older sister is named, was a "self-sacrificing fighter... who together with a group of self-sacrificing fighters from the Fatah Movement took part in an attack that led to the deaths of Israelis four decades ago." [Website of the Fatah Information and Culture Commission, Feb. 2, 2018]
Hamas bans Palestinian women's TV channel in Gaza
Hamas on Sunday banned the launching of a new television station specializing in Palestinian women's affairs in the Gaza Strip.

The Hamas-controlled Ministry of Information said that the station, the first of its kind in the Gaza Strip, had failed to obtain a proper license from the relevant authorities.

The new station was supposed to go on air during a ceremony in the Gaza Strip, which is ruled by the Hamas terror group, on Sunday evening.

However, the organizers of the event said that they received an order from the Hamas ministry prohibiting them from holding the ceremony.

The ministry said that the decision came after Taif TV for Palestinian Women had ignored repeated requests to obtain a license.

It also claimed that another institution in the Gaza Strip carried the same name — a further reason why the television station was banned from launching its broadcasts.

Saying it honored freedom of expression, the Hamas ministry expressed "regret" that the managers of the new station had failed to abide by the law.

The channel's management expressed its own regret over Hamas's decision to ban the launching of the station.
Gaza Faction Video Features Production of 120 mm Mortar Bombs
Cairo to open Rafah crossing for Palestinians stuck in Egypt
Egyptian authorities will open the Rafah crossing on Monday to allow Palestinians stuck in Egypt to return to the Gaza Strip, a Palestinian Authority official said.

Dozens of Palestinians have been waiting in Egypt for the past ten days to cross back into Gaza. They were originally scheduled to return to the Strip on February 9 after Egypt announced it would open Rafah for three days between February 7-9. However, Egypt unexpectedly closed the passageway early on February 9, forcing them to wait until it reopens.

"The crossing will be open for one day in one direction to allow the return of the Palestinians in Egypt," Nazmi Mahana, the PA official in charge of overseeing border crossings, said in a phone call on Monday.

Since the ousting of Egyptian president Mohamed Morsi in July 2013, Cairo has seldom opened Rafah. The crossing was open for 42 days in 2016 and for 36 days in 2017, according to Gisha, an Israeli NGO that tracks human rights issues in Gaza.

Palestinian officials have said that Egypt frequently shutters the crossing because of the unstable security situation in the Sinai.
The Outrageous Case of Ahed Tamimi
What did Ahed Tamimi expect would happen when she hit and punched two Israeli soldiers? Did she think that they would kill her? After all, they were armed — and she was attacking them. Did she want to be killed, and become a martyr?

On the other hand, maybe she knew that the Israeli soldiers wouldn't respond. Despite being slapped and punched, their lives weren't in danger. And we know that the Israeli army is the most moral and restrained military force in the world.

Israeli soldiers are always expected to be assaulted without consequence. Tamimi probably knew this, and knew that she would emerge from the incident unhurt. Instead, the world would learn about it and she would become loved and admired.

That is exactly what happened.

People everywhere are praising Tamimi and condemning Israel. The opposite should be true. Israel has once again shown itself to be a country of peace, restraint and tolerance, while Tamimi represents blind Palestinian hatred and violence.

Is there any country in the world where soldiers can be slapped and punched without responding? Israel is the obvious — and only — answer. Tamimi knew this. Is she disappointed that she wasn't martyred? We don't know.
The Artist Who Made That Famous Che Poster Finds Another Icon in Young Palestinian Woman
If moral depravity had an official logo, it would be that two-tone iconic image of Che Guevara. In one stroke of good graphic design, the mass murderer was reborn as a Marxist saint. There's no room on the t-shirts and the posters featuring El Che's beatific smile for the fact that he boasted to the UN, in a 1964 speech, that "yes, we have executed, we are executing, we will continue to execute," nor does anyone sport swag celebrating Eutimio Guerra, a Cuban peasant Che bragged about shooting "with a .32 caliber pistol, in the right side of his brain." Who cares about the 11 million people still living under the despotic regime Guevara helped erect; the image shines bright, a virtue-signaling beacon for the young, unintelligent, and depraved.

Is it any wonder, then, that the man who created this iconic image has now turned his attention to another dubious advocate of violence, the Palestinian provocateur Ahed Tamimi?

In a video shared by Al Jazeera, Jim Fitzpatrick featured his latest work, an illustration of Tamimi holding the Palestinian flag as she gazes into eternity. A young graphic designer in the late 1960s, Fitzpatrick found inspiration in Alberto Korda's photograph of Guevara, and transformed it into the black-and-red image that now adorns scores of college dorm rooms. He was as good a publicist as he was an artist: "I deliberately designed it to breed like rabbits," he told the BBC. "The way they killed him, there was to be no memorial, no place of pilgrimage, nothing. I was determined that the image should receive the broadest possible circulation." Fitzpatrick succeeded; Che's victims, on the other hand, remained unsung.

In the video, Fitzpatrick speaks of Tamimi in the same breathless, thoughtless way he had once reserved for his homicidal icon. "My purpose here," he says, "without being too highfalutin about it, is to save that girl's life."
Shin Bet Investigation Exposes Depth of Turkey's Hamas Support
Hamas is operating freely on Turkish soil, gathering terrorist finances and looking for ways to upgrade the capabilities of its armed wing in Gaza, an Israeli security source has told the Investigative Project on Terrorism (IPT). It is highly likely that these activities occur with the knowledge of the Turkish authorities, the source said.

The comments come after Israel's Shin Bet domestic intelligence agency announced the arrest of two suspects — including a Turkish national — on the suspicion of working for Hamas in Turkey.

"There are Hamas military operatives in Turkey, not political operatives," the source said.

The Shin Bet's investigation found that Turkish adviser Adnan Basha, who is close to Turkish government officials, set up a company called SADAT, which was tasked with assisting Hamas with acquiring money and weapons. A former Turkish general worked at the company, the IPT has learned.

According to the investigation's findings, SADAT employees helped senior Hamas officials visit a 2015 weapons show in Turkey. There, the operatives showed interest in drone technologies.

"Turkey's intelligence services are powerful. To believe that they would not know about this is unreasonable," the source stated. "These activities are taking place on Turkish soil with no interference, and in the knowledge of elements close to the Turkish government."

According to the Shin Bet's announcement, Israeli security services arrested a Turkish law lecturer named Cemil Tekeli last month, on suspicion of assisting Hamas terrorists in Turkey.
Turkey Threatens to Invade Greece
Turkey's ruling party, and even much of the opposition, seem intent on, if not obsessed with, invading and conquering these Greek islands, on the grounds that they are actually Turkish territory.

"The things we have done so far [pale in comparison to the] even greater attempts and attacks [we are planning for] the coming days, inshallah [Allah willing]." – Turkish President Recep Tayyip Erdoğan, February 12, 2018.

The head of the state-funded Directorate of Religious Affairs, the Diyanet, has openly described Turkey's recent military invasion of Afrin as "jihad." This designation makes sense when one considers that Muslim Turks owe their demographic majority in Asia Minor to centuries of Turkish persecution and discrimination against the Christian, Yazidi and Jewish inhabitants of the area.
Sheikh of Al-Azhar Ahmed Al-Tayeb: People Blame Us for Terrorism, But If Not for Israel, There Would Be No Problem, the Region Would Have Prospered https://t.co/kII02BGMa3

— MEMRI (@MEMRIReports) February 19, 2018
---
---
We have lots of ideas, but we need more resources to be even more effective. Please
donate today
to help get the message out and to help defend Israel.