From Ian:
---
Report: PM seeks US okay to annex settlements, cede Arab cities to Palestinians
Prime Minister Benjamin Netanyahu issued a proposal to the United States under which Israel would annex West Bank settlements and in exchange relinquish some Arab cities in Israel to Palestinian control, Channel 2 reported on Thursday.
Netanyahu reportedly suggested that jurisdiction of several Israeli Arab villages in the Wadi Ara region could be transferred to Palestinian control in exchange for Israel annexing Jewish settlements in the Gush Etzion bloc in the West Bank.
Netanyahu discussed the plan with US President Donald Trump's special adviser Jared Kushner and special envoy for international negotiations Jason Greenblatt, the report said.
The TV report did not specify when the proposal was raised or when Israel sought the exchange to take place. The television report said there was no confirmation of the report from the prime minister or the US administration.
A White House official indicated the ideas detailed in the report were raised, but only within the context of a final peace accord.
"This may have been one of many ideas discussed several weeks ago in the context of a peace agreement and not in the context of a separate annexation," the official told The Times of Israel. (h/t Elder of Lobby)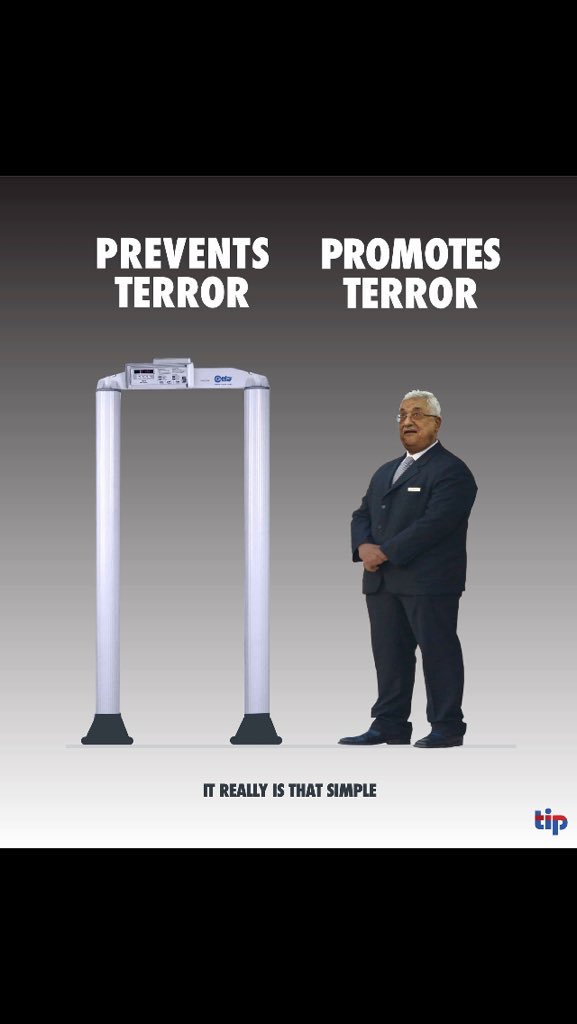 IsraellyCool:
MUST WATCH: The Ex-Hamas Radical Who Now Preaches Peace
The following aired on Israel's Channel 2 a few days ago. It is quite extraordinary, but also mandatory viewing for anyone wanting to know the truth about this conflict.
Meet Sheikh Muhammad Jaber, an ex Hamas terrorist who saw the light and now preaches peace, even though it endangers his life. Note in particular what he says about the kindness of IDF soldiers he encountered, the incitement palestinian children are subjected to, their antisemitism, and what the palestinian man at the end says.
Note: this is edited from the full report shown here, solely because I did not have time to translate the entire report. Ensure captions are enabled to see the English subtitles.
This Is a Safe Space. No Jews Allowed
Why are some American progressives embracing overt anti-Semitism?
re you a Jew in Chicago who'd like to march for LGBTQ rights and gender equality? You'll have to follow a few rules, helpfully laid out in recent weeks by the Chicago Dyke March and the Chicago SlutWalk.
First, you must not carry any "Zionist displays." What are Zionist displays? That's for others to decide. A Star of David might be OK. But if it's on a rainbow flag, it probably isn't because "its connections to the oppression enacted by Israel is too strong for it to be neutral."
Second, you must express solidarity with Palestine. Marching in a parade with a pro-Palestinian stance is not sufficient, nor is advocating for a Palestinian state. As an openly Jewish person, you'll need to satisfy more heightened scrutiny; other marchers may repeatedly demand that you disavow Israel and swear allegiance to the Palestinian cause. You must comply with these demands or else you will be expelled.
Want to listen to this article out loud? Hear it on Slate Voice.
Third, you must renounce any previous connections you have had with Israel. Are you now, or have you ever been, a member of a group with ties to Israel? Repudiate and repent. Openly Jewish marchers are presumed to be in league with the Israeli government unless they can prove otherwise.
One final note: If you are a journalist who covers the implementation of these rules, you deserve to lose your job.
Daniel Pipes:
Churchill, Hitler and Islam
1. The archenemies of World War II agreed in their perception of Islam as a martial faith — except that Churchill rued its "fanatical frenzy," and Hitler admired its representing the opposite of "meekness and flabbiness."
2. These positions echo in the West today. Paul Weston, a right-wing candidate for the European Parliament, took a stand by reading publicly from of The River War, leading to his arrest. Fascists, meanwhile, still admire Islam's perceived ferocity and want to ally with it: "I offer my most sincere best-wishes to those who wage holy Jihad against the infrastructure of the decadent, weak and Judaic-influenced societal infrastructure of the West" wrote August Kreis, an Aryan Nations leader, sounding like Hitler.
3. Today's Left sees Muslims not as bellicose but as victims exploited by capitalism, tormented by Zionism and victimized by "Islamophobia." This marks a new understanding, one with no World War II precedent.
4. How Westerners see Islam and Muslims can say more about them than about Islam or Muslims.
Finally: Churchill called Mein Kampf, "the new Koran of faith and war: turgid, verbose, shapeless, but pregnant with its message." For details, see my 2008 weblog entry here.
Haley again defends Israel: 'Security Council obsesses over Israel'
U.S. Permanent Representative to the United Nations Ambassador Nikki Haley spoke at a UN Security Council Open Debate on the Middle East. In it, she spoke about Hizbollah and Iran's destabilizing roles, and the tensions surrounding Jerusalem.
"The United States shares everyone's concern about the heightened tensions in Jerusalem. All parties should work to reduce these tensions, and we offer whatever assistance we can in helping to do this. At the holy sites, it is vital that both access and security be ensured ... I am going to refrain from further comment on this sensitive issue in the hope that wisdom will prevail over emotions.
"This is our monthly gathering to discuss the Middle East. The complicated and seemingly unending conflict there is frustrating to many Americans. It's frustrating to me. But truth be told, the Security Council often makes the Middle East more complicated than it actually is. It obsesses over Israel. And it refuses to acknowledge one of the chief sources of conflict and killing in the Middle East – that is, Iran and its partner militia, Lebanese Hizballah.
"Hizballah is a terrorist organization. In its own words, it is dedicated to the destruction of Israel. It has the blood of hundreds of Americans and thousands of others on its hands. Together with its Iranian patron, Hizballah seeks to cause destruction throughout the Middle East. Some see 'two wings' to Hizballah – a terrorist wing, and a political and social wing. This is a convenient excuse for Hizballah, but it is dangerous fiction. Just because a terrorist group also promotes political candidates for office doesn't make it any less a terrorist group.
The UN, the T-word and Israel
Note how clear and unequivocal the world's top diplomat can be when he puts his mind to it. But did you notice how he expresses support for the governments of Afghanistan, Pakistan and Nigeria, yet abstains from doing so when it comes to Israel? This is no mere oversight on the UN's part, nor is it an issue of abysmal bureaucratic editing.
On July 14, when Palestinian terrorists using weapons that had been stored on the Temple Mount murdered two Israeli policemen, Guterres condemned what he called "this morning's attack by three assailants in the Old City of Jerusalem in which two Israeli police officers were killed and another injured."
Once again, there is no use of the word "terrorism" or any expression of solidarity with Israel, its government or people.
There is clearly a pattern at work here, one which brazenly distinguishes between the blood of Israelis and others.
If terrorism is the use of violence against civilians for the furtherance of a political or ideological agenda, then how can the UN or anyone else for that matter dare to duck their moral responsibility to decry Palestinian terrorism – yes, terrorism! – against the Jewish state? The American lexicon already includes names for offensive jargon, such as the "F-word" and the "N-word." Apparently, when Palestinians murder Jews, Guterres and others would prefer to treat "terrorism" as the "T-word," as though the very use of the term might prove insulting to those who slay the innocent.
Some may view this as an issue of semantics but that is far from being the case. It is in fact a question of basic probity and ethics.
If the UN secretary-general lacks the rudimentary courage to utter the words "Palestinian terrorism" then he should not be surprised when the moral authority of the organization he heads continues to plumb new depths.
Congress must act to reform UN and other rogue international institutions
Recent polling shows that most Americans believe in the important role of these international organizations that the United States helped create, such as the United Nations (UN) and the Organization for Economic Cooperation and Development (OECD)...
But they also want government to defend American interests and promote more accountable outcomes from them. The frustration among voters, government officials, and the private sector who have long supported U.S. engagement will continue to grow unless effectively addressed by leadership at these organizations.
Americans' frustrations over these institutions stem from failures of accountability and transparency -- repeated process fouls that fuel harmful initiatives and policy recommendations that are not based on sound science or good regulatory practice.
What's more, their activities often stretch far beyond their agencies' core missions, negatively affecting U.S. interests, industries and workers while still failing to propose or accomplish sustainable global solutions...
These problems show no sign of abating. The United States must take a new approach to ensure we are receiving the greatest value for our participation in global institutions...At the same time, global institutions like the U.N. and OECD must realize that the time for platitudes is over, and that we must begin seeing concrete steps toward necessary reforms soon..."
Major German paper: Media turning Palestinian terrorists into victims
The online editor-in-chief of the mass-circulation Bild published Sunday a column filled with blistering criticism over the anti-Israel media in Germany during the Temple Mount clashes.
"No other country, which suffers under permanent terror, is reported on in Germany in the cynical, ice-cold and heartless manner like Israel is," wrote Julian Reichelt. His commentary was at one point the second most read article on the popular website.
The title of his column reads: "Middle East coverage in the German media: Perpetrators turned into victims."
Reichelt wrote that "Metal detectors at the entry to the Temple Mount are described as injuring religious feelings. And the German media briskly spreads this fairy tale from an Israeli attack on religious freedom."
He lambasted the German press for "routinely interchanging perpetrator and victim." Reichelt cited the example of the German public news show Tagesschau's rationale for terrorism against Israeli Jews.
Israel supporters are the enemy within Germany, Social Democrat says
The Ministry of Economic Affairs for the German state of North Rhine-Westphalia started an investigation on Tuesday of an employee and Social Democratic Party official who said Israel supporters undermine the Federal Republic, sparking accusations of antisemitism.
Stefan Grönebaum – division head covering work and social policies, demography and integration – labeled pro-Israel members of the Social Democratic Party (SPD) and other supporters of the Jewish state , an "organized, good networked 'fifth column' in the interests of Israel's policies."
Dr. Efraim Zuroff, head of Jerusalem office of the Simon Wiesenthal Center, told The Jerusalem Post on Wednesday: "These types of comments are clearly antisemitic and should be examined by the SPD. Their expert is antisemitic and is disseminating an antisemitic view."
Zuroff, the organization's chief Nazi-hunter, added, "We are happy this investigation is being launched. Zuroff said Grönebaum's rhetoric meets the official definition of contemporary antisemitism from the International Holocaust Remembrance Alliance.
Matthias Kietzmann, a spokesman for the Economy Ministry, told the Post by phone on Tuesday that the ministry takes the matter "very seriously" and has started an investigation.
On Monday, Kietzmann wrote in an email to the Post: "The statements from Mr. Grönebaum on his Facebook account give entirely his private views, which the Economy Ministry expressly does not share."
MEMRI:
Turkish State-Owned Network Airs Television Drama Series Depicting Jews As Murderous And Conspiratorial
The Turkish television drama series Payitaht: Abdülhamid (roughly, "Sultan Abdulhamid") began airing on February 24, 2017, on the Turkish state-owned TRT 1 television channel. The series comprised 17 episodes; the final episode aired June 23. According to the TRT 1 website, the series, which is set in the period from 1896 to 1909, aims to show "within the framework of the events of the last 13 years of the period of Sultan Abdülhamid II, while the Western states seek to design a 'new century' for themselves... the story of the valiant man [i.e. the sultan himself] who stands against them."[1] One alleged plot against the sultan that is depicted in the series is that of Theodor Herzl, and of Jews in general, is their pursuit of the establishment of the state of Israel, and their scheming, deception, and cruelty in attempting to achieve this end. In the series, a ruthless Christian priest-turned-assassin, Hiram, helps Herzl stir up revolt in Istanbul, and British spies pose as Arabs in an attempted false-flag attack against Jews, planned by Herzl.
Turkish news outlets have published numerous articles explaining historical inaccuracies in the series, pointing out errors regarding such fine points as the pronunciation of certain Ottoman Turkish words, Ottoman ceremonies and the music that accompanied them, and how Ottoman sultans ate their meals.[2] Such discussions demonstrates the seriousness with which the series was understood as history by the Turkish public.
The state-owned TRT 1 television network belongs to the Turkish Radio and Television Corporation, which, according to a 2014 report, received approximately 95 percent of its funding from the Turkish government and the remaining 5 percent from advertising that year.[3] TRT 1 is not only a state-owned channel; it was the first television channel in Turkey, having been founded in 1968, and was the only channel in the country until 1986.
Turkish Reporter Admits Fabricating Kushner Quote That Praised Erdogan
A Turkish reporter admitted that he inaccurately quoted White House senior adviser Jared Kushner, who was reported to have lavished praise on Turkish President Recep Erdogan.
A White House official told The Daily Caller Thursday that the quote in the Turkish newspaper AKSAM was "made up." The reporter, Yavuz Atalay, admitted as much when contacted by TheDC.
The article published Thursday claimed that Kushner, President Trump's son-in-law, said that Erdogan "is making Turkey bigger again like US. We watch his efforts with appreciation."
The piece included a selfie with both Kushner and Atalay.
"He [Atalay] approached Jared for a selfie but is not quoted accurately," a White House official told TheDC. "It's made up."
Does Yavuz Atalay Have Credibility?
Completing this poll entitles you to Daily Caller news updates free of charge. You may opt out at anytime. You also agree to our Privacy Policy and Terms of Use.
Atalay also claimed that Ivanka Trump told him she loves Turkey and that Jared praised Turkey's economy. The White House did not respond to a follow-up question about Ivanka's comments and whether the article in its entirety is a fabrication.
US Professor: 'How come we don't have intifada in this country?'
University of California's Hatem Bazian, co-founder of the anti-Israel Students for Justice in Palestine, has been calling for intifada in the United States, as documented in a video by Canary Mission.
In it, Prof. Bazian is seen in various venues calling for intifada in the United States.
Bazian is not the only US Muslim in a leadership position who has been calling for violent uprising. Last week, Arutz Sheva reported on MEMRI's video of Egyptian-born American Imam Ammar Shahin delivering a Friday sermon at the Islamic Center of Davis, northern California, where he called for the slaughter of all Jews. The resultant social media groundswell led to complaints filed with the FBI, Arutz Sheva has learned.
Former Congressman: Saudi Curriculum Used in US Still Promotes Radicalization
Saudi Arabia has made progress in ridding its school textbooks and curricula of comments and statements hostile toward other faiths, former US Congressman Frank Wolf, R-Va., said last week in testimony before the Senate Subcommittee on Terrorism, Nonproliferation, and Trade. But more needs to be done, he said, including taking steps to ensure that Saudi teachers aren't promoting "a more radicalized version of Islam."
For example, Wolf expressed concern that educational material used by the Saudi government-funded Islamic Saudi Academy in Northern Virginia may have potentially been responsible for inspiring terrorism. He cited the example of Ahmed Abu Ali, a former valedictorian at the school, who is currently in prison at the superman complex in Colorado for plotting to assassinate a former US president.
"While it is impossible to say whether Mr. Abu Ali was directly radicalized by the textbooks used at the Islamic Saudi Academy, the use of books that promote religious discrimination and the justification of violence toward non-believers cannot be tolerated," Wolf said.
The former congressman expressed frustration that the US State Department never met with the United States Commission on International Religious Freedom (USCIRF) to translate the textbooks used at the school.
The Islamic Saudi Academy has since closed, and been replaced by the King Abdullah Academy, which is also funded by Saudi Arabia's government. No publicly available information is available on textbooks used at the new school.
CAIR Loses San Diego Schools Partnership
The Council on American-Islamic Relations (CAIR) tried to have it both ways – claiming to be a civil rights organization when it suits its purposes, but admitting at other times that its mission is religious.
That duplicity has cost CAIR a partnership with San Diego public schools and threatens to sabotage a plan to take an educational program national.
San Diego school board members agreed Tuesday night not to work with CAIR on a campaign to specifically fight anti-Muslim bullying generated by an exaggerated CAIR report. Instead, the Anti-Defamation League is poised to work on a program that aims "to comprehensively address the issue of bullying of all students."
The agenda item specifically mentioned that school board "staff is redirected from forming a formal partnership with CAIR to forming an intercultural committee which shall include representatives of from all faiths and cultures and which shall provide input to District staff on issues of cultural sensitivities and the individual needs of various subgroups within our diverse community."
Still, speaker after speaker criticized the proposal for excluding CAIR and for not specifically emphasizing anti-Muslim bigotry and "Islamophobia." CAIR-San Diego Executive Director Hanif Mohebi managed to make that argument while still denying CAIR was singularly focused.
Young Vic: Should it be reviving Rachel Corrie?
London's Young Vic theatre is reviving 'My Name is Rachel Corrie'. There will be 27 performances, starting with previews on Kol Nidre (29 September); press night is 4 October. The theatre holds 70, so 1890 people will have the chance to see this play which incites hatred against Israel and therefore against its supporters, at a theatre which is supported by the taxpayer.
In Conclusion….
My Name Is Rachel Corrie is a sad play about a naïve young woman who is irresponsibly exploited by the ISM and tragically dies a painful and premature death. But it fails to show the terrorism which was killing hundreds in Israel at that time and which Israel was combatting by its operations in Gaza; it whitewashes the ISM; and worst of all, Rickman and Viner falsely accuse the Israeli bulldozer driver of murdering Corrie. Under oath, he insisted that he had not seen her.
At a time of heightened antisemitism, this season will foment hatred of Israel and thus of Jews in the UK who support Israel (which is the vast majority). That the Young Vic should stage it, is thoroughly irresponsible. Presumably its decision-makers would not stage a play which demonises Muslims or blacks to the extent that this play demonises Israeli Jews – how, then, do they defend their decision?
Is the Guardian Once Again Suggesting that Israel is Killing Gazan Babies?
Has the Guardian gone back to the bad old days of accusing Israel's blockade of poisoning children in Gaza – Victoria Brittain's infamous 2009 "blue baby syndrome" article?
With a picture of three newborn babies at the top of an article in the Guardian, headed "Bitter Palestinian rivalry adds to the agony of Gaza's vulnerable" I anticipated a report by Sarah Helms, "a former Middle East correspondent and diplomatic editor of the Independent", that described the effects on children in Gaza of the deadly internecine struggle between Fatah and Hamas for control of Gaza.
However, given Helms' background, for example her Corbynesque enthusiasm for Hamas, the article takes a very different tack. While describing how the PA and Hamas are causing the suffering these children and others are experiencing, Helms repeatedly hints and states that the suffering of these children is due to the Israeli blockade, and hence, Israel. The truth is very different.
To briefly recap the situation: the PA is using every means at their disposal to make life in Gaza unendurable in order to topple Hamas. Hamas fights back by taking actions that allow it to blame the PA and Israel for its failings.
The PA's controls the funding "Palestine" (i.e., the PA) receives from foreign donors – the EU, USA and others. As Helms writes, "[PA President] Abbas – who also hates Hamas – added to the Gaza Strip's misery by regularly starving it of overseas aid, which his authority administers because of a boycott of Hamas by the international community".
BBC report on ECJ Hamas terror ruling recycles old themes
After an explanation of the court's ruling and the background to the story, the article went on to repeat the themes seen in the previous reports.
1) 'Resistance':
"Hamas has always argued it is a resistance movement rather than a terrorist organisation, although under its charter it is committed to Israel's destruction."
2) Designation:
"It is seen as a terrorist group by the EU, US, Canada and Japan."
Israel of course also designates Hamas in its entirety. In addition, Australia designates Hamas' Izz al Din Al Qassam Brigades as a terrorist organisation, as do New Zealand and the United Kingdom.
3) 2007 coup:
"After winning parliamentary elections in 2006, Hamas ousted its Fatah rivals from Gaza the following year and has since fought several conflicts with Israel."
The report told readers that the ECJ:
"…said its verdict reaffirmed that the EU "may maintain a person or an entity on the list if it concludes that there is an ongoing risk of that person or entity being involved in the terrorist activities which justified their initial listing"."
However, it once again failed to provide readers with factual information concerning Hamas' long history of terror attacks against Israeli civilians or its current activities such as digging cross-border attack tunnels and manufacturing missiles – despite their obvious relevance to the article's subject matter.
What did BBC News edit out of a UN rep's statement on Jerusalem violence?
Mr Mladenov did indeed make those remarks, but as the transcript (to which the BBC's report did not provide a link) shows, he also addressed the topic of Palestinian incitement: an issue which for years has been serially downplayed or ignored by the BBC – not least during this latest crisis.
"…the Palestinian leadership also has a responsibility to avoid provocative actions and statements that further aggravate an already tense environment. I am particularly concerned by some statements that have been made by some Palestinian factions that seek to fan the flames of violence and I call on all to condemn such statements and actions."
That omission is particularly relevant in light of the fact that this article – like previous BBC coverage of the same story – describes the orchestrated rioting by Palestinians as 'protests'.
"Palestinians protested over the move."
"…thousands protested in East Jerusalem and the occupied West Bank."
Additional noteworthy points arising from this report include its failure (in contrast to the UN representative's statement) once again to clarify that last Friday's attack in Halamish was an act of terrorism.
"…three Israeli civilians were stabbed to death and a fourth injured by a Palestinian who entered a home at a Jewish settlement in the occupied West Bank."
Neil Macdonald Uses CBC Platform to Malign Israel, Yet Again
Regular HonestReporting Canada readers are familiar with how Neil Macdonald, a former CBC News Mideast Bureau Chief and former Washington correspondent, habitually twisted unrelated domestic and world affairs stories into criticisms of Israel. (See the following examples: here, here, here, here, here, here, and here.)
Now a "columnist" at CBC News and no longer regarded as a reporter, Macdonald has continued using the CBC platform to malign Israel. In a commentary on July 25 entitled "Conservative politicians flock to U.S. media to whip up ignorance and bile," Macdonald criticized several Conservative politicians for appearing on American news programs and for publishing commentaries in American publications rebuking the Trudeau government's $10.5 million settlement and apology to Omar Khadr.
MacDonald introduced his commentary by expressing admiration for the late Yossi Sarid, of the leftist Israeli political party Meretz. MacDonald wrote:
"He attacked the occupation of the West Bank and control of Gaza. He attacked the Israeli army's indifference to violence by Jewish settlers and its violent treatment of Palestinian children. Believe me, that took courage, especially during an intifada.
When German Chancellor Angela Merkel declared in 2015 that there would be no limit to the number of refugees her country would accept, even as Israel closed its doors to people fleeing oppression in Africa, Sarid wrote: 'Suddenly they sound like Jews, and we sound like Germans.'"
Phony New York Times Trend Story Touts 'Jewish Parents' Avoiding Circumcision
The New York Times, which last memorably touched on the topic of circumcision with an unfortunate illustration involving a pencil sharpener, is, alas, at it again, this time with a 1,500-word article headlined "When Jewish Parents Decide Not To Circumcise."
It's not at all clear why the Times finds this newsworthy to such an extent, or even at all. The story provides no statistics or data indicating that circumcision is on the decline among "Jewish parents." In fact, the Times concedes, "Rabbis and public health experts interviewed said that the great majority of Jewish parents still circumcise." That raises the question of why those who do not do so are worthy of a long and respectful Times treatment, or whether it's just another phony Times trend story, like "women who dye their armpit hair" or "modern people who wear monocles."
There are only two anecdotes in the Times article, and not a single one involves a child that has two "Jewish parents" on the scene. (h/t Elder of Lobby)
Haley: Time to Get Serious about Disarming Hizbullah
U.S. UN Ambassador Nikki Haley told the Security Council on Tuesday: "Truth be told, the Security Council often makes the Middle East more complicated than it actually is. It obsesses over Israel. And it refuses to acknowledge one of the chief sources of conflict and killing in the Middle East - that is, Iran and its partner militia, Lebanese Hizbullah."
"Hizbullah is a terrorist organization. In its own words, it is dedicated to the destruction of Israel. It has the blood of hundreds of Americans and thousands of others on its hands. Together with its Iranian patron, Hizbullah seeks to cause destruction throughout the Middle East. Some see "two wings" to Hizbullah - a terrorist wing, and a political and social wing...but it is dangerous fiction."
"The United Nations...has passed multiple resolutions calling on Hizbullah to disarm. It has called on the Lebanese state to exercise control over its territory. But neither of these things has happened....Hizbullah openly defies these resolutions and impedes the Lebanese government's ability to exercise full control over its territory."
"Hizbullah's illegal weapons build-up is putting the people of Lebanon in great danger....We must begin to get serious about enforcing our own resolutions that have been routinely violated by Iran and Hizbullah."
The EU Must Stop Tolerating Hizballah
Tuesday was the fifth anniversary of the bombing in the Bulgarian city of Burgas, which left five Israeli tourists and one Bulgarian dead. After the bombing, the EU designated the "military wing" of Hizballah, which carried out the attack, a terrorist organization. But unlike the U.S., Egypt, and the six members of the Gulf Cooperation Council, the EU doesn't apply this designation to the Hizballah's "political wing." Toby Dershowitz and Benjamin Weinthal write:
[T]he EU needs to . . . recognize, as Hizballah [itself] does, that the organization isn't bifurcated into political and military "wings." . . . Hizballah's terror-financing activities and its critical role in the Syrian war should be enough for the EU to deport Hizballah members from its 28 member countries. Anything short of full designation would enable Hizballah to continue fundraising and operating its front companies. Last year, for instance, . . . German authorities uncovered a money-laundering operation in Europe that amassed nearly €1 million ($1.1 million) a week for more than two years, money that Europol and the U.S. Treasury Department says went to fund Hizballah.
Membership recruitment in Europe is also a significant tool for Hizballah. According to a recent German intelligence report, there are 950 active Hizballah members in Germany. This calls into question the effectiveness of the EU's 2013 sanctions, which were imposed only on Hizballah's "military wing." . . .
U.S. Counterterror Chief: Hezbollah Poses Direct Threat to America
The head of the United States National Counterterrorism Center (NCTC) said that the Iran-backed terrorist group Hezbollah is "one of the most capable, proficient and professional terrorist organizations in the world," and that it has the capacity to use its resources "against the United States including here in the homeland," in a panel discussion at the Aspen Institute on Friday.
"Hezbollah has always been viewed by the intelligence community, and the counterterrorism community as being among the most capable, proficient and professional terrorist organizations in the world with many of the capacities of a state actor, including resource base, including access to technology, including access to state sponsorship," Nicholas J. Rasmussen said. "We've assessed for many years now, that Hezbollah has the capacity to operate on a world-wide scale, to reach out in asymmetric fashion, potentially triggered by an event that is not tied to a particular action by the United States against Hezbollah, but perhaps that might be tied to our potential conflict with Iran or other geopolitical developments. And Hezbollah has the capacity to turn that capability that they have against the United States including here in the homeland."
Referring to arrests of Hezbollah operatives made last month, Rasmussen warned "that there is a Hezbollah presence of some sort here in the United States."
"We've known all along the Hezbollah looks to lay infrastructure around the world, to give itself options, to develop a playbook, to give themselves an off-the-shelf capability," he added.
US Congress looks to increase sanctions on Hezbollah
US lawmakers introduced legislation on Thursday to strengthen sanctions against the Hezbollah terror group.
The proposed law, which is an amendment to existing sanctions, was introduced by Democrats and Republicans in both the House and the Senate, the Reuters news agency reported.
The new law would impose sanctions on banks and institutions that work with the terrorist organization, as well as limit its ability to recruit and raise money.
The revised sanctions would "bar anyone found to be supporting the group from entering the United States, require the president to report to Congress on whether Iranian financial institutions are facilitating its transactions and impose blocking sanctions on the group for criminal activities," Reuters reported.
"These sanctions will severely limit Hezbollah's financial network and transnational criminal activities, as well as crack down its backers, most importantly Iran," said House Foreign Affairs Committee Chairman Rep. Ed Royce, a Republican from California and one of the authors of the legislation.
Weisenthal Center demands extradition of denaturalized ex-Nazi
A 93-year-old ex-Nazi stripped of his Canadian citizenship for an unprecedented fourth time is vowing to appeal the decision yet again, as the Weisenthal Center is calling on Germany to bring him to justice.
Last week, Canada revoked the citizenship of Helmut Oberlander, a retired developer in Waterloo, Ontario, who has been accused of hiding his Nazi past before obtaining citizenship in 1960. The government had stripped Oberlander of his citizenship in 2001, 2007 and 2012, but the decisions were repealed after appeals by his lawyers.
Born in Ukraine, he was forcibly conscripted as an interpreter for the Nazis with Einsatzkommando 10a, a mobile killing unit that executed thousands of Jews in the former Soviet Union. Oberlander has consistently maintained that he never killed anyone.
A statement issued Wednesday by the Center for Israel and Jewish Affairs hailed the Canadian government's action.
French university may be holding remains of Holocaust victims
The University of Strasbourg in France may be holding the remains of Holocaust victims in its collection of anatomical specimens, an international team of researchers said.
The team of historians and specialists, including from Oxford University in the United Kingdom, said this at a press conference earlier this month at the French institution. It was the conclusion of two years of research following the discovery and burial of remains of murdered Jews that had been brought to Strasbourg when it was under Nazi occupation.
The existence of the remains of dozens of Holocaust victims at Strasbourg University had been regarded as a rumor and denied by the university for decades. But in 2015, a book written by historian Michel Cymes proved the rumor, leading to the location of the remains of 86 Jews.
The remains were brought to burial that year but the experts panel said this month that additional human remains belonging to holocaust victims may be present in the university's vaults, requiting meticulous examination. The team has discovered 20 boxes of bones they suspect belonged to Jews because the boxes were tied to August Hirt, according to a report earlier this month published by the news site France Bleu.
Raoul Wallenberg's family sues Russia's security service
The family of Swedish diplomat Raoul Wallenberg, who saved thousands of Hungarian Jews during World War II before disappearing under Soviet rule, are suing Russia's security service for access to its files, their lawyer said Thursday.
"The relatives of Wallenberg filed the lawsuit at the Meshchansky court in the Russian capital on Wednesday," their lawyer Ivan Pavlov told AFP.
The Wallenberg family "wants to force the FSB (the successor to the KGB) to give it access to the originals of the documents" that concern Wallenberg's fate, Pavlov said.
He said that Wallenberg's relatives have made many attempts to gain access to the FSB archives dating back to the Soviet era. These were either rejected or the documents they received were incomplete, Pavlov said.
"This case isn't just about the possibility of restoring the memory of a remarkable person. It is also yet another attempt to fight the inaccessibility of the FSB archives," the lawyer said.
26 Jews flee Venezuelan crisis to Israel
Twenty-six Jews from Venezuela immigrated to Israel on Tuesday and Wednesday, part of a general surge in emigration from the country as its political and economic crises have paralyzed parts of the nation.
While thousands of their countrymen are heading over the borders to other Latin American countries, some Jewish Venezuelans have opted to use their eligibility for citizenship in Israel.
On July 30, Venezuelan President Nicolas Maduro is holding a vote to create a legislative super-body that would have the power to rewrite the constitution and dissolve state institutions.
Near daily anti-government protests since April have seen masked youths with stones, Molotov cocktails and homemade mortars battling riot police using tear gas, water cannon and rubber bullets.
Netflix producing Israeli spy thriller 'The Angel' to premiere next year
While Israeli audiences are now getting used to Netflix in Hebrew, international audiences can get ready for a Netflix original film about a real-life Israeli spy.
The video-streaming giant has signed on to produce a film based on Uri Bar-Joseph's book The Angel: The Egyptian Spy Who Saved Israel, published last year.
According to a Variety exclusive, The Angel, which will be directed by Israeli Ariel Vromen, begins shooting this month in London and is expected to premiere globally on Netflix next year.
The book and film follow the story of Ashraf Marwan, the son-in-law of former Egyptian president Gamal Abdel Nasser and a close adviser to his successor, Anwar Sadat. Marwan, it turns out, was a spy for Israel for 27 years, and tried to warn the country of the 1973 Yom Kippur War before it broke out. However he couldn't hide his identity as a mole forever, and finally met an unfortunate end in London in 2007.
Finds in Jerusalem shore up biblical account of Babylonian conquest
New finds in the City of David confirm the veracity of the biblical account of the Babylonian capture and conquest of First Temple period Jerusalem. The event is commemorated next Tuesday on the Hebrew date Tisha B'av (August 1) in a day of fasting and mourning, Israeli experts said.
According to Israel Antiquities Authority archaeologist Dr. Joe Uziel, co-director of the current excavations at the City of David, findings discovered in the site's eastern slope, including a row of 2,600-year-old rooms and their contents — all covered with visible layers of charcoal ash — aid in understanding the days leading up to and the act of the destruction.
Within the collapsed rooms were uncovered rare artifacts, including a unique, apparently Egyptian, ivory statue of a nude woman, and smashed pottery jars with a rosette seal which was in royal use during the final decade before the fall of the First Temple, according to co-director Ortal Chalaf.
"These seals are characteristic of the end of the First Temple period and were used for the administrative system that developed towards the end of the Judean dynasty. Classifying objects facilitated controlling, overseeing, collecting, marketing and storing crop yields. The rosette, in essence, replaced the 'For the King' seal used in the earlier administrative system," said Chalaf.
In pictures, the 70th anniversary of the SS Exodus in Haifa
There were many seminal moments in the founding of the State of Israel, but perhaps none was as well-known — or misconstrued — as the sending back of the immigrant ship Exodus 1947.
Now, 70 years later, efforts are being made to learn and understand the historical episode — the courage and determination of the 4,515 Holocaust survivors, including 655 children, who reached the Promised Land in an unarmed ship only to be forced back to Germany by the British army before they could disembark. The events turned the tide of public opinion in favor of the creation of a Jewish state.
Ironically, what gave the ship its lasting fame — the Leon Uris bestseller "Exodus" and the Paul Newman film based on it — also served to grossly distort the facts. In reality, the British didn't capitulate as they did on the big screen, but chose to make an example of the passengers of the Exodus.
While the popular novel and film were enormously influential in stimulating Zionism and support for Israel, particularly in the United States, the story is historical fiction and fails to recognize the sacrifice of the ma'apilim (the illegal Jewish immigrants during British control of Palestine in the 1930s and 1940s) aboard the Exodus and all those who struggled to bring them to Palestine.
Last week the gap in both acknowledgment and education began to be bridged, with a commemorative event on July 18 at the Port of Haifa where the story unfolded. Many organizations worked together to mark the 70th anniversary of the Exodus 1947, but it was the initiative of the Jewish Agency, the Israel Forever Foundation and the Jewish American Society for Historic Preservation that drove it forward and shaped it into a powerful tribute.
More than 100 survivors were present — along with their families, various dignitaries, soldiers in the IDF navy and other guests — to view a beautiful exhibit, listen to moving speakers and performers, and witness the installation of the permanent monument dedicated to a difficult event that had a profound impact on this country's history.
---
---
We have lots of ideas, but we need more resources to be even more effective. Please
donate today
to help get the message out and to help defend Israel.