From Ian:
---
Khaled Abu Toameh:
Palestinians: The 'Wall of Shame'
"The equation facing the Palestinian factions is clear: Hand over the terrorists and there will be no wall. The Palestinians have proven that they are unable to take security matters into their own hands in this camp." — Lebanese security official.
These anti-Palestinian practices are regularly ignored by the international community, including mainstream media and human rights organizations, whose obsession with Israel blinds them to Arab injustice. A story without an anti-Israel angle is not a story, as far as they are concerned
Typically, Western journalists and human rights activists do not even bother to report or document cases of Arab mistreatment of Arabs. This abandonment of professional standards is why apartheid laws targeting Palestinians in several Arab countries are still unknown to the international community.
The Lebanese authorities also say that they decided to build the wall after discovering several tunnels in the vicinity of Ain al-Hilweh, used to smuggle weapons and terrorists into and out of the camp.
The new wall will not solve the real problem -- namely the failure to absorb the refugees and grant them citizenship. Palestinians living in Arab countries are denied citizenship (with the exception of Jordan) and a host of basic rights.
JPost Editorial:
Fires and Hezbollah
In the past few days the nation has faced one of the worst brushfires in its history. Nearly a thousand hectares of forests and rural areas have been destroyed in Zichron Ya'acov, Neveh Shalom, Modi'in, Neveh Ilan and Nataf. Tens of thousands were evacuated from their homes in the Haifa area alone.
Israel's under-staffed firefighting forces have been battling day and night to stop the flames from spreading.
Firefighters and equipment from abroad have provided important backup. In times of natural disaster – even when many of the fires seem to have been the result of arson – nations come together. Israelis received help from Palestinians and Turks as though the political differences that normally taint relations did not exist.
Thankfully, as of this writing there have not been any casualties. This is a testament to the success of firefighters and other rapid response teams.
However, the fires provide an opportunity to reflect on the dangers of a very different scenario.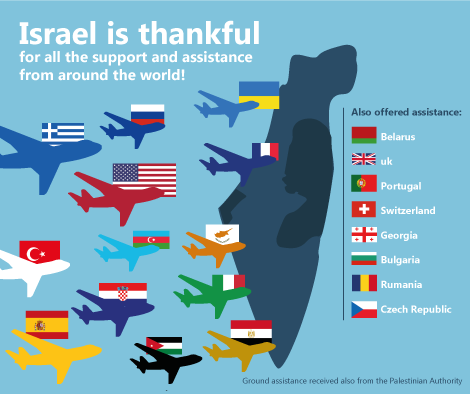 325 Foreign Nationals Came to Israel to Fight Fires
The media may have hailed the arrival of the Supertanker from the United States, but the heads of Israel's Fire & Rescue Authority said Sunday there is no need for the massive firefighting aircraft at present.
The Supertanker landed in Israel on Friday night, but was only put to use on Saturday in the Jerusalem Mountains area, over Nataf.

It took to the air again on Sunday afternoon, but found itself circling idly over the sea near Zikhron Ya'akov and the Haifa Bay area after all of the major fires had already been put out.
While acting Fire Commissioner Shimon Ben-Ner said there was no need for the Supertanker, the aircraft is operated directly by the Israel Police and it is the police that will eventually decide whether or not to use it.
On Saturday, police demanded to use the firefighting aircraft in the forests that border Highway 1, while the Fire & Rescue Authority determined there was no operational need for it. Eventually, despite disagreements between the two emergency services, the Supertanker was used to help extinguish areas that were still on fire near Nataf.
The massive firefighting aircraft, which reached Israel after firefighters had already gained control over the fires in Haifa, was one of 21 planes that took to the sky to help put out the blazes that plagued Israel last week.
In total, some 325 foreign nationals participated in firefighting efforts.
Rivlin thanks Turkish president for aiding Israel's firefighting efforts
Israeli President Reuven Rivlin on Sunday called Turkish President Recep Tayyip Erdogan and expressed Israel's gratitude for Turkey's assistance in fighting the massive wildfires that raged across the country over the past week.
"I want to thank you from the bottom of my heart for your decision to send us the help we needed to fight the fires," Rivlin told Erdogan. He praised the "bravery and ability" of Turkey's firefighting pilots, who he said were "doing a wonderful job."
Rivlin said he had met with the Turkish pilots personally over the weekend and thanked them.
"They helped us a great deal. We really appreciate what they are doing," he said.
Erdogan thanked Rivlin for his kind words and said, "As soon as I learned the fire was spreading, I asked to send helicopters and teams to assist. I hope and pray that the operation ends in the best way possible."
He noted that Turkey and Israel are in the midst of renewing ties, and that the Turkish ambassador to Israel will soon assume office.
Israel's Terror Fires
The primary culprit for the wave of fires that swept through Israel in recent days was nature, not a criminal mind or the unpreparedness of first responders. But by the end of last week it was equally apparent that wildfires were spreading not solely due to the winds and dry conditions but as a result of politically inspired arson. Some 32,000 acres of natural brush and forests were destroyed in the Judean Hills near Jerusalem, as well as in the Haifa region. Hundreds of Israelis were injured (though thankfully none killed) and hundreds of homes were destroyed as tens of thousands were forced to evacuate as the fires spread. But as bad as the original fires that were the result of the weather were, they were made worse by what security officials say was an arson spree by Palestinians from the West Bank and some Israeli Arabs. The authorities reportedly detained at least 35 suspects in connection with the fires. Palestinian social media also seems to have played at least a small part in encouraging the fires that were celebrated by many Arabs.
As scary as the notion of terrorists using fire rather than explosives might be, it would probably be a mistake to characterize what happened last week as an organized "arson intifada." Along with the assistance provided to Israel by friendly countries such as the United States, the Palestinian Authority also sent crews to help put out fires that could spread to territory under its control as well as assisting Israel in dealing with an arson fire at one West Bank settlement. There is no evidence of a concerted effort on the part of Hamas or Fatah to start the fires. Rather, like the so-called "stabbing intifada" that afflicted Israel over the course of the last year (and which appears to have died down), the willingness of dozens of individuals to start fires they hope will injure Jews or destroy their property is more the result of a Palestinian political culture in which hate and violence directed at Israelis is both encouraged and praised.
It is appropriate for Israeli leaders to make it clear that Jews will not be burned out of their country anymore than they can be bombed out of it. This isn't the first instance of Palestinians using arson as a terror tactic and it probably also won't be the last. But while no one should underestimate the determination of Israelis to stand fast in the face of terror, the lesson of the last week is that there is that the conflict between two peoples over one land is still so bitter that many some Arabs appear to be still willing to destroy it rather than let Jews live there in peace.
Analysis: Will the ICC view Israel's fires as terrorism?
As the security services try to unravel how many of the ongoing fires are the result of terrorism, it is worth asking whether acts of arson could be considered environmental war crimes by the International Criminal Court.
The ICC prosecution is examining possible war crimes by Israel and the Palestinian Authority since June 2014. Its Rome Statute includes war crimes for destroying the environment, even if no one is killed.
In mid-September, the ICC prosecution issued a policy directive stating that it would place a special priority on prosecuting war crimes against the environment. To date, the international tribunal has not prosecuted such a crime.
This could be an attractive idea, since many acts of arson cause great environmental damage and terror, but without killing anyone. However, any arson which does kill someone could be considered a homicide, and possibly a war crime.
But there are many barriers to applying the war crime model to the current situation. First, the Fire and Rescue Authority and security forces have said some of the fires were driven by the current dry spell and fierce winds and caused by negligence. None of those would qualify.
Security officials: Arsonists 'jumped on bandwagon' after first fires, but this is no new intifada
Amid signs that the wave of wildfires that have blighted Israel since Tuesday was being brought under control, Israeli security officials on Saturday night gave preliminary indications that weather was the prime cause of the initial blazes but that arsonists increasingly jumped on the bandwagon increasingly from Wednesday and into the weekend.
Israeli security forces have arrested more than 30 people suspected of either arson or encouraging others to commit arson since Tuesday, as the dozens of wildfires have swept through the country, destroying hundreds of homes and businesses and forcing tens of thousands to flee. At least 28 were still in custody on Saturday night, of whom more than 15 were Palestinians.
Public Security Minister Gilad Erdan said most of those who remain in custody are West Bank Palestinians, with "a small minority" of Israeli Arabs.
Security officials have pointed to arsonists as being to blame for at least some of the fire outbreaks in Haifa — where the flames did the most damage, forcing the evacuation of more than 60,000 people on Thursday, and rendering over 400 homes unlivable — but have given no indication of how central arson was to the Haifa fires.
Likud MK proposes bill to treat arsonists as terrorists
Transportation Minister Yisrael Katz (Likud) has proposed a bill proclaiming arsonists as terror activists. The bill comes in the wake of last week's arson intifada, and aims to allow the Israeli government to punish arsonists the same way as terrorists.
Katz said, "We should act to the full extend of the law against arson terrorists and to send a message of warning."
Likud MK Sharren Haskel said, "The wave of fires that has forced the evacuations of more than 75,000 citizens is an escalation, and we must treat it as such...We must use every possible legal means to stop ecological terrorism. The amendment to the bill will enable... to confiscate and demolish property belonging to arsonists....and to define them as terrorists."
It should be noted that terrorists receive salaries from the Palestinian Authority for carrying out attacks on Jews. It is not clear if the PA would pay arsonists' salaries if the Israeli government chose to treat them as terrorists.
On Thursday, Prime Minister Binyamin Netanyahu said arsonists are terrorists, and promised to bring them to justice.
Fire damages expected to cost state at least NIS 2 billion
The damages caused in the spate of fires that plagued Israel last week are expected to be among the costliest in Israel's history, with unofficial estimates putting it at around NIS 2 billion at least.
Prime Minister Benjamin Netanyahu and Finance Minister Moshe Kahlon have declared that most of the recent blazes were caused as a result of nationalistically-motivated arson.
If the fires are indeed recognized as acts of terrorism, the state would have to carry the onus of compensating citizens for damages incurred, rather than the insurance companies.
Legally, recognizing an incident as an act of terrorism can only be done by one of the branches of the security establishment, based on their investigation. But the prime minister, the defense minister, the public security minister and the government can all also declare an incident to be an act of terror or war.
This means the state would have to compensate citizens for direct damages (the burning of the structure or the contents of the house), indirect damages (for example, the loss of future income for a business that burned down), lost work days and more.
Politicizing Israeli Wildfires
The AFP and The Guardian, which republished the wire service's story on the Israeli wildfires, can barely contain their excitement.
AFP's headline: "Israeli settlers flee as West Bank wildfires spread"
And The Guardian's: " Hundreds flee homes in occupied West Bank as wildfires continue"
Yet while AFP's headline emphasizes Jewish settlers and The Guardian's focus is the "occupied West Bank," a significant part of the AFP story also covers major blazes in Haifa and the village of Nataf, neither of which are located in the West Bank. AFP, however, assumes that readers are fully versed on the geography of Israel, doing nothing to dispel the impression that all of the affected locations are in the "occupied West Bank."
PreOccupiedTerritory:
Meretz Demands Limits On Natural Disasters To Prevent Distraction From Corruption News (satire)
Lawmakers from the Meretz Party are preparing legislation to outlaw fires, earthquakes, and other large-scale calamities when national and media attention is already focused on possible misdeeds of right-wing officials, a party spokesman announced today.
MK Ilan Gilon pointed to the series of fires last week that riveted the population on the fate of the hundreds of families and their homes, as well as the vast ecological damage wrought by the flames, and noted that as a result of the constant coverage of those developments, precious little airtime and column space has been given to the all-important stories of possible wrongdoing by people associated with Prime Minister Binyamin Netanyahu. He told reporters that in the coming days he and another MK from the Opposition will submit a proposal to prevent recurrences by placing sweeping restrictions on earthquakes, fires, epidemics, floods, volcanic eruptions, landslides, and other disasters both man-made and natural.
The law would require that any such calamity receive approval from an independent oversight committee before it be permitted to strike Israel. Under the law, the committee would consist of a panel of experts convened and chaired by a justice emeritus. The panel would assess the degree to which the planned disaster is likely to disrupt ongoing media coverage of right-wing corruption or other misconduct, and only grant approval to disasters whose timing and intensity would not significantly detract from the attention already devoted to the corruption.
"We all saw how Bibi exploited the fires to divert the public from discussing the submarine mess," explained Gilon, referring to suspicions that a confidant of Netanyahu might have misused his association with the prime minister to profit from arranging the purchase of submarines for the navy from Germany. "We might have been on the verge of something big that could only happen with sustained media attention, but then boom, so to speak, the fires started breaking out, and there went the corruption stories, right off the front page and right out of the social media news feeds. That can't be allowed to happen again."
Mahmoud Abbas: A Record of Rejectionism
Israeli Prime Minister Benjamin Netanyahu last week hailed the 39th anniversary of Egyptian President Anwar Sadat's historic trip to Israel, contrasting it with the intransigence displayed by Palestinian Authority President Mahmoud Abbas.
Abbas "refuses to come to direct negotiations without preconditions, is also continuing to incite his people regarding the idea of a right of return and erasing the State of Israel, and, to my regret, is not taking the right steps to start calming things and preparing public opinion for reconciliation with the State of Israel," he said at his weekly cabinet meeting.
Netanyahu's point is often ignored, but vitally important. Abbas, currently in the 11th year of a four-year presidential term, has made no serious effort to engage with Israel diplomatically. He has, however, successfully thwarted efforts by the United States to open bilateral talks between the PA and Israel, choosing to internationalize the conflict rather than working to solve it through direct negotiations.
Jackson Diehl, the deputy editorial page editor of The Washington Post, assessed Abbas's mindset in May 2009, shortly after President Barack Obama began his current term in office. "The Americans are the leaders of the world," Abbas told Diehl. "They can use their weight with anyone around the world. Two years ago they used their weight on us. Now they should tell the Israelis, 'You have to comply with the conditions.' "
UN envoy: Security Council should act to save two-state solution
The international community, including the Security Council, must weigh steps to save the two-state solution, UN envoy Nickolay Mladenov said last week.
"The continuing status quo in the occupied Palestinian territory reduces the prospect for sustainable and just peace between Israelis and Palestinians," Mladenov told the UN Security Council in New York during a monthly briefing.
"I urge all those who are committed to ending this conflict, including this Council, to consider carefully what it will take to advance the prospects for peace and to begin, in consultation with the parties, to develop an agreed path forward," Mladenov said.
"A carefully worded statement or a well-crafted speech will not reverse the current trajectory," said the Jerusalem based Mladenov, who is the UN's special coordinator for the Middle East Peace Process.
UN Glorifies Castro, Showing The World Why The Failed Organization Is Nothing More Than A Den For Dictators
Today's United Nations is the antithesis of the bastion of humanity First Lady Eleanor Roosevelt championed over six decades ago. Walking through the corridors of power at the UN building in New York are some of the worst violators of human rights, theocrats, autocrats, sadists, and madmen. Built on a blueprint of tragic irony, the UN isn't just an inept, isolated institution, but a disease of moral decay metastasizing through the beating heart of human dignity.
On Saturday, the head of this decrepit international body showed the world, once again, what the United Nations has become. In a glowing review that would make even Cuba's secret police and prison torturers blush, UN secretary general Ban Ki-moon celebrated the life of Fidel Castro, calling the deranged dictator "a strong voice for social justice" via a spokesman.
"At this time of national mourning, I offer the support of the United Nations to work alongside the people of the island," the UN chief told reporters at the Global Sustainable Transport Conference in Turkmenistan. "Under former President Castro, Cuba made advances in the fields of education, literacy, and health. I hope that Cuba will continue to advance on a path of reform and greater prosperity."
Offering his personal condolences to current Cuban tyrant Raul Castro, and the rest of the Castro family, Ban then deployed his spokesman in New York to broadcast a wildly hagiographic story of Fidel's life.
Abbas orders Palestinian flags flown at half-staff in honor of Castro
Palestinian Authority President Mahmoud Abbas ordered that Palestinian flags in public offices be flown at half-staff on Sunday in honor of the late Cuban leader Fidel Castro, who died on Friday in Havana at age 90.
In a letter Saturday, Abbas expressed his "deepest condolences" to Castro's younger brother and current Cuban President Raoul Castro, describing the late leader as man "who spent his life fighting for the causes of his country and people and the causes of right and justice in the world."
A number of other Palestinian leaders on Saturday mourned Castro's death, hailing the iconic revolutionary president as a longtime supporter of the Palestinian cause and a comrade in the struggle against "Zionist imperialism."
Castro was remembered by various Palestinian Authority groups for his close relationship with late Palestinian leader Yasser Arafat, and early support of "armed resistance" against Israel.
People of Israel, You're Welcome by Barack Obama (satire)
Remember the Arab Spring? Gotta say, that Mubarak character was a bit of "old hat". Why not take a spin with the Muslim Brotherhood? As my friend Hillary would say, "What difference does it make?"
Which brings us to Syria. So there's some folks who said the best path was to just do nothing and keep quiet. Bu that doesn't represent. Our values. As Americans. And then you had some folks popping off. Saying we should establish a No-Fly Zone. But all of these folks failed to see the Third Approach: lecture and criticize Putin and Assad without actually, like, doing anything to back it up. And bang! We were able to bear witness and hold Putin Assad accountable, without, like, actually having to hold them accountable.
Now when we look at the Iran Deal, a lot of folks said it couldn't be done. That our positions were too far apart. And then we had some folks. Right here in Israel. And they were popping off about this. Without knowing. All the facts. But they didn't have the big picture. Which I had. And my Administration showed. That if you just gave Iran everything they asked for plus 20%, that they could be reasonable.
So after spending eight years with someone, you're able to know what your partner is saying without them saying anything at all. Like that Alison Krauss song that's so popular with the Deplorables rural folks. So I hear what you're saying, Israel. And all I have to say, is 'You're welcome'.
Obama out.
Defense minister: Israel will respond with 'full force' to IS attacks
In his first public comments after IDF troops killed four Islamic State fighters in a confrontation along the northern border with Syria, Defense Minister Avigdor Liberman said Monday that Israel would not tolerate any provocations by the group and would respond unilaterally to attacks with "full force."
Speaking at his Yisrael Beytenu's weekly faction meeting at the Knesset, Liberman said aggression against IDF soldiers would be met with an "immediate" response, and without coordination with other countries fighting in Syria.
"For the first time an Islamic State force attacked our soldiers and we replied appropriately — with a powerful response," Liberman said. "Israel is not looking for a fight but when we are faced with provocation — in Gaza, on the Syrian or Lebanese borders — we will respond with full force, as was done here."
Sunday saw the first case of an IS affiliate deliberately attacking Israeli troops inside Israel. Numerous mortar shells have fallen inside Israel, some of which may have been fired by these terrorist groups, though most were likely spillover from the fighting in Syria rather than a directed attack.
The incident was sparked when soldiers from the Golani Brigade's reconnaissance unit crossed the security fence with Syria to conduct an "ambush operation," while remaining inside Israeli territory. The troops came under small arms fire from members of the Khalid ibn al-Walid Army, formerly known as the Yarmouk Martyr's Brigade, an Israel Defense Forces spokesperson said.
Netanyahu: Israel won't allow ISIS to open 'a front of terror' on the Golan
Prime Minister Benjamin Netanyahu warned Islamic State and other groups in Syria Monday that Israel would have a zero tolerance policy for attacks across its border.
Speaking to the Likud faction, he said that over the past few days there were multiple attempts to attack the IDF on the border with Syria.
He said Israel responded with great force and "its enemies" have paid a heavy price.
"We are paying close attention to developments and continuing with determination to implement the policy that I establish: We will not tolerate even isolated fire and we will respond forcefully and attack our enemies when necessary before they succeed in attacking us. We will not permit radical Islam or any other hostile entity to open a front of terror against us on the Golan."
Stabber who killed 2 in Tel Aviv sentenced to life in prison
A Palestinian terrorist who stabbed two Israelis to death in Tel Aviv last year was sentenced to two consecutive life sentences and an additional 20 years.
Raed Khalil, also known as Raed Masalmeh, was sentenced on Monday in the Tel Aviv District Court after his conviction in July for the murders of Reuven Aviram, 51, and Aharon Yesiav, 32, and the attempted murder of three others during his terror spree.
He was given a life sentence for each murder and another 20 years in jail for the three counts of attempted murder.
He confessed to the attacks, which took place in a synagogue in the Panorama south Tel Aviv office building on November 19, 2015.
The court found that Khalil, 37, took a nine-inch knife from a restaurant where he worked in Tel Aviv and went to the second floor of the Panorama building. Seeing Aviram and another dozen men who'd gathered for the Jewish afternoon prayer, he stabbed him multiple times.
Aviram managed to flee and shout "terrorist" before collapsing.
Khalil then stabbed Yesiav nine times in the torso.
IDF Blog:
This Is The IDF's Plan To Combat Hamas Terror Tunnels
Our Answer: Yahalom
To counter this threat, the IDF is doubling the number of soldiers in "Yahalom," the elite commando unit of the Combat Engineering Corps. While combat soldiers in most units are trained in basic tunnel warfare, Yahalom specializes in discovering, clearing, and destroying terror tunnels.
As the threat of terror tunnels continues to grow, the role that Yahalom plays becomes even more vital. Although the entire unit deals with the tunnel threat, the unit is split into specialized companies. The "Yael" Company is the engineering reconnaissance force. "Sayfan" is trained to handle the threat of non-conventional weapons (WMD's). There are two additional explosive ordinance disposal units, and "Samur," which specializes in tunnel warfare.
Fighting Inside Terror Tunnels
"The main challenge of underground warfare is that the enemy has no above-ground signature, says Col. Yaron, the commander of the Yahalom unit. "The fact that the enemy is hidden and collecting intelligence is complicated and difficult." Hamas' use of the tactic is no different. "Hamas views warfare underground just as it would aboveground, utilizing defense, offense, and retreat. They even destroy the foundations of their terror tunnels to harm the IDF soldiers inside, similar to the tactic used in Vietnam."
Lt. Hezi has first hand experience fighting inside of Hamas's terror tunnels from Operation Protective Edge. "No two tunnels are the same. The first person to enter the tunnel has to improvise," he explains. "This is exactly what we train for – to be prepared for any situation, whether it be a terrorist or an explosive. When you see the inside of these terror tunnels – that's when you suddenly understand how big of a threat we face."
Israel to buy an additional 17 F-35 fighter planes
Israel will purchase 17 more advanced F-35 fighter jets from Lockheed Martin, the Prime Minister's Office said Sunday.
The security cabinet voted unanimously to approve the purchase, the statement said, adding that this brings the total number of F-35's to be acquired to 50.
Though the government has not released exact figures for the price, at approximately NIS 387 million ($100 million) per airplane, these additional 17 F-35 fighter jets will likely set Israel back at least NIS 6.6 billion ($1.7 billion), not including the costs of additional maintenance and support equipment.
The F-35 — known in Israel as the Adir, meaning "awesome" or "mighty" in Hebrew — is a fifth generation stealth fighter jet equipped with an array of the latest technology that is expected to anchor the Israel Air Force for years to come.
Military Intelligence head warns of instability in West Bank, possible wave of terror
Israel should prepare for a possible wave of terror attacks amid growing instability in the West Bank caused by a power struggle in the Palestinian Authority over who will succeed President Mahmoud Abbas, the head of the IDF's Military Intelligence Directorate warned on Sunday.
Speaking at a closed conference at Tel Aviv University, Maj-Gen Herzl Halevi said that the next year "would be a year of instability in the Palestinian Authority," adding that there will be a number of "elements who will challenge Abbas's leadership [while] Hamas will try to make gains," according to a report in Haaretz.
"The result will be a very challenging reality in Judea and Samaria [the West Bank]," he said.
Halevi explained that the drop in the number of terror attacks in recent months was due to factors including the high cost of such assaults to the Palestinians and the fact that Israel fights the attackers while avoiding collective punishment of the population.
Halevi was referring to a wave of Palestinian stabbing, shooting and car-ramming attacks that began last fall and has claimed the lives of 36 Israelis, two Americans and an Eritrean national. According to AFP figures, some 238 Palestinians, a Jordanian and a Sudanese migrant have also been killed, most of them in the course of carrying out attacks, Israel says, and many of the others in clashes with troops in the West Bank and at the Gaza border, as well as in Israeli airstrikes in the Strip.
PreOccupiedTerritory:
Prospect Of 3rd Temple Appearing Fully-Built On Temple Mount A Challenge For Mt. Of Olives Cable-Car Plan (satire)
Tourism and urban development officials clashed this week over a proposal to construct a cable car connecting the Mount of Olives with the Temple Mount across the Kidron Valley, concerning the possibility that if and when the prophesied Third Temple appears fully-constructed on the sacred plateau, the car's cables will be severed and might send dozens of tourists plunging to their deaths as a result.
The cable car project has long been envisioned as a way to both alleviate some of the crowding and access problems around the mount and to enhance the area's status as an Israeli tourist destination. A cable car from the Mount of Olives would create a new route into the Old City from the east, where no convenient access currently exists. Additionally, such an operation would help cement Israeli and Jewish presence in the eastern portion of the city, especially the ancient cemetery that covers much of the western face of the Mount of Olives. However, many Jewish religious thinkers anticipate the sudden appearance of the Beit HaMikdash, or Holy Temple, on the Temple Mount, and the cable car as currently designed does not account for the disaster that could occur in such an event.
Jerusalem Sephardic Chief Rabbi Shlomo Amar warned Mayor Nir Barkat that he would prevail upon City Councillors from the Shas Party, and whoever else on the panel who would listen, not to approve any cable car plan that fails to anticipate the rebuilt Temple materializing at any moment. "A project of this scale and expense would no doubt require the vote of the Council, if not the approval of at least one government ministry," he explained. "But I cannot in good conscience remain silent when the planners have failed to take the most rudimentary safety measures in light of what our sources foretell."
Abbas invites Hamas and Islamic Jihad to Fatah congress
Hamas is discussing the possibility of attending its rival Fatah's seventh conference later this week, Hamas spokesman Hazem Qasim told the Ma'an news agency on Sunday.
The announcement came almost a week after Hamas denied reports that it had been invited to attend the congress.
Qasim said that Hamas had recently received an invitation to attend the November 29 event in Ramallah.
Meanwhile, Islamic Jihad spokesman Daoud Shihab told Ma'an that the organization had also received an invitation to the conference, and that it would send a representative to participate.
The congress being held this Tuesday by the Fatah party, headed by Palestinian Authority (PA) chairman Mahmoud Abbas, will be its first since 2009.
While Abbas's advisers insist the congress is being held because it is overdue, some analysts see it as an opportunity for him to sideline allies of his exiled longtime enemy and rival Mohammed Dahlan.
Iran May Seek Naval Bases in Yemen and Syria
Iran may seek to set up naval bases in Yemen or Syria in the future, the chief of staff of the Iranian armed forces said in remarks published on Sunday.
His comments, likely to be of concern to Shi'ite Iran's Sunni regional rival Saudi Arabia and its allies, raised the prospect of distant footholds perhaps being more valuable militarily to Tehran than nuclear technology.
"We need distant bases, and it may become possible one day to have bases on the shores of Yemen or Syria, or bases on islands or floating (bases)," said General Mohammad Hossein Baqeri, quoted by the Shargh daily newspaper.
"Is having distant bases less than nuclear technology? I say it is worth dozens of times more," added Baqeri, who was speaking at a gathering of naval commanders.
Iran and Saudi Arabia are on opposite sides in Middle East conflicts, with the Iranians a main ally of President Bashar al-Assad in Syria's civil war and of the armed Houthi movement fighting a Saudi-led military coalition in Yemen.
Report: Syrian Dictator Assad, Hezbollah Chief Nasrallah Hold Secret Meeting in Tent on Lebanon Border
Syrian President Bashar Assad recently held a secret meeting with Hezbollah leader Hassan Nasrallah in a tent on the Syria-Lebanon border, a Beirut-based newspaper has reported.
According to the unconfirmed report — published by the pro-Assad Ad-Diyar newspaper — no details of the content of the four-hour conversation between the Syrian dictator and the Lebanese Shiite terrorist chief were documented in writing.
The Saudi-owned pan-Arab Al-Arabiya TV channel reported, "If the rumors turned [out] to be true, observers say that Nasrallah might have imposed his full conditions on Assad in terms of security arrangements."
In recent years, Hezbollah — which, like the Assad regime, is backed by Iran — has sent thousands of fighters to Syria to bolster the president's forces in the ongoing civil war there. As reported by The Algemeiner, Hezbollah has sustained heavy losses in the conflict, with an estimated one-third of its active fighters being killed or wounded.
---
---
We have lots of ideas, but we need more resources to be even more effective. Please
donate today
to help get the message out and to help defend Israel.