From Ian:
---
Three more die of coronavirus, bringing Israel's death toll to 24
Three more people died in Israel on Wednesday afternoon, taking the country's death toll from the coronavirus up to 24.

Jerusalem's Shaare Zedek Medical Center announced the death of a 69-year-old woman as a result of the virus, saying she suffered from "severe and complicated" underlying health issues.

The Wolfson Medical Center in Holon minutes later announced that a 74-year-old man died from COVID-19. The hospital said he had been sedated and hooked up to a respirator in very serious condition and had numerous preexisting conditions.

The Sheba Medical Center said a 66-year-old woman also died from the coronavirus. She too was said to suffer from preexisting health problems.

There were no immediate details on the identities of any of the victims.

The announcements bring Wednesday's virus death toll to four and came after the Health Ministry on Wednesday raised the tally of people infected with the coronavirus to 5,591 as Israel recorded its largest single-day jump in new cases.

The ministry data prior to the two latest fatalities showed 233 new cases since Tuesday night and 760 in the last 24 hours. The previous high for a 24-hour period was the 663 new cases recorded between Monday and Tuesday evenings, 527 of which were included in the latest Health Ministry tally.

There were 97 people in serious condition, three more than the previous night, with 76 of them on ventilators.

Another 118 people were in moderate condition and the rest had mild symptoms. So far, 226 Israelis have recovered from the virus.
Inside an Israeli Coronavirus Hospital
This is the eight-step dressing regimen of Adham Abdalrazik, a nurse at the Galilee Medical Center in the northern Israel town of Nahariya, before seeing patients in this COVID-19 era. In a cramped supply room, he grabs a pair of thin shoe covers from a plastic bin and slips them over his feet. At the next bin, he pumps a sanitizer jug and cleans his hands. He continues to his left, progressively donning blue gloves, a blue gown, hair netting, an N95 mask, a face shield, and another pair of gloves.

Abdalrazik normally works in the hospital's geriatrics department. But these are not normal times, so the geriatric patients were relocated from here to the internal medicine department three weeks earlier and a COVID-19 department was configured in its place. Abdalrazik's patients now—three patients on this day—are solely those with COVID-19.

It is Wednesday, March 25, and we are in the department's Yellow Zone. Abdalrazik's patients are maybe 10 steps away in the hermetically sealed Red Zone. The department has 24 beds and nine rooms, including a six-bed room reserved for critical-care patients, of which there haven't been any yet. Only five patients have been hospitalized here with COVID-19, all with mild cases of the highly contagious virus. Each patient has been young: a 49-year-old and the rest 23 to 29.

"Oh, Prince Charles now has coronavirus," said Sharon Mann, who works in the hospital's international-affairs department, of the news appearing on her smartphone.

A few buildings to the north, in the complex's rehabilitation center, sits the COVID-19 department's 30-bed intensive care unit. The unit is empty for now.

This is the calm before what the hospital's medical officials expect, and what Israeli leaders have cautioned for weeks, will be the storm of this global pandemic.

"We have to prepare ourselves for much more," said Dr. Masad Barhoum, GMC's chief executive officer, who stopped in at the department during my visit. "This is just the opening stage."
Be like #Israel and #StayAtHome! pic.twitter.com/nHF17U95G1

— Arsen Ostrovsky (@Ostrov_A) March 31, 2020
Israeli unemployment exceeds one million: 24.4% of workforce
The number of unemployment benefit claimants exceeded one million for the first time on Wednesday, climbing to 24.4% of Israel's entire workforce.

While the unemployment rate stood at just 4% prior to the coronavirus outbreak, over 844,000 individuals applied for unemployment benefits since the start of March. The vast majority - nearly 90% - are employees placed on unpaid leave. A further 6.4% have been made redundant.

"Unfortunately, our forecasts materialized - we reached one million jobseekers in March alone," said Israeli Employment Service director-general Rami Garor. "We are working to create the conditions so that next month can begin with lower unemployment, with the gradual return of the economy to normal, as far as possible and following the guidelines."

A significant increase in new applicants was identified on Tuesday compared to recent days, with nearly 35,700 applications submitted by jobseekers. About 24,000 new applications were received by the Employment Service on Sunday and Monday.

"The big question, both in Israel and in most economies affected by the virus, is whether this extremely exceptional situation is just temporary or could be long-lasting," Prof. Eran Yashiv, an economics professor at Tel Aviv University's Eitan Berglas School of Economics, told The Jerusalem Post.

"There is a real danger that a significant fraction will not be able to resume work when this stoppage ends. Obviously, the longer the containment policies last, the worse the situation will become."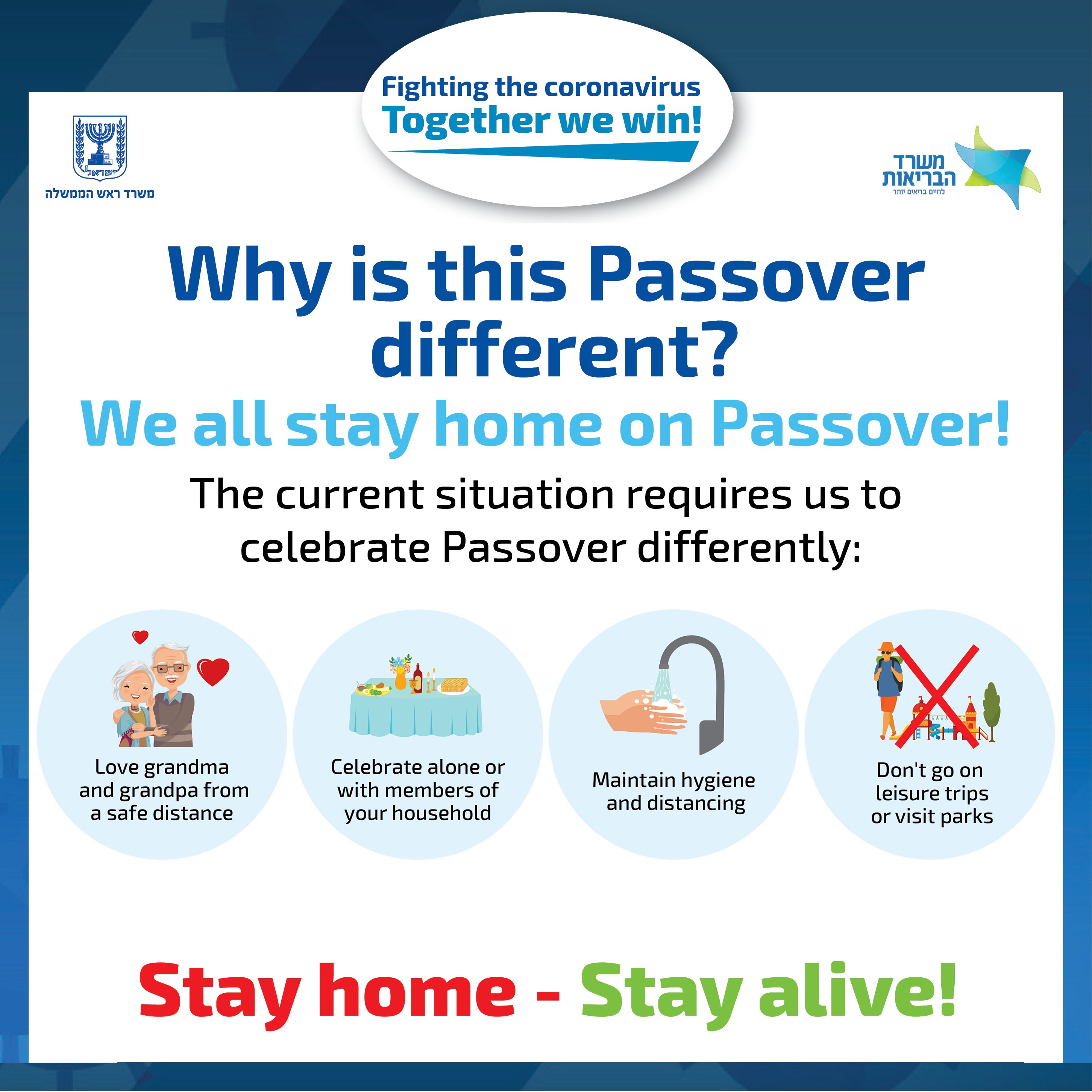 How do I know if I have coronavirus?
With the novel coronavirus, COVID-19, infecting hundreds of thousands of people around the world, many are nervous about whether or not they might have the disease. Dr. Daniel Grupel, head of Infection Control Services at Samson Assuta Ashdod University Hospital, shared with The Jerusalem Post how to know the answer.

What are the symptoms of the novel coronavirus, COVID-19?
The most commonly-described symptoms of COVID-19 are respiratory distress and fever," the doctor told the Post. But he said that there can be other symptoms, too, among them allergies, muscle or body aches, and some reports of loss of smell and loss of taste.

Can I diagnose coronavirus by its symptoms?
Grupel said that the symptoms are "very nonspecific." As such, "there needs to be a clinical diagnosis, which requires laboratory testing."

What kind of test is conducted to test for coronavirus?
The most common test is the polymerase chain reaction, or PCR screening, which was invented in the US in 1983. Grupel explained that this test tries to identify the genetic material of the virus itself in the sample.
"We usually swab from a spot inside the nose or mouth and look for the virus there," he said. "There are other tests that are in development, but this is the best test that we have today."

Can I have coronavirus and not have any symptoms?
Approximately 80% of people who get COVID-19 have only mild symptoms, and recover without any special treatment, the doctor explained. About one in six people becomes seriously ill, according to the World Health Organization.

Who is most at risk for developing a serious case of the novel coronavirus?
The elderly and people with pre-existing health problems are the ones at greatest risk of developing a more serious condition.
30 DAYS TO SLOW THE SPREAD#COVID?19 https://t.co/p9j7kZsD7b pic.twitter.com/RSUHRfT8If

— Donald J. Trump (@realDonaldTrump) March 31, 2020
Israel's MDA to treat coronavirus patients with new 'passive vaccine'
The first patient who recovered from coronavirus donated plasma on Wednesday that will be used to create a "passive vaccine" to treat Israelis who are severely ill with COVID-19, according to Magen David Adom deputy director-general of blood services Prof. Eilat Shinar.

This assumes that those who have recovered from the disease have developed special anti-virus proteins or antibodies in their plasma, which could therefore help sick patients cope with it.

"When people are exposed to any disease, they develop antibodies," Shinar explained.

Passive immunization is when you get those preformed antibodies. An active vaccine, in contrast, is when you are injected with a dead or weakened version of a virus that tricks your immune system into thinking that you've had the disease and your immune system creates antibodies to protect you.

In the first phase, plasma will be frozen and then delivered to hospitals across the country for patients to be treated by transfusion, Shinar said. In the second phase, the goal is to collect enough plasma to prepare antibody (immunoglobulin) concentrate with which patients will be treated later.

Shinar said the Health Ministry is currently in discussion with two companies that can create the immunoglobulin and is writing a protocol for who can receive the treatment.
Israeli Health Ministry Asks Public to Wear Protective Masks when Leaving Home
The Health Ministry on Tuesday called on all Israelis to wear surgical masks when leaving their homes in an effort to stop the spread of coronavirus.

In a press conference, Health Ministry Director-General Moshe Bar-Siman-Tov and Head of the Public Health Services in the Ministry of Health Prof. Sigal Sadetsky announced the motion, first reported by Ynet on Monday.

"The World Health Organization has declared that the disease is transmitted only through saliva and not through the air. That is why several countries, including us, decided to recommend that the public wear protective masks in when leaving the house," said Bar-Siman-Tov. "We are examining with experts how these masks could be utilized, and we will release further guidelines for the public later today."

There is no hurry to head out and buy masks, you can improvise at home. You can cover your face with a piece of cloth, for example. We will guide you."

Bar-Siman-Tov also spoke about the worrying increase in the number of new patients diagnosed with the virus and implored the public to adhere to Health Ministry regulations.

"We are monitoring the spread of the disease in Israel and around the world," said Bar-Siman-Tov. "Although the number of patients keeps increasing, we're looking at the number of serious patients and deceased. We saw a surge in the number of sick [on Monday] and despite the numbers dropped today – we still can't say this trend had changed."

We fear that if we won't adhere to the regulations on Passover – we will see another surge in the number of infected. Right now, we are paying the price for the events of Purim. We fear that the upcoming holiday may prompt very significant events of contagion, that is why we call on the public to adhere to the regulations. At the same time, we also keep increasing the number of tests conducted daily."
Israeli start-up tests speech analysis monitoring of coronavirus patients
Israeli start-up Cordio Medical will begin a clinical trial at Haifa's Rambam Hospital next week to evaluate its speech pattern analysis technology for remotely monitoring coronavirus patients.

The HearO technology developed by the Or Yehuda-based start-up, initially designed to monitor and diagnose patients suffering from heart failure, is based on analyzing recordings of a patient's speech recorded via a mobile device. The system is now quickly being adapted for the needs of patients diagnosed with the novel coronavirus.

The system, successfully evaluated in clinical trials at 10 medical institutions in Israel, can accurately identify gradual fluid accumulation and warn of expected worsening heart failure, likely to lead to hospitalization. Cordio is currently seeking FDA approval to remotely monitor patients in the community.

Established by Prof. Chaim Lotan and Peregrine Ventures, Cordio is currently adapting its technology to the respiratory deterioration process associated with the coronavirus, characterized by bilateral pneumonia with edema in the lungs.
Radar system protecting Israel's borders will monitor coronavirus patients
A radar system used by the IDF to secure Israel's borders from terrorist attacks and infiltrations has been adapted to monitor the vital signs of coronavirus patients.

Two military radar systems developed by Elbit and Israel Aerospace Industries have been adapted by the National Emergency Team of the Defense Ministry's Directorate of Defense Research and Development (DDR&D) to remotely monitor and measure the vital signs of coronavirus patients using a combination of radar and electro-optical sensors.

Pulse, respiratory rate and temperature will be measured using the system's combination of radar and electro-optical sensors. They will be displayed on a monitor for a physician to safely review in a sterile environment without contact with the patient and risk of infection.

The data is displayed in a graphic user interface that facilitates decision-making processes.

"The combination of the technological capabilities of the defense industries and the extraordinary capabilities of the officers in the DDR&D enables us to adapt systems developed for security purposes to fulfill medical needs in light of the coronavirus," Col. A said. "The system we have adapted is based on radar and thermal cameras and can measure patients' vital signs remotely."
Health official says Israel may need to 'medically annex' West Bank
A senior official in the Health Ministry warned Tuesday that Israel may have no choice but to "medically annex" areas of the West Bank under Palestinian Authority control, amid concerns the true number of coronavirus there may be far more than officially reported.

The unnamed official told Channel 12 news that as Israel and the West Bank were intertwined and one geographic unit, the two needed to join forces in dealing with the COVID-19 outbreak.

The official also called the PA "a black hole" in terms of testing for the virus in areas it rules.

Dr. Gabi Barabash, a former director-general of the Health Ministry, said Israel was not doing enough to help the PA deal with the virus.

"This will also reach us and we don't have the ability to accommodate their needs because we also have a problem," he told Channel 12.

He also highlighted East Jerusalem as a potential weak point, noting the flow of people between there and the PA.

"What happens there will happen here," he said.
Why are Jews vastly overrepresented in UK coronavirus deaths?
There are about 250,000 Jews in the United Kingdom. They account for only 0.3 percent of its population.

But the coronavirus has killed 44 known Jewish victims so far — about 2.5% of the total UK tally.

That means British Jews are overrepresented by a factor of eight in their country's death toll from COVID-19.

The statistics are compiled, released and updated periodically by the Board of Deputies of British Jews, an umbrella group representing British Jewry. The stats are unique because they are the first centralized attempt anywhere in the world at measuring the Jewish death rate and comparing it to a national total.

The figures are raising concerns that British Jews are particularly at risk from the virus. They are also giving rise to multiple hypotheses to explain this reality, though none seem conclusive.

Here are the theories and why they are difficult to prove at this point in the pandemic's spread.
It's early

While Jews do seem to be overrepresented in the national death tally, "the numbers of Jewish deaths being reported so far are, statistically, very small – too small to draw any firm conclusions," wrote Jonathan Boyd, the executive director of the Institute for Jewish Policy Research, or JPR, a group that researches the demographics of European Jewry, in a Jewish Chronicle op-ed published Monday.
Here's A List Of Countries That Received Faulty Coronavirus Medical Supplies From China
While China has been praised by some figures in media for its coronavirus diplomacy, many countries that have accepted Chinese products to relieve a medical supply shortage amid the pandemic are reporting faulty tests and masks.

For example, NBC News foreign affairs correspondent Ken Dilanian lauded China March 27 for establishing itself as "global leader" while the U.S. "struggles to stem the coronavirus."

But a handful of countries trying to test for the virus and equip their medical staff on the frontlines with protective gear have reported that the supplies they ordered from China have been faulty, and in some cases, useless.

Here are the countries that have reported issues with Chinese coronavirus-related products:
US backs Taiwan's bid for WHO observer status amid clash with China over coronavirus
The United States is backing Taiwan's bid to gain observer status within the World Health Organization's governing body during a coronavirus outbreak that has further pushed underlying tensions to the forefront.

Secretary of State Mike Pompeo said during a Monday phone discussion with reporters that the State Department would do its "best to assist" Taiwan in gaining its "appropriate role" within the World Health Assembly, WHO's policy-setting and decision-making group, according to a report by Voice of America News.

China claims sovereignty over the island, but Taiwan has its own elected government and refers to itself as the Republic of China.

Taiwanese and U.S. officials have raised questions about whether WHO was being unduly influenced by China. The U.S. action on Monday, which will likely rankle China, comes amid a war of words between the two nations in which the U.S. condemned Beijing for running a disinformation campaign aimed at obscuring the Chinese origins of the coronavirus outbreak.

There is well-documented evidence that China tried to cover up the existence and spread of the coronavirus, muzzled whistleblowers, misled WHO, and attempted to block outside health experts from investigating in Wuhan, where the virus is widely believed to have originated. At least one study indicated that if the Chinese government had acted more quickly, the coronavirus's global spread would have been greatly reduced.
World Health Organization Spends Twice As Much On Travel As On Medical Supplies
The World Health Organization (WHO) spends twice as much on travel as it does on medical supplies, according to its most recent financial report.

Eight percent of the WHO's budget in 2018 went to travel expenses, while just 4% went to medical supplies and materials, the report shows.

"Of total travel expenditure, only 45% was for staff travel, the rest was incurred for non-staff travel, mainly for meeting participants nominated by Member States," the report states.

WHO's travel expenditures have faced scrutiny in the past.

The Associated Press reported in 2017 that WHO "routinely has spent about $200 million a year on travel expenses, more than what it doles out to fight some of the biggest problems in public health, including AIDS, tuberculosis and malaria combined."

The organization has only barely cut its travel spending since then.

Travel expenses dropped by just one percent between 2017 and 2018, according to WHO's report.
That viral story on FDA approving two-minute coronavirus test looks like a cruel April Fools' hoax
A story that went viral about the Food and Drug Administration approving a two-minute test for coronavirus antibodies looks like a cruel hoax timed to coincide with April Fools' Day.

On Tuesday, it was widely reported that the FDA had approved a serological test to detect the coronavirus. This was potentially significant because having a quick test for the appearance of antibodies could show that somebody has already recovered and developed an immunity to the virus, thus allowing that person to reenter society. This is one of many tools that some public health experts have pointed to as something that could be used to ease up on social distancing restrictions gradually.

The news was reported in a Reuters story that was reprinted by the New York Times, Axios, and many other outlets. The Washington Examiner also reported on the supposed development.

However, when I thought about writing about this breakthrough this morning, a few things struck me as odd.

All of the stories eventually led back to a press release issued by a company calling itself BODYSPHERE Inc. I've never heard of any such company, and all Google searches just referenced the story about the coronavirus test.

I then checked out the website of the company, and the only products listed were a COVID-19 test, medical masks, and hand sanitizer — all products that happen to be in high demand right now. The company's Twitter page had no tweets before Monday.
Mossad officer describes covert global battle to obtain ventilators at all costs
Spy agencies around the world, which normally deal with national security, terrorism and international crime, have shifted during the coronavirus pandemic to using their expertise to lay their hands on medical equipment that has become invaluable, a senior Mossad officer has said.

In an exposé broadcast Tuesday by Channel 12's "Uvda" investigative news program, the head of the technology department in Israel's Mossad intelligence service said countries have been locked in a fierce, covert battle to take control of a limited supply of ventilators at all costs.

Mossad, which has been tasked with securing medical equipment from abroad from unspecified countries amid worldwide shortages, has helped obtain 25,000 N95 respiratory masks, 20,000 virus test kits, 10 million surgical masks, and 700 overalls for ambulance workers who usually carry out the initial testing for the virus.

Israeli security services and government ministries had also acquired 27 ventilators and at least another 160 ventilators would be brought to Israel by Wednesday, the Mossad has said, without giving details on where the equipment was coming from.

It was the third such shipment by the Mossad over the past few weeks aimed at addressing shortages in Israel.

"I have overseen many operations in my life, and I've never dealt with such a complex operation," said the Mossad officer, identified only by the Hebrew initial "Het."

He said that the government has tasked the Mossad with obtaining more than 130,000 objects needed to fight the outbreak of the respiratory virus, including gas masks, virus test kits, medicine, protective gear and, most importantly, ventilators, which have become one of the most sought-after commodities in the world.
1,000-Plus IDF Lone Soldiers From US to Stay on Base for Passover
More than 1,000 US natives serving as lone soldiers, those who join the Israel Defense Forces with no immediate family in Israel, have been among the thousands of IDF soldiers that have been ordered to remain on base for an indefinite period of time to minimize their exposure to the coronavirus pandemic.

As such, they will not be home with their families for Passover.

Passover begins at sundown on April 8 and ends at nightfall on April 16. (In Israel, the holiday is celebrated for seven days, ending at nightfall on April 15.)

Friends of the Israel Defense Forces (FIDF) has implemented programs to address the emergency needs of soldiers quarantined on bases and at home.

Its staff in Israel is distributing hygiene kits, yoga mats, gym equipment, packages of snacks and more to soldiers, and is working closely with the IDF to support their well-being and needs as the situation progresses.

"I think there's no denying that it's a scary time right now, and that the ultimate source of comfort is being with family," said lone soldier Pvt. Juliana from Los Angeles, who serves in the IDF Foreign Relations Unit. "While it's tough to be so far away from my family right now, I'm grateful for my amazing community of friends here in Israel and for all the support I receive."
The latest #FoxNewsRundown Global Pandemic is out. @TreyYingst speaks to the IDF on how the Israeli military is helping to combat the coronavirus.

Click here to listen & subscribehttps://t.co/oYyKYlkw0P

— FOX News Radio (@foxnewsradio) March 31, 2020
In just 12 hours, this IDF Weapons Manufacturing Center began making a new weapon—for the fight against #COVID19.

Previously dedicated to tank parts & body armor, now they're making protective goggles for medical staff & spray guns for sanitizing public spaces. #StartUpNation pic.twitter.com/9iCReqjA0s

— Israel Defense Forces (@IDF) April 1, 2020
You've always had our backs,

Now we're here to give back to you.

You've fed us, healed us and taken care of us,

Now we're here to do the same for you.

You fought our nation's battles,

Now we're here to fight this battle with you.

#StayHomeForThem pic.twitter.com/kIW0Wm7usa

— Israel Defense Forces (@IDF) March 31, 2020
Islamic Waqf Takes Advantage of Temple Mount Closure to Conduct Illegal Digs
Islamic Endowments Department in Jerusalem, a.k.a. the Waqf, a Jordanian agency which controls the Temple Mount compound with the approval of the Netanyahu (Sovereignty? Moi?) government, on Tuesday boasted on its Facebook page: "Despite the forced closure of al-Aqsa Mosque / AL-HARAM AL-Sharif due to the spread of the virus, the staff, workers and guards of the al-Aqsa Mosque continue their hard work in the service of the mosque."

And the nice people of the Waqf enclosed several innocuous images of fixing up the old mosque (which was designed by a Jewish architect – just like the Temple). But the sharp folks from the Zionist watchdog Im Tirtzu detected at least two images the showed the Waqf officials conducting unauthorized digs on the Temple Mount.

Indeed, the Arab Desk of Im Tirtzu accused the Waqf of taking advantage of the closure to perform illegal digs that are aimed at "destroying Jewish artifacts and history."

That's, in fact, the semi-official Waqf slogan: "Destroying Jewish artifacts and history since June, 1967."
Hamas Says It Has Detained Israel Spies in Gaza
The internal security apparatus of Hamas movement in the Gaza Strip said on Tuesday that it has arrested a number of collaborators with Israel who have admitted to monitoring events held during weekly protests called the Great March of Return.

In a statement released on Tuesday, the apparatus broadcast a short movie documenting the struggle between the security apparatus in Gaza and the Israeli Intelligence on the spies.

The movie included a scene on the arrest of a suspect.

The video also revealed details about a 60-year-old collaborator, known as M12, who has been linked to the Israeli Intelligence since 1994.

M12 admitted that in May 2018, he contacted an officer called "Riad" and offered him information about the location from where rockets were launched.

He admitted that "Riad" questioned him about the preparations for organizing the weekly Great March of Return and information about the young Palestinians who were responsible for providing tires during the protests.

M12 collaborated with a number of Israeli officers, Hamas said. In 1994, he worked with "Abu Daoud," in 2009, he was in contact with two officers, "Jalal" and "Jihad," and in 2016, he worked with "Shafik" while in 2017 he operated with "Zaher" and "Riad."

The video showed a photo of Israeli Intelligence officer "Shafik," who operates with the apparatus of Beit Hanoun, in north Gaza.
PA prioritizes terror payments over welfare as coronavirus curbs budget
The Palestinian Authority has opted to pay the salaries of terrorists before those of teachers and social welfare recipients, as it anticipates a drop in revenue as a result of the coronavirus crisis, according to Palestinian Media Watch (PMW).

The Palestinian Authority is expecting a 50% decrease in income as a result of the virus' impact, anticipating that governments around the world will decrease their international aid payments during the crisis. Accordingly, PA Prime Minister Muhammad Shtayyeh has announced that March's payments to public servants and welfare recipients will be staggered across the course of a week in early April.

PMW has translated a report by the official Palestinian news agency, WAFA, which on March 29 reported the schedule as follows: Medical and supporting personnel to be paid on Monday, and Security Forces staff on Monday, while on Tuesday, prisoners and the families of the martyrs are to receive their stipend.

This means that payments to terrorists are being prioritized ahead of welfare payments, which are to be made on Wednesday, teachers' salaries, to be paid on Thursday, and public servants, who will receive theirs on Friday. Ministers and senior officials will be receiving their payments on Saturday.

"It is clear that the PA sees the payments as a statement of priorities since they put medical personnel as first recipients and security services second and this is logical. However, their putting terrorists third before welfare cases and teachers shows the tragedy of the PA value system. Terrorists still reign as PA heroes," Itamar Marcus, Director of Palestinian Media Watch said.
Palestinian-American Academic Seif Da'na on Hizbullah TV: Coronavirus May Have Leaked from U.S. Lab; Western Economic Policies Kill More People than COVID-19; Hitler Did Not Do Anything "Out of the Ordinary" But Is Viewed as Satan Because He Did It in Europe pic.twitter.com/RFBy4t5XGa

— MEMRI (@MEMRIReports) April 1, 2020
Coronavirus: Why Palestinian Leaders Are Not Helping Gaza to Combat It
The Palestinian Authority (PA) leadership has done virtually nothing to help the Gaza Strip confront the coronavirus pandemic. Ironically, the only country that has been helping the Gaza Strip in the past few weeks is Israel.

The question is, why is the PA ignoring calls to help the Palestinians of the Gaza Strip in their effort to prevent the spread of the coronavirus? One explanation -- that accords with history -- is that if a large number of Palestinians living in Gaza there are infected... the PA leadership wants the world to blame Israel.

It is important to emphasize that there is no Israeli "siege" on the Gaza Strip. First, the Gaza Strip shares borders not only with Israel, but also with Egypt. It is Egypt, not Israel... that is effectively blockading Gaza.

The United Nations, regardless, is also trying to pave the way for holding Israel responsible for the possible spread of the virus in the Gaza Strip.

Mahmoud Abbas is undoubtedly looking forward to a day when he can hold Israel fully responsible for the outbreak of the coronavirus in the Gaza Strip. He is also likely waiting for the UN and many in the international community to join him in blaming Israel and Jews for the spread of the pandemic among his people while ignoring his own responsibility for the humanitarian crisis in the Gaza Strip.
Cogat Israel: we continue to move goods and services including exemplary cooperation with the PA in order to ensure the safety of Palestinians.

Antisemites: End the blockade!!! pic.twitter.com/uABx7l9jC1

— Claire Voltaire (@Claire_Voltaire) March 31, 2020
The Palestinian Authority's official news agency says 2 settlers 'spat at Palestinian-owned vehicles north of Jerusalem to 'intimidate' people with #coronavirus. (Such claims, also against soldiers, now appear every day in Palestinian media outlets and social media platforms). pic.twitter.com/rfsxSCXunp

— Khaled Abu Toameh (@KhaledAbuToameh) April 1, 2020
The DFLP's National Resistance Brigades published a video affirming their commitment to the "struggle and resistance.. against the Israeli occupation," despite the ongoing #COVID19 pandemic. The video features a "missile unit" preparing rockets for launch against #Israel. pic.twitter.com/k0LqP2U7TJ

— Joe Truzman (@Jtruzmah) March 31, 2020
The military wing of the Popular Resistance Committees publish a video paying tribute to its former leader Abu Yousef al Quqa. He was killed in a car bombing March 31, 2006 which the group accused #Israel of carrying out. #Gaza pic.twitter.com/2w7X61ZRGy

— Joe Truzman (@Jtruzmah) March 31, 2020
U.S. Prepared to Retaliate Against Iranian Terror Attacks in Iraq
The coronavirus pandemic will not stop the United States from waging retaliatory attacks against Iranian-backed militia groups that launch strikes on American outposts in Iraq, Secretary of State Mike Pompeo said.

"We will always respond to protect and defend Americans," Pompeo told reporters on Tuesday when asked about recent attacks by Iranian-armed militia groups in Iraq. "Whether it's our diplomats in our embassies and consulates inside of Iraq, or Department of Defense people who are serving or there are civilians who are contractors, we'll always do everything we can to defend and protect them. We will respond if they are threatened."

The coronavirus has not impacted the United States' ability to respond, Pompeo said. His remarks come on the heels of a missile attack on coalition forces in Iraq that killed two Americans and one British soldier.

As the Iranian regime struggles to combat the virus's spread, it has not stopped providing financial resources and weapons to terrorist factions across the region.

"We have seen attacks on Americans, attempted efforts in some cases as well as inside of Iraq conducted by Shia militias," Pompeo said.

Pompeo said the State Department is aware those Shia militias have been trained and equipped by Iran.
The Tikvah Podcast:
Michael Doran on Coronavirus in Iran
In the past two months, the Coronavirus has spread rapidly around the globe, affecting nearly every nation in the world. As disruptive and damaging as this pandemic has been in the United States, Israel, and Europe, it has been far more devastating in Iran, where mass graves have been dug to bury its victims. Official statistics paint a dreadful picture of the situation there, but Iranian citizens have taken to social media to tell that world that the reality on the ground is even worse than these statistics suggest. After refusing for weeks to heed the advice of its own experts and impose social-distancing measures, the regime recently took the drastic step of canceling the annual celebration of its nuclear program. Why has the Islamic Republic been so hard hit? Is there any truth to the Iranian foreign minister's complaint that American sanctions are to blame? And thinking strategically, what implications will the COVID-19 crisis have for the conflict between Iran and the U.S.?

In this podcast, Hudson Institute scholar Michael Doran joins Jonathan Silver to answer these questions and more.
News Report about Aid Shipments from Iranian Students to the "Oppressed People of America" pic.twitter.com/WMrWNzr9eL

— MEMRI (@MEMRIReports) April 1, 2020
Houthi Politician Abd Al-Wahhab Al-Mahbashi: The Jews, U.S. Are Behind Coronavirus Pandemic; We Should Unite in Jihad against the Jews; Enmity towards Them Is an Identifying Characteristic of Muslims pic.twitter.com/NkwqH9cEGe

— MEMRI (@MEMRIReports) April 1, 2020
---
---
We have lots of ideas, but we need more resources to be even more effective. Please
donate today
to help get the message out and to help defend Israel.