From Ian:
---
Melanie Phillips:
Why the Labour party cannot deal with its antisemitism
The left has absorbed the Marxist concept that the world is divided into the powerful and the powerless. Those with power can never be good; those without power, like the Palestinians, can never be bad. Those who make money have power over those who don't. Those who make money are bad; those without money are good. Jews make money. Therefore Jews are powerful and bad.

Worse, Israel is militarily powerful. That is seen as its crime; and it's also why anti-Israelism is umbilically connected to antisemitism. The fact that Jews are now equipped with military power, albeit solely to defend themselves against annihilation, breathes life into the paranoid delusion that the Jews are so powerful they pose a threat to everyone else.

Antisemitism is now surging across continents in an unholy alliance between the left, neo-Nazis and the Islamic world.

Such a derangement of reason on a global scale is terrifying and, as with antisemitism throughout the ages, ultimately unfathomable. For the west, however, support for Palestinianism has clearly destroyed its moral compass.

The left believes that it is morally unimpeachable and simply incapable of racism. Its support for the Palestine cause demonstrates and reinforces its self-righteousness.

It won't begin to address its own antisemitism, therefore, until and unless it acknowledges that the evil it has supported abroad has seeded itself not just in the Labour party but throughout the "anti-racist" world.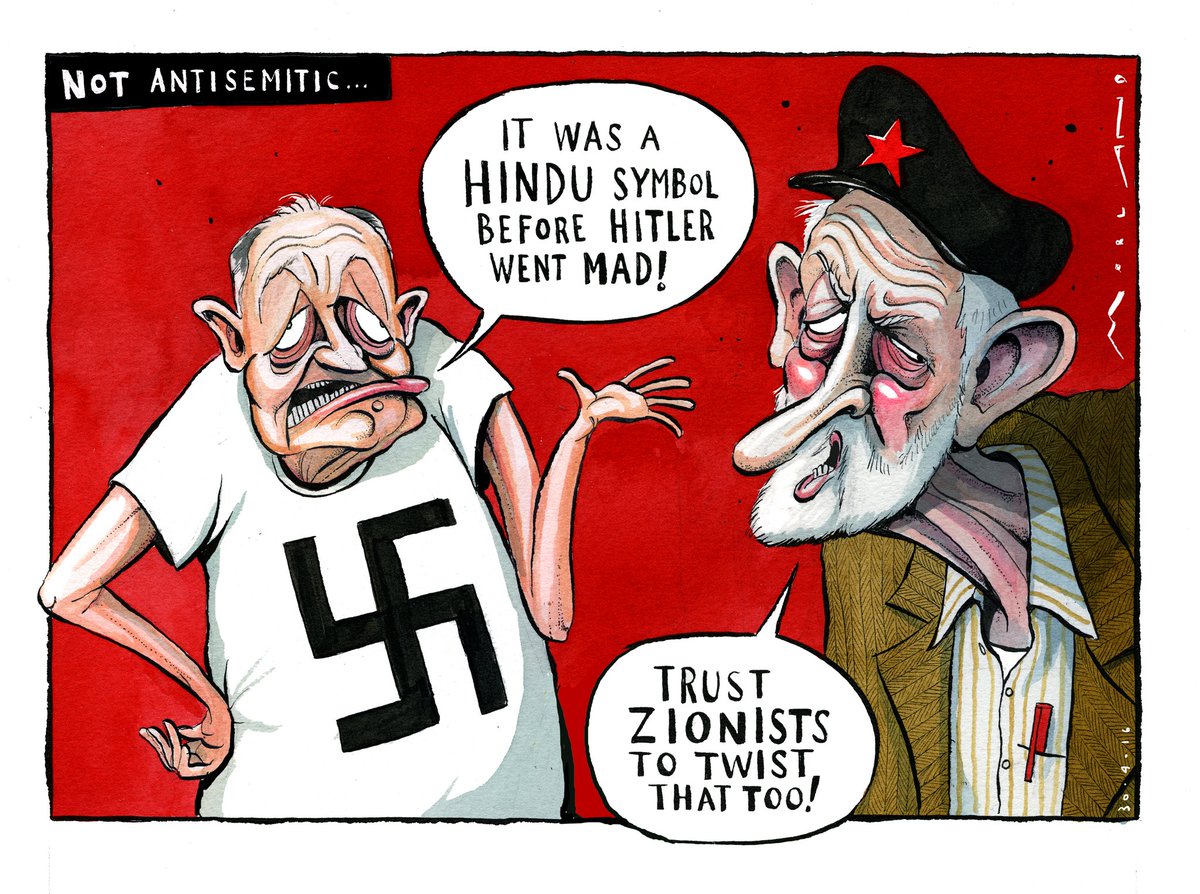 Sanders Fills Ranks With Anti-Israel Advocates Tied to Anti-Semitism Scandal
Two of Sen. Bernie Sanders's (I., Vt.) top advisers have deep ties to the anti-Israel community and were chastised several years ago for their involvement in an anti-Semitism scandal that gripped a prominent Washington, D.C., think-tank.

Sanders, a self-proclaimed Democratic-socialist who has once again thrown his hat into the ring for a 2020 presidential bid, has begun to rely in recent months on two staffers: Foreign policy adviser Matt Duss and campaign manager Faiz Shakir, both of whom faced charges of promoting anti-Semitic conspiracy theories during their time at the Center for American Progress, or CAP, a liberal think-tank.

Sanders's dependence on Duss and Shakir has been making waves in the pro-Israel and Jewish community in recent months, given the duo's prominent role in CAP's 2012 anti-Semitism row, which saw several staffers at the organization's Think Progress blog rebuked for invoking age-old canards about Jewish control of money and politics. Duss has faced additional scrutiny in the subsequent years for publishing Nazi-era propaganda posters and steadfastly standing against the U.S.-Israel alliance

As the matter of anti-Jewish bias in prominent D.C. political circles makes its way back into the news following a series of anti-Semitic comments by freshman Rep. Ilhan Omar (D., Minn.), many in the pro-Israel community are beginning to raise questions about Sanders' choice to fill his ranks with individuals closely tied to some of the most prominent anti-Israel causes.

In 2012, Duss was CAP's Middle East director, while Shakir served as editor-in-chief of the group's Think Progress blog, which has since become regarded as a hotbed for anti-Israel activism.

During their tenure at CAP, Duss and Shakir emerged at the forefront of a scandal involving several Think Progress bloggers who accused pro-Israel Jews and members of Congress of being "Israel firsters," a term implying that those who support the Jewish state have dual loyalties.

The scandal rocked CAP for several months and drew condemnation across the board, including from the Obama administration, which distanced itself from Duss, Shakir, and the rest of Think Progress's former staff.
Bernie Sanders staffer fired for anti-Netanyahu rant hired to run B'Tselem USA
The Israeli human rights organization B'tselem said Tuesday that former Bernie Sanders adviser and long-time anti-occupation activist Simone Zimmerman has been appointed the new director of its American operations.

Zimmerman is an "American Jewish anti-occupation activist" who will "work to amplify B'Tselem's voice among US policy makers and the broader public," the rights group said in an official statement.

"As a Jewish activist who has worked for years to challenge my own community's denialism about the reality of the occupation, I am excited to take on my new role," the statement quoted Zimmerman as saying. "I hope to deepen the partnership between the anti-occupation movements working on the ground and those working here in the USA."

In 2016 Zimmerman was suspended from her role as adviser to US Senator Bernie Sanders' presidential campaign after reports surfaced of her harsh and foul-mouthed criticism of Israeli policies and of Prime Minister Benjamin Netanyahu.

After Zimmerman, a former J Street student activist, was hired by the Sanders campaign, it was discovered she previously wrote on Facebook, "Bibi Netanyahu is an arrogant, deceptive, cynical, manipulative asshole," according to the Washington-based Free Beacon.
Honest Reporting:
Boycotting Israel – Is it Free Speech?
Boycotting Israel and other Western countries
Most of the Western world treats boycotts similarly to the United States. For example, courts and legislative bodies in the United Kingdom, France, Spain, Chile, and others have struck down local or private BDS activities or even passed anti-BDS laws, on similar principles.

The Irish senate advanced legislation banning products originating from Israeli settlements in disputed territories, yet Ireland's attorney general opposes passing the measure into law, warning that it may violate European Union trade rules, which supersede the individual laws of EU member states.

Indeed, even the less onerous measure of applying special labels to settlement goods has been struck down in other EU countries, such as Greece.

While EU foreign policy chief Federica Mogherini, declared that boycotting Israel constitutes "free speech," this is merely a talking point which does not constitute binding law. By contrast, the EU's 2016 Report on Competition Policy interprets the EU trade law as including, "the need to fight against unfair collective boycotts." The chair of the European Parliament's Delegation for Relations with Israel confirmed that this language was indeed intended to prevent private boycotts against Israel (as well as others) as a matter of EU trade law.

EU law is evolving, but its underlying philosophy appears to be that no party should be allowed to interfere with the trade priorities set by the EU itself.

In conclusion
There was indeed an American boycott against South Africa: enacted by the United States Congress under the Comprehensive Anti-Apartheid Act of 1986. The United States also enacted an embargo against Cuba, waged economic warfare against Japan, imposed sanctions on Iran, and more. The common denominator among them is that they were imposed by the United States federal government. The Constitution does not hold that boycotts are illegal, only that private, concerted boycotts of foreign nations are illegal.

Once we strip away the slogans and propaganda we see the truth: a boycotting Israel has never been "free speech," by any laws. Open debate is essential to democracy, but taking illegal, private actions against foreign nations undermines our entire system of government.
70 years of transcripts from UK's parliament show clear 'obsession' with Israel
Using a new analytics tool, researcher David Collier picks up 17,667 parliamentary references to the Jewish state — more than Jordan, Lebanon and Palestine combined

By expending so much energy discussing the Israeli-Palestinian conflict, West Bank settlements or Gaza, parliamentarians – who have only a finite amount of time to spend in debates – grapple less with issues around Islamist extremism, terrorism, corrupt and undemocratic governance, economic weakness, and Iranian expansionism which lay at the root of the Middle East's ills.

Collier also notes the rise in mentions of anti-Semitism in parliament in recent years.

"It is part of a trend. It isn't tied to a single individual, nor can accusations of anti-Semitism simply be a plot to unseat Corbyn," he asks. "If the anti-Semitism 'smear' exists to unseat Corbyn, why were there spikes of discussion in 2004, '8, '9, '11 and '14?"

"The rise of Corbyn is linked to the rise of anti-Semitism, in that extremist ideologies have entered the mainstream … Corbyn is a symptom of a problem that is getting worse," he writes.

Collier argued to The Times of Israel that the increasing preoccupation with Israel and rising anti-Semitism were "absolutely connected."

"Whilst not all anti-Israel activity is rooted in anti-Semitism, anti-Semitism is part and parcel of anti-Israel activism," he said. "Any rise in one, will inevitably bring about a rise in the other."
Eli Lake:
Ilhan Omar's Anti-Israel Nativism Will Haunt Democrats
In an era that rewards politicians for taboo-busting controversy, Omar's pandering is understandable. In this sense, it's not that different from the kind of venom spewed by President Donald Trump when it comes to immigrants, Latinos and Muslims. Like Trump, Omar claims she is a victim when she faces criticism, and that her words were willfully misunderstood.

It's also true that criticism of the pro-Israel lobby is not in and of itself anti-Semitic. But it's important to remember that this lobby is comprised of American citizens exercising their right to petition Congress. They are no more or less American than a member of Congress from Minneapolis.

Politically speaking, Omar's main challenge is to her fellow Democrats. House Speaker Nancy Pelosi has sought to promote her as an example of a party that represents America in all its diversity, posing with Omar and other female members of Congress for the cover of Rolling Stone. At the same time, Pelosi and other Democratic leaders have denounced Omar's comments, and House members will vote Wednesday on a new resolution to condemn anti-Semitism. It's unclear whether that resolution will denounce Omar by name, or whether Democrats will strip her of her seat on the House Foreign Affairs Committee, as Republicans did when Representative Steve King's white nationalism finally caught up with him.

This much, however, is clear: Democrats have to do more than demand another apology. If the party wants to make a credible case against a nativist president, it cannot look the other way at the nativism of its own members.
'Intersectionality' and the New Anti-Semitism
Since bigotry for progressives no longer depends on what is said, but on the identity of the speaker, Ilhan Omar simply cannot be guilty of anti-Semitism. She is black, Muslim, female, and immigrant, and American Jews tend to be white, wealthy, and "privileged." Progressives usually don't admit this explicitly, but it's what they're saying when, no matter how awful Omar's anti-Semitism, they change the subject, or make up elaborate excuses for it, or simply ignore it and promote her anyway.

This is also why media reporting tends to frame these stories as "allegations"about Omar, "controversy" surrounding her tweets, or "concern" about her use of "tropes," instead of simply stating the anti-Semitism as fact. Reporters don't state it as a fact because they don't believe it is a fact.

If the media believed that anti-Semitism was genuinely inexcusable, we would see, surrounding the past month's coverage of Omar, major context pieces exploring the culture of anti-Semitism that Omar was raised in, the epidemic levels of anti-Semitism among Muslims, the anti-Semitism of the BDS movement she supports, and so on. There would be a full-fledged campaign as the media undertakes on so many other issues.

But no such pieces will ever torment Omar. Progressives don't believe her anti-Semitism is the kind of bigotry that counts, and they certainly don't believe it is acceptable to engage in the public vilification of someone who shares their politics and checks so many victimhood boxes.

For those hoping Omar's brazenness will be a wake-up call for progressives, you will be disappointed. No lessons will be learned. No line will be drawn. This case will speed along the normalization process. For many progressives today, bigotry against the right kind of people is a virtue.
#IlhanOmar is trying to expand the boundaries of what you can say about Jews, @EVKontorovich tells @MichelleMakori, ultimately giving those who use #antiSemitic tropes the benefit of the doubt: pic.twitter.com/L1Fday5hkp

— i24NEWS English (@i24NEWS_EN) March 6, 2019
Senior Republican senator: Rising anti-Israel attitudes 'disturbing'
Senate Majority Leader Mitch McConnell said on Tuesday that he finds rising anti-Israel sentiments "disturbing," including by "some of the new members of the House of Representatives."

The Kentucky Republican was asked about freshman Rep. Ilhan Omar's comment last week that suggested Israel's supporters are pushing lawmakers to pledge "allegiance" to the Jewish state. In response, House Democrats are expected this week to present a resolution condemning anti-Semitism.

McConnell noted that the Senate last month passed a provision that would let states penalize businesses that take part in boycotts or divestments of Israel.

Omar is a supporter of the boycott, divestment, and sanctions movement that promotes various forms of boycotts against Israel.

McConnell said the BDS movement "is a clear example of rising anti-Israel sentiment in our country which is very disturbing and that's been underscored by comments of some of the new members of the House of Representatives."
Is There Any Defense for Ilhan Omar?
More substantive defenses of Omar have come from left-wing Jews like writer Peter Beinart, who has written in The Forward claiming that her support of BDS isn't antisemitic. Beinart thinks that it's possible to want to deny to the Jews the right to sovereignty in their homeland within any borders without demonstrating prejudice against Jews. Contrary to his argument, that's false since the worldwide movement to deprive Jews of their rights isn't comparable to the opposition to any other national movement and is rooted in ancient hate.

But the salient point about Omar is that she is the living proof that Beinart's lame justification of Israel's opponents is willfully blind. Everywhere BDS and anti-Zionism sprouts, acts of antisemitism always follow. Since Omar can't seem to oppose Israel without engaging in hate shows that the link between anti-Zionism and antisemitism isn't purely theoretical, but an unavoidable truth.

While neither party is completely free from fault, the Democrats' Omar problem is based in their willingness to not merely tolerate, but to embrace and celebrate the election of two supporters of the antisemitic BDS movement in Omar and Tlaib. Given their hateful beliefs, it can't be considered a surprise that have sought to demonize Jews and supporters of Israel.

Much as they would rather avoid it — and deflect the discussion to what they don't like about Trump and the GOP — there's no escaping the fact that Democrats must repudiate and punish Omar if they want to have clean hands with respect to hate.
Democrats delay vote on antisemitism to include other types of bigotry
House Democrats will not vote on an antisemitism resolution Wednesday as they are still refining the language of the measure, with multiple members saying it is likely to be broadened to reject other forms of religious bigotry such as Islamophobia.

The resolution is Democratic leadership's response to recent comments from Minnesota freshman Rep. Ilhan Omar that lawmakers in both parties have said play into antisemitic stereotypes. Some Democrats appear to be concerned, however, that the resolution only targets offenses stirred up by Omar's comments and not other forms of religious bigotry, including attacks Omar herself has faced for being Muslim.

The last-minute changes attempting to address those concerns left the vote's exact timing up in the air. Leadership had initially hoped to bring the resolution to the floor Wednesday, but Speaker Nancy Pelosi on Tuesday evening would only commit to holding the vote sometime this week.

"The language is being put together now, and you'll see it when we have it finished," the California Democrat told reporters, declining to specify what is being added to the resolution.

A Democratic leadership aide said the vote will not take place Wednesday but could happen as soon as Thursday.

Pelosi confirmed she spoke with Omar over the weekend, as the resolution was being drafted, but offered no details about their conversation.
Friedman: Why can't antisemitism be rejected in halls of Congress?
US Ambassador to Israel David Friedman weighed in on the recent antisemitism controversy on Capitol Hill stirred up by Congresswoman Rep. Ilhan Omar's public remarks.

In a tweet on Wednesday, Friedman said that "when bigotry of any kind rears its ugly head, it must be and often is condemned."

"Why isn't antisemitism afforded the same treatment?" he questioned. "When, as now, antisemitism is front and center in the Halls of Congress, why can't it be called out and rejected without qualification?"

The comments come after Omar (D-Minn.) was once again enveloped in antisemitic controversies because of several tweets she has posted over the last few months.

In Omar's most recent remark, she claimed that domestic support for Israel amounts to "allegiance to a foreign country."

Ilhan Omar's Cycle of Anti-Semitism
Rep. Ilhan Omar (D., Minn.) has, in the words of one CNN commentator, hit the "anti-Semitic trifecta" of tying the Jewish state and its supporters to hypnotism, money and dual loyalties.

In these news cycles, a pattern of sorts has formed, the Washington Free Beacon has learned: Omar tweets or says something anti-Semitic, receives criticism, apologizes, receives praise for the apology, and learns a lesson.

During the Gaza War in 2012, Omar tweeted, "Israel has hypnotized the world, may Allah awaken the people and help them see the evil doings of Israel."

After pushback from conservatives and initial defensiveness—she told CNN she didn't see why Jewish Americans would find Jewish mysticism language offensive—she eventually apologized.

"It's now apparent to me that I spent lots of energy putting my 2012 tweet in context and little energy is disavowing the anti-semitic trope I unknowingly used, which is unfortunate and offensive," she tweeted in January.

"Daily Show" host Trevor Noah noted she had apologized during their interview last month, and he even said he found it "interesting" how she framed it.

Lesson learned.
MSNBC Guest Defends Omar Over Anti-Semitic Tweets, Blames GOP for Synagogue Attack
MSNBC guest and journalist Mehdi Hasan defended Rep. Ilhan Omar (D., Minn.) over her anti-Semitic tweets and blamed Republicans for the deadly attack on a Pittsburgh synagogue attack in October during an appearance on "All In" Tuesday.

"The idea that the Republican Party are gonna give lectures on anti-Semitism is like taking lectures on climate change from the Republican Party. These are the guys who are trafficking in globalist, Soros, all of this language that helped inspire the guy who walked into a synagogue in October and murdered 11 Jewish worshipers. That wasn't a guy who was inspired by Ilhan Omar. That was a guy who believed in the same kind of conspiracy theories that Donald Trump and Republican members of Congress put out day in, day out," Hasan said.

"Anti-Semitism is on the rise, and we need to understand why it's on the rise. It's a far-right, ethno-nationalist problem. It's not a problem from people who are criticizing Israel," Hasan added.

House Democratic leaders will introduce a resolution condemning anti-Semitism on Wednesday in the wake of more anti-Semitic remarks by Omar. At an event in Washington, D.C. last week, Omar said she wanted "to talk about the political influence in this country that says it is OK for people to push for allegiance to a foreign country."
All three headlines naming Ilhan Omar in WashPo today are in defense of her. pic.twitter.com/JRU5x1QpdD

— Natalie Johnson (@nataliejohnsonn) March 5, 2019
Alexandria Ocasio-Cortez retweets terror organization sympathizer
Alexandria Ocasio-Cortez, also known by her initials AOC, retweeted a known supporter of the Popular Front for the Liberation of Palestine (PFLP), a US State Department-designated terror organization.

In the tweet, first discovered by the Investigative Project on Terrorism, Ocasio-Cortez wrote, "This is disappointing to see. Just last week there was all this hubbub over an untrue mischaracterization that I was threatening primaries based on pro-ICE votes. Yet there seems to be no problem at all with a zero-tolerance stance for simply asking about US foreign policy."

She was retweeting and responding to a tweet by Yousef Munayyer, the executive director of the US Center for Palestinian Rights (USCPR). In his tweet, he wrote, "AIPAC activist tells NYT the lobby is coming for Congresswomen @AOC, @RashidaTlaib and @IlhanMN," quoting an excerpt from a New York Times article: "They are three people who, in my opinion, will not be around in several years."

Rashida Tlaib is the U.S. Representative for Michigan's 13th congressional district. Ilhan Omar is the U.S. Representative for Minnesota's 5th congressional district.

In the past, Munayyer seemed to condone the efforts of PFLP on his Twitter feed, including retweeting a PFLP announcement of a terror attack in Jerusalem on June 16, 2017. The PFLP claimed that two of the three terrorists in the attack were affiliated with its organization. That attack killed Border Police Sgt. Hadas Malka.
Alexandria Ocasio-Cortez laid into Nancy Pelosi and Democratic leadership after they condemned Ilhan Omar's Israel comments
Rep. Alexandria Ocasio-Cortez on Tuesday laid into Democrats and Republicans who've condemned freshman Rep. Ilhan Omar of making comments perceived by many as anti-Semitic.

Democratic leadership, including House Speaker Nancy Pelosi, is expected to put a resolution opposing anti-Semitism up for a vote in the House this week, after Omar in a tweet over the weekend accused pro-Israel lawmakers of pushing "for allegiance to a foreign country."

Ocasio-Cortez didn't defend Omar's comment but argued in a series of tweets that the fierce backlash the Minnesota Democrat is facing revealed a double standard in Congress' response to different forms of bigotry.

She added that Omar, who is Muslim and a Somali-American immigrant, "has demonstrated a willingness to listen+work w/impacted communities" and shouldn't be subjected to the "nuclear option" of a formal condemnation.

"One of the things that is hurtful about the extent to which reprimand is sought of Ilhan is that no one seeks this level of reprimand when members make statements about Latinx + other communities (during the shutdown, a GOP member yelled 'Go back to Puerto Rico!' on the floor)," Ocasio-Cortez tweeted.

She said that lawmakers were often given a pass for misogynistic, racist, or anti-LGBTQ comments and that congressional leaders should be clear about what behaviour merits formal condemnation.
On Twitter, Sarsour Cites Israel-Hating Electronic Intifada to Defend Rep. Omar's Anti-Semitism
Controversial Palestinian-American activist and leader of the Women's March, Linda Sarsour, has doubled down in her defense of freshman Rep. Ilhan Omar (D – Minn.), who has been accused of promoting anti-Semitism on several occasions.

On her Twitter account Wednesday, Sarsour shared a tweet from Electronic Intifada, saying, "Actual hate groups pose as anti-racists, while @IlhanMN, the first Black Muslim woman in Congress, is smeared and threatened because she is prepared to stand up to the Israeli apartheid lobby."

Electronic Intifada is an anti-Semitic propaganda website dedicated to promoting the Boycott, Divestment, (added comma) and Sanctions (BDS) campaign that seeks the destruction of the Jewish State. The tweet linked to an article on the organization's website written by co-founder and activist Abu Abunimah, a leading advocate of the radical one-state solution.
Dear Jeremy Corbyn...
In July last year I was saddened that our mutual friend Russell Smith-Becker had resigned from the party. I was appalled by the reaction to Russell's decision from people claiming to be your supporters on Facebook. Much of it was conspiratorial and some of it was overtly antisemitic. He was told to "f*** off", accused of resigning to prevent criticism of Israel and asked how he would spend his "thirty pieces of silver".

In May last year I attended the General Committee of Hornsey and Wood Green CLP where an activist said that tweets from the Labour Friends of Israel Twitter account are "sent by an Israeli embassy staffer or from Jerusalem".

Despite its clear conspiratorial antisemitic connotations the chair did not challenge or rebuke the activist. Likewise, we allowed candidates to stand in the recent local elections despite them defending the use of the Neo Nazi term "Zio" and sharing an article that concluded "Enough is enough. F*** you all. Chag Pesach sameach".

Instead of listening to the concerns raised by Jewish Labour Movement delegates and local rabbis, Hornsey and Wood Green CLP then voted overwhelmingly in favour of "affiliating" to Jewish Voice for Labour. It seemed a deliberately provocative act towards our local Jewish community. JVL is an organisation established for the sole purpose to obfuscate and apologise for antisemitism within the Labour party.

Over the past eighteen months, slowly but surely, all of my Jewish friends have left Labour. On the 18th February, Luciana Berger MP resigned from the party.

The examples of abuse that Luciana has spoken about are truly dreadful and your lack of action to tackle the abuse is shameful. It is beyond belief that for fourteen months you have refused to meet with her. Her bravery and dignity has shown me that the time has come for me to resign my membership.
UK Labour Party Leader Jeremy Corbyn Condemned Over Emails Revealing Staff Member's Interference in Antisemitism Case
Top British Jewish groups slammed UK Labour party leader Jeremy Corbyn on Tuesday after it was revealed that a member of his staff had secretly interfered in an ongoing case of antisemitism within the party.

According to The Times, the case involved a Labour member who defended an antisemitic mural that depicted a group of men with stereotypical Jewish features counting money around a table laid on the backs of a group of black people.

The mural became notorious after it was discovered that Corbyn himself had protested its removal. When asked about his defense of the mural, Corbyn said, "It also has other symbols as well, doesn't it?" Asked directly whether he considered the mural antisemitic, he demurred, "I think it should never have been put up."

Another Labour member wrote on Facebook, saying, "Actually, I think it's a great mural. No way should it be painted over, it should be preserved," at which point a disciplinary process began.

Emails obtained by the Times showed that staffer Laura Murray, who the Times described as "a close ally of Corbyn," attempted to interfere in the process, advising against suspending the member in question.
Jewish Voice for Labour Chair Dismisses Anti-Semitism as 'Form of Coup' Against Corbyn
Jenny Manson, the Chair of fringe group Jewish Voice for Labour, has launched into a Chris Williamson-style attack on the anti-Semitism storm which continues to rock the Labour Party. Manson dismissed allegations of anti-Semitism as a "form of coup" by Labour MPs who are attempting to "split the party", while pointing the finger at Tom Watson and Margaret Hodge for their "endless criticism of Jeremy Corbyn". She accuses her own party's MPs of using anti-Semitism as a "whip" against Jeremy Corbyn…

Jewish Voice for Labour is closely aligned with Labour Against the Witchhunt, the group founded by suspended Labour hardliner Jackie Walker, which is currently running a campaign to reinstate Chris Williamson. When the Tories suspended 14 members yesterday for Islamophobia they directly told them not to arrange any gathering which "purports to portray or appears to be connected in any way with the Conservative Party". Yet suspended Labour anti-Semites are still happily running around holding events and setting up campaigns under the Labour banner…

On the day that the Jewish Labour Movement is deciding whether to disaffiliate from the Labour Party after 99 years, it speaks volumes that Corbynistas like Jenny Manson are still being given free rein to attack Labour MPs for calling out anti-Semitism while fresh controversies are uncovered on an almost daily basis about how the party leadership itself has been obstructing and interfering in investigations. Maybe that's not such a surprise given Corbyn himself backed a motion to disaffiliate JLM's predecessor from the Labour Party almost 35 years ago…
Video Emerges of Suspended Labour MK Warning of "Dark Forces" Undermining Corbyn
The storm engulfing the British Labour Party intensified after new remarks emerged from Chris Williamson – the MP suspended from the party last week for saying Labour had been "too apologetic" on anti-Semitism — claiming that "dark forces" are using their "power" and "contacts in the media" to undermine Jeremy Corbyn's leadership.

His remarks were widely condemned for evoking anti-Semitic tropes of powerful Jews controlling the political and media landscape.

The remarks were recorded as Williamson spoke at an event last year in support of controversial Labour activist Marc Wadsworth, who was expelled from the party for reducing Jewish MP Ruth Smeeth to tears at the launch of Labour's much-criticized Chakrabarti Inquiry on anti-Semitism, The Daily Mail reported.

The MP for Derby said: "Some people might find it difficult showing solidarity with Marc, for fear of being implicated, criticised and demonised.

"Well, I don't give a s***. Certain dark forces are using their power, using their contacts in the media, in order to take out key allies like Marc and others from the struggle." Williamson also suggested that the anti-Semitism dispute had been "weaponised" by enemies of the Labour leader.
In a first, U.S. calls on German banks to close BDS accounts
The US government, via its powerful ambassador to Germany, Richard Grenell, urged German banks this week to shut down accounts they hold on behalf of organizations that support the BDS campaign against the State of Israel.

"Germany's Bundestag passed a resolution condemning the BDS movement and calling on the federal government to resolutely oppose it," Grenell told The Jerusalem Post on Tuesday. "German banks should therefore cut ties with all organizations linked to the BDS movement. Organizations and people that undermine Israel's security should be condemned."

Grenell, a prominent supporter of Israel, issued his statement in response to reports in the Post about an account in the German Bank for Social Economy that belongs to a Boycott, Divestment and Sanctions movement organization and deemed to be antisemitic by the nearly 100,000 member Central Council of Jews in Germany.

Numerous Post queries to Harald Schmitz, the CEO of the Bank for Social Economy, have been ignored. The account in question belongs to the organization, Jewish Voice for a Fair Peace in the Middle East, and is used to raise funds to promote BDS. There has been a growing trend since 2016 among German banks such as Deutsche Bank, Commerzbank, Postbank, PayPal in Germany, and the Munich-based DAB bank to close the accounts of BDS entities. However, the Bank of Social Economy has defied calls since 2018 from the Israeli government and a host of German and American Jewish organizations to sever ties with the BDS group.
Literally everything we do "whitewashes Israeli crimes" with you people.

Today a 70 year old grandmother walked her poodle... to whitewash Israeli crimes. https://t.co/MFmfxoqEoT

— The Mossad (@TheMossadIL) March 5, 2019
BBC R4 report on antisemitism in the US uses the Livingstone Formulation
O'Donoghue's report continued with comment from a representative of a Jewish organisation linked to the Democratic party before he went on:

O'Donoghue: "But it's not just two members of Congress. Others on the Left face similar allegations. Most recently leaders of the Women's March organisation have been heavily criticised over their connections to Louis Farrakhan, the leader of the Nation of Islam, who many regard as overtly antisemitic."

Failing to provide his British listeners with anything more informative than that tepid portrayal of Farrakhan's long-standing record of antisemitism and additional forms of bigotry, O'Donoghue brought in Deborah Lidstadt once again before closing his report.

O'Donoghue: "It's not of course just a problem for the Left. Far-Right white supremacists trade in the same antisemitic ideas. But the Democratic leadership are conscious that a new, younger, more Left-leaning party base could drive a wedge between them and Jewish Americans, already wooed by Republican policies such as pulling out of the Iran nuclear deal and moving the US embassy to Jerusalem."

Remarkably, although there was no room in O'Donoghue's portrayal of antisemitism in the United States for the no less relevant issue of Islamist antisemitism, he did find the space for promotion of false balance in the form of the Livingstone Formulation – just as has been seen so often in BBC coverage of antisemitism in the UK Labour party.
US-funded Cuban network fires staff for 'anti-Semitic' report on Soros
At least eight staff members of a US government-funded media company that broadcasts in Cuba have been fired for airing a segment that referred to George Soros as a "multimillionaire Jew" who was "the architect of the financial collapse of 2008."

The three-part report on Radio and Television Marti, which broadcasts news to Cuba to promote American foreign policy interests, also called Soros a "left-wing billionaire of Hungarian-Jewish origin" and a "nonpracticing Jew of flexible morals" and raised far-right conspiracy theories about him.

The original broadcast aired in May; it gained traction at the end of October when a blog on Cuban issues, The Cuban Triangle, raised questions about the broadcast after Soros received a bomb threat.

The firings come after a months-long investigation by the Office of Cuba Broadcasting, which oversees the Marti stations, the Miami Herald reported. The office falls under the jurisdiction of the US Agency for Global Media, or USAGM.

John Lansing, director of the USAGM, issued a statement Wednesday which said the report should have never aired.
Jews and Muslims Remember Victims of 1992 Khojaly Genocide in Azerbaijan
The American Sephardi Federation and the Muslim American Leadership Alliance of New York held a special event last week remembering victims of the 1992 Khojaly genocide in Azerbaijan.

The ceremony was in memory of the 613 people – including 63 children, 106 women and 70 old people – killed in the massacre committed by Armenian armed forces during the Nagorno-Karabakh War between 1988 and 1994.

Vugar Gurbanov, counselor for the Embassy Azerbaijan in the United States, delivered a speech following an interfaith prayer service and labeled the event, organized by Jewish and Muslim organizations, "a good example of interfaith cooperation."

The occasion was backed by the Embassy of Azerbaijan in the United States and the Azerbaijan State Committee on Work with the Diaspora. Azerbaijan and Israel maintain close ties.

The war ended in a ceasefire followed by peace negotiations. Armenia has yet to apply four UN Security Council resolutions to withdraw its armed forces from Nagorno-Karabakh and the surrounding areas.
In Albania, a Sole Jewish History Museum on the Brink
Berat (Albania) (AFP) On a sloped, cobblestone street in southern Albania sits a small shop, empty except for a dozen framed panels on the walls bearing photos and stories from 500 years of Jewish life.

It may be modest but this is Muslim-majority Albania's only Jewish history museum.

And the story it tells is exceptional: the Balkan state is the only Nazi-occupied territory whose Jewish population increased during World War II, thanks to the bravery of ordinary families who harboured hundreds of refugees fleeing persecution during the Holocaust.

The tiny Solomon Museum, which opened in the city of Berat last year, was a labour of love for local historian Simon Vrusho.

But his death last month at age 75 has put its future at risk, with rent only paid through to April.

Until now he had covered the museum's costs with his pension and small donations from a box by the door.

"Memories need to have their own home," Vrusho, a wiry man with warm eyes, told AFP, shortly before he died following a heart attack in February.
What an American Christian Learned about Anti-Semitism from Growing Up in Dubai
Responding to Congresswoman Ilhan Omar's latest anti-Semitic insinuations, Erick Erickson recalls his childhood experience in the emirate of Dubai, at the time "the freest of any part of the Middle East for Westerners."

I went to the Jumeriah American School. . . . I had fantastic teachers and a wonderful education. But that education went only so far. Our geography textbooks were missing a country. Open to the world map, and there'd be black sharpie marker covering over the word "Israel," which was sometimes hidden under the word "Palestine" glued into the book. The Israeli flag was redacted by censors. Encyclopedias, almanacs, history books, etc. had passages about Israel taken out. Sometimes the pages were redacted. Sometimes the pages were just torn out. . . .

I went to school with kids from China, Sweden, Canada, Sri Lanka, Lebanon, and elsewhere, but there were no Jewish kids in school. I learned about the Holocaust in high school back in the United States. That was not a topic we studied in Dubai. . . . There are a lot of Americans who do not think anti-Semitism is a big problem. They have not lived in a part of the world that blots Israel off the map. . . .

Many of us stand with Israel because Israel is a democracy among autocracies and a positive influence surrounded by a breeding ground of terrorists. Many of us stand with Israel because we understand both history and those who would bastardize it yet again to persecute Jews. All of us should be troubled by members of Congress cheering on anti-Semitism and others excusing it. We should all be troubled by white nationalists echoing them. This country has a growing problem with anti-Semitism and we need to confront it and denounce it.
'Stick 'em in Concentration Camps': Alabama Teens Filmed Using Racial Slurs Against Jews, Black People
A video showing white high school students in Alabama insulting black and Jewish people has gone viral, sparking public backlash and an investigation from school officials.

"Without the Holocaust, what would the world be like?" asks one teenager heard in the video, which was posted to Facebook over the weekend and appears to have been taken at a private party. He was holding a red plastic cup and at one point swaying.

"We would have white people, still. All of the n***ers would not be here," one girl said in response. "F**k n***ers, f**k Jews," another added, leading the girl to chime in, "Jews are fine because they're white."

"If the Holocaust never happened, Jews would be running the world right now," the teenager who originally posed the question said.

The group also discussed imprisoning minorities — "you stick 'em in concentration camps and you f**king guard them" — or waiting "until they die off."

According to AL.com, the teenagers attend schools in Hoover, a large suburb near Birmingham.
$6.3M raised for Pittsburgh synagogue massacre survivors
A $6.3 million fund established after the Pittsburgh synagogue massacre will primarily be split among the families of the dead and survivors of the worst attack on Jews in U.S. history, organizers announced Tuesday.

The Jewish Federation of Greater Pittsburgh set up the Victims of Terror Fund after the Oct. 27 attack at Tree of Life synagogue that killed 11 and wounded seven. The fund took in more than 8,500 donations from 48 states and at least eight countries.

The donations are "expressions of love, generosity, compassion and a desire to help in the healing process," the independent committee overseeing the fund wrote in its report Tuesday.

The committee acknowledged that "no amount of money can compensate for the loss of a loved one's life" or "completely heal our hearts or our communities."

Most of the money, about $4.4 million, will be given to those most directly affected by the attack, including victims' families and two seriously injured congregants.

The committee awarded about $437,000 to nine congregants who were trapped inside Tree of Life, "fearing for their own lives and, in some cases, watching relatives and friends being murdered," the report said. Police officers who were shot and wounded while responding will split $500,000.

The committee also set aside $650,000 for the three congregations that share space at Tree of Life and were gathered for services when the gunman walked in and opened fire.
First International Flight Touches Down at New Eilat Airport
Six weeks after its official opening, the first international flights have landed at Eilat's new Ramon Airport. On Monday, Irish low-cost carrier RyanAir has operated three flights, to Poznan, Poland and round-trip from Prague, Czech Republic to the new Ramon Airport located 18 kilometers north of Eilat, an Israeli Red Sea resort town and the country's most southern city.

The new airport will serve as an international gateway to southern Israel and the Red Sea to increase tourism from Europeans flocking south for winter, and provide an alternative to Israel's main international airport in Tel Aviv during times of conflict. Ramon Airport will lead to a "huge change in Israel's accessibility," Israeli Prime Minister Benjamin Netanyahu said at the airport's inauguration ceremony in January. The airport is needed for "important strategic capabilities at normal times and, as much as is needed, during times of emergency," Netanyahu added.

Eilat has seen a surge in foreign tourists since 2015, when the Israeli government scrapped taxes for airlines flying into the city's airports, and further enticed low-cost carriers such as RyanAir by paying airlines 60 euros (approximately $70) per passenger brought on direct international flights.

Airlines expected to operate at the new international airport include Israeli domestic operators currently serving the existing Eilat Airport, which will be shutting its doors later this month, as well as European airlines serving nearby Ovda Airport, including Ryanair, Wizz, Transavia, Edelweiss, and other European low-cost carriers.
Iron Dome Software Developer Creates System to Predict Natural Disasters
Typhoons, floods, droughts, earthquakes, hurricanes, wildfires — the frequency and intensity of natural disasters across the globe are worsening, and these deadly events could continue plaguing the planet as a result of climate change.

Hoping to minimize disruption of essential services in disaster zones, government and utility officials are seeking better solutions for preparation and management of catastrophic weather events.

One new solution is a sophisticated product from mPrest Systems, the private Israeli company that famously developed the command-and-control software inside Israel's Iron Dome missile-defense system.

Natan Barak, founder and CEO of mPrest, explains that the Major Event Management Application (MEMA) automatically forecasts the extent, location and progress of damage via a network of sensors and systems that jointly gather and analyze current weather and other relevant data using advanced algorithms.

"It is based on the same 'system of systems' architecture we developed for the Iron Dome," he tells ISRAEL21c. "We are now applying rocket science, which was originally designed to save lives, to improve quality of life."

How does that work?
'Forbes' Ranking of World Billionaires Lists 21 Israelis
Of the 2,153 international billionaires, 21 are Israelis, according to the 2019 Forbes World Billionaires list. The number includes three more individuals than last year.

Roman Abramovich, who is ranked the 107th richest person in the world, is technically Israel's wealthiest citizen with $12.4 billion. However, he only received his Israeli citizenship 10 months ago and was listed by Forbes as Russian.

Behind Abramovich is real estate, shipping and cruise-line magnate Eyal Ofer with $9.4 billion, followed by industrialist and investor Stef Werheimer at 303rd place with $5.7 billion, and investor and philanthropist Shari Arison at 355th place with $5 billion (making her Israel's wealthiest woman).

Shipping, drilling and mining magnate Idan Ofer came in at No. 394 with $4.7 billion, and gambling-software developer Teddy Sagi is at 631st place with $3.1 billion.

Hot Telecom owner Patrick Drahi would have ranked after Ofer at $8 billion, but was listed as French, due to his dual citizenship.
Hebrew U's new mass of papers sheds fresh light on co-founder Albert Einstein
What would be Albert Einstein's 140th birthday is coming up, and the Hebrew University of Jerusalem is throwing a party, relatively speaking.

The university revealed documents on Wednesday that were part of a parcel of 110 manuscript pages recently donated to its Einstein Archives.

They include correspondence between Einstein and his lifelong friend and colleague, Michele Besso, a personal letter to his son Hans Albert, pages about the physics of the atomic bomb and nuclear reactor, and other research with colleagues.

Part of the trove was a signed copy of the famous picture of Einstein sticking out his tongue, given by Karen Cortell Reisman, the last surviving member of Einstein's family. Einstein had sent her father and other relatives and friends copies of the famed paparazzi snap, with a caption: "This tongue I give the world, not you."

"We acquired a magnificent volume of unique material," said Hanoch Gutfreund, a physicist who is the academic adviser to the Einstein Archives and a former president of the university. "It was Einstein's wish that all his intellectual wealth will be at Hebrew University."
---
---
We have lots of ideas, but we need more resources to be even more effective. Please
donate today
to help get the message out and to help defend Israel.