From Ian:
---
As IDF Thwarts Gun Attack on Gaza Border, Israel Warns That Palestinian 'Return' Protests Are 'Cover for Terror'
The IDF warned on Friday that the Islamist terrorist organization Hamas was attempting to manipulate violent protests by Palestinians along Gaza's border with Israel as a cover for terrorist attacks.

A spokesperson for the IDF said that earlier on Friday — as Israelis prepared for the Passover holiday — Israeli troops thwarted a gun attack by a terrorist cell in the northern Gaza Strip.

"During the attack, two terrorists approached the security fence and fired towards IDF troops," the spokesperson said.

"In response, IDF troops immediately fired according to the rules of engagement, targeting the terrorists as well as three nearby terror sites belonging to the Hamas terrorist organization with tank fire and IAF fighter jets. No injuries were reported and no damage was caused," the IDF spokesperson continued.

The attempted terrorist attack came at the close of a day of violent clashes between Palestinians — many of whom were carrying improvised weapons — and the IDF. Twelve Palestinians were killed in the exchanges.

Friday's "March of Return" protest was held to coincide with "Land Day" — an annual protest advocating the "right of return" for the descendants of the Arab refugees of the 1948 War of Independence. Approximately 750,000 Arabs were displaced in that war, following the Arab League's rejection of a UN proposal to divide British Mandatory Palestine into Arab and Jewish states.

According to Gaza officials, tens of thousands of demonstrators gathered at five locations along the 65-kilometer (40-mile) border with Israel on Friday. The Israeli military estimate was 30,000.
IDF: At least 10 of the 15 killed at Gaza border were members of terror groups
The Israeli military on Saturday night identified 10 of the 15 people reported killed during violent protests along the Gaza security fence as members of Palestinian terrorist groups, and published a list of their names and positions in the organizations.

On Friday, some 30,000 Palestinians took part in demonstrations along the Gaza border, during which rioters threw rocks and firebombs at Israeli troops on the other side of the fence, burned tires and scrap wood, sought to breach and damage the security fence, and in one case opened fire at Israeli soldiers.

The army said that its sharpshooters targeted only those taking explicit violent action against Israeli troops or trying to break through or damage the security fence. Video footage showed that in one case a rioter, whom the army included in its list of Hamas members, appeared to be shot while running away from the border. The army in response accused Hamas of editing and/or fabricating its videos.

According to the Israel Defense Forces (Arabic link), eight of the men killed were members of Hamas, which rules the Gaza Strip. One served in the al-Aqsa Martyrs' Brigades, and another was affiliated with "global jihad," it said, apparently referring to one of the Salafist groups in Gaza.

Earlier on Saturday, Hamas publicly acknowledged that five members of its military wing, the Izz ad-Din al-Qassam Brigades, were among the fatalities.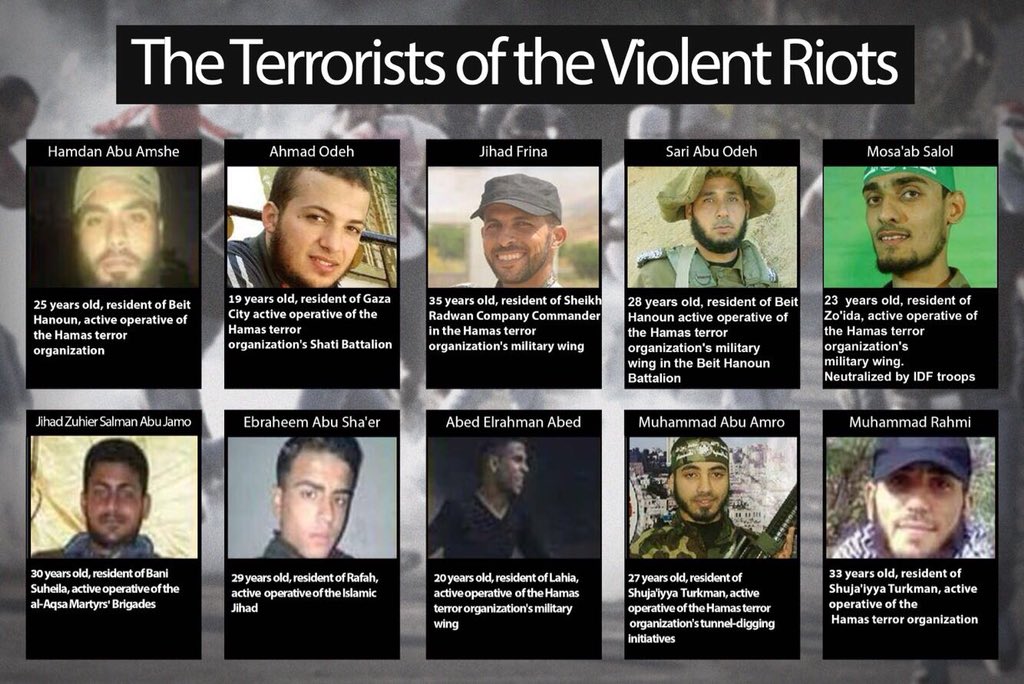 Netanyahu Fires Back: 'Who is Turkey calling an occupier?'
Prime Minister Binyamin Netanyahu hit back at Turkish President Recep Tayyip Erdogan Sunday evening, after the Turkish leader accused Netanyahu of being a 'terrorist', and described Israel as a 'terror state'.

Earlier on Sunday, Erdogan gave a televised speech in southern Turkey, during which he denounced Israel for its response to a Hamas-led provocation on the Israel-Gaza border on Friday.

"Hey Netanyahu! You are occupier. And it is as an occupier that are you are on those lands. At the same time, you are a terrorist," Erdogan said in a televised speech in Adana, southern Turkey, AFP reported.

During his speech, Erdogan also dubbed Israel a "terror state".

"I do not need to tell the world how cruel the Israeli army is. We can see what this terror state is doing by looking at the situation in Gaza and Jerusalem," Turkey's Daily Sabah reported Erdogan as saying.

"Israel has carried out a massacre in Gaza and Netanyahu is a terrorist," Erdogan said.

The Israeli premier responded Sunday evening, tweeting that Turkey, not Israel, is the occupying power.

"Erdogan is not used to having people talk back to him. But he should get used to it. Someone who occupies Northern Cyprus, invades Kurdish areas and massacres civilians in Afrin won't lecture us about morals and values."
US blocks UN resolution condemning Israel for deaths in Gaza clashes
The United States on Saturday blocked a draft UN Security Council statement urging restraint and calling for an investigation of clashes on the Gaza-Israel border, diplomats said.

Kuwait, which represents Arab countries on the council, presented the proposed statement, which called for an "independent and transparent investigation" of the violence.

The draft council statement also expressed "grave concern at the situation at the border." And it reaffirmed "the right to peaceful protest" and expressed the council's "sorrow at the loss of innocent Palestinian lives."

The Israeli military on Saturday night identified 10 of the 15 people reported killed during violent protests along the Gaza security fence as members of Palestinian terrorist groups, and published a list of their names and positions in the organizations.

The draft statement was circulated to the council on Friday, but on Saturday the United States raised objections and said it did not support its adoption, a Security Council diplomat told AFP.

The US mission to the United Nations did not immediately respond to a request for comment.

The proposed statement also called "for respect for international human rights law and international humanitarian law, including protection of civilians," according to the draft seen by AFP.

Council members "called upon all sides to exercise restraint and prevent a further escalation," the draft said. The proposed statement stressed the need to promote peace between Israel and the Palestinians based on a two-state solution.
Israeli envoy lodges complaint over Passover UN security council meeting
Israel's Ambassador to the United Nations Danny Danon on Saturday lodged an official complaint with the United Nations Security Council for holding its emergency session on the situation in Gaza during the first night of the Passover holiday.

The emergency meeting was called by Security Council member Kuwait in the wake of the violence that unfolded Friday, including the death of more than a dozen Palestinians in clashes with IDF troops amid a mass protest on the Israel-Gaza border.

The Security Council meeting took place on Friday evening, when Jews worldwide were sitting down to the traditional holiday feast. The Israeli delegation was not in attendance, due to its members' observance of the Jewish holiday, during which work is prohibited.

"The State of Kuwait, with full knowledge that our permanent mission, Israel and Jews everywhere were observing the first night of Passover, hijacked the consultations, forced an open session and invited the Palestinian delegation to present remarks that they had been advised to prepare well in advance. Israel was not given the same advance notice and was barred from taking part in the deliberations due to the observance of our religious holiday," wrote Ambassador Danon. "I would like to remind the Council that exploiting procedural rules so that one side can make its case while the other cannot is antithetical to the spirit of the United Nations and is a direct affront to the fundamental principles of honest deliberation."

Danon also railed against Hamas for what Israel sees as its role in encouraging violence among protesters.
#BREAKING: Palestinian Ambassador to the UN, Riyad Mansour, just LIED at the United Nation's face about the Hamas #GreatReturnMarch.

RETWEET THIS NOW! pic.twitter.com/sdw5Or1ljL

— Hananya Naftali (@HananyaNaftali) March 30, 2018
Friday Sermon at Gaza "Return March": Our Blessed Land Is Being Trampled by the Accursed Descendants of Apes and Pigs pic.twitter.com/m5xiCQBpNP

— MEMRI (@MEMRIReports) April 1, 2018
Gaza Tribal Dignitary on Hamas TV: We Shall Liberate Our Land with Martyrs, Women and Children, Take Down the Border with the Fingernails of Our Children pic.twitter.com/r9AlJ4TpVH

— MEMRI (@MEMRIReports) April 1, 2018
Civilians as a human shield
Hamas has realized it will never achieve a "right of return" for Palestinians, so it decided to challenge Israel on the right to gather along the fence.

This idea is nothing original. Over 50 years ago, Naj Aloush, a Palestinian intellectual and Fatah member, came up with this idea: One morning, he wrote, a million Palestinian refugees would gather on the borders of Israel and then march forward, "into the occupied land."

The calculation is simple. Israel has enough military might to repel any military threat to its borders and sovereignty. But it won't dare slaughter civilians en masse – women and children who are trying to "return to their homes in Haifa, Acre and Ashkelon." And if, heaven forbid, it did, it would be immediately condemned by the international community and accused of harming innocent civilians and of crimes against humanity.

The exact same reasoning guided the Hamas leadership in the meticulous planning that went into organizing the March of Return along the Gaza border fence. About 250 buses brought some 30,000 people to the border area. Some are relatives of Hamas operatives and public officials. Not everyone participated willingly. Some were forced.
Ben-Dror Yemini:
The blame lies with Hamas, not Israel
Hello neighbors. You've been living in distress for many years. We know. We're not ignoring it. Most of us even feel your pain, because we want neighbors who live in welfare, prosperity, and with a better future for themselves and their children.

A little over a decade ago Israel left the Gaza Strip, withdrawing from every last centimeter. It could've been a turning point. For the first time, some of the Palestinians faced the option of having full independence. For the first time in history, they could've realized all of their desires. It could've been a new beginning.

But in short time, Hamas took over the strip. Hundreds of Palestinians were killed during that violent takeover. The Hamas regime's first step was to cancel all agreements with Israel, primarily the agreement on the border crossings. It was not Israel that put a blockade on the strip; Hamas imposed the blockade by canceling all of the agreements. Despite that, from then and until this very day, hundreds of supply trucks pass through the border crossings from Israel into the strip.

Most Israelis have no interest in Gaza's collapse or in a humanitarian crisis there. And despite that, you're marching towards crisis. Not because of Israel; because of the Hamas regime.

Hamas knows how to invest—but only in the death industry. More tunnels. More rockets. Had Hamas invested everything it spent on tunnels in building neighborhoods, schools and hospitals instead, the situation in the strip would've been much better. Hamas wouldn't be dragging you and us to more and more conflicts.
NGO Monitor:
Human Rights NGOs Completely Ignore Violence and Terror at Gaza Border
Following the "March of Return" protests that took place along Gaza's border with Israel on March 30, 2018, numerous human rights non-governmental organizations (NGOs) took to social media to condemn Israel – neglecting the context and role that terrorist organizations like Hamas, Islamic Jihad, and the Popular Front for the Liberation of Palestine (PFLP) played in organizing the event.

The same international, Israeli, and Palestinian NGOs completely disregard human rights violations committed by these Palestinian terror groups, including ignoring Palestinian violence used along the border; Israel's security threat of protecting its civilians that live in very close proximity to the Gaza border; and the use of civilians (including women and children) as human shields. These NGOs likewise fail to question why children were present at a violent protest in the first place, disregarding visible instances of Hamas recruitment and use of children (as noted in the numerous images of Palestinian minors hurling rocks and approaching the border). It further does not appear that human rights NGOs reported on Hamas' "recruitment and use" of a 7-year-old girl who was sent across the border.

According to the IDF, of the 16 Palestinians killed in Friday's clashes, 10 were known members of Hamas. NGO claims condemning Israel for killing innocent civilians also overlook this fact.

The following showcases a selection of extreme bias in reporting on Friday's events by human rights NGOs:
Hamas warns new protests will go further, surprise Israel
Defiant Hamas leaders warned Sunday that Palestinians would continue their protests along the Gaza fence, vowing to go beyond the barrier next time and promising fresh surprises for Israel.

"The Palestinians will not give up the 'right of return'," former Hamas leader Khaled Mashaal said during a visit to Turkey. "We will not recognize the legitimacy of the occupation and we will not surrender in the face of the siege [on the Gaza Strip]."

Mashaal noted that Israel had prevented weapons from reaching the West Bank, only to get car-ramming and stabbing attacks. "Our people are capable of defending themselves," he said. "In the past, the enemy was used to rockets being launched from the Gaza Strip. But this time Gaza surprised [Israel] with something new, and there's more in stock."

The Palestinians, Mashaal added, will also continue their struggle against US President Donald Trump's yet-to-be-announced plan for peace in the Middle East.

"The Zionist enemy thought that the Gaza Strip was easy prey," Mashaal said in a speech before more than 1,000 Turkish delegates attending a conference in Istanbul. "They [Israel] believed that the people of the Gaza Strip are like metal that can't be broken. They also discovered that they will not be able to defeat the resistance. Our grandfathers, fathers, and sons fought there and were martyred there."
Hamas says disappointed by low turnout for Gaza border protest
Senior Hamas members are reportedly disappointed with the comparatively low number of 30,000 protesters who participated in this weekend's protests in Gaza, the first of a series of events expected to culminate in the "March of Return" on Nakba Day on May 15. Hamas reportedly expected some 100,000 demonstrators to turn out for Friday's event.

Nakba Day commemorates the displacement of Palestinian refugees during Israel's War of Independence, known in Arabic as the "Nakba" ("catastrophe").

Gaza's rulers were also said to be disappointed by the fact that a day after Friday's march, only a few hundred protesters remained from the tens of thousands who had gathered at six predetermined meeting points along the Gaza border from Rafah, in the southern Gaza Strip to Jabaliya in the north.

Gaza's Health Ministry reported that 17 people were killed and another 1,400 wounded in Friday's border clashes.

However, Hamas is taking encouragement from the fact that Friday's march, which was intended to serve as a dress rehearsal for the Nakba Day march, was a relative success.

"There is some disappointment at the low turnout … we expected at least three times as many participants," a Hamas official told Israel Hayom.

The official said that Hamas was optimistic about the upcoming protests.
🔊Some questions are too difficult for the Palestinians to answer. Listen to their Education Minister being questioned about #Hamas putting #Gaza's children in peril. 👇@IDFSpokesperson @IsraelMFA pic.twitter.com/azLqpVF0eJ

— Mark Regev (@MarkRegev) March 31, 2018
Meretz call to investigate IDF action sparks outrage
Politicians expressed their support for the IDF on Saturday, after the international community and far Left called for an investigation of the army's response to events on the Gaza border fence.

Defense Minister Avigdor Liberman said, "I don't understand the chorus of hypocrites calling for a commission of inquiry. They're confused and think that Hamas organized the Woodstock Festival yesterday, and we need to give them flowers."

"IDF soldiers pushed back the military arm of Hamas determinedly and professionally, exactly as we expected from them," Liberman tweeted. "I totally back them. Thanks to them, we celebrated the night of the Seder safely."

Knesset Speaker Yuli Edelstein also thanked IDF soldiers for allowing Israelis to celebrate Passover.

"The call by the UN Security Council and left-wing organizations for a commission of inquiry following the provocations on the fence on the eve of the holiday is no less than a prize for terrorism and Hamas," Edelstein wrote on Twitter. "IDF, we love you!"

Yesh Atid chairman Yair Lapid said he's "proud of IDF soldiers and commanders for their determination and professionalism. We all celebrated the Seder with our families peacefully. I suggest that Hamas don't try us. The residents of Gaza need to protest against [Hamas leader] Ismail Haniyeh and [Palestinian Authority President Mahmoud] Abbas who are to blame for their difficult situation."

Zionist Union chairman Avi Gabbay said he "supports and backs the commanders and soldiers of the IDF [who] act to defend the state's border. The sovereign State of Israel will defend its borders from every threat. No one is allowed to cross the border unauthorized, certainly not with weapons, Molotov cocktails, tires and rocks."
Arab MKs back Gaza protesters; opposition split on IDF response
Israeli Arab lawmakers on Saturday voiced support for the Palestinian protesters on the Gaza border and joined left-wing calls for an investigation into the Israeli military response to the clashes, as the leaders of other center-left opposition parties squarely backed the Israel Defense Forces.

The political opposition was split on the use of force against the Gazan protesters, with Avi Gabbay's Zionist Union and Yair Lapid's Yesh Atid backing the military on Saturday. Gabbay said he had "no doubt our soldiers did everything to reduce the number of casualties" and Lapid maintained he was "proud" of the troops.

Those responses were in stark contrast to comments by the Joint (Arab) List and Meretz parties that forcefully condemned the use of live fire.

"The fire against the protesters again proves that Israel chooses a path of force and deliberate violence," said the Joint (Arab) List in a statement. "All nations that have been under occupation fought against their occupiers, and the Palestinian nation is like any other nation."
Senior minister slams 'antisemitic' Haaretz over 'Israel Massacre Forces'
Strategic Affairs Minister Gilad Erdan (Likud) wrote a scathing letter to Haaretz publisher Amos Shocken Sunday, expressing outrage at a headline in the newspaper calling the IDF "The Israel Massacre Forces."

In Haaretz editorial board member Gideon Levy's column, he wrote that "the shooting on the Gaza border shows once again that the killing of Palestinians is accepted in Israel more lightly than the killing of mosquitoes" and "there's nothing cheaper in Israel than Palestinian blood."

Levy complained that Palestinians who returned fire at Israeli soldiers were termed "terrorists" by the IDF Spokesman's Unit. Levy accused Israelis of being brainwashed and "enthusing the mass murder of Egyptian babies" at their Passover Seders, referring to the 10th plague.

Erdan, whose ministry fights efforts to boycott, divest from and sanction Israel, accused Levy of adopting the narrative of Hamas and compared the column to the antisemitic blood libels of Jews during Passover. He said Shocken's father and grandfather, from whom he inherited the paper, would be ashamed to find out that an antisemitic headline was printed and circulated in English to the world.

"Are you not ashamed of [the headline], Mr. Shocken?" Erdan asked. "You know very well that if the Hamas terrorists tried to harm the Egyptian side of the border (or any other country) many more Hamas people would have been killed by massive undirected firing and not by accurate snipers."
Egyptian, Jordanian Foreign Ministers Denounce Israel Over Gaza Riots
The Egyptian and Jordanian foreign ministers denounced Israel's security measures against the ongoing Palestinian riots on the Gaza border.

Some 30,000 Palestinians have set up a tent city near the border as part of the "March of Return." There have been a series of attempts at breaching the security fence and several terrorist incidents. Israel has mostly responded with non-lethal means such as tear gas. However, live fire has been used. Sixteen Palestinians have been killed in the violence, with 10 of them being identified as known terrorist operatives.

According to Hebrew site Mako, at a joint press conference, Egyptian Foreign Minister Sameh Shoukry and his Jordanian counterpart Ayman Safadi issued a harsh criticism of Israel's measures to contain the riots.

Safadi stated, "We condemn the Israeli aggression against innocent people who have gone out to stand up for their rights and resist the occupation by peaceful means. Peace and security are common values of the entire Arab world, but they can not be achieved through the killing and oppression of the occupation. The path to peace is clear – advance the peace process and achieve a Palestinian state."

"How can we talk about human rights while the rights of the Palestinians are violated in such a way?" Shoukry stated. "The international community must work for peace."
Bernie Sanders calls the killing of Palestinian demonstrators 'tragic'
Independent Vermont Senator Bernie Sanders criticized Israel's use of force on the border with Gaza in a tweet, saying that the killing was "tragic."

"The killing of Palestinian demonstrators by Israeli forces in Gaza is tragic. It is the right of all people to protest for a better future without a violent response," Sanders, tweeted on Saturday. The tweet garnered 26,000 likes.

Sanders was a candidate for the Democratic presidential nomination in 2016 and the first Jewish presidential candidate to win nominating contests in a major party

He also tweeted: "Meanwhile, the situation in Gaza remains a humanitarian disaster. The US must play a more positive role in ending the Gaza blockade and helping Palestinians and Israelis build a future that works for all."
Pope, after Gaza violence, says 'defenseless' being killed in Holy Land
Pope Francis, in his Easter address on Sunday, called for peace in the Holy Land two days after at least 15 Palestinians were killed on the Israeli-Gaza border, saying the conflict there "does not spare the defenseless."

The pope made his appeal in his "Urbi et Orbi" (to the city and the world) message from the central balcony of St. Peter's Basilica to tens of thousands of people in the flower-bedecked square below where he earlier celebrated a Mass.

He also appealed for an end to the "carnage" in Syria, calling for humanitarian aid to be allowed to enter, and for peace in South Sudan and the Democratic Republic of Congo.

Francis appeared to refer directly to the Gaza violence last Friday, calling for "reconciliation for the Holy Land, also experiencing in these days the wounds of ongoing conflict that do not spare the defenseless."

Israel's defense minister has rejected calls for an inquiry into the killings by the military during a Palestinian demonstration that turned violent at the Gaza-Israel border.

UN Secretary-General Antonio Guterres, Federica Mogherini, the European Union's foreign policy chief, and other leaders have called for an independent investigation into the bloodshed.

The Pope also begged for peace for "the entire world, beginning with the beloved and long-suffering land of Syria, whose people are worn down by an apparently endless war."
MEMRI:
Kuwaiti Columnist: 'Great Return March,' Organized By 'Terroristic' Hamas, Is Provocative And Violates The Islamic Shari'a
In a March 31, 2018 article in the Kuwaiti government daily Al-Watan, columnist 'Abdallah Al-Hadlaq harshly criticized the Hamas-led "Great Return March" initiative, stating that protests of this sort lead to chaos and are not accepted in Islam. Calling Hamas "terrorist" and "allied with Iran," he accused it of using women and children as human shields and described the marches as "provocative." He warned that the protests are likely to get out of hand and provoke violence by the Israeli Defense Forces, and that, like previous Palestinian protests, they will generate no international sympathy for the Palestinian cause. He also called U.S. President Trump's decision to recognize Jerusalem as Israel's capital and move the U.S. embassy there "courageous and correct."

This is not the first time Al-Hadlaq has castigated Hamas and Iran and praised Israel. In the past he was included on a "blacklist" of Arab writers who support Israel and oppose Hizbullah, Hamas and Iran.[1]

It should be noted that his March 31 article has been removed from Al-Watan's website. The following are translated excerpts from it: [2]

The article as it appeared on the Al-Watan website
"Demonstrations and sit-ins are un-Islamic and are unknown in Muslim history. These are non-Muslim methods that Islam does not accept. Violent demonstrations and sit-ins are negative phenomena that lead to chaos. All this [is based on] religious rulings by qualified fatwa-issuing bodies, and they apply to the calls issued by the terrorist Hamas movement, Iran's ally, to participate in a violent demonstration titled 'the Great Return March' and its call for women and children to lead the terrorists and inciters in breaching the Israeli border fence...
Media Using Hamas-Provided Casualty Numbers for Gaza Riots Reporting
The international news media is widely citing data released by Hamas-run health agencies in the Gaza Strip when reporting on the numbers of injuries at violent protests along the Israel-Gaza border.

The Hamas terrorist organization has a history of distorting casualty counts. The Hamas-run Gaza Health Ministry claims that some 1,400 Palestinians were injured during protests Friday and Saturday, further claiming that over half of those numbers were wounded by live rounds fired by the Israel Defense Forces.

The Hamas numbers have been cited in headlines and news media coverage by major media organizations worldwide.

Israel says it has no way to independently verify the Hamas numbers. IDF Spokesman Brig. Gen. Ronen Manelis accused Hamas of exaggerating the casualty count and stressed that IDF information indicates only several dozen at most were wounded by live fire. Manelis explained that the remaining injuries were likely caused by tear gas and other riot dispersal methods.

Of the 16 Palestinians reportedly killed, the IDF says that 10 were members of Palestinian terrorist groups, publishing their names and jihadist positions.
Guardian and Independent parrot Hamas talking points on "Great Return March".
Hamas's staged, six-week long provocation on Israel's border titled the "Great Return March" which began on March 30th took months of planning and siphoned off an estimated $10 million from government coffers, funds that of course could have been spent on infrastructure and other projects to relieve the suffering of the enclave's population.

But, actually, if you look at it another way, $10 million is a bargain if you factor in how much more the government would have had to cough up for public relations if they weren't confident that the Western media would parrot the terrorist group's talking points.

The fact that 10 out of the 16 Palestinians killed since Friday have been verified by the IDF as members of terrorist groups, or that the border protests have included the throwing of Molotov cocktails, the planting of IEDs and – in at least two cases – shots fired at Israeli forces hasn't hampered the desired media narrative: a 'disproportionate' Israeli response to 'peaceful' Palestinian protesters.

Here are just a few examples that we tweeted today in response to articles published at the Guardian and Independent.

"773" Palestinians shot with live ammo: Hazem Balousha and Oliver Holmes at The Guardian
BBC News claims Gaza stone throwers engaged in 'peaceful demonstrations'
After having ignored weeks of preparation for the media-orientated publicity stunt dubbed the 'Great Return March' organised by Hamas and other terror factions in the Gaza Strip, early on the morning of March 30th the BBC News website published a report originally titled "Shelling 'kills Palestinian' in Gaza" on its main homepage, its 'World' page and its Middle East page.

The second version of that report described the headlined incident – which took place before dawn – as follows:

"A Palestinian farmer has been killed and a second person wounded by Israeli artillery fire, Palestinian health officials and residents say. […]

Witnesses say the dead and injured men were hit by tank shells while collecting parsley in a field, BBC Gaza producer Rushdi Abualouf reports."

The claim that the man had been "collecting parsley" was seen in a further fifteen versions of the report. In version three the BBC added the statement "The Israeli military said a tank had fired at two suspects after suspicious activity near a security fence" but failed to clarify that the location was actually the border fence between the Gaza Strip and Israel.

Several earlier versions of the report included comment from the BBC World Service Middle East editor Sebastian Usher who, while clarifying that Hamas is among the organisers of the publicity stunt, failed to adequately explain its aims and background to readers.
A BBC journalist asks 'what's wrong with Hamas?'
On March 28th the UK Labour Party leader Jeremy Corbyn posted a link on his Facebook account to an interview he had given earlier to the Jewish News.

Among the hundreds of comments below that post was one from a 'broadcast journalist' at the BBC called Becky Branford.



As regular readers know, BBC editorial guidelines on "Social Networking and Other Third Party Websites (including Blogs, Microblogs and Personal Webspace): Personal Use" state:
Daily Mail:
British taxpayers gave $36m to Palestinian schools which teach children that martyrdom and jihad are 'the most important meanings in life'
A government minister has admitted that more than £20 million of British aid money is being spent on schools in Palestine that teach children about jihad and martyrdom.

A report by the Institute for Monitoring Peace and Cultural Tolerance in School Education reveals that the Palestinian Authority school curriculum 'utilizes a variety of tools to convince children—mostly boys—to risk their lives and die as martyrs'.

Alistair Burt, the aid minister, admitted in parliamentary answers that British taxpayers are funding the salaries of 33,000 teachers who follow the curriculum that also promotes violence against Israel.

The report also revealed that the word Israel 'typically appears as the Zionist Occupation' throughout the curriculum which has been accused of exerting pressure on young Palestinians to be martyrs.

It goes on to highlight some of the lessons that are being funded by British aid.

A science textbook Newton's second law of physics by using an image of a boy with a slingshot targeting soldiers, to explain power, mass, and tensile strength.
Why my generation is indifferent to anti-Semitism
It took a protest of Jews in Westminster for Jeremy Corbyn to own up to the Labour party's problem with anti-Semitism. It 'has caused pain and hurt to Jewish members of our party and to the wider Jewish community in Britain,' he said — an admission that has been a very long time coming. But among Corbyn's cultish young followers, the apology was met with a shrug. 'Problem? What problem?'

This I know, because I'm (roughly) a Labour supporter and have lots of Corbyn–supporting friends. And for Corbynites of my age (early twenties), the whole issue remains just another attempt to delegitimise Corbyn's bid to become prime minister. That's why Twitter accounts were awash with the hashtag #PredictTheNextCorbynSmear, which mocked all accusations of anti–Semitism. It demonstrates the Corbyn faithful's remarkable capacity for indifference.

Why is it that young left-wingers find it so hard to care about anti-Semitism? Why is that huge group of self-proclaimed anti-racists and anti-fascists so unwilling to expel anti-Semites from the party? They've all studied the second world war at school; they know how much Jews suffered and how dangerous discrimination is. Surely they must have a problem with that blatantly anti-Semitic mural that Corbyn himself had endorsed?

The answer is: not really. I constantly hear the same excuse from people my age when they find out that I have Jewish parentage. 'Oh, I have no problem with Jews whatsoever,' they assure me. 'Just Zionism.' But you have the feeling that for quite a few people, it's a distinction without much of a difference. They find Israel, as a country, guilty of all kinds of crimes, and regard Jews, anywhere, as Zionist sympathisers. Within the far left, the de facto position is one of hostility and distrust, not just towards Zionists but towards Jewish communities wherever they are. This attitude infects the whole party, even my friends.
Netanyahu refuses to say if he'd meet with Jeremy Corbyn
Four days after Jeremy Corbyn, the leader of the British Labour Party, said he would readily meet with Benjamin Netanyahu, the Israeli leader's aides are unwilling to say whether he'd agree to such a meeting.

Last Wednesday, Corbyn told the UK's Jewish News in an interview that he intends to visit Israel and meet Netanyahu "at some point," though he added that he currently had no such plans.

Asked if he'd be happy to meet Netanyahu, the embattled Labour leader replied: "Well, I will be visiting the State of Israel so yes, of course."

Asked Thursday by The Times of Israel whether Netanyahu would be equally happy to host Corbyn — a longtime critic of Israeli policies vis-a-vis the Palestinians who is also currently embroiled in a massive scandal for failing to tackle anti-Semitism in his party — the Prime Minister's Office did not respond for several days.

Netanyahu's spokesperson for the English media, David Keyes, finally said on Sunday that "questions about diplomatic meeting with foreign political leaders should be asked of the Foreign Ministry, as that is [their] prime objective."
Amid anti-Semitism row, Jeremy Corbyn's Facebook account deleted
The personal social media account of Labour UK leader Jeremy Corbyn was deactivated, following criticism of Corbyn's defense of anti-Semitic caricatures, and revelations that Corbyn's account was a member of social media groups used to spread anti-Semitic propaganda.

British media outlets reported Sunday afternoon that the personal Facebook account of Labour Party chief Jeremy Corbyn had disappeared from the network on Sunday.

Critics have charged the left-wing lawmaker with permitting anti-Semitism to thrive in the UK's second largest party, while allying himself with fringe anti-Israel elements.

Last week, thousands of protesters took to the streets to condemn Corbyn over his failure to confront anti-Semitism within his own party.

Corbyn responded with a letter of his own in which he stressed to Jewish leaders has claimed that he is a "militant opponent" of anti-Semitism, yet has been criticized in the past for referring to the terrorist organizations Hamas and Hezbollah as his "friends" and for refusing to condemn the groups despite being urged to do so by local Jewish groups.

The Labour UK leader also took fire for his membership in a number of Facebook groups used to spread anti-Israel and anti-Jewish propaganda, as well as Holocaust denial.
12 top UK Labour officials in Facebook groups with anti-Semitic content – report
Twelve senior staff members working for UK Labour Party leader Jeremy Corbyn and shadow chancellor John Mcdonnell are members of Facebook groups containing anti-Semitic comments, The Sunday Times reported.

The paper said it had spent two months working with "whistleblowers" to obtain access to 20 restricted-access pro-Corbyn Facebook groups with a total of 400,000 members and had found more than 2,000 racist, anti-Semitic, misogynistic, violent and abusive messages.

It quoted a former independent reviewer of terror legislation, Lord Alex Carlile, as saying some of the comments appeared to breach hate crime laws.

In a massive and detailed expose likely to deal a further blow to the embattled Labour leader, the right-of center newspaper reported that Jewish Labour MP Luciana Berger and Board of Deputies head Jonathan Arkush were among those regularly targeted in abusive messages on Facebook groups supportive of Corbyn.

One post on a Facebook group called Jeremy Corbyn True Socialism said of Berger, "Get rid of this cancer," while another called her "a vile Zionist." On another page, called We Support Jeremy Corbyn, one person posted that Berger was making "false accusations" about anti-Semitism to create a crisis within the party, while another described Arkush as a"Zionist Jewish thug."
Jez and his twelve disciples of hate. "Twelve senior staff working for the Labour leader and the Shadow Chancellor, John McDonnell, are members of groups containing anti-Semitic and violent comments including praising Adolf Hitler and and threats to kill Theresa May." pic.twitter.com/HtNRD6jMdX

— Peter Thompson (@P_G_Thompson) March 31, 2018
Major Jewish donor pulls support for British Labour party
One of the British Labour Party's major donors left the party over its failure to deal with "the most blatant acts of anti-Semitism."

Sir David Garrard, who is Jewish, has donated about $2.1 million to Labour since 2003.

"As one of the former leading political and financial supporters of the Labour party, of which I was a member for so many decades, I no longer feel any affinity with, or connection to, what it seems to have become," Garrard told the British newspaper The Observer in remarks that were widely republished in other British news publications, including its parent publication The Guardian.

The announcement comes as the major British daily The Independent on Sunday reported that 12 senior staff working for Corbyn and for the shadow chancellor, John McDonnell, are members of Facebook groups containing anti-Semitic and violent comments, including praise for Adolf Hitler and threats to kill British Prime Minister Theresa May.

The report also found that 20 of the biggest pro-Corbyn Facebook groups contained "more than 2,000 racist, anti-Semitic, misogynistic, violent and abusive messages," and found routine attacks on Jewish people, including Holocaust denial. Many of the groups are restricted to members only.
CAA Head of Political and Government Investigations records hard-hitting video message to Labour MPs and members
Campaign Against Antisemitism's Head of Political and Government Investigations, Joseph Glasmam has a recorded a hard-hitting video message to Labour MPs and members.

On 8th April at 2pm, people will assemble from all over Britain to stand up for our Jewish community and send a clear message that our British values demand that there must be zero tolerance for racism in the Labour Party.

British prime minister speaks out against antisemitism in Passover message
British Prime Minister Theresa May addressed the issue of ongoing antisemitism in Britain, in a holiday message she delivered to the Jewish community by video at the beginning of Passover.

"Of course, the Exodus from Egypt did not mark the end of antisemitic persecution," May said in her message, after saying that the holiday is an opportunity for British citizens to celebrate "the incredible and enduring contribution made by our Jewish community, in every corner of the country and in every walk of life."

But, May said, "For millennia, the descendants of those Moses led to freedom have continued to face hatred, discrimination and violence. It's a situation that continues to this day, including, I'm sad to say, here in Britain."

"It's something I have consistently taken action to tackle, both through investing in security to protect our Jewish communities and through education, with the creation of a national Holocaust memorial to remind us all where hatred can lead if left unchecked," she continued.

The latest figures released by UK antisemitism watchdog the Community Security Trust found that the number of antisemitic hate incidents in the country reached a new high in 2017.
Jeremy Corbyn recounts the story of Passover (satire)
It is the time of year where we pause to commemorate the campaign of War Crimes and Dispossession against the Ancient Egyptian People that some refer to as "Passover." Now many years ago, a group of Rootless Cosmopolitans known as the "Israelites" decamped to the Nile Delta, a region that my friends in the Muslim Brotherhood say is quite lovely. At first the Egyptians showed the traditional generous hospitality that I can only hope to emulate when I have the precious opportunity to offer Raed Salah tea on the House of Commons Terrace.

Yet in a scenario that would not surprise any of the members of my secret Facebook group, this gang of "Israelites" acquired an unseemly amount of power and influence over their Host Nation. This disturbing turn of events rightly frightened Egypt's respected Pharaoh, a man I would consider a friend. Seeking to make Ancient Egypt "For the Many, Not the Jew Few", Pharaoh chose to engage the Israelites in a constructive dialogue which included a rigorous regimen of outdoor exercise and civic improvement, a scenario that gardening allotment enthusiasts like myself would find rather refreshing indeed.

Yet despite Pharaoh's very wise plan of action, the Israelites continued to prove a nuisance to a comprehensive Middle East peace. Therefore, Pharaoh attempted a different course of action concerning the male children of the Israelites that at first seems a bit brash, but was deemed moderate by my friends in Hamas. But once again to the surprise of nobody, the Israelites found clever loopholes to flout the legal edicts of Pharaoh's Government. And sadly but not surprisingly, the Israelites were able to manipulate members of Egyptian society, to include Pharaoh's well-meaning but naive daughter, who rescued the future Zionist War Criminal known as "Moses".
The End of the Era of Palestinian Deception
For a quarter of a century, the Palestinian Authority has cynically wrapped itself inside a fig leaf dubbed as the "Peace Process." The naked truth, however, is that it has been using every means available to incite for, incentivize and reward terrorism. With last Friday's passage of the Taylor Force Act, which aims to deduct payments to Palestinian prisoners and martyrs, fissures are finally emerging in its iron wall of deception.

The phrase "Peace Process" served as an ingenious linguistic sedative, lulling the international community into the dream of a peaceful PA. The harsh reality is that the objective of the PA has never been peace, but the gradual, staged elimination of the State of Israel. The PA has been consistently teaching their children that Jews and Israelis are odious, detestable creatures, and their final elimination would be of huge benefit to the Palestinian people, the Arab world and all of humanity.

The Palestinian National Covenant was adopted on May 28, 1963, in which most of the 33 articles invoke an "armed struggle" until "the Zionist entity is totally wiped out and Palestine is liberated."

Note that this happened four years before the 1967 Six-Day War, so it had nothing to do with the disputed territories that followed that war, and everything to do with the 1948 War of Independence and the sheer existence of Israel.
PMW:
Hanan Ashrawi: US Administration joins "fundamentalist Christians

Palestinian leaders have turned hate speech against the US and the Trump administration into PA policy. Some recent examples include PLO Executive Committee member Hanan Ashrawi calling Trump's appointment of John Bolton as US national security advisor a sign of the American administration's "racism" and a sign they've joined the "extremist Zionists" and "the fundamentalist Christians":
"With his [Bolton's] appointment, the matters have been clarified and the picture has been completed - the American administration has joined the extremist Zionists, the fundamentalist Christians, and the racist white people."
[Official PA daily Al-Hayat Al-Jadida, March 24, 2018]

A regular columnist in the official PA daily wrote about Trump's appointment of Bolton: "the ugly racist" - had appointed another racist:
"[US President Donald] Trump the ugly racist is looking for those similar to him who are most racist, who threaten America's fate even more than they threaten the world's fate. By choosing the despicable John Bolton as national security advisor, he is exacerbating America's crisis and is shooting himself in the foot."
[Official PA daily Al-Hayat Al-Jadida, excerpt of op-ed by Omar Hilmi Al-Ghoul, March 25, 2018]

Other examples of the ongoing hate speech from PA and Fatah leaders include Fatah Central Committee member Jamal Muhaisen's presenting the US and Israel as the Arabs' "only enemies" and a threat to world peace. He accused Trump of leading "a war against the Arab and Islamic nation":
Israeli bus driver lightly injured after rock thrown at windscreen in West Bank
An Israeli bus driver was lightly injured after rocks were thrown at his vehicle on Sunday, while driving in the West Bank.

Shortly afterwards, IDF soldiers arrested a Palestinian believed to be responsible for the incident in which the bus windshield was shattered, the army said.

The 31-year-old driver had injuries to his chest and cuts to his face from broken glass, the Magen David Adom rescue service said. He was taken to Hadassah Hospital Mount Scopus for treatment.

The incident occurred on Route 60, north of Ramallah.

A group of soldiers that had been positioned nearby quickly responded to the rock-throwing and arrested the suspect, according to the army.

He was brought in for questioning.
How One Israeli Chopper Pilot Defies Government's Double Standards on Sovereignty
Yedidya Meshulami, a resident of Itamar in Judea and Samaria, was arrested last Thursday on suspicion of flying helicopters without an aviation license and of operating helicopters without a license. Attorney Nati Rom, who represents the suspect, released a statement saying Israel Police had already closed seven similar investigations against his client without an indictment, because each time they are forced to concede that without the application of Israeli sovereignty in Judea and Samaria, Israeli laws, including aviation laws, do not apply in Judea and Samaria.

At the beginning of the week, Border Police officers noticed a helicopter parked at Atarot Airport near the Qalandiya crossing. The suspect was found next to the helicopter and was taken for questioning. In his interrogation it became clear that the suspect had landed at the airport illegally. The suspect is a former Air Force pilot, but he does not possess a flying license and his two helicopters are not properly registered and certified.

The two helicopters were confiscated by police and, at the end of his interrogation, Meshulami was brought to the Jerusalem Magistrate's Court for a remand extension and was released under restrictive conditions.

Attorney Rom said, "It is inconceivable that for the sake of its public relations Israel Police violates the law and leaks investigative materials – despite the fact that both the Magistrate's Court and the District Court have ruled that the matter would be heard in camera." As to the crux of the matter, he continued, "this is a case of the vengeance of Israel Police against my client."
Syrian Journalist Ahmad Kamel: Nobody - Not Even Israel or the U.S. - Is as Savage as the Russians, Hizbullah, and Iran pic.twitter.com/u3XdS5xETz

— MEMRI (@MEMRIReports) April 1, 2018
Anti-Israel Student Gov Candidate Gets Disavowed
Meet Brady Forrest, a really hip student senator who —tried to pass a resolution supporting Rasmea Odeh, a Palestinian terrorist who orchestrated a bombing that killed two Jerusalem college students. Brady's running for another office at George Washington University but is having a BIT of difficulty, according to The GW Hatchet.

George Washington University student Brady Forrest is running for his student council's executive vice president position and got the endorsement of the school newspaper on Monday. But just a day later, that endorsement was rescinded after the discovery of anti-Israel posts made by the student.

Forrest gives a trigger warning to this post where he says "I can't in good conscience attend the Multicultural Winter Formal given the involvement of [the] Jewish Student Association and GW Hillel. Both organizations are complicit and supportive of the state of Israel and programs and ideology that are exclusive and racist."

The GW Hatchet commented on the post, saying it "alienated an entire group of students on campus by conflating all people of a religion, political view and nationality as being 'racist.'"

And just like most leftists, it's not enough for Brady to acknowledge a different political opinion and get on with his life. Nooo the personal is political and the student senator must demonize people with whom he disagrees.
Anti-Israel Student Gov Candidate Gets Disavowed
Over 90 Alumni, Faculty Urge Oberlin College to End 'Concerted Hostility Toward Israel' on Campus
More than 90 alumni of Oberlin College in Ohio called on their alma mater on Wednesday to end "the concerted hostility toward Israel" on campus, saying it fosters a hostile environment for Jewish students.

In an open letter sent to Oberlin President Carmen Twillie Ambar, signatories organized by the group Oberlin Alums for Campus Fairness — which opposes the boycott, divestment, and sanctions (BDS) campaign against Israelis — claimed that "there were eight times as many events portraying Israel negatively as there were portraying Israel positively" at the school during the fall 2017 semester.

"The stream of negative messages about Israel creates the distorted impression that Israel is a unique evil in the world," warned the alumni, who were joined by six former and current Oberlin faculty members.

While upholding the right of speakers such as BDS activist Ali Abunimah to appear at the private liberal arts college, "we do object to professors endorsing his position by offering extra credit to students who attend," they continued. "We also believe that without offering students the opportunity to hear counter-narratives and robust debate and dialogue, Oberlin College is engaging in political indoctrination rather than offering rigorous education."

The group said its "greatest concern is that incessant negative portrayal of Israel perpetuates a campus environment that, despite offering Jewish cultural and religious opportunities unrelated to Israel, is unwelcoming for many Jewish students and triggers blatant attacks of antisemitism."
Office of Paris Jewish student group vandalized
Someone broke into the office of a Jewish student group at a university in Paris, vandalizing with anti-Israel and anti-Semitic graffiti and strewing its papers across the room.

The attack on the office of the French Jewish Students Union at the University of Paris came on Wednesday, hours before some 10,000 people participated in a memorial march in Paris for an 85-year-old Holocaust survivor who was burned and found dead with 11 stab wounds in what police are calling an anti-Semitic murder.

Among the graffiti written on the walls of the office was "Zionist racist anti-goy office," and "Palestine will prevail," as well as "Death to Israel," and "Viva Arafat," referring to the late arch-terrorist Yasser Arafat.

A far-left student group reportedly was protesting on the campus at the time of the vandalism, according to the French daily Le Monde. The group's protest was not about Israel.
French high court upholds Le Pen Holocaust denial conviction
A French court upheld the Holocaust denial conviction of the far-left activist Jean-Marie Le Pen while another tribunal acquitted the hate incitement charges against another racist.

The Paris-based Court of Cassation's ruling Tuesday against Le Pen, founder of the far-right National Front party and the owner of multiple convictions for incitement to racist hatred against Jews was over his 2015 statement that the Holocaust was "a detail" of World War II. Downplaying or denying genocides is illegal in France. Le Pen must pay more than $30,000 in fines for the remark, Le Monde reported.

Separately, the Paris Correctional Tribunal last week acquitted Alain Soral, who also has multiple convictions for hate speech against Jews and Holocaust denial, of an indictment for his posting of a caricature suggesting that President Emmanuel Macron is being controlled by Jews.

The drawing shared online by Soral, a co-founder of the Anti-Zionist Party along with the anti-Semitic comedian Dieudonne M'bala M'bala, depicts Macron wearing a Nazi-like armband with a dollar sign and three well-known European Jews – the French economist Jacques Attali, entrepreneur Patrick Drahi and the British banking magnate Jacob Rothschild — in the background towering over the earth while flanked by an Israeli and American flag.
Israeli museum's Jewish humor exhibit so funny you could plotz
A new exhibit at the Beit Hatfutsot Museum of the Jewish People in Tel Aviv explores Jewish humor throughout history and across the world.

The "Let There Be Laughter - Jewish Humor Around the World" exhibit, which launched over the weekend, includes film clips, stand-up performances, collectors' items, posters, photographs and more.

According to the museum's website, the exhibit "celebrates the diversity and vitality of Jewish humor and explores how elements of Jewish joking have remained constant regardless of time, place, and language."

Comical figures presented at the exhibit include the Wise Men of Chelm, a real Polish town, which according to Jewish folklore was inhabited by fools, the Marx Brothers, Woody Allen, Jerry Seinfeld and iconic Israeli comedian Shaike Ophir.

The center of the exhibit is designed to look like a New York City comedy club. On the model stage, an original film is screened, showing leading Israeli comedians such as Adi Ashkenazi, Orna Banai and Eli Yatzpan sharing some of their funny childhood experiences.
---
---
We have lots of ideas, but we need more resources to be even more effective. Please
donate today
to help get the message out and to help defend Israel.