From Ian:
Report: Obama offered Syria an Israeli withdrawal from Golan Heights
Just a few months before the Syrian civil war erupted in March of 2011, the Barack Obama administration offered the Assad regime an Israeli withdrawal from the Golan Heights in return for severing ties with Iran and Hezbollah, the London-based Arabic newspaper Asharq Al-Awsat reported on Sunday.

According to the report, which was relayed to the newspaper by senior American and Syrian officials who were involved in the negotiations at the time, the talks reached an advanced stage and the sides had even prepared a document for signing.

The talks involved then-American envoy Frederic Hof, the paper said, along with ex-Secretary of State Hillary Clinton.

As stated, the proposals in the draft agreement included Damascus' abandoning of "military relations" with Tehran and Hezbollah in exchange for the Israeli withdrawal from the Golan towards the June 4 border.

Asharq Al-Awsat is a Saudi-owned newspaper and often reflects the official government position. It's possible the timing of the report is not coincidental and was intended to pressure Washington on the Iranian nuclear program.

The report was not confirmed by any official source in the US or Syria, but does somewhat coincide with claims made by another former US secretary of state, John Kerry, in his book "Every Day Is Extra."

The final meeting between Syrian President Bashar Assad and Hof took place on February 28, 2011, the report said, at the height of the Arab Spring uprising that had already toppled regimes in Libya and Egypt and had just begun spreading to Damascus.
Amb. Dore Gold:
Insufficient Diplomatic Strength to Stop Iran
A new Iranian law mandated by the parliament has cut back the monitoring of the Iranian nuclear program. There would be no more "snap inspections" by the West on Iranian facilities.

With Supreme Leader Ayatollah Ali Khamenei declaring that Iran's uranium enrichment levels would no longer be limited to 20%, and adding, "We may even increase enrichment to 60%," Tehran is now on a path to get closer to an atomic bomb than ever before.

When the West created an arrangement with Saddam Hussein at the end of the First Gulf War that sought to address his weapons of mass destruction, they included all ballistic missiles above a range of 150 km. But the JCPOA did not touch Iran's missile capabilities. There is no indication that this is now going to be remedied.

The JCPOA was built around the assumption that Iranian behavior would become more moderate as a consequence of the easing of economic sanctions. But the relaxing of sanctions on Iran did not moderate its regional behavior. The Tony Blair Institute for Global Change reported in February 2021: "The number of militias created by the IRGC surged."

Iranian expansionism spread in this period to areas which are not thought to be within its sphere of influence. Its support for the Houthi guerrillas in Yemen gave it a strategic presence along the Bab al-Mandeb Strait that connected the Red Sea and the Indian Ocean. Iran began working with the Polisario in the Western Sahara, basing themselves in Algeria. Iran was operating far away from the Persian Gulf.

What was needed was a robust response by the West to these Iranian actions. In the past month alone, Iranian proxies rocketed an American facility in Iraqi Kurdistan, as well as a civilian airport in Saudi Arabia. True, the U.S. hit back at an Iraqi militia stationed just over the border in Syria. But without a consistent American policy of striking back, the Iranians will not internalize the U.S. message. There was no indication that the U.S. and Europe understand what they are facing.
The UN Should Protect Human Rights, Not Human Rights Abusers
Secretary of State Antony Blinken announced on Wednesday that the United States will seek membership at the United Nations Human Rights Council (UNHRC) in January 2022 as part of the Biden administration's commitment to "putting human rights at the center of U.S. foreign policy."

To be sure, the United States is at its best when it strives to model human rights at home and stand up for those principles abroad. And when Washington leads and assembles like-minded countries to advance international human rights together, we are more likely to succeed.

Accordingly, it would seem to be an easy decision for the United States to join the UNHRC. But that is not necessarily the case. To understand why, it is worth considering what the UNHRC has become.

The UNHRC certainly includes countries and individuals of good faith who are dedicated, sincere advocates for human rights. Unfortunately, they have allowed it to be increasingly coopted by countries that do not share a genuine commitment to human rights.

To escape unwanted attention or consequences for their illicit activities, criminal syndicates may attempt to control the local police department. That is not unlike what happens today at the UNHRC. The world's worst human rights abusers, such as China, have sought membership on the UNHRC to shield and enable their own egregious human rights abuses, seeking to shift attention elsewhere.

Take a moment to let that sink in. China has detained upwards of a million Uighur Muslims in what Blinken himself has described as a "genocide." China has violently suppressed pro-democracy protests in Hong Kong and continues to occupy Tibet. Yet China sits on the United Nations Human Rights Council.

If the Biden administration is successful in gaining membership at the UNHRC in 2022, China is not the only authoritarian human rights abuser the U.S. delegation will find around the UNHRC table.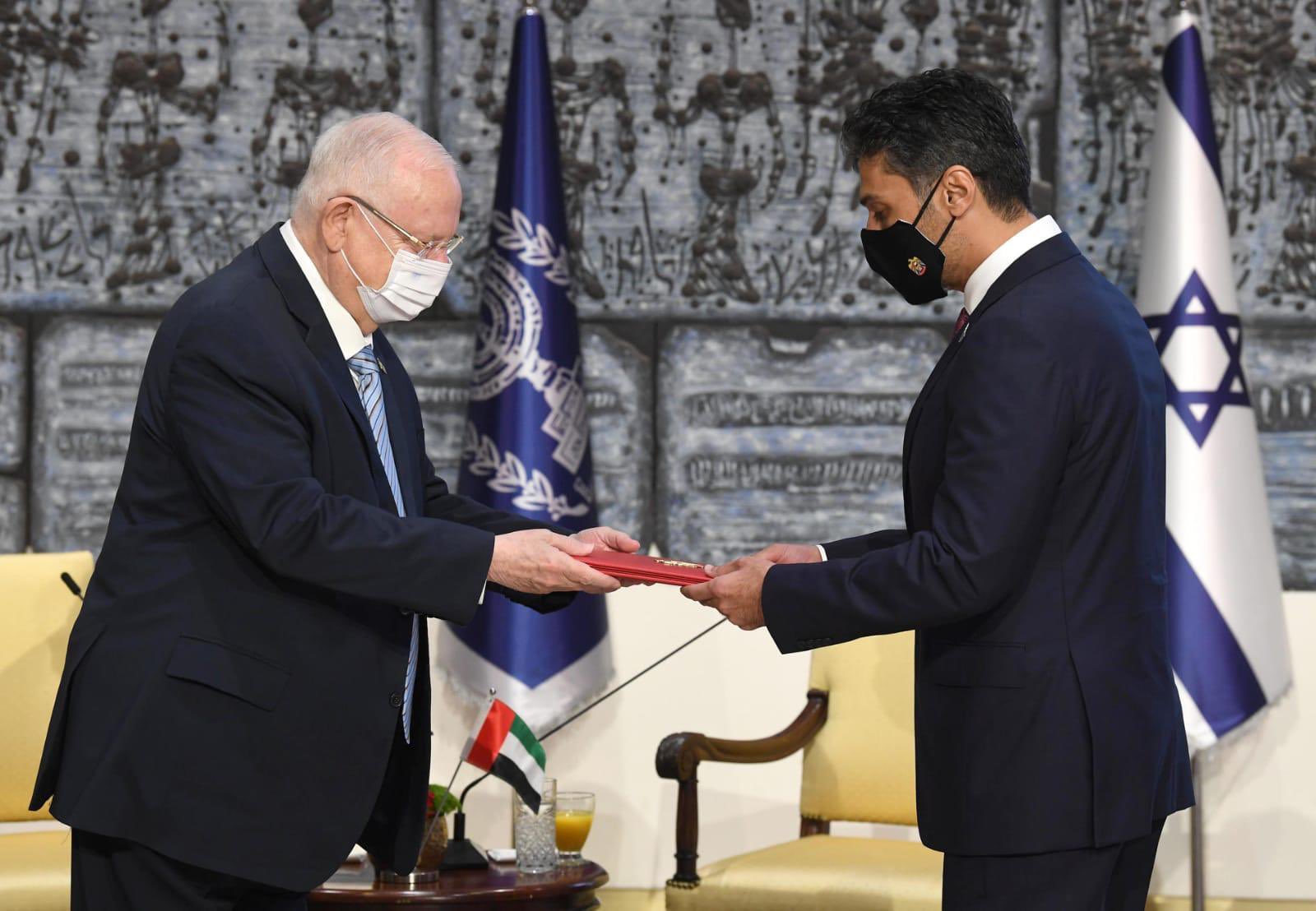 Israel in talks with Saudi, UAE, Bahrain for defense alliance against Iran
Israel, Saudi Arabia, the United Arab Emirates and Bahrain discussed expanding cooperation in facing its common enemies, an Israeli official with knowledge of the matter said on Monday.

The matter is being "informally discussed," the source said, pointing out that the countries are American allies. All four view a nuclear Iran as a major threat, and have been eyeing the Biden administration's plan to rejoin the 2015 nuclear deal with concern.

"There is much to be gained by expanding cooperation," the source said.

The remarks came following an article by World Jewish Congress President Ron Lauder in Arab News calling for a "NATO of the Middle East." Saudi Arabia does not have a free press, and Arab News is owned by Prince Turki bin Salman Al Saud, a son of King Salman and brother of Crown Prince Mohammad bin Salman, and is seen as reflecting the Saudi government's official views.

Lauder wrote that his contacts in Arab states viewed Israel as the only reliable ally against Iran, and vice-versa. He said they are "contemplating, aghast, the West's inability to halt these belligerent, dangerous developments" of Iran resuming uranium enrichment and limiting International Atomic Energy Agency inspectors' access to nuclear sites.
When an Emirati and an Israeli diplomat meet
Six months ago, an Emirati and Israeli diplomat were unlikely to be seen together, much less co-author a newspaper article. Opening up direct relations and embassies seemed even more farfetched. But here we are now, an Emirati ambassador in Israel and an Israeli head of mission in the UAE in public, together, writing in one voice.

Conflict can last for generations, but peace can happen in an instant. With that diplomatic flash last summer, our nations and our people are now in a rush to make up for lost time. The speed of normalisation has been nothing less than breathtaking, even amid a worldwide pandemic and the regular challenges of sharing the world's most troubled neighbourhood.

We are diplomats, representatives of our nations and agents of warming ties between the UAE and Israel. We believe in the power of our profession, that building trust through open and direct ties, combined with bold political leadership, can produce regional transformations.

Over these recent weeks, we now meet and talk often. Our conversations focus on growing economic ties, trade and tourism, health and educational exchanges and deepening people-to-people contacts. We facilitate and update each other on the near-daily announcements of new agreements between our universities, research institutes, start-ups and medical centres. Just last week, we recognised the joint partnership between the Mohamed Bin Zayed University of Artificial Intelligence and the Weizmann Institute of Science. We celebrated together the UAE space probe's successful arrival at Mars and wondered about future Israeli-Emirati space co-operation and missions.

We write this article together, proud that the UAE and Israel are leading the world in vaccinating our populations against Covid-19. With open and direct ties, our medical professionals are sharing data, learning from one another and charting new areas for research and for collaboration on vaccine distribution around the region and world.
'A shared mission': Israel officially receives first-ever UAE ambassador
President Reuven Rivlin on Monday formally received the first-ever ambassador to Israel from the United Arab Emirates, following last year's historic agreement between the countries to normalize ties.

UAE envoy Mohamed Mahmoud Al Khajah, who arrived in Israel earlier Monday, delivered his credentials to Rivlin at a ceremony in Jerusalem where he was greeted with a musical reception and a red carpet.

Rivlin welcomed Al Khajah in Arabic before continuing his remarks in Hebrew.

"This is a moving ceremony for me, as president of Israel," Rivlin said, adding that it was personally emotional for him in light of his late father's love of Arabic and translation of the Quran into Hebrew.

Ties between Israel and the Emirates had developed quietly over a long time, said Rivlin. "We believed that if we waited patiently, the right time would come in which we would be able to take our ties a step forward. To deepen the friendship between us. To make it public."

The UAE was the first country to agree to establish full diplomatic relations with the Jewish state under the Abraham Accords, a pact brokered by former US president Donald Trump.

Bahrain, Morocco and Sudan have subsequently joined the Abraham Accords.
Historic !
.
My country's 🇦🇪 national anthem played today in #Jerusalem, Israel 🇮🇱
Thank you Israel for respecting my UAE 🇦🇪 pic.twitter.com/LkBHMEWCNk

— حسن سجواني 🇦🇪 Hassan Sajwani (@HSajwanization) March 1, 2021
Israel, Bahrain Sign Historic Postal Agreement
Following the announcement in January that the Emirates Post Group would add Israel to its operations network, the Israel Post will now begin to send and receive packages from Bahrain.

Beginning Monday, Israelis will be able to send and receive packages and letters to the Gulf state via postal, registered and express mail.

In December, while an Israeli delegation was in Bahrain, the two countries signed a memorandum of understanding in the field of communication. Israeli Communications Ministry Director-General Liran Avisar Ben-Horin, who signed the agreement, said, "The relationship being forged between Israel and Arab states, and the connection between the Israel Post and the postal authorities in Bahrain and the United Arab Emirates will allow for the tightening of trade ties between the countries and offer Israeli customers broader solutions for exports and imports. The implementation of the signed memorandum of understanding will create a bridge between the countries and enable the development of economic and social ties between private and public figures in both countries."

Israel Post CEO Dany Goldstein said, "We welcome the continued cooperation between postal authorities around the world, which allows for the expansion of e-commerce activities in Israel to additional countries for the benefit of our customers, with the trade agreements with the United Arab Emirates and the Kingdom of Bahrain opening a window of new business opportunities for us."
Seth Frantzman:
Israel-US attacks against Iran in Syria pave way for increased cooperation
Israel and the US have targeted Iranian-backed forces in Syria over the last several days, according to reports. The airstrikes on Sunday evening triggered Syrian air defense, according to Iranian regime media. The strikes may have been in response to an attack on an Israeli-owned vessel in the Gulf of Oman.

Last week, in response to an attack on US military forces in Iraq, the US also carried out airstrikes in Syria. The US said that President Joe Biden had ordered the strikes against Iranian-backed militant groups in eastern Syria. The strikes were authorized as a response to attacks against American and coalition personnel in Iraq.

"Specifically, the strikes destroyed multiple facilities located at a border control point used by a number of Iranian-backed military groups, including Kataib Hezbollah and Kataib Sayyid al-Shuhada," the US said.

"It was a deliberate and planned retaliation," the US said in an unambiguous message, adding that it would act to protect American personnel. The reports of Israeli airstrikes on Sunday in Syria come in the wake of the visit by US Central Command Air Force Commander Lt.-Gen. Gregory Guillot to Israel on Friday. The visit underpinned "strategic cooperation with American forces," IAF Commander Maj.-Gen. Amikam Norkin said. The double blow to Iran from the US and Israel is not the first time Iran has been hit in Syria by both countries. Israel had carried out more than 1,000 airstrikes against Iranian targets in Syria, according to January 2019 reports. That number is likely closer to 1,500 airstrikes by now. The US carried out retaliatory airstrikes against Iranian-backed forces in Syria in December 2019 after an attack that killed a contractor at K-1 base in Iraq.

In January, US Secretary of State Mike Pompeo acknowledged US intelligence support for Israeli airstrikes in Syria, according to Al-Monitor, a Washington-based news website. Can the US force Iran out of Syria, pondered Jared Szuba in a piece at Al-Monitor last December.
Recent Iran tensions in the region, as well as US airstrikes in Syria and reported Israel airstrikes in Syria pic.twitter.com/UEBr3h0z1V

— Seth Frantzman (@sfrantzman) March 1, 2021
Netanyahu Blames Iran for Blast on Israeli-Owned Ship, Which Tehran Denies
Israeli Prime Minister Benjamin Netanyahu blamed Iran on Monday for an explosion aboard an Israeli-owned ship in the Gulf of Oman last week, an accusation rejected by Tehran.

The vehicle-carrier MV Helios Ray was hit between Thursday night and Friday morning by a blast above the water line that a US official said ripped holes in both sides of its hull. An Israeli official said limpet mines were used.

"This was indeed an operation by Iran. That is clear," Netanyahu told Kan radio.

Asked if Israel would retaliate, he said: "You know my policy. Iran is Israel's biggest enemy. I am determined to fend it off. We are striking at it all over the region."

Iran denied involvement. "We strongly reject this accusation," Saeed Khatibzadeh, spokesman for the Foreign Ministry in Tehran, told a news conference. "The security of the Persian Gulf is extremely important for Iran and we will not allow them to spread fear in the region by such accusations."

"The Zionist regime (Israel) knows very well that our response to our security issues and areas is always firm and precise," he said, adding Israel was the source of all of the region's instability.

Kan said the Netanyahu interview was pre-recorded on Sunday night, before Syria accused Israel of carrying out missile strikes around southern Damascus.
Israel said to hit Iranian targets in Syria after Tehran blamed for ship blast
Syrian state media reported Sunday that air defense systems were activated around Damascus due to an Israeli attack. A report carried on the official SANA news agency claimed the Syrian military intercepted several Israeli missiles.

There was no comment on the reported strikes from the Israel Defense Forces, which rarely acknowledges specific attacks.

Israel's Kan News, Channel 13 News and Ma'ariv newspaper all described the strikes as targeting Iranian sites, and characterized them as a response to a blast last week that hit an Israeli-owned ship in the Gulf of Oman, which Israeli officials have said was likely carried out by Iran.

None of the outlets provided sourcing for their reports.

The Syrian Observatory for Human Rights, a Britain-based war monitor which has had its credibility questioned in the past, said the strike hit the area of Sayyida Zeinab south of Damascus, where the Iran's Islamic Revolutionary Guard Corps and the Lebanese terror group Hezbollah are present.
Israel to provide COVID vaccines to Sinai peacekeepers, official says
Israel will provide the US-led Multinational Force and Observers (MFO) in Egypt's Sinai peninsula with COVID-19 vaccines for its personnel, an Israeli official said on Sunday.

The official, speaking on condition of anonymity, said 2,400 doses would be provided but did not elaborate on the terms or the timing of the handover.

An MFO official said the force had requested vaccines for 1,200 personnel and was willing to pay for them but was still awaiting a response from Israel.

The MFO, which draws personnel from 13 countries, was installed to monitor the demilitarization of the Sinai under the 1979 Egyptian-Israeli peace accord.

Israel has been importing Pfizer Inc and Moderna Inc vaccines and administered two shots to more than a third of its population and one shot to more than half.
468,000 views as of 28-Feb-21. Yet the #AhlamTamimi issue, how she's both (a) free in #Jordan and (b) the most wanted female fugitive alive, has gone unreported by almost every part of US mainstream news media since March 2017 when Jordan's refusal to extradite her was revealed. https://t.co/cejqdloCcz

— Arnold Roth (@arnoldroth) February 28, 2021
Does @zehavagalon ever stop shilling for the Europeans & Palestinians against Israel? https://t.co/OV4WXwOpIM

— Arsen Ostrovsky (@Ostrov_A) March 1, 2021
Jordan, PA accuse 'Jewish extremists' of storming Temple Mount
Jordan and the Palestinian Authority have condemned visits by Jews to al-Aqsa Mosque compound, or the Temple Mount, dubbing them provocations and a violation of the status quo at the site.

The visits were "an incursion by extremists into the mosque's premises," the Jordanian Foreign Ministry said Sunday.

The visits are carried out under police protection and do not include entry into any of the two mosques at the compound.

"The [Jewish] extremists' raids, under the protection of the Israeli police, are a 'flagrant' violation of the existing legal and historic status, international law and Israel's obligations," the Jordanian Foreign Ministry said.

The entire Aqsa Mosque area "is a place of worship for Muslims, and the [Jordanian-controlled] Wakf [Islamic religious trust] was the only party entitled to manage the site," it said.

The Jordanian statement called on the Israeli authorities "to stop the violations and respect the legal and historic status quo."
PA to Biden: Cancel PLO's Designation as Terrorist Organization
Palestinian Authority (PA) Prime Minister Mohammad Shtayyeh has called on President Joe Biden to cancel the US' designation of the PLO as a terrorist organization and instead recognize it as a partner organization for peace.

In doing so, Shtayyeh is calling for a reversal of the 1987 decision of the US Congress that designated the PLO as a terrorist organization.

"We are in touch with the Biden administration, and although what we heard during the election campaign is important, it should be translated on the ground and the consulate in east Jerusalem and the PLO office in Washington should be reopened and the aid to UNRWA should be renewed," said a Shtayyeh at the 13th Arafat conference on Sunday

He stressed that "the most important thing in our eyes is the publication of an order that sees the Palestinian Liberation Organization as a partner in peace."

"We have been through a difficult time and now we are turning to renewal through the general election and the reconstruction of the Palestinian National Council," he added.
PMW:
PA plants trees for terrorists at a school to teach kids about "heroic prisoners"
Trees for terrorists have been planted by the PA in a school in order to teach Palestinian girls about the "heroic prisoners." The PA Ministry of Education and Fatah inaugurated a garden at the Zibda School for Girls southeast of Jenin, honoring 13 Israeli Arab terrorist prisoners.

Among the "heroic" terrorists are two murderers – the cousins Karim and Maher Younes who kidnapped and murdered Israeli soldier Avraham Bromberg in 1980. Their pictures were displayed next to the olive tree saplings planted to glorify them:

Olive tree saplings planted in honor of terrorist murderers Karim and Maher Younes who murdered 1.

Interviewed at the event, Director-General of the PA Ministry of Education's Directorate of Education in Jenin, Salam Al-Taher, explained the importance of teaching Palestinian children about "freedom" and "our heroic prisoners":

Director-General of the PA Ministry of Education's Directorate of Education in Jenin, Salam Al-Taher: "The prisoners are the symbol of freedom, and we always teach our children freedom. How will they learn the meaning of freedom if we don't speak about the prisoners who are in the occupation's prisons? We won't rest or be silent as a Palestinian people until the occupation's prisons are emptied of our heroic prisoners."
[Official PA TV, Feb. 14, 2021]
Coronavirus: Palestinians decry 'favoritism' in PA vaccinations
Palestinian civil society organizations on Monday called for the formation of a commission of inquiry into the Palestinian Authority's handling of the distribution of vaccines against the coronavirus.

The call came in response to allegations that vaccines that arrived in the West Bank were being distributed "outside the framework of a clear and published plan."

Some Palestinians complained that the vaccines that were delivered to the PA were given only to a small number of people, including those with connections to the PA government.

The civil society organizations said that the commission of inquiry should hold to account those responsible for "bypassing the rules" for the distribution of the vaccines.

They stressed the need for the PA to adopt the principle of transparency in its management of the pandemic to avoid problems that may arise during the distribution of the vaccines, including favoritism and abuse of power.

"The government's current approach of ignoring demands to adhere to the principle of transparency of information related to the vaccine's distribution plan and its failure to publish the names of those who received the vaccine will pave the way for favoritism," the organizations said.
Palestinian Authority: We stand with Saudi Arabia against challenges aiming to undermine its stability and security, as well as attempts to meddle in the kingdom's internal affairs.

— Khaled Abu Toameh (@KhaledAbuToameh) February 28, 2021
Hamas: We do not have any direct or indirect contacts with the Biden administration. However, we are in touch with the Europeans.

— Khaled Abu Toameh (@KhaledAbuToameh) March 1, 2021
Seth Frantzman:
Iran and Turkey appear to be on collision course in Iraq - analysis
While the region's eyes are on recent tensions with Iran in the Gulf of Oman and Syria, a simmering dispute between Iran and Turkey in Iraq appears to be growing. The dispute has origins going back years as Iran has sought greater influence in Iraq, and Turkey has long viewed northern Iraq as its area of influence.

The recent tensions have grown after Turkey threatened an invasion of Iraq's Sinjar region. This region was home to the Yazidi minority prior to 2014. ISIS attacked Sinjar in 2014 and committed genocide and around 500,000 Yazidis were forced to flee. After Sinjar was liberated by Kurdish forces, a tense time resulted as various Kurdish factions sought control.

What matters is that in 2017, the Iraqi government supported pro-Iranian militias, called Hashd al-Shaabi, to retake Sinjar from the autonomous Kurdistan Regional Government. Disputes in Sinjar over whether the Kurdistan Workers Party (PKK) might remain led to Turkish threats the Sinjar is harboring "terrorists." In fact, some Yazidis had joined far-Left groups allegedly linked to the PKK as part of the struggle against ISIS. Turkey wanted to use this as an excuse to invade. Turkey has a long track record of invading and ethnically cleansing Yazidis and Kurds, in Afrin in Syria in 2019, and Tel Abyad in Syria in October 2019.

It appears that Iran, having helped the Iraqi government grab Sinjar from the Kurdistan region, doesn't want Turkey entering Sinjar now. For the minorities, like Yazidis, no one seems to care. Even the pope will be arriving in Mosul soon, but not Sinjar.
Iranian Ambassador to Iraq Iraj Masjedi: Turkey Must Withdraw Its Forces from Iraqi Kurdistan and Deploy beyond the International Border #iraq #iran #turkey #Kurdistan pic.twitter.com/tyxFh8bsdL

— MEMRI (@MEMRIReports) March 1, 2021
Iranian Attack Provides Israel Leverage
However, Israel now has an opportunity to leverage the event in the diplomatic arena, in particular with the US administration, which is now busy formulating its policy on Iran. Following an initial month that saw the White House display alarming weakness in the face of Iran, it seems it is now ready to deal with reality. We saw the first signs of this on Thursday night when the Americans hit Iranian targets on Syrian soil in response to an attack by pro-Iranian militias on American targets in Baghdad.

Israel is also interested in restricting Iran's activities in the region. This kind of attack on a civilian target could aid in that effort by blackening Iran's reputation and demonstrating negative influence on the region.

The name of the game in this effort is intelligence. Just like with the nuclear program, Israel needs to get to Washington, and other relevant capitals, to present officials with facts and testimonies. There is an abundance of such material on Iran's nuclear program, its violations and deceptions, and, one can assume, Friday's attack in the Gulf of Oman as well.

It's unlikely this diplomatic-intelligence process will thwart Iranian aggression. Ever since the US withdrawal from the nuclear deal in 2018, Iran has carried out quite a few acts of aggression, including against Western maritime targets. Israel must now ensure this is an isolated event and not the start of a broader campaign. At any rate, it must increase surveillance, monitoring, and security of Israeli and Israeli-owned vessels.

Israel must now decide whether it wants to retaliate, and if so, how. At any rate, the Iranian front has been consistently managed across a variety of sites and various means; despite this most recent event, Israel is still far in the lead. Moreover, Iran's latest move seems to have provided Israel with a significant political opportunity.
The US and the UN Nuclear Inspectors Must Stop Appeasing Iran
In the latest example of Iran's increasingly reckless approach to the nuclear issue, the country's Supreme Leader, Ayatollah Ali Khamenei, has threatened to increase uranium enrichment to 60 percent, just below the 90 percent threshold required to produce weapons grade material.

Thus, while IAEA director general Rafael Grossi claimed the talks had been a success, the IAEA now finds itself in the invidious position whereby it will not be able to ascertain whether Iran is actively working to produce nuclear weapons until after the event.

Even Mr Grossi has been forced to concede that, as a result of Iran's decision to withdraw access to inspection teams, the IAEA's ability to monitor Iran's activities will be reduced by 70 percent.

In the latest blow to the IAEA's credibility, within hours of Mr Grossi concluding his compromise deal, Mr Khamenei exposed the futility of this approach with his threat that Iran was prepared to increase uranium enrichment to 60 percent, a move that would make any attempt to revive the JCPOA utterly doomed.
1,800 Former Israeli Generals, Service Members Urge Biden Not to Return to JCPOA
A group of 1,800 retired Israeli generals, officers and Mossad operatives have written a letter to U.S. President Joe Biden urging him not to return to the 2015 nuclear deal with Iran.

In the March 1 letter, the group, which goes by the name "Habithonistim," states that it has watched "with great concern" as the Biden administration seeks to return to the "flawed principles" of the Joint Comprehensive Plan of Action (JCPOA). Advertisement

"From a strict security perspective, [rejoining the accord] represents an existential threat to the Jewish State. It would also work against your administration's stated goal of stabilizing the Middle East," the letter states.

"Such [an] action would push Israel and her Sunni allies into a dangerous corner and potentially ignite a massive nuclear arms race," it continues.

Former President Donald Trump pulled out of the JCPOA, in 2018 and imposed harsh economic sanctions on Tehran. Biden has indicated that he wants to rejoin the accord if Iran returns to full compliance, however, Iran has demanded that all sanctions be lifted first.

Habithonistim was founded in 2020 by a group of retired Israeli generals with the aim of securing the Jewish state, and has since grown into a national movement of almost 2,000 former servicemen and women. The group said in a statement that they felt it was important to share their perspective with "the new American Commander-in-Chief."
US 'disappointed,' but still open to Iran nuclear talks after Tehran's rejection
The Biden administration said Sunday it remains open to talks with Iran over the 2015 nuclear deal despite Tehran's rejection of an EU invitation to join a meeting with the US and the other original participants in the agreement.

A senior administration official said the US was "disappointed" in the rejection but was flexible as to the timing and format of the talks and saw Iran's decision to snub the European invitation as part of the diplomatic process. The official said the US would be consulting with the other participants — Britain, China, France, Germany, Russia and the European Union — on the way forward.

The official was not authorized to discuss the matter by name and spoke on condition of anonymity.

Earlier Sunday, Iran turned down the offer for talks saying the "time isn't ripe" for the meeting, at which the US would have participated as an observer. Iran had been insisting that the US lift or ease sanctions imposed on it by the Trump administration under its "maximum pressure campaign" before sitting down with the United States.

US President Joe Biden has said repeatedly that the US would return to the deal that his predecessor, Donald Trump, withdrew from in 2018 only after Iran restores its full compliance with the accord.
UN nuclear chief urges inspections of Iran sites not be a 'bargaining chip'
The head of the UN's nuclear watchdog appealed Monday for its inspection work in Iran not to become a "bargaining chip" as world powers mull negotiations to revive the 2015 Iran nuclear deal.

"The inspection work of the IAEA must be preserved… (it) should not be put in the middle of a negotiating table as a bargaining chip," International Atomic Energy Agency (IAEA) chief Rafael Grossi told a press conference at the start of the agency's quarterly meeting of its board of governors.

On February 23, Iran suspended some IAEA inspections in response to the US refusal so far to lift sanctions imposed by former US president Donald Trump.

Grossi described the suspension of those inspections as a "huge loss," but when asked if the agency could still reassure the international community that the Iranian nuclear program was exclusively peaceful, he replied: "So far, so good."

Grossi said the IAEA would continue to have the means to verify the amount of uranium enriched by Iran.

On February 21 Grossi announced after two days of talks with Iranian officials in Tehran that Iran and the IAEA had struck an interim three-month deal to mitigate the impact of the suspended inspections.
MEMRI:
Ali-Akbar Salehi, Head Of The Atomic Energy Organization Of Iran: We Are Capable Of Enriching Uranium To 60% Within 24 Hours If The Need Arises
Ali-Akbar Salehi, Head of the Atomic Energy Organization of Iran (IAEO) said that "if the need arises," as Supreme Leader Khamenei put it, Iran is capable of increasing uranium enrichment to 60% within 24 hours. He made these remarks in an interview from the Tehran research reactor, which aired on Channel 2 (Iran) on February 26, 2021. Salehi said that Iran could not stop enriching uranium to 20% if it wanted to do so, because it is obliged to produce 120 kg of 20% enriched uranium within a year. He added that at the current rate of production, Iran is expected to reach this goal within five or six months and then the Majles will have to decide whether production should be continued. Salehi said that despite those who committed the "evil act" of targeting the Natanz nuclear facility, Iran has returned to producing 60-70% of the centrifuges it was capable of producing before the attack in less than a month. He added that now Iran is busy digging deep into the mountains in order to create more space for its nuclear facilities.

"We Have Managed To Make The 20% [Enrichment Lineup] Operational Within 24 Hours"

Ali-Akbar Salehi: "We have managed to make the 20% [enrichment lineup] operational within 24 hours.

"Even if we wanted to put a break [on the enrichment], we couldn't.

"The law talks about 120 kilogram [of 20% enriched uranium] per year. This means that we must produce 10 kilograms per month. Not a month passed and we already produced 25-26 kilograms. In five or six months, the goals of 120 kilograms will be achieved, and we are still wondering what we should do then – stop or not.
Ali-Akbar Salehi, Head of the Atomic Energy Organization of Iran: We Are Capable of Enriching Uranium to 60% within 24 Hours If the Need Arises #Iran #Iran_nuclear_project #uranium_enrichment pic.twitter.com/rYppQ52Dna

— MEMRI (@MEMRIReports) February 28, 2021
Most people don't have the "IAEA-speak" decoder ring so let me help. "Deeply concerned" from the UN's nuclear chief means Red Alert. "Absence of a technically credible explanation" means the country is actively lying to the IAEA. This is an NPT crisis that must be addressed. https://t.co/idtIiDVKOk

— Richard Goldberg (@rich_goldberg) March 1, 2021
Top sports court overturns Iranian judo ban issued over refusal to face Israelis
Iran's suspension from international judo events for refusing to let its athletes fight Israeli opponents was overturned by the Court of Arbitration for Sport on Monday.

The case was prompted by former world champion Saeid Mollaei leaving the Iranian team in 2019, claiming he was ordered to lose matches and withdraw from competitions to avoid facing Israelis.

CAS said its judges hearing the Iranian judo federation's appeal decided the International Judo Federation overstepped its authority with such a severe ban, which was imposed in October 2019. The case was sent back to an IJF disciplinary panel for review.

The court acknowledged that the Iranian judo federation had "committed severe violations of the IJF rules" on discrimination and should be punished, though within the world governing body's rules.

During the case, the IJF said any action taken against Iran would not apply directly to the Tokyo Olympics, because athletes are technically entered by the Iranian Olympic Committee and not the international judo body.

The Iranian judo federation hailed the lifting of its suspension as a "great legal and sporting victory."
---
---