From Ian:
---
Netanyahu threatens war as sirens continue to wail in southern Israel
Rockets fell near a playground in the college-town of Sderot as well in a yard of a residential home. There were no reports of physical injuries. In Netivot, rocket shrapnel fell near a house.

The PIJ claimed responsibility for the rocket fire on Monday afternoon, saying that the launches were in response to the killing of two PIJ terrorists in Damascus. "In the Al-Quds Brigades, we confirm that we are ready to confront any aggression and let the enemy know that if it continues, we will respond with full force and might," said the military wing of the terrorist group in a statement.

After a barrage of rockets was fired towards the city of Netivot in southern Israel, Hamas warned that the response to the Israeli strikes in Gaza came within a unified understanding between all the factions in Gaza that "Palestinian blood is a red line." The terrorist group warned that if the IDF expanded its strikes, Israel would face "resistance like it's never seen."

Since yesterday, over 60 rockets were fired from Gaza to southern Israel, prompting Prime Minister Benjamin Netanyahu to warn that Israel may launch a broader campaign against Hamas in Gaza if it does not totally stop firing rockets.

"I am not hurrying into war. I know the price that our soldiers and the families of the fallen pay," Netanyahu, whose brother Yoni was killed in action, said.

Still, the prime minister said that if there is no choice: "Woe to Hamas and Islamic Jihad when that day comes! It's their choice."
"We will do what it takes to bring back total security for the residents of the south," he vowed.

"If you don't shoot them, we will shoot you. I'm talking about a war," Netanyahu said earlier on Army Radio. "I only go to war as a last option, but we have prepared something you can't even imagine."

His interview was interrupted by fresh sirens warning of incoming rockets.
Over 40 Gaza Rockets Fired At Israel; A Playground Suffered a Direct Hit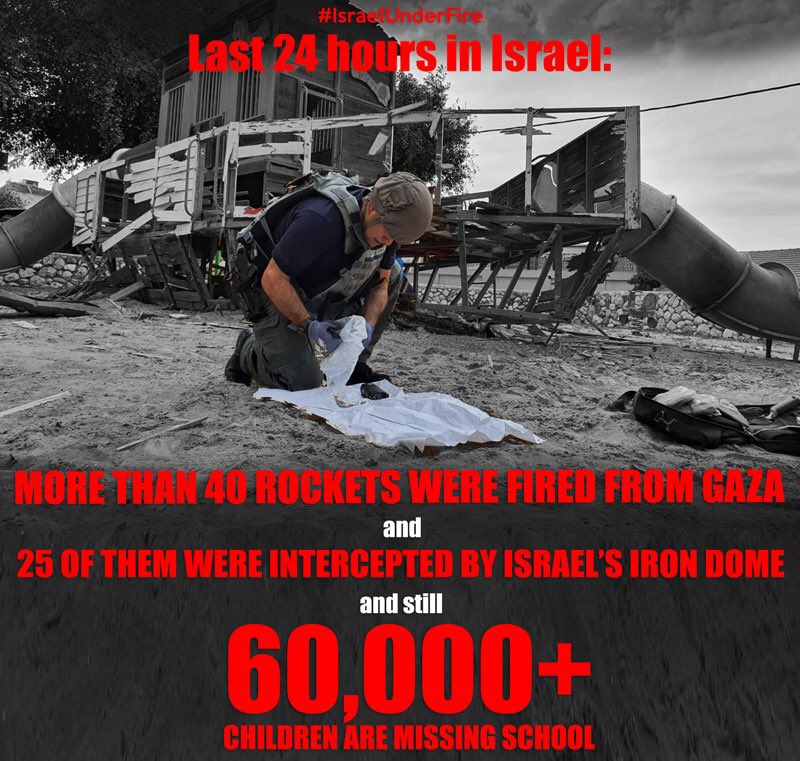 Normal Places Have Snow Days, Israel's South Has Rocket Days
Facts > Fiction

Here are the facts: pic.twitter.com/SUW4cKjjyd

— Israel Defense Forces (@IDF) February 24, 2020
Ben-Dror Yemini:
The Palestinians have never really sought peace
The release of U.S peace plan has renewed the debate over the best solution for the Israeli-Palestinian conflict.

For many decades, people both good and bad have bought into the myth that the Palestinians want peace - if only Israel were a little more generous or the Americans came up with a serious agreement, peace would be just around the corner.

For those on the dark side, this belief stems from a desire to blame Israel for all the crimes of the world.

For the good, it stems from a sincere and genuine desire for peace, but one blighted by (sometimes willful) ignorance or self-deception on the part of those who find it difficult to understand the difference between wishes and facts.

Let us set aside for a moment the historical Palestinian refusal of the Peel Commission in 1937, the United Nations Partition Proposal in 1947 and in the form of the three "nos" at Khartoum in the immediate aftermath of the 1967 Six-Day War.

Let us focus on the more pertinent era, where each of the major peace initiatives – by Bill Clinton in 2000, Ehud Olmert in 2008 and John Kerry and Barack Obama in 2014 – have all met the same rejectionist response from the Palestinians.
Olmert's Joke: Abbas Is a Man of Peace
In one of the more bizarre scenes in the history of the Israeli-Palestinian conflict, disgraced and formerly jailed Israeli Prime Minister Ehud Olmert appeared with Palestinian dictator Mahmoud Abbas at the UN to denounce President Donald Trump's peace plan. Unbelievably, Olmert sat beside Abbas and called him "a man of peace" who is "opposed to terror" and "willing to negotiate at any given time with the State of Israel."

Perhaps less surprising was the response of J Street's Jeremy Ben-Ami, who said the joint appearances "underscore why we must reject the right's false narrative about a Palestinian people who don't really want peace — and why we must stand up to those who suggest we simply give up on hopes for a two-state solution."

I've already documented why advocates of the two-state solution ignore reality, but let's focus on the ahistorical statements made by Olmert and the truths about Abbas that his fan club ignores.

First, a bit of history. Abbas is an antisemite whose Ph.D. dissertation was an exercise in Holocaust denial. He claimed Zionist leaders conspired with the Nazis against the Jews. He argued that fewer than one million Jews perished, but it was "in the interest of the Zionist movement to exaggerate the numbers of those tragically killed in the war for the sake of the [political] profits it received from making the number as large as possible. This was why the number [six million] was established: So [the international community] would feel pangs of conscience and sympathy for Zionism."

In 2016, Abbas disseminated the blood libel that a group of Israeli rabbis demanded that the government "poison the water of the Palestinians."

In 2018, he launched into an antisemitic rant calling Israel a "colonial enterprise that has nothing to do with Jewishness." He said, "The Jews did not want to emigrate even with murder and slaughter. Even during the Holocaust, they did not emigrate." He claimed Herzl advocated the ethnic cleansing of Palestinians.
Netanyahu, Israeli officials meet with US mapping team for West Bank annexation
The US members of a committee formed to map out areas of the West Bank that Israel plans to annex as part of the Trump administration's peace plan met Monday with Prime Minister Benjamin Netanyahu and other senior Israeli officials as they pressed ahead with the project.

It was the first time that the two sides have met to work together on deciding which areas Israel will extend sovereignty to, a measure tantamount to annexation.

"The mapping is underway to prepare the way for extending sovereignty on these territories," Netanyahu declared as the two delegations huddled together under temporary shelters amid pouring rain at the West Bank settlement of Ariel, where the meeting was held.

"We will do this as soon as possible," the prime minister said.

Asked how soon after the mapping is completed Israel will apply sovereignty, Netanyahu replied, "As far as we are concerned, immediately," and said he would bring it for cabinet approval right away.

The American members of the joint committee are US Ambassador to Israel David Friedman, his adviser Aryeh Lightstone, and C. Scott Leith, senior adviser for the Israeli-Palestinian conflict of the National Security Council.

Also at the meeting were members of the Israeli mapping committee Tourism and Immigration Minister Yariv Levin and Acting Director of the Prime Minister's Office Ronen Peretz.

"In Israel rain is a blessing, and I hope that our efforts should be blessed as much as the rain is coming down right now," Friedman declared before the meeting started, the US Embassy in Jerusalem said in a statement. "We have our team here, and we're going to get to work right away. We hope to complete it as soon as possible, and complete it the right way for the State of Israel."
Why do we put up with the United Nations?
The United Nations Office of the High Commissioner for Human Rights (rule of thumb: the longer the title of an organization, the less useful it is likely to be) has just published a list of 112 businesses with ties to Judea and Samaria, the objective of this publication being to encourage United Nations members to boycott these companies.

Move over, "orphan" who kills his parents, we have a new definition of chutzpah. This UN agency that has never seen fit to single out any other country in this manner, no matter how egregious their actual violations of human rights, is lecturing Israel on human rights. That probably has much to do with the fact that the OHCHR has among its members such paragons of virtue as Venezuela, Cuba, Saudi Arabia, the United Arab Emirates and China.

This is just one more in a string of UN-imposed indignities to which Israel has been subjected for the past 75 years, and it raises two very important questions. First, why does Israel abide this charade by remaining a member of the United Nations, and two, given the Trump administration's robust support for Israel and disdain for the United Nations' blatant biases and ineffectiveness, why does the United States still foot the major portion of the United Nations' expenses?

So here's my suggestion to Israel and the United States: get the heck out of the United Nations.
Winds of change blowing at the UN?
Last week, the Palestinian Authority sought to pass a UN Security Council Resolution condemning Trump's "Deal of the Century." In the end, they failed because the UN Security Council resolution did not garner enough international support. For this reason, they were forced to be content with the UN High Commissioner for Human rights publishing a blacklist of businesses that do business in Israeli settlements and nothing else.

While the PA hailed the UN Human Rights Council resolution as a "victory for international law," in reality, the PA did not get the huge victory that they dreamed of for such a blacklist does not carry the same legal weight as a UN Security Council Resolution. For the State of Israel, which naturally condemned the list, this is actually a major diplomatic achievement, which one could not dream of happening at an earlier date, when the only thing preventing such anti-Israel UN Security Council resolutions from passing was the American veto.

There clearly has been a systematic change in how the nations of the world view the State of Israel. After the Sudanese leader accepted the idea of establishing diplomatic relations with the Jewish state and Chad's President announced his nation's renewed relationship with Israel, more and more countries are seeking to follow suite.

Now, 161 different countries have diplomatic relations with Israel, which is the highest number that it has ever been for the Jewish state. Increasingly, the community of nations cares less about Palestinian objections and more about what Israel has to offer.

As Israeli Prime Minister Benjamin Netanyahu related: "There is a lot we can do together [including] security, agriculture, food, water, energy, health and much more. We're making new inroads into the Muslim world. This is the result of a great effort during the last few years. We're making history and we're returning Israel into a rising world power." All of these developments greatly influence what happens at the United Nations.
Rubin Report: Richard Grenell Ambassador: Exposing UN Waste & Trump's Pro Gay Policies
Dave Rubin of The Rubin Report talks to Richard Grenell (US Ambassador to Germany) about what it's like to be the US Ambassador to Germany under President Trump. Richard shares his experience in getting other nations on board for Donald Trump's policy to decriminalize homosexuality in other parts of the world. He also shares what he feels is the liberal elite's hypocrisy on the issue of gay rights and equality. He has personally encountered many international partners who don't understand why some Americans are vocal supporters of gay rights in the west, but remain completely silent on the issue for people around the world. Richard also discusses how LGBT groups like GLAAD, which once demanded tolerance and diversity, have changed course and support the worst aspects of cancel culture. Richard also gives an insider's look at how the UN really operates. He describes what he sees as the extreme waste due to the UN general assembly policy of distributing resources like jobs evenly whether or not countries have people with the necessary skills or not. People end up being hired who don't have the necessary skill set to fill quotas, and money and resources are wasted. Richard also discusses how Donald Trump has been successful at being a disrupter and breaking up groupthink. Richard details what he calls the Trump doctrine to foreign policy and whether or not it's effective. He gives numerous examples of international policies that Barack Obama could not get accomplished that Trump and his negotiation skills have successfully gotten done. Richard also describes how an America first policy benefits us, but other nations as well. All this and more.
Americans Aren't So Eager to Retreat from the Middle East
Conducted just after the U.S. strike that killed Iranian commander Qassem Soleimani, the polls show that a majority of Americans support maintaining (45 percent) or increasing (29 percent) the U.S. military presence in the Middle East; fewer than a quarter (24 percent) say reduce. This is fairly stable with opinion in 2018. Support for specific long-term military bases in the region has also grown since last asked in 2014, with majorities now saying the U.S. should have bases in Iraq (55 percent, up from 41 percent in 2014) and Kuwait (57 percent, up from 47 percent in 2014). Nearly as many Americans back keeping bases in Afghanistan (48 percent, up from 43 percent in 2014), with support in each instance cutting across partisan lines.

Americans' reasoning here is clear. Asked which region is most important to the security interests of the United States, 61 percent of Americans name the Middle East, up from a plurality of 50 percent in 2018. No other region comes close, including Europe (15 percent), Asia (12 percent), Latin American (7 percent), and Africa (1 percent).

Recent conflict with Iran accounts for some, but not all, of these results. More Americans say that the killing of Soleimani makes the United States less safe (47 percent) than more safe (28 percent), and the percentage who say that Iran is the country that poses the greatest threat to the United States has increased three-fold since February 2019 (from 10 percent to 34 percent). But the percentage of Americans who say that Iran's nuclear program is a critical threat to the United States has just barely increased from 2019 (61 percent vs. 57 percent in 2019), and fewer are now concerned about Iran's regional influence (50 percent).
In shakeup, virulently anti-Semitic Malaysian PM submits resignation
Malaysian Prime Minister Mahathir Mohamad, at 94 the world's oldest leader, submitted his resignation to the king Monday after a bid by his allies to bring down the government and block the succession of leader-in-waiting Anwar Ibrahim.

Mahathir, who has called himself a proud anti-Semite, has come under fire on more than one occasion for comments he has made about Jews.

In June 2016, he claimed that "the Jews are ruling the world by proxy" and that "America is very much under Jewish influence."

In September 2018, he told students at Columbia University in New York City: "Why is it that I can't say something against the Jews, when a lot of people say nasty things about me, about Malaysia? I didn't protest, I didn't demonstrate."

He has called Jews "hook-nosed" — subsequently defending that remark — questioned the number of Jews killed in the Holocaust, and banned "Schindler's List" in 1994, rejecting it as "Zionist propaganda." He once said he was "glad to be labeled anti-Semitic."
Over a dozen Gaza rockets fired at south as violence erupts after morning lull
Palestinian terrorists in the Gaza Strip fired at least 14 rockets at southern Israel on Monday afternoon, with 12 of them being intercepted by the Iron Dome missile defense system, shattering a tense calm following an intense battle between Israel and terror groups in Gaza and Syria the night before, the military said.

One rocket struck an empty playground in the town of Sderot, causing damage, but no injuries, police said.

Another rocket appeared to strike an open field outside the community of Nir Am in the Sha'ar Hanegev region, according to local government.

Shrapnel from one of the Iron Dome interceptions also shattered a car windshield in the community of Nir Am, a Sha'ar Hanegev spokesperson said.

In response, to the rocket attacks, the Israel Defense Forces launched a series of airstrikes on Islamic Jihad targets in the Gaza Strip.

Shortly after the military completed its airstrikes in Gaza, terrorists in the Strip fired at least one rocket toward the city of Ashkelon, just north of the Palestinian enclave.

There were no immediate reports of injuries or damage.
Multiple interceptions over Ashkelon pic.twitter.com/HN7phomDEe

— Emanuel (Mannie) Fabian (@manniefabian) February 23, 2020
How was your weekend? Here in DC, kids played outside, enjoying the beautiful weather. In #Israel however, children's playgrounds were not safe as terrorists from #Gaza constantly fired rockets, targeting Israeli civilians. In the pictures: a playground directly hit by a rocket. pic.twitter.com/87lQl1ighr

— Elad Strohmayer (@EladStr) February 24, 2020
IDF pounds Islamic Jihad targets in Gaza after rockets fired at south
The Israel Defense Forces launched a series of airstrikes against Palestinian Islamic Jihad targets in the Gaza Strip on Monday, after the terror group fired at least 14 rockets at southern Israel earlier in the day, the military said.

The IDF said it struck an Islamic Jihad military base in the Gazan city of Khan Younis, along with other facilities controlled by the terror group in the Strip.

Shortly after the military completed its airstrikes in Gaza, terrorists in the Strip fired one rocket toward the city of Ashkelon, just north of the Palestinian enclave, sending thousands of people rushing to bomb shelters, the military said.

It appeared as though the rocket landed in the sea off the coast of the city, according to video footage and photographs of the attack. There were no reports of injuries or damage.

The military said the Khan Younis base, which featured underground infrastructure, was used by the Islamic Jihad as both a training center and a storage depot for weaponry.

The retaliatory strikes were conducted by fighter jets and attack helicopters in response to rocket fire from the Gaza Strip aimed at southern Israel earlier in the day, the IDF said.

Photographs and video footage of the IDF's rare daytime strikes showed massive fireballs going into the air following the strikes, likely indicating secondary blasts from explosives being stored on the base.

"The IDF will respond aggressively to the terrorist activities of the Islamic Jihad, which threaten the citizens of Israel and harms its sovereignty," the military said in a statement.
IDF Strikes Palestinian Islamic Jihad Sites After 21 Rockets Were Launched at Israel
Six killed in Israeli strikes against Islamic Jihad in Syria
At least six terror operatives were killed in Israeli air strikes against Palestinian Islamic Jihad targets in Syria following rocket fire toward southern Israel by the terror group on Sunday.

Among the targets hit was a compound which was "used as a hub of Islamic Jihad's activity in Syria" as well as dozens of terror targets belonging to the group in the Strip.

According to the IDF, the strike against the PIJ compound in the area of Al Adleyeh south of Damascus targeted a site where the group conducts research and development of weapons, both by adapting them to manufacturing in the Gaza Strip as well as for local manufacturing in Syria.

At the site, the group also manufactured dozens of kilograms of AP, a modern fuel used in solid-propellant rockets, as well as operating a technical training camp for terror operatives from the Gaza Strip and from the North.

The Syrian regime said Israeli warplanes had fired missiles from outside Syrian airspace towards targets around Damascus.

"Once the missiles were discovered, they were [handled] with high efficiency, [made to be] deviating from their path. The majority were destroyed before reaching their targets," a military source was quoted as saying by the official news agency SANA.
EU, Germany condemn Islamic Jihad for rocket fire on southern Israel
The European Union and Germany on Monday condemned Palestinian Islamic Jihad for firing rockets at Israel and called for restraint from both sides.

The statements came as the Gaza-based terror group launched a fresh wave of rockets against southern Israel, drawing Israeli reprisals.

"Following with concern the situation in the South of [Israel] after PIJ in Gaza fired more than 40 rockets," said Emanuele Giaufret, the EU's ambassador to Israel.

"Indiscriminate firing of rockets on civilian population is totally unacceptable and must stop. Civilians to be protected on both sides," Giaufret said.

German Ambassador to Israel Susanne Wasum-Rainerd similarly censured Islamic Jihad for the violence.

"We are very concerned about the latest escalation in Southern Israel and Gaza Strip. We condemn the rocket attacks by PIJ in the strongest possible terms, and call for the greatest possible restraint," Wasum-Rainerd said. "Priority must be given to any efforts for de-escalation."

The United Nations envoy for Middle East peace, Nickolay Mladenov, called for an end to the fighting and said he would brief the UN Security Council on Monday evening.

"I call for an IMMEDIATE stop to the firing of rockets that only risks dragging Gaza into another destructive round of hostilities with no end in sight!" Mladenov wrote on Twitter.
As usual, Palestinian Islamic Jihad is trying to torpedo a ceasefire
Sunday night's wild rocket attack on the western Negev and Gaza envelope communities forced Israel into an uncomfortable corner at an inconvenient time. Contrary to its stated desire to maintain calm in the south, Israel had to act, but still with the clear intention of keeping the ceasefire with Hamas intact and avoiding a wide-scale escalation on the eve of the March 2 general election.

This time, too, Palestinian Islamic Jihad was behind the mayhem, similar to its previous efforts over the past year and a half (and on the eve of the last election in September) to torpedo any attempt by the sides to reach an agreement. It doesn't matter whether these efforts stem from an internal rivalry with Hamas, PIJ's natural anarchism, or directives from its Iranian master, the result is the same: Palestinian Islamic Jihad is currently the primary source of Gaza's ills.

Those who thought that the assassination of Baha Abu Al-Ata in November would mute the organization were proven wrong in recent days. His successors have shown they are equally brash and petulant. Despite Egypt's overt efforts to mediate a ceasefire, the organization's belligerence hasn't waned. Last week, a terrorist cell was wiped out on the southern Gaza border, and early Sunday morning a second cell was eliminated when its members tried planting powerful explosives on the border fence.

The rocket fire on Sunday was the response to these incidents. Officially, PIJ says it retaliated for the "humiliation" of the IDF using a bulldozer to retrieve the body of one of these killed terrorists. Contrary to this claim, this is not a new Israeli policy: For decades now, the IDF has taken the bodies of terrorists from the battlefield to be used in future prisoner exchange negotiations. The difference on Sunday was that the fight between IDF forces and Palestinians, who tried preventing the army from taking the corpse, was caught on film and broadcast. The images stoked the flames and provided ample pretext for PIJ's attempt at revenge.

It wasn't clear on Sunday whether Hamas opposed the rocket fire at Israel or willfully turned a blind eye to it. After al-Ata's assassination, Hamas allowed PIJ to retaliate and shoot, but it stayed out of the fray. On Sunday, too, Hamas wasn't involved in the shooting, and its conduct in the coming hours and days will greatly determine which direction the situation is heading. If it stays out of the fight, it's reasonable to assume the hostilities will quickly fizzle.
BBC News report on PIJ attacks focuses on Israel's response
On the morning of February 24th the BBC news website's 'Middle East' page published a report concerning a sequence of events that took place the previous day.

Those events were presented in reverse chronological order with the article's headline – "Israel says it struck Islamic Jihad sites in Gaza and Syria" – telling audiences only of the last episodes in the series of incidents.

The report's first five paragraphs related to Israeli strikes against Palestinian Islamic Jihad targets in the Gaza Strip and Syria. The PIJ was presented as a "Palestinian militant group" (a euphemistic portrayal twice repeated later on in the report) despite the fact that it has been designated as a terrorist organisation by the UK government since 2001. Once again readers found unqualified BBC promotion of standard Syrian regime propaganda.
Seriously @guardian?! A "fighter?!" And given the Islamic Jihad TERRORIST was planting a bomb on the Gaza-Israel border, why does your sub-header blame Israel for starting the violence? https://t.co/HVPmHcMvXM pic.twitter.com/nSxgPrNCub

— HonestReporting (@HonestReporting) February 24, 2020
It's lazy reporting like this that misinforms millions of readers, @AFP. The violence was instigated by Palestinian terrorists, who planted a bomb on Israel's border. The implication that the election has something to do this makes it sound as if Israel somehow sought violence. pic.twitter.com/4vIw0fgk7y

— HonestReporting (@HonestReporting) February 24, 2020
PMW:
PMW to UNICEF: Stop ignoring PA recruitment of child soldiers/terrorists
Every year, the local branch of UNICEF (United Nations International Children's Emergency Fund) releases a biased report on "Children and Armed Conflict," which routinely blames Israel for its treatment of Palestinian children combatants but ignores the fact that it is the Palestinian Authority who recruits the children into combat - in violation of international law.

To counter this bias, Palestinian Media Watch has sent an extensive and detailed report to UNICEF describing how the PA recruited child soldiers/terrorists, in 2019.

PMW's report shows how the PA indoctrinates Palestinian children to hate Jews and Israel; to aspire to the destruction of Israel; brainwashes the Palestinian children to admire murderers; weaponizes the Palestinian children and promotes their participation in violence. The report further shows how the PA pays substantial financial rewards to the child terrorists. Damningly, PMW's report also shows how the PA leadership openly admits that the child terrorists are the PA's soldiers.

While UNICEF, overtly and covertly, collaborates with a host of Palestinian NGOs, who provide them with claims of alleged abuses of the rights of the Palestinian children by Israel, which UNICEF includes in its annual report, UNICEF does nothing to gather information about the PA or other Palestinian terror groups recruitment of children. This year PMW has done the work for UNICEF.

PMW's full report can be read here.

The way to protect Palestinian children from conflict is not to criticize Israeli law enforcement. It begins with identifying the clear factors that drive the Palestinian minors to participate in violence and terror.
10-Year-Old Palestinian Girl at Pro-Abbas Demonstration Curses Trump, Says: If You Want War, We Declare War pic.twitter.com/XUd5KiIzVF

— MEMRI (@MEMRIReports) February 24, 2020
Abbas' promise to terrorists for 2020: We will continue salaries to "these heroes"
PA Chairman Mahmoud Abbas: "We again emphasize that the cause of our prisoners, wounded, and Martyrs is a red line. We won't agree to negotiations or bargaining over it, regardless of what the price may be. We will continue to pay the allowances of the families of the Martyrs and the prisoners as they are, even if [the allowances] are the last thing we have. This is our promise to these heroes."
[Official PA TV, Dec. 31, 2019]
He was not the messiah. Nor was he merely a very naughty boy. He was an evil terrorist. https://t.co/n03S0CFeLa

— (((David Lange))) (@Israellycool) February 24, 2020
Israel Police Find Seven Pipe Bombs in Palestinian Home
Israel Police seized seven pipe bombs from a home in the West Bank city of Hebron during a search for weapons, according to the Israel Police Spokesperson's Unit.

Police arrested four Palestinian suspects at the scene in connection with the explosive devices.

The suspects have been detained for questioning, and a court hearing will be held in the Ofer Military Court.

"Regular security operations are taking place in all areas to seize weapons, ammunition and explosive devices that can be used for terrorist attacks or criminal activities," the Police announced in a report of the incident.
Jordanian MP Yahya Saud: Our Trade Unions Wouldn't Even Tolerate Their Members Saying "Hello" to a Jew; Arabs Must Pressure Their Governments to Stop Normalizing Relations with Israel pic.twitter.com/gQAlFGItnM

— MEMRI (@MEMRIReports) February 24, 2020
Pompeo Reveals Trump Admin's Wide-Ranging Plan to Combat Iran, Deal Death Blow to Nuclear Deal
The Trump administration is waging a multi-pronged effort to thwart Iran's expansion across the Middle East, including efforts at the United Nations to ensure global sanctions come back into effect in what would mark a final death blow for the landmark nuclear deal, Secretary of State Mike Pompeo told the Washington Free Beacon in an exclusive and wide-ranging interview.

In a one-on-one talk with the Free Beacon on Friday following high-level meetings with the Saudi royal family in Riyadh, Pompeo pulled the curtain back on the Trump administration's years-long effort to combat Iran militarily and diplomatically.

While that effort has faced many challenges, the administration remains steadfast in its pursuit of a global alliance that will end Iran's nuclear weapons program and stymie its pursuit of regional dominance. Pompeo outlined the next steps the administration will be taking to eradicate Tehran's growing influence in key Arab nations, including Yemen, Syria, and Lebanon.

The secretary of state also opened up about mounting criticism he has faced from leading GOP hawks in Congress, who have been vocal in recent months about their disdain for a range of policies that they say have undermined the administration's so-called maximum pressure campaign on Iran. This includes a series of much-disputed sanctions waivers that have enabled Iran to continue some of its most contested nuclear work at a military site that once housed the country's atomic weapons program.
Iran: The Fabrication of Democracy
Iranians went to the ballot boxes on Friday to elect 208 out of 290 Iranian parliamentarians – the remainder will be elected in April. More specifically, one-third of eligible voters bothered to do so, and according to videos making the rounds online, many of them were soldiers bused to the voting stations.

That the hardline conservatives won the majority of seats in the Majlis is a surprise to no one. Not only did regime opponents stay home, but they also had no one to vote for in any case.

The Islamic republic holds parliamentary elections every four years, and the president, who heads the Majlis, is also elected every four years. The Council of Experts – the deliberative body that oversees the supreme leader of Iran and will eventually choose his replacement – holds elections every eight years. A celebration of democracy, indeed. Putting a damper on this party, however, is a tiny council known as the Guardian Council of the Constitution. Its 12 members are directly or indirectly appointed by the supreme leader. They approve (or disapprove) the laws passed by the Majlis, and they filter the candidates running in every election. They also learn from their own mistakes.

For example, after reformist candidate Mir-Hossein Mousavi didn't win in 2009 and all his supporters and regime opponents took to the streets, in 2013 the Guardian Council of the Constitution filtered the candidate list to exclude all "problematic" contenders. This facilitated the election of current President Hassan Rouhani – the most moderate of all the filtered candidates, who wasn't perceived as a threat to the regime.
Iran Hard-Liners Win Election, But with Record Low Turnout
Iranian hard-liners won the parliamentary election by a landslide, capturing around 200 out of its 290 seats, but the regime was embarrassed by a record low voter turnout of 42.57%, Iran's Interior Ministry announced on Sunday.

Recent elections have seen voter turnout at levels of between 60-66%, and the previous lowest turnout was around 52% in 2004.

In addition, observers view Iranian results as notoriously inflated, meaning that the actual turnout could be even lower.

While turnout was higher in the periphery, turnout in Tehran was around 25%, with the reformist party losing all 30 seats to hard-liners more directly affiliated with Supreme Leader Ayatollah Ali Khamenei.

Khamenei and other officials of the Islamic Republic issued a range of defensive and apologetic statements regarding the low voter turnout.
Iran Recruits Syrian Children and Changes Their Faith
Following in the footsteps of the "Cubs of the Caliphate" and other sectarian schools, Iran is seeking to recruit Syrian children and teenagers, and influence their religious beliefs in order to foster a culture of loyalty to the regime of Supreme Leader Ayatollah Ali Khamenei. Through the creation of Shia missionary schools, the country seeks to take advantage of these children so they will its serve political purposes in a variety of Syrian provinces. In these schools, it is believed that these children are receiving pro-Shia indoctrination.

Although purporting to be a humanitarian volunteer activity that has been ongoing for many years and is far from any political and religious goals, Iran has been engaging in this type of activity since 2012, when Iranian Revolutionary Guards Maj.-Gen. Hassan Shateri started working to create an "Islamic generation following Vilayet Al Fakih [a guardianship-based political system] that adhered to the teachings of Iran's Supreme Leader Ali Khamenei."

Through the official page of the Syrian State Scouts on Facebook, one can see children with photos of Iran's Supreme leader and Iranian flags participating in activities. One can view them partaking in Shia religious customs, such as Ashura ceremonies, in Latkia and Damascus. They also participate in marches in support of Syrian President Bashar Assad.

The shirts worn by these children bear religious slogans, such as "Ya Hussein" and "Al Zahara" as well as the red and green flags of Hezbollah. Children between the ages of eight and 16 bear the name "imam's soldiers" while taking lessons about weapons and how to aim and fire at fixed targets, in what appear to be training camps for Shia militias.
16 Turkish Soldiers Killed in Libya
Forces loyal to Libyan eastern-based commander Khalifa Haftar said on Sunday they had killed 16 Turkish soldiers in recent weeks, a day after Turkey acknowledged it had lost several "martyrs" in combat in the north African country.

Khalid al-Mahjoub, a spokesman for Haftar's self-styled Libya National Army (LNA), said the Turks were killed in the port city of Misrata, in battles in Tripoli and in the town of al-Falah south of the capital.

Turkey backs Libya's internationally recognized Government of National Accord (GNA) and has sent Syrian soldiers along with some of its own soldiers and weapons to help the Tripoli-based administration repel an attempt by the LNA to capture the city.

Haftar's forces are backed by the United Arab Emirates and Egypt, and have also had help from Russian mercenaries.

Turkish President Tayyip Erdogan on Saturday acknowledged some Turkish losses in Libya's "struggle".
---
---
We have lots of ideas, but we need more resources to be even more effective. Please
donate today
to help get the message out and to help defend Israel.