From Ian:
---
Saturday Night Terror At Rabbi Rottenburg's Shul, 15 Transported To Hospital, Suspect In Custody
Multiple people were stabbed Saturday night in a synagogue.

According to reports, a black male entered the home of Rabbi Rottenburg, who has a Shul in the Forshay neighborhood of Monsey. There was a Chanukah party going on in the home.

The man, whose face was covered with a scarf, immediately pulled out a machete and started stabbing people.

At least 5 people were stabbed. One of the victims was stabbed in the chest.

According to reports, 15 victims were transported to the hospital, but 5 were ultimately hospitalized. 1 victim is in critical condition.

According to individuals inside the home at the time of the attack, the attacker was fought off by Jews who threw tables and chairs at him.

The perpetrator ran out after his attack and escaped in a Nissan Sentra. His license plate (HPT 5747) was written down by a bystander who pursued him before he left.

The vehicle was then identified to have passed over the George Washington Bridge to New York City at 11:02PM.

Police initially tracked the vehicle to an address located in Greewood Lake. Police also tracked down the father of the suspect and interviewed him.

At approximately midnight, the NYPD stopped a vehicle matching the description at W 177 Street and 7 Avenue in Harlem. A suspect from the vehicle was taken into custody.

Rabbi Rottenburg's Shul is located in the Forshay neighborhood in Monsey.
Five Wounded, Two Critical After Stabbing Attack on Jewish Worshipers at Hanukkah Celebration in New York
An attacker stabbed five people late on Saturday at a Hasidic rabbi's home in New York state and fled before apparently being arrested, a Jewish organization said, a rampage that came after days of increased concern over antisemitic assaults.

The Orthodox Jewish Public Affairs Council (OJPAC) said on Twitter an attacker wearing a scarf stabbed the victims at a house in Monsey, Rockland County, about 30 miles north of New York City. The Council identified the assailant as an African American male.

All five victims were taken to hospitals, the council said, adding that two of the victims were critical, with one of them stabbed at least six times.

"The suspect fled the scene, but he is in custody at this time," the Ramapo Police Department said in a Facebook post.

The police department confirmed that five people were stabbed and said that the investigation was going on. The department did not provide any more details.

An OJPAC official, Yossi Gestetner, told the New York Times the attack happened at around 10 p.m. during a Hanukkah celebration that was being attended by many dozens of people at the rabbi's home.

About a third of the population of Rockland County is Jewish, including a large enclave of Orthodox Jews.
Right after the #MonseyAttack, the Rabbi and his followers gathered in the synagogue where the attack took place and continued the celebrations. Hate will not win! pic.twitter.com/DtPWElofPJ

— StandWithUs (@StandWithUs) December 29, 2019
Attacker arrested after multiple people stabbed at Rockland County synagogue
A knife-wielding assailant stabbed four people in a rabbi's basement synagogue in Rockland County during a crowded Hanukkah celebration Saturday night, according to a law enforcement source.

The suspect fled the scene in a 2015 Nissan Sentra, driving over the George Washington Bridge into Manhattan — and was promptly arrested by the NYPD at 144th Street and Seventh Avenue in Harlem at midnight, the source said. He was identified by a police source as Thomas Grafton, 37.

The accused attacker was transferred back to Rockland County around 4 a.m. from the 32nd Precinct by State Troopers, the lead agency on the case.

One victim was left in critical condition in the attack, which happened at around 10 p.m. when a man walked into the basement synagogue in Monsey with a machete or similarly large knife and began attacking people, the source said.

Between 50 and 100 people were inside the synagogue, which is known locally as Rabbi Rottenberg's Shul.

Those gathered had just lit the menorah on the second-to-last night of the holiday, according to Aron Kohn, 65, who was inside.

"He just took it (the knife) out and started to run at people," Kohn said.

Kohn described a frantic scene inside, saying he threw whatever furniture he could lay his hand on at the maniac.

"I saw him stabbing people and I started throwing chairs and tables," Kohn said.

After slashing four people inside — a fifth person was injured in the panic — the attacker attempted to enter the temple next door to the rabbi's house, but fled after he failed to gain access.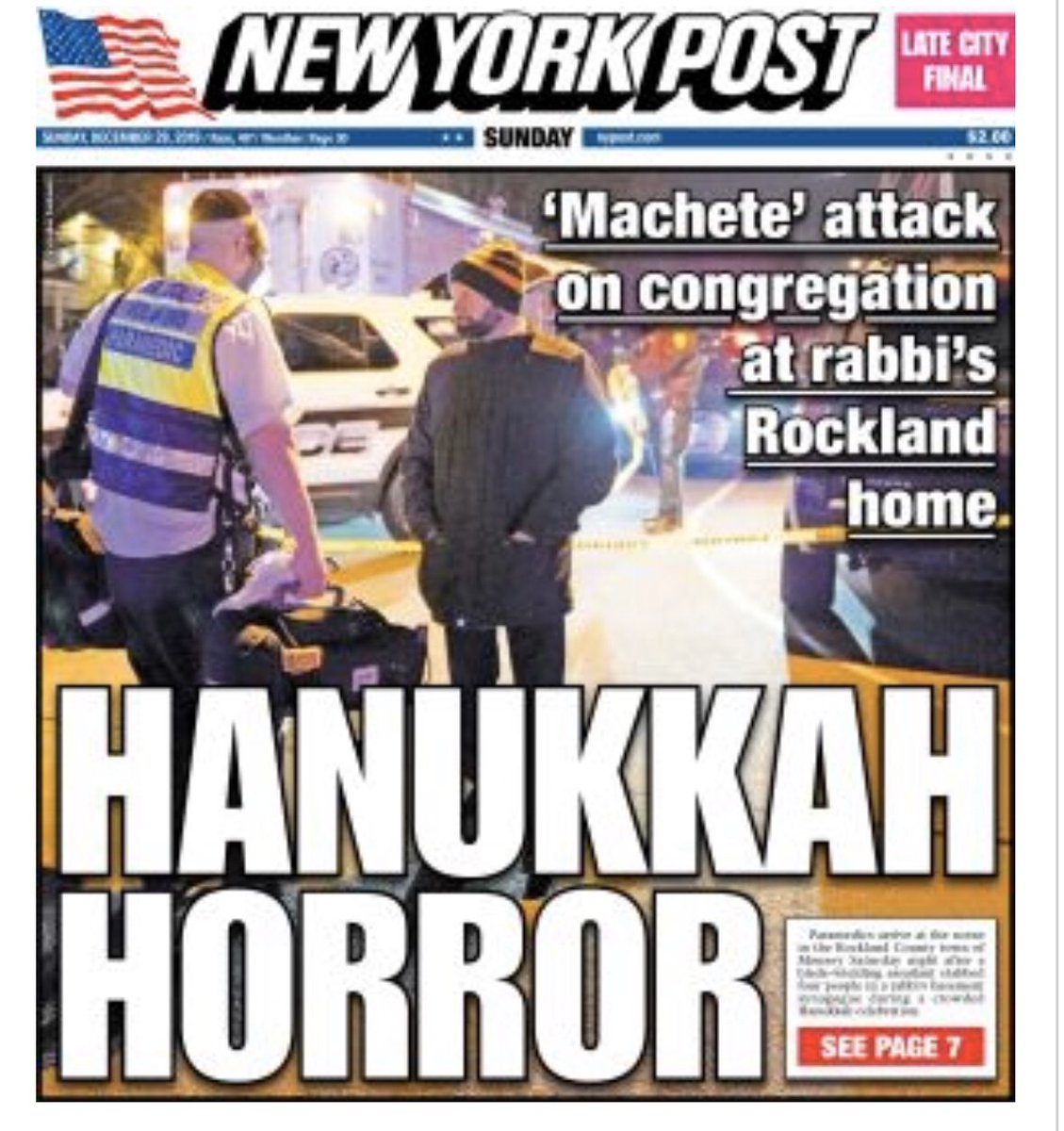 Karol Markowicz:
How liberals are allowing anti-Semitism to flourish
De Blasio tweeted after this latest round of violence against Jews. He has to stop beating around the bush. These attacks aren't an ­attack on "our values." They're attacks on visibly Jewish people.

De Blasio needs to stop trying to find a "them" to be the opposite of his "us." His juvenile obsession with having the right adversaries allows anti-Semitism to flourish.

I used to write about Europeans and their apathetic attitudes ­toward the Jew-hatred around them. Synagogues torched, Jews beaten — just another day on the Continent.

But now the demon is here, in America. Worse, it's stalking Jews with increasing regularity in New York City, my city, home to the largest Jewish population outside Israel. Hizzoner's vague universalist rhetoric obscures this raw reality.

And it isn't just his ideological blinders. The mayor has also helped create an anti-police ­atmosphere, in which the vigilant presence of officers is considered a bad thing. At an anti-police rally last month, there were signs calling for violence against the NYPD.

De Blasio's response? He insinuated that the idea that there's anti-police sentiment in our city is, yes, another right-wing plot.

In 2020 I don't want to read ­another column like this one. All Jews want is to live our lives in safety. To ensure that, the mayor will have to stop using the violence against us to fight his invisible political foes.

De Blasio's ideology has led to apathy, which, in turn, has resulted in injured Jews in our city. It's time for his administration to take serious action, starting by flooding hot-spot neighborhoods with ­police officers empowered to act.

In May, I wrote: "The attacks, and the silence of progressive New York, are utterly appalling." In ­December, it's more than appalling. It's complicit.
Victor Rosenthal:
Why They Attack Jews in New York
Ironically, Farrakhan's philosophy calls for blacks to adopt an internal locus of control, and change their condition through action. But at the same time he is telling them that all their problems are someone else's fault: the Jews.

The idea that a Jewish conspiracy is responsible for the perceived problems of POC in the US is widely believed. The "information bubbles" that surround people today make it possible for what would have been considered extremism in the past to become conventional wisdom within each bubble. If everyone in your neighborhood "knows" the Jews are responsible for its poverty and crime, who are you to deny it?

Just as the Palestinian educational system has produced a generation of young people who will cut a Jew's throat – even a Jewish child's – as easily as looking at him, the ideology of powerlessness against a society designed to exploit you, combined with explicit anti-Jewish rhetoric from respected figures, has created an angry young generation.

They are punching, spitting at, robbing, or cursing Jews. They have (mostly) not become murderers like the young Palestinians (yet).

It isn't enough to discredit explicit Jew-haters like Farrakhan, not that it would be easy to do so. It's probably also necessary to fight against the epidemic of blame ideology, in which everything bad that happens is someone else's fault. Those who believe that they are primarily responsible for their own success or failure – a distinctly right-wing belief, by the way – will use their energy to improve their own positions, rather than to strike out at others that they perceive as enemies.

Until Americans figure out how to do that, Jews there will have to study krav maga along with Talmud. Just like Israelis.
Rockland County stabbing: Cuomo calls Hanukkah attack 'an act of domestic terrorism'
Gov. Andrew Cuomo called the attack on Orthodox Jews during a crowded Hanukkah celebration in Rockland County an act of domestic terrorism and vowed to help punish the accused assailant as a terrorist.

"Let's call it what it is. These people are domestic terrorists and the law should reflect that and they should be punished as if it was an act of terrorism," the governor said in Monsey on Sunday morning.

"It is intolerant it is ignorant but it is also illegal. At the end of the day, it is not just about words but actions. It is violence spurred by hate. It is mass violence and I consider this an act of domestic terrorism."

Five people were stabbed in the basement of Hasidic Rabbi Chaim Rottenberg's basement Saturday around 10 p.m. in the hamlet about 30 miles north of New York City with a large population of Orthodox Jews.

Dozens were at Rabbi Rottenberg's house, which is next door to a synagogue, during the attack.

Two were believed to be in critical condition.

One of the victims suffered "wounds to the head" and another was Rottenberg's son, according to Cuomo.

"This is an intolerant time in this country. We see anger, we see hatred exploded. It is an American cancer… it literally turns one cell in the body against others," Cuomo said.
Jews in New York are sick and tired of the tweets condemning antisemitism, we don't need tweets, we don't need press conferences, we need action and we need it now!

CC: @NYGovCuomo, @NYCMayor. pic.twitter.com/rnpWJE4P50

— Dov Hikind (@HikindDov) December 29, 2019
Israeli Prime Minister, President Voice 'Outrage' Over New York Stabbing Attack on Worshipers at Rabbi's House
Israeli President Reuven Rivlin said he was "shocked and outraged by the terrible attack in New York." He added, "We are praying for the rapid recovery of those injured."

"The rise of antisemitism is not just a Jewish problem, and certainly not just the State of Israel's problem," he asserted. "We must work together to confront this evil, which is raising its head again and is a genuine threat around the world."

Prime Minister Benjamin Netanyahu said in a statement, "Israel strongly condemns the recent displays of antisemitism including the vicious attack at the home of a rabbi in Monsey, New York, during Hanukkah. We send our best wishes for recovery to the wounded."

"We will cooperate however possible with the local authorities in order to assist in defeating this phenomenon," he added. "We offer our assistance to every country."

Isaac Herzog, chairman of the Jewish Agency, said, "This is an attempt of cold-blooded murder of Jews, in the heart of a warm and thriving Jewish community that gathered to light Hanukkah candles."

"This past year, the Jewish holidays have turned from joyous times of light to dark days filled with fear for Jews around the world," he said. "Law enforcement agencies in the United States are making huge efforts to protect Jewish communities, but a relentless battle must be waged against this horrifying and painful spate of violent antisemitic acts. It's unacceptable that a Jew wearing a kippah cannot safely walk the streets of New York."

"It always starts with the Jews, but never ends just with the Jews," Herzog said.

Benny Gantz, leader of the opposition Blue and White party, tweeted, "I send my wishes for a speedy recovery to the victims of the hate crime in Monsey, New York. We have become witness to a surge in antisemitic violence around the world, and this horrific attack, during a Hanukkah celebration, is further evidence of a global problem that we face."

"I have no doubt that the American authorities, who took the attacker into custody, will show zero tolerance and will do everything to stop this alarming trend," he said.
We send our best wishes for recovery to the wounded. We will cooperate however possible with the local authorities in order to assist in defeating this phenomenon. We offer our assistance to every country.

— Benjamin Netanyahu (@netanyahu) December 29, 2019
Major Jewish Groups 'Horrified,' Call for Special FBI Task Force in Wake of Latest Violent Attack Against Jews
Major Jewish groups reacted with horror to news on Saturday night of a violent stabbing attack that left five injured, two critically, at a Hanukkah celebration at the home of a rabbi in Monsey, New York.

Officials at the Jewish human rights NGO the Simon Wiesenthal Center urged President Donald Trump to "instruct the FBI to create a special task force in the wake of unending attacks against Jews and their religious institutions."

"Enough is enough!" said Rabbi Marvin Hier and Abraham Cooper, Dean and Founder and Associate Dean of the Center. "Jews should not have to fear for their lives in America to go to their houses of worship. The FBI must step up and take the lead in all recent violent hate crimes targeting religious Jews."

The group also urged black leaders to speak out against the spate of recent hate crimes in New York and New Jersey carried out by African-Americans.

The Conference of Presidents of Major American Jewish Organizations, the leading Jewish umbrella group in the US, voiced "outrage" at the latest attack. "There have been many attacks in the past week," the group pointed out, and called for "real measures by law enforcement, governmental leaders, and judicial authorities at the city, state, and federal levels. … There must be serious consequences for perpetrators."

The group also called on leaders of "religious, ethnic and other communities" to speak out.
Seth Frantzman:
Inconvenient antisemitism: The daily attacks on Jews in New York
Despite the way this this antisemitism has combined traditional antisemitism with a twist, turning Jews into "whites" as opposed to hating them for being wandering Middle Easterners, there is very little recognition that it is dangerous. This is despite hundreds of violent attacks over the years, primarily targeting Orthodox Jews. Now, this has resulted in murder. But many voices want to downplay it and explain it away. For instance, The New Yorker asked whether an "influx of Hasidic residents in the Greenville [Jersey City] neighborhood spur two assailants to embark on a shooting spree that left six people dead." Jews, simply for moving somewhere, may cause a shooting spree, in this explanation. Jews are the only US minority group who, when they move somewhere, are accused of being an "influx." Others have argued that we can't even label the recent attacks "right wing" or "left wing" because it's totally different to "white nationalists whose beliefs are based on antisemitism."

A review of the discussion about the New York City attacks reveals an America that has trouble adjusting to and describing antisemitism when it comes from unexpected perpetrators. This is partly because the general view of racism in the US is that racism is not just about racism but about power. That is why in the US people look for racism in "white privilege" and the way racist views can be perpetuated even through code words and social settings and institutions. Confronted with the idea that minority groups are also racist, such as Hispanics using the n-word, there is a struggle to come to grips with how to define and confront. With the Jewish community there has been an agenda to argue over its relative "whiteness" and insofar as Jews are then removed from the intersectional agenda of minority groups fighting white privilege, Jews become either a separate category or part of the oppressive majority. This is odd but it is part of a wider agenda to assert that Zionism is racism and Jews are somehow linked to far-right groups through Israel and Israel is a modern apartheid colonialist structure. These ideas didn't inform the Jersey City killings, but they are part of the milieu that informs those who might excuse the attacks.

Another element at play is the fact people are being inured to antisemitism. There was so much violent antisemitism in 2019 that people are less shocked. Also, those most prone to be shocked, other members of the Jewish community, sometimes see haredi Jews through a vaguely discriminatory lens, which others them. There is little solidarity with Orthodox Jews as a minority group, whereas if they were another group, there would be a larger outpouring of sympathy.

The result is a multi-layered cake of excuses and fear at confronting a wider range of perpetrators of antisemitism in New York. If violent antisemitism that sees Jews controlling the police and being responsible for slavery and white supremacy, is growing in the African American community in America then confronting it requires asking a minority community that is also a victim to be self-critical. In the US there tends to be pass for minority groups who are homophobic or racist. Society can only confront one kind of racism. This is largely because those driving the agenda of confronting racism either have blinders on regarding all forms of racism and antisemitism or are unaware of it because they don't conduct surveys and polls regarding the prevalence of antisemitism in places like Brooklyn. When the perpetrators and victims do not fit a convenient model, it is easier to just excuse the attacks or see them as random. Unfortunately, in the US these attacks are not random, and there is rising violent antisemitism coming from a broad spectrum of communities, including white supremacists and from African Americans. Confronting it requires the same broad spectrum to step up the struggle.
David Horovitz:
America's challenge, as violent anti-Semitism swells
Modern American anti-Semitism is a heady cocktail of extremist hatreds, a common cause for improbable bedfellows from radical Islamists to white supremacists. It is conflated with opposition to Israel, the deepening polarization of American politics, the violence routinely pumped into impressionable young minds via smartphone, TV and computer screens, the cesspool of toxicity that flourishes on social media, and a whole host of other factors.

Watching from Israel as the globe's only other substantial Jewish community comes under increasing attack, a first natural response is sorrow. A second is identification: we know only too well how it feels to be threatened, targeted, murdered for who we are. A third, for many Israelis, is to encourage American Jews to give up on the Diaspora and move here — throw in their lot with the world's only Jewish nation-state.

Well, of course, we welcome aliya. We are proud that our resilience, over decades of hostility, means we can indeed serve as a refuge for Jews worldwide who need the protection of the historic Jewish homeland. But we would much rather that aliya be a matter of choice, not necessity.

America is not the Europe of the 1930s; its leaders are committed to protecting its Jews. It is not — not yet — the blighted anti-Semitic hotspots of Europe today, where the authorities are proving incapable of providing protection. But as 2019 becomes 2020, one can no longer blithely say that in America, unlike parts of Europe, all Jews can confidently lead proudly public Jewish lives. The tide of hatred is rising. It can yet, and it must, be turned back.

The American mainstream remains overwhelmingly committed to marginalizing the anti-Semites. What's needed now is dedicated, steadfast action.

Every society has its dangerous extremists; the measure of a healthy society is the degree to which it firmly and effectively consigns them to the outlawed and ostracized margins. This is America's test today. The future of America's Jewish community hinges upon it. So too, one rather thinks, the future of the America we so love, respect and admire.
Will American Jews finally get hint about dangers they face? - analysis
Unfortunately, even Sunday's attack, which came almost right after an attack in Manhattan and a shooting in New Jersey – one of nine attacks in one week – will likely not lead these smaller communities to change their ways.

New York homeland security officials have told the Post that awareness and recognition of the threat has improved significantly in recent years. However, whether it is due to scarce resources, denial or some sort of ideological reasons, the disincentives against being prepared are deeply rooted.

There are also other deep sociological issues. Some Jewish communities have ample volunteers who are physically able and motivated, maybe even a bit excited, to contribute to a local Jewish security force for their community. But many US Jews have a strong visceral distaste for performing such volunteer work and many might prefer to refrain from going and choosing a new community, if that is an option, rather than have to be personally involved in their community's security.

Some American Jews are still just finding it hard to grapple with the idea that in 2020, when Jews are such a strong and privileged national group in the US, they could face dangerous antisemitism like has not been seen in decades.

This means that likely the best that can be done in the near term will be to continue awareness campaigns, to offer additional resources for communities lacking funds, and to increase the presence of law enforcement in communities with larger Jewish communities.
Guardian Angels to patrol Jewish neighborhoods in New York City after recent attacks
"We're a visual deterrence," said Curtis Sliwa, who founded the unarmed crime-prevention group.https://t.co/fBx5FPWsTL

— Eye On Antisemitism (@AntisemitismEye) December 29, 2019
BBC News claims motive for NY stabbing attack "not clear"
On the morning of December 29th the BBC News website published a report concerning the stabbing attack at the house of a Rabbi in Monsey, NY.

That article is currently headlined "Monsey stabbing: Five people wounded at home of New York rabbi". All eight versions published to date include the claim that the motive for the attack "was not clear".

Apparently the BBC is unable to fathom why a masked attacker might enter the home of a Rabbi located next to a synagogue and begin randomly stabbing people.
Suspects released without bail after shocking attacks on Jews
Suspects arrested in last week's spree of eight anti-Semitic attacks are being quickly released right back into the neighborhoods they terrorized thanks to "bail reform" legislation — which doesn't even take effect until Jan. 1.
The most recent case of revolving-door justice came Saturday morning, with the release, with no bail, of a woman charged with punching and cursing at three Orthodox women, ages 22, 26 and 31, in Crown Heights, Brooklyn at dawn the day before.
The accused assailant, Tiffany Harris, was hauled in handcuffs before a Brooklyn judge on 21 menacing, harassment and attempted assault charges.

"F-U, Jews!" Harris, 30, of Flatbush, allegedly shouted during the attack.
"Yes, I was there," Harris later admitted to cops, according to the criminal complaint against her.
"Yes, I slapped them. I cursed them out. I said 'F-U, Jews."

As she stood before a judge in Brooklyn Criminal Court with the hood to a navy blue jacket over her head, Harris was in familiar territory.
She still has an open harassment and assault case on the Brooklyn docket from November 2018.
And last month, she was sentenced to no jail time for felony criminal mischief in Manhattan, court records show — a case for which she had repeatedly failed to make court appearances.

Brooklyn prosecutors didn't even bother requesting bail Saturday, as they could have, given that the reform law, approved in April, technically doesn't take effect until Jan. 1.
"The de Blasio administration has made it clear that we all need to get into compliance with bail reform now," said a law enforcement source.
"If prosecutors had asked for bail, corrections would release them immediately," or they would be sprung on Jan. 1, the source said.
House Passes Resolution Condemning All Unprovoked Attacks in Brooklyn (satire)
After a week in which at least eight Jews were attacked by strangers on the streets of Brooklyn, House Democrats have passed a resolution condemning all random attacks against minorities in New York.

"We oppose attacks on the streets of Brooklyn by Islamophobes, white supremacists, transphobes, homophobes, gingerphobes, and all other bigots," the resolution stated. "We will not tolerate hate against any oppressed group and will fight to ensure Muslims, Buddhists, Hindus, African Americans, Latinx Americans, women, short people, freakishly tall people, mimes, men who wear shorts in the winter, and others are safe walking the streets of Brooklyn.

The resolution originally focused on anti-Semitism, calling for increased police enforcement to end attacks against Jews in the city. Three freshmen House members, however, insisted that the language was not inclusive, and held a "cry-in" on the House floor until Speaker Nancy Pelosi was forced to pull that bill.

The first-year lawmakers were triumphant following the vote.

"Knowing that my vote will help put an end to this senseless violence truly gives me a calming feeling," Rep. Rashida Tlaib told The Mideast Beast.
UNWatch:
Obsessed: 93% of Ken Roth's "illegal" accusations targeted Israel last month
Executive Summary

A new study shows that over an 18-month period Ken Roth, the head of Human Rights Watch, devoted more than 70% of his tweets alleging "illegal" acts to the criticism of one single country: Israel. By contrast, Roth devoted only 1% of his tweets to accusing Iraq, Libya, Russia, Syria or Yemen of illegal actions, according to an examination of his tweets over an 18-month period from January 1, 2017 to June 2018.

In addition, a study of Roth's tweets over the past two months shows that, in November and December 2019, out of 57 tweets where Roth accused a country of "illegal" actions, 50 of them, or 88 percent, targeted Israel. In November, Roth tweeted one similar accusation each on the U.S., Lebanon, Turkey and Brazil.

In November 2019 alone, out of 42 tweets in which Ken Roth accused a country of "illegal" actions, 39 of them — being 93 percent — targeted Israel. Roth tweeted one similar accusation each on Bolivia, Brazil and Indonesia.

In the same 2-month period, despite widespread and systematic acts of oppression by the world's worst regimes, in violation of international human rights law including the International Covenant on Civil and Political Rights, Roth failed to tweet any such accusation against China, Russia, Syria, Iran, North Korea, Iraq, Cuba, Hamas, Myanmar, Pakistan or Venezuela.


Accused by @KenRoth of "illegal" actions in past 2 months:
🇰🇵 North Korea 0
🇻🇪 Venezuela 0
🇮🇩 Indonesia 1
🇲🇲 Myanmar 0
🇱🇧 Lebanon 1
🇵🇰 Pakistan 0
🏴‍☠️ Hamas 0
🇧🇴 Bolivia 1
🇹🇷 Turkey 1
🇷🇺 Russia 0
🇨🇳 China 0
🇸🇦 Saudi 0
🇮🇱 Israel 50
🇧🇷 Brazil 2
🇸🇾 Syria 0
🇮🇶 Iraq 0
🇮🇷 Iran 0
🇺🇸 US 1

— Hillel Neuer (@HillelNeuer) December 29, 2019



Methodology
The study searched the word "illegal" in Ken Roth's twitter feed, and from within those results, counted every instance in which Roth accused a country of illegal actions.

The word "illegal" is a powerful term. Lawyer Ken Roth appears to be using this term and accusation deliberately and repeatedly concerning one country only.

In one instance, Roth actually managed to employ the "illegal" accusation against Israel twice in a single tweet, even as, in the same year, he failed to use the same term concerning gross and systematic violations of international law by the oppressive regimes of Venezuela, China, Iran, North Korea, Cuba, the Palestinian Authority, Myanmar, Pakistan or Qatar — to name but a few.
Of 7.8 billion, here's the last people in the world to call for help in case of antisemitism:
7,799,999,994: Assad
7,799,999,995: Linda Sarsour
7,799,999,996: Erdogan
7,799,999,997: Nasrallah
7,799,999,998: Jeremy Corbyn
7,799,999,999: Ayatollah Khamenei
7.8 billionth: Ken Roth

— Hillel Neuer (@HillelNeuer) December 29, 2019
HonestReporting:
UK Op-Ed Gives Platform to Terror-Supporting Amnesty Official
There's no doubt that life for many Palestinians is hard. However, their situation is a complex one that has arisen as a result of years of bloody violence directed against Israelis. Put briefly, their situation is a consequence, not simply a cause. That's why pieces focusing on Palestinian suffering without any mention of Israel's legitimate security needs are misleading and misinform readers.

Regular readers of these pages are no doubt aware of the UK's The Independent, a media outlet which regularly exhibits an anti-Israel bent. But one such piece, entitled, "My friend was banned from travelling to visit his dying mother. This is the personal, intimate price of occupation" — which tells the sad story of how one man was not allowed to see his mother before she died in an Israeli hospital — runs significantly deeper than readers may realize.

The writer of this piece is identified thus: "Saleh Hijazi is deputy regional director for Amnesty Middle East and North Africa."

That's one way of describing Hijazi. Here's another: A terror-glorifying, war-crime supporting anti-Israel activist in the clothing of a human rights worker.

Who is Saleh Hijazi?
One would think that a senior employee of a world-renowned human rights organization would distance himself from terrorism and any appearance of supporting it. But as the Elder of Ziyon blog revealed in 2015, Hijazi's social media tells another story. He previously used a picture of Leila Khaled, a PFLP terrorist and airline hijacker, as his profile picture on Facebook.

Despite the image drawing attention, the picture remains on Hijazi's profile to this day.
Outcry after NYT writer appears to argue Ashkenazi Jews are genetically smarter
New York Times columnist Bret Stephens has sparked a firestorm of criticism after he appeared to argue that Ashkenazi Jews are genetically predisposed to have a higher IQ than non-Jews.

In a column published in the paper's Friday edition titled "The Secrets of Jewish Genius," Stephens asks, "how is it that a people who never amounted even to one-third of 1 percent of the world's population contributed so seminally to so many of its most pathbreaking ideas and innovations?"

Stephens wrote that the "common answer" was that "Jews are, or tend to be, smart," and claimed that "when it comes to Ashkenazi Jews, it's true." He quoted as evidence a 2005 academic paper that argued "Ashkenazi Jews have the highest average IQ of any ethnic group for which there are reliable data."

The paper, published in the Journal of Biosocial Science, argued that Ashkenazi Jewish culture and communal behavior during the Middle Ages may have selected for their higher intelligence, as measured by IQ scores — while also causing the genetic disorders unique to the community.

The arguments in the paper are controversial among scientists. One of its three co-authors, Henry Harpending, is celebrated among white supremacists for arguing elsewhere that human civilization has accelerated human evolution outside Africa and left white Europeans genetically predisposed to be more committed to their families and to possess a stronger work ethic than people from sub-Saharan Africa.
Report: Hamas Deal Won't Include Curbing Terrorism in Judea & Samaria, Releasing Fallen Soldiers
Hamas is refusing to stop the attacks it controls in Judea and Samaria, as part of a general deal with Israel, Reshet Bet radio reported Sunday. The proposal was recently put forward by foreign sources that met with the Hamas leadership, and the latter responded that all the understandings of a lull in the hostilities with Israel concern only the Gaza Strip, and exclude Judea and Samaria "which is under occupation," according to the response.

It is unclear whether Israel initiated the meeting with Hamas, or did the foreign sources approached the terror group on their own.

Meanwhile, ahead of Sunday's debate in the Political-Security cabinet on the arrangement with Hamas, Leah and Simcha Goldin, the parents of fallen IDF soldier Hadar Goldin whose body has been held by Hamas since the summer of 2014, attacked Prime Minister Benjamin Netanyahu, saying, "We expect him to keep his public and personal commitment from as recently as a month ago, that there would be no arrangement without our sons' return."

The Goldins added that "for a fake peace, the cabinet will decide today to sell out the values of the IDF and the State of Israel. The arrangement has already begun and Israel has not collected anything from Hamas in return for it. In Gaza there are billions in investments, upgrading of the water, electricity and sewer infrastructure, as well as new hospitals and factories being established. The Israeli government decided to give Hamas prizes and gifts without demanding anything in return. There is no other country in the world that would be willing to transfer hundreds of millions of dollars into Gaza, encourage and support billion dollar projects and continue to watch as Hamas is holding two [fallen Israeli] soldiers and two [Israeli] civilians."
Hamas faces backlash over 'ceasefire deal' with Israel
The Palestinian Authority and several Palestinian factions have criticized Hamas for its reported readiness to reach a long-term ceasefire with Israel, warning that such a move would "solidify" the split between the West Bank and Gaza Strip.

The criticism came in response to a report that the Israeli Cabinet was scheduled to debate on Sunday and review the details of a proposed long-term ceasefire with Hamas. Channel 12 News reported on Saturday that National Security Adviser Meir Ben-Shabbat will brief the minsters on the details of the proposed deal.

Hamas spokesman Abdel Latif Qanou on Sunday denied the report, saying the talk was only about "confirming previous understandings related to ending the blockade imposed on the Gaza Strip."

Senior Hamas official Khalil al-Hayya denied that his movement was conducting negotiations with Israel. Hamas was only discussing with Egypt ways of preserving the understandings to end the blockade on the Gaza Strip, he said.

Ibrahim Milhem, spokesman for the PA government, said that any deal between Hamas and Israel would serve Israeli interests and lead to the establishment of a "new separate Palestinian entity" in the Gaza Strip.
PMW:
Jesus was not only "first Palestinian" - he was "first Islamic Martyr"
The PA rewrites history, both ancient and recent.
There were repeated new claims this week, by senior Palestinian leaders and the official press, that Jesus was a "Palestinian" and the "first Palestinian." A senior Palestinian leader this week also referred to Jesus as the "first Shahid," or Islamic Martyr, which many believing Christians find very offensive. According to the Islamic tradition, which the Palestinian Authority has repeated many times to its people, among the rewards that the Islamic Martyr receives in Islam's paradise are 72 dark-eyed virgins. Whereas claiming that Jesus who was a Judean (Jew) was a Palestinian is nonsensical for believing Christians, saying he is now in Islamic Paradise with 72 virgins is seen by many as defamation.

Tawfiq Tirawi, senior Palestinian leader and Fatah Central Committee member posted on his personal Facebook page:

"This is blessed Christmas, The birthday of our lord Jesus the Messiah, the first Palestinian and the first Shahid (Islamic Martyr)."
[Tawfiq Tirawi Facebook page, Dec. 24, 2019]

According to the Islamic tradition, which the Palestinian Authority has repeated many times to its people, among the rewards that the Islamic Martyr receives in Islam's paradise, are 72 dark-eyed virgins. Whereas claiming that Jesus who was a Judean (Jew) was a Palestinian is nonsensical for believing Christians, saying he is now in Islamic Paradise with 72 virgins is seen as defamation.

Others claiming Jesus include Laila Ghannam, District Governor of Ramallah:
"The entire Palestinian people celebrates Christmas because we are proud of Jesus being Palestinian."
[Official PA daily Al-Hayat Al-Jadida, Dec. 24, 2019]
Pallywood: Freezing Gaza.
Every winter similar scenes appear on social media, generally followed by pleas for money.

Its so cold in Gaza...freezing, they say. Won't somebody think of the children?

Look at these poor families, gathered around their pitiful fires in the daytime, desperate to keep warm.



Yes, they think Westerners are stupid. In fact, they are counting on it.

What a typical December like in Gaza? High of 71. Low of 49.

Its a little warmer than Los Angeles.

Stone cold liars.
Rafah Friday Sermon by Sheikh Nael Mossran: Pensacola Shooter Had Acted out of Compassion for the Islamic Nation; The Only Way to Stop America's Crusade against Islam is Jihad for the Sake of Allah pic.twitter.com/JUDfGiEk2M

— MEMRI (@MEMRIReports) December 29, 2019
South Hampstead Synagogue and local businesses daubed with graffiti suggesting Jews were behind 9/11
South Hampstead Synagogue and businesses around Hampstead have been daubed with graffiti commonly used by conspiracy theorists to suggest that there Jews were secretly behind the 9/11 terrorist atrocities.

The businesses targeted included wine merchant Oddbins, menswear shop Ésclot, former Israeli-style restaurant Café Hampstead, and even a telephone box.

According to South Hampstead Synagogue, at least twelve locations in addition to the synagogue were targeted. Police are investigating and Camden Council is working to remove the graffiti.

"Making mendacious, dehumanising, demonising, or stereotypical allegations about Jews as such or the power of Jews as collective" is antisemitic, according to the International Definition of Antisemitism.

A spokesperson for Campaign Against Antisemitism said: "Last night there were over a dozen brazen acts of racially or religiously motivated criminal damage. The perpetrator must be identified and prosecuted to clearly show that the intimidation of Jewish communities will not be tolerated."
Sickened by the anti-Semitic graffiti on walls all over Hampstead and Belsize Park this morning. All decent people across Britain stand with our Jewish community - and we must move heaven and earth to eradicate this racist hatred, which was unimaginable just a few years ago. pic.twitter.com/Pfr8ZBIJax

— Oliver Cooper (@OliverCooper) December 29, 2019
Season 3 of 'Fauda' viewed a million times in 48 hours
The first episode of the third season of Fauda, the world-famous series about an Israeli counter-terrorism unit and its Palestinian adversaries, set records for viewership in Israel when it premiered on Thursday night. Including those who watched it when it aired on the YES Action Channel, on YES VOD and on YES's YouTube channel in the next 48 hours, Fauda's newest episode got a million views.
The episode received 12.6% of the broadcast viewership on Thursday, breaking records for previous seasons.

What's most remarkable about the one million-view figure is that this is for broadcasts of the series in Hebrew and Arabic, with Hebrew subtitles. Viewers who don't speak Hebrew will have to wait until Netflix releases the third season in 2020 with the appropriate subtitles.
Fauda became a huge hit around the world when it was picked up by Netflix and shown with subtitles in multiple languages.
Israel welcomes record-breaking 4.55 million tourists in 2019
Israel enjoyed another unprecedented year of incoming tourism in 2019, the Tourism Ministry announced on Sunday, with approximately 4.55 million tourists visiting the Jewish state.

Breaking annual records for a third consecutive year, tourist entries increased by 11% compared to 2018, when 4,120,800 foreign visitors arrived in the country.

Incoming tourism during the past 12 months has injected approximately NIS 23 billion into the economy, the ministry said.

"More than 4.5 million tourists visited Israel in 2019. This year, too, we have broken a new record in tourist arrivals," said Tourism Minister Yariv Levin.

"This historic achievement is a direct result of the ongoing revolution in marketing Israel around the world, led by the Israel Ministry of Tourism, in infrastructure development, incentives for international airlines to open new routes into the country and collaborations with the world's leading tourism agents," Levin said.

"Incoming tourism contributes to the development of the periphery and the economy and I am proud to lead this."
Judea Pearl:
Hanukkah – Our Trust Deed to History
My grandson asked why we make such a big fuss about Hanukkah. By the tone of his voice, I could tell that a juicy recipe of latkes and donuts will not work this year, nor will another story of the miracle of the lonely oil vessel, nor even the victory of the Maccabees over the Syrian army in 161 BC. After all, the Bible is full of miracles, miracle makers, wars and battles, winners and losers.

Why Hanukkah?

I told him honestly what Hanukkah means to me: "Hanukkah is our trust deed to the birth-place of our history, more solid even than the ancient synagogues they are excavating in Israel, or the arch of Titus in Rome, with the Temple ornaments carved in marble."

"Stones can be faked," I told him, "not so a continuous collective memory, passed on from father and mother to son and daughter, over 110 generations. An unassailable proof that no one can fake."

Recollecting back, this was also the answer my mother gave me when I asked what Hanukkah meant to her. "I came to Israel in the eve of Hanukkah, 1935," she said. "The first day after my arrival, I met a neighbor, a teacher who invited me to visit her kindergarten. There I experienced one of the happiest days in my life. Scores of children were standing there loudly singing Hanukkah songs, in Hebrew, as if this was the most natural thing to do, as if they were singing those songs for hundreds of years."
The Modern-Day Miracle of Hanukkah
The miracle of Hanukkah, The miracle of a nation. The miracle that our soldiers continue to defend each and every day. Happy Hanukkah!
---
---
We have lots of ideas, but we need more resources to be even more effective. Please
donate today
to help get the message out and to help defend Israel.