From Ian:
---
Evelyn Gordon:
Once Again, the PA Shows It Doesn't Care about Having a Viable State
The Palestinians' refusal to attend a U.S.-sponsored "economic workshop" in Bahrain has been widely treated as a reasonable response to the unlikelihood that President Trump's peace plan will satisfy their demands. But in fact, it's merely further proof that the Palestinian leadership doesn't actually want a state - or at least not a viable one - because even if Palestinian statehood isn't imminent, economic development now would increase the viability of any future state.

This understanding is precisely what guided Israel's leadership in the pre-state years, although the pre-state Jewish community was bitterly at odds with the ruling British. Nevertheless, the pre-state leadership welcomed and cooperated with British efforts to develop the country, knowing that this would benefit the Jewish state once it finally arose.

The declared aim of the Bahrain conference is merely to drum up investment in the Palestinian economy, primarily from Arab states and the private sector. Thus, if the PA actually wanted to lay the groundwork for a viable state, what it ought to be doing is attending the conference and discussing these proposals.

The most astounding part is that the rest of the world, despite insisting that it wants a "viable Palestinian state," openly condones the PA's refusal to go to Bahrain. Instead, the rest of the world should be telling the PA that it ought to seize any chance for economic development because without such development, there's no chance of any future Palestinian state actually being viable.
Another Approach to the Palestinian Question
The PA should not overlook realities. Regardless of who is at fault, the Palestinian people are split between the West Bank and Gaza. Representatives from 32 states attended the ceremonies of the transfer of the U.S. embassy to Jerusalem. More than half a million Israelis live in the West Bank.

The PA cannot ignore all of this. Its withdrawal from the arena by boycotting diplomacy will not make unpleasantness go away and will not improve the Palestinian position.

The tide of change made important international players that had long supported the Palestinians - such as India, China and Russia - maintain close relations with Israel.

Whatever progress the Palestinians experienced was achieved through direct negotiations with the Israelis.

Certainly, it is possible to undermine the forthcoming U.S. initiative through opposition and boycott. However, the consequence is the perpetuation of the status quo, which works to strengthen the hand of Arab extremists such as Hamas who use "the cause" as a means to bring the Arab temple crashing down on the Arab state and the heads of all the Arabs in it.

The alternative is to draw inspiration from President Anwar Al-Sadat, who saw the matter as a problem between us and Israel, rather than between us and the U.S.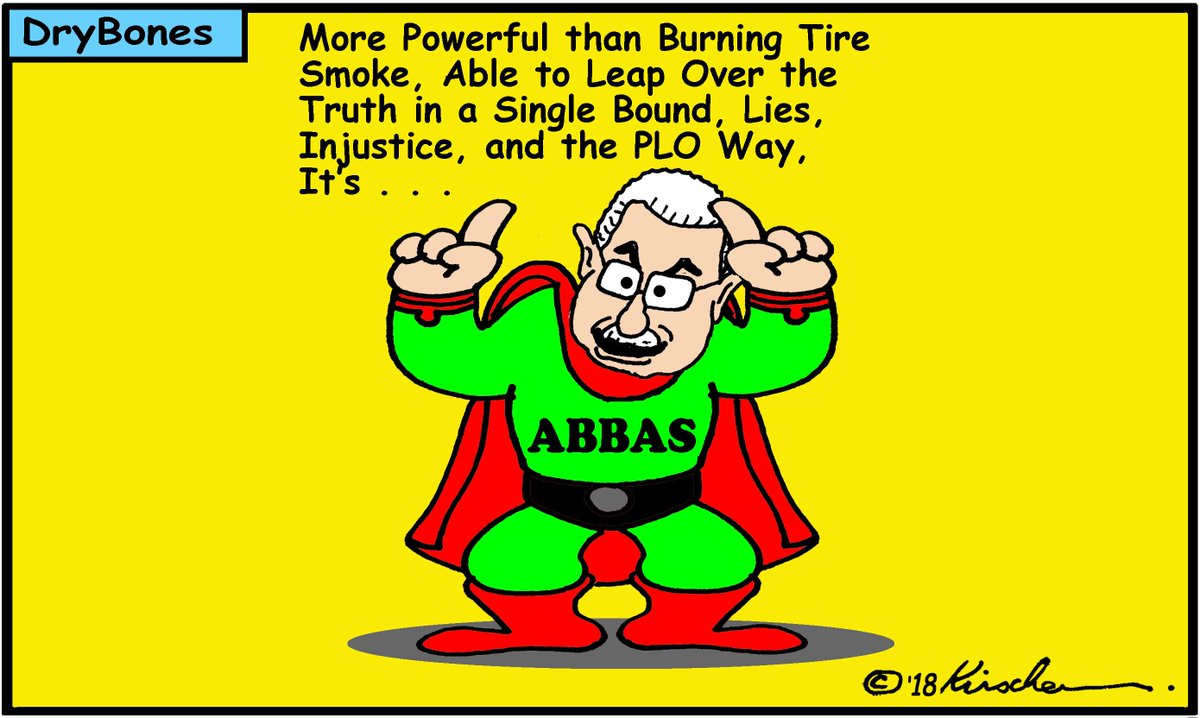 Algemeiner Editor-in-Chief: With Bahrain Summit, US 'Trying Something Different' in Israeli-Palestinian Peacemaking
With the upcoming economic workshop in Bahrain, the US is experimenting with a fresh approach to Israeli-Palestinian peacemaking, which may or may nor bear fruit, the editor-in-chief of The Algemeiner said during an appearance this week on i24 News.

"The Trump administration and Jared Kushner keep stressing, 'If we're going to fail at this, we're not going to fail at it doing the same stuff that everybody's been doing for however many years,'" Dovid Efune said. "They're trying something different. And the pundits-that-be keep looking back to the old paradigms that existed beforehand."

"At the end of the day, that's one of the things that's different here," Efune continued. "They're trying to create a discussion which is outside the political framework. They're trying to create a people-to-people dynamic, they're trying to create a business-to-business dynamic…to try and foster what they call a bottom-up peace."

He added, "It's new. Is it going to succeed? Who knows? But the fact that they are trying something different, good luck to them."

Watch Efune's i24 News appearance, in which he also commented on current US-Iran tensions and Israeli domestic politics, below:
The Sole Palestinian Attending Trump's Mideast Peace Summit
Palestinians have largely boycotted the Bahrain conference, where Arab leaders and American diplomats will review economic options for the Palestinians, except for one man — Ashraf Jabari. Our Mike Wagenheim has the story.
MEMRI:
Senior Jordanian Journalist: Conflict With Israel Is Irresolvable; 'Deal Of Century' Will Fail Because Arab Peoples Do Not Support It
In his April 15, 2019 column in Jordan's Al-Ghad daily, titled "The Illusions of Peace with Israel," senior Jordanian journalist Fahd Al-Khitan wrote that the complicated conflict with Israel cannot be resolved even as part of a global deal. He explained that, despite the U.S. administrations' considerable efforts to advance its "Deal of the Century," and despite the peace agreements Israel has signed with Jordan and Egypt and its rapprochement with other Arab governments, the Arab peoples themselves hate Israel, regard it as an illegitimate alien corn in the region and oppose any plan for peace with it. Al-Khitan therefore assessed that the present generation will not see a final settlement of the conflict with Israel, adding that those who believe otherwise, chief of them U.S. President Donald Trump, are deluding themselves.

The following are excerpts from his column:[1]
"The Trump administration may at any moment announce its peace deal, or 'Deal of the Century,' as [Trump] calls it, which sets out a solution to the conflict in minute detail. [This administration] has power and clout that enable it to pressure the sides in order to push the deal through. [However,] previous American administrations also pressured the sides in various ways, yet they never managed to realize their plans. More importantly, they did not manage to garner popular support for their plans.

"Israel can normalize relations with Arab and Muslim countries, openly or in secret, and it is [indeed] doing so and making achievements [in this area]. But past experience shows that normalization with governments is no guarantee of peace between peoples, in the absence of a genuine historic basis for a just peace. The PLO recognized Israel and made a historic agreement with it, which established a Palestinian authority on the ground – yet peace between the Palestinians and Israelis is still a distant dream. Israel has signed peace agreements with Egypt and Jordan, yet the peoples of those two countries are Israel's biggest haters, as Western opinion polls show.
On eve of Bahrain summit, U.N. official warns of possible PA collapse
The Palestinian Authority is in danger of financial collapse as a result of its dispute with Israel over terror payments, the UN's Special Coordinator to the Middle East Peace Process Nickolay Mladenov warned the United Nations Security Council on the eve of a US-sponsored summit in Bahrain on the Palestinian economy.

"I am deeply concerned about developments relating to the clearance of revenues of the Palestinian Authority," Mladenov told the UNSC in New York at its monthly meeting on the Middle East.

"The Palestinian Government is facing a very serious financial crisis which, unless resolved, risks triggering a series of dangerous developments that will be difficult to mitigate and contain, including the potential collapse of the Authority," Mladenov said.

The financial crisis, he said, risks "undermining of 25 years of investment by the international community in supporting a two-state solution under the Oslo process." This year, Israel began withholding some $140 million, approximately $11.5m a month, from the tax revenues it collects on behalf of the PA and then transfers to it. The 6% of the tax revenues it has withheld is equal to the sum of money that the PA give to Palestinian terrorists and their family members. To protest the move the PA has refused to accept any of the tax revenues, even though such tax revenues constitutes 65% of its budget.

"I echo the call by Palestinian PM Mohammed Shtayyeh upon Israel to restore the revenue transfers in full and call on both sides to engage in a constructive manner to ensure compliance with the Paris Protocol on Economic Relations," Mladenov said.
The PA is asking for more money from the Arab countries, but they won't come to a workshop which is designed to improve their economy & taper off endless aid. I think we all have to recognize that the endless aid (& rewarding terrorists) has to end. Time for a new paradigm.

— Jason D. Greenblatt (@jdgreenblatt45) June 20, 2019
"Israel is rooted deep in her heart" – who is Kelly Craft?
Nikki Haley was one of the biggest advocates for Israel to ever fill the position of Ambassador to the UN. After her departure, Israeli diplomats were worried that whoever would be appointed as her successor, would not be as pro-Israel as Haley.

Kelly Craft, the US Ambassador to Canada, was nominated in February by President Donald Trump as the Ambassador to the UN. Craft, a major Republican donor and operative from Kentucky, started her own business advisory firm in Lexington in 2004. She is married to billionaire coal baron Joe Craft.

Israeli diplomats in Washington and New York told the Post that they are not aware of Craft's record regarding Israel. However, the top Israeli diplomat in Canada, where Craft currently serves as Ambassador, said that the would-be Ambassador is a strong supporter of Israel.

"We created a deep friendship during her tenure as Ambassador, and I even sent her a letter, thanking her for her worldview on Israel," Nimrod Barkan, Israeli Ambassador to Canada, told The Jerusalem Post.

In his letter, Barkan wrote Craft ahead of her confirmation hearing: "Ever since we met upon your arrival to Ottawa, I was deeply impressed with you, your wisdom and sharpness, and, naturally, your love and support for the State of Israel. Well beyond your diligent work with Canada, you showed great interest in Israel-related issues, and worked tirelessly to improve both US-Israel relations as well as Canada-Israel relations, as much as you could."

He added that "while I am and will be sad to see you depart Ottawa, though we will still keep in touch, I know, from our many conversations, that you will continue to be a steadfast supporter and friend of the State of Israel in the United Nations, within US foreign policy, and everywhere else that you will be in the future."
Against the Current: Germany's Iranian-Born MP on the Front Lines for Israel and Jewish Life in Germany
German foreign policy of the recent past has been largely characterized by didactic hectoring of the Jewish state, accommodation with Iran, and pandering toward Hezbollah. This has been the attitude not only of governments in Berlin, but of most parliamentarians in the Federal Republic. But there are holdouts who have resisted and even reversed some of these tendencies and perhaps none is more interesting than the Iranian-born champion of the Jewish state, Bijan Djir-Sarai.

As a deputy in the Bundestag (Germany's parliament) and member of Germany's Free Democratic Party (FDP), Djir-Sarai and his party have been countervailing forces at the national level, trying to get Chancellor Angela Merkel to moderate her anti-Israel voting pattern in U.N. bodies, her support for Iran's clerical regime, and her refusal to ban all of Hezbollah in Germany. This same goes for combating the growing BDS campaign in the Federal Republic.

Born in Tehran 43 years ago, Djir-Sarai came to Germany when he was 11 to live with an uncle. "We need to see the problems that exist in the region much more through Israeli glasses," Djir-Sarai told Tablet when asked how Germany could improve its relationship with Israel. "Only then will we understand why security and peace are so important to Israel."

His answer cuts against the grain of mainstream German discourse, which frequently degenerates into painting a false ethical equivalency between Israel and its enemies.

Take for example Christoph Heusgen, Berlin's ambassador to the U.N., who compared Israel's anti-terrorism measures with the actions of the EU- and US-designated terrorist entity Hamas. Heusgen said in March, after Hamas in Gaza fired more than 100 rockets at Israeli communities: "Civilians must live without fear of Palestinian rockets or Israeli bulldozers."

Heusgen, widely viewed by Israeli diplomats as hostile to the Jewish state, participated 16 times in condemning Israel at the U.N. in 2018, out of 21 such proposals.
Israel approves $40.4 million to help Ethiopian students in higher education
The Council for Higher Education in Israel has approved a $40.4-million plan to encourage academic excellence and leadership among Ethiopian-Israeli students.

The multi-year plan to help the students is part of Israel's 2015 Government Policy for Advancing the Integration of Israel Citizens of Ethiopian Descent into Israeli Society. It includes broad support starting at the pre-academic stage and continuing on to bachelor's degree studies, advanced degree studies and the hiring of senior academic staff.

The goal is to increase by some 40 percent the number of Ethiopian-Israeli bachelor's degree students, from 2,500 to approximately 3,500, within five years.

The primary obstacles preventing the Ethiopian-Israeli students' integration into the higher education system include the lack of pre-academic information, advisement and guidance; a low percentage of holders of matriculation certificates that meet the threshold set by the universities; and high dropout rates between the first and second year.
Israel unveils portable Iron Dome at Paris air show
Israeli aerospace company Rafael has unveiled a portable Iron Dome missile defense battery, promising deployed troops the same protection the original system provided for civilian populations.

The I-Dome, designed to protect troops from rockets, mortars and UAV attacks, was among several new Israeli-made weapons systems featured this week at the Paris Air Show.

The scaled-down missile battery fits on the back of a large flatbed truck, making the system easily transportable. Its cartridge holds 10 Tamir interceptor misses, instead of the 20 used by its larger Iron Dome counterpart.

"Basically, we put a missile launcher, radar and a control system in the cab of a vehicle," Rafael CEO Pini Yungman told Channel 13 from the Paris expo. "This array can offer the same protection as the Iron Dome battery."

"The I-Dome is an all-in-one system," he said.
ניידת, קטנה - ומשופרת: הדור הבא של מערכת כיפת ברזל • @OrHeller עם הכתבה המלאה >> https://t.co/7gomjkry8R pic.twitter.com/T1xTA4HsQ2

— חדשות 13 (@newsisrael13) June 19, 2019
'Everyone Is In Violation:' UN Blacklisted Terrorists Are Accessing Thousands Of Dollars Every Month
Accused al Qaeda and Islamic State terrorists are being allowed to access their bank accounts even after the United Nations freezes their accounts, according to documents The Wall Street Journal reviewed as well as people close to the matter.

The U.N. blacklists members and supporters of terrorism, and blacklisters are not supposed to be allowed easy access to their financials. This is mostly used as a way to ensure they don't continue funding terrorism, WSJ reported Wednesday.

Blacklisters' home countries are supposed to apply for U.N. exemptions, which allow accused terrorists to get small amounts of money to pay for food, rent and other necessary living expenses. However, member countries are not monitoring blacklisted terrorists living in their countries and are allowing them to access much larger sums of money, according to some U.N. officials.

These exemptions are being granted loosely and without much oversight, according to the officials. Some of the amounts are large, and there are no spending audits.

Khalifa al-Subaiy, a Qatari financier that the U.S. has accused of giving money to those heading up al Qaeda, is allowed to take up to $10,000 a month from his frozen accounts, according to documents and people familiar with the matter. He funded Khalid Sheikh Mohammed, who was behind the Sept. 11 attacks.
Al Jazeera Promotes Hamas' War On Israel In Broadcast For Egypt's Muslim Brotherhood Leader
Following on the heels of its recent controversies for anti-Semitism and Holocaust denial, Qatar's Al Jazeera Arabic network this week featured a former Hamas leader praising the Egyptian Muslim Brotherhood's assistance in conducting missile attacks on Israeli civilians.

Broadcasting from Al Jazeera's studios in Doha, former Hamas Leader Khaled Mashal eulogized the former Egyptian President Mohamed Morsi, who died of a heart attack on Monday in a Cairo courthouse. He offered condolences to the people of Egypt for the loss of "a great man," reminding the network's Arabic audience that Morsi had repeatedly challenged Israel while in office.

In the midst of an hours-long memorial broadcast brimming with incitement against Qatar's enemies, including Israel, Egypt and Saudi Arabia, Mashal praised the deceased Morsi for assisting Hamas' bombardment of civilians in Israel.

"With Morsi's support in Cairo," the Hamas leader said, "our great resistance factions — including Izz ad-Din al-Qassam Brigades — had bombed the heart of Israel."

Mashal praised a fiery speech given by Morsi in November 2012, in which he expressed his opposition to Israel and the United States. "That's when the great Egyptian state, inspired by its great leader [Mohammed Morsi] said no to Israel, no to America. Their aggression must come to an end."
Hamas Chief Details Terms for Calm With Israel
Hamas chief Ismail Haniyeh said on Thursday that two industrial zones, a new power line and a hospital would be built for Palestinians in the Gaza Strip as part of truce understandings between his Islamist group and Israel.

The deal, brokered by Egypt, Qatar and the United Nations, has not been publicly acknowledged by Israel, which deems Gaza's ruling Hamas movement a terrorist organization and shuns direct negotiations.

In a briefing to foreign media, Haniyeh accused Israel of failing to comply fully with the understandings and of repeatedly reducing the size of Gaza's fishing zone, which he said was to be widened to 18 miles under the deal.

Israel, which cites security concerns for its naval blockade of Gaza and strict border controls, has temporarily narrowed or closed the zone in recent weeks in what it said was a response to incendiary balloons launched from the Palestinian enclave.

Haniyeh accused Israel of non-compliance with the ceasefire and of delaying any launching of the projects stated in the deal. "The understandings are in danger because of the non-compliance by the occupation to implement the required obligations," Haniyeh said.

But he said Palestinian factions in Gaza were committed to maintaining calm by stopping the balloon launchings and nighttime demonstrations along the border that have led to clashes with Israeli forces.

"We want to afford a dignified life for our Palestinian people and we want to spare our people repeated aggressions (by Israel)," said Haniyeh.
Palestinian 'Moderates:' Rifles, Hand Grenades and Terrorism
How does Abbas explain his opposition to the use of weapons and terrorism against Israel while his own faction displays rifles and a hand grenade and a map where Israel is completely ignored?

Fatah is, in other words, calling for a new Intifada [uprising] against Israel because the US is seeking ways to help the Palestinians. This is nothing less than loony.

In several interviews over the past few years, Zakariya Zubeidi made it clear that he never had any intention of renouncing terrorism. In one interview, he said that the Palestinian "resistance" could coexist alongside negotiating with Israel.... Recently, Zubeidi told an Israeli TV correspondent that he "misses the intifada and the revolution."

By its very own words and actions, Fatah makes it plainly clear that it is anything but moderate and pragmatic. This is the same faction that is supposed to be Israel's peace partner and whose leaders are welcomed around the world as advocates of peace and coexistence. If this is moderation, one wonders: how do Palestinians define extremism? The international community might check Fatah's communications in Arabic before answering that question for themselves.
Trump says he called off disproportionate Iran strike that would have killed 150
US President Donald Trump said the US was "cocked and loaded" to retaliate against Iran for downing an American drone Thursday, but canceled the strikes 10 minutes before they were to be carried out after being told some 150 people could die.

Trump tweeted Friday that the US was ready to "retaliate last night on 3 different sights when I asked, how many will die." He said a general told him 150 people, and he canceled the strikes as "not proportionate to shooting down an unmanned drone."

Trump tweeted that the US will never allow Iran to have a nuclear weapon. But he said he's in no hurry to respond to the downing of the US surveillance drone over the Strait of Hormuz.

He said US sanctions are crippling the Iranian economy and that more are being added.

The United States abruptly called off preparations for a military strike against Iran over the downing of a US surveillance drone, a US official said, while Iran claimed Friday it had issued several warnings before shooting down the drone over what it said was Iranian territory.

A US official, who was not authorized to discuss the operation publicly and spoke on condition of anonymity, said the targets would have included radars and missile batteries.

The swift reversal was a reminder of the serious risk of military conflict between US and Iranian forces as the Trump administration combines a "maximum pressure" campaign of economic sanctions with a buildup of American forces in the region. As tensions mounted in recent weeks, there have been growing fears that either side could make a dire miscalculation that led to war .
Trump sent message to Iran: Hold talks or we'll strike — report
US President Donald Trump on Thursday night urged Iran to come to the table to hold talks in a message conveyed through Oman, and warned that a US strike against the Islamic Republic could be imminent, according to a report Friday morning.

"In his message, Trump said he was against any war with Iran and wanted to talk to Tehran about various issues… he gave a short period of time to get our response, but Iran's immediate response was that it is up to Supreme Leader [Ali] Khamenei to decide about this issue," an unnamed official told Reuters.

Another official said: "We made it clear that the leader is against any talks, but the message will be conveyed to him to make a decision… However, we told the Omani official that any attack against Iran will have regional and international consequences."
Israel said worried US may not respond decisively to drone downing
Israel officials are reportedly concerned over the prospect that the US will not response decisively to Iran's downing of an American drone in the Persian Gulf, with some worried Iran will interpret this as an unwillingness to engage in military operations against it and grow more aggressive in the region.

A report on Channel 13 news Thursday, citing unnamed Israeli security sources, suggested officials interpret Iran's decision to shoot down the drone as a test of the Trump administration's resolve. The sources are reportedly worried about what they see as a hesitant response by the US thus far, which they fear could undermine the credibility of American warnings in future and encourage Tehran to up its attacks throughout the region.

The Israeli fears were sparked when Trump suggested in comments from the White House on Thursday that the incident might have been a mistake executed by someone in the Iranian military just being "loose and stupid."

Trump added: "I find it hard to believe it was intentional."

The Israeli concerns will come up in discussions between the national security advisers of Israel and the US, who are set to meet in Jerusalem next week along with their Russian counterpart for talks on regional security and Iran.

Earlier Thursday, Trump responded to the downing of the RQ-4 Global Hawk drone on Twitter, saying Tehran had made a "very big mistake" in shooting down the US spy aircraft near the strategic Strait of Hormuz.

"This country will not stand for it, that I can tell you," he told reporters at the White House.

Asked by a reporter if he plans to order a strike against Iran in response, Trump said: "You will find out."
After downing drone, Iran at UN accuses Washington of 'provocative act'
Iran on Thursday insisted that a US drone had entered its airspace in "full stealth mode," calling the flight "provocative" and "very dangerous" as it justified its decision to shoot the aircraft down.

The shooting down of the surveillance drone in the strategic Strait of Hormuz Thursday morning raised arleady sky-high regional tensions and sent oil prices upward amid fears of open conflict breaking out.

The Pentagon has denounced the shoot-down as an "unprovoked attack" in international air space, claiming the RQ-4 Global Hawk was some 34 kilometers (21 miles) from Iran when destroyed by a surface-to-air missile.

But Iran's ambassador to the United Nations, Majid Takht Ravanchi, said in a letter to UN Secretary-General Antonio Guterres and the Security Council that the American drone was engaged in a "clear spying operation" in Iran's airspace.

He called the flight a "blatant violation of international law" and said Iran acted under Article 51 of the UN Charter, which allows military action in self-defense "if an armed attack occurs."

"While the Islamic Republic of Iran does not seek war, it reserves its inherent right… to take all appropriate necessary measures against any hostile act violating its territory, and is determined to vigorously defend its land, sea and air," Ravanchi said.

"This is not the first provocative act by the United States against Iran's territorial integrity."
Top Iranian general: We could have downed a US plane with crew of 35, but didn't
A top commander in the Islamic Revolutionary Guard Corps said Friday Iran could have downed an aircraft carrying American personnel on Thursday when it destroyed a large US drone over the Persian Gulf, but chose not to do so.

"We could have targeted a P-8 American plane" accompanying the drone Brigadier General Amir Ali Hajizadeh, commander of the IRGC's aerospace force, said, as he unveiled parts of the drone which were recovered by the Iranian navy. "But we did not do this."

He claimed the plane carried 35 people and had also infiltrated Iranian airspace.

The P-8 is a US maritime surveillance plane with and anti-shipping and anti submarine warfare capabilities.

Hajizadeh also said Iran's forces gave two warnings before downing the reconnaissance drone.

"Twice we… sent warnings," he said, without specifying the means. "Unfortunately, when they failed to reply… and the aircraft made no change to its trajectory… we were obliged to shoot it down."

The US said Friday Iran has no right to respond to diplomacy "with military force."
Iran shows 'retrieved sections of U.S. military drone,' says it warned U.S.
Iranian state television on Friday showed what it said were retrieved sections of a U.S. military drone downed by Iran.

Amir Ali Hajizadeh, head of the Revolutionary Guards aerospace division, said on the program that the debris was proof that the U.S. drone had been over Iranian territorial waters when it was shot down by the Guards.

He further stated that Iran had warned the US several times before shooting down the drone, but that the US didn't respond.

Hajizadeh said the debris were picked up from Iranian territorial waters.
Many international airlines halt Hormuz-routed flights amid US-Iran crisis
Some of the world's leading carriers including British Airways, Qantas and Singapore Airlines on Friday suspended flights over the Strait of Hormuz, as Iran-US tensions flare over the downing of a drone.

Germany's Lufthansa and Dutch carrier KLM also said they'd avoid the region.

The US barred American-registered aircraft from flying over Iranian-administered airspace in the Persian Gulf, affecting a region crucial to global air travel.

The Federal Aviation Administration warned of a "potential for miscalculation or misidentification" in the region after an Iranian surface-to-air missile on Thursday brought down a US Navy RQ-4A Global Hawk, an unmanned aircraft with a wingspan larger than a Boeing 737 jetliner and costing over $100 million. US officials said plans were made made for limited strikes on Iran in response, but were called them off.

The FAA previously warned of a risk in the region, but Friday's warning threw into stark relief a danger both it and analysts warned was real after the shooting down of a Malaysian Airlines flight over Ukraine in 2014. That could further imperil the bottom lines of Gulf long-haul carriers, which already have faced challenges under the Trump administration.

"The threat of a civil aircraft shoot-down in southern Iran is real," warned OPSGROUP, a company that provides guidance to global airlines.

The FAA made a similar warning in May to commercial airliners of the possibility of Iranian anti-aircraft gunners mistaking them for military aircraft, something dismissed by Tehran some 30 years after the US Navy shot down an Iranian passenger jet.
Noah Rothman:
Iran Calls Trump's Bluff
This consistent pattern of Iranian escalation has been met with apathy from the president, culminating in Iran's announcement Thursday morning that it had just shot down an American reconnaissance drone. To this attack on a $120 million, 100-foot wingspan aerial surveillance vehicle Trump again responded with dispassion and detachment. "I find it hard to believe if it was intentional," he said of the attack for which Tehran claimed responsibility. He blamed the act of aggression, instead, on a rogue operator who was acting "loose and stupid."

Maybe the president is providing Iran with an off-ramp to deescalate tensions, but Tehran has shown no interest in paring back its provocations. The administration has so far preferred to adhere closely to its strategy of using economic and diplomatic pressure to foment instability inside Iran with the hopes of forcing the Mullahs back to the negotiating table in a more conciliatory posture. Tehran's provocations are no doubt an effort to derail the administration's maximum pressure campaign. The White House is well-served by preserving the peace, but not at any price. There is a point at which restraint becomes negligence.

Iran is testing American resolve, and it will continue those tests until it encounters a limit to its freedom of action. This is not a cost-free proposition for the United States. As the U.S. sacrifices its role as guarantor of the right of navigation on the high seas, its allies who rely on that naval power will become ever more insecure. Some will look to America's peer competitors for protection. American hegemony will wane, more aggressive challenges to its military dominance will follow, and the peace and prosperity that have been the byproducts of a global, U.S.-guaranteed marketplace will become a thing of the past. The stakes could, indeed, be quite high.

Donald Trump has said the only thing that would move him toward a preemptive strike in Iran is "nuclear weapons," but that's the wrong answer. The last time the U.S. engaged in an exchange of fire with Iran was 1988, a devastating military response to Iranian efforts to obstruct naval navigation through the Persian Gulf. Iran has tested the United States like this in the past. Ronald Reagan passed. So far, Trump has not fared as well.
MEMRI:
So Far, Iran's Policy Of Terror Attacks Is Successful
In recent weeks, Saudi and UAE targets, and most recently American targets, have been attacked by Iran and its proxies in the resistance front (see below).

During this time, the U.S. has taken conciliatory measures vis-à-vis Iran: delaying the entrance into the Persian Gulf of the aircraft carriers it had dispatched to the region, delaying the implementation of the sanctions on Iran's petrochemical industry, and the June 2, 2019 announcement by Secretary of State Mike Pompeo that the U.S. was willing to negotiate with Iran without the preconditions that he had previously released.

These conciliatory U.S. measures have been presented by Iran as shows of weakness. For example, the delay in dispatching the USS Abraham Lincoln aircraft carrier to the Persian Gulf was described by Iranian President Hassan Rohani as follows: "The same enemy who up to a year ago declared 'my aim is to destroy the regime of the Islamic Republic [of Iran]' announced clearly today that it does not want to do a thing against the [Iranian] regime. The same enemy who up to a few months ago stated that it is the greatest military power in the world, and that if it wanted it could break Iran's armed forces, announced today that it has no intention of fighting. Up to a few months ago, the Persian Gulf was a place where its aircraft carriers sailed freely, but today nothing is heard from its navy, and it has anchored in international waters, 300 and 400 miles [from the Persian Gulf]."[1]

On June 2, 2019, Gen. Yahya Safavi, advisor and aide to Iranian Supreme Leader Ali Khamenei and former commander of Iran's Islamic Revolutionary Guards Corps (IRGC), said: "America is only boasting politically and militarily, and in fact two weeks ago it began to retreat. We are ready for war. Today we are the superpower in the Middle East."[2]

Even after U.S. National Security Advisor John Bolton's announcement, on May 5, 2019, that "[a]ny attack on United States interests or on those of our allies will be met with unrelenting force" and that "[t]he United States is not seeking war with the Iranian regime, but we are fully prepared to respond to any attack, whether by proxy, the Islamic Revolutionary Guard Corps, or regular Iranian forces,"[3] Iran has continued to carry out attacks in the region against the U.S. and its allies.
MEMRI:
Russia-Iran Relations – Russian Media Outlet Vesti.ru: How Iran Was 'Defrauded' By Russia Of 3.2 Trillion Dollars
The Russian media outlet Vesti.ru[1] commented on how revenues from the wider Caspian basin have been distributed, after the five Caspian states, Russia, Kazakhstan, Turkmenistan, Iran, and Azerbaijan signed the Convention on the Legal Status of the Caspian Sea, on August 12, 2018 at the Fifth Caspian Summit in Aktau (Kazakhstan).[2]

Vesti.ru asserted that the Convention is based on one of the greatest frauds in the oil industry in recent years. The media outlet also highlighted how the Caspian Sea deal benefited Russia, by enabling Moscow to distribute the shares at its own discretion, while Iran "naively" believed that it had entered into a true bilateral partnership with Russia. This naivety cost Iran $3.2 trillion in energy revenues.

Below is Vesti.ru's article:
At Stake Are The Hydrocarbon Resources Of The Caspian Sea

"Last august, five Caspian states ─ Russia, Iran, Kazakhstan, Turkmenistan and Azerbaijan ─ signed the 'Convention on the Legal Status of the Caspian Sea'. It is based on one of the greatest frauds in the oil industry in recent years.

"At the meeting of the five Caspian States, 11-12 August [2018], Iran intended to receive compensation from Russia for Moscow's maneuvers in the previous August. The Islamic Republic believes that it was deprived of its historical rights to the resources of the Caspian Sea, as well as a revenue of $50 billion a year [and that it had been] left without the support of Russia against the re-imposition of US sanctions.
UN Food Agency Accuses Iranian-backed Terrorists in Yemen of Diverting Aid from Starving Population
The head of the United Nations food agency launched a blistering attack on Houthi rebels in Yemen on Monday, accusing the Iranian-aligned terrorist group of diverting critical food deliveries from the country's starving population.

At a time 20 million Yemenis are food-insecure and on the brink of famine, the executive director of the World Food Programme (WFP), David Beasley, said the organization had found "serious evidence" that food supplies had been diverted in the capital, Sana'a and other Houthi-controlled regions.

The agency therefore warned of a possible suspension of all aid deliveries if safe delivery is not assured immediately.

"If we do not receive these assurances, then we will begin a phased suspension of food assistance, most likely toward the end of this week," Beasley told the Security Council. "If and when we do initiate suspension, we will continue our nutrition program for malnourished children, pregnant women, and new mothers."

He described the humanitarian situation in Yemen as "catastrophic," adding that "despite the immense suffering of 20 million Yemenis who do not have enough to ea
IMUS Sheikh Sameer Saeed to Cape Town Mosque Congregation: You Will Be the Muslim Army to Protect Jerusalem; We Will Fight the Jews and Christians at the End of Time pic.twitter.com/mGfhs7qxIt

— MEMRI (@MEMRIReports) June 21, 2019
You've seen photos but have you seen the Nazi produced newsreel footage?

November 1941, 2 months before the Wannsee Conference, the father of pro-Palestinianism Grand Mufti Amin Al-Husseini meets with Hitler & is described as "one of the most important men in Arab nationalism". pic.twitter.com/eStUzP11X3

— American Zionism (@americanzionism) June 21, 2019
---
---
We have lots of ideas, but we need more resources to be even more effective. Please
donate today
to help get the message out and to help defend Israel.