From Ian:
---
Three Israelis wounded as rockets from Gaza hit house, synagogue in Sderot
Palestinians in Gaza fired a salvo of rockets at the border town of Sderot on Saturday evening, with two of the rockets hitting a home and a synagogue. Three Israelis were moderately wounded.

The Magen David Adom rescue service said the three wounded were a 52-year-old man with a chest injury due to shrapnel, and two girls, aged 14 and 15, with limb injuries.

They were evacuated to Barzilai Medical Center in Ashkelon for emergency medical treatment.

The rocket that injured them landed on the roof of a home in the town. It hit a reinforced bomb shelter in the building, limiting the damage. The second rocket hit a synagogue that was empty at the time.

Several other rockets were intercepted by Iron Dome.

A 45-year-old Israeli woman who suffered from anxiety was also evacuated to the hospital.
'We sat in the living room, suddenly we were filled with blood'
Aharon Buchris, the father whose family was wounded when a Gazan rocket hit their home on Saturday, described the incident from his hospital bed.

"We were sitting in the living room, and the glass fell on us," Buchris, 50, said. "The entire house was filled with smoke, and we were filled with blood. We got shrapnel in us, my daughters were also injured. We were shocked."

Buchris' wife, 45, suffered shrapnel wounds to her legs. Their 15-year-old daughter suffered wounds to her face, their 14-year-old sister suffered wounds to her legs.

Israeli President Reuven Rivlin said, "Our loved ones, who live near the Gaza border, are protecting Israel. This Shabbat (Sabbath), too, we were with you. We tense up at every siren, we support our forces when they return from every mission. These days are not simple, and we will not allow them to become routine."

"Your strong stance and your strength are amazing. They are an inspiration for all of us. Even when the sirens go off and the ground is burning, you continue plowing, working, walking the paths of your beloved land where you live. We will continue to hit those who seek our demise, and we will not stop until quiet is returned to the south.

"All of us give our deepest thanks to the IDF and to the firefighting and rescue forces, which are standing guard at this time. You are our protective wall."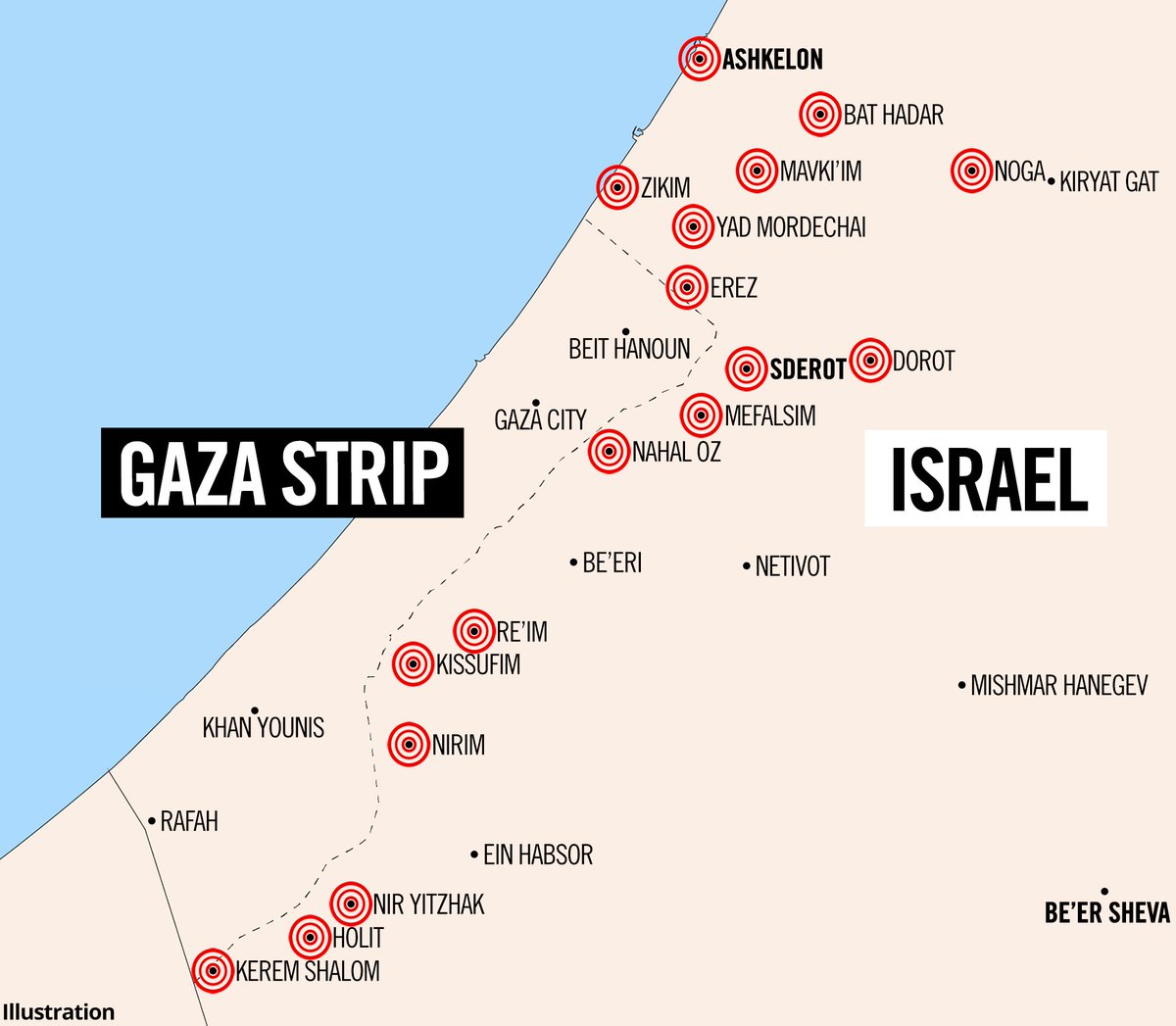 As dozens of rockets hit Israel, IDF pounds Gaza in heaviest strikes since 2014
Israeli aircraft on Saturday attacked more than 40 targets in the Gaza Strip in the most extensive daytime assault since 2014's Operation Protective Edge as Palestinian terror groups fired repeated salvos of rockets and mortar shells into Israel.

Three Israelis were moderately wounded when a rocket hit a house in Sderot. Palestinians said two teens were killed and 14 injured in the Israeli strikes.

The surge in violence intensified after midnight Friday-Saturday as the Israel Defense Forces hit an attack tunnel and Hamas training bases in Gaza in response to the moderate wounding of an IDF officer by a hand-grenade thrown during a border riot on Friday.

During the night, Palestinians fired more than 30 projectiles into Israel and kept up the attacks on Saturday, firing a further 100 rockets and mortar shells. Residents of Israeli border communities spent the night in bomb shelters and were cautioned to remain close to the shelters during the day.

In the evening, several rockets were fired toward the town of Sderot. Iron Dome intercepted several of them. Two rockets fell in the town, hitting a house and an empty synagogue. Three people were moderately wounded by shrapnel and evacuated to the hospital, the Magen David Adom rescue service said.
This is our reality: 90 rockets and mortar shells fired at Israel in less than 24 hours pic.twitter.com/tMZAeEgj75

— IDF (@IDFSpokesperson) July 14, 2018
Israel under fire
At 1:36 AM (Israeli time), families in southern Israel awoke to the sounds of red alert sirens calling them into their bomb shelters. Men, women, and children, had 15 seconds to run and seek shelter in the middle of the night. These rockets were continuously launched at these communities until 6:15 AM, and they began again at 1:14 PM and have remained ongoing as of the time of this article, 4:30 PM. Hamas has launched more than 100 rockets and mortar shells at Israeli civilians.

Today, the IDF carried out the largest wave of daytime strikes since Operation Protective Edge in summer 2014. The IDF struck more than 40 terror targets in the Gaza Strip, including 2 terror tunnels, 2 large logistic centers, and a Hamas Battalion HQ in Beit Lahia in northern Gaza.

"All the Iron Dome batteries and other elements were deployed in the last few weeks and prepared for this situation and we are ready for all possible scenarios," said Chief of the Aerial Defense Array Brigadier General, Zvika Haimovich.

Before the strikes began, the IDF Arabic Spokesperson, Maj. Avichay Adraee sent out warnings to the civilians in the Gaza Strip in Arabic, warning them to stay away from areas where they know that terror activity is taking place. So far, there are no known casualties on the Gazan side.

"A combination of terror along the security fence, arson terror, and rockets are what eventually caused us to retaliate against Hamas," said Lieutenant Colonel Jonathan Conricus, Head of the International and Social Media Branch. "The purpose of the strikes was to stop the terror against Israeli civilians, stop the terror on the fence, and to stop the arson terror."
Strike on a Hamas Battalion HQ in Beit Lahia
IDF renews Gaza strikes as Palestinians fire rocket barrage into Israel
Palestinian terror groups launched a salvo of projectiles at southern Israel on Saturday afternoon, as the IDF announced it had renewed strikes on targets in the Gaza Strip.

Rocket sirens sounded in multiple southern Israeli regions close to the Gaza border, and Army Radio reported that at least one projectile was intercepted, with the remainder falling in unpopulated areas.

There were no immediate reports of injuries or damage.

Local residents, who had earlier been told they could return to their usual routines after an earlier barrage overnight Friday, were instructed to remain close to bomb shelters and large gatherings of people were to be canceled.
Netanyahu vows no end to Gaza strikes until Hamas 'gets the message'
Prime Minister Benjamin Netanyahu vowed Saturday that Israel would step up its strikes on Gaza until the Palestinian terror groups halt all violence coming out of the coastal enclave.

Netanyahu said that after consultations with Defense Minister Avigdor Liberman and the IDF chief of Staff Gadi Eisenkot it was decided to take "powerful action against Hamas terror."

"The IDF hit Hamas with the harshest blow since Operation Protective Edge and we will intensify our reaction as much as necessary," Netanyahu said Saturday evening, after the IDF attacked dozens of targets in the Strip on Saturday, amid relentless rocket fire from Gaza, in the most extensive daytime assault since the 2014 conflict.

"If Hamas does not understand the message today, it will understand tomorrow," Netanyahu said in a video statement.
Over the night, terrorist Hamas fired more than 30 mortar bombs at Israeli civilians. IDF responded by hitting military targets, inc terror tunnels (map). We will defend our civilians by all means necessary. Hamas bears responsibility. pic.twitter.com/nVhRX97MHc

— Jonathan Conricus (@LTCJonathan) July 14, 2018
Over the last 15 hours civilians in these cities heard more than 141 red alert sirens as more than 60 rockets rained down on southern Israel pic.twitter.com/jjq19DSmOt

— IDF (@IDFSpokesperson) July 14, 2018
The time that it takes you to read the text in this video is all the time that they have. pic.twitter.com/Go3kVvcA5N

— IDF (@IDFSpokesperson) July 14, 2018
Moments ago, IDF fighter jets struck a high-rise building in the Al-Shati refugee camp in northern Gaza. The building was a Hamas training facility. A tunnel was dug under the building & used for underground warfare training. This tunnel is part of a Hamas terror tunnel network pic.twitter.com/M3C53RKMaC

— IDF (@IDFSpokesperson) July 14, 2018
Tonight, IDF fighter jets targeted an attack terror tunnel in southern Gaza, in addition to several terror sites throughout Gaza, among them complexes used to prepare arson terror attacks and a Hamas terror training facility pic.twitter.com/LobKTY2y6F

— IDF (@IDFSpokesperson) July 14, 2018
Two Palestinians said killed as air force bombs multi-story Hamas complex
The air force said Saturday it bombed a multi-story Hamas training complex in the Gaza Strip, completely destroying the building and exposing a tunnel complex underneath.

Palestinians reported that two teens were killed in the bombing.

"IDF fighter jets targeted a high-rise building in the Al-Shathi refugee camp in the northern Gaza Strip," the army said, describing the building as "a Hamas terror organization urban warfare training facility."

The bombing exposed a tunnel under the building, which the army said was "part of a tunnel network dug by the Hamas terror organization all through the Gaza Strip."

"The building, which was used by the Gazan residents for public services and housing, was turned by the Hamas terror organization into a training facility. The strike was conducted after the residents of the building were warned in advance by IDF forces," the army said.
Reuters News Agency Confuses Cause and Effect in Gaza.
In the last day, over 90 rockets and mortars were launched from Gaza. Sixteen were intercepted by Iron Dome.

Thousands of Israelis spent the night in bomb shelters. After the barrage from Gaza, Israel took out 2 terror tunnels, and several military installations, including the Hamas battalion headquarters in Beit Lahia. The Hamas headquarters included urban warfare training facilities, weapon storage warehouse, training compounds and command centers.

In a strange and no doubt deliberate reversal of cause and effect, the Reuters news agency headline reads "Israel strikes Gaza military sites, Palestinians fire rockets".
Blasting Bibi
Review: 'Bibi: The Turbulent Life and Times of Benjamin Netanyahu' By Anshel Pfeffer
Biographers typically have an affection for their subjects. Sometimes so much so that they descend into hagiography. No danger of this from Haaretz writer Anshel Pfeffer, an extreme example of the debunking biographer. Typical of his snarky style: Netanyahu "had given up on Israeli journalists being honest enough to present him as the country's only true leader."

What is striking about Bibi: The Turbulent Life and Times of Benjamin Netanyahu is the author's refusal to give Netanyahu credit for nearly anything. Few dispute that as finance minister under Ariel Sharon, Netanyahu made important reforms to Israel's economy. The ever critical Haaretz admitted, "He succeeded beyond all expectations. His decisiveness, courage and rectitude in pursuing unpopular but important policies succeeded in stabilizing Israel's economy."

Yet even here Pfeffer claims Netanyahu's impact "has been exaggerated," with the previous Rabin government deserving the real credit for the investments that led to Israel's high-tech boom.

In view of Pfeffer's stubborn adherence to the moribund peace process, it is not surprising that his major criticisms of Netanyahu center on his views and policies in relation to the Arabs. Given Pfeffer's own bleak view of Israel (he has elsewhere described Israel as "a dysfunctional society fighting an uphill battle—one that it often loses—against racism and corruption"), it is ironic that he repeatedly complains of Netanyahu's "bleak" view. Pfeffer considers it bleak because of Netanyahu's common-sense belief that "real peace can only come when the Arabs recognize the Jewish state's right to exist" and that is unlikely to happen in our lifetimes.
An author predicts Diaspora Jewry's death, at the hands of Tikkun Olam liberals
With most of his book focused on diagnosing the ills of American Jewry, Neumann devotes some pages to offering correctives. First off, believes Neumann, Jews need to return to defining Judaism based on its core tenants, as opposed to trendy social causes.

In other words, Jews need to stop equating Judaism with Tikkun Olam and social justice.

"The fact that American Jews have long engaged in political activism does not mean that activism makes them Jewish," wrote Neumann. "It just makes them more like everyone else undertaking that same activism."

In his final chapter, called "The Way Forward," Neumann calls Tikkun Olam "an unreasonable answer" to the "reasonable theological question" of Jews' obligation to the wider world. He calls for "Jews in exile" to focus on "the security, welfare, and ultimately the survival of the Jewish community," as opposed to "following the lead of the Jewish social justice movement." That movement, Neumann holds, is responsible for eroding Jewish life in America.

As noted by critics of the book, Neumann covers well-trodden ground in his quest to hoist Jewish social justice warriors by their own petards. Unlike a reading of the Talmud, "To Heal" makes few efforts to juxtapose opposing perspectives, much less identify common ground between "Tikkun Olam Jews" and the author's brand of Judaism.
Israel Thrives:
A fight for the soul of the Democratic Party
A fight for the soul of the Democratic Party is underway, with the far left minority coalition poised to make it the party of socialists.

Jews have been tolerated in this coalition up till now, but our presence has been contingent on our cooperation in the undoing of Israel.

Had Jews fought ferociously, as we should have, against the lies that form the basis of the anti-Israel position of the far left—for example, that Israel is "white," colonial, expansionist, apartheid and guilty by association with American imperial power—we would have been booted from the coalition long ago.

We maintained limited rights within the coalition through weak resistance to, and sadly for many the active embrace of, every one of those lies. Jews like Greenblatt remain desperate and deluded enough to think they can earn us a place at the new power table that is forming. But there is no place for Jews there.

We failed to fight, and now the Palestinians and Islamists are displacing us.

The only thing that might stop what is happening is for Jews to mount our own campaign of resistance, both inside and outside the Democratic Party.
Hypocrisy and hysteria
When MK Avi Dichter first tabled a nation-state law in the Knesset in 2011, it was co-sponsored by 40 MKs, including two thirds of the Kadima Party led by Tzipi Livni and several members of the Labor Party.

Yet Livni shamelessly fulminated this week that the proposed Basic Law "discriminates against our Arab minority," is rooted in "radical nationalism" and is sponsored by "extremist elements of the right wing."

Diehard left-wingers like Prof. Mordechai Kremnitzer said the bill will "herald the end of Israel as a Jewish and democratic state," "reveal the ugly face of ultranationalist Israel in all its repugnance" and turn Israel into "darkness unto the nations."

Such inflammatory rhetoric is doubly duplicitous. It's false because the current legislation is unremarkable compared to many European constitutions with even stronger national homeland provisions, and it is considerably softer than Dichter's original version – especially with regard to Arab rights in Israel.

The wild rhetoric against the bill is also deceitful because left-wing peace activists are constantly grousing about Israel's existential need to remain a Jewish state when justifying the call for Israeli withdrawal from Judea and Samaria. In fact, "preserving Israel's Jewish-ness" is so important to the withdrawal chorus that its leaders are willing to pay a very high price for this, including the surrendering of historical and religious sites and the expelling of 100,000 or more Jewish settlers from Judea and Samaria.
Putin hosts Abbas in Moscow, days after Netanyahu visit
Palestinian Authority President Mahmoud Abbas was in Moscow on Saturday to meet with Vladimir Putin, just days after the Russian leader hosted Prime Minister Benjamin Netanyahu.

"I'm glad of the opportunity to tell you about the contact we have had with your neighbors, and leaders of various countries," Putin told him as they met at the Kremlin, in quotes carried by Russian agencies.

"I know that the situation in the region is difficult and we are grateful that you have used the World Cup as a reason to come to Moscow," Putin said, adding that he was glad of the opportunity to discuss the problems facing the Palestinians.

Abbas told the Russian leader of his concerns over US President Donald Trump's decision to move the country's embassy to Jerusalem, as well as Israeli settlement activity.

"We are resisting attempts by the Americans to impose their decisions on the most sensitive problems of Palestine," Russian news agencies quoted him as saying in translated remarks.
Israel shutters PA-backed conference in East Jerusalem, top businessman arrested
A conference in East Jerusalem sponsored by the Palestinian Authority and attended by members of the Islamic Movement in Israel and of the Turkish Waqf was shut down and raided by police on Saturday by order of Minister of Public Security Gilad Erdan, whose office said the event promoted "incitement" against the state of Israel.

Police also arrested Munib al-Masri, a powerful Palestinian businessman who funded the conference.

The event, which took place at the Hind al-Husseini College in the Sheikh Jarrah neighborhood, was organized by the Mufti of Jerusalem, Akrama Sabri. According to police, Sabri, who was recently issued a travel ban by Israel, previously held several events alongside members of the Hamas terrorist movement, the Ynet news site reported.

The Ministry of Public Security said the conference was deliberately scheduled to take place on the anniversary of a terror attack at the Temple Mount last year, in which Israeli police officers Haiel Sitawe and Kamil Shnaan were killed by three Arab Israeli gunmen who had stashed their weapons on the Mount.

Shuttering the conference, Erdan accused the Palestinian Authority of "repeatedly attempting to undermine Israel's sovereignty in Jerusalem."
'Free Palestine, You F**ks' Scrawled On Jewish Group's Sign
If, in the Israeli-Palestinian conflict, the Israelis are really the hateful ones, why is it that in Israel, terrorist groups like Hamas claim so man y o f the Palestinians killed and then in the West, not letting the other side speak is something done exclusively BY pro-Palestinian students TO pro-Israel students? Oh and then there's also the vandalism, like today's story.

If you took a trip to the University of Oregon last week, you might've run across this Jewish Hillel group's sign, which was defaced with "Free Palestine, you fucks," as The Algemeiner reported, what appears to be the number 21, something illegible, and then what looks like "fuck your high horse"? Honestly, isn't the whole point of graffiti to communicate a message? I mean you can have illegal, but still really beautiful graffiti sometimes in the city, but this is just lazy.

Anyway, the school's student life VP Kevin Marbury called the vandalism "an unacceptable violation [of] our university values" and said "anti-Semitism and other forms of hate have no place at the University of Oregon."

The student senate passed a resolution supporting the boycott, divest, sanction movement, which calls on schools to stop doing business with companies like HP and Boeing that support Israel. But the administration wasn't quite on board. University of Oregon President Michael Schill said "to many Jewish people, myself included, the BDS movement not only seeks to criticize the policies of the current Israeli government, but also calls into question the very right of the State of Israel to exist."
Sacha Baron Cohen used fake pro-Israel award to lure politician for prank show
Several politicians are going through the stages of panic associated with an interview with Sacha Baron Cohen: remorse, damage control, anger and regret for being duped.

One of the comedian's latest targets, defeated Senate candidate Roy Moore, is threatening a defamation lawsuit over an upcoming episode of the comedian's new television series.

Sacha Baron Cohen has for years lured unwitting politicians into awkward interviews. Now one of his latest targets, defeated Senate candidate Roy Moore, is threatening a defamation lawsuit over an upcoming episode of the comedian's new television series.

In a statement posted on Facebook, Moore says he accepted an all-expenses-paid trip to Washington in February after being told he'd receive an award for supporting Israel.

"I did not know Sacha Cohen or that a Showtime TV series was being planned to embarrass, humiliate, and mock not only Israel, but also religious conservatives such as Sarah Palin, Joe Walsh, and Dick Cheney," Moore wrote on Facebook.
Terrorist who declared 'war on Crusaders, Jews' campaigning in Pakistan election
Pakistan is seeing an unprecedented number of extremists and militant sectarian groups — even an international terror figure with a $10 million US-offered bounty on his head — on the campaign trail ahead of parliamentary elections later this month.

Analysts warn the phenomenon is a slippery slope to further radicalization of this conservative Muslim majority nation.

Michael Kugelman, deputy director of the Asia Program at the Washington-based Wilson Center, says the participation of the radical groups "in the election is highly significant, not because of their ability to sweep into power, which won't happen, but because of how they can use the political process to legitimize themselves and their extremist ideologies."

Take the small political party known as the Milli Muslim League, or MML.

In April, Washington placed the MML on its list of foreign terrorist groups, calling it a front for the Lashkar-e-Taiba militant group, co-founded by US-wanted militant Hafiz Saeed to stage attacks against Indian troops in the Himalayan region of Kashmir, divided between India and Pakistan but claimed by both in its entirety.

Saeed, blamed for the 2008 Mumbai attacks that killed 166 people, was declared a terrorist by the United Nations and the United States has offered a $10 million bounty for him.
Report: Eli Cohen's remains to be returned to Israel
The Kuwaiti newspaper Al-Jarida, considered one of the most reliable in the Arab world, reported Thursday that Israel is very close to achieving a return of the remains of legendary Israeli spy Eli Cohen to Israel.

Cohen, an Egyptian-born Jew, worked as an undercover Israeli agent in Egypt and Syria before he was discovered and hanged in 1965.

By the time of his discovery, Cohen had managed to climb the ranks of the Syrian Defense Ministry, becoming the top advisor to Syria's Defense Minister.

According to the report, Israeli intelligence received very accurate information about the place of his burial and personal possessions held by Syrian authorities.

It was also reported that an agreement had been reached to transfer the located remains for DNA testing, and if it turned out that they were Cohen's, Israel would be willing to relax its position regarding the deployment of the Syrian army along the northern border.

No response was received from Cohen's family.
Jump through time at Ferrara's newly opened Museum of Italian Judaism
Some 2,000 years ago, a girl named Aster lived in Jerusalem. She was very young when the city fell at the hands of the Romans and was deported to Rome as a slave.

"Claudia Aster, captiva ierosolimitana," or, "Claudia Aster, prisoner from Jerusalem," reads her gravemarker, one of the 200 objects displayed in the exhibit, "Jews, An Italian Story: The First Thousand Years." It is the first piece of the permanent exhibition of the Museo dell'Ebraismo Italiano e della Shoah (Museum of Italian Judaism and the Holocaust), or MEIS, inaugurated a few months ago in the northern Italian city of Ferrara.

Aster's story, in the section about Jews and Rome, is brought to life alongside that of the thousands of Jews who lost their homeland and freedom in the Holy Land, forced to find a new identity in the Eternal City.

Visitors experience her loss as they enter a narrow room, which opens with a simple animated installation: a wall of golden Jerusalem stone is burning, the flames dancing under a serene starry sky.

Visitors then go through a passage featuring the decorations of the Arch of Titus, symbol of the Jewish defeat, and find themselves in front of a map of the Colosseum, the monumental amphitheater built by exploiting the treasures sacked in Jerusalem and the labor of Jewish slaves. A relief of the Arch (a plaster reproduction from the '30s) shows the spoils of the Temple.

MEIS director Simonetta Della Seta says the rooms are designed to be "immersive." It's a good description of a visit to the museum overall — a journey through time and space that succeeds in getting the point across. In this museum's narrative, if the story of the Jewish people started in the Middle East, Italy came next.
You're right, they caught us 😂😂 pic.twitter.com/s7B1TEEHhe

— IDF (@IDFSpokesperson) July 13, 2018
---
---
We have lots of ideas, but we need more resources to be even more effective. Please
donate today
to help get the message out and to help defend Israel.