From Ian:
---
52 Palestinians said killed, including terror operatives, in Gaza border riots
Fifty-two Palestinians were killed Monday in violent clashes with Israeli forces along the Gaza Strip's border with Israel, Palestinians said, in a burst of bloodshed that cast a cloud over Israel's festive inauguration of the new US Embassy in Jerusalem.

It was the deadliest day in Gaza since the devastating cross-border war between the territory's Hamas rulers and Israel in 2014.

Gaza's Hamas-run health ministry said 52 Palestinians were killed and more than 1,2000 were wounded in the violence, amid the biggest riots and rallies in a weeks-long campaign of protests against Israel.

The Israeli army said around 50,000 Gazans were demonstrating in 12 locations along the border. It said thousands more were gathered at points several hundred meters from the fence.

At around 4 p.m., the time that the US was inaugurating its embassy in Jerusalem, military sources said Hamas-spurred groups were trying to breach the border at several spots along the Gaza fence.

The army said three of those killed were trying to plant explosives at the border fence. In two separate incidents, IDF troops opened fire on gunmen who were trying to shoot them, Hadashot TV said.

The army also said aircraft struck a Hamas post after gunmen there opened fire on troops. There were no injuries among the soldiers. Reports said the IAF also struck five targets in the Jabaliya area.
Clashes in West Bank as Palestinians mark Nakba Day, protest new US embassy
Hundreds of Palestinians clashed with Israeli troops on the outskirts of Jerusalem and in other locations in the West Bank Monday in the hours leading up to the dedication ceremony for the new US Embassy in the capital.

In addition to protesting the embassy move, Palestinians were marking the 70th anniversary of the Nakba, or "catastrophe," of Israel's creation in 1948.

The rioting came as dozens of Palestinians were killed by Israeli security forces during violent protests on the Israel-Gaza border, among them several terror operatives.

At the Qalandiya crossing, north of Jerusalem, hundreds were marching and throwing stones at Israeli soldiers, who responded with firing live bullets, tear gas and rubber-coated steel pellets. A second clash was reported between Jerusalem and Bethlehem, and there were further protests in the West Bank city of Hebron. There were no immediate reports of injuries.
Ahead of planned mass riots, Israel warns Gazans: 'Don't be Hamas's puppets'
Israeli military aircraft dropped leaflets over the Gaza Strip early Monday morning warning Palestinians to keep away from the fence separating the coastal enclave from Israel, the IDF said, ahead of mass demonstrations slated for later in the day.

"A few minutes ago, IDF jets once again distributed leaflets warning against approaching the security fence, attempting to sabotage it or to carry out terror attacks," the army's spokesperson office tweeted.

The Arabic leaflets also told residents of the coastal enclave that the Hamas terror group which rules the strip was endangering their lives.

"Hamas is trying to hide its many failures by endangering your lives," the leaflets said. "At the same time, Hamas is stealing your money and using it to dig tunnels at your expense."

One leaflet urged residents, "Don't be puppets in the hands of Hamas."

The message from Israel was that the people of Gaza deserve better.

"You deserve a better government and a better future," the leaflets read. "The IDF is warning you against approaching the security fence."

The last line was a strong warning to keep away from the border. "Do not approach the security fence and do not participate in Hamas's life-threatening farce," the army said.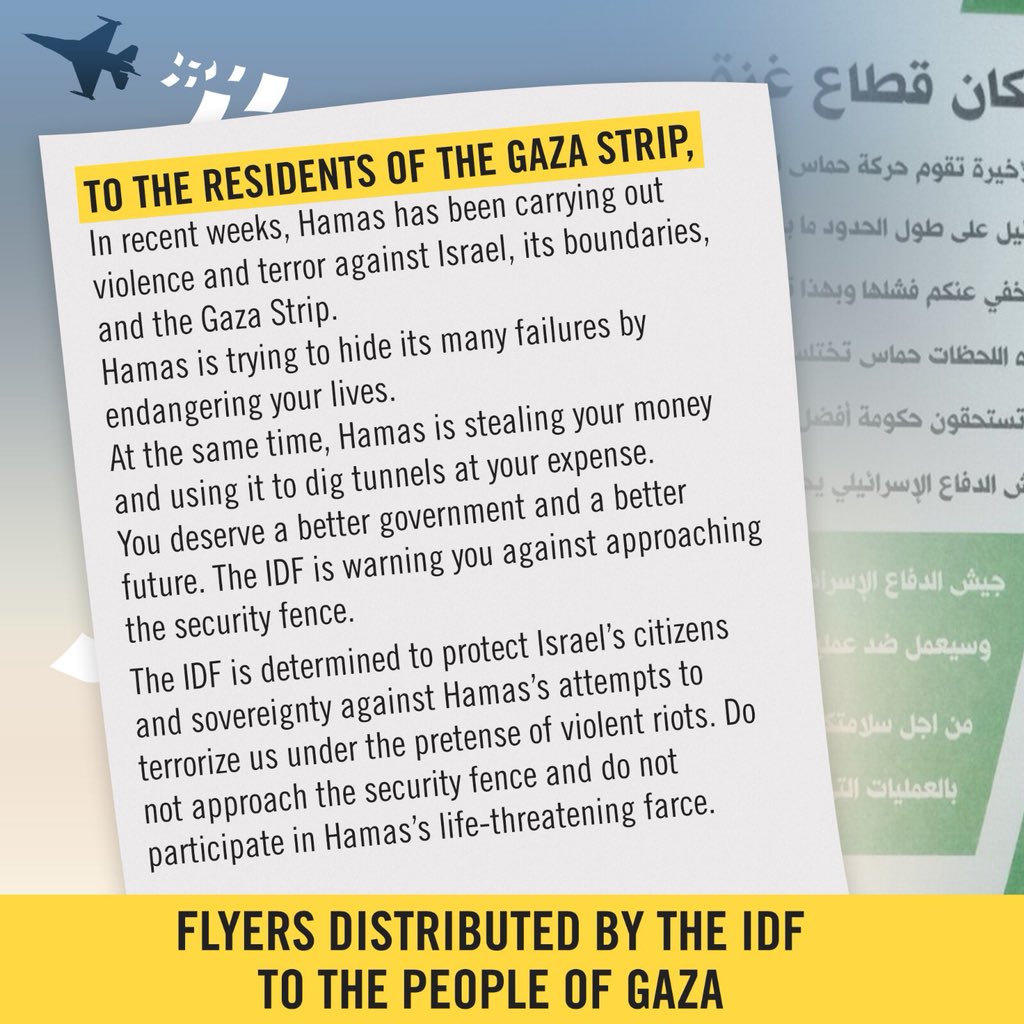 Efraim Karsh:
The Privileged Palestinian "Refugees"
No sooner had the Palestinian Arabs fled their homes during the 1948-49 war than they were taken under the protective wing of the international community and protected like no other group in similar circumstances. This special treatment ranged from their very recognition as refugees despite the failure of many to satisfy the basic criteria for such status, to the unprecedented creation of a relief agency committed exclusively for their welfare: the United Nations Relief and Works Agency for Palestine Refugees in the Near East, or UNRWA.

Yet rather than help resolve the Palestinian refugee problem, this unparalleled indulgence has only served to confirm its permanency. And no factor has contributed more to this perpetuation than UNRWA, which, instead of ending direct relief and transferring responsibility for the refugees to the host Arab states within months, as stipulated by its mandate, has kept them on the U.N.'s dole for decades under false humanitarian pretense.
Singled out for Privilege

World War II created an unprecedented humanitarian crisis. In Europe alone, more than 16 million refugees and displaced persons languished in search of a solution to their plight. This included some 13 million Germans expelled from Poland, Czechoslovakia, Hungary, Romania, and other East European countries; nearly 2.5 million Poles, Ukrainians, Byelorussians, Russians, and Lithuanians driven from their homelands to their newly demarcated states; some 250,000 Jewish Holocaust survivors herded in overcrowded camps (mainly) in the country that had just slaughtered six million of their brothers; and over 400,000 Finns driven from Soviet-occupied Karelia for the second time in half-a-decade.[1]

These massive refugee problems were handled by the International Refugee Organization (IRO), established by the U.N. General Assembly in December 1946 and succeeded in January 1951 by the High Commissioner's Office for Refugees (UNHCR), which rapidly expanded its initial Eurocentric outlook to include refugees and displaced persons from all over the world. There was only one exception to this pattern: the Arab escapees of the 1948-49 war who received their own relief agency, the United Nations Relief for Palestine Refugees (UNRPR), set up in November 1948 and succeeded on May 1, 1950 by UNRWA. And while UNHCR was created on a shoestring annual budget of $300,000,[2] UNRWA was established on the assumption that "the equivalent of approximately $33,700,000 will be required for direct relief and works programmes for the period 1 January to 31 December 1950."[3] In other words, the Palestinian refugees received 110 times the money allocated to the treatment of all other refugees throughout the world.
UNRWA vs. UNHCR: A story of refugees
Jim Geraghty:
When Will the Palestinians Start Holding Hamas Accountable?
At what point do the Palestinians start holding Hamas accountable for the decisions it makes?

A desalinization plant would cost about $100 million and wastewater treatment options range in cost; as of 2013, Hamas's budget was $700 million. But they spend a lot of that on rockets and arms instead of maintaining the basic services of a functioning society, such as water and sewage and electricity.

Ibish concludes that "if Israel continues to use live ammunition against unarmed demonstrators, even at the border, Hamas will continue to reap the benefits."

How significant are those benefits, though? Bad publicity and international condemnations for Israel? Israeli leaders get denounced 20 times before breakfast. A lot of Europeans are always up for some rhetorical Israel-bashing, but how often do they really take action to improve life for Palestinians? A lot of people have died waiting for Western nations to react to outrages, both alleged or indisputable. The United States and Europe just watched so many people get killed in the Syrian civil war that they lost count of them, and that multi-year conflict created a refugee crisis so bad that it reached Europe, and they still intervened only minimally. Just what does Hamas think the rest of the world is willing to do to Israel?
Melanie Phillips:
Border on incitement media sanitise mass violent invasion threat
British and other western media, led by the BBC, continue to sanitise what they so shamefully call "peaceful demonstrations" by the Arabs of Gaza at the border with Israel. In fact, these are attempted mass invasions of Israel using violent means including bombs, grenades and (grotesquely) flaming kites to set fire to Israeli farmland. If these mobs were to break through en masse as intended, no-one can be in the slightest doubt about the slaughter of Jews that would then follow.

The scale of what Hamas has been planning for the culmination of all this on Tuesday and Wednesday (update: the IDF is warning this has all been brought forward to tomorrow and may involve an attempted massacre of Israeli civilians) has caused Israel to put itself onto a war footing in the south and call up Israeli reserves for duty. According to this report from the authoritative Meir Amit Intelligence and Terrorism Information Centre, Hamas hopes to bring hundreds of thousands of Arabs to the border to bring about "mass penetration into Israel" accompanied by "acts of violence and maybe even terrorist attacks exceeding what has been seen so far". They are also inciting to mass violence the Arabs living in the disputed territories, and Israeli Arabs too.

With the world's attention focused on the US pull-out from the Iran deal (and, tomorrow, on the symbolic opening of the US embassy in Jerusalem to be attended by hundreds of dignitaries), the report observes: "a great number of casualties and the opening of new fronts of violent friction between the Israeli security forces and demonstrators in Judea and Samaria and other arenas may, from Hamas's perspective, increase the media impact and return the Palestinian issue to the headlines.
Col Kemp:
Smoke & Mirrors: Six Weeks of Violence on the Gaza Border
Hamas's use of actual smoke and mirrors to conceal its aggressive manoeuvring on the Gaza border is the perfect metaphor for a strategy that has no viable military purpose but seeks to deceive the international community into criminalising a democratic state defending its citizens.

The UN and EU, NGOs, government officials and media — primary targets for Hamas — have been willingly taken in. For example a Guardian headline, 'The use of lethal force to cow nonviolent demonstrations by Palestinians', blatantly misrepresents the violent reality that has been plain for all to see. Likewise the NGO Human Rights Watch claims that we are seeing a movement to 'affirm Palestinians' internationally-recognised right of return'.

In reality these demonstrations are far from peaceful and do not pursue any so-called 'right of return'. Rather they are carefully planned and orchestrated military operations intended to break through the border of a sovereign state and commit mass murder in the communities beyond, using their own civilians as cover. The purpose: to criminalise and isolate the State of Israel.

Hamas are planning to achieve maximum violence at the Gaza border on either the 14th or 15th May, coinciding with the 70th anniversary of the declaration of the State of Israel, the opening of the US embassy in Jerusalem and the start of Ramadan — a perfect storm.
Col Kemp:
Expected Upsurge in Gaza Violence
The price paid in Palestinian blood of stopping border penetrations has so far been high and is likely to increase sharply this week. But imagine the consequences if the IDF failed to stop these crowds breaking through the fence. The nearest Israeli communities are just a few minutes dash from the border by armed terrorists intent on mass murder. In this scenario, with gunmen indistinguishable from unarmed civilians, who themselves often also pose a violent threat, it is hard to see how the IDF could avoid inflicting far higher casualties in defence of their territory and people.

To prevent this catastrophic scenario becoming reality, the IDF has adopted a graduated response. They airdropped thousands of leaflets and used SMS, social media, phone calls and radio broadcasts to warn the people of Gaza not to gather at the border or approach the fence. They even contacted Gaza bus company owners, asking them not to transport people to the border.

When these appeals were nullified by Hamas's coercion of the civilian population, the IDF used tear gas to disperse the crowds that approached the fence. Next, they fired warning shots overhead. Finally, only where absolutely necessary and lawful, they used ball ammunition aimed to disable rather than kill. Several died as a result of this gunfire and many more were wounded. Of the 50 people Palestinian authorities claim were killed up to now, Israel assesses that 80% were terrorist operatives or individuals associated with them.

I have heard many armchair experts arguing that Israel should have acted differently, but not one credibly explain how. Instead, the UN, EU and a range of human rights groups and media organizations have devoted their efforts to unjustly condemning Israel's actions. If there was genuine concern for human life and human rights among these people, rather than a fixation on unfairly vilifying Israel, they would harshly condemn Hamas. Instead, their criticism of Israel plays directly into Hamas's hands and validates the use of human shields and the strategy of forcing the killing their own civilians.
NGO Monitor:
Caution Urged Regarding NGO Claims on Planned Palestinian Violence on May 14 and 15
Influential non-governmental organizations (NGOs) claiming to promote universal human rights and humanitarian aid are among the main legitimizers of Palestinian violence. Groups such as Human Rights Watch, Amnesty International, the Norwegian Refugee Council, Médecins Sans Frontières and many others routinely and actively broadcast the myths and slogans seeking to portray Palestinian violence as "peaceful protests" and "justified resistance." The NGOs repeat entirely unsubstantiated (and often implausible) claims regarding the number of Palestinian casualties in violent clashes, allegations of "disproportionate force" by Israeli forces, and false accusations of "violations of international law."

As Palestinian groups proclaim their intention to trigger violent confrontations to mark the opening of the US Embassy in Jerusalem on May 14 and on May 15 to commemorate 70 years since the 1948 invasion against the newly proclaimed State of Israel, NGO Monitor recommends that diplomats, journalists, and others treat NGO claims, reports, publications, statements, and other material with caution.
PA, Fatah call for West Bank clashes over US embassy move to Jerusalem
The Palestinian Authority and its ruling Fatah party urged Palestinians in the West Bank to take part in widespread protests Monday against the opening of the US embassy in Jerusalem.

The protests are part of Nakba Day, a national day of Palestinian mourning marking the "catastrophe" of Israel's founding, commemorated every year on May 15, but this year brought forward a day due to the embassy opening.

The National Committee for the Commemoration of the Nakba announced a protest march beginning at 11 a.m. in Ramallah which will head toward the Qalandiya checkpoint, on the outskirts of Jerusalem. At the same time demonstrations will be held in other cities in the West Bank, including Bethlehem, Hebron, Nablus and Jericho.

On its Facebook page the committee told Palestinians their "presence is a national duty" in order to reject US President Donald Trump's recognition of Jerusalem as Israel's capital and the relocation of the embassy.

"We call on the young people to clash with the occupation forces at points of conflict and checkpoints," the committee said, according to a report in Haaretz.

At the same time The High Follow-Up Committee for Arab Citizens of Israel called for demonstrations in Jerusalem to "raise our voice against US policy that supports Israeli occupation and settlements, in a desperate American-Israeli effort to kill all chances for the creation of an independent and sovereign Palestinian state on the 1967 borders with Jerusalem as its capital," committee head Mohammad Barake said, according to a Ma'an news agency report.
Gaza Friday Sermon: Allah Has Chosen Us to Fight the "Corrupt and Corrupting" Jews, Slayers of the Prophets - Scenes from Gaza "Return March" https://t.co/ZK0it49WhV

— MEMRI (@MEMRIReports) May 14, 2018
Gazans Protest Transfer of U.S. Embassy to Jerusalem with Chants of "Death to America" - Scenes from Gaza "Return March" pic.twitter.com/6UlMCMmkJL

— MEMRI (@MEMRIReports) May 14, 2018
IDF gears up for mass Gaza riots, warns that Hamas plans to 'massacre' Israelis
The Israeli military is gearing up for fierce "March of Return" protests along the Gaza security fence on Monday, with more than 100,000 Palestinians expected to take part, and dire warnings from the IDF that hundreds plan to try breach the fence and carry out a "massacre" of Israeli civilians.

The protests are now set for Monday, to coincide with the move of the US Embassy from Tel Aviv to Jerusalem, and not on Tuesday's Nakba Day, as was originally expected.

The Israel Defense Forces expects over 100,000 Palestinians to take part in the mass demonstrations and potentially as many as 200,000, something that would indicate a major victory for the Hamas terrorist group, which rules Gaza and has co-opted for its own ends what were originally slated to be weeks of nonviolent protests.

The army's primary fear during the expected riots is that dozens or hundreds of Palestinians, including Hamas members, will manage to break through the Gaza security fence and wreak havoc in one of the Israeli communities on the other side, attacking residents, starting fires, and destroying buildings.
A Palestinian protester holds wire cutters after burning tires near the fence during a protest at the Gaza Strip's border with Israel, May 11, 2018. (AP Photo/Adel Hana)

The military believes Hamas will focus its energies on this style of mass, chaotic attack, but the IDF is also preparing for more direct armed combat, including attacks on troops along the border, or kidnappings of IDF soldiers, as has happened along the Gaza border in years past.
The last two months of riots have all been leading up to May 15 or "Nakba Day" when Hamas is planning a mass infiltration, but the IDF won't let it happen pic.twitter.com/97EreRQ5To

— IDF (@IDFSpokesperson) May 13, 2018
Hoping to Break Through Border Fence, Hamas Posts Maps to Show Gazans Shortest Routes to Israeli Communities
Israel is bracing for hundreds of thousands of Palestinians to stage mass protests in both the West Bank and Gaza Strip on Monday as the United States inaugurates its controversial new embassy in Jerusalem.

The protests against the embassy move on Monday are also taking place on the 70th anniversary of Israel's founding, the day after which is mourned by Palestinians as the Nakba, or "catastrophe," commemorating the more than 700,000 Palestinians who fled or were expelled in the 1948 war surrounding Israel's creation.

The Palestinian health ministry reported on Monday that 18 people have been killed and hundreds wounded in the Gaza Strip, where protests and clashes along the volatile border fence have been ongoing for seven consecutive weeks already

In the West Bank, protesters in Ramallah and El Bireh are set to march towards the Qalandiyah checkpoint near Jerusalem beginning at 11:00 a.m. local time, while protests are also planned in Bethlehem, Hebron, Nablus and Jericho.

The National Committee to Commemorate the Nakba urged Palestinian youth in the West Bank to "clash with the occupation forces at points of contact and checkpoints" in order to "defend Jerusalem and oppose any attempt to distort the city's identity."
Who gains from burning Gaza's only fuel pipelines?
The Kerem Shalom Crossing is the main, often the only, passageway into the Gaza Strip. Each day, hundreds of trucks travel through it, bringing everything from medical supplies and building materials to pajamas and children's toys into the beleaguered coastal enclave.

There are two other crossings into Gaza, Erez and Rafah. But Erez is almost solely for pedestrians, and the Egyptian-controlled Rafah is kept closed the vast majority of the time. This leaves Kerem Shalom as the most important lifeline for Gaza, which has been subject to a strict blockade by both Israel and Egypt for the past 11 years in order to prevent terrorist groups from bringing weapons into the Strip.

Yet just after 6:00 p.m. Friday at the tail end of that day's mass "March of Return" protest, a group of some 200 Palestinians broke into the Gaza side of the crossing and set fire to the Strip's only fuel terminal and a conveyor belt used for raw construction materials. Two conveyor belts which brought animal feed into Gaza were also wrecked, according to the deputy director of the crossing.

On Saturday night, Israel announced it would be keeping the crossing closed as it assessed the damage and determined how to bring Kerem Shalom back online. The army said exceptions would be made for humanitarian goods.

"Israel didn't make this decision in order to punish anyone, there's just no other way," a senior officer in the Israeli military's liaison unit to the Palestinians told reporters on Sunday.

"And now, me and my commanders are breaking our heads trying to figure out how to get medicine into Gaza," he said, speaking on condition of anonymity.
Gaza Strip running low on cooking gas after Palestinian rioters trash crossing
A leading businessman said the Gaza Strip is rapidly running out of cooking gas, after a large crowd of Palestinian demonstrators destroyed parts of the only cargo crossing through which fuel and gas can enter the territory from Israel.

Samir Hamada, head of the association of cooking gas vendors, said Sunday that Gaza's 2 million residents consume about 350 tons of gas daily, but that only about 300 tons are still available at private sales outlets. He says the territory's Hamas rulers ordered sales to stop to assess the shortage.

Late Friday, a large crowd of Palestinians badly damaged a fuel and gas terminal and a conveyor belt at the Kerem Shalom crossing. Israel closed the crossing and said it would likely take weeks or months to repair the damage.

The army said Saturday that its recommendation to shutter the crossing, which ordinarily sees hundreds of cargo-bearing trucks pass into Gaza each day, was approved by Defense Minister Avigdor Liberman.

Friday's vandalism at the crossing was a repeat of a similar incident on May 4, when rioters broke into the Palestinian side of the crossing and damaged pipelines carrying gas and oil into Gaza, which already suffers from a significant energy shortage.
Hamas' Orchestrated Campaign of Terror Against Israel in Gaza
Western Taxpayers Funding Abuse of Palestinians
The new law, known as the Palestinian Cyber Crime Law, comes in the wake of the PA and its supporters continuing falsely to accuse Israel of targeting Palestinian journalists. The PA leadership's goal is to ensure that leaders are immune from journalistic critique.

Now journalists and Palestinian human rights organizations will not be able to say that the crackdown on public freedoms and freedom of the media is illegal.

The silence of the international community and human rights groups allows Mahmoud Abbas and his allies to get away with assaults on public freedoms and move forward towards creating a dictatorial regime for the Palestinians -- one funded with American and European taxpayers' money.

The last thing the Middle East needs is another repressive Arab regime. It is also the last thing the Palestinians want.
Iran is funding Hamas's violent campaign at Gaza border, Shin Bet says
Iran is funding Hamas's campaign to promote violence and attacks against Israel under the cover of mass demonstrations at the border, the Shin Bet security service said on Monday.

Hamas has warned its own members to stay away from the security fence during Gaza's mass protests, lest they get shot, while actively encouraging Palestinian civilians — particularly children and teens — to approach the border, the Shin Bet added, citing findings from a number of interrogations. If the fence is breached, however, armed Hamas gunmen are poised to enter Israel to carry out attacks.

"There is a prohibition for Hamas operatives to approach the border, from a fear that they will be killed or captured by IDF troops, unless the security fence falls and then they must enter, armed, into Israel under the cover of the masses and carry out terror attacks," the Shin Bet said in a statement.

Over the course of the past seven weeks of violent demonstrations along the Gaza border, in an event known collectively as the "March of Return," Israeli forces have arrested a number of Palestinians, some of them Hamas members, who crossed the security fence into Israeli territory.

Ahead of mass riots expected on Monday, the Shin Bet released the findings of its interrogations of those suspects, which the security service said showed the methods used by Hamas to destabilize the border area, breach the fence and try to carry out terror attacks inside Israeli territory.

"From the information we have, it appears Hamas is encouraging and sending protesters to the border fence in order to carry out violent acts and damage security infrastructure. In addition, it was found that Iran is providing funding to Hamas in order for it to carry out these violent activities along the Gaza Strip's border fence," the Shin Bet said.

The security service did not provide specific evidence of Iranian involvement. However, Hamas has maintained relations with the Islamic Republic and reportedly drawn significant funding from Tehran.
IDF uses drones to down Gazan fire kites
The IDF is using new, small remote-controlled aircraft with knives on their wings to counter incendiary kites launched from the Gaza Strip.

Developed by the army and the Defense Ministry's Administration for the Development of Weapons and Technological Infrastructure (MAFAT), the IDF Southern Command use the drones to cut the wires holding the kites together, in order to prevent them from reaching Israeli fields and setting them ablaze.

The IDF decided to make operational use of the aircraft on Friday, and it has since downed more than 40 kites, according to Walla.

A senior officer in the Southern Command told The Jerusalem Post last week that small drones had already brought one down, by cutting its lines.

"Hamas can build tunnels, they have rockets, and now they are using kites? For all of those threats we have something to counter them," he said.

Gazans have been protesting along the border with Israel for the past six weeks, especially on Fridays, as part of what organizers call the "Great March of Return," with participants throwing stones and Molotov cocktails at troops, and dispatching fire kites toward Israeli fields. (h/t Zvi)
A short while ago, 3 terrorists attempted to place an explosive device near the security fence in Rafah, under the cover of violent riots. In response, the IDF fired at the terrorists, who were killed pic.twitter.com/LFRRyfHDzl

— IDF (@IDFSpokesperson) May 14, 2018
How would you feel if that one mile was from YOUR home? pic.twitter.com/7qd6Qu55zl

— IDF (@IDFSpokesperson) May 14, 2018
Israel demands UN condemn Hamas's use of children, civilians as human shields
Israeli Ambassador to the UN Danny Danon on Sunday called on the Security Council to condemn the Hamas terror group for its use of children as human shields during mass protests along the Gaza border fence.

Danon sent a letter to the top UN council calling on it "to condemn Hamas's use of civilians and children."

The Israeli military is gearing up for fierce "March of Return" protests along the Gaza security fence on Monday, with more than 100,000 Palestinians expected to take part, and dire warnings from the IDF that hundreds plan to try breach the fence and carry out a "massacre" of Israeli civilians.

The protests are now set for Monday, to coincide with the move of the US Embassy from Tel Aviv to Jerusalem, and not on Tuesday's Nakba Day, as was originally planned.

Danon wrote to the council that "during these protests, expected to escalate as part of the 'Days of Rage' declared by the Palestinian leadership, Hamas, the internationally recognized terrorist organization, plans to exploit innocent Palestinian children as human shields and place them directly in harm's way."
IsraellyCool:
Palestine's Got Talent!
I realize Eurovision dominated our posts yesterday, so time to move on to another competition show: Palestine's Got Talent.

Today's entry is this young man, who demonstrates mad skillz despite being unable to walk properly.
#Pallywood in dancing action. Terrorist #Hamas exploits the weakest and seeks to amplify through the willing media. Not a peaceful protest and not a reliable source. pic.twitter.com/fmmxcDquC0

— Jonathan Conricus (@LTCJonathan) May 13, 2018
Trump Administration Readying Israeli-Palestinian Peace Plan
The United States is in the "late phases" of finalizing its Israeli-Palestinian peace plan that will be presented to both parties for consideration, according to a senior White House official, who discussed progress on the matter ahead of a massive celebration in Israel to open the new U.S. embassy in Jerusalem.

Festivities surrounding the opening of the new U.S. embassy building in Jerusalem kicked off in "grand fashion" over the weekend and will spill into Monday afternoon when U.S, Israeli, and international diplomats gather to formally open the new embassy building, according to senior administration officials.

The U.S. presidential delegation touched down in Israel Sunday afternoon and quickly entered into a series of celebrations and bilateral meetings with Israeli officials. At a dinner organized by the Friends of Zion Museum, U.S. Ambassador to Israel David Friedman and senior presidential adviser Jared Kushner, also the president's son-in-law, were presented awards for their efforts to spearhead the embassy move.

While security remains tight amid fears of possible violence by Palestinian protestors, U.S. officials said the mood around Jerusalem is celebratory, with "people out in the streets carrying American and Israeli flags," according to one senior White House official who is in Israel for the embassy opening.
David Singer:
Macron, Merkel and May Should Adopt Trump Policy on Jerusalem
Merkel needs to reject this dark period in Jerusalem's history by adopting the reality expressed in the Trump Declaration.

Britain's prime minister Theresa May has stated:
"We disagree with the US decision to move its embassy to Jerusalem and recognise Jerusalem as the Israeli capital before a final status agreement. The British Embassy to Israel is based in Tel Aviv, and we have no plans to move"

Moving the United Kingdom's Embassy to West Jerusalem on the identical basis enunciated by Trump will not prejudice future negotiations between Jews and Arabs to resolve East Jerusalem's final status.

France, Germany and the United Kingdom need to get on the Trump bandwagon and move their Embassies to Israel's declared capital – Jerusalem – following their own worldwide well-established diplomatic practices and precedents.

Disagreements between democracies play into the hands of unelected and unaccountable regimes.Bowing to these regimes' unjust and unreasonable demands is a sure-fire recipe for disaster.
In Jerusalem, Michele Bachmann apologizes for 'ignorant' comments on Jews
Former US presidential candidate Michele Bachmann, who in 2015 appeared to call for intensified efforts to convert Jews to Christianity, on Sunday apologized for her past "ignorant" comments about the Jewish people.

Speaking at a Knesset interfaith Bible study organized by Likud lawmaker Yehudah Glick and the Israel365 organization, the former Minnesota congresswoman spoke generally and declined to acknowledge directly what comments she was apologizing for.

"Personally, I know that in ignorance… myself, I have stated things that I should not have said and I profoundly apologize and repent and ask forgiveness from Almighty God for my statements that, though said in ignorance, have brought pain," she said.

Bachmann, who ran for the Republican presidential nomination in 2012, also asked forgiveness for the "horrible and, yes, I would say, the arrogant way that Christians — I would include myself among them — have treated and regarded the Jewish people" throughout history.

Following a visit to Israel in 2015, Bachmann told a right-wing radio station that an intensification of violence in the region signaled the return of Jesus, necessitating mass conversions.
Activists Protest 'Nakba' Ceremony at Tel Aviv University
Dozens of activists from the Zionist organization Im Tirtzu demonstrated on Monday against the annual Nakba Day ceremony held by Arab and far-left students at Tel Aviv University.

Im Tirtzu activists together with a number of wounded IDF veterans waved Israeli flags, chanted "Nakba Nonsense" and passed out flyers.

The activists also brought a 12-by-6-foot sign reading "Nakba Nonsense" and distributed books titled "The Jewish People's Rights to the Land of Israel," which, according to Im Tirtzu, details the legal rights of the Jewish people to the land of Israel under international law.

Im Tirtzu CEO Matan Peleg said that the sole purpose of the Nakba is to undermine the existence of the State of Israel.

"We cannot afford the luxury of allowing this anti-Israel propaganda to go unchallenged," said Peleg. "We are here sending a clear message that we will not be silent in the face of this deceitful attempt to rewrite history."

"It is important to unapologetically call the Nakba what it is: nonsense," added Peleg.
PMW:
Trump arrested by soldiers of "Palestine" in photoshopped image by Abbas' Fatah
In anticipation of the ceremony today marking the opening of the American embassy in Jerusalem, which has been condemned by the Palestinian Authority, the official Facebook page of Mahmoud Abbas' Fatah Movement posted the above photoshopped image of US President Donald Trump being "arrested" on the Temple Mount by soldiers of "Palestine." [Official Fatah Facebook page, May 13, 2018]

Palestinian Media Watch has reported extensively on the PA and Fatah's condemnation of the American recognition of Jerusalem as Israel's capital and the embassy move.

Another image posted by Fatah is a drawing of Palestinians responding with violence and protests surrounding Jerusalem.

Posted text: "#Jerusalem_is_the_capital_of_the_State_of_Palestine"
Text on image: "Jerusalem is the capital of the State of Palestine"
[Official Fatah Facebook page, May 13, 2018]

The image shows a woman wearing a hijab (religious headscarf), the lower part of which extends to form a wall. Above the wall are buildings and the Dome of the Rock. To the left of the Dome of the Rock are two masked Palestinian rioters wearing keffiyehs (Arab headdresses) and using slingshots, and to the right birds are seen flying. A keffiyeh pattern and Palestinian flag are seen in the background. At the bottom is the outline of masses of people demonstrating and waving Palestinian flags.
German bank executives may be included on top 10 list of antisemitism cases
International human rights organization the Simon Wiesenthal Center is considering the inclusion of three senior executives of the German Bank for Social Economy (BFS) on its list of the top ten worst cases of anti-Israel and antisemitic activity in 2018 because of the bank's aggressive enabling of the BDS campaign targeting the Jewish state.

"We condemn the leaders of any bank that continues to allow BFS to do business with those who work to damage and ultimately do away with the Jewish state," Rabbi Abraham Cooper, the associate dean of the center, told The Jerusalem Post on Monday.

"Today's Germans are not responsible for the genocidal crimes of their ancestors but do have a moral obligation to do no harm to the Jewish people.

"Those who choose to abet Israel's enemies will be considered for the center's 2018 top ten antisemitic/anti-Israel list," said Cooper.

He added that the "BDS [Boycott, Divestment, Sanctions] movement is an extreme anti-peace, anti-Israel and antisemitic global campaign that demonizes and threatens the Jewish state and the well being of the world's largest Jewish community. Simon Wiesenthal Center commends the many Germans who recognize this fact and refuse to have anything with BDS."

The three BFS executives who may end up on the list are: Harald Schmitz, the chairman of the bank, and his two deputies, Oliver Luckner and Thomas Kahleis. Numerous Post media queries sent to Schmitz, Luckner and Kahleis were not returned.
Students at Germany's oldest university reject 'antisemitic' BDS campaign
Heidelberg University's student council voted on Tuesday to classify the boycott, divestment, sanctions campaign targeting Israel
as antisemitic and bar university space and funds to advocates of BDS.

A representative for the Youth Forum of the German-Israeli friendship society in Heidelberg, told The Jerusalem Post on Friday that the forum submitted the anti-BDS proposal. "The student council said BDS is antisemitic and BDS groups and affiliated groups will not be supported with rooms or finances, " said the representative.

The anti-BDS resolution was supported by the student council's political education department and the Union of Jewish Students in Baden, said the Youth Forum representative.

The secret vote to reject BDS was 16 in favor, 15 opposed, with 15 abstentions.

The university is located in the town of Heidelberg in the southwestern state of Baden-Württemberg and was founded in 1386 by a decree of Pope Urban VI, marking it as the oldest institution of higher learning in Germany. The student council decision to ban BDS will cover the over 30,000 students who attend the university.
Irish lawmakers call for boycott of Israel
Two European Parliament lawmakers from Ireland on Sunday expressed support for boycotting Israel following its winning the Eurovision song contest, JTA reported.

Lynn Boylan of Ireland's far-left Sinn Féin party wrote on Twitter following Saturday's win, "Israel wins Eurovision so let's make BDS more successful than ever in 2019."

Nessa Childers, another Irish lawmaker for the Party of European Socialists, retweeted Boylan's message, adding the word: "This!" She later wrote: "Jerusalem? The mind boggles. I thought Tel Aviv."

Órla Nic Biorna, a regional lawmaker for Sinn Féin, an Irish nationalist movement that was affiliated with the now-defunct Provisional Irish Republican Army terrorist group, wrote on Twitter: "Shocked at the support for Israel tonight in the Eurovision. People seem to forget that they are a Zionist state illegally occupying Palestine."

Singer Netta Barzilai won the contest, which was held in Lisbon on Saturday night, with a song about female empowerment. The win marked the fourth time Israel has won Eurovision and the first time since 1998.

Before the contest, Boycott, Divestment and Sanctions (BDS) activists launched a campaign aimed at barring Barzilai from advancing to the finals.
MSNBC Guest: Moving Embassy to Jerusalem Is About 'Pleasing the People Who Finance the GOP'
The Trump administration's decision to move the U.S. embassy in Israel to Jerusalem was about "pleasing the people who finance the GOP," an MSNBC guest said on Monday.

President Donald Trump recognized Jerusalem as Israel's capital in a historic gesture last December, and the U.S. Embassy in Israel officially opened in Jerusalem on Monday on the 70th anniversary of Israel's independence.

The decision has led to mass protests and violence in the Gaza Strip, and journalist Bobby Ghosh said on MSNBC that the move was not part of any peace process. Any invocation of the word "peace" by Trump, he said, made many Arabs wince.

"To be cloaking this event as if this was some sort of a gesture of peace, and that this was the beginning of some kind of peace as the president was implying, it's unnecessary," Ghosh said. "No one's going to believe it for a moment. This is nothing to do with peace. This is to do with the president fulfilling an election promise and appeasing his base and pleasing the people who finance the GOP."

Referring to the protests, Ghosh said Palestinians were "not going to go quietly, as we've seen."
Inaccuracy and omission from 'parachuted' BBC Radio 4 presenter in Jerusalem
When Adwan went on to claim that "the British, the Israelis are responsible for our catastrophe", Stourton made no effort to question him on the topic of Arab and Palestinian responsibility.

Listeners heard highly partisan portrayals of the relocation of the US embassy to Jerusalem from both Stourton and Segev, with the latter describing it as an "unnecessary development" and opining that the Palestinian refugee issue is a "burden…on our [Israel's] morality and on the justification for the existence of Israel".

When Adwan later presented a partisan view of the UN Partition Plan, Stourton failed once again to inform listeners that the proposal was rejected by Arab leaders – including representatives of the Palestinians – and hence has no relevance.

Obviously the aim of this unbalanced and partisan report – riddled as it was with important omissions and inaccuracies – was to advance the narrative of "disputed history". No effort was made to get beyond that falsely 'balanced' label and to provide Radio 4 listeners with accurate and impartial information that would enhance their understanding of a complicated story.

Nevertheless, one would expect that if the BBC is going to go to the expense of sending UK based journalists abroad to report on a story off their usual beat, it would at least ensure that they are au fait with the basic historical facts and ensure that they provide them to the corporation's funding public.
More 'Great Return March' arson and ambitions ignored by BBC News
As was noted here last week the only reference on the BBC News website to the fact that on May 4th Palestinian rioters caused serious damage to the sole crossing point for goods and fuel into the Gaza Strip came in the form of a circumspect one liner.

"As noted at the Times of Israel:
"The damage caused Friday will very likely cause delays and difficulties in the transfer of goods into Gaza, not to mention the supply of desperately needed fuel, and exacerbate the already difficult humanitarian situation."

However, the only mention of that incident on the BBC News website came in the form of twenty-two words in a report on another topic that was published the following day:

"On Saturday, Israel accused Hamas of setting fire to gas supplies and damaging crossing points where humanitarian supplies are brought into Gaza."

The BBC News website likewise did not produce any dedicated reporting on the topic of the 'Great Return March' weekly rioting on May 11th and so BBC audiences remain unaware of the fact that the Kerem Shalom crossing was again vandalised on that day.
CNN Arabic Calls Western Wall 'Al Buraq'
Early this month, Alibaba CEO Jack Ma visited the Western Wall, donning a kippah and honoring the holy Jewish site, a remnant of the Jewish Temple compound. On what basis, then, did CNN Arabic refer to the site using its Muslim name, "Al Buraq wall"?

As CAMERA Arabic earlier noted, a CNN Arabic story seems to violate CNN practice by referring to the Western Wall, one of Judaism's holiest sites, by a Muslim name, "Al Buraq Wall." The May 2 article ("Founder of the 'Ali Baba' group to visit Israel and meet Netanyahu"), says of Ma's visit to the Jewish holy site: "Activists on social networking photographed Ma, standing by the Wall of Al-Buraq in Jerusalem during his visit to Israel."
cnn al buraq.jpg

Use of an Islamic name in context of a visit intended to honor the site's special status in Judaism is clearly inappropriate and misleading. Furthermore, not only does CNN in English not use the term "Al-Buraq" wall to refer to the Western Wall, but CAMERA Arabic has confirmed that CNN Arabic has not used this misleading term in the past.
200,000 People Worldwide Sign Israeli Flags for Time Capsule to Be Opened in 2048
In honor of Israel's 70th anniversary, 5,000 Israeli flags signed by 200,000 well-wishers from across the world will be placed in a time capsule at Jerusalem's Ammunition Hill historic site to be opened in 2048 on Israel's centenary.

At least 200 of the blue-and-white banners will hang from poles in the center's main hall for several months starting on Jerusalem Day (May 13 this year) before joining the others in the capsule. They'll be preserved in special envelopes and catalogued so signers can find their flags easily in 30 years' time.

The signatures, blessings and wishes of children, soldiers, cultural and spiritual leaders, government officials, ambassadors and others from Israel as well as New Delhi, Rome, San Francisco, Bucharest, Copenhagen, San Paolo, Abidjan, Miami, Serbia, Moscow, Seoul, Tokyo and other citiesare inscribed in languages ranging from Portuguese to Arabic.

One school group came from Los Gatos, California, to hand-deliver their flag. In Florida, 4,000 students marched with 30 of the signed flags on Israeli Independence Day before sending them to Ammunition Hill. Many other groups sent pictures and videos of the signing event.

A US Army veteran with post-traumatic stress disorder visiting Israel with Heroes to Heroes wrote on the group's flag, "Thank you, I chose life" – referring to the high rate of suicide among American war veterans and the healing power of his experience touring with Israeli counterparts.
---
---
We have lots of ideas, but we need more resources to be even more effective. Please
donate today
to help get the message out and to help defend Israel.