From Ian:
---
JPost Editorial:
Keep up the pressure
It is shameful for those countries to be working to enrich a corrupt, violent, terrorist-supporting Iranian government at any time, but it's an even greater disgrace to do so at a time when it is gunning down regime opponents on the street.

As Prime Minister Benjamin Netanyahu said during his trip to Lisbon to discuss defense against Iran with US: "That is wrong. They should be ashamed of themselves. While people are risking their lives and dying on the streets of Tehran, they are giving sustenance and support to this radical regime."

Iran's murderous ways are not limited to protesters on the streets in Iran, but extend from Iran to Syria to Lebanon and Gaza, and even beyond the Middle East, to Argentina, for example, where Iran was behind the bombing of the AMIA Jewish center.

The correct response to the tyrants of Tehran is not to reward them for sowing death and destruction. The world should be working to encourage the courageous protesters and discourage the regime from continuing to put its money toward deadly causes that do not help their people.

First and foremost, sanctions should be respected and not circumvented.

While Iran continues to develop nuclear-capable ballistic missiles and precision-guided munitions and targets people around the world, the pressure must be increased, not relieved.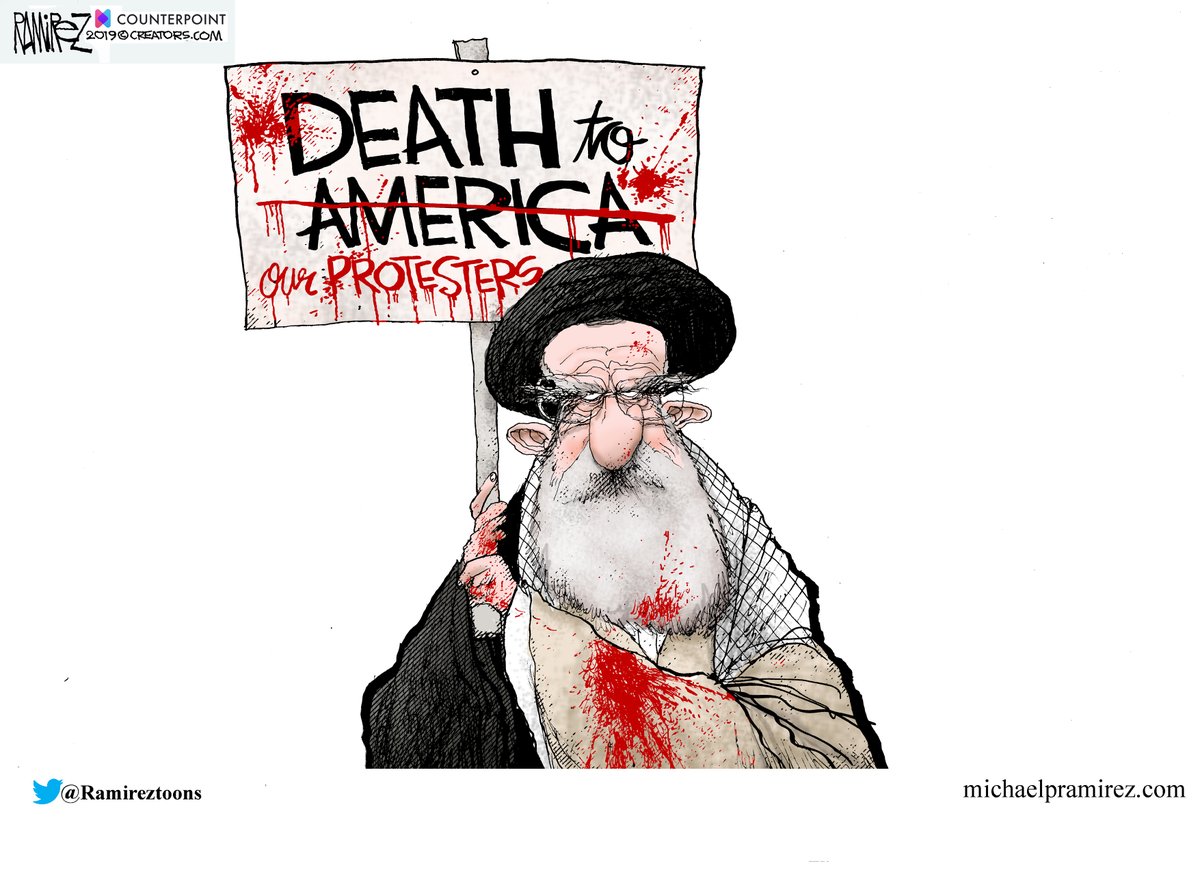 A Non-Aggression Pact Between Israel and Arab States Is a Good Place to Start
Yet the Gulf states do not accept the Palestinian claims; their fear of Iran is overriding. They believe Trump's hands are tied by his desire to run in the next presidential elections. Some of them believe that if he wins the elections, he will change his stance regarding protecting them from Iran.

At the same time, secret and public visits continue between Israeli and Arab representatives. Netanyahu visited Oman in October 2018 and Katz visited the UAE in June 2019.

According to unconfirmed reports in some Arab media outlets, Netanyahu has also met secretly with Saudi Crown Prince Muhammad bin Salman.

Similarly, some Gulf states have hosted Israeli sports teams, and even played Israel's national anthem "Hatikva" when the Israeli teams won.

Israel's attempt to advance a non-aggression agreement with four Arab countries is significant. This message should filter through to the Arab world and to the Palestinians who seek to block the normalization of relations with Israel.

Israel's policy of breaking the linkage established by the Palestinians between normalizing relations with Israel and the Israeli-Palestinian peace process is correct. The Palestinian problem no longer leads the Arab countries' list of priorities. The Iranian danger has overtaken it, and in any case, the Palestinian arena is divided between the Gaza Strip and the West Bank, with the Palestinian leadership unable to reach a national agreement that would allow serious negotiations with Israel, the results of which would be binding upon all Palestinians.

The moderate Arab countries are following Israel's offensive policy against Iranian entrenchment in Syria and the military attacks ascribed to Israel against Iranian targets. There is no doubt that this affects their relationship with Israel, which is proving itself to be a critical regional force that does not fear to confront Iran. It is worthwhile for them to ally with Israel even in secret and to coordinate efforts to halt Iranian influence.
PMW:
Fatah: "We won't relinquish a grain of soil… from the [Mediterranean] Sea to the [Jordan] River"
Two Fatah officials have recently repeated the PA and Fatah's uncompromising stance that "Palestine" includes all of the State of Israel in addition to the PA areas and Gaza, and that Jews/Israelis are nothing but temporary "invaders." This position of course leaves no room for a two-state solution which the PA and Fatah claim – to foreign audiences – they support.

The media spokesperson and "popular resistance coordinator" of Fatah's Qalqilya branch, Murad Shtewi, stressed that Palestinians view the entire area from the Jordan River to the Mediterranean Sea as "Palestine," and that they won't give up an inch of it. He also called on Palestinians to carry out "a popular revolution" against Israel:
"Shtewi emphasized that the Palestinian people will not relinquish a grain of soil from the land of historical Palestine from the [Mediterranean] Sea to the [Jordan] River, despite the American administration's attempts to allow the occupation state to expand the settlement and legitimize it, and he demanded that our people carry out a popular revolution against the occupation everywhere." [Official PA daily Al-Hayat Al-Jadida, Nov. 30, 2019]

At the same event a group of Palestinian scouts held "signs emphasizing the right of our people in Palestine and the return to it from its [Mediterranean] Sea to its [Jordan] River." Palestinian Media Watch has documented that the PA and Fatah espouse the "liberation" of "Palestine" from "the river to the sea," and teach even children that "Palestine will return" and that this is the end goal.

The head of Fatah's Jenin branch similarly expressed the view that all of Israel will become "Palestine" as he stated that the Israelis "will leave" as the previous "invaders" have done. He implied that Palestinians will use violence to make this happen, stating that "we are at the beginning of an ongoing confrontation, and are not making do with a rally or procession."
Fatah official: "We are at the beginning of an ongoing confrontation," Israel will leave as other "invaders" havehttps://t.co/GlfvRpCvO8 pic.twitter.com/NAh67zV6A5

— Pal Media Watch (@palwatch) December 9, 2019
Sovereignty over Jordan Valley Is Crucial to Israel's Survival
The first plan dealing with the Jordan Valley was drafted immediately after the 1967 Six-Day War by former Labor party minister Yigal Allon and is known as the "Allon Plan." The broad aim of the plan was to annex most of the Jordan Valley from the Jordan River to the eastern slopes of the Judean and Samarian mountain ridge in the West Bank along what is known today as the Allon Road.

Former prime minister Yitzhak Rabin declared that the Jordan Valley will be forever the eastern border of the State of Israel.

The biggest misconception is the assumption that the Israeli-Arab conflict is all about a land dispute regarding Judea and Samaria and once we fix this, peace will emerge. The problem is that no Palestinian leader shares this vision. The fact is that in every Palestinian Authority map, the State of Israel does not exist. In PA schools, every child is educated to hate Israel and Jews, ensuring that future generations will continue to fight Israel until every centimeter of "Palestine" is liberated.

The Jordan border is 300 km. long. If Israel relinquished control, the Palestinians would be able to bring into the heart of
Israel thousands of armed terrorists from all around the Middle East.

Critics claim that applying Israeli sovereignty over the Jordan Valley will undermine security cooperation with Jordan and the Palestinian Authority. The same threats were made when the U.S. moved its embassy to Jerusalem. But both Jordan and the PA depend on security cooperation with Israel for their survival. They need this cooperation more than Israel does.

Some of have suggested ceding the Jordan Valley to the Palestinians in a 10-15-year process. This reminds me of the Iran deal logic to postpone an Iranian nuclear bomb. When you have a really bad plan, suggest implementing it in 15 years and then you will have much less antagonism because only the next generation will suffer from it.
To major UNRWA donor countries: What is being done with your money?
You, dear Arutz Sheva reader, can make a difference if you send this letter or a version of it, to the ten major donors to UNRWA. Information about those countries' representatives is below, following the letter.

Dear Ambassador…
It is a foregone conclusion that the UN General Assembly will renew the UNRWA mandate this week, which will once again confine descendants of Arab refugees from the 1948 war to yet another three years of "temporary" refugee perpetuity.

The question remains: Will UNRWA donor nations insist on reasonable conditions for the UNRWA mandate renewal?

We are asking you, as a representative in the General Assembly of one of the ten donor nations which contribute the most money to UNRWA, to ensure conditions are imposed on UNRWA's operations.

Here are several conditions we recommend:
1. Cancel the new UNRWA curriculum
2. Cease paramilitary training in all UNRWA schools
3. Insist that UNRWA dismiss employees affiliated with Hamas.
4. Demand fiscal transparency– all donor funds that flow to UNRWA should be audited. Since the UN itself does not provide any funds, there is no internal audit going on.
5. Introduce UNHCR (United Nations High Commissioner for Refugees) standards to UNRWA
Young Social Democrats want Germany to stop its anti-Israel votes at UN
The youth organization of Germany's Social Democratic Party (SPD) condemned in late November its leadership's anti-Israel voting record at the UN.

The Young Socialists (Jusos) organization wrote that the "disproportionate condemnation of Israel, the only democratic state in the Middle East" is a problem affecting UN bodies "that is carried out not only by states of the Middle East, but also European states who pass, or abstain from, anti-Israel resolutions."

Jusos urged Germany to "dissociate from the initiatives and alliances of antisemitic member states in the bodies and specialized agencies of the United Nations." The resolution was titled "Antisemitism in the United Nations."

A Jusos delegate told German daily, Die Welt, that, "We're giving the SPD a clear mandate to fight antisemitism in the UN and placing the issue on the agenda of (German Foreign Minister) Heiko Maas and the SPD." A second delegate said: "It is clear to us: We have to fight off antisemitism in all its manifestations."
Palestinians find the ICC is not the home turf they thought it would be
Ramallah says those payments are a national duty to families affected by decades of violence, while Israel argues that they incentivize further attacks.

"These as well as any other alleged crimes that may occur in the future
require further assessment," Bensouda wrote Thursday, making clear that her investigation was not only looking into Israeli actions and that Ramallah's efforts to have Jerusalem charged for war crimes could backfire.

In addition to lashing out at the ICC for its failure to complete the preliminary investigation, the PA Foreign Ministry in a statement accused Bensouda's office of "distort[ing] or complete[ly] omit[ting] relevant information."

Much of the six-page status update on the preliminary examination focused on allegations of excessive force by the IDF in Gaza, including the firing of live bullets at unarmed demonstrators. But those points were followed by a recognition that not all protesters have been peaceful and that terror groups have been accused of hiding among civilians.

"The report relies on misleading narratives of politicized nature under the cover of false equivalence, rather than on objective and accurate description of relevant facts," the PA Foreign Ministry asserted.

Speaking to The Times of Israel Sunday, Palestinian Liberation Organization Executive Committee member Wasel Abu Yousef claimed that the ICC had "deviated" from the main issues at hand due to American pressure.
Luxembourg said pushing for EU states to recognize Palestine
Luxembourg is pushing its fellow European Union states to recognize Palestine, in response to the recent US declaration that it no longer views Israeli settlements in the West Bank as illegal under international law, Channel 13 news reported Sunday.

The report said Luxembourg Foreign Minister Jean Asselborn sent a letter to new EU foreign policy chief Josep Borrell and to EU foreign ministers, saying the only way to save the two-state solution was to create "a more equitable situation" between Israel and the Palestinians.

"It is time to start a debate within the European Union on the opportunity of a recognition of the State of Palestine by all its Member States," Channel 13 quoted him as writing.

"The recognition of Palestine as a State would neither be a favour, nor a blank check, but a simple recognition of the right of the Palestinian people to their own State," he wrote. "In no way would it be directed against Israel.

"Indeed, if we want to contribute to solving the conflict between Israel and Palestine, we must never lose sight of Israel's security conditions, as well as of justice and dignity for the Palestinian people," he wrote.
Visiting Israel, Guatemala's incoming president vows to outlaw Hezbollah
Guatemala is going to formally recognize Hezbollah as a terrorist organization, the Central American country's president-elect announced this week during his first-ever visit to Israel.

Alejandro Giammattei also said that he not only intends to keep the Guatemalan embassy in Jerusalem, but that he will urge other nations to transfer their Israel embassies to the city as well.

Giammattei, who won the June presidential election but will only be inaugurated next month, updated President Reuven Rivlin and Foreign Minister Israel Katz about his planned move to outlaw Hezbollah.

"The decision will take effect as soon as I take office, as part of the security cooperation with Israel, and will include all aspects of Hezbollah, including the economic one," he told the Israel Hayom daily in an interview published Monday.

After their meeting, Katz said in a tweet that he was "happy" about the incoming Guatemalan leader's promise to outlaw Hezbollah.

Some governments only recognize the Lebanese group's military wing as a terrorist organization, maintaining ties to its political branch.
Honduran president: I will not capitulate to anti-Israel threats
Honduran President Juan Orlando Hernández was one of the most senior political figures to attend the annual Israeli-American Council (IAC) summit in Florida over the weekend.

Hernández seemed to enjoy every moment of the 3-day confab, proving once again that his country is an ally of the Jewish state.

"This organization is just wonderful," he told the summit which is now considered the fastest-growing Jewish organization in the world. "It feels like a big family here."

"I can feel the love that fills these halls. It's a huge honor to be part of this IAC experience because this is my family – the family I joined when I was a 22-year-old sent to Israel.

"I feel the love that fills the hall here and I feel a huge honor to be a part of it, because it's my family – the family I joined as a 22-year-old guy sent to Israel."
PodCast:
The Pursuit of Peace between Israel and the Palestinians Is a Waste of America's Political Capital
Both Michael Doran and Lara Friedman agree that the creation of a Palestinian State in the West Bank is unlikely to occur anytime soon, but they disagree about the reasons why. To Friedman, Washington should nevertheless actively pursue such an outcome, while to Doran the many past failures suggest that such efforts would be wasted. More importantly, Doran contends that, under current circumstances, the creation of such a state would be deleterious not only to Israel but also to the Palestinians, to Jordan, and to American interests.
PreOccupiedTerritory:
I'm Hoping To Get To Five Rejected Peace Proposals Before I'm Done by Mahmoud Abbas, President, Palestinian Authority, and Chairman, Palestine Liberation Organization (satire)
President Donald Trump and his advisers have tries to generate excitement over their impending Deal of the Century to resolve the conflict between us and Israel once and for all, but they appear not to realize I have a different aim in mid: rejecting at least five statehood and end-the-conflict offers before I either step down or die. Mr. Trump's deal would only qualify as number three.

My predecessor, the iconic Yasser Arafat, rejected only one statehood offer. I command far less stature in Palestinian society – let alone the Arab world – than he does even in death. The only way to cement my legacy in any way close to his among the pantheon of our people's greats is to demonstrate steadfast rejection of any proposal that even implies we consent to a sovereign Jewish presence near us. But I've already reached my eighties, and no one knows how much longer I have in this position. If I manage to reject five peace proposals, then perhaps I can earn my place next to the legendary Raïs.

When I rejected Ehud Olmert's unprecedented offer in 2008, which went farther even than what Arafat rejected in 2000 – and then launched the deadly Second Intifada – I assumed, in error, that I had cemented my position in that pantheon. But developments proceeded differently from what I had foreseen, and my stature did not improve in any lasting way.
If we don't stand with the Kurds, who should stand with us?
The parallels are stark and increasingly depressing. The Kurdish struggle for statehood is all too similar to the Jewish one in the early 20th century. If we stay quiet, we discard our history and the principles on which Zionism was founded. The old saying goes that, "Kurds have no friends but the mountains." It's time we change that.

When US President Donald Trump withdrew peacekeeping troops from Northern Syria last month, he executed the latest in a string of historic betrayals by the West towards the Kurdish people. They are the largest stateless people in the world and despite the promises made in the past, that isn't changing today.

On the contrary, in a divisive world, it seems it's the one thing that can unify the US, Russia and China. This, despite the fact they have spent the last decade fighting against ISIS – giving their lives to fight the group who have terrorized so many – on our behalf. Entering the vacuum, Turkey has invaded Northern Syria and done so for one sole purpose. It seeks to suppress this longing for Kurdish sovereignty in their homeland, and to crush a secular democratic experiment that spits in the face of religious theocracies.

NATO ally or not, Erdogan displays more than a few character traits of a tyrant. His resurgence of Turkish nationalism proves he is an enemy to all those who seek a more tolerant Turkey or Middle East. His equating of the admittedly dire situation in Gaza with the Holocaust and his denial of the Armenian genocide demonstrate clearly why we should all view him with complete contempt.
Yemen's Houthi rebels threaten to attack Israel
The Iran-backed Houthi rebels in Yemen have threatened to attack Israel, claiming they have prepared a list of targets that can be hit at any time.

In an interview published Sunday, Houthi defense minister Major General Mohammed Al-Atefi claimed to the Al-Masira newspaper, which is aligned with the rebels, that Israel has been involved in the Yemen conflict since it began in 2015 and that "there's no doubt revenge is coming."

He said the Houthis have a "bank of military and maritime targets of the Zionist enemy" and that "we will not hesitate to attack them if the leadership decides to."

His forces, which control the capital Sanaa, "have completed all aspects of military preparation to qualify it to launch a strategic attack leading to the paralysis of the enemies' abilities," Atefi said.

A Saudi Arabian-led coalition is supporting the forces of exiled Yemeni President Abdrabbuh Mansur Hadi as they battle against the Houthi rebels. The existence of clandestine relations between Jerusalem and Riyadh, focused mainly on security issues, especially given their mutual enmity to Iran, are well-known, though the countries do not have formal diplomatic relations.
Jordan jails man for plotting gun attack on Israeli embassy
A Jordanian court on Monday sentenced a man to eight years in prison for allegedly plotting to attack the Israeli embassy in Amman last year.

The state security court ruled that Khaled Abu Raya "threatened to carry out terrorist acts."

According to the charge sheet the 33-year-old Jordanian planned "to open fire on the embassy and its employees in a bid to kill a large number of Israelis."

The plot was alleged to be in response to the transfer of the US embassy from Tel Aviv to the disputed city of Jerusalem in May 2018, a major policy shift that outraged Palestinians and Arabs.

According to the charge sheet, it was also motivated by Israel's policies vis-a-vis Gaza Strip which has been rocked by anti-Israeli protests since March last year.

The same court also sentenced another Jordanian, Munir Ibrahim, to three years in jail on Monday for allegedly planning to infiltrate Israel and attack soldiers in the Jewish state.
Likud, Blue and White agree on March 2 election date
Likud and Blue and White took a break from their ongoing fight over who is at fault for a potential third election on Monday and agreed on when the election should take place: Monday, March 2.

The two parties were set to begin on Monday to advance legislation required to set the election date. But Knesset Speaker Yuli Edlelstein stopped them, saying that more time should first be given to preventing the election and that if necessary, the bill to set the election date could be passed in to law on Wednesday.

"Blue and White will make every effort until the last moment to avoid unnecessary elections," faction chairman Avi Nissenkorn said. "We promised the public that if Netanyahu prevents the formation of a unity government and we are forced to disperse the Knesset, we will ensure that the election is as short as possible. I am glad the Likud and other factions agreed."

If no government is formed by Wednesday night at midnight, an election would be automatically set for March 10, which is Purim, unless a law is passed in advance to set a different date.

If the election is set for March 2, however, it will be 81 days from Thursday – a month less than the last one, which took place on September 17.
Report: Iranian Radar Jammers Paralyzed Syrian Defense Systems During Israeli Strikes
Syrian air defense systems were paralyzed during Israeli strikes in Syria on Nov. 20 due to Iran's radar jamming stations, a source in the Syrian Air Defense Forces told Zaman al-Wasl.

The source confirmed that some Syrian defense missiles exploded minutes after launch, causing many casualties.

After the Israeli attack, Syria's air defense officers attributed their failure to Israeli jamming, but investigations revealed that three Iranian radar jammers were responsible.

The three sites at Mount al-Manea near al-Kiswa, Tal al-Saroukhiya, and Tal al-Sultan near Sayyida Zeinab are controlled by Iran.
Russian Su-35 jets scrambled to stop Israel over Syria - reports
Iranian and Russian media reported that Russian Su-35s were scrambled from Russia's Khmeimim air base in Syria to intercept an alleged Israeli attack near T-4 earlier this month. The report, first put online in a blog at Avia and then picked up by the website Almasdar News and then Tasnim News in Iran claimed that the Su-35s sought to intercept Israeli planes over Syria.

The reports claim that "Israeli fighters had to flee from the Russian Su-35" and at the same time that "Iran delivered unknown air defense systems to Syria." The incident occurred over T-4 or Tiyas base east of Homs in Syria. The base is a well-known transit point for Iranian weapons and has Russian personnel at it. Israel has been accused of striking the area in the past. In May 2018 Ynet said that Israel had carried out an airstrike to destroy an Iranian 3rd Khordad Air Defense system at T-4. Syria claimed more airstrikes hit the area in June and July of this year and September last year.

The reports at the Avia website follow other reports at the same site that often write sensational accounts about alleged Israeli actions in Syria. For instance the same site reported on December 8 that "Israel is preparing new strikes on Syria." Al-Masdar News reported that the Iranian Bavar-373 air defense was deployed to the area. Both reports appeared to rely on a Twitter account named @Syrian_MC for their information. That account indicated that Russia had scrambled its jets and that the "incident" ended on December 6.
Hebron Palestinians go on strike, clash with troops to protest settlement plan
Shops, schools and offices were shuttered in Hebron, and young men clashed with troops in the city center as Palestinians protested a plan to expand Jewish settlement activity in the flashpoint city Tuesday.

Pictures posted on social media platforms showed stores and schools closed and streets with few passersby.

Fatah, the party of Palestinian Authority President Mahmoud Abbas, called for the strike on Saturday.

The move aimed to "confront the settlement offensive targeting the city and its old town," the official Palestinian Authority news site Wafa reported.

Last week, Defense Minister Naftali Bennett ordered his office to begin the planning process to convert a former Palestinian market in Hebron into settler housing, potentially doubling the number of Israelis in the West Bank city.

The strike was observed in other cities and villages in the Hebron region as well.
PA Villagers Enraged: Jews Bought Parcels in Arab Development Project
Last July, the rightwing settlers' news website Hakol Hayehudi revealed that an Arab entrepreneur from Ramallah had purchased land in an area facing the communities of Amichai and Adei Ad in Gush Shiloh, Samaria, where he started massive earthworks, based on well laid out plans to build a new Arab village of 130 housing units.

The IDF secured the Arabs who were working there, access roads were paved, but then, following protests from local Jewish residents, the project was frozen. In fact, the local settlements have approached the new defense minister, Naftali Bennett, requesting the Arab project, run by UCI, a Canadian Arab-owned company, be quashed altogether.

Then, in mid-November, Hakol Hayehudi learned that a storm had been ripping through the area Arab villages, most notably in Turmus Ayya, the village nearest the development project: a local organizer calling himself Abu Samra on Facebook, who lives in Turmus Ayya and has good connections to the Palestinian Authority in Ramallah, on November 10 posted that Jews had purchased land that was offered by the project.

Abu Samra uploaded an ad in Hebrew announcing "A golden opportunity to buy land in Judea and Samaria!" above a map of the land plots available for purchasing from the Arab project.
Warning: scenes of unbearable suffering https://t.co/WiUXy12ikx

— (((David Lange))) (@Israellycool) December 8, 2019
Lebanon is gone
As Lebanon grapples for the second month with popular anti-government protests, there's been a tempest in a teapot on Capitol Hill over the status of military assistance to the country. Following a trip to Beirut last week, Democratic Sen. Chris Murphy took to Twitter to attack President Trump over a delay in releasing aid to the Lebanese Armed Forces, or LAF. "Trump still refuses to send congressionally mandated security aid. Lebanon may become the next Ukraine," he charged.

In fact, military aid to Lebanon has been a bipartisan failure for more than a decade, and reconsidering it is overdue. But the delay in assistance, which it was announced on Dec. 2 had already been released, was not the result of such a reconsideration, let alone a shift in U.S. policy. Neither was it "the next Ukraine."

The brief holdup in the transfer of $105 million in security assistance — the United States gives Lebanon around $250 million a year — caused much distress among supporters of the policy, who boosted a messaging campaign alleging the critical importance of the aid to U.S. national security and the supposedly catastrophic consequences of its suspension.

Neither contention is true, and this is a good opportunity to explain why.

First things first: The nefarious freeze that President Trump purportedly imposed on military assistance to the Lebanese military is a myth. The administration, regrettably, has not reversed or altered its policy of funding the Lebanese. The reason for the delay was a bureaucratic technicality. The Office of Management and Budget reportedly sought to ensure the president had explicitly given the green light on the transfer. Once this happened, the matter was closed. Moreover, it had no effect whatsoever and would never have had an effect, as the State Department has clarified, since no Lebanese expenditures or purchases of military materiel have been delayed.
Violating UN Arms Embargo, Turkey's AKP Government Ships Armed Drones, Armored Vehicles, 'Laser Weapons,' Other Arms And Ammunition To Pro-Islamist Government In Libya, Trains Libyan Military And Police Personnel
Turkey's AKP government has over the past year shipped drones, armored vehicles, "laser weapons," and other arms and ammunition to Libya's Tripoli-based pro-Islamist Government of National Accord (GNA), which is led by Prime Minister Fayez Al-Sarraj and which the UN recognizes as Libya's legitimate government.[1] The AKP government has also trained GNA military and police personnel.

While this military support has been reported since as early as 2015, it appears to have expanded in 2019. The policy represents Turkey's role in the ongoing Second Libyan Civil War, which began in 2014 and is now characterized largely by fighting between the GNA and the Libyan National Army (LNA) led by Field Marshal Khalifa Belqasim Haftar, which is loyal to the Tobruk-based House Of Representatives (HoR).

The AKP government has reportedly shipped to Libya, among other weapons and military equipment, 100 Kirpi ("Hedgehog") mine-resistant armored vehicles made by Turkish defense firm BMC and reportedly paid for by the government of Qatar. Baykar, a Turkish firm headed by Selçuk Bayraktar, a son-in-law of Turkish President Recep Tayyip Erdoğan, produces the Turkish drones being used in Libya. In November, the director of Turkey's Directorate of Security said in a speech that "with 50 personnel attending each program, in total 200 members of the Libyan Police Organization are being given the four-week 'Basic Special Operations Training.'"

By supporting the GNA, Turkey is also supporting some enemies of the United States, including Mohamed Ben Dardaf, who was reported killed fighting in the GNA's Somoud Brigade on May 26 and was accused of taking part in the attack on the U.S. diplomatic mission in Benghaz that killed U.S. Ambassador Christopher Stevens and three other U.S. diplomatic staff in September 2012.[2]

This report will review information about the weapons the AKP government is shipping to Libya, their use, Turkish training of Libyan military and police personnel, some of the LNA attacks against Turkish interests in Libya, and possible motivations for the policy.
Netanyahu's social media campaign has revived Israel's image in Iran
One of Prime Minister Benjamin Netanyahu's greatest foreign policy legacies remains unseen to most Israelis and the world: He has made Israel popular in Iran!

It all started with Netanyahu's video campaign on social media, which coincided with the Islamic Republic's rapid deterioration of popularity.

In a series of social media videos, Netanyahu directly spoke with the Iranian people with Farsi subtitles, and the videos went viral on social media and messaging apps among Iranian users. In these videos, Netanyahu emphasized his desire to live in peace and cooperation with the Iranian people. He spoke of Iran's rich and great history. In one video, he outlined Iran's water challenges, and he declared that he will start sending information to Iranians on social media about how best to overcome these challenges with minimal means.

However, the most important point that Netanyahu had was that the regime in Iran is the greatest obstacle to the progress of the Iranian people by highlighting how successful Iranians are everywhere else, but not in Iran. This campaign resonated with many Iranians.
'Bombing Iran to stop its nuclear program remains an option'
The option to launch a preemptive strike against Iran to prevent it from developing a nuclear weapon remains viable, Foreign Minister Israel Katz said in an interview Saturday.

Speaking with Italian-language daily Corriere della Sera, Katz – asked whether Israel was mulling military options vis-à-vis the Islamic republic – said, "Yes, it is an option. We will not allow Iran to produce or obtain nuclear weapons. If it were the last possible way to stop this, we would act militarily."

The comments were reportedly made on the sidelines of a foreign policy conference in Rome. They came just hours after Iran announced its ready to unveil a "new generation" of nuclear-related "products," including new centrifuge systems and a heavy water power plant scheduled to be built by the spring of 2020.

Katz further admonished European leaders for not taking a more aggressive stand against Iran over its repeated, escalating violations of the 2015 nuclear deal.

"As long as the Iranians delude themselves into thinking they have Europe's backing, it will be more difficult for them to back down," Katz said.
Iraqi Shiite Militia Leader Qais Khazali Threatens to Respond to Sanctions Imposed on Him by the U.S. with Measures against U.S. Economic Interests in Iraq pic.twitter.com/PSy92Vh7Od

— MEMRI (@MEMRIReports) December 9, 2019
The WhatsApp Crisis: Cracks in Iran's Soft Power Strategy
The "WhatsApp crisis" in Lebanon revealed a crack in Iran's grand diplomatic strategy of using its proxies to push ideological soft power concurrently with hard power. Since 1979, Tehran has been trying to brand itself as the epicenter of the Islamic Revolution. That notion is being challenged — not by Lebanese tanks and Iraqi bullets, but by citizens armed with smartphones.

No matter what Iran might want, the people of the Middle East yearn to be connected to the world, and their access to social media allows them to make contact. Their smartphones provide an excellent window through which Western diplomacy can reach previously inaccessible populations.

Social media cannot create political change all by itself, but it can generate powerful sparks.

The WhatsApp messaging service has passed 1.5 billion users worldwide. For citizens of countries like Lebanon and Iraq, WhatsApp enables them to be connected to the rest of the planet at almost zero cost.
IRGC General Gholamreza Jalali, Head of Iran's Civil Defense Organization: We Need a National Intranet to Provide Services, Keep Iran Safe; Israeli-Made Waze App Deliberately Caused Traffic Jams to Cause Demonstrations pic.twitter.com/auZohReKbG

— MEMRI (@MEMRIReports) December 9, 2019
Saudi Arabia ends gender-segregated entrances for restaurants
Restaurants in Saudi Arabia will no longer need to maintain entrances segregated by sex, the authorities said on Sunday, further eroding some of the world's strictest social rules as sweeping reforms take hold.

Previously, Saudi Arabia required all restaurants to have one entrance for families and women, and another for men on their own. The ministry of municipalities and rural affairs announced on Twitter this would no longer be mandatory.

Unrelated men and women have for decades been barred from mixing in public places under strict social rules once enforced by hardline clerics and the religious police.

But Crown Prince Mohammed bin Salman has brought the religious establishment to heel -- partly by arresting critics -- and eased other restrictions, including bans on women driving and public entertainment.

Segregation has quietly eased over the past year or so, as eateries, cafes, conference centers and concert halls stopped strictly enforcing it.
World Anti-Doping Agency imposes 4-year ban on Russia, including Tokyo Olympics
The Russian flag and national anthem were banned from next year's Tokyo Olympics and other major sports events for four years on Monday.

Russia's hosting of world championships in Olympic sports also face being stripped after the World Anti-Doping Agency executive committee approved a full slate of recommended sanctions as punishment for state authorities tampering with a Moscow laboratory database.

Russian athletes will be allowed to compete in major events only if they had not been implicated in positive doping tests or if their data was not manipulated, according to the WADA ruling.

Still, it is unclear how the ruling will affect Russian teams taking part in world championships such as soccer's World Cup.

Russia's anti-doping agency can appeal the decision to the Court of Arbitration for Sport within 21 days.
---
---
We have lots of ideas, but we need more resources to be even more effective. Please
donate today
to help get the message out and to help defend Israel.