From Ian:
---
Swastika raised with Palestine flag during weekly Gaza riots
Approximately 6,000 Palestinians gathered on the Gaza border fence on Friday, holding the weekly March of Return demonstrations, while a swastika was raised along with a Palestine flag on the fence.

In a tweet posted by the IDF Spokesperson's Unit, the swastika could be seen underneath the Palestine flag. The IDF tweeted a response – in poetry form – that: "In the face of this hatred stand IDF soldiers, alert and determined; ready to defend lsrael, today and every single day."

During the demonstrations, the rioters threw explosive devices at the border fence and at IDF forces, as well as hurdled stones.

According to reports, 51 Palestinians were injured, 24 of them by IDF live fire.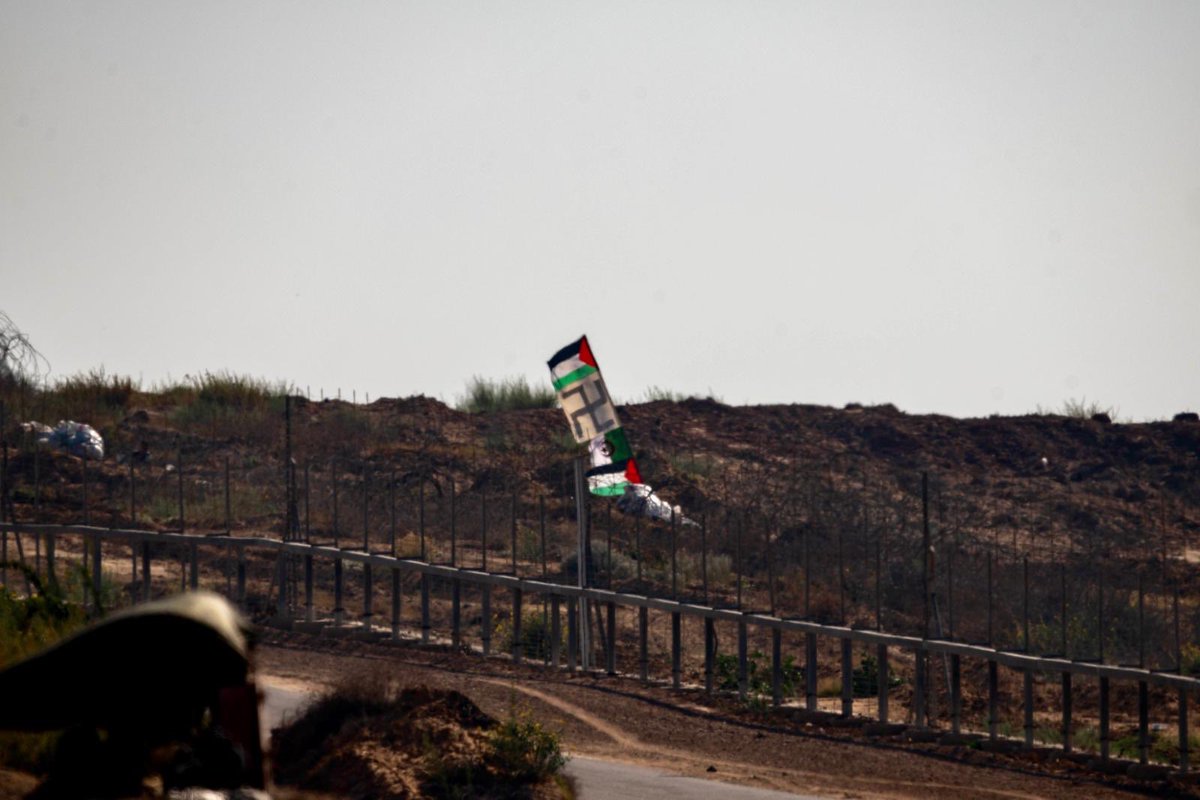 White House demands info on any misuse of American funds by UNRWA
The White House is demanding information on whether the United Nations agency for Palestinian refugees misused American funds, as part of an investigation into its conduct.

In a letter to the UN on Thursday, US Mideast envoy Jason Greenblatt said reports of misconduct at the United Nations Relief and Works Agency (UNRWA) were "deeply concerning" and called for the UN probe to be as transparent as possible.

Noting that Washington was previously the largest donor to UNRWA, providing billions of dollars to the agency, including nearly $3 billion over the past decade, Greenblatt wrote that the administration was "strongly committed to ensuring fiscal transparency and accountability to the United States taxpayer."

"If the investigation should yield any findings of impropriety — including…any related to potential misuse of US funds — we request immediate notification and access [to the findings]," he wrote.

In 2018, the United States suspended and later cut all funding for UNRWA, causing a financial crisis that threatened to see its schools and hospitals closed.

Greenblatt said that the US move was "in part due to UNRWA's unsustainable business model and fiscal practices."

Trump's former UN envoy, Nikki Haley, took to Twitter earlier this week to say, "this is exactly why we stopped their funding."
Human Rights Watch's EU Director Lotte Leicht lobbied incessantly to fund UNRWA. (See: https://t.co/1nlq62kHIe)

Now that we learn corruption & bullying were rampant—and that UNRWA chief @PKraehenbuehl pressured his employee to become his mistress—why is she silent?#MeToo https://t.co/LoX2YPidhU

— Hillel Neuer (@HillelNeuer) August 3, 2019
What attacks on Israel's embassies really mean
THE ISRAELI government would do well to remind the 180 states that are party to this treaty of their responsibilities, starting with Finland. If states hosting Israeli missions do not abide by the articles of this treaty, Israel should invoke the relevant mechanisms under international law to ensure they do.

Likewise, we must also understand the effect that attacks on Israeli missions have on local Jewish communities. Obviously, many Jews worldwide identify closely with Israel and Zionism, seeing it as a physical manifestation of their Jewish identity. It must be terrifying for these communities to witness attacks on their religious and national identities. These perils could potentially lead to internal fractures within those communities.

The international community must recognize that these attacks are not merely vile and cowardly attacks on innocent Israelis, but on the Jewish people as well. And make no mistake, these attacks are not anti-Israel (if such a concept even exists), they are full-blown antisemitic. Sketches of swastikas, antisemitic slurs and Hitler are not critiques of Israeli policy, they are expressions of Jew-hatred.

Being separated by state borders does not sever the universal bond that Jews everywhere share with one another. An attack on one is an attack on all. We in Israel must ensure that Jews in the Diaspora feel their voices of concern are being heard, even in the smallest and most remote communities. More importantly, we cannot allow for an environment in which Jews in the Diaspora are afraid to express their Zionist ideals.

Helsinki is home to roughly 1,800 Jews. The community dates back to the early 19th century and has long been a steadfast ally of Israel. Finnish volunteers in the Israeli War of Independence represented the highest per-capita participation of any Diaspora Jewish community. We cannot afford to lose this community to the fear and hate of our enemies. The Israeli government ought to use the full force of its influence to elicit a more effective, proactive response to these antisemitic attacks from Helsinki's law enforcement, and we in Israel should make sure that the Jews of Helsinki know they have not been forgotten.
Time to Stop Feeding the 'Crocodiles'
A rare phenomenon occurred in Israel a few days ago: Mohammed Saud — a law student from the University of Riyadh, a Saudi national, and popular blogger — visited Israel at the invitation of the Foreign Ministry. Saud even visited the Temple Mount. Unfortunately, Saud not only endured threats and vulgarities during his visit, but was spit on and had chairs thrown at him. This was done not by Jews, but by his fellows Arabs.

The "Peace to Prosperity" workshop in Bahrain at the end of June was attended by Palestinian businessmen, in defiance of orders from Ramallah. Their delegation joined Israeli and other Arabs businessmen at great personal risk. Several were promptly arrested by the Palestinian Authority upon their return, only to be released following US pressure.

Seeing Arabs and Palestinians willing to take great personal risks to show support for Israel is evidence of the changes that are taking place in the Middle East. These people want and support Jewish sovereignty.

Tragically, a large number of Jews both in and outside of Israel fail to see the prosperity, security and peace that these Arabs know Jewish sovereignty will provide. They are stuck in a mindset of illogical and futile appeasement. Some have even embraced and partnered with antisemitic Arab organizations, blindly believing that supporting anti-Israel boycotts and the two-state paradigm is the way to peace.

The failed Oslo Accords have proven how tragically wrong that mindset is. The vision of these liberal Jews is impaired, rendering them unable to capitalize on major changes in the region that will benefit Arabs, Jews, and the world.

Appeasement is not only nearsighted, but dangerously addictive. It induces short-term "high" that acts as a justification for ignoring the consequences future generations must face. The intoxication of appeasement has blinded even some of the most senior Israeli officials.
The Saudi-Palestinian Labyrinth
The shift in the Saudi attitude towards Israel has been reflected by a reduction of foreign aid to the Palestinians, partially due to the rift between the Palestinian Authority (PA) and Hamas, and in protest of PA corruption.

The transformation of the Saudi attitude toward the Palestinians has been triggered by Palestinian ties with entities which challenge and threaten the House of Saud. For example, the anti-Saudi Muslim Brotherhood (the largest Sunni Islamic terror organization), Iran's ayatollahs (the leading mortal enemy of the House of Saud), the anti-Saudi Erdogan's Turkey (which supports the Muslim Brotherhood and opposes Saudi Arabia in Syria, Iraq, Qatar, and Somalia), Hamas Palestinian terrorists (supported by Iran's ayatollahs and Turkey), Hezbollah terrorists (supported by the Ayatollahs), Qatar (which maintains close ties with Iran and Turkey, as well as with the US), etc.

Saudi homeland security concerns triggered a September 12, 2018 policy, which stopped the issuance of visas for the Haj (the major annual pilgrimage) and Umrah (a secondary pilgrimage) to Palestinians from Jordan, Lebanon, and East Jerusalem, who possess only temporary travel documents.

The Saudi concerns have been aggravated by the coordinated Palestinian social media offensive against Saudi Crown Prince Mohammad bin Salman and the burning of Saudi flags by Palestinians in Gaza and East Jerusalem, which coincided with the July 22, 2019, Palestinian mob onslaught on the Saudi blogger, Mohammed Saud, while visiting Jerusalem's Old City.
Palestinians in bid to avert 'real crisis' with Saudi Arabia
Amid mounting tensions between the Palestinians and Saudi Arabia, the Palestinian Authority is considering dispatching a senior delegation to Riyadh for urgent talks with members of the Saudi royal family and government officials on ways to avert a further deterioration.

There seems to be one problem, however: the Saudis are not responding to Palestinian requests to arrange such a visit.

"We're in the midst of a real crisis with Saudi Arabia," a PA official told The Jerusalem Post. "They seem to be very angry with us."

Palestinian-Saudi relations hit a snag about two years ago, mainly over the kingdom's close ties with US President Donald Trump's administration and Riyadh's apparent rapprochement with Israel.
At several demonstrations in the West Bank and Gaza, Palestinians have burned posters of Saudi Arabia's King Salman bin Abdel Aziz and Crown Prince Mohammed bin Salman, alongside those of Prime Minister Benjamin Netanyahu and Trump.

"We are seriously studying the possibility of sending a delegation of senior Palestinian officials to Riyadh to prevent the crisis from escalating," the official told the Post. "We see Saudi Arabia as a key player in the region, and its support for the Palestinian people and cause has long been highly appreciated."

The crisis between the two sides reached its peak last June, when Saudi Arabia was among the first Arab states to confirm its participation in the US-led economic workshop in Manama, Bahrain, notwithstanding Palestinian calls for boycotting the conference.
King Abdullah refuses meeting with Netanyahu - Report
Prime Minister Benjamin Netanyahu requested a meeting with Jordanian King Abdullah, but according to the Arab newspaper al-Quds al-Arab, on Saturday the king refused.

Netanyahu is reported to have also asked Abdullah to have a conversation over the phone, to which the king still said no.

In the paper, a Jordanian source said that relations between the two countries are very difficult because of the Israeli elections and lack of progress with US President Trump's "Deal of the Century."

The article also said that Abdullah is not interested in taking part in the Camp David Leaders Conference and does not want to attend "just for pictures." He does not believe any progress will be made there.

The piece continued to say that Jordan hopes Trump will redirect his course in the hope that real progress can be made with the Palestinian-Israeli conflict.
Jews, U.S. ambassador: German weekly magazine spreads Nazi propaganda
The German magazine Der Spiegel has found itself embroiled in a new antisemitism scandal after the weekly published an issue depicting contemporary Jews in Germany as ultra-Orthodox Eastern European Jews with side locks.

The Hamburg-based magazine was also accused of spreading Nazi propaganda.

The nearly 100,000-member Central Council of Jews in Germany wrote on its Twitter feed: "With the title picture, The Spiegel unfortunately uses stereotypes of Jews. Therefore, the question arises as to what The Spiegel intends with this photo selection and title. To portray Jews as foreign or exotic promotes antisemitic prejudices."

Richard Grenell, the US Ambassador to Germany, who has waged a robust campaign to combat antisemitism in Germany in particular and in Europe in general, told The Jerusalem Post on Saturday: "Sadly, we are not surprised that they [Spiegel] are continuing to be antisemitic and anti-American."

The German Jewish community's leveling of a second allegation of antisemitism against Spiegel within weeks is unprecedented. Dr. Josef Schuster, the head of the Central Council of Jews in Germany, said in July that a previous Spiegel article declaring that two small pro-Israel organizations control German foreign policy "clearly uses antisemitic clichés, fueling antisemitism. This type of reporting is irresponsible and dangerous."

Spiegel defended its widely criticized July report about a so-called Israel Lobby in Germany with possible links to the Mossad.
In the Spiegel August historical issue titled "Jewish life in Germany: The unknown world next door," the magazine uses Nazi language to demonize Jews, according to critics. A story in the magazine is titled "Jud, bittersüß"– an ostensible reference to the Nazi-era produced antisemitic film Süss the Jew (Jud Süß).
Thank you @RichardGrenell for your leadership on this important issue. Hamas, the Iranian-backed Palestinian terror group, must release Avraham Mengistu and Hisham al-Sayed and return the remains of Hadar Goldin and Oron Shaul. https://t.co/fAiXSH8ETn

— AIPAC (@AIPAC) August 2, 2019
Report: Israel Carries Out Airstrikes Against Iran Near Golan Heights
Israel reportedly carried out an airstrike in southern Syria near the Golan Heights on Thursday, Syrian state television reported.

The report on state-owned Ikhbariyah said the attack targeted Tel al-Hara, where a Russian outpost was stationed, though has since been taken over by Iranian-backed militias, Reuters quoted Western intelligence sources as saying.

Israeli Prime Minister Benjamin Netanahu, at a memorial ceremony for Ze'ev Jabotinsky, a revisionist Zionist leader, suggested that Israel was behind the strike.

"We're defending ourselves at all times," Netanyahu said.

Tel al-Hara overlooks the Golan Heights and had served as a Russian radar base until the Syrian army recaptured it last year from the rebels.

Syrian state news agency SANA claimed that Israel attacked and caused only damages to military materiel and equipment.
Iraqi journalist praises 'heroic Israeli army' for strikes on Iranian targets
Over the past month, there have been various media reports about Israeli strikes against Iranian weapons and missile storehouses in Iraq.

Following one such strike, on July 19, which according to Arab media reports targeted a missile storehouse in a base in the Amerli area north of Baghdad, Iraqi journalist Khudayr Taher, who lives in the United States, published an article in the Iraqi daily Sot Al-Iraq.

Under the headline, "The Courageous Israeli Army Bombed the Nest of Iran's Collaborators in Iraq," he praised the attack on "the Iranian forces of evil" and the "terrorist devils" among the collaborators with Iran, adding that Iran aspires to take over and destroy the Arab lands while Israel is revealed as a friend and potential ally of the Arabs.

The following are translated excerpts from Taher's article:
"The courageous and heroic Israeli army is now playing a noble role in service of security, peace, and stability in the region, by means of war against the Iranian forces of evil that aspire to attain hegemony in the region, sow sectarian conflict, sow terrorism and plunder the resources of the [Arab] lands.

"Note how Israel withdrew from Egyptian, Jordanian and Lebanese lands and proposed peace and withdrawal to the Syrians and Palestinians. This is while Iran spreads [its influence] and openly interferes in the affairs of Lebanon, Yemen, Bahrain, Syria and Iraq and conducts secret interventions in various countries around the world. So which is the peace-seeking country, Iran or Israel?
MEMRI:
Following Iran's Seizure Of British Oil Tanker, Senior Iranian Officials Again Declare: The Persian Gulf Is Iranian Territory; Iran's Armed Forces Are Responsible For Security In It, In Strait Of Hormuz, Gulf Of Oman
On July 4, 2019, British forces detained an Iranian oil tanker in Gibraltar. On July 19, commando forces of Iran's Islamic Revolutionary Guards Corps (IRGC) had seized an empty British-flagged oil tanker, the Stena Impero, which was en route from the UAE port of Fujairah to Saudi Arabia. Iranian spokesmen from across the Iranian political spectrum expressed pride in the seizure of the vessel and praised the IRGC for its anti-British operation.

Following these tanker incidents, Iranian spokesmen are reiterating the position that the regime has maintained for years: that the Persian Gulf is Iranian sovereign territory, that Iran is responsible for the Strait of Hormuz, and that IRGC forces are carrying out legitimate and legal policing activity in them, to ensure shipping security and to protect Iran's borders. The pragmatic daily Ebtekar, which supports the government of Iranian President Hassan Rohani, further emphasized that the Strait of Hormuz is Iranian sovereign territory.

Iranian regime officials have provided various reasons for the detention of the British tanker: violating Persian Gulf shipping regulations by entering via the exit lane, colliding with a fishing vessel, and turning off its navigation systems. All are derived from the regime's position that IRGC forces are carrying out legitimate and legal policing in the Gulf, since it is Iranian sovereign territory and/or under Iranian responsibility.
In the name of international law, EU states in the past year voted for more than 20 resolutions against Israel in the UN General Assembly, UNHRC, WHO & other UN bodies.

And here is a list of all the EU resolutions on China for locking up 1 million Muslims in re-education camps. pic.twitter.com/vMJqoJ3kgW

— Hillel Neuer (@HillelNeuer) August 2, 2019
How we got here: The normalization of antisemitism
The consequences go far and wide, and the normalization of antisemitism has spread to our campuses. From Nottingham to Bristol and countless places in between, student union officers have been found to be antisemitic by their universities' investigations yet no action has been taken. After telling a Jewish student to "be like Israel and cease to exist," Omar Chowdhury's apology that came as a recommendation of the investigation was accepted as sufficient for Chowdhury to continue in his role as the University of Bristol Students' Union's Black and Minority Ethnic officer. Ridiculous right? But this is just one example. There are hundreds of incidents taking place on campus that get no coverage whatsoever because antisemitism is expected, and universities are reluctant to act. And why should they take it seriously when our own electorate and political leaders do not?

Only when we start taking a genuine zero-tolerance approach to antisemitism not just in name, but with substance, will we be able to start undoing all the damage that Corbyn's Labour Party has instigated. That means not accepting every apology for antisemitism, it means removing antisemites from any position where they can further their agenda, and it means restoring our political discourse to that of civility and fact-based dialogue as we have had with the once proud Labour Party.

For our campuses, there is some hope. Universities Minister Chris Skidmore wrote to vice-chancellors stating that universities must do more to stamp out antisemitism on campus and adopt the IHRA definition of antisemitism. This is a necessary step in combating the atmosphere of antisemitism swamping our institutions, but this will ultimately depend on the innate nature of vice-chancellors and whether they choose to listen to such calls.

My own experience tells me that just like the cases at Bristol and Nottingham, our entrusted intellectual leaders will be reluctant to act and will hope for cases to blow over, mirroring the same action taken against the highest profile cases of antisemitism. Jeremy Corbyn's platform to incite has made British society more hostile to Jews than at any other point in the modern era.
Footage shows Corbyn at 2009 anti-Israel rally
British Labour leader Jeremy Corbyn is in hot water again, after it was revealed that he attended a 2009 protest march that likened Israel to Nazi Germany.

Footage emerged on Wednesday of the Labour leader at the rally, where vile signs and posters accused the Jewish state of following in Adolf Hitler's footsteps.

Corbyn was a backbench MP at the time he attended the rally, noted The Sun.

One banner shown at the rally turned the Star of David into a swastika while another showed leading Israeli figures next to senior Nazis with the message, "History repeats itself – stop the genocide".

Gaza was called a "concentration camp" and Israel was accused of being "thirsty for blood" and "child killers", according to The Sun.

Corbyn even gave a speech at the event in Birmingham that was branded an "anti-Semitic hate rally" by a Twitter user known as The Golem who found the pictures.
EXCLUSIVE – In January 2009, @JeremyCorbyn attended an anti-Israel demo in Birmingham which was, for all intents and purposes, an antisemitic hate rally. Notably, he marched at the front of the demo behind an antisemitic banner that read "Gaza-21st Century Concentration Camp"... pic.twitter.com/CoDEkiejoM

— The Golem (@TheGolem_) July 31, 2019
A good way to not let anti-semitism invade is to not invite it to stand next to you https://t.co/zB4Os9oAk3 pic.twitter.com/yI97d6BQ7B

— Evan Siegfried (@evansiegfried) July 25, 2019
'Israel Studies' Editors Apologize . . . for Pro-Israel Bias
Haaretz reports that editors of the Israel Studies journal---which is affiliated with the Association for Israel Studies---have issued a public apology in response to the manufactured controversy over a special issue titled, "Word Crimes: Reclaiming the Language of the Israeli-Palestinian Conflict."

Written and edited by a group of Israel and Jewish studies professors to address the manipulation of academic language in order to demonize Israel and advance BDS, the issue set off academics who were incensed at the departure from anti-Israel orthodoxy. Following its publication, eleven members of the journal's editorial board resigned in protest.

After mounting a campaign that included an attempt to "shut down" the special issue based, ironically, on the claim that its title "shuts down discourse," detractors have now succeeded in getting Israel Studies editors to issue a groveling apology and "plans for preventing such recurrences in the future." In other words, the editors have apologized for publishing a variety of viewpoints and are promising not to do so again. Not to mention the spectacle of a journal devoted to Israel studies caving in to those accusing it of "anti-BDS, pro-Israel bias."
Proposed anti-Israel ethnic-studies curriculum in California has Jewish community on alert
Hostility towards Israel and its supporters across college campuses throughout the United States and beyond—well-documented for years—has been the focus of pro-Israel groups. Now the anti-Israel movement may be officially trickling down into the high school system of the largest state in America.

A new ethnic-studies curriculum under proposal by the California Department of Education is being widely condemned by pro-Israel and Jewish groups, California lawmakers and activists for its "blatant bias against Israel."

"The Ethnic Studies Model Curriculum is deeply troubling—not only for its shocking omission of any mention of Jewish Americans or anti-Semitism or its blatant anti-Israel bias and praise of BDS, but for its clear attempt to politically indoctrinate students to adopt the view that Israel and its Jewish supporters are part of 'interlocking systems of oppression and privilege' that must be fought with 'direct action' and 'resistance,' " Tammi Rossman-Benjamin, co-founder and director of the California-based AMCHA Initiative, told JNS.

California lawmakers have begun to raise alarms over the proposed curriculum, the result of a 2016 law calling for the creation of a model ethnic-studies curriculum by the state's board of education.

The proposed curriculum is currently going through public comment and is expected to go through revisions, followed by being approved next year by the board.
Catholic Writer Said It Was OK to Throw Rocks at MLK
The upshot is this: For years, E. Michael Jones, the man who kept repeating that no one had the right to harm the Jew (no matter how badly they deserved it) also said it was OK to throw rocks at Martin Luther King, Jr., the non-violent civil rights activist.

In the same interview, Dr. Jones also declared that, "Jewish identity is negative. It's theological and it's based on rejection of Christ and logos and that's the way it has to be dealt with."

Also, during that interview, Jim Giles declared that a neo-Nazi by the name of Alex Linder "has written that the Jewish people have pretty much turned the black race loose on white people."

"He probably got it from me!" Jones said in response adding later that Linder regularly promotes his (Jones's) articles on his website.

In a more recent interview, on a YouTube channel titled "Aryan Insights," Jones warned the interviewer "If you're thinking in categories of white guys, the Jew is invisible and that's the problem. You can't tell who the source of the problem is."

Prior to YouTube, Dr. Jones would have struggled to get his message out and it would have been better to ignore him.

Sadly, it appears those days are over. E. Michael Jones has become our era's Father Coughlin, but instead of discovering the power of radio, he has discovered the power of YouTube.

Catholics who interview E. Michael Jones on their YouTube channels are helping to mainstream a Jew-baiter and racist who promotes ethnic strife in American society.

They should be ashamed of themselves.
Belgian columnist: 'There is no promised land, only stolen land'
Representatives of Flemish Jews filed a police complaint after a Belgian journalist joked about Jews' noses and accused Israelis of stealing "Palestinian" land.

The reference to Jewish noses appears in a July 27 column by Dimitri Verhulst the left-leaning Belgian daily De Morgen. Its title, "There is no promised land, only stolen land," was a paraphrase of a quote attributed to the late French-Jewish singer Serge Gainsbourg.

Verhulst quotes the singer as saying: "Being Jewish is not a religion, no God would give creatures such an ugly nose." The quote attributed to Gainsbourg speaks neither of God nor ugliness, reading: "Being Jewish is not a religion. No religion makes you grow such a nose."

The column begins with the words: "Because God has His favorites and they have their privileges, Palestinians were driven out of their homes in 1948 to make place for God's favorites." He also accuses Israel of "murdering" 10,000 Palestinians over the past 17 years and writes that "talking to the Chosen is difficult" because they accuse him unjustly, he wrote, of racism for his anti-Israel views.

The Forum of Jewish Organizations of Belgium's Flemish region called these statements "rabid anti-Semitism" in a statement Friday about the complaint.
The BBC and definition of terrorism
Section 3 of the OFCOM Broadcasting Code – "Crime, disorder, hatred and abuse" – includes the following:

"Meaning of "terrorism": see the definition in section 1 of the Terrorism Act 2000, which is also summarised in Ofcom's guidance to this section of the Code."

Citing section 1 of the UK government's Terrorism Act 2000 that guidance states:
""Terrorism" is the use or threat of action which:
- involves serious violence against a person;
- involves serious damage to property;
- endangers a person's life, other than that of the person committing the action;
- creates a serious risk to the health or safety of the public or a section of the public; or
- is designed seriously to interfere with or seriously to disrupt an electronic system,

where the use or threat is designed to influence the government or an international governmental organisation or to intimidate the public or a section of the public, and the use or threat is made for the purpose of advancing a political, religious or ideological cause."

While that definition of terrorism is not included in the OFCOM Broadcasting Code in relation to the issue of "use of language", obviously the claim from the Editorial Director that the BBC only uses the term terrorist with attribution because "[t]here is no definition of what is a terrorist attack and who is a terrorist" does not hold water.

As we see the UK government has defined terrorism and OFCOM has adopted that definition. The question therefore arising is why the BBC – to which the OFCOM Broadcasting Code applies in relation to television, radio and on-demand content – does not also use that same definition and thus bring an end to the long evident double standards in the language it uses when reporting terrorism.
Christian Science Monitor Missed Series of Earlier Israeli Visits to the Gulf
In a July 29 explainer of The Christian Science Monitor Weekly meant to dissect the Bahrain economic conference's prospects for success, Taylor Luck apparently missed some pretty significant regional visits that took place before the recent confab organized by the White House's Jared Kushner last June ("Money first: Did Bahrain help Middle East peace?", online here).

Luck reports:
Arabs and Israelis met together publicly in the Gulf for the first time, and it certainly looks very positive: Israeli businessmen chatting up Emirati and Saudi investors; Israel and American delegates praying in a historic synagogue in Manam. The following week, Israeli Foreign Minister Israel Katz visited Abu Dhabi, the first publicized visit by an Israeli minister to the United Arab Emirates. . .

The reporter's error is two-fold. First, the June conference in Bahrain was not the first time Arabs and Israelis met together publicly in the Gulf. Following Prime Minister Benjamin Netanyahu's surprise visit to Oman last October, which was announced once he returned to Israel, Minister Katz publicly visited that Gulf state.
BBC News again sidesteps an issue that does not fit the narrative
The last time the BBC showed any interest in such a story was in March and that was because two Palestinians were killed while throwing explosive devices at soldiers securing visitors.

In that report readers were told that Joseph's Tomb in Schem (Nablus) "has been a source of friction in the past" but the BBC refrained from clarifying that "friction" actually means repeated Palestinian attacks on both the site itself and the security forces guarding visiting worshipers.

This week the Israeli media reported that during the monthly visit:
"IDF forces found a pipe bomb near Joseph's Tomb during preparations before the arrival of 1,200 Jewish worshipers to the compound in Nablus. The bomb was neutralized in a controlled explosion.

Disturbances broke out as the worshipers entered the tomb, as rioters burned tires and threw stones at IDF forces. The soldiers responded with riot dispersal means, and the prayer services continued undisturbed."

Under the terms of its charter the BBC is of course obliged to "provide impartial news and information to help people understand and engage with the world around them". While in recent weeks the corporation has repeatedly amplified a PA promoted narrative touting the demise of its interpretation of the two-state solution, the BBC continues to be notably less interested in informing audiences about the Palestinian Authority's failure to uphold agreements already signed nearly a quarter of a century ago.
Dutch National Railway Compensation to Holocaust Survivors 'Important Step,' Jewish Restitution Organization Says
A leading Jewish organization advocating on behalf of Holocaust survivors affirmed on Friday that the Dutch National Railway — Nederlandse Spoorwegen (NS) — had taken an "important step" with its announcement of an application process aimed at compensating Dutch Holocaust survivors, their spouses and their children for NS's role in deporting Jews to Nazi death camps during World War II.

"The Dutch National Railway (NS) compensation program is a significant acknowledgement of the role the NS played during WWII in the suffering endured by Dutch Jews transported on NS trains," said Gideon Taylor — chair of operations of the Jerusalem-based World Jewish Restitution Organization (WJRO) in a statement.

Taylor added that "in consultation with WJRO and the representative body of the Dutch Jewish community, the NS should now designate additional funds to fulfill its Committee's recommendation to provide a 'collective expression of recognition of the suffering and fate' of the vast majority of Dutch Holocaust victims who did not survive following transport by NS or are not covered by NS's compensation program."

Last November, NS announced that it would establish a compensation program for Holocaust survivors and their families transported by the NS. In January, NS appointed the Committee on Individual Compensation for Victims of WWII Transport by NS to provide advice on the level of benefits and on who should be eligible for them.
Critics say revamp of Wolf's Lair will turn Hitler HQ into neo-Nazi 'Disneyland'
Polish officials are giving a makeover to the Wolf's Lair, Adolf Hitler's chief headquarters from 1941-44 and the site of an assassination attempt on the Nazi leader, in a move critics say could turn the site into a ghoulish "Disneyland" attracting neo-Nazi pilgrims.

The Srokowo Forest District's spokesman Sebastian Trapik told the BBC that "every effort" would be made to maintain "due seriousness and respect for historical truth" at the complex in the attempt to bring in more tourists.

Nearly 300,000 tourists visit the complex annually, mostly Poles and Germans.

Renovations and new displays are planned at the site, as well as improved facilities, a hotel and a restaurant.

Trapik said there were plans for historical reenactments to be held at the site, starting this summer.

Polish war historian Pawel Machcewicz told the BBC that having actors in Nazi uniforms at the site would be "insane and outrageous," adding that "the scars left by the war should be preserved and presented as a lesson, a warning… Exhibitions should explain the history, contextualize the place, but not completely overshadow it."
Israeli Employment at Record High While Pay Gaps Remain, Study Shows
The employment rate of Israelis aged 25 to 64 stands at a record 78.3 percent, while major wage gaps between population groups continue to exist, according to a report published on Wednesday by Israel's Labor Ministry.

Israel's employment rate is higher than the Organization for Economic Co-operation and Development (OECD) average of 73.7 percent, with the unemployment rate at a "healthy" 4 percent, the report said.

Nevertheless, there are still significant obstacles for Israel to overcome. Arab women and haredi men are the two population groups struggling to integrate into the Israeli workforce. Only 38.2 percent of Arab women and 50.2 percent of haredi men are employed, the report stated.

While the average Israeli employee earns approximately NIS 11,500 (about $3,300) per month, the highest wages are earned by non-ultra-Orthodox Jewish men at NIS 15,372 (nearly $4,400) per month. Women earn less than men, and Arab and haredi wages are even lower.

"Wage and employment disparities are particularly important as the demographic characteristics of Israel are expected to change in the coming decades," the report stated.
Technion team gets prize for water-from-heat tech
Researchers at the Technion Institute of Technology and their partners in Africa have received a prize for the development of a technology that creates water from heat, which aims to provide clean water to third world countries.

The recipients of the newly set up Mauerberger Foundation Fund (MFF) Research Award for Transformative Technologies for Africa are Prof. Yehuda Agnon, Associate Prof. Mark Talesnick and Asst. Prof. Guy Ramon, along with Leslie Petrick of the University of the Western Cape in South Africa and Mekelle University in Ethiopia. Also receiving the award were three NGOs: Technion's Engineers Without Borders (EWB), South Africa's FLOW and Ethiopia's Drop of Water.

The scientists have developed a low-cost system powered by renewable energy to extract water from humidity in the air. The technology is different from other techniques that generate water from air in that it converts heat into mechanical power in the form of an acoustic wave. This wave acts as a "virtual piston" that is capable of performing a cooling action.

The technology does not require electricity, as it uses only local heat.

The Phase Exchange Thermoacoustics (PXT) technology developed by the Technion researchers is thus "a candidate for low cost, small scale conversion" devices for rural and developing areas, said the Technion's Ramon.
Netflix's 'The Red Sea Diving Resort' misses the real story of Ethiopian Jews
Meanwhile, the audience sees too little of a story they have probably never known: that of the fraught journey, on foot, from Ethiopian villages to a Sudanese refugee camp to Israel. The story is about the plight of Ethiopian Jewish refugees, but they're almost tangential to the movie.

We only really get to know one of them, played by Michael Kenneth Williams (Omar on "The Wire"), and he is also largely reduced to cliche lines. We barely learn any of his story, or anything about the lives of the people who these agents are trying to save. Instead of playing a montage of hotel life and spy intrigue, to the sounds of "Hungry Like the Wolf," the movie could have shown us some of life in the village, or life in the refugee camp.

Imagine a movie centered around the refugees, telling the tale of a small, ancient community forced during government unrest to trek hundreds of miles through the desert and board boats to a land they have dreamed of but never known.

Obviously, shots of a shirtless Chris Evans on the beach are more glamorous than nervous nighttime conversations in Amharic. But a movie about Ethiopian Jews that barely focuses on Ethiopian Jews feels like a missed opportunity.

At one point, wounded in a stabbing we never see, Williams' character tells the Mossad agents, "This is not a mission for me. This is my life."

If only we'd seen more of that life in the movie.
A Hedy undertaking'Wonder Woman' Gal Gadot to play Hedy Lamarr in miniseries
Israeli "Wonder Woman" star Gal Gadot is taking on a real-life woman's remarkable history.

Showtime said Friday that Gadot will play actress and inventor Hedy Lamarr in a limited series.

Lamarr, a stunning beauty who came to Hollywood from Europe in the late 1930s, worked with top stars including Judy Garland and Clark Gable. "Ziegfeld Girl" in 1941 and 1940's "Boom Town" were among Lamarr's films.

But it was her work as an inventor that distinguished her, including a patented device that became a foundation for modern Wi-Fi technology.
Actress Heddy Lamarr, pictured in 1941. Lamarr, along with composer George Antheil, designed and patented in 1942 a communications system that has become the underlying technology of the cellular phone. (AP Photo)

The untitled series will look at feminism during Hollywood's golden age and World War II through Lamarr's life and work, Showtime said. An airdate was not announced.

The late actress was the subject of a 2017 documentary, "Bombshell: The Hedy Lamarr Story."
---
---
We have lots of ideas, but we need more resources to be even more effective. Please
donate today
to help get the message out and to help defend Israel.