From Ian:
---
The Trump-Loving Israeli Doctor Offering Aid to Palestinians
Glick puts high hopes in Trump's ability to reduce the area's tensions. A peace plan drafted by Trump's son-in-law, Jared Kushner, was due out this month — until Israel's politics were scrambled by Prime Minister Benjamin Netanyahu's inability to form a government, requiring a new election. Even though details of the U.S. plan are yet to be released, Glick praises Trump for offering "another model" that provides financial incentives as well as "human rights, human dignity and civil rights" for Palestinians. Glick personally suggests something along the lines of a confederacy or a demilitarized Palestinian state one day — once Palestinian terrorism is reined in.

Palestinians, however, have largely rebuffed Trump's plan as little more than a bribe. "You are literally asking a nation to forget about their right to be a nation," says A'wad, who believes "building trust and understanding" must come first.

In the micro sense, Glick does that every day he goes on his village visits. But thinking bigger, Glick champions more "integration" in Judea and Samaria as the way to peace. "I honestly believe if there were 100,000 more Jews in Hebron, they would get along with the Palestinians, just as they get along in Tel Aviv and Haifa right now," he says.

In the Old City of Hebron, some 800 ideologically driven Jewish settlers live within the Palestinian city of 100,000 under heavy — and, according to Palestinian locals, brutal — military protection. "It can be hard to convince other Palestinians not to commit violence because the settler project is based on violence. The occupation is a form of violence," says A'wad, who advocates for nonviolence.

Talks of "integration" by Glick will continue to face criticism from activist Palestinians and the international left, not to mention the Israeli far-right, some of whom want to simply expel the Arab population. But in Glick's daily interactions with Palestinian patients and friends, there is a shared feeling about the basic nature of his actions — good. During those heartwarming moments with patients, the prospect of Israelis and Palestinians living together doesn't seem simply possible to Glick. It's already reality.

As Glick leaves her home, the Palestinian grandmother with diabetes showers him with praise. "Bless you, Doctor!" she exclaims. "You are a good man. Please come back with your wife for tea sometime!" (h/t Zvi)
Shmuley Boteach:
Rashida Tlaib's 'calming feeling' about the Holocaust
TO SAY that "there's a kind of calming feeling" you get when you "think of the Holocaust" is worse than antisemitic; it's positively sick. Just imagine if someone had said the same of slavery. The offensiveness of these words should be clear to anyone, certainly someone who has been accused by Jews of bigotry. It should be yet more apparent to someone, like Tlaib, who decries that assessment as wrong.

Generally, I wouldn't have made a fuss over her near miss on saying that Americans "celebrated" the Holocaust on Yom Hashoah. In light of her other verbal "slip" – her "calming feelings" on the Holocaust – I'm inclined to believe that there's meaning in both. Accidental indecency doesn't strike the same sentence twice.

Worse than her sick choice of words were her historical distortions. Tlaib claimed that her ancestors provided Jews with a "safe haven" around the time of the Holocaust. The truth is that both before, during and after the Holocaust, many Palestinian Arabs worked to make the land of Israel into a death trap.

Before the Holocaust, as tens of thousands of Jews sought refuge in Israel from the persecutions and pogroms of Eastern Europe, Palestinian Arabs didn't provide much in the way of safety. Many, on the contrary, made a habit of massacring their Jewish neighbors. In April 1920, five innocent Jews were murdered by rioting Arabs in Jerusalem. Eleven months later, 47 more innocent Jews would be slaughtered by rioting Arabs, this time in Jaffa. Worst of all was the pogrom of August 1929, wherein an astounding 133 innocent Jews would be killed by Arab rioters in Safed, Jaffa and most famously, Hebron.
PM rebukes Omar, Tlaib after they request help for BDS activist
In a letter sent to U.S. lawmakers on Sunday, Prime Minister Benjamin Netanyahu issued a strong rebuke of Reps. Ilhan Omar (D-Minnesota) and Rashida Tlaib (D-Michigan), saying the two were "the antithesis to the strong support for Israel" on Capitol Hill.

The letter was in response to a letter signed by a group of U.S. Congress members who had asked him to intervene in the case of Omar Shakir, the regional director of Human Rights Watch and an activist in the boycott, divestment and sanctions movement.

Shakir was denied an extension of his visa because he was actively engaged in anti-Israel propaganda during his stay in Israel. The Supreme Court recently issued a temporary injunction to prevent Shakir's deportation and will make a final ruling in the coming days.

Netanyahu said that he was not going to heed the lawmakers' request because Shakir had shown "active support for anti-Israel boycotts."

Netanyahu further stressed that Shakir had failed to demonstrate that he was not using his stay in Israel for propaganda purposes as part of the BDS movement against Israel.

He added that he was "surprised" that two of the lawmakers who joined the request, referring to Tlaib and Omar, were "two BDS supporters." Omar and Tlaib have come under fire in recent months after making controversial remarks against Israel's actions and even calling for punishing the Jewish state. Omar has recently become embroiled in controversy after some of her tweets were deemed anti-Semitic.

Netanyahu did not mention the two by name but made it obvious that he was referring to them.
The ancients said Jerusalem Is Jewish, So why doesn't everyone?
According to UNESCO, the Palestinians, and the Muslim States, Israel, and the Jewish People have no right to Jerusalem. It is this fake belief that until Donald Trump became president, kept the U.S. from recognizing Jerusalem as the capital of Israel and the Jewish world. Most of the world outside America continues to believe the Palestinian/Muslim propaganda that ignores that the ancient Greeks, Romans, Christians, and even the ancient Muslims, reported Jerusalem and the Temple Mount were the property of the Jewish people.

Let's start out with the basics. Jerusalem was NEVER part of a Palestinian State because there was never an independent state of Palestine. After the Bar Kochba revolt in 135 CE, the Romans punished the Judeans (Jews) for revolting for the second time in sixty years. They changed the name of the Judean's country from Judea to Syria Palaestina (after the ancient enemy of the Jews, the Philistines who came from the Greek islands and anyway, were destroyed a thousand years earlier). At the same time, they changed the name of the holy city from Jerusalem to Aelia Capitolina (literally Capitoline Hill of the House of Aelius).

After the Romans threw out many of the Jews, the holy land was ruled by the Byzantine Empire, the Ottoman Empire, and finally, the British mandate before it once again became a Jewish State in 1948. During all that time, the holy land including Jerusalem had a very large population of Jews.

During the period of 135 CE through 1948 (which was when Jordan began to occupy Jerusalem) there were large populations of Jews in Jerusalem. In fact, beginning with the earliest information available (1844), there were more Jews in Jerusalem than any other faith. (See Menashe Harel, "The Jewish Presence in Jerusalem through the Ages" in Sinai and Oestericcher, eds., Jerusalem, John Day, 1974.)

To the ancient Muslim, Greek, and Roman pagan authors, Jerusalem was a Jewish city. Their text indicates the unanimous agreement that Jerusalem was Jewish by virtue of the fact that its inhabitants were Jews, it was founded by Jews, and the Temple located in Jerusalem was the center of the Jewish religion.

These ancient texts disprove recent attempts by Muslims and others to deny the historic connection of the Jewish people to Jerusalem and the location of the Temple in Jerusalem, through fabrications and lies. Below are just some of the examples from Greek and Roman times.
US lawmakers launch congressional black-Jewish caucus
Three black and two Jewish members of the US House of Representatives from both parties launched a black-Jewish caucus.

"The African-American and Jewish communities have a history of standing together for the promotion of social justice and civil rights," Rep. Brenda Lawrence, D-Mich., said Monday at the annual Global Forum of the American Jewish Committee.

"To encourage and nurture this unique partnership, I have formed the Congressional Caucus on Black-Jewish Relations with the hopes of strengthening the trust and advancing our issues in a collective manner."

The caucus, launched after an AJC-convened meeting in January, will work to bring blacks and Jews together to back hate crimes legislation and combat white supremacist ideology and actions. White supremacists carried out two lethal attacks on synagogues since last October, in Pittsburgh and in Poway, California.

The other members are Reps. Lee Zeldin, R-N.Y., Debbie Wasserman Schultz, D-Fla., Will Hurd, R-Texas and John Lewis, D-Ga., a revered veteran of the 1960s civil rights marches.
A secret pay raise by Cabinet angers Palestinian public
The Palestinian labor market in the West Bank was limping along in 2017, with unemployment stubbornly high and economic growth slowing. But that didn't stop the Palestinian Cabinet from secretly giving itself a series of lavish payouts and perks, highlighted by a 67% salary hike.

The payments and perks were kept quiet for the past two years, but news of the Cabinet decision leaked this week in a series of documents posted anonymously to social media.

The revelations have rocked the West Bank, where the cash-strapped government has been forced to slash the salaries of its employees because of a financial crisis. Coming during the Islamic holy month of Ramadan, a time of high expenses for struggling families, the report renewed outrage among Palestinians who have long seen their leadership as out of touch and rife with corruption.

"The cabinet members behaved as if the government is their private shop and they can take as much as they want without being held accountable," said political commentator Ehab Jareri.

According to one leaked document, the monthly salaries for Cabinet ministers spiked from $3,000 to $5,000, while the prime minister's salary was raised to $6,000.

The raises were kept secret from the public and approved by President Mahmoud Abbas, two senior officials said, overriding a 2004 law that fixed ministers' salaries. The officials spoke on condition of anonymity because they were not authorized to discuss the issue with the media.

The pay raise was made retroactive to 2014, when the Cabinet took office, giving the ministers an extra bonus of tens of thousands of dollars, the officials said. (h/t IsaacStorm)
Sweden Is a Perplexing Location for an International Antisemitism Conference
Also surprising is the location chosen for the conference. For a number of years, Malmo has been considered by many experts to be one of the capitals of antisemitism in Europe. But hundreds of complaints about antisemitism there have not led to any judicial action.

Even one of Löfven's own ministers committed an antisemitic act. Foreign Minister Margot Wallström asked for an investigation into the killing of terrorists by Israel. She hasn't made such requests of any other democratic country where terrorists have been killed. According to the IHRA definition, singling out Israel in this way is antisemitic. Wallström is persona non grata in Israel.

In January 2019, the European Commission published a report on the perception of antisemitism in the 28 countries of the EU. Sweden was found to be the country where the largest part of the general population, 80 percent, thinks that antisemitism is a problem.

There are also reports that Israeli Prime Minister Benjamin Netanyahu has rejected requests for a meeting with Löfven at the UN, perhaps because of Sweden's decision to recognize a Palestinian state in 2014. One wonders whether Israel will attend the planned conference in 2020. Its absence would undermine the conference's credibility in a major way.

In the meantime, one should expect international Jewish organizations to provide all conference participants with a detailed overview of Sweden's below-par record in fighting antisemitism. This would serve two purposes: It might force the Swedish government to finally accept the IHRA definition for domestic use and start acting against antisemitism — and it may prevent the Swedish government from abusing the conference for public relations purposes.
Volkswagen funds ADL office in Germany for combating anti-Semitism in Europe
German car manufacturing giant Volkswagen has joined with the US-based Anti-Defamation League (ADL) to fund a Berlin-based office that will research and combat anti-Semitism in Europe.

"The initiative will focus on assessing the root causes of anti-Semitism, extremism, and bigotry in society and develop programs to counter it through advocacy and education," ADL said in a release Tuesday.

A Volkswagen spokesman told the Jewish Telegraphic Agency that the venture will open an ADL office in Berlin, the first ADL presence in Europe in more than a decade. The funding, over the three years, is set to be in the low seven figures, the official said, with an option to expand and continue the initiative thereafter.

Herbert Diess, CEO of Volkswagen Group, the largest car manufacturer in the world, announced the bid Monday at the ADL's annual Washington conference. In an interview with JTA, he said he was concerned about the recent spike in anti-Semitism in Europe, and that Volkswagen had a special obligation to combat racism because of its origins in Nazi Germany.

"We have more obligation than others," he said. "The whole company was built up by the Nazi regime."

The initiative will have four components: education in schools, education in workplaces, lobbying in European capitals, and research through surveys.

The project came months after Diess faced criticism — and questions over his future — for invoking a phrase used by Nazi Germany.

At a meeting in March, the Volkswagen CEO told managers "ebit macht frei," roughly translating to "profit will make you free," in an apparent play on "arbeit macht frei," or "work will make you free." Ebit is an acronym for "earnings before interest and taxes."
Jeremy Corbyn revealed to have met Yasser Arafat in 2002 at Intifada's height
Jeremy Corbyn travelled to the West Bank to meet Yasser Arafat at the height of the Intifada in 2002, it has been revealed.

The then-backbencher said Arafat gave a "very strong message of defiance" in his Ramallah compound, investigative journalist Iggy Ostanin noted as he revealed the news.

In a write-up for Socialist Campaign Group News after the event, Mr Corbyn said: "Meeting with President Arafat was almost surreal.

"We entered the building down a corridor lined with sandbags, beyond which lay piles of broken and burnt vehicles as a result of Israeli bombardment, and machine gun strafings which had damaged most of the surrounds.

"Arafat himself seemed focused and precise in what he had to say, giving a very strong message of defiance of the blockade, despite the arrival of an incoming message — whilst we were there — that Israeli tanks had re-entered Ramallah and were one kilometre away from his office.

"The strategy of Ariel Sharon appears to be to destroy, by bombardment and humiliation, all the authority of the elected Palestinian government and impose a sort of Bantustan solution, as in South Africa in the early 1960s.

"The crying need has to be for an immediate, total, and unconditional Israeli withdrawal, and recognition of an independent Palestinian state."
The hypocrisy of Jeremy Corbyn and his shadow cabinet lackeys knows no bounds
The Leader of the Labour Party is indeed a racist – an antisemite who leads a party so institutionally racist that it is now under statutory investigation by the Equality and Human Rights Commission. But Labour's racist-in-chief will not be apologising for his own racism. Britain's leading racist is going to be protesting about Donald Trump.

Self-awareness, where art thou?

There is a word for Mr Corbyn and the lackeys alongside him in Trafalgar Square: hypocrites.

They couldn't give a damn about their own party leader's antisemitism. While they scream at President Trump this morning, they have done precisely nothing about their own party leader, the most notorious racist in Britain. Jeremy Corbyn leads a party which drives out Jews and which regards antisemitism as a core left wing belief. And yet he has the sheer gall to lead a protest against Donald Trump's racism. And his front benchers carry on serving him, campaigning to make him prime minister.

Not that the hypocrisy stops at Mr Corbyn's racism.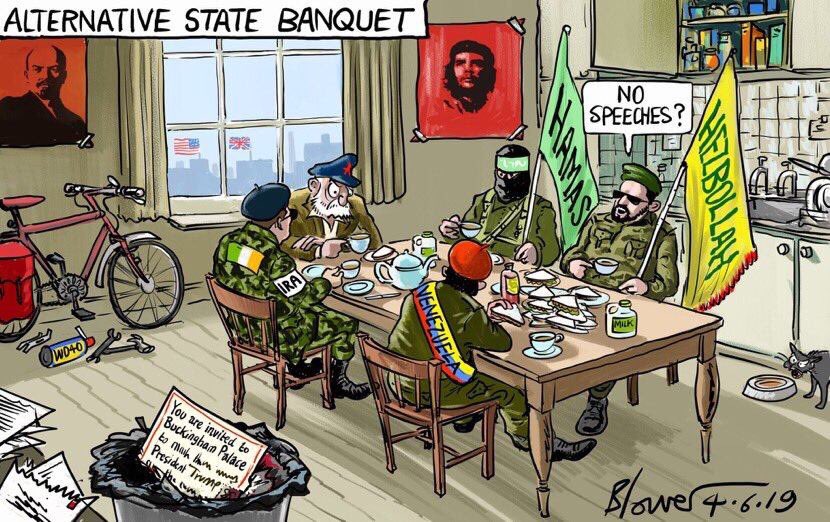 In Israel, Blair says Corbyn is an anti-Semite, but doesn't know it
UK Labour party leader Jeremy Corbyn is an anti-Semite who doesn't know that he is one, Tony Blair said Monday during a visit to Israel, speaking of the "shameful" anti-Semitism scandal that has engulfed the opposition party.

Blair, a former prime minister and long-time leader of Labour, said he no longer recognizes the party he led from 1994 until 2007.

"To be frank, this anti-Semitism row, it's a shameful thing," said Blair, who was interviewed at a panel event at Bar Ilan University just outside Tel Aviv.

"If you told me, not merely back in May 1997, but at any point in the next 10 years, that the party I led for 13 years would have a problem with anti-Semitism, I would literally not have credited it, or believed it, and yet it is, and it's there today," said Blair.

Jewish groups have accused Corbyn, a far-left politician, of allowing a massive surge in anti-Semitism within the ranks of the party that was once considered the natural home of British Jewry. Thousands of cases of alleged hate speech against Jews have been recorded within Labour since 2015, when Corbyn was elected to lead the party.
The Anti-Israel Movement: Coming to A High School Near You?
One can only imagine how that workshop fulfilled its promise to "break down Zionism, as well as relate the situation in that part of the world to displacement, eviction, brutality, and resistance that may look familiar to Chicago students." Sankari's co-teachers were Shira Tevah, then a member of the International Jewish Anti-Zionist Network (IJAN), and Ruby Thorkelson, who, though she kept a lower profile, signed on to an IJAN letter calling for "the full economic, cultural and academic boycott of Israel."

At least one activist from Jewish Voice for Peace, a virulently anti-Israel organization, was involved in creating the more recent workshop.

Prejudiced people are entitled to teach prejudiced workshops, of course, just as those who are offended are at liberty to object. When a school district north of Chicago included "Teaching Palestine" among its recommendations to staff, "local teachers, synagogues and national organizations," including the pro-Israel educational organization, StandWithUs, and the Simon Wiesenthal Center, did just that. The district responded to the protests by withdrawing the recommendation.

That's a good outcome, but it's hard to know how widespread this sort of thing is. While we focus on anti-Israel activities at the college level, comparatively limited attention is paid, as Miriam Elman observes, to the middle school and high school level. It's safe to assume that the boycott Israel movement, which targets cultural and educational institutions, is working at those levels, indirectly—our K-12 teachers are trained at colleges and universities—and directly, through workshops like the one in question.

Leaders like Elman, the Executive Director of the Academic Engagement Network, which fights the boycott Israel movement at our colleges and universities, urge us to keep an eye on K-12 education.

We had better listen.
The Latest Progressive Assault on Israel
Fortunately, the progressives failed in their malicious effort. The Resolutions Committee substantially rewrote all six resolutions, softening or deleting the language demonizing Israel, and passed four of them. The original authors withdrew their names and co-sponsors and withdrew two of the resolutions. "I'm pleased that the committee decided to reject those resolutions [as originally written]," said California state Sen. Ben Allen, who chairs the state's Jewish Legislative Caucus. "I thought they were divisive and I'm glad we're now able to move forward."

Andrew Lachman, a member of the Resolutions Committee and president of the Los Angeles-based Democrats for Israel, said the committee was "satisfied" with the outcome. He added that, while the original resolutions "made some valid points," some went "beyond what the Democratic Party stands for."

The anti-Israel—and, as I have previously argued, anti-Semitic—progressive movement may have lost the battle in San Francisco over the weekend, but it is still fighting the war for the heart, soul, and brain of the American political left. And they appear to be winning that war. Progressives who share the sentiments expressed in the original resolutions—such as Democratic Reps. Alexandria Ocasio-Cortez (N.Y.) and Ilhan Omar (Minn.) and Sen. Bernie Sanders (I., Vt.)—are clearly the loudest voices on the left, and increasingly the most influential. Just look at how the 2020 Democratic presidential candidates are stumbling over each other to get further to the left, hoping to appeal to the party's progressive base.

The more moderate, center-left faction, against whom the progressives are waging ideological warfare, is losing influence. Does anyone seriously think that House Speaker Nancy Pelosi (D., Calif.) or Senate Minority Leader Chuck Schumer (D., N.Y.) is the leader or voice of the Democratic Party? No, of course not. Such figures may want to impose more pressure on Israel, but they fundamentally recognize the importance of the American-Israeli alliance. The progressives do not; in fact, they see strong support for Israel as one of the great sins of American foreign policy. So, yes, the progressives failed to pass their resolutions, the latest effort to destroy Israel as the Jewish state, but they may not fail in the future, when the center-left establishment is rendered totally impotent. As Mark Mellman, president of the Democratic Majority for Israel, said after the original resolutions were changed: "Sadly, this is not the last time we'll see efforts to demonize and delegitimize Israel."
German educational center sides with BDS, sabotages Israel event
A representative of the publicly-funded adult educational center in the western German city of Aachen sabotaged an Israel event covering the so-called Nakba last Tuesday, sparking sharp criticism from the city's German-Israel Friendship Society.

The German-Israel Society of Aachen issued a statement on its Facebook page: "We have no understanding for the behavior of the representative of our co-organizer, the Aachen Adult Education Center, who presented the lecture as inappropriate, one-sided and unscientific.

We find this particularly strange because this criticism was previously expressed above all by sympathizers present from the antisemitic BDS movement.

In this context, we call on all local political and societal representatives to follow the joint parliamentary decision of the CDU, CSU, SPD, FDP and the Greens and to resolutely oppose the antisemitic BDS movement."

The title of the lecture by the author and journalist Alex Feuerherdt was Myth, Nakba '- The Origin of Israel and the Expulsion of Jews from the Arab States.

The German-Israel Society in Aachen referenced the anti-Boycot, Divestment, Sanctions resolution passed by the Christian Democratic Union, Christian Social Union, Social Democratic Party, Free Democratic Party and the Green Party in May. The anti-BDS parliamentary resolution classified BDS as antisemitic and urged no government funds for BDS.

The German cities of Munich, Berlin and Frankfurt have banned public funds and space for BDS events.
Florida Gov. Ron DeSantis Signs Bill Banning Anti-Semitism in Schools, Universities
Florida Gov. Ron DeSantis officially signed into law on Friday legislation prohibiting anti-Semitism in public schools and universities, two days after a ceremonial signing in Israel.

The bill unanimously passed the Florida House earlier this year and adopts the U.S. Department of State definition of anti-Semitism. It was first introduced after a deadly synagogue shooting in Poway, California sent shockwaves through U.S. Jewish communities.

Under the new guidelines, all public education institutions will be required to treat anti-Semitism the same way as all other forms of racial discrimination.

"I'm proud to sign this bill to make clear through a bipartisan effort that antisemitism has no place in our state and our educational institutions will not tolerate discrimination against the Jewish people," DeSantis said at Friday's ceremony.

The definition has been adopted by the 31 states of the International Holocaust Remembrance Alliance (IHRA), of which the United States is a member. The definition notes that accusations of dual loyalty and the use of double standards against Israel, as well as anti-Zionism like the denial of Jewish rights to self-determination, are also considered manifestations of anti-Semitism.

DeSantis traveled to Israel in May for a weeklong trade mission that included meetings with nearly 100 business leaders, Israeli politicians, and university officials. "We are doing a lot of business deals, which is important, but we're also looking at education ties. That can be the seeds of important ideas," DeSantis said.
Arkansas Attorney General Defends Anti-BDS Law in Ongoing Appeal
An Arkansas law prohibiting the state from contracting with entities that boycott Israel does not violate the First Amendment, but rather protects taxpayers from funding "discriminatory conduct," the office of the state's attorney general argued in a brief filed Friday.

The defense followed an appeal issued by the American Civil Liberties Union (ACLU) on behalf of the Arkansas Times newspaper, which claimed it "lost numerous government advertising contracts" after it refused to certify that it is not engaged in a boycott of Israel, and would not engage in such a boycott for the duration of the contract.

The stipulation is required by Act 710, a law passed in Arkansas in 2017 that is similar to provisions enacted by 26 other states, all of which seek to counter the Palestinian-led boycott, divestment, and sanctions (BDS) campaign against Israel. Leaders of the campaign say that it seeks to redefine Israel "as a pariah state" until it recognizes Palestinian rights and rectifies the injustice of its creation, while opponents accuse it of denying the Jewish people's right to national self-determination and trafficking in historical revisionism and antisemitism.

A lawsuit filed by the ACLU against the constitutionality of Act 710 in district court in 2018 was dismissed this January, with Judge Brian Miller maintaining that boycotts are not protected speech.
Activists at Quds Day Rally in Times Square: Israel Will Never Exist, Every Inch of It Is Palestine; Globalize the Intifada pic.twitter.com/2vewFUHrb4

— MEMRI (@MEMRIReports) June 4, 2019
A must watch, especially for @rogerwaters https://t.co/pXaC5vbXkx

— Ozraeli Dave (((דיויד לנג))) (@Israellycool) June 3, 2019
Leon Redbone and a Red-Faced Obituary
Fans of Leon Redbone are mourning the death of the celebrated jazz and blues musician. In a career spanning a half-century, Redbone was recognizable by his Panama hat, big dark sunglasses, and black tie.

The singer, whose real name was Dickran Gobalian, passed away from complications from dementia on May 30. The New York Times raised a little-known, but slightly incorrect Israeli-angle regarding his family history. The Gobalian family moved to Cyprus (where the musician was born) from Jerusalem.

An authoritative article in The Oxford American this year said his parents had relocated there from the Armenian Quarter of Jerusalem after the new Israeli government seized their property.

Indeed, the Oxford American wrote in March, before Redbone's passing:

His parents were living in the Armenian Quarter of Jerusalem in 1948 when the newly established Israeli government seized their property.

The problem here is that the Armenian Quarter of Jerusalem's Old City was captured by Jordan in 1948. Israel could not have seized any property from there. Perhaps the Gobalian family's property was confiscated by Jordan?
Award-winning blogger Marie Sophie Hingst accused of inventing her Jewish family history
Anyone can download Yad Vashem's Shoah Survivors and Refugees Registration form, fill it out and send it back to Israel by mail or digitally. A person's current biographical details need to be provided, along with details of the person's experience before or during World War II. The goal is to commemorate at least a part of the 6 million victims of the Holocaust by identifying them.

On September 8, 2013, Marie Sophie Hingst from Germany filled the form as well. Hingst, who has a doctorate in history and lives in Ireland, provided details for 22 of her relatives, claiming that most of them had been killed during the Holocaust. A recent report by news magazine Der Spiegel, however, claims that her Jewish family never existed.

A Protestant pastor's granddaughter

By researching the municipal archives of the city of Stralsund, the weekly discovered that Hingst actually hails from a Protestant family. Although she claims that her grandfather was an inmate at the Auschwitz concentration camp, he was actually a Protestant pastor.

Archives related to the 21 other alleged victims of the Holocaust could not be found in available collections, such as the Digital Collections of the International Tracing Service, the Auschwitz Memorial Archive or the Memorial Book of the Federal Archives for the Victims of the Persecution of Jews in Germany, wrote Der Spiegel.

Yet beyond adding names to Yad Vashem's archives, Marie Sophie Hingst spread her fictional family history in various ways: through lectures organized by the Jewish community, in conversations with fellow students and, most predominantly, through her blog "Read on my dear, read on," which had nearly 240,000 readers, but which has been unavailable since the Spiegel story came out.
Edgar Davidson:
YouTube bans video exposing antisemitism in Ireland
In April I posted a video from Tuvia Tenenbom showing his discussion with a group of antisemites in a pub in N. Ireland. I had added English subtitles to the video as some of the dialogue was difficult to hear.

As with many videos that expose antisemitism and anti-Israel hatred, YouTube removed the video on the basis of "violation of policy on hate speech".

Not only are the main social media companies removing the voices of those who strongly support Israel (Laura Loomer, Tommy Robinson etc), but they are also systematically removing evidence of vicious antisemitism and Israel hatred.

I have now uploaded the video to bitchute: https://www.bitchute.com/video/fD1JDvgr5iJA/
The BBC's 'international law' mantra goes north
The majority of this report (69% of its total word count) is devoted to background including a lengthy section headed "What are the Golan Heights?".

As usual, the BBC's accounts of history begin in June 1967 with no mention of what happened before "Israel seized the Golan" or why it did so.

"Israel seized most of the Golan from Syria in the closing stages of the 1967 Middle East war, and thwarted a Syrian attempt to retake the region during the 1973 war."

A photo caption tells BBC audiences that "Syria will not agree a peace deal with Israel unless it withdraws from the whole of the Golan" and the article goes on to state that:

"Syria has always insisted that it will not agree a peace deal with Israel unless it withdraws from the whole of the Golan. The last US-brokered direct peace talks broke down in 2000, while Turkey mediated in indirect talks in 2008."

Readers are not told that Syria was offered precisely that in the 1990s and once again we see that the BBC has adopted the Syrian narrative, according to which demilitarised zones established under the 1949 armistice agreement are part of "the whole of the Golan".
Bizarre image choice from @UPI, connecting Israeli airstrikes on military targets in Syria in the context of the war there with participants in the Jerusalem Day parade celebrating Israeli sovereignty over Jerusalem. The two have nothing to do with one another. pic.twitter.com/xLcjFeWbBn

— HonestReporting (@HonestReporting) June 4, 2019
California man who made 'kill lists' of Jews pleads guilty to plotting attacks
A California man who wrote "kill lists" of prominent Jews pleaded guilty to threatening three houses of worship in Orange County.

Nicholas Wesley Rose, 28, of Irvine, was sentenced Friday for carrying a loaded firearm not registered to him and three civil rights counts in relation to making the threats. Other felony charges were dropped.

His parents contacted the police last year after he said he wanted to "get a gun and kill some Jews," The OC Register reported. Rose had composed lists of Jews he wanted to kill and threatened and visited a synagogue in Irvine that he wanted to attack. He also threatened and visited two churches, in Irvine and Lake Forest, that had expressed sympathies for the Jewish community.

He was sentenced to 825 days in jail, one year in residential mental health treatment and five years' probation.

Rose's lawyer, Brian Gurwitz, said his client was suffering from mental illness.

Orange County District Attorney Todd Spitzer decried Rose's ideology in a statement.

"There is no place for hate," Spitzer said. "He is a danger to society and every resident of Orange County should be aware of the threat he poses."
Controversial historian no longer involved in Hungarian Holocaust museum
A historian who has controversially promoted a historical narrative equating Nazi crimes with those of Communist regimes is no longer involved in the House of Fates Holocaust Museum in Budapest, The Jerusalem Post has learned.

Maria Schmidt, whose involvement in the project led Yad Vashem and Holocaust scholars to publicly oppose the museum, was originally in charge of curating the museum's permanent exhibition, but she is no longer part of its development, Rabbi Shlomo Koves told the Post on Monday.

The rabbi, who heads the Chabad EMIH Jewish Federation in Hungary, also noted that the exhibition will not include Schmidt's controversial narrative, noting that this aspect of the museum's concept has been overhauled.

EMIH was granted ownership of the museum by the Hungarian government last year and, in a government resolution, was formally designated a partner in its development and that of the permanent and temporary exhibitions.

In that resolution, the government also stated that the the Public Foundation for the Research of Central and East European History and Society headed by Schmidt would also be a partner in the museum's development.

Koves said, however, that the role of this institution was no longer relevant in the ongoing development of the House of Fates.
Celebrations staged for Day of Liberation and Rescue from Nazi Germany
Thousands of people around the world took part in ceremonies this year marking the Hebrew date for the end of the Second World War in Europe and the surrender of Nazi Germany.

The Day of Liberation and Rescue as it has been designated in Israel marked 74 years since the end of the war with thousands of people participating in dozens of prayer rallies in synagogues, memorial sites and schools throughout Europe and beyond.

Various chief rabbis and community leaders participated in the events, as did defense ministers, government representatives, and ambassadors, while for the first time, a prayer rally took place in the synagogue in Djerba, Tunisia.

In Israel, prayer rallies took place at the Western Wall, the Tomb of the Patriarchs in Hebron, Rachel's Tomb in Jerusalem, and synagogues across the country.

Chief Rabbi David Lau gave an address at the Western Wall, while Chief Rabbi of Jerusalem Rabbi Shlomo Amar participated in a prayer service in the Grand Synagogue in Moscow where he said that while "on the one hand, we lost a third of our nation in the hands of the Nazi murderers…yet on the other hand we must also remember the miracle of our survival and thank and praise God for the survivors."
Tel Aviv U, Technion among 100 universities with most US patents in 2018
Tel Aviv University has been ranked 66th, and first in Israel, for the number of patents it registered in the United States during 2018, according to a ranking of 100 worldwide universities made by the National Academy of Inventors and the Intellectual Property Owners Association (IPO).

University of California was number 1 on the list of the Top 100 Worldwide Universities Granted US Utility Patents in 2018, followed by Massachusetts Institute of Technology and Stanford University. Saudi Arabia's King Fahd University of Petroleum and Minerals took fourth place in the ranking, the only non-US based university in the top 10 academic institutions ranked.

Tel Aviv University, via its Ramot technology transfer arm, registered 37 patents in the US in 2018, compared with 526 patents granted to the University of California. Tel Aviv University registered a total of 121 patents globally in 2018, the university said in a statement.

Haifa's Technion – Israel Institute of Technology, via its Technion Research and Development Foundation Ltd. arm, ranked 75th, with 32 patents registered in the US.
Chabad Rabbi saves Israeli hiker who fell from a mountain in India
An Israeli hiker who on Friday fell 40 meters while trekking up the Bashisht Mountains near the town of Old Manali, India, was rescued by an unlikely hero: the local Chabad rabbi.

Hours before Menachem Bakush was scheduled to host some 200 Jewish and Israeli travelers for Shabbat dinner, he learned that an Israeli traveler had fallen and was likely severely injured. The rabbi – originally from the Binyamin region of Israel and a trained Hatzalah first responder – dropped his preparations, picked up his medical-kit backpack and began hiking up the mountain.

"It took me 50 minutes to reach the fallen man," Bakush told The Jerusalem Post. "I drove to the closest location to where he was, then had a 2 km. climb almost directly up. The journey involved a steep uphill climb with a medical kit on my back."

He said that the whole way up, all he could think about was that his fellow Israeli needed help.

"It is a very high mountain and it is very hard to breathe up there," he said. "It's dangerous, too. I didn't stop to rest. I ran as fast as I could."

When he reached the injured man, Bakush provided initial medical treatment, including spinal cord stabilization, an intravenous line and bandaging of the hiker's numerous bleeding wounds. He said the young Israeli suffered from a serious head injury, a chest injury and other injuries to his back and limbs.

The rabbi helped organize the rescue efforts to bring him safely out of the mountains and get him transported to the local hospital. He said the situation "ended in a miracle, but it could have ended differently."

He accompanied the young man to the hospital and then went home to host his own Shabbat guests. (h/t Zvi)
Greece elects first-ever Jewish mayor in the city of Ioannia
Greek-Jewish medical doctor Moisis Elisaf will serve as the mayor if the north-western Greek city of Ioannia, Greek news-site Ekathimerini reported on Monday.

Running as an independent candidate, he won 51.1% of the votes.

Recovering from a massive debt crisis, which only officially ended in 2018, Greece saw an increase in the rise of Euro-skeptic and xenophobic forces like the Golden Dawn party.

Greece, occupied by Nazi Germany during WW2, witnessed the destruction of Greek Jews. Roughly 80,000 Greek-Jews lived in the country before the Holocaust, the entire Jewish community of modern Greece numbers around 5,000 people.

According to the Jewish Museum of Greece, Elisaf also serves as the head of the Jewish community in Ioannia. (h/t Zvi)
How Tunisia is trying to resurrect a Jewish pilgrimage to the island of Djerba
The Jewish presence in Tunisia goes back millennia. It's thought that the first group of Jews arrived in Djerba following the destruction of the temple in Jerusalem in 586BC, bringing with them a door and some stones from the temple, which later ended up in the sanctuary of the Ghriba synagogue.

As time went on, the Jews of Djerba proved more devout and reluctant to embrace modernity than those on the Tunisian mainland, rejecting non-Jewish education. Throughout the time that Tunisia was a French protectorate between 1881 and 1956, they upheld the Judeo-Arabic language and maintained a traditional way of life as craftsmen and artisans.

During World War II, Tunisia was occupied for six months by the Nazis, who rounded up and deported thousands of Jewish men to undertake forced labour in gruelling conditions in the desert. Several hundred Tunisian Jews died during the occupation. During this time, the Nazis plundered Djerba's Jewish community, demanding that the Jews hand over 20kg of gold.

At the end of the war, 80,000 Jews lived in Tunisia. As was the case throughout the Arab world, the creation of the Jewish state of Israel, independence from the former colonial power – in Tunisia's case from France in 1956 – and the escalation of the Arab-Israeli conflict, prompted a mass exile of Jews from their homelands.

For some time, and thanks in part to the position of Tunisia's leader, Habib Bourguiba, Jews in Tunisia fared better than elsewhere in the Arab world. But riots against Jews in Tunis in the aftermath of the 1967 Six Day War, prompted thousands more to flee. Since then, the numbers of Jews have continued to dwindle. Today, around 1,500 Jews remain in Tunisia, the overwhelming majority of whom live in Djerba.
A Submerged Ancient Greek Fortress on Israel's Coast
Mentioned in the book of Joshua, the ancient city of Dor was located near a natural harbor about twenty miles south of modern-day Haifa. In the mid-5th century BCE, the Athenian navy took it over as a convenient Mediterranean base of operations. Archaeologists are now engaged in exploring a fortress built by the Seleucids—the Hellenistic dynasty that ruled the area after the death of Alexander the Great—which is now entirely submerged in water. Edward Whelan writes:

Once [the fortress] was two stories high and . . . measured 60 by 120 feet. Some stones have wooden post holes that may have been used for wooden platforms upon which catapults were placed. We know much about the turbulent history of Tel Dor from the books of Maccabees. It appears that the fortress was built by Diodotus Tryphon, who acted as regent for a young Seleucid king before declaring himself ruler in 142 BCE, around the time the Greeks and the Jewish Hasmonean kingdom were battling for control of what is now Israel.

[Diodotus] was one of the three rulers who vied for control of the area in a series of bloody wars, the others being Demetrius Nicator [who also claimed the Seleucid throne] and Jonathan Apphus, ruler of Judea. Details of these battles are found in the book of Maccabees and portray Diodotus Tryphon as a cruel and treacherous ruler. . . .

Some missiles believed to be slingshots and arrowheads have been found that date back to Demetrius' siege of Dor and some bear the marking "victory over Tryphon." . . .
See How These American Soldiers React to Israeli Snacks
While these US soldiers were in Israel for a joint exercise with the IDF Air Force, we asked them for their thoughts on a few popular Israeli snacks...
---
---
We have lots of ideas, but we need more resources to be even more effective. Please
donate today
to help get the message out and to help defend Israel.