From Ian:
---
John Cusack retweets anti-Semitic meme with neo-Nazi quote
American actor John Cusack on Tuesday retweeted an anti-Semitic meme captioned with a neo-Nazi quote, then apologized and deleted his retweet following backlash from his social media followers.

The meme retweeted by Cusack depicted a giant hand emblazoned with a blue Star of David crushing a group of people beneath it, accompanied by the quote: "To learn who rules over you, simply find out who you are not allowed to criticize."

The meme incorrectly attributed the quote to French thinker Voltaire, but it's actually an excerpt from a 1993 essay by American neo-Nazi Kevin Strom.

Cusack added his own caption to his since-deleted tweet, telling followers to "follow the money."

The post immediately elicited backlash from online users, who accused Cusack of promoting anti-Semitic tropes about Jews and power.

Cusack initially defended the post, saying that Israel was "committing atrocities against Palestinians" and told outraged followers that he simply retweeted the image, and did not create it.

Several hours later, Cusack deleted the post, and blamed his retweet on a bot.
3. John Cusack repeatedly defended his tweet before deleting it.

His "bot" excuse is absurd. pic.twitter.com/Jm2NArFVEO

— Yashar Ali 🐘 (@yashar) June 18, 2019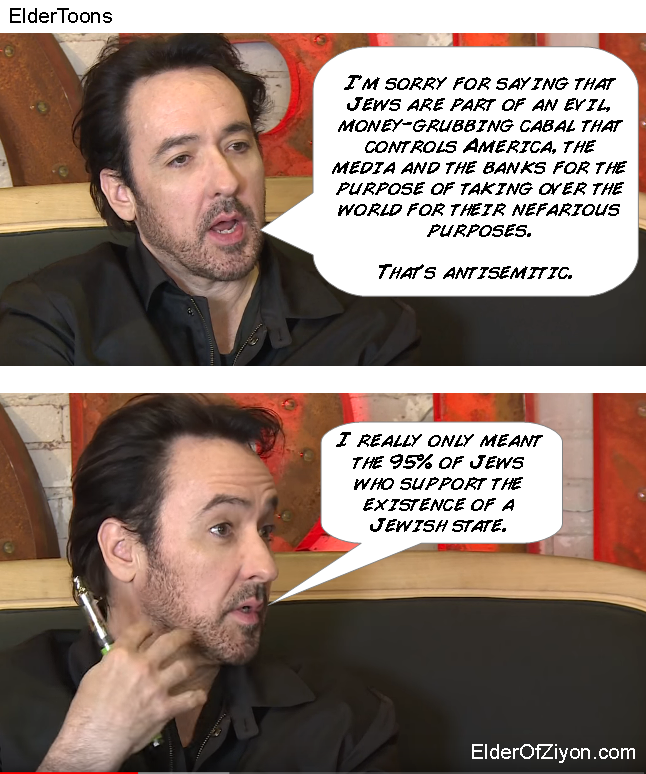 Douglas Murray:
Mahathir Mohamad and the hypocrisy of Cambridge University
The critiques of this write themselves. Would any guest of the Cambridge Union have been so indulged if the above had been said about people of any other ethnic group? Or of any other minority? I would have thought not.

But that isn't what is interesting. The interesting thing is that this happened (as with LSE in 2010) in the heart of an institution that is positively bursting with what used to be called 'political correctness' and has now become 'wokeness'.

Indeed as I recently wrote in the Telegraph, Cambridge University is becoming a veritable epicentre of the wokeness epidemic. This is an institution which, under its lamentable new Vice-Chancellor (one Stephen Toope) has launched an inquiry into Cambridge University's involvement in the slave trade, has repeatedly shown that it believes academic freedom should be adjudicated by mobs, and recently removed a bell from public display in one of the colleges because there was a chance that said bell might once have been rung on a plantation.

So last night's events provide an almost beautiful demonstration of human idiocy. For while the students and authorities at Cambridge University are running around town trying to confiscate bells that might once have been rung in the wrong place, the hall of the university's own union was ringing out with laughter at an ugly old anti-Semite being anti-Semitic. It's almost as though all these attempts to pass judgement on the distant past and endlessly signal our outstanding virtue in the present do not in fact make us brave or decent people. Who could have guessed?
CAA complains to Charity Commission and Home Office after Cambridge Union lets Malaysian PM Mahathir Mohamad spew antisemitism, unchallenged
Campaign Against Antisemitism is making a complaint to the Charity Commission after Cambridge Union, a registered charity, permitted proud antisemite, Dr Mahathir bin Mohamad, the Prime Minister of Malaysia, to spew antisemitic comments at an event on Sunday evening without challenging him.

In a video recording of the event posted on YouTube, Dr Mohamad was questioned by the moderator, an elected official at the Union, about his past comments about Jews. He replied: "I have some Jewish friends, very good friends. They are not like the other Jews. That's why they are my friends." The audience laughed loudly.

When questioned on his views of the Holocaust, he said: "The Israelis should know from the sufferings they went through in the war not to treat others like that." Although he denied saying that only 4 million died in the Holocaust, something that he has previously stated on the record. Under the International Definition of Antisemitism, "Drawing comparisons of contemporary Israeli policy to that of the Nazis" is antisemitic.

On antisemitism, he said: "Of course if you say anything against the Jews, you are labelled antisemitic. No other race in the world labels people like that, why is it forbidden to criticise the Jews when other people criticise us?" He added that: "The Jews do a lot of wrong things, which force us to pass comment."

In response to a question about previous comments that he made calling Jews "hooked nosed", Dr Mohamad stated: "People do generalise, in describing certain people we take some general characteristics that they have, why is it that it's the Jews who resent this when other people don't resent being accused of some general characteristic that they have? Correct me if I'm wrong, but it seems that pretty much every group of people objects to being casually racially stereotyped." He followed this up by using an example that: "The British Jews used to say the Malays are lazy."

It is disgraceful and unforgivable that Cambridge Union, a club affiliated to the University of Cambridge, one of Britain's most prestigious educational institutions, rolled out the red carpet for this self-confessed and unrepentant antisemite, and presented him with a platform from which to share his dangerous views with students, unchallenged.