From Ian:
---
IsraellyCool:
Nick Cave: "In Certain Way, BDS Movement is Responsible for My Coming to Israel"
We are seeing more and more artists come to Israel and speak out strongly against BDS. But I have to admit – Nick Cave's rejection of BDS is particularly satisfying, and not just because he's a fellow Aussie.

He has actually thanked BDS for making him more determined to come perform herel!

Nick Cave decided to perform in Israel this week as a direct result of the attempt by the BDS movement to silence artists, the performer said on Sunday.

"In a certain way, the BDS movement is responsible for my coming to Israel," Cave said at a press conference Sunday in Tel Aviv ahead of his two sold-out shows Sunday and Monday nights at the Menorah Mivtachim Arena.

The acclaimed Australian singer/songwriter said that a few years ago, British musician Brian Eno approached him about signing a pro-Palestinian petition that called for boycotting performances in Israel.

"I didn't want to sign that petition. I didn't connect to it, I don't like lists," said Cave, adding that he's had a bad feeling, because despite not signing the petition, he hadn't appeared in Israel for some 20 years.

"That made me feel like a coward, so as soon as I planned this tour, it was important for me to come out against this silencing of artists.

I like Israel and Israelis and it was important for me to do something." Cave's current tour in support of his latest album Skeleton Tree, the first since the accidental death of his 15-year-old son, has been meet with superlatives around the world.

That Nick Cave, he's no bad seed.

Needless to say, Roger is going to be pissed!
JPost Editorial:
Bigotry's leader: Linda Sarsour to speak at antisemitism discussion
The New School, a Manhattan-based university, has aroused controversy over its choice of speakers to appear on a panel discussion about antisemitism given by a group that self-identifies as anti-Zionist and features BDS poster girl Linda Sarsour.

The event, titled "Antisemitism and the Struggle for Justice," is scheduled for the end of this month and is sponsored in cooperation with the Jewish Voice for Peace and Jacobin Magazine, both of which promote the misguided causes of the alt-Left, one of which is its pretense that anti-Zionism is not antisemitism.

Sarsour is a well-known Muslim and Palestinian activist who supports a Palestinian state but denies Jews the right to national self-determination. Moreover, she has appeared alongside a convicted Palestinian terrorist murderer whom she has lauded for her "resistance" to the Zionist occupation.

Sarsour told an audience recently that she was "honored to be on this stage with Rasmea Odeh," a member of the PFLP convicted in 1969 for her involvement in the bombing of a Jerusalem supermarket that murdered two university students and maimed nine more.

Jonathan Greenblatt, national director and CEO of the Anti-Defamation League, slammed the New School for agreeing to host Sarsour. "Having Linda Sarsour & head of JVP leading a panel on #antisemitism is like Oscar Meyer leading a panel on vegetarianism," he wrote on Twitter. "These panelists know the issue, but unfortunately, from the perspective of fomenting it rather than fighting it."
'A Palestinian state is a deathtrap for Israel'
The Sovereignty Movement founded by Women in Green is publishing a protest following the publication of the alleged principles of the Trump outline for a political settlement between Israel and the PA.

"Anyone who has forgotten: A Palestinian state between the Mediterranean Sea and the Jordan River endangers the State of Israel. We are shocked by the weak memory that characterizes the planners of the deathtrap of the State of Israel."

"For all those who have forgotten the fundamental principles of Zionism, we will recall that the Land of Israel is our land, and the only way to lead to true peace is to apply Israeli sovereignty over Judea and Samaria," say the leaders of the Sovereignty movement.

"An Israeli concession to the Zionist-historical principle that this land belongs to the people of Israel alone, will lead to further concessions as has been proven in the past. Israel is once again asked to continue to pay in the currency of territory for insignificant signatures of the Arab side on pieces of paper" says the Sovereignty movement "and reminds " that there is no country in the world that desires to live that gives up its achievements in a war that was forced on it."

"Israel will not be able to exist in a reality where an Arab terror state is established in its heart, a state that will lead to the Hamas takeover of the territory, the massive emigration of millions of Arab refugees to that country that will arise out of nowhere with the end result that the Jewish demographic majority is lost between the sea and the Jordan. In addition such a state would be a security threat to the entrance to Israel, to the Ben-Gurion Airport that will be shut down, Arab missiles will be launched towards the center of Israel and and Iron Domes will become an integral part of the entire of the landscape.
Michael Lumish:
Nine Reasons Why Progressives Do Not Understand Their Pro-Israel Friends
The western-left is befuddled and disgusted by pro-Israel diaspora Jewry despite the fact that pro-Israel diaspora Jewry supports the western-left.

These are nine of their fundamental misunderstandings:
Number Eight: the Jews have never prevented the Palestinian-Arabs from gaining a state of their own... even on our own land!

On the contrary, it was the Arabs who have turned down every single offer for statehood since the Peel Commission of 1937.

The progressive-left must stop blaming the Jewish people of the Middle East for Arab-Muslim intransigence in refusing to accept a state for themselves next to their Jewish neighbors.

This ongoing tendency from the EU and the UN and the US Department of State is indecent, unjust, and opposed to the facts of history.

Number Nine: The Day of the Dhimmi is Done.

The progressive-left loves dead Jews and despises Jews who stand up for the Movement for Jewish Liberation.

Well, ya know what?

Too bad.

Whatever anyone might think of the Jewish people we will stand up for ourselves whether anyone likes it or not.
Iran's Immoderate 'Moderate'
Nice try. The Rouhani-as-reluctant-hard-liner theory is belied by the man's long record in the Islamic Republic. Try as they might, Rouhani's apologists can't elide the fact that he served as secretary of Iran's Supreme National Security Council from 1989 to 2005, years during which Iran conducted a campaign of assassinations and "chain murders" targeting dissidents at home and abroad. Nor can revisionism undo Rouhani's leading role in the crackdown against the 1999 student uprising, when he called on the regime's security forces to"crush mercilessly and monumentally any move of these opportunist elements wherever it may occur." Nor, finally, can the apologists ignore Rouhani's years-long refusal to speak out for the detained leaders of the Green Movement.

As Payam Fazlinejad, a leading ideologist with the regime's hard-line faction and a researcher with the Kayhan newspaper (whose editor is the supreme leader's representative to the Iranian media), told me: "Mr. Rouhani is a conservative personality and, indeed, is one of the founders of the conservatism in Iran. Therefore he is much closer to the right-wing and principlist currents in Iran" than he is to the reformers. Fazlinejad added: "Rouhani is part of the very reason that principlism enjoys such a hegemony in Iran."

What does all this mean for the West? It means that the U.S. and its allies must finally come to terms with the Islamic Republic as it really is, rather than as they would wish it to be. Nearly four decades since its founding, the regime is much more ideologically cohesive and united than the appearance of factional wrangling among its elites would suggest. There are no liberal-minded, pro-Western friends on the inside. Too bad that in Washington and more so in Brussels, reformist hope springs eternal.
'Israel's actual enemy is Russia'
"Wherever there is a clash between peoples, cultures, states, religions or perceptions, the best way to understand the resulting conflict and to resolve it is to go back to the primary texts," says Yigal Carmon, the president and founder of MEMRI, the Middle East Media Research Institute, which translates media broadcasts and articles from Arabic, Turkish, Farsi and other languages into English with the aim of giving the West a real-time glimpse into the Arab and Muslim world's attitudes.

Contrary to what many may think, MEMRI is not in the business of clearing a path for any particular leader, nor does it take any ideological stance – though Carmon himself has very clear views on current affairs.

"MEMRI is a concept, an idea," he says. "We study the media to understand the present, and we study textbooks to understand the future. ... Hundreds of universities make use of our services, because without knowing the language, they lose out on a primary source material that is critical for academic work."

Carmon recalls how Bernard Lewis, considered one of the world's leading Middle East scholars, fruitlessly tried to warn the CIA that Iran's shah was about to be overthrown by the ayatollahs in 1979.

"He got his hands on a book written by the Ayatollah Khomeini shortly before the latter returned to Iran," Carmon says. "He [Lewis] realized that this was a prelude to the revolution and presented the contents of the book to them, but the intelligence agency just said, 'Who is this guy [Khomeini] in Paris? Total nonsense.' Not too long after that, there was a revolution."
Alleged Iranian base near Syria border caught on camera
Israeli satellite photos published Thursday appear to strengthen a BBC report a week ago that Iran is building a permanent military base in Syria, just 50 kilometers (31 miles) from Israel's northern border.

The ImageSat International pictures, published by Hadashot (formerly Channel 2) news, show that renovations and alterations were recently undertaken at the site at al-Kiswah, some 13 kilometers (8 miles) south of the Syrian capital of Damascus.

They also suggest that one of the new buildings is a mosque. If it is, according to ISI's intelligence unit, it likely points to the presence of Iranians or other foreign Muslims.

ISI stressed that the assumption the site was being used by Iranians was taken from foreign media reports, and that the images alone did not prove any Iranian presence.

On Friday, the BBC cited a Western intelligence official for its assessment that a series of satellite pictures it commissioned confirmed that Iran is building a permanent military base at El-Kiswah.

The images broadcast by the BBC showed "a series of two dozen large low-rise buildings, likely for housing soldiers and vehicles."
'The next chemical weapons attack is on your head'
Rival U.S. and Russian resolutions to extend the mandate of experts trying to determine who was responsible for chemical attacks in Syria were defeated Thursday at a heated U.N. Security Council meeting that reflected the deteriorating relations between Washington and Moscow.

The result of the two votes means that the Joint Investigative Mechanism will cease operations when its current mandate expires at midnight Thursday.

The U.S., its allies and human rights groups called it a serious blow to efforts to hold accountable those responsible for carrying out chemical weapons attacks in Syria.

At the outset of the three-hour drama, Russia vetoed the U.S. draft resolution which was supported by 11 of the 15 Security Council members. Bolivia joined Russia in voting "no" and China and Egypt abstained.

Russia's U.N. Ambassador Vassily Nebenzia withdrew the Russian resolution over Moscow's insistence that it be voted on second not first as required under council rules. But using another council rule, Bolivia then resubmitted and called for a vote on that resolution.

It failed to receive the minimum nine votes required for adoption. Only Russia, China, Bolivia and Kazakhstan voted in favor, while seven council members voted against and four abstained.
Eyeing detailed peace plan, Trump team could invest years in effort
Senior Trump administration officials are working tirelessly on an airtight diplomatic structure that, once revealed, will demonstrate just how serious they are about negotiating a comprehensive peace agreement between Israelis and Palestinians. But if you ask them, they are not working against a clock.

Deadlines are not a part of President Donald Trump's peace effort, led by Jared Kushner, the president's son-in-law and senior adviser, and Jason Greenblatt, the US special representative for international negotiations. These two refuse to bind themselves in timetables as they prepare what they describe as an "architecture" for their upcoming initiative.

It is a notable break in strategy from those of past diplomats who have tried, and failed, to bring peace to the Middle East, along the way claiming time is not on the side of Israelis or Palestinians, and that facts on the ground are diminishing the feasibility of a settlement to this dynamic conflict.

When it is ready, the White House-based team will release what has been described to The Jerusalem Post as an intricately detailed plan– not a grand vision of peace from on high, but specific US proposals to specific disagreements, formed based on months of listening to the parties.

Greenblatt, in particular, is singularly devoted to its preparation, and is less concerned with time pressures than he is with getting all of his ducks in order before the administration's plan becomes official and public.

He knows that, once it does, the scrutiny will be immense – and that the privacy his team has enjoyed thus far in laying its groundwork will come to an end as politics and hard choices come into play.
IsraellyCool:
Book Culture Promoting Book Glorifying Palestinian Violence & Terrorism
You may recall when I first heard about this book at the beginning of the year, I created my own version of sorts.

And I was not that far off. Photos taken of the book by a pro-Israel activist Karen LichtBraun show there's glorification of violence and terrorism

This is made all the more infuriating, given what the author, Golbarg Bashi, claims she aims with the book

Inspired by Palestinian people's own rich history in the literary and visual arts, specifically by children's authors and illustrators such as Naji al-Ali (1938 – 1987), Ghassan Kanafani (1936 – 1972), and Mohieddin El Labbad (1940 – 2010) among others, an academic and children's author and a socially conscious illustrator have teamed up to create P is for Palestine—a book for children of all ages where the story of Palestine is told as simply as the English ABC…in an educational, colorful, empowering way, showcasing the beauty and strength of Palestinian culture.
—
The simple story of Palestine is today shrouded in convoluted misinformation and contested narratives. But at the heart of the matter stands a proud people with a compelling truth which sustain their historic struggles to tell their story of dispossession to the world. Our P is for Palestine is a modest step in that direction.

Furthermore, children the world over are increasingly exposed to a barrage of psychologically damaging disinformation that violates the sanctity of their young life and compromises their trust in the world. In this book we tell the story of Palestine in a manner that enriches their hope in our future. As a result, P is for Palestine follows in the footsteps of great many alphabet books about countries, customs and the beauty of the world around us in good 'ol English and other European languages!

Shame on everyone involved with this book full of lies and support of terrorism, which is psychologically damaging to children. And that includes Book Culture.
French court blocks release of Ottawa academic Hassan Diab for eighth time
For the eighth time, a French appeals court has overturned a judicial order to release on bail former Ottawa university professor Hassan Diab.

Since his extradition from Canada three years ago, four judges have ruled that the 63-year-old Canadian citizen should be released from the maximum-security Paris prison where he has been held on pre-trial detention.

Following a now familiar pattern, an appeals court quashed the latest release order Tuesday.

Lebanon-born Diab is the sole suspect in the October 1980 terrorist bombing of a Paris synagogue in which four passers-by were killed and more than 40 injured.

He denies being involved and says he was studying in Beirut at the time of the bombing.

The appeal judges are expected to release the reasons for Tuesday's decision later this week but they have previously accepted the prosecution's claim that Diab is a threat to public order and a flight risk.

Diab's French lawyer William Bourdon says the prosecution appeals are "not judicial but political" and motivated by a reluctance not to appear soft on terrorism.

Investigating Judge Jean-Marc Herbaut, one of the judges who has repeatedly ordered Diab's release, ended his investigation into the case in July after saying previously that there is "consistent evidence" that Diab is telling the truth.
New Israel Fund grantee: 'BDS will help me end the occupation'
Excerpts from an article yesterday on NRG on Dr. Ruchama Marton, the acting President of Physicians for Human Rights reveals the type of radical left organizations supported by the New Israel Fund. While Physicians for Human Rights claims to work towards "a more fair and inclusive society in which the right to health is applied equally for all," this telling interview provides the reality that the organization stands with Israel's enemies.

According to NGO Monitor, The New Israel Fund (NIF) gave $1,470,400 to Physicians for Human Rights since 2008.

As the article quotes this organization's head as saying:
"I view BDS as a movement that will help me end the occupation"

The radical left, she said, must "launch a "revolt" against the Israeli government by joining the BDS movement, participating in boycotts of public figures and institutions and causing the Jewish state to "to end the occupation, the apartheid and the privileged regime."

"As long as Jewish Israelis who do not support BDS think it is possible to change Israel from within, they are just like the rabbit who wanted to change the lion from within, and the lion ate him. Change from within today is an illusion. The radical left cannot think and act this way. A left that wants to change Israel, and which has repeatedly declared this, must ally itself with Israel's Arabs, with the Palestinians and with the movement to delegitimize Israel around the world.
Court: PA, terrorists liable for NIS 62 million for 2001 murder of 3 Israelis
The Jerusalem District Court has held the Palestinian Authority and several Palestinian terrorists liable for NIS 62 million in civil wrongful death damages for murdering three Israelis in a shooting attack on Route 443 on August 25, 2001.

The court specifically said that the PA was equally responsible along with the terrorists both due to the connection between the terrorists and the PA and because the PA solicited and aided the cell in perpetrating the attack.

Though the decision was handed down Friday, the court spokesman's office only announced it Sunday.

In August 2001, the Second Intifada was already in full swing and portions of the PA security forces took part in attacks against Israelis.

There were three murdered Israelis in the attack: Sharon Ben-Shalom, Yavin Ben-Shalom and Doron Savri.

Two children of the Ben-Shalom's, Efrat and Shahar, survived as a result of their mother Sharon using her body to shield them from the bullets.
President Rivlin rejects Hebron shooter Azaria's appeal
President Reuven Rivlin decided on Sunday to reject Hebron shooter Elor Azaria's request for a pardon.

Rivlin's office released a statement on the matter: "The president has taken into account the offenses you committed and their circumstances... and he has decided to reject the request."

Defense Minister Avigdor Liberman sent a letter to the president two weeks ago asking him to pardon Azaria, a former IDF combat medic, who was jailed for killing an incapacitated terrorist near Hebron.

Azaria was found guilty of manslaughter by a military court in January for killing Palestinian attacker Abdel Fatah al-Sharif in Hebron on March 24, 2016. He was sentenced to 18 months in prison, 12 months' suspended sentence after serving that term and was demoted to the rank of private in February.

Videos of the incident show Azaria shooting the incapacitated terrorist lying on the ground. Azaria claimed his shots were in self-defense, fearing a possible knife attack or concealed explosive.

The case garnered a great deal of attention both in Israel and worldwide.
IsraellyCool:
Things You Need To Know About Terrorist Who Perpetrated Yesterday's Car-Ramming Attack in Israel
Yesterday, a 17-year-old palestinian tried to murder some Israelis, using his car as his primary weapon – followed by a knife.

Naturally, this terror attack has not made the mainstream media at all.

Nor a photo of the terrorist, who joins other members of the IntiPrada to dispel the notion that somehow only "the poor and desperate" perpetrate such attacks.

Judging by that expensive lens he has, I am guessing he lives in one of Halhul's really nice houses.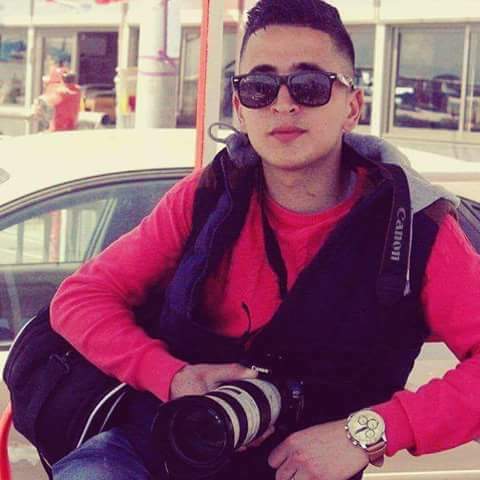 EXCLUSIVE - Senior Jihadist: We Won't Let PA Bring Alcohol, Nightclubs Back to Gaza
Jihadists in the Gaza Strip affiliated with the Iran-backed Islamic State and other Salafist terrorist organizations won't allow alcohol and nightclubs to return to Gaza along with the Palestinian Authority, one senior jihadist told Breitbart Jerusalem.

Abu Baker al-Maqdesi, a senior jihadist in the Gaza Strip associated with Islamic State ideology, says that as far as the jihadist organizations and Salafists are concerned, "Hamas' replacement with the Palestinian Authority and Fatah means nothing. Both sides fought against Islam and against our brothers, arrested, killed and oppressed all those who wanted to wave the flag of Islam both in the West Bank and the Gaza Strip."

"Just as we did in the era of Oslo, we won't help the moral lawlessness that the Palestinian Authority will bring with it," added al-Maqdesi. "The alcohol won't return to the streets of Gaza; the nightclubs won't return. The prostitution and lawless relations won't return to hotels and tourist sites. All those who want to harm the values of our Islam will find us against them with all our force. As opposed to Hamas, we aren't trying to replace a regime with a regime, we want to install Allah's sharia."

The Palestinian factions expect to wrap up Palestinian reconciliation talks at the end of November when delegations from all the factions, led by the Hamas terrorist group and Fatah, will travel to Cairo and conclude negotiations mediated by Egyptian intelligence to finally sign an agreement meant to bring the Palestinian Authority back to power in the Gaza Strip.
Iranian Revolutionary Guards commander and fighter killed in Syria
A commander in Iran's elite Revolutionary Guards and a lower-ranking Iranian fighter have been killed fighting Islamic State in Syria in recent days, Iranian media reported on Sunday.

The Revolutionary Guards, Iran's most powerful military force which also oversees an economic empire worth billions of dollars, have been fighting in support of Syrian president Bashar al-Assad for several years.

An Iranian official told the Tasnim news agency last year that more than 1,000 Iranians have been killed in Syria. Senior members of the Guards have been among those killed.

Kheyrollah Samadi, a Guards commander in charge of a unit in Syria, died on Thursday in fighting in the Albu Kamal region, bordering Iraq, according to Fars News.

Samadi was killed in clashes with Islamic State, according to the Ghatreh news site. Iranian media have previously reported on fighting in that area between Iran's Shi'ite militia allies and Islamic State.

The Syrian army and its allies took complete control over Albu Kamal, Islamic State's last significant town in Syria, a military news service run by Hezbollah said on Sunday.
National Union of Students launches Holocaust education campaign with UJS and HET
The Union of Jewish Students has teamed up with the National Union of Students and the Holocaust Educational Trust to launch a joint Holocaust commemoration campaign.

The Our Living Memory initiative will reflect on the persecution of Jews and other groups under the Nazis between 1933 to 1945. A video and social media campaign will highlight the targeting of specific groups by the Nazi regime.

UJS, NUS and HET representatives will also offer support to student leaders and societies over commemorative events surrounding Holocaust Memorial Day 2018.

The initiative is a sign of improved relations between UJS and the NUS since the departure of Malia Bouattia as NUS president earlier this year. Shakira Martin was elected as new NUS president in April.

Izzy Lenga, NUS vice-president for welfare, said of the new joint venture: "I am so pleased that NUS is teaming up with the Union of Jewish Students and the Holocaust Educational Trust. (h/t Zvi)
Jewish students at New Jersey university worry about rising anti-Semitism
Swastikas have been scrawled on the walls of university buildings, drawn on dry eraser boards and taped to dorm room ceilings. Jewish students have reported being threatened with violence, while some professors have espoused conspiracy theories ranging from Jews controlling global money markets to carrying out ritualistic organ harvesting.

Jewish students and officials at Rutgers University in New Jersey say they have seen all this and more amid a disturbing rise of anti-Semitic sentiment on campus over the past few months.

"This is a disturbing trend what we're seeing here at Rutgers, which has one of the largest Jewish student populations in the country," Austin Altman, a sophomore at Rutgers and a member of the campus' Hillel organization, told Fox News. "Coming here to Rutgers you feel like you're at home because of the large Jewish presence here, and then having to face things like swastikas on buildings is definitely troubling."

While it is difficult to pinpoint exactly when the school first started to see a spike in anti-Semitism, many members of the school's Jewish community point to the controversial online postings of microbiology professor Michael Chikindas.
More on this...

Chikindas over the last year has posted numerous anti-Zionist tirades along with a number of derogatory caricatures of Jews on his Facebook page. Numerous Jewish students have also expressed concerns to officials at Rutgers Hillel about being graded fairly by Chikindas if they were to take one of his classes.

"What he posted on his Facebook page are some of the most vile anti-Semitic tropes there are," Andrew Getraer, executive director of Rutgers Hillel, told Fox News. "He posted caricatures of hooked nose Jews that could be right out of Nazi propaganda."

Getraer added: "I don't think there is place for a professor like that at a university molding young minds."
Guardian praises, but distorts, 'Remember Baghdad' film
Lyn Julius wrote on her Facebook page:

"You would have thought it a fantastic achievement that the documentary film 'Remember Baghdad' received a review by Peter Bradshaw in the Guardian after it played to a packed house at JW3 yesterday. But I'm wondering if the film Bradshaw reviewed is the same one as I saw - or maybe he just fell asleep halfway through. 'Iraqi Jews were spared the horrors of the Holocaust', he writes. I would have thought the Nazi-inspired Farhud in 1941 was a pretty horrific Holocaust-related event myself, with its death toll of hundreds. Bradshaw skips over the hardships of the late 1940s, with open persecution of the Jews leading to the mass emigration of 90 percent of the community. He claims that antisemitism in Iraq had only become a problem after the Six Day War 'although Saddam cynically preserved Baghdad's synagogue building in the 80s out of deference to his US allies'. Huh? That is hardly the most salient feature of Saddam's policy, which included arrest, torture and execution of Jews, who once had over 50 synagogues in Baghdad alone. Altogether, a shoddy and ignorant job unworthy of the film, and probably rushed out in 15 mins before the Guardian went to press.

Gilead Ini of CAMERA reported: 'I reached out to the author on Twitter. He doesn't seem to care'.

UK Media Watch is filing a complaint to the Guardian.
Remember Baghdad Trailer
Guardian frames expulsion of Iraqi Jews in 40s and 50s as "easygoing, pluralistic prosperity".
Once again, the Guardian has erased a chapter within the well-documented ethnic cleansing of over 800,000 Jews from Arab countries in the mid 20th century. The latest example involves the history of Jews in Iraq, in the context of a short review by their film critic Peter Bradshaw of Fiona Murphy's documentary 'Remembering Baghdad'.

Here's the entire Guardian review:
There is a potency and pungency to this brief, absorbing documentary about a part of Middle East history that is often passed over: the Jews of Iraq. It is a story that film-maker Fiona Murphy approaches by talking to those of the expatriate Iraqi Jewish community in London who yearn for their homeland.

After the first world war, British control of Iraq afforded its Jews relative protection. In the 30s and 40s, despite attempts by Hitler's Nazis to gain a foothold in the country, Iraqi Jews were spared the horrors of the Holocaust, and postwar Iraq prided itself on an easygoing pluralist prosperity. But after the monarchy was brutally deposed, and the country joined the six-day war against Israel, antisemitism became part of Iraq's righteous new nationalism – although Saddam cynically preserved Baghdad's synagogue building in the 80s out of deference to his US allies. It is an intricate, gripping family history.

The suggestion that, until the Six Day War, Jews were spared antisemitic persecution in Iraq is simply a lie.
BBC 2's 'Newsnight' squeezes Israel into Bosnia report
Describing Mladić as "the architect of ethnic cleansing", Urban noted that "he is coming up for sentencing and it is very unusual" before going on to name Syria's Bashar al Assad and Libya's Gaddafi.

In the same breath, he then went on to tell viewers that:
"…some people would like to see the Israelis in front of the criminal court and all of these cases have been vetoed…"

Of course some (and indeed many of the same) people would also like to see Britain in front of the International Criminal Court – particularly in relation to its military action in Iraq – but Mark Urban did not mention that.

Instead, after Maitlis had set the scene with a reference to the Nuremberg Trials and just seconds after viewers had heard two references to ethnic cleansing, he casually put an entire nation – "the Israelis" – in the same category as named heads of regimes infamous for their extreme acts of cruelty towards their own people.
HR Prompts Haaretz Palestinian 'Embassy' Headline Correction
Haaretz reports: "The Trump administration has notified the Palestinian Authority that unless it enters serious peace negotiations with Israel, the U.S. could shut down the Palestinian diplomatic delegation in Washington, D.C. within the next few months."

Also included in the story is a tweet from the Palestinians themselves:

So if neither the story text nor an official Palestinian tweet referred to a Palestinian "embassy," why did Haaretz's headline?

The US does not recognize Palestinian statehood and therefore, the Palestinian diplomatic representation in Washington D.C. does not have the status of an embassy.
Bank of Israel issues banknotes featuring portraits of women
The Bank of Israel is set to issue new bills featuring the portraits of two female Israeli poets this Thursday.

The new 20-shekel bill (worth $5.69) will be reddish in color and will feature a portrait of Rachel Bluwstein, commonly known as "Rachel the Poetess" or just "Rachel."

The new 100-shekel bill (worth $28.45) will be orange in color and will display a portrait of the poet, novelist and professor Leah Goldberg.

Series B banknotes, which were first issued in 1999, will remain in circulation for several years until they are phased out by the new notes, the Bank of Israel said.

The new bills are scheduled to be distributed to the public through banks, ATMs and post offices. Bank of Israel Governor Dr. Karnit Flug is slated to present the first new bills to President Reuven Rivlin at a festive ceremony to be held at the President's Residence in Jerusalem.

The two new bills join the two other bills in the series that were previously released. The green 50-shekel bill featuring a portrait of poet Shaul Tchernichovsky was released in December 2014, while the blue 200-shekel bill displaying a portrait of poet Nathan Alterman was released in December 2015.
Israeli robotic dairy system paves the way for big milk
From the roadside, this 800-acre dairy farm is indistinguishable from the dozens of others that dot this bucolic stretch of northern Israel.

But nestled among the 300 mooing cows and the hustling farmhands is the MiRobot startup, which in a stark, one-room laboratory is seeking to modernize this agricultural space by almost completely eliminating its humans, stools, and tin buckets from the cow milking process.

"As it is now, humans are basically slaves to the farm, requiring you and your children to get up at ungodly hours to arrange things and collect the milk," David Rubin, MiRobot's business development manager, said. "That people who work makes [them] have less energy and less patience is all sensed by the cows, who need stability and calmness in order to be productive."

Robots, by contrast, have an endless reserve of patience, and their seeming mythical benefits have been probed for years as dairy farms have been increasingly consolidate into larger, more labor-intensive entities.

The MiRobot, designed for the large-scale robotic farms holding many hundreds, or even thousands, or cows, does not resemble the Jetsons-style Rosie the Maid, but is instead a spat of durable plastic arms fashioned for being stepped on by the 1,000-pounders, and ready for use at any time of day or night.
Why you should invest in cancer research in Israel
As a busy criminal defense attorney with a roster of high-profile clients, I am not known to shy away from a fight. It doesn't hurt that I grew up in Brooklyn, the scrappy son of immigrants and Holocaust survivors.

But nothing could have prepared me for the fight of my life, when my wife, Lynda, was diagnosed with breast cancer early on in our marriage. We had two young kids at home, and Lynda had to undergo a radical mastectomy and a year of chemotherapy before she was declared cancer-free and cleared for reconstructive surgery.

I credit her oncologist, Dr. Yashar Hirshaut, with saving Lynda's life.

What I did not realize at the time was that Lynda's lifesaving treatment was made possible by the yeoman's work of scientists working long hours in unglamorous labs trying to understand the biological forces that drive cancer – and how to stop them.

So when God blessed me with professional success, I resolved to join the fight against this scurrilous disease. I turned to Dr. Hirshaut for advice on where to direct my support. His answer surprised me: Israel.

Though a tiny state with a population of just over 8 million, Israel has made disproportionately large contributions to the fight against cancer. A breakthrough in the 1980s by an Israeli scientist, Eli Canaani, was critical to the development of Gleevec, a drug that has saved the lives of millions diagnosed with leukemia. Velcade, a drug used to treat bone marrow cancer, was based on the research of two Israeli professors, Avram Hershko and Aaron Ciechanover, and their collaborator Irwin Rose, who went on to win the Nobel Prize for chemistry in 2004.
'George Shultz will be remembered as liberator of Soviet Jews'
More than three decades after his release from Soviet imprisonment, Natan Sharansky, the former refusenik and current Chairman of the Jewish Agency for Israel, met former US Secretary of State, George P. Shultz, and awarded him with a life achievement award for his contribution to the struggle of Soviet Jewry for the right to liberty and freedom.

The event took place in the framework of the 2017 Limmud FSU West Coast conference, taking place in San Francisco, with more than 800 Russian-speaking Jewish participants. Julius Berman, President of the Claims Conference for Material Claims against Germany and Israel's Minister of Science and Technology, Ofir Akunis (Likud), also took part in the ceremony.

Sharansky's incarceration in the USSR became a major human rights cause for Shultz and President Ronald Reagan, who campaigned for his release. He was eventually released in 1986 after nine years in Soviet prisons. The plight of Soviet Jewry was one of the most prominent issues on Shultz's agenda, who used his position and influence to obtain the release of specific prisoners, citing their names, from the Soviet Union.

"Shultz was the first to call me after my release, even before President Reagan," Sharansky told the audience. Addressing Shultz he said, "You played a crucial role in bringing down the Iron Curtain and giving freedom to the [Russian] people. I can assure you that your name will remain with us forever as a liberator of millions of Soviet Jews."

"I have a great sense of gratitude to the Soviet Jews because they showed us what courage is all about," said Shultz in his speech of acceptance. "They showed us how important it is to stand up for what you believe in and to never give up."
Rescued children finally identify Irish aid worker who saved them from Auschwitz
Two young boys huddled silently under a blanket in the back of a large black car as it crossed under the gaze of the French prison guards and out the wooden gates of Rivesaltes internment camp. It was September 25, 1942.

Escaping deportation to Auschwitz and certain death in the gas chambers, Rene and Mario Freund, aged two and six years old, were driven high up into the Pyrenees Mountains to a remote village.

The boys had already faced danger before, as their father had tried and failed to smuggle them across the border into Switzerland.

After arriving in the hills they were met by a priest and moved again to a small village further away from Rivesaltes. They were to be enrolled in a Catholic school and hidden by local families.

Decades later Rene and Mario — now named Ronald Friend and Michael Freund — fulfilled a lifelong ambition to identify their heroic liberator, the Irish aid worker Mary Elmes, and nominate her as Righteous Among the Nations.
---
---
We have lots of ideas, but we need more resources to be even more effective. Please
donate today
to help get the message out and to help defend Israel.