From Ian:
---
Lord Jonathan Sacks: 'Anti-Zionism is the new anti-Semitism'
The former Chief Rabbi, Lord Jonathan Sacks, is the winner of this year's Templeton Prize. For decades he has been lecturing and writing on themes of faith, tolerance and peace. Evan Davis began by asking him a simple question - does religion cause war? (h/t Ha Meshuga)
UK Labour leader pushed for bans, boycotts of Israel, letters show
Before his election as UK Labour Party leader, Jeremy Corbyn pressed for a boycott of Israel and called on the British foreign secretary at the time to ban Israeli politicians from entering the country, newly released letters from 2010-2015 show.
The letters, sent to then-foreign secretary William Hague, were published following a Freedom of Information request to the government.
Writing to Hague in February 2012 about East Jerusalem, in particular house demolitions in the Silwan neighborhood, Corbyn, who was a backbench MP for Islington North at the time, urged trade sanctions against Israel.
"Israel's current actions and victimisation of the people of East Jerusalem is an abomination that is totally illegal," he wrote. "Surely the only logical way forward here is to take concrete action to penalise Israel via the most obvious method."
"There is clearly no time to lose to take actions via the EU-Israel Association Trade Agreement. Let the suffering of the Palestinian people no longer be so familiar to us that all we do is 'make representations' when there are tools at our disposal that our government and other governments are choosing to ignore," he wrote. (h/t Think of England)
Corbyn pans UK Jewish journalist for coverage of anti-Semitism claims
UK Labour Party leader Jeremy Corbyn takes aim at top British Jewish journalist Jonathan Freedland in a new fly-on-the-wall documentary aired Wednesday, accusing the veteran Guardian columnist of "subliminal nastiness" in his coverage of the claims of widespread anti-Semitism in the party.
Corbyn said on film that Freedland is "kind of obsessed" with him, basing his claim on a column piece in which the journalist accuses Labour of having an anti-Semitism problem.
In a phone call with his director of strategy Seumas Milne, Corbyn accused Freeland of "utterly disgusting subliminal nastiness" over the March opinion piece entitled "Labour and the left have an anti-Semitism problem."
"He's not a good guy at all. He seems kind of obsessed with me," Corbyn says of Freedland.
The dispute over anti-Semitism in Labour has been simmering for months — since Corbyn was elected party leader by grassroots supporters, despite opposition from many MPs — with a stream of party officials shown to have made anti-Semitic statements.
Livingstone blames 'embittered MPs' for his suspension over Hitler remarks
Former London mayor Ken Livingstone has blamed "embittered MPs" for branding him a Nazi apologist over his controversial statements about Hitler.
Speaking at the Oxford Union, he refused to apologise for the comments and claimed Jeremy Corbyn "had no say" in his suspension from the Labour party.
In an appearance dominated by questions about anti-Semitism, Mr Livingstone stuck by his remarks that Hitler supported Zionism as "historical fact".
He told members of the famous debating society that the furore was being used to deflect attention away from the Labour leader's policies.
"I think this has been largely manufactured by people trying to undermine Jeremy Corbyn," he said.
"If someone says something anti-Semitic they will be expelled but you can't expel someone for telling the truth."
Daphne Anson:
Islamic/Leftist Antisemitism, BDS, and the "Apartheid" slur : A British Muslim speaks out (video)
This 15-minute J-TV video comprises a wonderful tribute to Israel by the wonderful Dr Qanta Ahmed (in conversation with Dr Alan Mendoza), speaking from the heart and from experience about BDS (incidentally, there's a compelling new article here showing why BDS is antisemitic), the "Apartheid" slur, and Islamist/Leftist antisemitism.
A must-watch from a channel that has produced a number of excellent videos (check it out):
Comment: Why Bernie Sanders hates Israel
We did not need Bernie Sanders' pick of BDS backer and Israel basher, Cornel West, to partake in writing the Democratic platform, to know how he feels about Israel. Back in May of 1985, when Sanders was still mayor of Burlington, VT, he invited fellow (Jewish) Israel critic, Noam Chomsky, to give a town hall speech. Sanders did not protest when Chomsky nonchalantly stated that Israel "doesn't want a political settlement" in the Middle-East, or when he asserted that Israel served as a "surrogate" murderer for the US and carried out mass killings "in Africa, Asia, and primarily Latin America," where, according to Chomsky, Israel massacred "thousands, if not tens of thousands of people" in Nicaragua.
With such a record in mind, no one should be surprised that Sanders believes that Israel killed "over 10,000 innocent people" in the latest Gaza conflict, when even Hamas' highest casualty assessments are a quarter of that number.
From Fringe to Mainstream
If in the 1980s, Sanders and Chomsky were somewhat of a rare breed among the creed, today they are all but mainstream. Sidney Blumenthal, for example, the Clintons' aide and close associate, is no more an advocate of Israel than Sanders. And if you look at the top ranks of the Boycott, Divestment, and Sanctions (BDS) movement you will find many Jews and former Israelis among them. The Jewish Voice for Peace (JVP) movement is another glaring example of Jewish organizations dedicated to debilitating and demonizing Israel.
Throughout history, the Jewish people have seen fellow Jews turn against their own people. Titus' Chief of Staff, Tiberius Julius Alexander, who was Philo's nephew and whose father donated the gilded gates to the Temple, commanded both the destruction of Jerusalem and the massacre of 50,000 of his native Jewish community in Alexandria. In the 15th century, Tomás de Torquemada, of Jewish descent, was Spain's first Grand Inquisitor, and the architect behind the expulsion of the Jews from Spain.
Bernie Sanders sets up nasty Dem Convention fight over Israel
Bernie Sanders made some waves recently by putting two well-known anti-Israel polemicists on the Democratic Party platform committee, Cornel West and James Zogby.
Chemi Chalev, U.S. Editor for the Israeli Haaretz newspaper, focuses on West in observing that Sanders Chose Wrong People to Change Democratic Platform on Israel:
West is a harsh critic of Israel, even when compared to another Sanders' appointee, James Zogby, the prominent Arab American academic and activist who has described Prime Minister Benjamin Netanyahu as a war criminal. When speaking about Israel, West uses the kind of language that appalls most American Jews. West supports BDS, has described Gaza as a "concentration camp" and "the 'hood on steroids" and has equated the Palestinian struggle with Ferguson and Black Lives Matter. The Harvard and Princeton "public philosopher" wants to shatter pro-Israel narratives prevalent in the U.S. and to counteract supporters he describes as Israel apologists, one of whom, you may be surprised to hear, is President Barack Obama. In 2014, West said that Israel had committed war crimes in Gaza and that Obama "had blood on his hands."
Chalev worries that damage will be done to the Democrats in the process:
The problem with West and Zogby is that they may very well throw out the baby with the bath water and harm the Democrats' prospects in November in the process…. a fight on the convention floor in which Sanders' representatives use that kind of language risks convulsing the party and driving away voters, and not only Jews. Even in a year in which Donald Trump is the alternative….
There is a big gap between encompassing sympathy for the Palestinians and even advocating a more evenhanded and active U.S. approach to Middle East peacemaking and the kind of anti-Israeli positions articulated by Zogby and West. Their tone and their content stray significantly from the American mainstream. Their language will ultimately be rejected by Clinton and the Convention, but they will nonetheless provide excellent openings for Republicans to drive a wedge between Democrats and independent moderates in general, and Jewish moderates in particular.
Indeed, West is a particularly unhinged anti-Israel activist who openly embraces the Boycott, Divestment and Sanctions movement. Here he is dancing at a 2014 "Gaza Day of Rage" with Adalah-NY, which serves as a primary source of BDS propaganda:
Trump said planning Israel trip before July GOP convention
Republican presumptive nominee Donald Trump is reportedly planning to visit Israel before the GOP convention in late July.
According to New York Magazine, four sources linked to the Trump campaign confirmed the Republican White House hopeful is considering a trip to the Jewish state in the next six weeks, though nothing has been finalized.
Trump's Jewish son-in-law Jared Kushner and casino magnate Sheldon Adelson were reportedly arranging the trip.
A Trump campaign spokesperson denied the report.
In May, Trump said he believes he enjoys "massive" support from Israelis as he announced he would visit Israel before the presidential election, in an interview published by the Adelson-owned Israel Hayom daily.
ADL forms task force against anti-semitic, racist harassment of journalist
The Anti-Defamation League, which works to battle anti-semitism around the world, announced on Wednesday that it has formed a task force on against anti-semitic and racist harassment of journalist.
The Task Force was initiated after several incidents where journalists covering the 2016 presidential campaign have been targeted with anti-Semitic harassment on social media including CNN's Jake Tapper, Julia Ioffe, The Atlantic's Jeffrey Goldberg, and Jonathan Weisman of The New York Times.
The ADL initiative will aim to: assess the scope and source of anti-Semitic, racist and other harassment of journalists on social media; determine whether and how this harassment is having an impact on the electorate; and propose solutions that can prevent journalists from becoming targets for hate speech on social media in the future.
"Journalists are used to being criticized, but this election cycle we repeatedly have seen criticism quickly cross the line into ugly anti-Semitic and other hateful attacks including death threats," ADL CEO Jonathan A. Greenblatt said.
He added that ADL strives to ensure that free speech and free press are not jeopardized.
Britain's National Students Union in Crisis
Britain's National Union of Students (NUS) is in crisis. Three major university student associations -- Newcastle, Lincoln and Hull -- have disaffiliated themselves from the organization.
Bouattia's role is meant to entail representing the best interests of students in the UK. How does endorsing and legitimizing terrorist attacks in Israel the best way to improve conditions for students in the UK? Is Bouattia trying to radicalise students in the UK?
When students need representation, the voice often heard is that of the NUS. Is it any wonder that when this voice has a history of endorsing terrorism, including sharing platforms with convicted terrorists, that students may want a different voice?
Academic quits Jews for Justice for Palestinians, saying: 'They're part of the problem'
A prominent signatory of Jews for Justice for Palestinians has resigned from the organisation, accusing it of being "more part of the problem than part of the solution" to anti-Semitism on the British left.
Academic David Hirsh today demanded his name be removed from its supporters list after condemning the organisation's response to the recent scandal surrounding the Labour party and claimed it had become "wholly hostile" to Zionists.
The organisation's statement says peace between Israel and the Palestinians requires the end of the occupation and for Israel for accept its responsibility for refugees, claims Israel's "repressive policies" are breeding hate and adds violence against all civilians is unacceptable.
But in a letter in which he described himself as "a Jew for justice for Palestinians", he said: "While I never agreed with every dot and comma of the JFJFP statement, I have had sufficient agreement with it to enable me to support the common solidarity with the Palestinians. The problem is that more and more, those who speak in the name of the signatories of the statement have moved away from the values and politics of the statement itself.
To defeat BDS, stop 'fighting BDS'
That's not to say pro-Israel organizations shouldn't mobilize to counter BDS as well, encouraging people to buy Israeli goods, being sure to counter the lies spread by anti-Israel groups, and so on. In fact, it is extremely important to go toe-to-toe with the anti-Zionists at every possible occasion, to never abandon the playing field to them or give them room to influence the public unchallenged. But "activism" is merely the tool, and must be carried by a powerful idea. Efforts to respond to anti-Israel lies, while necessary, are only a side-dish; the meat of pro-Israel advocacy must be the narrative of pure Zionism.
And we must certainly stop defining all of our actions by the other side's terms. Every "anti-BDS" conference, every social media meme screaming "Is THIS an apartheid state?!", is simply pouring fuel on the fire and further perpetuating those very myths.
While many pro-Israel activists have by now grasped the basic concept of being "proactive" instead of "reactive" in the realm of ideas - including some of those who spoke at the UN conference - most fall foul of this point. They shy away from any talking points which cannot be fitted within the liberal consensus, and are positively allergic to any mention of "the West Bank"/Judea and Samaria - which, inconveniently, just so happens to be the cradle of Jewish heritage and civilization in Israel - or, God forbid, anything which sounds too much like "nationalism" (er... Zionism?).
This tendency is in large part a reaction to the hyper-aggressive anti-Israel campaign itself. But the tactic of avoiding the most vociferously-fought arguments as a means of outmaneuvering their purveyors is a humiliating exercise in futility and contributes to the cycle of defeat.
Instead, we must embrace the narrative of Zionism, wholly and without any ifs or buts, and confront "BDS" and every other hateful acronym armed with our own, far more potent, independent narrative.
What Fighting BDS Requires
Yesterday, Israel's Mission to the United Nations hosted an important conference at the world body's New York headquarters about the need to address the threat from the BDS — boycott, divest, sanction — movement that seeks to isolate the Jewish state. The daylong event, which was dubbed "Building Bridges, Not Boycotts," brought together a number of important Jewish groups as well as students and filled the General Assembly Hall. It was an important step for a pro-Israel community, which has at times seemed to lag behind in its responses to the efforts by anti-Zionists to establish a beachhead in this country at universities and Christian denominations after their successes in Europe. But while the effort seems to have been successful, the problems for pro-Israel activists are formidable and go beyond the necessity of arming students and others with the facts about the Middle East conflict and what BDS actually means. The battle is not only with outside forces or about the ability of organizations to work together on behalf of this cause. But perhaps the most question is whether individuals are prepared to summon the will to stand up and have the guts to label BDS for what it actually is: anti-Semitism.
To his credit, that was exactly the theme sounded by Israeli UN Ambassador Danny Danon, who was the driving force behind the conference. He correctly spoke of BDS as "modern-day anti-Semitism" and that it was necessary for people of good will to work to "reveal its true face and put an end to its ideology of hatred and lies." Others echoed that theme. The World Jewish Congress's Ron Lauder said that what BDS was about was an attempt to "deny the Jewish people their right to self-determination" that hid behind a false label of human rights activism. Others spoke of the need to use legal action that takes advantage of non-discrimination laws and university policies that forbid bias to brush back the Israel haters.
All this is highly useful and, if it helps prompt both Israel and Jewish groups to mobilize their resources to put information and materials in the hands of those in a position to directly confront the BDS movement, it will be an important step forward. But I think as laudable as the effort to get more of the organized community behind this effort the real question is about whether Jewish students are ready to confront BDS head on and have the sort of difficult conversations that are inevitable in such a fight.
Report: BDS failing to cause major economic blow to Israel
Despite signs that the international BDS movement is gaining traction in its aim to isolate Israel, a review of the country's foreign capital flow shows that the boycott campaign has failed in regard to the economic gauge, Bloomberg reported Thursday.
While the Boycott, Divestment and Sanctions has strongly focused on dampening commercial ties with Israeli businesses, particularly those over the Green Line, it has reportedly made little economic impact overall.
In fact, the data reviewed by Bloomberg shows that Israel has experienced a steep increase in foreign stake in Israeli companies and banks.
Statistics published by the Bank of Israel reveal that foreign investments in Israeli assets have raised nearly three-fold since 2005 when the Palestinian-established BDS movement launched, hitting an all-time high of $285.12 billion in 2015
"We don't have a problem with foreign investment in Israel -- on the contrary," Bloomberg quoted the Finance Ministry's Chief Economist Yoel Naveh as saying.
IsraellyCool:
McGill Judicial Board Ruling Bans BDS
A McGill University Judicial Board ruling concluded that BDS is "unconstitutional" and banned future votes on BDS as it "violates the rights of [Israeli] students to represent themselves" and discriminates on the basis of national origin.
After BDS was shot down by the student body for the third time in 18 months, the BDS Action Network filed an appeal, claiming the vote was null in void due to Jewish advocacy groups external to McGill telling their supporters to vote against BDS during the campaign period. The Judicial Board, which is run by students, not only shot down the appeal, but, in a historical vote, stated that BDS has no place on McGill's campus and cannot be voted on in the future as it violates Students Society of McGill University's Equity Policy.
This landmark decision happened in the wake of a letter signed by over 150 McGill professors voicing strong opposition to BDS, claiming it creates an atmosphere that is unsafe for Jewish and Israeli students, and singles out Israel unfairly.
The "Vote No" campaign broke the news, commenting that, "For years, members of our student body have been subjected to discrimination at the hands of the BDS movement. This ruling recognizes these unfair conditions and reflects a commitment to end the inequity provoked by BDS."
IsraellyCool:
What Happened When A BDS-Hole Attended An Anti-BDS Conference
Yesterday saw the largest gathering against BDS to date, hosted by the Permanent Israeli Mission to the United Nations at UN Headquarters in New York.
Besides the 1,500 or so pro-Israel activists was at least one Israel hater: Rania Khalek, on assignment for Ali "Abumination" Abunimah.
She was allowed to stay and tweet away.
This is not the first time BDS-holes have attended an anti-BDS conference. In late March, Israel haters Antony Loewenstein, Miko Peled and Dan Cohen attended the Ynet anti-BDS conference in Jerusalem (a conference I also attended).
Loewenstein subsequently wrote up a report for Israel-bashing site Mondoweiss. But again, no-one tried to evict them or got violent – you would have certainly heard about it had that occurred.
An Odor of Intolerance at the Times
It also cannot be overlooked that the Times's choice of language in condemning the desire of Orthodox Jewish women to bathe without men was redolent of anti-Semitic smears. It is impossible to believe their editors would have allowed such a broadside against a different religious minority. Nor is it imaginable that they would have allowed a reference to odor when it came to Muslims or any other minority. Again, the contrast to their praise of accommodating Muslims at a Toronto pool cannot be ignored.
To speak of "the odor" of Jewish influence in New York was at best insensitive by the Times's own standards of sensitivity when it comes to speaking about minorities. At worst, it was, as liberals like to say, a dog whistle for intolerance against a specific group. As Stoll reminds us, recently a Harvard Law student attacked Tzipi Livni, a former Israeli Foreign Minister, by asking why she is so "smelly" prompting a heated controversy the Times chose never to acknowledge in its pages.
Whatever one may think about where the line should be drawn when it comes to a public accommodation of a minority faith, the idea of "smelly Jews" is one that is a staple of anti-Semitic invective. In an era when, as the U.S. State Department has noted, "a rising tide of anti-Semitism" is spreading around the globe, it ill behooves the New York Times to be using that kind of language when virulently attacking one part of what they normally like to refer to as the rich mosaic of a diverse New York.
BBC silent on renewed Iranian funding for PIJ
More recently, in February of this year, BBC News coyly told its audiences that "Iran has been accused of funding militant groups, such as Hezbollah in Lebanon" without providing any relevant background information on the issue of Iranian sponsorship of foreign terror groups.
Also in February, analysis of the results of elections in Iran from the BBC's chief international correspondent Lyse Doucet included the following portrayal of what the BBC described as a win for "reformists":
"This stunning election result will make a difference in Iran's engagement with the wider world."
If Asharq al-Awsat's sources are correct and the Iranian Revolutionary Guard Corps has indeed upgraded ties with its proxy the Palestinian Islamic Jihad, this is obviously yet another example of how the BBC's lopsided promotion of the notion of 'reformists and moderates' in Iran blinkers audiences, diminishing their understanding not only of that country but also of its influence on the Middle East as a whole.
The Herald Scotland and the Gross Abuse of Language
Sometimes anti-Israel media bias is subtle, only apparent when analyzing long-term coverage by a particular news outfit.
Other times, the contempt that journalists have for Israel is obvious. Such is the case with an article in the Herald Scotland by reporter Martin Williams.
The article, about Palestinian photographer Hamde Abu Rahama, denied a visa by the UK, demonizes the IDF:


Campaigners raising money to allow the trip said the journalist vowed to used his camera as his weapon after two cousins were murdered by Israeli Occupation Forces.

His two cousins died after being linked to separate violent clashes protesting Israel's security barrier. Bassem Abu Rahma was killed during a 2009 clash in Bilin; the IDF closed an investigation into his death citing a lack of evidence.
The other cousin, Jawaher Abu Rahma, died from Palestinian medical malpractice, having nothing to do with a 2011 clash, also in Bilin. Palestinians blamed her death on what they said was the IDF's excessive use of tear gas.
Opinions Disguised as News: HonestReporting's 8 Categories of Media Bias, Video#3 of 8
HonestReporting's "Red Lines: The Eight Categories of Media Bias" is a new video series based on our latest E-book. In this series, prominent journalists and media analysts discuss the ways news is often misreported.
In this third segment, the Jerusalem Post's Steve Linde and Gil Hoffman, Dan Diker of the Jerusalem Center for Public Affairs and Ruthie Blum from the Algemeiner discuss the need for reporters to keep their subjective opinions out of news stories.
Forward's Zonszein Should Correct Her Complaint About NY Times Correction
The way Zonszein tells it, she was reading the New York Times article in question and stumbled upon an what she felt was an objectionable reference to the West Bank:
Just two paragraphs in, I found myself reading that Cornel West and James Zogby, two of Senator Bernie Sanders' appointees to the party's platform, have denounced Israel's "occupation" of the West Bank. The word occupation appeared in quotation marks in the sentence, and only that word.
The use of quotation marks, Zonszein protested, could imply that someone at the newspaper does not consider the West Bank to be occupied.
Contrary to the columnist's account, though, The New York Times did not use scare quotes in reference to the West Bank occupation per se. Instead, its original language referred to an "'occupation,'" in quotes, "of the West Bank and Gaza":
Two of the senator's appointees to the party's platform drafting committee, Cornel West and James Zogby, on Wednesday denounced Israel's "occupation" of the West Bank and Gaza and said they believed that rank-and-file Democrats no longer hewed to the party's staunch support of the Israeli government.
In context — context hidden from Forward readers — the reason for the quotation marks is perfectly clear: A New York Times news story should not be declaring the Gaza Strip to be occupied. It can, however, attribute the claim to West and Zogby, which it did. (See more at the Elder of Ziyon blog.)
PreOccupiedTerritory:
It's OK Children, The Media Will Never Accuse Us Palestinians Of Lying (satire)
By Mustafa Mustashi, Ramallah schoolteacher
All right, class, settle down.
I've been hearing a lot of talk lately about lying, about getting caught lying, and the consequences of lying. So I want to make one thing perfectly clear to each and every one of you: the media will never accuse us Palestinians of lying.
You might get the idea from watching or reading the international media, with its claims of objectivity and journalistic integrity, that corespondents and interviewers call out their subjects who make questionable claims, and routinely fact-check statements intended for broadcast or publication, and for the most part, they do – but not when it comes to Palestinian claims about Israel. We can say anything we want, and not be called on it by any mainstream outlet. Not only that, Western governments seldom, if ever, make us face any real-world consequences for lying about Israel. That's right, Ali. You can say the most outrageous things, and it will either go unnoticed, unreported, or unchallenged.
Yes, Subhi, the most outrageous things. Organ harvesting. Medical experiments on prisoners. Genocide. Go ahead, test it. You'll see.
What I'm trying to say, Ahmad, don't interrupt me, is that lying is unacceptable, and don't ever do it, because it will ruin your relationships and your professional life, unless you're lying about Israel, in which case, the more untrue the better.
Energy minister says Turkey deal near completion
Israel's energy minister, considered a close confidant of Prime Minister Benjamin Netanyahu, said Thursday that nearly all outstanding issues for a reconciliation agreement with Turkey had been finalized by both sides.
"I'd say we've successfully finished dealing with 90 percent of the topics," Yuval Steinitz said in a radio interview.
Steinitz's remarks were the latest in a series of statements from both sides implying a deal was imminent to end the rift between the former allies.
The accord would come six years after a deadly May 2010 raid on a Gaza Strip-bound Turkish ship attempting to breach the blockade on the coastal enclave, in which 10 Turkish citizens were killed during a melee with Israeli commandos. The incident led to a nosedive in already tense relations between the two countries. Turkey demanded an immediate apology, compensation for the victims' families and the lifting of the blockade on Gaza before normal relations could resume.
Israel refused and only issued an official apology some three years later. Talks on compensation have reached advanced stages, according to reports, but one of the main hurdles has remained the lifting of the Israeli blockade.
Israeli Food Exports Gain Popularity as Economic Ties Expand in East Asia
As Israel's economic ties expand across East Asia, so does the popularity of the Jewish state's food products.
Costco stores throughout Japan hosted an Israeli food festival last week, featuring pita, matza, Wissotsky teas, Angel cookies, Adafresh spices, Hanasich tahini, and a variety of Israeli wines. The festival was sponsored by the Israel Export Institute and the economic attaché of the Israeli Ministry of Economy office in Tokyo.
"In 2015, the government decided to take steps to strengthen the economic relations between Israel and Japan. The Israeli and Japanese prime ministers held reciprocal visits over the past several years under this framework," Ohad Cohen, exports manager for the Ministry of Economy, told Ynet. "We've seen great interest for Israeli products and technological cooperation from Japanese companies in a variety of fields including the medical, communications, pharmaceutical, and automation fields," he added.
The initial contacts between dozens of Israeli and Japanese companies has led to over $1 million in exports.
Another promising market for Israeli food products is opening in Vietnam, which last week hosted an Israeli food festival in Hanoi and Ho Chi Minh City. The events featured cooking demonstrations by Israeli celebrity chef Ruthie Rousso and others. Israeli dishes prepared at the festival included majadra, musabaha style hummus, fresh pita made on site, malabi with pistachios, and sweet Israeli meatballs made with date honey, Ynet reported.
Poehler, Lyonne find 'Zero Motivation' for small screen
If comic actresses Amy Poehler and Natasha Lyonne bought the rights to Talya Lavie's film "Zero Motivation," does that mean we're in for an updated "Private Benjamin"?
Could be.
Poehler is known for a range of film and TV work, including a long stint on "Saturday Night Live" and TV series "Parks and Recreation," as well as a string of comic movies and voiceover work for several films.
She and Lyonne, who plays Nicky Nichols in the female-led comic prison drama "Orange is the New Black," purchased the rights to the Israeli comedy with BBC America for development as a TV series, reported Variety.
The two would be producing it with "Zero Motivation" filmmaker Talya Lavie and the film's producer, Elon Ratzkovsky. The project also involves writer Tami Sagger, who has contributed to millennial hits "Girls" and "Broad City," (which is executive produced by Poehler).
Students Discover 3,330-Year-Old Egyptian Amulet During Dig in Israel's Galilee
The Tzipori (Sepphoris) village in Israel's Galilee region has revealed its latest archaeological find. On Tuesday, a group of young students participating in an archaeological excavation run by the Israel Antiquities Authority (IAA) at the ancient site discovered an Egyptian amulet that is 3,300 years old.
The object was uncovered at a dig being conducted as part of preparations for creating a new access road. The students who dug up the amulet were among the 350 10th-graders from the ORT Kiryat Bialik high school who have spent this week helping with IAA excavations throughout the Galilee under the auspices of an Israeli Education Ministry program designed to increase youths' connection to their communities and surroundings.
"The excitement over the discovery was immense, and the girls' eyes lit up," said Nimrod Getzov, the excavation's director.
"When I came closer to see what had been found, I was surprised to see that it was an Egyptian amulet, because things like this are usually found in graves. Our excavation focuses on periods that pre-date the amulet, and it's intriguing how it happened to wind up here," Getzov said.
Israel solar guru promises more plants in US, Africa
Israeli solar energy pioneer Yosef Abramowitz will launch Energiya Global Capital's first solar energy power plant in the US, and is aiming to open 10 more overseas projects over the next three years.
Glynn County's $30 million 22.5MW solar field, in the southeastern state of Georgia, will be inaugurated on Friday and will start supplying electricity shortly after that, Abramowitz said.
The field is the second foray outside of Israel for Abramowitz, who has been working to promote the use of solar energy in Israel and around the world. His company's $23.7 million solar field in Africa's Rwanda, set up with his partners, has been supplying over 100,000 people with electricity for over a year, he said.
"Over the next three years we have a pipeline of 10 more projects, mainly in Africa and the southeast US," Abramowitz said in a phone interview. Ethiopia, South Sudan and Burundi are some of the African states in which new plants are planned.
JPost Editorial:
Welcome visitors
Last week, a handpicked group of 26 members of the Missionary Union of the National Baptist Convention of America conducted an educational mission to Israel. The African-American members of the NBCA, a predominately black church, came under the sponsorship of the International Fellowship of Christians and Jews on a mission to help deepen Christian-Jewish ties and black leaders' bonds with Israel.
The NBCA pilgrims are part of the Christian tourists who make up more than 50 percent of Israel's annual visitors. More than 3.5 million people obtained tourist visas to Israel in 2013. The NBCA has about 3.5 million members in more than 8,000 churches. It is the third-largest African-American denomination in the United States after the National Baptist Convention, USA, Inc., and the Church of God in Christ.
"Just being in Israel, in the Holy Land, and walking where Jesus walked, is incredibly inspiring," says Barbara Wright, president of the senior women's division of the NBCA, told JNS.org.
"My faith, as we interpret the scriptures, we identify with the people of Israel as God's chosen people, and therefore we understand that those who bless Israel receive blessings, and those who curse Israel are really fighting against our culture and faith," says A.W. Mays, an African-American Christian leader from Austin, Texas.
The IFCJ has been working for some 35 years to build bridges between Christians and Jews. Last year the fellowship raised $138 million in humanitarian aid for Jews in Israel and around the world, almost entirely from Christian donors.
The greatest story ever told… by emoji
As an ever larger proportion of humanity increasingly communicates via the internet, an anonymous Bible reader has "translated" the world's most-translated book into the unique English shorthand that makes cyber-communications so efficient.
Using Unicode "emoji" icons that will show up on nearly all computer systems, accompanied by common online abbreviations, the iOS ebook — available for reading on iPhones and iPads — runs to almost 3,300 pages.
The book is a project of the Bible Emoji website, which "translates" Biblical verses into "emojis" by substituting certain words, such as "world" or "God," with emoji equivalents.
The Twitter account bills itself as "Scripture for millennials."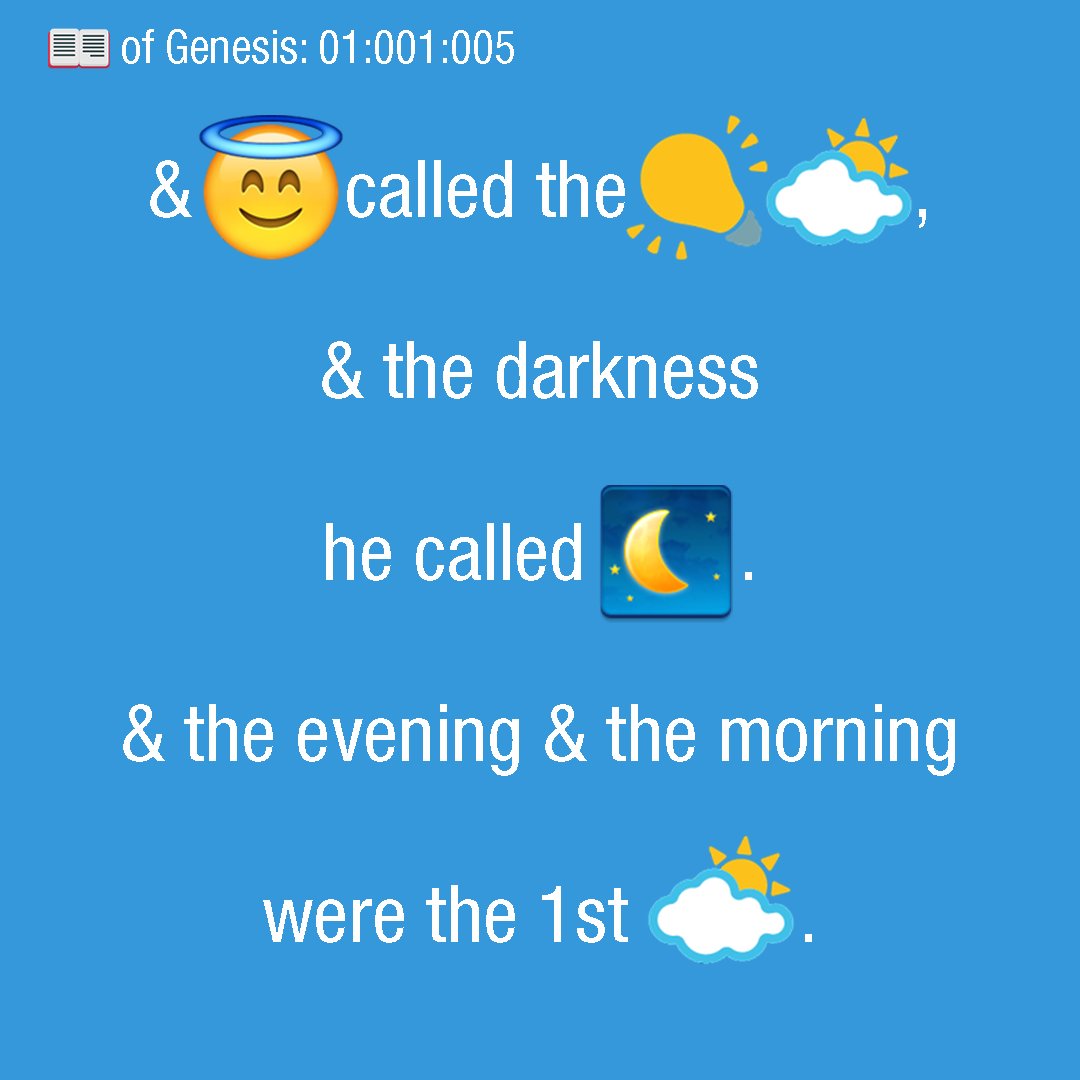 ---
---
We have lots of ideas, but we need more resources to be even more effective. Please donate today to help get the message out and to help defend Israel.