---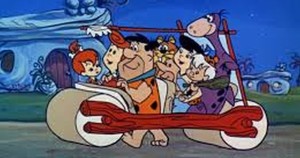 Gaza City, February 2 - The militant Islamist movement that rules the Gaza Strip unveiled yesterday what it called a tank it had developed, and today announced it had entered into a contract with the Flintstone family to provide the vehicle's locomotive power.
Hamas brought its new vehicle to a rally in honor of the seven fighters who died last week when a tunnel collapsed on them, but photographs revealed that the heavy tank treads that normally moved such a mechanized weapons platform were for appearance's sake only: from certain angles, the wheels of an SUV were visible as the true source of the tank's movement. The images quickly became the subject of ridicule by Hamas's rival movement Fatah. A spokesman for Hamas told reporters today that the use of another vehicle to move the tank - made of fiberglass and sewage pipes - was merely a temporary measure in place during the rally, but that in the long term the movement had engaged the services of Fred and Wilma Flintstone and family, who have extensive experience in innovative solutions for the propulsion of vehicles.
"We are pleased to announce that the Flintstones have agreed to take this contract," said Mahmoud al-Zahar. "They have demonstrated for decades that they possess the technical capacity and experience to move heavy vehicles without dependence on fossil fuels, which is obviously an important consideration for us." The Gaza Strip is entirely dependent on imports of gasoline, natural gas, and other fuels from Israel.
The Flintstones did not return a phone call seeking comment today, but former associates of theirs called the hiring by Hamas a smart move. "One of the bedrock assumptions for Hamas must be that in any large-scale conflict with Israel, which has happened with some regularity over the last several years, they're going to be bombed back to the stone age," said William Hanna. "While Hamas's ideology and politics are a perfect fit for the stone age, their dependence on technology has remained firmly in the anthropocene. Recruiting Fred and his family could serve them not only in terms of providing their new tank with a non-fossil-fuel-dependent engine; it can really help them adapt in the long-term to living like cavemen, which seems to be the lifestyle they prefer, both for themselves and the people of the Gaza Strip."
It remains unclear when the contract will begin. A neighbor and friend of Fred Flintstone, who identified himself as Barney Rubble, told journalists that Fred's schedule might prevent him from taking on more than simply moving the tank. "Fred's bowling league nights are basically non-negotiable, I can tell you that," he said.
---
| | | | |
| --- | --- | --- | --- |
| We have lots of ideas, but we need more resources to be even more effective. Please donate today to help get the message out and to help defend Israel. | | | |