From Ian:
---
Is it time for a hostile takeover of UNRWA?
Israel's position, that UNRWA should be dismantled and Palestinian refugees should be treated through the UNHCR along with the rest of the world's refugees, is very good as a longer-term goal, but cannot be expected to materialize in the short term.

Pipes suggests the US continue its funding, but at the same time demand that recipients of US aid who are not among the 20,000 living refugees of 1948 – formally forgo their refugee status. That too is a good idea, but it won't affect UNRWA's daily damage to the future of peace.

A more practical path would be a hostile takeover.

Rather than cut its contribution, the US could actually expand it, then fire the agency's executives, replace them, and review all UNRWA policies and activities.

UNRWA's new executives would then shed its existing textbooks and replace them with entirely new ones, and tell its teachers that to retain their jobs they must declare in writing that they recognize Israel's right to exist, that they believe in peace with it, and that the Jews are a nation as respectable as any other.

Under new management, UNRWA's schools would teach the next generation of Palestinians that the Jews are not the "sons of apes and pigs" that their preachers portray, but the descendants of Moses, who banned murder, idolatry and theft; Isaiah, who envisioned world peace; Amos, who scolded the rich who abuse the poor; and the Sages, who made it law to teach every boy and girl to read and write, and to establish in every community a school – a school of the sort that UNRWA has yet to produce; a school that will teach tolerance, debate and enlightenment; a house of learning, whose graduates will enter adulthood knowing that never since antiquity has there been even one day in which there was no Jewish community in this land, and that th
The Palestinian Terror Party: Celebrating Murder
What do the Palestinians think about the murder of a young rabbi and father of six? They "welcome" it with open arms.

So what if Rabbi Raziel Shevach was said to have maintained good relations with his Palestinian neighbors?

The Palestinians are still happy that he was gunned down last week as he was driving his car in the northern West Bank. They are happy because the victim was a Jew. They are happy because the victim held a religious position: Rabbi. They are happy because the victim was a "settler."

The fact that Rabbi Shevach was the father of six children does not faze the Palestinians one bit.

For them, what is important is that another Jew has been murdered. This meant, for the Palestinians, that his presence in the West Bank also carried religious weight. A rabbi living in the West Bank is emblematic of Jews' historic and religious attachment to the land. For all those reasons, the Palestinians are happy about the murder. Notably, the rabbi's political affiliation is irrelevant. He could be from the most extreme left-wing or right-wing party in Israel – this still would not make any difference. Rabbi Shevach was not murdered because of his political views.

The Palestinian Authority and its leader, Mahmoud Abbas, have thus far refused to condemn the murder. Abbas has been quick to condemn terror attacks around the world, from Russia to France, Germany, Turkey and Egypt. When it comes to the murder of Jews by Palestinian terrorists, however, Abbas and his aides are quick to go into hiding.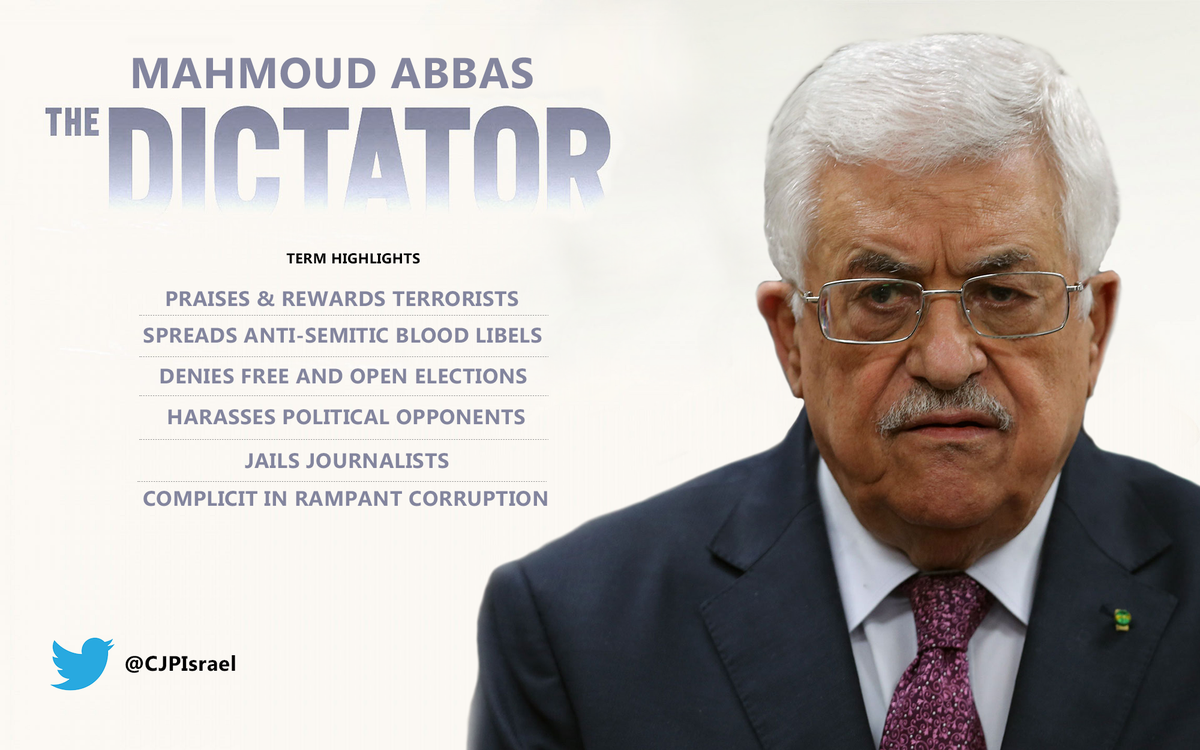 Eyewitness to 1980 Paris Synagogue Bombing Protests Release of Suspect by French Court
An eyewitness to the 1980 bombing of a synagogue in Paris — in which four people died and dozens more were wounded — expressed outrage on Friday at the release of the terrorist allegedly behind the attack.

Shimon Samuels — international relations director of the Simon Wiesenthal Center (SWC) — told French Justice Nicole Belloubet in a letter that the release of the suspect, Hassan Diab, by a Paris tribunal was "a body-blow for survivors and victims families."

Samuels recalled his presence on October 3, 1980, on the corner of rue Lauriston, 150 meters away from the explosion. He had just wished a "Happy Succoth" (Tabernacles) to Aliza Shagrir — wife of the Israeli filmmaker, Midna Shagrir — as she turned into rue Copernic, where she met her death as one of the four street victims of the bombing that also wounded 41 inside the destroyed building.

The following morning, then-Prime Minister Raymond Barre notoriously stated that "a bomb set for Jews killed four innocent Frenchmen."

"The bomb killed a Portuguese postman, a Chinese restaurant waiter, Aliza, and 'an innocent Frenchman,' wounding 41 worshippers inside the synagogue," corrected Samuels.

In 2010, Samuels was present at Diab's extradition hearings in Ottawa, Canada. Based on forensic evidence, Diab was finally extradited to France in 2014.
Trump signs waivers extending Iran nuclear deal, but for 'last' time
US President Donald Trump signed a waiver on Friday keeping the Iran nuclear deal alive, at least for now, saying this would be the last time unless Congress and European countries heed his call to strengthen the deal.

Faced with a deadline over whether to reimpose sanctions against Tehran that were lifted under the 2015 nuclear accord, Trump ultimately decided to keep those sanctions suspended for another 120 days.

"Today, I am waiving the application of certain nuclear sanctions, but only in order to secure our European allies' agreement to fix the terrible flaws of the Iran nuclear deal," Trump said in a statement. "This is a last chance."

"In the absence of such an agreement," he went on, "the United States will not again waive sanctions in order to stay in the Iran nuclear deal. And if at any time I judge that such an agreement is not within reach, I will withdraw from the deal immediately."

If Trump had not signed the waivers, nuclear sanctions against Iran would automatically be reinstated, putting the US in contravention of the deal's terms and likely spelling the end of the pact.
AIPAC cautiously praises Trump for stance on Iran; J Street denounces him
The American Israel Public Affairs Committee said Saturday it "appreciates" Washington imposing additional sanctions on Iranian individuals, as well as President Donald Trump's efforts to address "shortcomings" of the nuclear deal with Tehran.

Trump on Friday grudgingly agreed not to reimpose nuclear sanctions on Iran, but warned that it would be the last time he issues such a waiver.

Instead, he said he wants Washington's European allies to use the 120-day period before sanctions relief again comes up for renewal to agree on tougher measures.

At the same time as the renewed waiver was announced, the US Treasury imposed sanctions on 14 Iranian figures and companies, including the head of the country's judiciary, Sadegh Amoli Larijani.

"AIPAC appreciates the Trump administration's decision today to sanction additional individuals and entities that support Iran's illicit activities and violations of human rights," the pro-Israel lobby said in a statement.

AIPAC also expressed appreciation for the Trump administration's efforts to address the deal's "shortcomings," and called on America's European allies to help fix the the 2015 nuclear deal between Iran and world powers.
Iran threatens retaliation after U.S. nuclear deal ultimatum, new sanctions
Iran said on Saturday it would retaliate against new sanctions imposed by the United States after President Donald Trump set an ultimatum to fix "disastrous flaws" in a deal curbing Tehran's nuclear program.

Trump said on Friday he would waive nuclear sanctions on Iran for the last time to give the United States and European allies a final chance to amend the pact. Washington also imposed sanctions on the head of Iran's judiciary and others.

Russia - one of the parties to the Iran pact alongside the United States, China, France, Britain, Germany and the European Union - called Trump's comments "extremely negative."

The ultimatum puts pressure on Europeans, key backers of the 2015 nuclear deal, to satisfy Trump, who wants the pact strengthened with a separate agreement within 120 days.

While approving the waiver on US sanctions related to the nuclear deal, Washington announced other sanctions against 14 Iranian entities and people, including judiciary head Ayatollah Sadeq Larijani, a close ally of Iran's Supreme Leader Ayatollah Ali Khamenei.

Describing sanctions against Larijani as "hostile action," Iran's Foreign Ministry said the move "crossed all red lines of conduct in the international community and is a violation of international law and will surely be answered by a serious reaction of the Islamic Republic," state media reported.

It did not specify what any retaliation might involve.
Iran vows to pursue ballistic missile development, slams 'irrational' Trump
An Iranian government official on Saturday said that Iran would pursue its ballistic missile program despite US pressure, and slammed US President Donald Trump for his "irrational behavior," calling him the "most hated president in American history."

In an interview on Saturday with the Iranian Students' News Agency (ISNA), an operation partly funded by the Iranian government, the chairman of the Iranian Parliament's national security and foreign policy committee, Alaeddin Boroujerdi, said Iran makes decisions based on national interests and that its ballistic capabilities served as a deterrent.

"Ballistic capability is the only deterrent against enemy threats," Boroujerdi was quoted by ISNA as saying, "after Iran has agreed to have no nuclear weapons and to use no weapons of mass destruction such as chemical and biological weapons, because it is totally against the use of weapons of mass destruction."

The remark comes on the heels of Trump's decision on Friday to sign a waiver on Iranian sanctions, suspending punitive measures for another 120 days and keeping the Iran nuclear deal alive. The US president warned that this would be the last time he does so unless Congress and European countries fix the nuclear deal's "terrible flaws," and heed his call to strengthen it, including incorporating Iran's missile program into the accord.
Did a German diplomat's comment about Israeli 'apartheid' cross a line?
The Central Council of Jews in Germany slammed on Friday Foreign Minister Sigmar Gabriel for describing Israel's policies as an "apartheid regime," suggesting that the top diplomat's remark crosses a line from legitimate criticism into antisemitism.

"If one speaks of Israel as an apartheid state, then that objectively crosses a line; for that, I have no understanding," Central Council of Jews in Germany head Josef Schuster told the Berliner Zeitung when asked whether "it is legitimate for the current foreign minister to criticize Israel's government?"

Schuster was responding to Berliner Zeitung reporter Kordula Doerfler's question on whether it was legitimate for the foreign minister to criticize the Israeli government.

The reporter has previously asked Gabriel where the line is drawn - if he would draw a line at all - between antisemitism and anti-Zionism.

Schuster suggested that, based on Gabriel's comments in the interview, the foreign minister's suggestion that Israel practices apartheid indicates at least a hint of antisemitism.

Multiple Post media queries to Katharina Ziegler, a German foreign ministry spokeswoman, were not immediately returned.

Public Security Minister Gilad Erdan told The Jerusalem Post earlier this month that Gabriel's statement that Israel is reminiscent of apartheid South Africa is "not only totally false, but it also delegitimizes and demonizes the Jewish state. The line between such delegitimization and antisemitism is very thin. It is no surprise that Hamas, an antisemitic organization dedicated to the destruction of Israel, happily tweeted the statement. All those interested in promoting peace and opposing hatred in the region must reject such an outrageous comparison."

Activists from the Boycott, Divestment, Sanctions (BDS) campaign, which Schuster has termed antisemitic, frequently claim Israel is an apartheid state.
British Parliament to debate full ban of Hezbollah as terrorist entity
The British House of Commons is slated to debate on January 25 a ban of the entirety of Hezbollah because of the Lebanese group's terrorist activities.

"Hezbollah is a terrorist organization, driven by an antisemitic ideology, which seeks the destruction of Israel," Labour Friends of Israel director Jennifer Gerber told The Jerusalem Post on Friday. "The British government has repeatedly failed to take action to ban it in its entirety. This debate is intended to increase the pressure on them to do so without further delay or excuses."

MP Joan Ryan, the head of the pro-Israel Labour Party group, worked to obtain the cross-party parliamentary debate on the terrorist proscription of Hezbollah. The Labour Party's leader Jeremy Corbyn has previously called Hamas and Hezbollah his "friends."

According to a statement from Labour Friends of Israel, the group "has long called for the complete proscription of the terrorist group Hezbollah. Currently, the UK only proscribes Hezbollah's 'military wing,' but not its 'political wing.'

The UK's distinction is not one that Hezbollah itself recognizes. Its deputy secretary-general, Naim Qassem, stated in 2009 that the 'same leadership that directs the parliamentary and government work also leads jihad actions in the struggle against Israel.'

"This false distinction means that Hezbollah flags can be flown on the streets of Britain," LFI wrote. "This is most notably seen in London during the annual al-Quds Day parade. Last June, LFI vice chair Louise Ellman wrote to the home secretary, Amber Rudd, calling for Hezbollah's proscription as well as asking London Mayor Sadiq Khan to review the policing of the event. In November, she met with the Metropolitan Police to discuss our concerns."

The US, the Arab League, the Netherlands, Israel and Canada have all designated all of Hezbollah a terrorist organization.

The White House on Friday urged all countries to outlaw all of Hezbollah.
Son of Mumbai terror victims takes off for India
Israeli Prime Minister Binyamin Netanyahu, his wife Sara, as well as Rabbi Shimon Rosenberg and his grandson Moshe Holtzberg will leave Israel for India on Saturday night.

Holtzberg, 12, lost his parents Rabbi Gavriel and Rivka Holtzberg when terrorists brutally murdered them and four others nine years ago on the Chabad House his parents ran in Mumbai.

In the 2008 attack, Pakistan-based Islamist terrorists raided the Chabad House and murdered six people, including Gavriel and his wife Rivka, who was 5 months pregnant. Their two-year-old son Moshe was rescued by his Indian nanny, Sandra Samuel.

During a summer visit to Israel, Indian Prime Minister Narendra Modi met Moshe and his maternal grandparents, emphasizing that the family is always welcome in India and providing the three with the necessary visas.

The trip marks twenty-five years of diplomatic relations between the two countries, as well as six months since Indian Prime Minister Narendra Modi's trip to Israel last year.

Netanyahu will visit Delhi, Mumbai, and Gujarat, and Modi will accompany him during several parts of his visit.
USAID Shifts on Aid to Christians, Yazidis in Iraq
USAID, responding to pressure late last year from Vice President Mike Pence, announced today that it is altering its policies in order to ensure that millions of dollars in U.S. aid appropriated by Congress reaches Iraqi religious minorities.

Pence, during an October speech at a dinner highlighting the plight of persecuted Christians, Yazidis, and other religious minorities in the Middle East and elsewhere, promised that the Trump administration would stop the State Department's "ineffective" relief efforts that directed all the funds to United Nations, which has a religious-blind policy of disbursing the funds to all refugees in Iraq.

"The United States will work hand in hand from this day forward with faith-based groups and private organizations to help those who are persecuted for their faith," he said. "This is the moment, now is the time, and America will support these people in their hour of need."

Two months later, the U.S. Agency for International Development and the United Nations Development Programme (UNDP) agreed to increase assistance to religious and ethnic minorities in Iraq, to enable them to return to their homes in areas liberated by ISIS.

"Following Vice President Pence's remarks in October of last year, USAID renegotiated the terms of its agreement with the UNDP Funding Facility for Stabilization (FFS) so that $55 million of a $75 million payment will address the needs of vulnerable religious and ethnic minority communities in Ninewa Province [also called Nineveh], especially those who have been victims of atrocities by ISIS," USAID announced.
PLO moves to withdraw recognition of, cut ties to Israel
The Executive Committee of the Palestine Liberation Organization (PLO), the umbrella organization that is internationally-recognized as the representative of the Palestinian people, will push to withdraw formal recognition of Israel and end Washington's longstanding role as mediator of the peace process. Instead, the PLO will pursue an "international formula" for achieving statehood. The developments were outlined in a report that aims to redefine not only the parameters for future relations with Israel and the Unites States, but also change the status of the Palestinian Authority from a "transitional authority" to a "state under occupation." The details are intended to be finalized in a follow-up meeting of the PLO mid-month.

The PA was formed as an interim governing body by the 1993 Oslo Accords—signed by then-prime minister Yitzhak Rabin and previous PLO chief Yasser Arafat—and was meant to be dissolved after no later than five years as part of a final peace agreement.

Two-and-a-half decades later, the PLO is now threatening to do just that, which, in its view, would release the Palestinians from political obligations stipulated in agreements with Israel.

According to PLO Executive Committee member Ahmed Majdalani, Israel "didn't commit to any of the terms," thereby effectively absolving the PA of its responsibilities. "I believe we are late in making these decisions and implementing them," he told The Media Line, "which has created a gap between the Palestinian leadership and the Palestinian people."

In this respect, there does, indeed, appear to be a growing chasm between the PA and the Palestinian "Street," with a number of individuals expressing to The Media Line a distrust of Ramallah, the administrative capital of the Palestinian Authority. One businessman, who spoke to The Media Line on condition of anonymity, called on PA leaders to resign, as they are no longer "qualified" to make decisions "that have no impact on the ground."

Another Palestinian, Bashar, noted that PLO leaders have made similar threats numerous times in the past, yet cooperation with Israel, security coordination foremost, remains intact. "They practice double standards," he exclaimed, whereas another person, who asked not to be identified, went so far as to suggest that the PA shares "mutual interests" with "the [Israeli] occupation" and thus cannot be expected to advance the Palestinian cause.
PA 'still in contact' with Trump administration despite vow to cut ties
The Palestinian Authority has retained some contact with the Trump administration, despite vowing to cut off all ties to the US leadership in protest of its recognition of Jerusalem as Israel's capital, the London-based Arabic newspaper Al-Hayat reported Saturday.

The paper, citing Palestinian officials, said that while Trump's peace envoys have been shunned by the PA, diplomatic channels remain open, and were never severed.

According to the report, a US official has been invited to the opening of the Palestinian Central Council summit in Ramallah on Sunday. At that meeting, senior Palestinian leaders will debate responses to Trump's announcement on Jerusalem.

Trump's December 6 recognition of Jerusalem as Israel's capital infuriated the Palestinian leadership, who see East Jerusalem as the capital of a future state they have sought to gain through American-led negotiations.

Trump has said his decision merely recognized the reality that Jerusalem already serves as Israel's capital and wasn't meant to prejudge the final borders of the city.

PA President Mahmoud Abbas has said that after the recognition Americans can no longer play a role as mediators. He is expected to shun Trump's Vice President Mike Pence when he visits Israel on January 22-23.
Hamas says it will not attend Palestinian meeting on Jerusalem recognition
Hamas said Saturday it would not participate in a meeting of Palestinian leaders to debate responses to the controversial US recognition of Jerusalem as Israel's capital.

The terror group's decision not to take part in the meeting set to begin late Sunday is a further setback to failing reconciliation efforts between leading Palestinian factions.

"We have taken the decision not to participate in the meeting of the [Palestinian] Central Council in Ramallah," Hamas said in a statement, but stressed its "commitment to the unity of our people."

"The conditions under which the committee will be held will not enable it to carry out a comprehensive and responsible political review, and will prevent decisions that reach the level of our aspirations," the statement said.

The two-day meeting will bring together the heads of the Palestine Liberation Organization, the internationally recognized representative of the Palestinian people.

Hamas and Islamic Jihad, another Palestinian terror group, were invited to attend despite not being part of the PLO. Islamic Jihad has also announced it would not take part.
Israel planning to increase work permits for Palestinians
The government is likely to approve 7,500 additional permits for Palestinians to work in Israel, a top general said on Thursday.

Some 100,000-110,000 Palestinians currently work in Israel, including 30,000-40,000 laborers without permits, while 30,000 work in West Bank settlements.

"There will probably be an approval of a government [measure] next week, which... would increase the number of work permits by 7,500," according to Maj.-Gen. Yoav Mordechai, who heads the branch of the Defense Ministry that is responsible for liaising with Palestinians.

A security official said the permits would only be granted to Palestinians in the West Bank.

According to the World Bank, unemployment in the West Bank in 2016 stood at around 18%.

Palestinian Authority Labor Minister Mamoun Abu Shahala said that while he has not been officially informed of the probable Israeli decision to increase work permits, he would welcome such a move.
Gaza fisherman shot dead by Egyptian army
A fisherman from the Gaza Strip was shot dead by the Egyptian army overnight for unclear reasons, Palestinians said Saturday, calling for an immediate investigation into the incident.

Medical sources in Gaza said that Abdullah Zeidan, 33, from the Shati refugee camp, was shot in the chest by Egyptian forces near the naval border with Egypt in the south of the coastal enclave.

He was taken to hospital but died early Saturday morning.

Gaza's interior ministry said an initial investigation indicated "the Palestinian fishing boat did not cross the Egyptian [maritime] border."

"We call on the Egyptian authorities to open an urgent investigation into this incident," spokesman Iyad al-Bozum said in a statement.
Jihadist: 16 Palestinian Terrorists Recently Killed Fighting for Islamic State in Syria
Sixteen jihadists from the Gaza Strip have been killed in recent days in Syria, where they were fighting in the ranks of the Islamic State, senior jihadist Abu Abdel Rahman al-Maqdesi told Breitbart Jerusalem.

According to al-Maqdesi, all of the 16 were killed in the Dir ez-Zor Governorate, most of them in American and Russian airstrikes. Three of the 16 were killed fighting Kurdish militias in the region.

Nine of the jihadists were said to have come from the city of Rafah in southern Gaza while others came from Khan Younis, also in the south, and other areas of the Gaza Strip.

Al-Maqdesi said the most prominent Palestinian jihadist to be killed was Rassem Abu Jazar, a former official with the Izz ad-Din al-Qassam Brigades, Hamas' so-called military wing. Abu Jazar left Hamas, joined the jihadists in Gaza, and in 2013 managed to cross into Sinai and make his way to Syria and Iraq, where he fought in the ranks of IS.

Abu Jazar left the Gaza Strip with his family before arriving in Syria. He was one of the first Palestinian jihadists to join the ranks of IS and among the first Hamas officials to do so.
Daphne Anson:
Looking Ahed to a Birthday
In glorious downtown Sydney today, an inglorious combination of ultra-left and Islamic foes of Israel come out to shill for Pallywood's Ahed Tamimi.

To quote an activist:
"Ahed's birthday is on January 31 — and there will be global protests on this day to demand her release from prison."



Ultra-left Senator Lee Rhiannon lends her notoriously Israel-demonising voice to proceedings:

Meanwhile, a ridiculous piece by UCIrvine professor and Israel basher Mark LeVine:
'....Not long after her arrest, the scholar Shenila Khoja-Moolji rightly asked why the world has shown such support for Malala Yousafzai, but not for Ahed. Both are young women who've faced incredible violence and oppression, and both share the same grit and determination. But it's also clear that Ahed is a very different person with a different story. She's suffered less physically, at least so far. But she also didn't have the luxury of being "saved" by her former colonizer. Spirited away to the UK to be healed, given citizenship, given a Nobel Prize. Feted around the world as a symbol of what a Muslim women can and should be. And, of course, Malala stood up to America's mortal enemy, the Taliban, while Ahed is fighting America's darling, Israel. As long as there's no understanding of how close Israel's treatment of Palestinians mirrors the Taliban's treatment of women – no rights, permanent confinement to ever smaller prisons, violence and murder without regard to international law or morality – there's no chance Ahed will ever be seen in the same light as Malala....'
New Jersey Divests From Danish Bank Over Its Support for BDS
One of the biggest victories that American pro-Israel activists have claimed in recent years is the passage of nearly two-dozen state laws meant to counter the Boycott, Divestment, and Sanctions (BDS) campaign against Israel. Anti-BDS measures have been passed in 23 US states, as legislators across the country have proven willing to put the force of law behind their support for Israel. Still, the push for anti-BDS legislation left a coast-to-coast body of statutes that have gone largely untested in reality—at least until last month.

In late December, governor Chris Christie announced that the New Jersey state government had sold off its investments in Danske Bank in compliance with a 2016 anti-BDS law. Danske is Denmark's largest bank, with over a half a trillion dollars in total assets. The bank currently includes two Israeli concerns, Aryt Industries and Elbit Systems, in its list of "excluded companies" whose work violates the bank's social responsibility policies. The bank maintained that prohibiting the investment of its clients' assets in these two companies didn't constitute a boycott of Israel. Still, Elbit mostly makes electronics, and pro-Israel advocates argued that it was the only company with that specialization on Danske Bank's ban list. As of January 2017, the bank's website included an "Areas of Conflict" investment policy that discussed only one issue in any real depth: Namely, the legal status of Israeli settlements in the West Bank.

Whatever the merits, three states didn't buy Danske Bank's argument that it wasn't singling out the two companies simply because they were Israeli. Last year, the bank was added to the Colorado state government's Restricted Company List, as well as to Illinois's Prohibited Investment List. Then, in December, Christie announced that the New Jersey government would sell its shares in the Danish bank, potentially launching the next round of the state-level BDS wars. The Israeli-American Coalition for Action, which had pushed for New Jersey's divestment from Danska Bank, claimed victory. "This is a major win in the fight against BDS, and sends a strong message to companies around the world that are considering engaging in the hateful BDS campaign," the group said in a press release last month. The political fight over BDS laws' passage is over, but after New Jersey's divestment from Danske Bank, both opponents and supporters of Israel now have an idea of what these statutes really mean.
No fact checking in Ireland?
What concentration camps, Mr.Horgan?

Fault-finders of Edward Horgan's 'Standing up for Palestine' in this week's Ireland's Sunday Independent newspaper (print, digital online) and Irish Examiner's reader's blog with slight changes in all three expect to be hit by the standard 'Criticism of Israel isn't antisemitism' cliché.

Well here's a message. Lies aren't criticism.
Here's another message. There are no concentration camps in Israel, Gaza or the Palestinian Authority.

Newspapers employ fact-checkers but nobody bothers when Israel is smeared. Par for the course.

Standing up for Palestine

Is there no filter at the Sunday Independent or the Irish Examiner for letters that stray so far from reality that they cease to be legitimate opinion? 'Standing up for Palestine' by Edward Horgan is a ranting fantasy. It should never have passed the subeditors.

Essentially Standing up for Palestine consists of three ideas.

Firstly that Israel's actions in placing Palestinians in (nonexistent) concentration camps and allegedly in general are equally bad or worse than Nazis in the Holocaust, Britain during the Boer War, internment in Northern Ireland (Britain again – playing to a local audience I guess).

Secondly that Gaza is not simply a concentration camp but the world's largest leading to the plea to Ireland and the European Union to take effective if unspecified action to end the suffering of the Palestinian people.
15-year-old Parisian girl's face cut in antisemitic assault
Days after the suspected torching of two kosher shops near Paris, a Jewish teenager had her faced slashed by an unidentified assailant on a street in the suburb of Sarcelles.

François Pupponi, a lawmaker in the lower house of France's parliament and a former mayor of Sarcelles, on Friday called the assault Wednesday on the 15-year-old alleged victim, who complained to police, "a heinous antisemitic attack."

The alleged victim was wearing the uniform of her private Jewish school, Merkaz-Hatorah, when the attack happened during lunch break Wednesday. She was able to walk home and arrived bleeding and "shocked," her mother told Le Parisien.

The assailant ran away immediately after the assault, the alleged victim said. She did not see his face. The assailant did not say anything before, during or immediately after the assault.

"I have no doubt the perpetrators of this attack had anti-Semitic motives," Pupponi wrote in a statement Friday. "Faced with these acts, we need to abandon pretense and naiveté. In Sarcelles, everybody knows who is a practicing Jew according to the way they dress. Delinquents know it too. When someone slashes a young girl's face with a utility knife, when she is wearing clothes favored by many women from the Jewish community, then there is no room for doubt."
Abe to pay tribute to Japan's Schindler in Lithuania
A Japanese diplomat who saved 6,000 European Jews from the Holocaust by issuing visas to allow them to escape war-torn Lithuania will be hailed by Japan's premier, decades after defying Tokyo to help the refugees.

Prime Minister Shinzo Abe will pay tribute to Chiune Sugihara on Sunday when he visits the two-story building that housed the consulate where he worked in the Baltic state's second city Kaunas.

Sugihara is thought to be among around 15 diplomats who issued visas for European Jews during World War II, and is often called "Japan's Schindler" — a reference to German industrialist Oskar Schindler who is credited with saving 1,200 Jews during the Holocaust.

He was appointed vice-consul in October 1939, one month after the then-allies Nazi Germany and Soviet Union attacked and carved up neighboring Poland.

Japan saw still-independent and neutral Lithuania, which harbored thousands of Polish refugees, as a perfect location for the erudite polyglot Sugihara to collect intelligence about military developments in the region.
Caitlyn Jenner to be awarded 'Champion of Israel and LGBTQ Rights'
Caitlyn Jenner, one of the most famous transgender women in the world today, will be awarded for her life-long support of Israel, as well as her past achievements as an athlete and her present position as an advocate for LGBTQ rights, at the Jewish Values Awards gala on March 8 in New York.

Jenner, who is not Jewish, views Israel as a country that respects gay and transgender rights in a region were people in the LGBTQ community often face extreme persecution and even death.

The World Values Network sees itself as a group devoted to spreading Jewish values in the general culture based on the teachings of Rabbi Shmuley Boteach, who also writes for The Jerusalem Post.

Before transitioning, Jenner won a gold medal in the Decathlon at the 1976 Olympic Games in Montreal.
7 Israeli buildings that will make you stop and stare
The austere "less is more" mantra of architecture in the first half of the 20th century gave way to the postmodern "less is bore" approach that said buildings could be both functional and artistic, even incorporating elements of irony and asymmetry.

While "less is more" defines the famous White City Bauhaus buildings that earned Tel Aviv a UNESCO World Heritage Site designation, the "less as bore" approach in Tel Aviv and other Israeli locales led to structures that have people stopping in their tracks to gawk, grin or gasp.

Are these buildings beautiful or baffling, or both? That's up to you. Beauty is in the eye of the beholder. Let us know what you think about these examples of daring Israeli architecture.

'BUBBLE HOUSE,' NEVE DANIEL
French-born architect and interior designer Ephraim Henry Pavie planned this 10-room, four-story house for his own family in 2007. It's not completely finished because he's always experimenting with the design.
When it comes to Jerusalem architecture, the details make the difference
Inspired by architect David Kroyanker's latest and very comprehensive book – Jerusalem Design, God is in the Details – the Israel Museum in Jerusalem recently came up with an exciting new exhibit about the Holy City. Called Jerusalem in Detail, it offers a fantastic look at the city's rich weave of cultures.

We enjoyed the exhibit immensely, especially since Shmuel has always had an eye for detail. But we also understood that there was an urgency about its creation. Indeed, exhibit curator Dan Handel notes that Jerusalem has an extremely poor record of preservation, unlike the city of Tel Aviv. And although the ceramics, sculptures and exquisite features in the photographs on display have been around for a long time, many will undoubtedly disappear over the next few decades.

We were frustrated, however, with one portion of the exhibit. We didn't recognize some of the details we looked at, and very few of them were photographed in their natural habitat. That inspired us to send Shmuel all over Jerusalem, where he took pictures of details in the city that people simply don't notice and photos that show exactly where they can be found, if they look hard enough. Here are but a few:

The Claremont, 19 Balfour street
Israel's prime ministers and their families reside at 3 Balfour street in Jerusalem, located within the city's exclusive Talbieh neighborhood. But over the years plenty of other important people have lived on the street as well. One of them was Zalman Shazar, who was Minister of Education at the time and eventually became our third president.

Another was Moshe Sharett, Israel's first foreign minister and second Prime Minister. He made his home in a building whose gate pompously features the words: The Claremont, suggesting that it was a hotel (it wasn't). Because the sign is the exact color of the gate itself – blue – it is easy to miss.
Beatles Legend Ringo Starr Gives Shout-Out to Israel in Video Promoting Upcoming Tour
Legendary Beatles drummer Ringo Starr gave Israel a shout-out in a video he released on Friday announcing his upcoming tour.

In the clip, posted on Starr's Facebook page, he talks about his summer tour saying, "We're going everywhere in Europe from Amsterdam to Israel, which isn't really in Europe but that's where we're going."

Starr — accompanied by fellow musicians Greg Rollie of Journey, Steve Lukather of Toto and Graham Gouldman of 10cc — is slated to perform at Tel Aviv's Menorah Mivtahim Arena on June 23 and 24.

The concert will be his first-ever performance in Israel and will make him the second former Beatle to perform in the Jewish state, after Paul McCartney did the same in 2008 with a show at Hayarkon Park.

The show in Israel will feature some of Starr's songs with The Beatles, as well as tunes from his 40-plus year solo career, according to The Jerusalem Post. The concert will take place more than 50 years after the Israel's government barred The Beatles from performing in Israel in 1966 over concerns that the British musicians would negatively influence the Jewish state's youth. The Israeli government later apologized for this action.
This Week in Gal Gadot: Say Huawei…
What to do when you're a Chinese technology company with a name no one northwest of Xinjiang can pronounce? Hire the Israeli actress people still address as Gal Ga-DOUGH.

Huawei, earth's third-largest smartphone (behind you, Apple and Samsung), not only hired Petah Tikva's finest to promote its new Mate10 Pro phone in America, but also appointed Wonder Woman its first CEO, which, to those non-native English speakers among you, stands for Chief Experience Officer. Gadot, a Huawei spokeswoman said in a statement, will have "an active role" in shaping the company's brands.

Meanwhile, Gadot's main brand remains, of course, being a radiant Hollywood star, and, earlier this week, she delivered an award show speech for the ages at the Critics Choice Awards. Accepting the unimprovably named #SeeHer award, which is given to actresses who pushed boundaries in their work, Gadot was inspiring, political, and funny, a rare combination in gloomy and stern Tinseltown these days.

She got her biggest laugh for an anecdote Patty Jenkins, Wonder Woman's director, had shared with her. "Someone told [Patty] that his three year old saw the movie and when the movie ended the boy said, 'when I grow up, I want to be a woman!' As artists and filmmakers I believe that it's not only our job to entertain but our duty to inspire and educate for love and respect."
Ahead of sequel, the Hebrew Hammer pounds Nazis on social media
They say life imitates art — and, if Adam Goldberg's Twitter feed is any indicator, the adage holds true.

Late last year, the actor, along with "Hammer" creator Jonathan Kesselman, revealed that the Hebrew Hammer was coming out of retirement in a new sequel, "The Hebrew Hammer vs. Hitler."

The announcement took the form of a rather politically-charged video featuring a certain US president. After the video's release, a multitude of neo-Nazi trolls took to the internet to spew racist hate speech.

Goldberg viewed this as an opportunity to engage.

"Apparently I'm upsetting anti-Semites, who I guess feel really sensitive about Hitler still," says Goldberg, "which is just kind of fucking weird… I mean, like, fighting Hitler should be pretty non-controversial. You know what I mean? Like, he's not a great person."

While the actor might be only half-Jewish, fortunately for us, he's fully neurotic. His IMDB page is an endless scroll that includes credits for such canonical films as "Dazed and Confused" and "Saving Private Ryan." But in one community, his role as the idiosyncratic superhero Hebrew Hammer is the most prized.

Goldberg predictably entered into the part with some ambivalence. His own personal identity politics made him unsure if he could ever really play this particular hero — or if he even wanted to embrace any cultural identity exclusively.

But in true Jewish fashion, Goldberg found a rationale he could live with.
The Hebrew Hammer is Back: Make America Kosher Again! (#MAKA)
---
---
We have lots of ideas, but we need more resources to be even more effective. Please
donate today
to help get the message out and to help defend Israel.