From Ian:
---
Terror victim Raziel Shevach remembered as unique, kindhearted man
Rabbi Raziel Shevach, slain in a West Bank terror attack Tuesday night, was remembered by friends and acquaintances as a goodhearted family man who was a central figure in the local settlement community and in his home of Havat Gilad.

"He was a very special person," said friend Yehuda Hass, who volunteered with Shevach as a medic in Magen David Adom. "Just recently he received a citation for his work in the organization. He was the unofficial rabbi of Havat Gilad."

The 35-year-old father of six was also a rabbi in a yeshiva and a mohel.

"He was a very well known mohel here…in the area, entirely as a volunteer," Hass told the Ynet news site. "He was a great man with a great heart."

Shevach was shot dead Tuesday while driving down a highway near his home in the outpost outside Nablus. Israeli security forces were searching for the perpetrators.

His funeral will be held at the Havat Gilad outpost at 1 p.m. Wednesday.

Ashkenazi Chief Rabbi David Lau also released a statement in which he said he was heartbroken by Shevach's death. He described him as a "unique, affable and rare character" who "devoted his life to saving lives, teaching Torah and safeguarding Judaism in the Land of Israel."

The head of the local settler council, Yossi Dagan said "residents of Samaria and all of Israel grieve this terrible loss and embrace the family and the orphaned children."

Dagan called Shevach a central figure in the region, "a man of grace, a man of Torah and a friend. All who knew him loved him, and loved him deeply."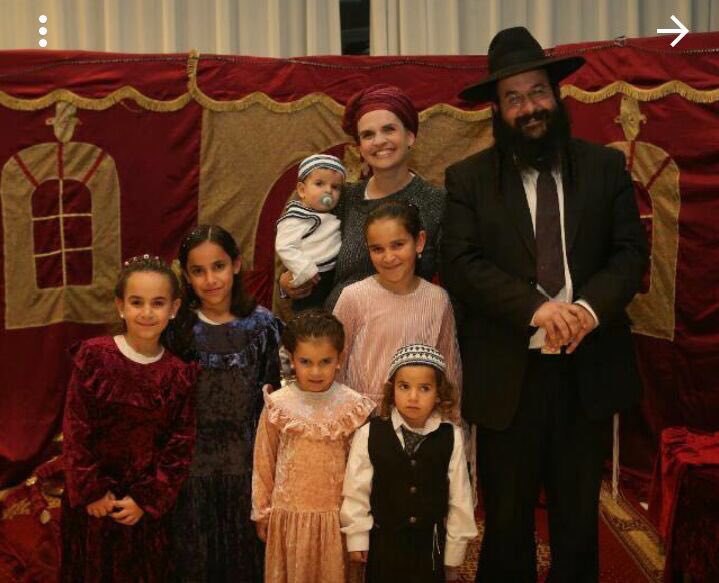 Frustration boils into calls for revenge at funeral of slain rabbi
Irate and mournful, hundreds of mourners attended the Wednesday funeral of a rabbi who was slain by terrorists in a drive-by shooting attack in the northern West Bank, eulogizing the father of six and calling for revenge.

A large group of mourners shouted down Education Minister Naftali Bennett as he concluded his eulogy for Raziel Shevach at the Havat Gilad outpost, where the victim lived.

As dozens of hecklers chanted "revenge," Bennett attempted to calm the crowd by saying that "the only revenge is to keep building."

Not appeased, the chants only grew louder, with one yelling that the minister, the head of the Jewish Home party, was "all talk."

"Your name should be blotted out," one mourner yelled out, using a Hebrew phrase usually reserved for especially villainous figures.
Rabbi Raziel Shevah was murdered in a drive-by shooting tonight. Per Palestinian Authority law, the PA will likely pay his killer five times the average salary for a Palestinian for the rest of his life, to reward him for making this woman a widow and these children orphans.

pic.twitter.com/mLxwRBr7cP

— Lahav Harkov (@LahavHarkov) January 9, 2018
Last night's victim of Palestinian terror was a 35-year-old rabbi, a first responder who no doubt treated many Palestinians over the years. He was also a father of 6 young children. Anyone who thinks this murder will advance peace or a Palestinian state understands nothing.

— Michele Chabin (@MicheleChabin1) January 10, 2018
US ambassador: Palestinian endorsement of terror is why there's no peace
US Ambassador David Friedman said in a tweet Wednesday that those wondering why there is no peace should look no further than Tuesday nights murder of Raziel Shevach and the Palestinian reaction to it.

"An Israeli father of six was killed last night in cold blood by Palestinian terrorists. Hamas praises the killers and PA laws will provide them financial rewards," he wrote on his Twitter account. "Look no further to why there is no peace. Praying for the bereaved Shevach family."


An Israeli father of six was killed last night in cold blood by Palestinian terrorists. Hamas praises the killers and PA laws will provide them financial rewards. Look no further to why there is no peace.
Praying for the bereaved Shevach family.

— David M. Friedman (@USAmbIsrael) January 10, 2018



Friedman has some 61,100 followers on his twitter account.

Deputy Foreign Minister Tzipi Hotovely responded to Friedman with a tweet of her own, saying, "Dear Ambassador Friedman, we deeply appreciate your solidarity with Israel. We value your partnership in the fight against terror and your understanding that the Palestinian Authority's support of terrorists lies at the root of the problem."
PMW:
Fatah celebrates "a killed settler"
Only a few hours after Palestinian terrorists shot and murdered an Israeli man in a drive-by shooting near Nablus, Fatah glorified the murder in a post on Facebook, which presented the attack as a successful "operation" measured in figures:

Posted text:
"The Nablus operation in numbers:
The full duration of the operation: 30 seconds
The distance between the cars: 20 meters
The number of bullets that were fired: 22
The one who carried out the operation was skilled and experienced, and escaped the site
The result: a killed settler"
[Official Fatah Facebook page, Jan. 10, 2018]

The PA often refers to all Israelis and even tourists killed in terror attacks as settlers. For example, when American Taylor Force was murdered by a terrorist in Tel Aviv, PA TV news categorized the 11 injured Israelis and Taylor Force as "settlers."

Official PA TV reporter: "A complex operation was carried out in Jaffa, or more precisely in the Jaffa port, by the Martyr (Shahid) - according to Hebrew sources and sources in Qalqilya - Bashar Masalha, 22... in which 12 settlers were hurt, among them an American tourist who was killed, according to the Hebrew sources." [Official PA TV, March 8, 2016]

Yesterday, Palestinian Media Watch reported on attempts by the Palestinian Authority to incite terror. Possibly, the shooter was influenced by these and other messages calling for terror against Israel.
PA TV and PA radio rebroadcast Abbas' terror promoting speech from 2014
PA TV reuses song from 2000 calling for terror: "Draw your sword... let it not return"
Hamas blesses shooting attack against rabbi, calls it 'heroic'
Hamas on Tuesday praised a shooting attack near Nablus in which 35-year-old Rabbi Raziel Shevach was killed, calling it "heroic."

Shevach, who was a resident of an illegal West Bank outpost, came under fire on Tuesday evening while driving his car past the Havat Gilad Junction, according to the IDF. He later died at a hospital in Kfar Sava.

"Hamas blesses the heroic Nablus operation that comes as a result of the Zionist occupation's violations and crimes at the expense of our people in the West Bank, Jerusalem and the al-Aksa Mosque," Hamas Spokesman Fawzi Barhoum said in statement posted on the Islamist group's official website.

After US President Donald Trump recognized Jerusalem as Israel's capital and initiated the relocation of the US Embassy in Tel Aviv to the holy city in early December, Hamas Politburo Chairman Ismail Haniyeh called on Palestinians to launch a "new intifada" against Israel in the West Bank and Jerusalem.

Barhoum added that the shooting attack is "an affirmation that our Palestinian people's compass is Jerusalem and the al-Aqsa Mosque and that its choice is the resistance."

Hamas frequently praises attacks against Israelis and the IDF.
How Israel Contributes to the Security of Every NATO Country
Prime Minister Benjamin Netanyahu told NATO member state ambassadors to Israel on Tuesday that there "are important areas where Israel contributes to the security of every single NATO country."


"We have, through our intelligence services, provided information that has stopped several dozen major terrorist attacks, many of them in European countries. Some of these could have been mass attacks, of the worst kind that you have experienced on the soil of Europe and even worse, because they involve civil aviation. Israel has prevented that, and thereby helped save many European lives."
"The second assistance that Israel has given to Europe and NATO has been the prevention of the establishment of what I call 'ISIS West' in the Sinai. As ISIS is contracting and is being destroyed in Iraq and Syria, it is trying to establish an alternative territorial base in the Sinai. Israel is contributing to preventing that in myriad ways, and in general I would say that Israel is the most powerful indigenous force in the Middle East that fights radical Islam."
"[Iran] is, as Kissinger said, a cause, not a country. And the cause is worldwide domination under their brand of Islamic militancy....They have designs on all of us. Iran is dangerous because this radical ideology seeks to acquire nuclear weapons. The first task is to prevent them from acquiring nuclear weapons."
"As part of Iran's plans of conquest and colonization of Syria, they want to bring in as many as 100,000 Shiites, Shiite fighters, imported into Iran - non-Iranians under Iranian command."
"If Iran realizes its goal of bringing in 100,000 Shiite fighters into Syria, this will reignite the same conflict and you'll have the son of ISIS and the grandson of al-Qaeda that will be fighting this new Shiite force. Where will the spillover happen? In Europe. Where will the human flow go? To Europe. Who's preventing that right now? Israel....This is a common interest that we have with NATO."
"An attack by radical Islam from whichever direction on any of our democracies is an attack on all our democracies. This is not merely a statement of abstract principle, this is simple truth."
PM said to tell NATO: 'Real possibility' Trump will nullify Iran deal
Prime Minister Benjamin Netanyahu on Tuesday reportedly warned ambassadors from NATO countries that there is a "real possibility" US President Donald Trump will cancel the Iran nuclear deal this week.

"President Trump has to make a decision this week," Netanyahu said at a Jerusalem luncheon, according to a Channel 10 news report. "You have to understand that there is a real possibility that he will work to cancel the nuclear agreement. If you do not act to amend the agreement, then Trump may cancel it."

Channel 10 also quoted a source as saying Netanyahu sent a similar warning to German Chancellor Angela Merkel, French President Emmanuel Macron, and British Prime Minister Theresa May last week.

Netanyahu also told the envoys that Israel would not allow Iran to take control of Syria.

"We are absolutely committed to preventing Iran from forming such a base, a military base in Syria, and we back our words with action," he said.
Iranian Official Says Country Could Greatly Increase Uranium Enrichment
Iran's atomic energy agency said on Wednesday a reimposition of sanctions by the United States would be a violation of Tehran's nuclear deal with world powers, adding that the Islamic Republic had the capacity to greatly increase its enrichment of uranium.

US President Donald Trump must decide by mid-January whether to continue the suspension of American sanctions on Iran's oil exports under the pact, which eased economic pressure on the Tehran regime in exchange for limits on its nuclear program.

"If the suspension is not continued it's a violation of the (nuclear deal) and the Islamic Republic of Iran will, of course, take the necessary actions," Behrouz Kamalvandi, spokesman for the Atomic Energy Organization of Iran, said in an interview with state TV.

He did not specify what such actions might be. Later in the interview, he said: "The capacity exists within the atomic energy agency to speed up nuclear work in various fields, particularly in the field of enrichment, which can be increased several times more than in the period before the nuclear agreement."

Enrichment, a process which can produce weapons-grade uranium, is restricted under the terms of the deal. Supporters of the pact insist that strong international monitoring will prevent Iran from developing nuclear bombs. Iran has denied that it wants to acquire nuclear weapons.

"The American government should think wisely," Kamalvandi said in the interview. "Even though they have shown until now unfortunately that they are not thinking or acting wisely."
Mossad Chief Confirms Israel Has 'Eyes and Ears' in Iran
The head of Israel's Mossad intelligence agency, Yossi Cohen, on Tuesday confirmed that Israel has active agents in Iran and warned of the Islamic Republic's aggressive military expansion throughout the region.

"The Iranians are spreading across the Middle East with a vast array of forces, and there is little holding them back," Cohen said during a meeting at Israel's Finance Ministry.

Iran is on course "to realize its dream of creating what almost amounts to a land and air bridge allowing them to dump troops across the Middle East," he said, adding that Israel is monitoring the Iranians closely from abroad and from within Iran.

"We have eyes and ears, even inside Iran," Cohen said.

Commenting on the ongoing mass demonstrations in the Islamic Republic that began during the final days of 2017, the Mossad chief said, "The average Iranian citizen went out to protest due to the economic situation, and the expectation that President Hassan Rouhani would improve the economy. That's what's brought them out to the streets."

"We don't need to start speculating, even though I would, of course, be very happy to see a social revolution in Iran," said Cohen. "That's something that could perhaps happen in the future."
Berlin warns Iran not to spy on Israel on German soil
Berlin on Tuesday summoned Iran's ambassador to Germany to warn Tehran against spying on individuals and groups with close ties to Israel, calling such acts an unacceptable breach of German law.

The move came after the March conviction of a Pakistani man for spying for Iran in Germany went into force.

Mustufa Haidar Syed-Naqfi was convicted of gathering intelligence on Reinhold Robbe, the former head of the German-Israel Friendship Society, and an Israeli-French economics professor in Paris, for Iran's Revolutionary Guards.

The Foreign Ministry summoned Iranian Ambassador Ali Majedi just before Christmas to deliver the rebuke once the German constitutional court rejected his appeal. The meeting took place on Dec. 22 but was not disclosed until now.

"Spying on people and institutions with special ties to the State of Israel on German soil is an egregious violation of German law," a ministry official said.

The official said Philipp Ackermann, acting director of the Foreign Ministry's political section, had told the Iranian ambassador that "such activities would not be tolerated and were completely unacceptable."
Arab League to Hold Meeting on Jerusalem Next Month
The Arab League will meet on Feb. 1 to discuss how to counter US President Donald Trump's move last month to recognize Jerusalem as Israel's capital, Egypt's state news agency MENA said on Wednesday.

Six Arab foreign ministers who met in Amman last week said Arab states would embark on a diplomatic drive to persuade the United Nations to recognize a Palestinian state with eastern Jerusalem as its capital.

Arab foreign ministers said in an emergency meeting held following Trump's decision on December 6 that the move would spur violence throughout the region. They described Trump's announcement as a "dangerous violation of international law" which had no legal impact.
Jewish sites in Tunisia firebombed amid social unrest
A Tunisian Jewish neighborhood was firebombed overnight Tuesday amid protests in the country over rising costs and government austerity, members of the community said.

"There was a failed attempt to burn down a synagogue in the Jewish Quarter of Djerba through the use of Molotov cocktails, but thank God, no one was hurt and security and civil protection are now doing their duty," Elie Trabelsi, the son of the synagogue's president, Pérez Trabelsi, wrote on Facebook.

The Tunisian news outlet Erem quoted a security official as saying "unknown assailants in a vehicle threw firebombs at the Jewish prayer site at the center of the neighborhood on the Island of Djerba, in an attempt to burn it down."

The security source added that the fire was contained within a small portion of the site.
Sweden Tolerates Muslims Chanting To Kill The Jews, But Protests Defunding Of Anti-Israel U.N. Organization
On Tuesday, the Swedish ambassador to the United Nations moaned about the Trump administration's plans to review funding for the United Nations Relief and Work Agency (UNRWA), an organization that has been vehemently anti-Israel for its entire existence.

As Hillel Neuer, the executive director of UN Watch, pointed out, the Swedish government hasn't seemed to care about anti-Semitism from Muslims targeting Jews in Sweden:

The Swedish ambassador, Olof Skoog, complained, "My concern (is) that as we talk about region stability, withdrawing funding for UNRWA would be very negative both in terms of humanitarian needs of over 5 million people but also of course it would be destabilizing for the region."

The United States, the largest donor to UNRWA, had given almost $370 million as of 2016, according to the organization's website. U.N. Ambassador Nikki Haley has warned that future American funding for UNRWA is under review. Israeli Prime Minister Benjamin Netanyahu has called for UNRWA to be dismantled.

UNRWA hates Israel so much that the agency took the picture of a young Arab girl standing amid rubble in Syria in late January 2015 and used the same picture in June 2017 to pretend the girl was a young girl in Gaza oppressed by the Israelis.
IsraellyCool:
Lawyer Challenging Guatemalan Jerusalem Embassy Move A Real Israel-Hating Piece of Work
A Guetamalan lawyer by the name of Marco Vinicio Mejia is challenging his country's decision to return their embassy to Jerusalem.

What is not being reported in the mainstream media is how Marco Vinicio Mejia does not just oppose Jerusalem as Israel's capital, but Israel existing at all – as evidenced by an article he wrote a few months ago (auto-translation follows):

The Guatemalan Ambassador to the United Nations, Jorge García Granados, who was also a member of UNSCOP (United Nations Special Committee on Palestine), issued the first vote in favor of the partition of Palestine. Guatemala was the first country to recognize the State of Israel, after the 1947 vote. In 1956, Guatemala was the first country to open an Embassy in Jerusalem and García Granados was the first ambassador. A century later, the State of Israel extended its borders to almost the whole of Palestine, building thousands of illegal settlements of Jewish settlers and applying repressive actions against the civilian population in the Gaza Strip and in the occupied West Bank.

Even in the most adverse circumstances, stripped of their lands, expelled from their homeland, murdered, imprisoned, deprived of their basic means of existence and disseminated throughout the world, the Palestinians do not cease in their struggle to establish the Palestinian State, sovereign and independent , with the borders they had before 1967, and with their capital in East Jerusalem.

Note how he also mentions how the "Palestinians do not cease in their struggle to establish the Palestinian State" – making no reference to their endless campaign of terrorism and bloodshed.

His Facebook profile also reveals an obsession with the palestinians, especially 'Shirley Temper' Ahed Tamimi, and reinforces his view that all of Israel = Palestine.
China scraps travel advisory in place since Trump's Jerusalem move
The Chinese Foreign Ministry removed a travel advisory this week on travel to Israel that was put in place a month ago immediately after US President Donald Trump's recognition of Jerusalem as Israel's capital.

Gilad Cohen, the Foreign Ministry's deputy director-general for Asia and the Pacific, announced the move at a news briefing on Wednesday where he was discussing Prime Minister Benjamin Netanyahu's upcoming visit to India.

Cohen said the Chinese travel warning was one of a number of travel advisories that were issued after Trump's move, and hurt Israeli tourism and business.

Some 122,500 Chinese tourists came to Israel in 2017, a 45% increase from the 85,500 who arrived a year before, and a whopping 530% increase from five years ago, when only 19,500 Chinese tourists visited the country.

Fearing that the Chinese travel advisory would hurt this trend, intensive Foreign Ministry efforts took place to get China to scrap the warning.
Transportation minister: Jerusalem-Tel Aviv fast train to launch by Passover
Transportation Minister Israel Katz said Tuesday the much-anticipated fast train between Tel Aviv and Jerusalem would launch at the end of March, ahead of the Passover holiday.

The train will initially run once per hour on a single line, gradually increasing to six trains each hour on two tracks between the cities.

For its first three months, travel on the route will be free of charge, Hebrew media reported.

"This Passover, we will make it possible for multitudes of Jews to travel to Jerusalem," said Katz. Passover in 2018 begins on the evening of March 30.

Katz is expected to make a test run with the newly installed electric engine next week, Hadashot news reported.

The Tel Aviv-Jerusalem rail project, which is projected to cost an estimated NIS 7 billion ($1.8 billion) and has been in the works since 2001, will cut travel time down significantly from the 78-minute ride on the old line built during the days of the Ottoman Empire.

When fully operational, the trains will reach speeds of up to 160 kilometers per hour (100 miles per hour), carrying up to 1,000 passengers each.
Political Activist Abdel-Halim Qandil: Egypt Deceived Israel, Used Terror as Pretext to Send Forces to Sinai Demilitarized Zones

pic.twitter.com/ilByYnZHFs

— MEMRI (@MEMRIReports) January 10, 2018
PreOccupiedTerritory:
Left-Wing Pols Wish They Had Hostile Press To Attack, Blame (satire)
Members of Israel's political Opposition and adherents of parties or ideologies at odds with the governing right-wing coalition expressed resignation today over the fact that the mainstream media support the Opposition, thus depriving the Left of the ability to secure electoral advantage by painting itself as victims of a hostile press.

Leaders of Meretz and the Zionist Union alliance between Labor and HaTnua joined several members of the Joint List in commiserating over the situation, which they characterized as hurting their chances of deposing Prime Minister Binyamin Netanyahu in the next elections, scheduled to take place no later than next year. If the media do not begin antagonizing the Left, they worry, and reserve all their skepticism and vitriol for Netanyahu and his allies, unseating the right-wing from several consecutive terms in power will prove all but impossible.

"We've tried everything," fumed a frustrated Tzipi Livni, founder and Chairwoman of HaTnua. "From engaging in the same behavior as our ideological opponents to embracing short-sighted, destructive policy platforms – in other words, everything we accuse Likud and the Right in general of doing – but the journalists and commentators of the main media outlets just ignore it, excuse it, or explain it away. How are we supposed to generate enough popular outrage and resentment at being on the receiving end of hostile criticism, and then parlay that into votes?"
ISIS Sets Its Sights on Gaza
There is nothing more delightful than watching two Islamic terror groups fight each other to the death. For several years now, Hamas in the Gaza Strip and ISIS in Sinai have been cooperating with each other, especially in smuggling weapons and terrorists over the border between Egypt and the Gaza Strip. It was a win-win: Hamas supplied ISIS with terrorists; ISIS supplied Hamas with weapons that were smuggled into the Gaza Strip.

It appears, however, that the honeymoon between the two terror groups is over.

Last week, ISIS published a video documenting the execution of one of its men after he was found guilty of smuggling weapons to Hamas in the Gaza Strip. The execution of Musa Abu Zmat, a former Hamas terrorist who fled the Gaza Strip to join ISIS, took place in Sinai.

In the video, the ISIS terrorists accuse Abu Zmat of being an "apostate" for smuggling weapons to Hamas's armed wing, Ezaddin Al-Qassam, in Gaza. They also accuse Abu Zmat of smuggling dozens of people from Al-Arish, in the Sinai, into the Gaza Strip.

The ISIS terrorist who carried out the execution by a single shot to the head has been identified as Mohammed Al-Dajni, who is also from the Gaza Strip but fled to Sinai to join ISIS. Al-Dajni's father, Abu Rashed, is a senior Hamas official who previously held a top position in the health services in the Gaza Strip.

Another ISIS operative who appeared in the execution video has been identified as Abu Kathem Al-Makdisi. In the video, Al-Makdisi is referred to as a "sharia judge." He is the one who read out verdict against Abu Zmat before the execution. Al-Makdisi also condemns Hamas in the video and calls on Palestinians in the Gaza Strip to join ISIS.
JCPA:
Palestinian Capital in Abu Dis or Ramallah?
Palestinian Pragmatism Required

The Trump administration has been holding indirect contacts with the PA to soften its opposition to the president's declaration. The more the Arab countries downplay the issue, the more the Palestinian leadership will realize that it is standing alone on the matter. At the moment there is no Arab conference on Jerusalem on the agenda, and the discussion might only be renewed at the Arab summit conference in Saudi Arabia in March 2018.

In addressing the status of Jerusalem, Trump's declaration touched upon one of the red lines for Israel and the Palestinians. Yet, Arab leaders did not fall off their chairs. There has been no real change on the ground, and the administration has conveyed messages to the PA that if the Palestinians return to the negotiating table, it will be prepared to discuss the boundaries of east Jerusalem.

At the moment Abbas is taking a harder line on the Jerusalem issue than Yasser Arafat took. Abbas has already passed the age of 82, and the countdown for the end of his political career has begun.

It is possible that his successor will show greater pragmatism and accept a long-term interim agreement, spanning 10 to 15 years, which will skirt the most difficult issues of the permanent settlement. If so, Abu Dis and Ramallah may become relevant once again to an Israeli-Palestinian settlement.
Analysis: The message behind Israeli action in Syria
Prime Minister Benjamin Netanyahu told NATO-country ambassadors he met in Jerusalem on Tuesday that Israel is "absolutely committed" to preventing Iran from establishing a military base in Syria.

Coming just hours after Syria accused Israel of three early morning strikes against a military installation northeast of Damascus, his comments carried additional weight.

Iran, he said, is dangerous because it is "trying to establish an empire, a territorial empire from Tehran to Tartus in the Mediterranean, enveloping the Middle East also from the south through Yemen, eventually conquering the Middle East. This is what Iran is about.,"

He continued: "We are absolutely committed to preventing Iran from forming such a base, a military base in Syria, and we back our words with action."

Over the last few weeks, however, Netanyahu's government has come under fire from domestic critics for being more words than action, loudly threatening the Iranians and Hezbollah, even as Iran was making significant inroads into Syria.

Tuesday morning's reported IDF actions, coming in the wake of a series of security cabinet discussions in recent days about the volatile situation in the north, shows that Israel is willing to back up its threats, and that it is more concerned with the strategic weapons Iran is interested in introducing on Israel's northern border and transferring to Hezbollah, than the physical presence of Iranian advisors, soldiers or Shiite militias inside Syria.

According to opposition media in Syria, the targets of Tuesday's attacks was a base where long-range missiles were stored.

Several killed in blast at Syrian weapons depot
A blast rocked a Syrian weapons depot, killing several people and causing damage, a Syrian watchdog group said Wednesday, a day after Israeli jets reportedly struck an arsenal near Damascus.

Syrian army regulars and fighters belonging to pro-regime militias were killed or injured in the explosion, the Syrian Observatory for Human Rights reported Wednesday.

The Britain-based group did not say how many people had been killed or hurt in the blast, which occurred near the city of Slinfah.

The blast, whose cause remained unclear, could be heard around the whole region of Latakia in western Syria.

The area is considered the power base for Syrian President Bashar Assad, and is home to a number of military installations. Russia also maintains a military presence in the area.
Syria complains to UN about Israel
Syria on Tuesday filed a complaint with the UN against Israel's "aggressive attitude", following an airstrike outside of Damascus for which Syria blamed Israel.

In the letter, which was quoted by Yediot Aharonot, Syria warned that Israel's actions will lead to a regional "conflagration" and complicate matters in the Middle East.

"Israel's aggressive attitude will lead to a regional conflagration and further exacerbate the situation. This is in order to support terror and perpetuate the occupation of Arab lands," read the letter that was delivered to UN Secretary-General Antonio Guterres and the chairman of the Security Council.

"The repeated Israeli strikes on Syria will not succeed in protecting terror organizations of Israel's that are used as its agents, with the heads being ISIS and the Al-Nusra Front," the letter charged.

"Moreover, it will not succeed in diverting the Syrian army from making achievements in the struggle against terror across the country, and recently in the Idlib and Quneitra localities," it continued.
Turkey to complete wall on Iranian border by spring 2019
Turkey has completed more than half of a 90 miles (144 km) wall on its border with Iran and will finish it next spring, the firm building the barrier said, as Ankara secures its frontiers from smuggling, illegal immigration and militant infiltration.

State housing developer TOKI, better known for low-cost, high-rise apartment blocks in Turkey's major cities, has also been building a wall on the border with northern Syria where Kurdish fighters and hardline Sunni jihadis hold territory.

"We started this (Iran wall) in the summer, but the season is very short here. Currently, 49 miles of this 90-mile wall has been completed, and when seasonal weather conditions permit, God willing, we will have finished by next spring," TOKI President Ergun Turan told Reuters.

President Tayyip Erdogan said last year Turkey would build walls along its border with Iraq and part of the border with Iran similar to the nearly completed one on its longest border, with Syria.

The wall with Iran, which will stretch along the northern third of Turkey's Iranian frontier, aims to prevent smuggling and infiltration by Kurdistan Workers Party (PKK) militants, Turkish officials have said.
Israel boy scout shirts in Saudi Arabian store stir frenzy
The recent discovery of Israeli boy scout shirts in a commercial shop in the southern Saudi Arabian city of Jizan has sparked outrage, with some erroneously believing the garments to be Israeli "military uniforms."

According to a report published by the Saudi news site Akbaar24 on Sunday, an unnamed Saudi citizen who had purchased an Israeli boy scout shirt made an official complaint to the Saudi Ministry of Commerce after realizing the shirt had Hebrew writing and an Israeli flag sewn on it.

The discovery of the Israeli shirt led some on Arabic social media to call for stricter regulations at clothing shops in Saudi Arabia.

The official spokesman of the Saudi Ministry of Commerce, Abdulrahman Al-Hussein, said the complaint about the Israeli clothing had been received by the ministry, and said the regulatory authorities "are called to complete the procedures and the imposition of systematic penalties."

Some on social media expressed worry the shirt was actually Israeli military attire.
The CIA arranged an affair for a king that produced a dwarf, and then things got weird
You just can't make this stuff up.

The CIA introduced King Hussein of Jordan to a Jewish B-list Hollywood actress in 1959 — touching off an affair that produced a dwarf love child who later killed her, reports say.

Sensational new details of the king's relationship with actress Susan Cabot were revealed in a recently declassified government memo, according to USA Today.

The CIA was bucking to curry favor with the randy young Mideast leader when it agreed to procure women for him during his visit to Los Angeles in April 1959, the three-page document shows.

Hussein was 24 and had divorced his first wife about two years earlier.

The young king "was especially desirous of female companionship during his Los Angeles visit, and it was requested that appropriate arrangements be made through a controlled source of the [CIA's] Office [of Security] in order to assure a satisfied visit," according to the anonymously written memo.

The CIA turned to a private eye in Los Angeles to ensure discreetness, which then led to a seasoned "fixer'' for eccentric pilot billionaire Howard Hughes getting involved.
---
---
We have lots of ideas, but we need more resources to be even more effective. Please
donate today
to help get the message out and to help defend Israel.