From Ian:
---
Melanie Phillips:
A great and unspeakable evil
The kind of people who claim that Israelis living in the disputed territories, such as in the town of Efrat, are "illegal settlers" who have colonised Palestinian land – a lie, since there never was any "Palestinian" land, while law, truth and history entitle the Jews alone to live there. The kind of people who, shamefully and disgustingly, shrug aside the murder of Ari Fuld simply because he lived in Efrat.

His murderer was Khalil Jabarin, a 17 year-old Arab boy. He was but the latest in a string of teenage Arab terrorists who are attacking Israeli Jews. The reason isn't hard to find: as Palestinian Media Watch observes, they are being incited to hatred and murder of Jews by the Palestinian Authority education system and mass media which tell them that "all Israelis deserve to be killed and that dying while committing a terror attack is 'the path to excellence and greatness… the great victory'."

The Arab writer Bassam Tawil links Jabarin's attack directly to incitement by PA president Mahmoud Abbas who he says has Ari Fuld's blood on his hands.

"In a speech before the PLO Executive Committee in Ramallah on September 15, Palestinian Authority (PA) President Mahmoud Abbas repeated the old libel that Israel was planning to establish special Jewish prayer zones inside the Al-Aqsa Mosque.

"…Abbas's allegation was quickly picked up by several media outlets in the Arab world, the West Bank and Gaza Strip…According to Palestinian terrorist groups, Jabarin decided to murder a Jew in response to Israeli "crimes" against the al Aqsa Mosque in particular and other Islamic holy sites. In other words, the terrorist was influenced by Abbas's incitement, and this is why he decided to set out on his deadly mission."

The Palestinian Authority is funded by Britain and other western governments. These governments are therefore indirectly responsible for the incitement to hatred and murder of Jews which is poisoning Arab children's minds. If Abbas has the blood of murdered Israelis on his hands, Britain and the west have helped dip them in it.

This evening sees the beginning of Yom Kippur when Jews fast to repent and seek forgiveness for their sins. It is a day when, as we pray to be sealed in the book of life, we recall those who were martyred on account of their defence of Judaism. We do so in order to reaffirm, in the face of those who rise in every generation against the Jewish people, the faith that has never wavered despite the savage attempts to destroy us.

To this list of those who were brutally murdered for no other reason than the hatred of Jews by a barbaric world, we will add the name of Ari Fuld. May his memory be for a blessing.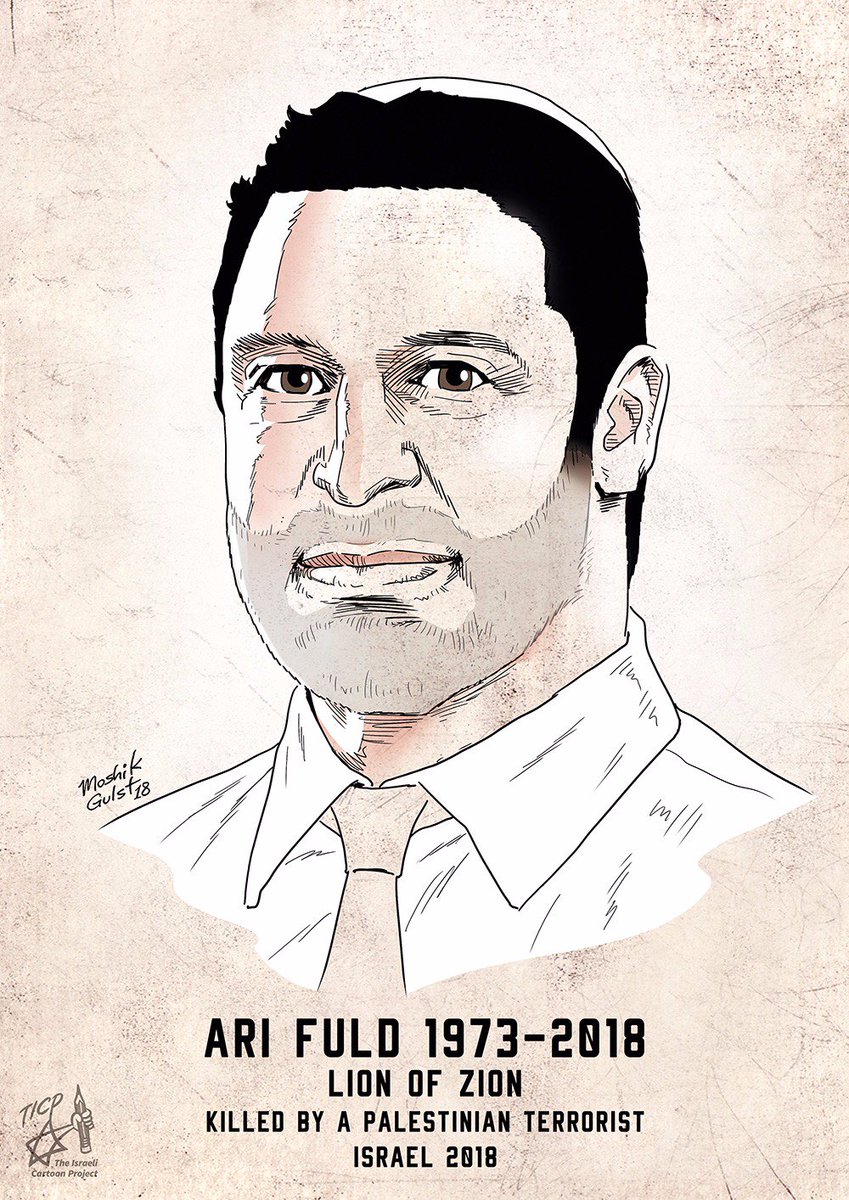 Sohrab Ahmari:
Ari Fuld and the Truth About Palestinians
Ari Fuld described himself on Twitter as a marketer and social media consultant "when not defending Israel by exposing the lies and strengthening the truth." On Sunday, a Palestinian terrorist stabbed Fuld at a shopping mall in Gush Etzion, a settlement south of Jerusalem. The Queens-born father of four died from his wounds, but not before he chased down his assailant and neutralized the threat to other civilians. Fuld thus gave the full measure of devotion to the Jewish people he loved. He was 45.

The episode is a grim reminder of the wisdom and essential justice of the Trump administration's tough stance on the Palestinians.

Start with the Taylor Force Act. The act, named for another U.S. citizen felled by Palestinian terror, stanched the flow of American taxpayer fund to the Palestinian Authority's civilian programs. Though it is small consolation to Fuld's family, Americans can breathe a sigh of relief that they are no longer underwriting the PA slush fund used to pay stipends to the family members of dead, imprisoned, or injured terrorists, like the one who murdered Ari Fuld.

No principle of justice or sound statesmanship requires Washington to spend $200 million—the amount of PA aid funding slashed by the Trump administration last month—on an agency that financially induces the Palestinian people to commit acts of terror. The PA's terrorism-incentive budget—"pay-to-slay," as Douglas Feith called it—ranges from $50 million to $350 million annually. Footing even a fraction of that bill is tantamount to the American government subsidizing terrorism against its citizens.

If we don't pay the Palestinians, the main line of reasoning runs, frustration will lead them to commit still more and bloodier acts of terror. But U.S. assistance to the PA dates to the PA's founding in the Oslo Accords, and Palestinian terrorists have shed American and Israeli blood through all the years since then. What does it say about Palestinian leaders that they would unleash more terror unless we cross their palms with silver?
Noah Rothman:
John Kerry Gives the Iranian Theocrats Hope
It was the blatant subversion of the president's sole authority to conduct American foreign policy, and the political class received it with fury. It was called "mutinous," and the conspirators were deemed "traitors" to the Republic. Those who thought "sedition" went too far were still incensed over the breach of protocol and the reckless way in which the president's mandate was undermined. Yes, times have certainly changed since 2015, when a series of Republican senators signed a letter warning Iran's theocratic government that the Joint Comprehensive Plan of Action (aka, the Iran nuclear deal) was built on a foundation of sand.

The outrage that was heaped upon Senate Republicans for freelancing on foreign policy in the final years of Barack Obama's administration has not been visited upon former Secretary of State John Kerry, though he arguably deserves it. In the publicity tour for his recently published memoir, Kerry confessed to conducting meetings with Iranian Foreign Minister Javad Zarif "three or four times" as a private citizen. When asked by Fox News Channel's Dana Perino if Kerry had advised his Iranian interlocutor to "wait out" the Trump administration to get a better set of terms from the president's successor, Kerry did not deny the charge. "I think everybody in the world is sitting around talking about waiting out President Trump," he said.

Think about that. This is a former secretary of state who all but confirmed that he is actively conducting what the Boston Globe described in May as "shadow diplomacy" designed to preserve not just the Iran deal but all the associated economic relief and security guarantees it provided Tehran. The abrogation of that deal has put new pressure on the Iranians to liberalize domestically, withdraw their support for terrorism, and abandon their provocative weapons development programs—pressures that the deal's proponents once supported.

"We've got Iran on the ropes now," said former Democratic Sen. Joe Lieberman, "and a meeting between John Kerry and the Iranian foreign minister really sends a message to them that somebody in America who's important may be trying to revive them and let them wait and be stronger against what the administration is trying to do." This is absolutely correct because the threat Iran poses to American national security and geopolitical stability is not limited to its nuclear program. The Iranian threat will not be neutralized until it abandons its support for terror and the repression of its people, and that will not end until the Iranian regime is no more.