From Ian:
In 'message to the region,' Herzog meets UAE crown prince in Abu Dhabi
President Isaac Herzog met on Sunday with Abu Dhabi's powerful Crown Prince Sheikh Mohamed bin Zayed, known colloquially as MBZ and seen as the UAE's de facto ruler.

The meeting, which lasted over two hours, was described by the president's office as "warm and cordial."

"I wish to emphasize that we completely support your security requirements and we condemn in all forms and language any attack on your sovereignty by terrorist groups," said Herzog at the beginning of the meeting. "We are here together to find ways and means to bring full security to people who seek peace in our region."

He also called for more nations to join the Abraham Accords, saying that his visit "sends a message to the entire region that there is an alternative — of peace and living together — and that the sons and daughters of Abraham can reside and dwell together in peaceful coexistence for the benefit of humanity."

Bin Zayed thanked Herzog for Israel's condemnation of recent missile and drone attacks on UAE facilities by Houthi rebels in Yemen.

"It is a stance that demonstrates our common view of the threats to regional stability and peace, particularly those posed by militias and terrorist forces, as well as our shared understanding of the importance of taking a firm stance against them," he said.

The crown prince said bilateral relations "are moving full steam ahead, and that there is a common and strong will to strengthen them for the benefit of our countries and peoples."

Afterward, Bin Zayed invited Herzog for an unscheduled follow-up personal meeting at his private palace.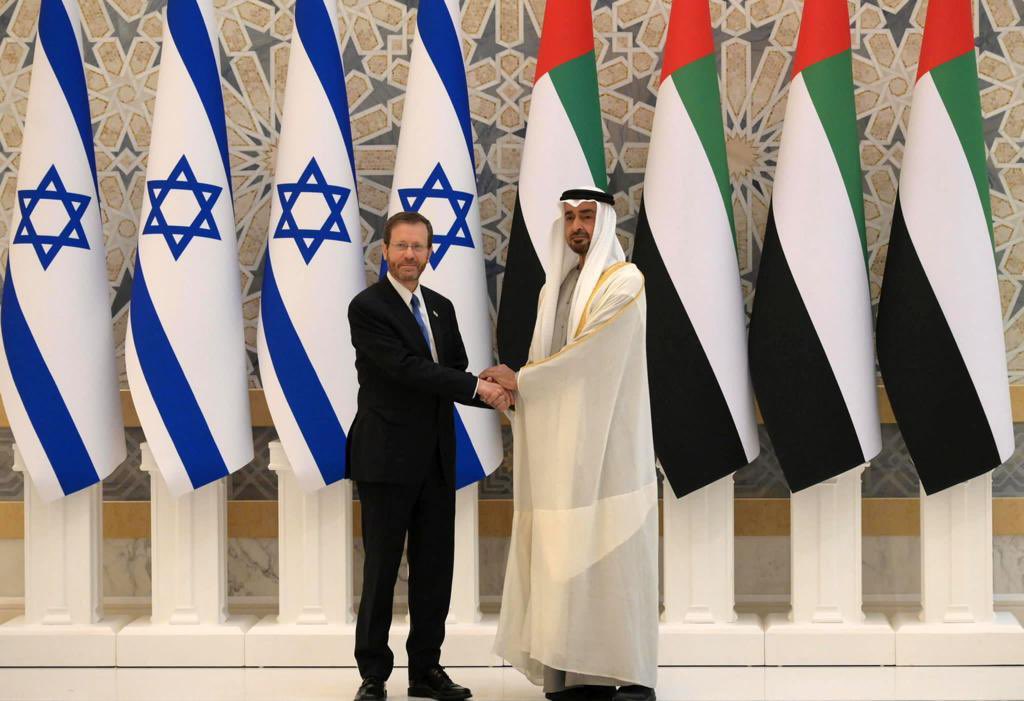 Israel Supports UAE Security Needs, President Says on First Visit
Israel's president said his country supports the United Arab Emirates' security needs and seeks stronger regional ties during the first such visit to the Gulf state on Sunday, as world powers try to revive an Iran nuclear deal.

The UAE, along with Bahrain, signed US-brokered normalization agreements with Israel, dubbed the "Abraham Accords," in 2020. The two Gulf states and Israel share concerns about Iran and its allied forces in the region.

Isaac Herzog discussed security and bilateral relations with the UAE's de facto ruler Abu Dhabi Crown Prince Sheikh Mohammed bin Zayed Al Nahyan.

The UAE has in the past fortnight been attacked twice with drones and missiles by Yemen's Iran-aligned Houthi group.

"We completely support your security requirements and we condemn in all forms and language any attack on your sovereignty by terrorist groups. We are here together to find ways and means to bring full security to people who seek peace in our region," Herzog said during the meeting, in comments released by his office.

Sheikh Mohammed said Israel and the UAE share a "common view of the threats to regional stability and peace, particularly those posed by militias and terrorist forces."

En route to the UAE, President Herzog's plane flew over Saudi Arabia, which he said was "truly a very moving moment." Riyadh and Israel do not have diplomatic ties, but Israel has said it would like to establish a relationship with the kingdom which is home to Islam's two holiest sites.

"The Abraham Accords should be continued and more nations should join us in this endeavor," Herzog told Sheikh Mohammed.
Israel's national anthem, HaTikvah, playing in the United Arab Emirates—that's what peace between nations sounds like. ???????? pic.twitter.com/BRuYJjpODl

— ???? ????? Isaac Herzog (@Isaac_Herzog) January 30, 2022
Shalom and Marhaba! #Israel's President @Isaac_Herzog arrives in Abu Dhabi, where he is greeted by FM @ABZayed, on historic visit to #UAE! ???? ?? ????pic.twitter.com/wEHQZhyrSP

— Arsen Ostrovsky (@Ostrov_A) January 30, 2022
Kuwaiti paper pushes normalization with Israel, criticizes Palestinians
Al-Jarallah called for the Gulf states to cut support for the Palestinians and to stop mediating whenever they launch missiles towards Israel. "In this case, let them rebuild what they destroy by their own acts."

"Enough is enough! The camel's back has been broken from the burden of grief we endure due to the ingratitude of the Palestinians," wrote the editor. "All the Gulf states should normalize relations with Israel due to the fact that peace with this most advanced country is the right thing to do. Let the foolish fend for themselves."

This is not the first time the al-Jarallah has pushed for relations with Israel. In 2020, they welcomed the United Arab Emirate's move to normalize relations with Israel, saying this would prevent Israel from continuing to annex land. In 2005, they wrote, "After a long time, we have finally decided to leave the Palestinian cause to Palestinians."

In December, Kuwaiti Public Works Minister Dr. Rana Abdullah Al-Fares issued an order banning the entry of commercial vessels loaded with goods to and from Israel into Kuwaiti territorial waters, according to Kuwaiti newspaper Al Anba.

The order prohibits entry permits being requested for ships carrying goods to or from Israel, even if goods being carried from Israel are being brought to another country outside of Kuwait.

Under Kuwaiti law, individuals and companies cannot conclude agreements with organizations or persons living in Israel and cannot deal financially or commercially with persons who have an interest in Israel, even if they live outside Israel.

It is also illegal to import, exchange or possess any Israeli goods, commodities or products, whether received directly or indirectly. Products also cannot include any material from Israeli products.
How has the fight against antisemitism advanced in the past year?
A number of positive steps have been taken in the past year to combat antisemitism, according to a new report by the Kantor Center for the Study of Contemporary European Jewry at Tel Aviv University.

The report, titled Positive Trends in Fighting Antisemitism and Radicalization around the World, was presented to President Isaac Herzog on Thursday as International Holocaust Remembrance Day was marked.

Among the positive trends and events presented in the report were trends in the legal arena around the world, action by sports associations to combat antisemitism among fans, improving relations between Gulf countries and Israel, the restoration of Jewish cemeteries and action by governments to protect Jewish communities and fight antisemitism.

Concerning the legal arena, the report highlighted rulings by several national courts across Europe against hate speech, the addition of hate speech and hate crimes to the EU Crimes list and laws passed by US states to counter rising antisemitism such as a ban on the sale or display of hate symbols in New York and a hate crimes statute introduced in California.

Concerning sports, the report highlighted a pledge by the English Football Association to adopt the International Holocaust Remembrance Alliance's (IHRA) definition for antisemitism, with football teams in England following suit. The Chelsea Football Club launched a new website entitled "Say No to Antisemitism." Meanwhile in the US, the professional career of NBA player Meyers Leonard ended after he made antisemitic slurs during a video game stream.

The report also pointed to efforts by young people in Poland, Slovakia, Ukraine and elsewhere to restore Jewish cemeteries as they showed interest in their countries' multicultural past and former life among Jewish neighbors.

Among governments and organizations, over 800 bodies around the world have adopted the IHRA definition of antisemitism since 2015, with a large number adopting the definition in the past two years. Special envoys have been appointed in several European countries to monitor and combat antisemitism. The Canadian government allocated $5 million to protect Jewish communities and promote the adoption of the IHRA definition.

Pope France made a number of declarations and statements strongly denouncing antisemitism, as well.
Jews need to unite and 'go on the offensive' against anti-Semitism, assert leaders
Jewish leaders at a virtual panel hosted by the Conference of Presidents of Major American Jewish Organizations, held on Wednesday to commemorate International Holocaust Remembrance Day on Thursday, were told by experts that the community should unite and go on offense against anti-Semites across the political spectrum.

The hour-long event was moderated by Conference chair Dianne Lob, who discussed anti-Semitism with former Obama-administration Special Envoy to Monitor and Combat Anti-Semitism Ira Forman, his Trump administration counterpart Elan Carr, and Rep. Kathy Manning (D-N.C.).

All three agreed that in the past decade, anti-Semitism has been growing, as indicated by data from the Anti-Defamation League, the FBI and other organizations.

"One of the things I think we've all seen since 2017 is the end of certain taboos about saying things about Jews, as well as others, that four or five, six years ago people would have thought twice about saying this," said Forman, pointing to the conspiracy theories about the Rothschilds and the coronavirus pandemic on the political right and left.

"If we only criticize anti-Semitism from our political opponents and not people in our own party, our own ideology, we really aren't caring about anti-Semitism. We're really not battling anti-Semitism. We're just using the platform of anti-Semitism to wage war against our political opponents," said Forman. "And those are those of us on the left, like myself, those on the right, have done too much of this and we have to end it."
While upholding as entirely constitutional the basic idea behind the anti-BDS laws - that boycotting people because of their connection to Israel is not speech, and can be regulated as a form of discrimination. #BDSfail We'll keep winning, @CAIRNational keep spinning. https://t.co/gVVRBwLnjj

— Eugene Kontorovich (@EVKontorovich) January 30, 2022
Judge went on to misread general language in the law as potentially applying to protests and actual speech - though no state has every applied it that way. That part the ct struck down -but the regulation of economic boycotts that is the heart of anti-BDS laws he sustained. (3/3)

— Eugene Kontorovich (@EVKontorovich) January 30, 2022
Pro-tip: If you want to accurately cover anti-BDS laws, don't just reprint a self-serving @CAIRNational press release. Talk to actual experts who read the opinion. And who releases litigation press releases after 9pm Friday night? pic.twitter.com/88qAQxCXwN

— Eugene Kontorovich (@EVKontorovich) January 30, 2022
The Apartheid Calumny: Antisemitism and the Instrumentalization of International Law
Anne Herzberg is the Legal Advisor and UN Representative for NGO Monitor. She is a graduate of Oberlin College and Columbia University Law School. Her areas of research include business and human rights, international human rights law, the laws of armed conflict, universal jurisdiction, international fact-finding, NGOs, and the UN.  She is the author and editor of several books, and her articles and op-eds have appeared in many publications, including the American Journal of International Law, the International Criminal Law Review, Ha'aretz, the Jerusalem Post, and The Wall Street Journal.

Joshua Kern's background is in landmark cases of historical importance, including the trial of the Foreign Minister of the Khmer Rouge (Ieng Sary); the trial of the former Prime Minister of the Croat entity established in Bosnia-Herzegovina during the war in the former Yugoslavia (Jadranko Prlic); the first trial at the ICC of an incumbent Head of State (President Uhuru Kenyatta of Kenya); the extradition of the former Defense Minister of the Republic of Georgia (David Kezerashvili). He has been engaged by individuals, governments, and civil society organizations to advise on international criminal law and transnational criminal law matters, as well as to appear as an advocate. He is a participant in a range of pro bono activities and sits on the International Practice Committee of the Inner Temple. He lectures on international criminal law and has done so on ICC jurisdiction through 2020/2021.
Video:
Fighting the Social Media War against Israel and the Jewish People
In this week's edition of The Middle East Report, Simon Barrett interviews social media influencer Joseph Cohen from The Israel Advocacy Movement. He discusses the fight against Israel and the Jewish people on social media platforms.

In the past few years, we have witnessed the increasing power and influence of social media and these internet platforms have been used to promote hatred and violence against Israel and the Jewish people.

Israel's defensive war last May against the Islamist terrorist organisation Hamas responsible for firing over 4,000 rockets and missiles into Israel sparked hatred against Israel on social media with false and dangerous postings against the Jewish State. We also witnessed a massive raise in Jew Hatred that led to violent protests targeting Jewish people all over the world.

Joseph Cohen through his social media platforms seeks to counter the increasing hostility being directed against Israel in the UK, by using social media to create networks of street Israel advocacy teams to educate the British public about the truth of the Israeli -Palestinian conflict.
FBI: in 2020 Jews experienced 620% more hate crimes than any other religious group.

Linda Sarsour: "unlike Islamophobia, antisemitism isn't systemic"

This is what modern antisemitism looks like.

Stop gaslighting Jews. pic.twitter.com/g38pATUDxZ

— Emily Schrader - ????? ?????? (@emilykschrader) January 29, 2022
I'd be more curios how she felt hearing UN member state #Iran openly seek the genocide of Israel and be the only nation at the UN to speak out against the Holocaust denial and distortion resolution! https://t.co/jlxrDy6GS3

— Arsen Ostrovsky (@Ostrov_A) January 30, 2022
Somehow, @UNESCO missed the part that of the 1.1 million people murdered in Auschwitz, almost 1 million of them were JEWS! https://t.co/jrfOCIoKJo

— Arsen Ostrovsky (@Ostrov_A) January 29, 2022
Ankara's "reconciliation" narrative is always under the guise of anti-Israel actions. It even tried to send an envoy to Israel who was openly anti-Israel...at every juncture it uses reconciliation to try to harm Israel and Israel ties with Greece, UAE etc.

— Seth Frantzman (@sfrantzman) January 30, 2022
Israelis' Snow Trip Turns into Near Death Lynch by Arab Mob
An Israeli father and daughter faced an Arab lynching mob on Thursday while they were on their way to play in the snow in the Binyamin region.

High regions in Israel, including the Binyamin area, were blanketed in snow last, in a once-a-year occurrence. Israelis from around the country flocked to these areas to enjoy the snow.

Inbal Orpaz and her father Rami were on their way to the snowy areas in Binyamin when they were surrounded by an Arab mob who attacked them a caused significant damage to their car.

An Israeli father and daughter faced an Arab lynching mob on Thursday while they were on their way to play in the snow in the Binyamin region.

High regions in Israel, including the Binyamin area, were blanketed in snow last, in a once-a-year occurrence. Israelis from around the country flocked to these areas to enjoy the snow.

Inbal Orpaz and her father Rami were on their way to the snowy areas in Binyamin when they were surrounded by an Arab mob who attacked them a caused significant damage to their car.

Apparently taking a wrong turn into an Arab village, their car was quickly encircled by dozens of young Arabs who tried to open the doors of the car.
Abbas asked Gantz to release 25 Palestinian prisoners in December meeting
During a meeting in December, Palestinian Authority President Mahmoud Abbas asked Defense Minister Benny Gantz to release over two dozen Palestinian prisoners from Israeli jails, the Yedioth Ahronoth daily reported Sunday.

Abbas, meeting with Gantz at the Israeli minister's home in Rosh Ha'ayin, reportedly pitched the goodwill gesture as a way of boosting support for his Fatah party, as it would demonstrate to the Palestinian people that diplomacy is more effective at securing the release of prisoners than kidnapping Israelis to hold as bargaining chips — a strategy employed by Fatah's rival, the Hamas terror group.

Citing two senior Palestinian sources familiar with the developments, the newspaper said that Abbas made the same request when Gantz met with him in the West Bank city of Ramallah in August last year.

The 25 prisoners on the list are members of Fatah who were imprisoned by Israel before the 1993 Oslo Accords, which formed the Palestinian Authority. Some of those prisoners are suffering from serious health issues, according to the report.

The report did not say which prisoners Abbas was seeking to have released, but for inmates to have been held for such lengthy periods of time they would need to have been convicted of deadly terror attacks.

Abbas told Gantz that securing the release of veteran prisoners would prove to the Palestinian public that Fatah's path of diplomacy is better than the kidnappings favored by Hamas, and bolster Fatah's position in the face of rising support for Hamas, which is based in the Gaza Strip.
PMW:
Miraculous Palestinian history: "We [Palestinians] defeated the Hyksos, the Romans, the Greeks, the Persians, the Tatars, and the Pharaohs," and will defeat Israel as well
The Palestinian Authority has written a fictitious history for itself that is both comical and dangerous. The PA claims Palestinians to be distinct in the annals of history, being the only people to have defeated many of the greatest empires. Incredibly, the Romans, Greeks, Persians, Pharaohs, Hyksos and Tatars, all were defeated by the Palestinians, according to Prime Minister Muhammad Shtayyeh speaking in the name of Mahmoud Abbas, at the Palestinian Martyrs' Day ceremony in Ramallah.

Given that only last century after the creation of the State of Israel did some Arabs of the land of Israel adopt a Palestinian identity, the PA's Prime Minister's fantasy could be dismissed as laughable and irrelevant. However, the continuation of the PM's words, using this fantasy history to justify his call to fight to destroy Israel, shows how dangerous even a lie can be:
"We have defeated all the invaders who passed through the land of Palestine. On behalf of the Martyrs we will defeat this hated occupation [Israel] that will leave our land."

[Official PA TV Live, Jan. 9, 2022]

Tragically, this fictitious history and its terror demands are being passed on to Palestinian youth. As Palestinian Media Watch recently exposed in its report on Fatah's Waed children's educational magazine for ages 6-15, the identical messages are taught although the empires that the Palestinians are said to have defeated change. Palestinian children are taught that they defeated the "Babylonians, the Persians, the Samaritans, the Assyrians, the Hyksos, the Hittites, the Pharaohs, and the Hebrews," and this proves they will likewise defeat and destroy Israel:
"The occupation [Israel] will cease to exist just as what was before it ceased to exist. As we said, Palestine underwent many invasions that coveted it. All of the invaders were defeated, and Palestine returned to be free and Arab."
What the Row Over Caricatures of Yasser Arafat Tells Us About Palestinian Politics
A perennial discussion in the cauldron that is Middle Eastern politics concerns the degree to which a sovereign Palestinian state, should one ever be created, would be democratic.

The democratic character of any state is determined in the main by three elements. First, the frequency and transparency of elections; second, limits on the power of elected officials and defined boundaries between the executive, the legislature and the judiciary; and third, the extent to which basic civil rights like freedom of speech and freedom of assembly are respected.

An independent Palestine would probably host elections on a regular basis, although the integrity of these would always be a subject for debate, as would the ever-present prospect of armed conflict between rival Palestinian factions. As far as an honest, accountable government that subordinates itself to the rule of law is concerned, there is very little evidence to suggest that a future State of Palestine would be administered in this way.

To the contrary, throughout the existence of the Palestinian Authority — now in its 28th year — there has been a constant stream of news stories regarding corruption, political violence and violations of core civil rights by Palestinians against other Palestinians. The latest example occurred last week when the Yasser Arafat Museum in the West Bank city of Ramallah removed artwork depicting the late PLO leader that loyalists deemed "offensive." The principle underlying this act of censorship is one that Arafat himself would have appreciated; a client of the Soviet Union who spent much of his time meeting with dictators in the Communist bloc and in the Arab world, Arafat was an admirer of those systems of government where the state is the ultimate regulator of what the people living under its jurisdiction see, hear and read.
After the attack, Christian families and groups appealed to President Mahmoud Abbas to stop attempts by Muslims to illegally seize their lands in the Bethlehem area.

— Khaled Abu Toameh (@KhaledAbuToameh) January 29, 2022
Hamas commander accused of spying for Israel escapes from Gaza prison
A former Hamas military commander who was accused of spying for Israel has escaped from a maximum-security prison in the Gaza Strip.

The fugitive, Abed al-Karim Abu Odeh, 35, was arrested by Hamas in 2019 on suspicion of mapping underground tunnels with a tracking device he allegedly received from his Israeli handlers.

It was not clear how Abu Odeh, who was being held in the Ansar Prison in the Gaza Strip, managed to escape.

The rare escape is seen by many Palestinians as a severe embarrassment for Hamas.

Hamas has arrested a number of suspects on suspicion of helping Abu Odeh, according to a Palestinian journalist in the Gaza Strip.

Hamas officials described Abu Odeh as an "extremely dangerous security prisoner" and offered a reward for information leading to his capture.

The officials said they did not rule out the possibility that Abu Odeh, who was a top commander of the Izzadin al-Qassam Brigades, the "military" wing of Hamas, would try to cross the border into Israel.
The Masks Come Off on the Path to a Nuclear Deal
At a certain point, around a month or two ago, it seemed the Americans had given up on the possibility of reaching a deal. In Washington, officials even remarked that "all options were on the table" — a clumsy and particularly inauthentic insinuation that a military strike was possible.

Miraculously, though, and amid the backdrop of rising tensions between Washington and Beijing and Moscow — the latter of which has massed more than 100,000 troops on the Ukrainian border — the talks were renewed, and Iranian and American mouthpieces are now predicting an impending breakthrough that will lead both sides to the yearned-for deal. Even Iran's supreme leader, Ayatollah Ali Khamenei, gave a green light to a deal, declaring that "talks, and by extension, a deal with the enemy, do not mean Iran's surrender."

The negotiators, it seems, deserve a Nobel Prize — not for peace, but for theatrics. After all, the Iranians need a deal desperately, more so than they are willing to admit. Nevertheless, they've projected an air of indifference, as if the entire issue barely pertains to them. The Americans, on the other hand, are projecting indecisiveness and weakness, and eagerness to get a deal done at all costs.

The Iranians are masters of negotiation and are operating on the principle that all deals should be signed at the very last moment and not a moment sooner — which indeed appears to be where things are headed.

There's no need to take any of the sides' threats, or the calamitous atmosphere they occasionally seek to project, too seriously. To be sure, all parameters of a deal were determined the day Biden set foot in the Oval Office. Ever since, the Iranians have merely improved them in relation to their nuclear project — which is far more advanced than it was a year ago.

The deal, in all likelihood, cannot be stopped or improved upon; hence Iran will remain within touching distance of a nuclear weapon under its auspices. What can be done, however, is to intensify the fight against Iran across the Middle East, in Syria, Iraq and now in Yemen as well. This fight is proving effective, particularly in Syria, it is supported regionally and internationally, and it can be won.
Qatar and Iran accused of religious cleansing of Baha'is
Ahead of US president Joe Biden's meeting on Monday with Qatar's Emir Sheikh Tamim bin Hamad Al Thani, the notoriously anti- Baha'i Iranian regime and Qatar's monarchy are accused of promoting the religious cleansing of the persecuted Baha'i community in the tiny oil-rich Gulf country of Qatar.

Bani Dugal, Baha'i International Community (BIC) representative to the United Nations, said "This pattern of deportation is tantamount to religious cleansing—if it continues, an entire religious community could be erased in a few years."

Ghanem Nuseibeh, a leading expert on Qatar's regime and the founder of the London-based Cornerstone Global Associates, told The Jerusalem Post last week that "It is very troubling but not a surprise to hear that Iran is pressuring their allies to persecute the Baha'i community. It has long been a policy of the Iranian regime to persecute the Baha'i community in Iran, but more recently we have seen them being persecuted outside Iran by the regime's proxy - the Houthis in Yemen and more recently and more troubling, in Qatar. The Qatari regime is clearly acting at the behest of the Tehran regime and collaboration between both states has been going on for several years. "

Nuseibeh, who noted that Qatar's regime seeks to strip the Baha'is of their residency rights in Qatar, said Qatar "is making a dangerous gamble because in the year that it hopes to host the FIFA World Cup, is carrying out such persecution against a religious minority. Claims that Qatar is open to people of all faiths and backgrounds is clearly undermined by the Baha'i persecution and therefore Qatar's suitability to host the World Cup should - once again, be questioned."
Human rights will mean little at the United Nations so long as the regime of narco-criminal Nicolás Maduro sits as a member of the U.N. Human Rights Council.

Join our campaign led by Venezuelan patriot @Diego_Arria: #ExpelMaduro by signing here:https://t.co/8SWuXjk9l9

— Hillel Neuer (@HillelNeuer) January 29, 2022
???? Russia reviews ???? Syria's record @UN_HRC: "We welcome the establishment in Syria of coordinated efforts to raise awareness on the norms of international humanitarian law. Obstacles towards normalizing the situation in Syria continue to include unilateral Western sanctions." pic.twitter.com/qVvLdfcos1

— Hillel Neuer (@HillelNeuer) January 30, 2022
???? North Korea reviewed ???? Syria's record @UN_HRC: "We commend Syria for its continued exertion for the promotion & protection of the human rights of its people. We reaffirm our solidarity with the Syrian government & people in their just struggle against terrorism."

No comment. pic.twitter.com/M0RqW3kNuA

— Hillel Neuer (@HillelNeuer) January 29, 2022
The UN continues its reputation for bad jokes: North Korea to chair UN disarmament forum for 4 weeks in 2022 https://t.co/XTiL5dVdxA

— Mark Dubowitz (@mdubowitz) January 29, 2022
My Bittersweet Goodbye
I'm deeply troubled by my personal experiences with antisemitism in the classroom at McGill. I'm particularly bothered that all of these instances have involved professors. Professors possess an air of authority and expertise; after all, they are the ones we are paying to educate us. They have the unique ability to shape our young impressionable minds. This huge responsibility is being abused. Professors present their opinions as fact, forcing their own narratives onto us. To a student who is uneducated on a certain topic, which is often the case, they take what the professor says at face value. Instead of fostering an atmosphere that welcomes diverse opinions and allows students to arrive at their own conclusions, the professors push their agenda onto us, leaving no room for doubt or discussion.

How did we get here and what can we do to move forward and allow the pursuit of academic freedom in class? How can we get professors to stop preaching one-sided hatred as facts instead of imploring students to study and understand issues before forming opinions? Why do professors receive a carte-blanche to attack students' identities in the name of academia? And what role do our institutions hold in achieving these goals?

Alone, I cannot do much. Individual actions may help, but as members of society, whether Jewish or not, we must all work to guarantee the freedoms of all, especially in our higher education institutions. Our universities are molding the future leaders of the world; these leaders will have been shaped by the twisted values and half-truths their college professors instilled in them. We must weed out hatred and make it clear that antisemitism should never be tolerated, no matter the source. If we do not stop it, when will it end? Will my children have to endure the same obstacles as I did in the name of education? I certainly hope not.

As I venture out into the world, I am sad that my time at McGill is over. College was an amazing experience and I grew and learned so much. I hope that the current and future generations of Jewish students will be able to thrive at McGill, or any higher education institution, without feeling the need to hide their identity and beliefs in the classroom just to succeed, without fearing for their safety, and without needing to defend their humanity and right to exist.
Open-top bus with 'speakers blaring Y***s go home' is spotted driving past Synagogue in ANOTHER antisemitic incident in London
A Jewish neighbourhood watch group has claimed that an open-top bus drove past a north London synagogue while playing offensive language over speakers.

Shomrim Stamford Hill Branch shared reports that a hired open-top bus drove through a Jewish neighbourhood at 12.20pm on Saturday with speakers 'blaring' 'Y***s go home'.

Shomrim took to Twitter to share a video of the alleged incident, which took place in Stamford Hill - a Jewish community which last year saw a 'worrying rise' in anti-Semitic violence.

The neighbourhood watch group claimed the alleged offensive language appeared to be targeting Orthodox Jewish people who were leaving a synagogue at the time.

In the video, a red open-top bus drives down the road, with crowds of people sitting on the top deck, while a banner appears to be dangling down one side of the bus.

The Metropolitan Police confirmed the video was reported to the force on Saturday evening. There is not believed to be an investigation at this stage.
'Israel must sanction Unilever,' local Ben & Jerry's franchisee demands
Ben & Jerry's Israel franchisee Avi Zinger has asked Prime Minister Naftali Bennett to enact the Anti-Boycott Law against the parent company Unilever. Zinger's request marked six months since Unilever's demand that Ben & Jerry's Israel cease all sales of its products in parts of Jerusalem and in Judea and Samaria.

In a letter to the prime minister, cosigned by 169 employees of Ben & Jerry's factory in Be'er Tuvia in southern Israel, Zinger wrote that Israel was not doing what it asks the world to do by failing to enact the Anti-Boycott Law, which was passed by the Knesset in 2011 and gives the government immediate tools with which to sanction companies that boycott the Jewish state.

"Over the past half-year, Jewish communities abroad, together with the Foreign Ministry and on behalf of the State of Israel petitioned 33 states in the US to pass legislation against those who boycott parts of the State of Israel, and have pressured these states to apply the law and impose significant economic sanctions [on Unilever]. Many states, such as New York, New Jersey, Texas, Illinois, and Florida, have indeed responded to the request and pulled holdings and investments worth upwards of a billion dollars – which caused a public media storm and severely impacted [Unilever's] stocks," wrote Zinger.

"In contrast, to my great sorrow, here in Israel, despite the explicit threats early on, nothing has been done against [Unilever], which essentially chose to boycott the State of Israel. Even more egregiously, Unilever, which is in violation of the Israeli Anti-Boycott Law, continues to supply the State of Israel, the IDF, and other government bodies with goods at a cost of millions of shekels per year and even receives far-reaching regulatory benefits.

"Why is the Israeli government conceding to the BDS movement without a fight? Is the state sending the right message to the world? How can it be that in Israel, the CEO of Unilever wasn't even invited to a hearing and business with the company continues unabated? Through its longstanding silence and lack of action, Israel is facilitating future boycotts and granting a victory to the BDS movement.
Here is a list of Harsah Aneela Bashir's (@Hafsah_A_Bashir) positions:

Founder & Director Poetry Health Service @PoetryHealth
Director & Board Trustee Manchester City Of Literature @MCRCityofLit
Associate Artist at Oldham Coliseum Theatre @OldhamColiseum

Cont...
2/

— GnasherJew®????? (@GnasherJew) January 30, 2022
>BBC ECU issues decision on reporting of the Oxford Street incident
On January 8th the BBC News website reported that the many complaints it had received concerning reports put out over a month earlier, on December 2nd, would be dealt with "as swiftly as possible".

BBC PROMOTES BBC STATEMENTS IN REPORT ON COMPLAINTS ABOUT BBC CONTENT
Anyone who has tried to navigate the BBC's sluggish self-regulating complaints procedure would not be surprised by the fact that, despite intervention from the BBC's Director General, "as swiftly as possible" took a further eighteen days to produce results.

Prior to the publication of the BBC's Executive Complaints Unit findings on January 26th, the BBC Director General had held meetings with the UK government's independent antisemitism adviser, Lord Mann, and the Board of Deputies of British Jews. A former BBC chairman and the UK's Chief Rabbi had earlier called for the issue to be resolved.

Despite that high-level involvement, nearly two months went by before the ECU issued its findings and clarifications were published.

The ECU's statement can be found here. A footnote has been added to the written report that was the subject of complaints.



The corporation's clarification concerning the BBC London filmed report that also prompted complaints reads:
The response from the @BoardofDeputies was mentioned. Yet no meaningful statement or correction has been made since this incident took place. When you add the words "but", "however" into any apology that takes away the meaning of the apology. @Ofcom pic.twitter.com/FBekKMB3kV

— Insp A E Pessimal ?? (@jc4P45) January 30, 2022
Irish Times writer invents Palestinian 'political prisoners'
A recent Irish Times review of a book about the history of political hunger strikes was written by Dublin-born US academic David Lloyd, a founding member of the US Campaign for the Academic and Cultural Boycott of Israel. Lloyd has accused Israel of committing an "incremental genocide" against Palestinians, defended Palestinian terrorism and is opposed to Israel's right to exist as a Jewish state, within any borders.

The review by Lloyd, published in the the Irish Times Weekend Magazine on Jan. 29th (print only), and titled "Weapon of the Weakest", begins with two lies:
As I write this review, the news pops up that Palestinian political prisoner Hisham Abu Hawash, who has been held without charges under "administrative detention" since October 2020 in Israel's extensive system of political prisons, will end his 141-day hunger strike on the brink of death.

Hisham Abu Hawash is NOT a "political prisoner", a term which refers to those imprisoned for merely expressing their political or religious views. As Associated Press (AP) and other media outlets have reported, he's a member of Palestinian Islamic Jihad, an illegal terror group, according to the US, UK and EU, and was being held by Israel on suspicion of carrying out terrorist activity.

Lloyd's subsequent assertion that Israel has an "extensive system of political prisons" is pure fiction, an allegation only peddled by the most extreme, conspiratorial anti-Israel activists.
France votes to restore 15 works of art looted by Nazis to Jewish heirs
The French National Assembly unanimously adopted a law to return 15 works of art, including a painting by Gustav Klimt and one by Marc Chagall, to the beneficiaries of Jewish families looted by the Nazis.

Culture Minister Roselyne Bachelot welcomed the passing of the "historic" bill last Tuesday, which was observed by the artworks' owners who were present in the gallery.

The development still requires final approval from the Senate, which will vote on the matter on February 15.

Nazi looting was "the negation of humanity (of these Jewish families), of their memory, of their memories," Bachelot said.

Among the 15 works is "Rosiers Under the Trees" by Gustav Klimt, kept at the Musée d'Orsay — the only work by the Austrian painter belonging to the French national collections.

Extensive research has established that it belonged to Austrian Eleonore Stiasny, who was forced to sell it in Vienna in 1938, during the Anschluss, the annexation of Austria by Nazi Germany.
'The Jew is the devil' — Neo-Nazis rally in Florida
Participants at a neo-Nazi rally in Orlando, Florida, on Saturday waved Nazi flags and shouted antisemitic and anti-Black slogans, according to the NGO StopAntisemitism.org.

The rally was organized by the National Socialist Movement (NSM) and was live-streamed on the American Nazi Party's website.

The live-stream archive was not currently working on the website, but participants chanted, "The Jew is the devil" and "Jews rape children and drink their blood," StopAntisemitism.org said.

NSM plans to hold other events, including on April 23 in Washington State, a convention of its national chapters and a public protest.

On January 12, NSM said it had opened its own live-streaming capabilities after losing access to the use of BlogTalk Radio, which it blamed on "the Jew." The platform is still rife with errors, which the webmaster blamed on visitors.

NSM has a 25-point manifesto on its website and advocates an American "White" ethnostate in which only those with European ancestry can be citizens, StopAntisemitism.org said.
More footage from today's neo-Nazi NSM rally in Orlando, FL led by white supremacists Eddie McBride and Burt Colucci.

Note the Israeli flag on the ground being stepped on. pic.twitter.com/cZrt4FVS9e

— StopAntisemitism.org (@StopAntisemites) January 30, 2022
First Permanent Holocaust Exhibit Comes to Muslim-Majority Indonesia
In honor of International Holocaust Remembrance Day, Yad Vashem opened the first permanent exhibition in Indonesia about the Nazi genocide of Jews during World War II, reported Ynet.

It is one of Yad Vashem's "Ready2Print" exhibitions aimed at promoting dialogue about the Holocaust in museums, educational and community centers and places of worship around the world.

This particular exhibit, which opened on Thursday at Shaar HaShamayim Synagogue on the Indonesian island of Sulawesi, is called "The Holocaust: How Was It Humanly Possible?"

According to the Yad Vashem website, the exhibit "deals with major historical aspects of the Holocaust, beginning with Jewish life in pre-Holocaust Europe and ending with the liberation of Nazi concentration and extermination camps across the continent." It also documents the "remarkable return to life of the survivors."

Richelle Budd Caplan, a representative of the International School for Holocaust Studies at Yad Vashem, took part in the exhibit's opening ceremony via video.

Israel has no official diplomatic relations with Indonesia, which has the largest Muslim population in the world. Still, Yad Vashem chairman Dani Dayan said that "we will be happy to open an exhibition wherever there's interest in the memory of the Holocaust and its commemoration, and all the more so in the largest Muslim country in the world."
The Israeli Startup Treating the Silent Theft of Sight
Grappling with glaucoma is very difficult. The disease, which is known by its infamous moniker "the silent theft of sight," causes people to lose their vision gradually, but is unfelt by those diagnosed. In glaucoma patients, high pressure in the eyes damages the optic nerve and can leave people blind within a few years. And while doctors usually administer eye drops, patients don't always follow up. The chronic disease leads to irreversible blindness, and can affect the 40+ population. Laser eye surgery treatment is very expensive, and few ophthalmologists who specialize in this complex medical field are able to conduct surgery. BELKIN Vision, founded by leading doctors, has discovered that perhaps the solution lies in an automated laser system that contains a self-trained algorithm, is cost-friendly, and can be administered in a few minutes annually to help prevent or delay vision loss.

"The eye is a very small ball with intraocular fluid that needs to remain at a certain pressure. If that pressure is too high, it pushes the optic nerve — that relays messages to the brain — and causes damage that translates into blindness," explained Daria Lemann-Blumenthal, CEO of BELKIN Vision, to CTech in an interview. "And it happens gradually. The visual field shrinks but patients aren't aware of that deterioration. Only once they start experiencing tunnel vision, do they realize that something is wrong. It's irreversible, and can't be resolved. In the case of cataracts, the lens in the eye gets old and grows foggy with age, but can be replaced with surgery. Unfortunately, in the case of glaucoma, optic nerves cannot be restored. Classic treatments for glaucoma focus on lowering that pressure in the eye, through eye drops or surgery, but aren't as effective and are very costly."

The company was founded in 2013 by Prof. Michael Blumenthal, of Tel Aviv University, an expert in treating glaucoma. BELKIN Vision's direct-SLT (Selective Laser Trabeculoplasty) delivers 120 laser pulses per second to the limbus area, which located behind the eye's trabecular meshwork — an area where fluid can accumulate leading to high pressure and blindness — and allows the area to self-drain its intraocular fluid. BELKIN's solution can be used in any clinic or hospital for those diagnosed with early-onset glaucoma. Diagnosing glaucoma in the early stages is critical for patients, and most ophthalmologists recommend that adults starting at the age of 40 get their eyes checked annually.
Saving lives: Israel's search and rescue teams on front lines worldwide
In 2010, a major earthquake struck Haiti, killing up to 300,000 people and causing billions of dollars in damage. In Israel, IDF Col. Zohar Moshe heard about the earthquake and began assembling a team to help in the rescue operation. Working through the Foreign Ministry, a team was dispatched.

They had to wait precious hours for permission from the Haitian government before making the 15-hour trip to the Caribbean country. Arriving with dozens of personnel, they set up a field hospital, and Moshe and his team of search-and-rescue experts assisted in the days after the earthquake.

"When we got there we began to go around the city, and we discovered it was different than anything we'd seen before," he recounts. "Around 80% of [the capital] Port-au-Prince was destroyed. So the goal was different; we had to go through the city and stop near buildings and begin to check if there were calls [for help] from within the buildings."

Recent earthquakes in Israel have reminded many people of the dangers lurking beneath the surface that could cause widespread destruction. An earthquake measuring a magnitude of 4.2 was felt on Sunday, January 23, which followed one less than 24 hours earlier, a 3.8 magnitude tremor. They were felt in Haifa, Tiberias and across the North, and even as far as the Jordan Valley. The last time a major earthquake struck was in 1927, when hundreds were killed. The Institute for National Security Studies (INSS) at Tel Aviv University has argued an earthquake is a major danger.

"Thousands dead, tens of thousands injured, and hundreds of thousands forced to evacuate their homes: this is the expected scenario that will accompany the powerful earthquake that sooner or later will strike Israel. Although currently the State of Israel is not doing enough to prepare for this event, it is incumbent on it to prepare for this deadly episode, which constitutes a significant threat to national security," INSS said in late
Statue of 'most important Jewish woman in medieval England' to be unveiled
A life-size bronze statue of "the most important Jewish woman in medieval England" is to be unveiled in Winchester on Thursday 10 February after a mammoth fundraising effort bore fruit.

The project to install a statue of Licoricia of Winchester, the renowned Jewish businesswoman, has been crafted by sculptor Ian Rank-Broadley to help mark the presence of a medieval Jewish community in England's former capital city.

Installation has begun outside the Winchester Discovery Centre in Jewry Street, opposite the site of Licoricia's house and of the city's 13th century synagogue.

Widowed twice, Licoricia was a major financier to King Henry III and his Queen, Eleanor. In later life, her financial contributions helped build Westminster Abbey and its ornate shrine to Edward the Confessor.

A leading personality in the Jewish community of the city at the time, she brought up her family as a single parent, conducted her business, and prospered in what was a hostile society, where antisemitism frequently resulted in killings.

"The project to install a statue of Licoricia aims to inform people about England's little-known but important medieval Jewish community," said organisers.

Jews were part of English society from 1067 to 1290 but were officially "the property of the King" and were restricted in the jobs they could do. Finance was one of the limited options open to them, alongside teaching, medicine, and trading.

Those behind the statue's fundraising effort described Licoricia as "a role model for women today" and "highly educated, like many Jewish women of her time, enabling them to be successful in their own right".