From Ian:
---
Anti-Israel Democrats Defend Past Comments At Anti-Israel Restaurant
Freshman Democratic congresswomen Ilhan Omar (Minn.) and Rashida Tlaib (Mich.) defended their comments on Israel and its influence in the United States on Wednesday night at Busboys and Poets, a restaurant owned by a man who himself has said the United States takes "marching orders from Tel Aviv."

The Washington, D.C., restaurant was filled to capacity for the "Progressive Town Hall," which also included representatives Pramila Jayapal (D., Wash.) and Mark Pocan (D., Wis.), who heads the influential Progressive Caucus in the House. The members were introduced by restaurant owner Andy Shallal, an activist who in addition to arguing that the United States takes orders from Israel has accused the Jewish state of "terrorizing" the Middle East.

Omar, a Somalian-born Muslim from Minnesota, has found herself apologizing for comments she made about Israel that have been deemed anti-Semitic, but on Wednesday night defended her criticism of Israel and said the criticism comes just because of her religion.

"What I am fearful of, because both Rashida and I are Muslim, is that a lot of our Jewish colleagues and constituents go to thinking that everything we say about Israel is anti-Semitic because we are Muslim," Omar said. "It's something designed to end the debate."

"It's almost as if every time we say something that is supposed to be about foreign policy, or advocacy about ending oppression, or the freeing of every human life, we get to be labeled and that ends the discussion," she said. "We end up defending that and nobody gets to have the broader debate about what is happening with Palestine."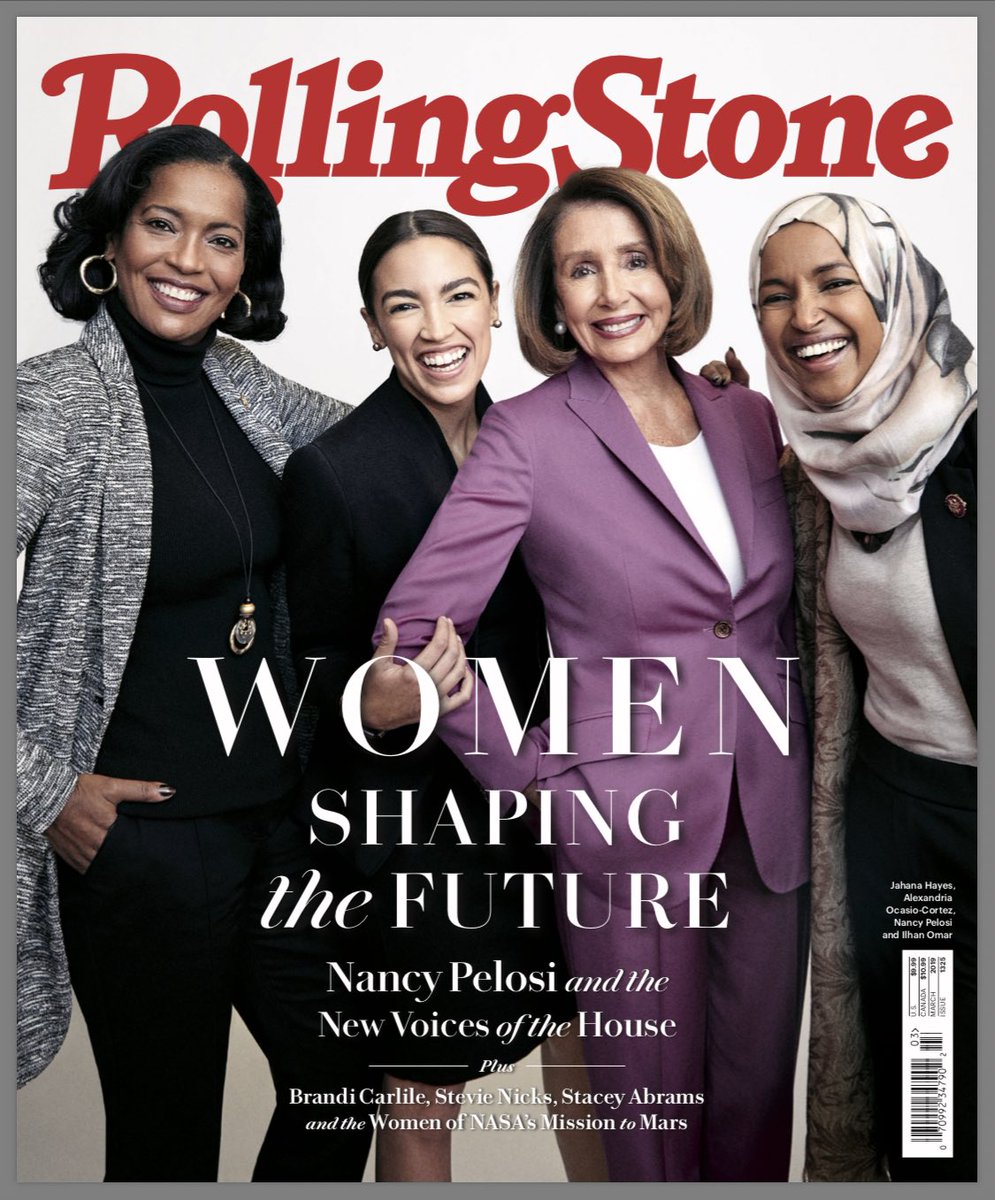 Omar Grins After Audience Member Celebrates 'All About the Benjamins' Tweet
As Omar was about to speak next, an audience member shouted out, "It is about the Benjamins," a reference to Omar's tweet earlier this month that said House Minority Leader Kevin McCarthy (R., Calif.) wanted to punish her and Tlaib's anti-Israel rhetoric because he was being paid off.

Omar grinned, and Tlaib looked to the side and smiled while taking a drink, seemingly suggesting she agreed with the sentiment, in a moment noted by Jewish Insider.

Omar also tweeted this month that AIPAC, the pro-Israel lobbying group, was paying off politicians to support Israel. She was eventually forced to apologize, although she said this week it was about how she made people feel, not about being anti-Semitic.

Tlaib has suggested pro-Israel politicians have dual loyalties, a classic anti-Semitic canard, and Omar has repeatedly been dogged by anti-Semitic controversies, before and since taking office. She tweeted in 2012 Israel had "hypnotized" the world with its "evil" actions, declared it's amusing to her that the Jewish state is considered a democracy, and supported BDS, which Senate Minority Leader Chuck Schumer (D., N.Y.) has called anti-Semitism in action.
Top Four Reasons Why Rep. Ilhan Omar is Wrong about AIPAC, Israel and the Palestinians
4. Omar's "evil doings" of Israel are actually "evil doings" of the Arabs and the Palestinians

The evil doings of Israel that Omar refers to include first and foremost Israel's supposed refusal to permit a Palestinian state. Yet history shows it is the Arabs and the Palestinians who have stood in the way of a Palestinian state, not Israel. Opportunities for a Palestinian state were rejected by the Palestinians and the Arab states multiple times, including:


In 1947 UNGA 181, the so-called Partition Resolution called for creation of a Jewish and an Arab state out of the territory of the British Mandate for Palestine. The Jews accepted the compromise, while the Arabs rejected it and promised to annihilate the Jewish state the moment the British withdrew. While the Palestinians and five Arab states attacked Israel and expected to win easily, in the end the Israelis, at great cost, beat back the invaders and survived the war. The Arab states made no effort to create a Palestinian state in the Mandate territory that they occupied after the war. For example, Jordan's King Abdullah annexed the West Bank to his kingdom.
In 2000 President Clinton hosted Palestinian leader Yasir Arafat and Israeli leader Ehud Barak for intensive talks at Camp David. After grueling negotiations Israel accepted the so-called Clinton parameters, but Arafat and the Palestinians rejected them. The Saudi representative to the talks, Prince Bandar bin Sultan, memorably said "If Arafat does not accept what is available now, it won't be a tragedy, it will be a crime."
But Arafat did turn down the Clinton parameters and instead returned home and triggered the so-called Second Intifadah, which included numerous Palestinian suicide bombings and other terrorist attacks in which over a thousand Israelis were killed.
In 2008, after extensive talks, then Israeli Prime Minister Ehud Olmert met with Palestinian President Mahmoud Abbas and presented a comprehensive peace plan. Olmert's plan would have annexed the major Israeli settlements to Israel and in return given equivalent Israeli territory to the Palestinians, would have divided Jerusalem, and also included a partial Palestinian "right of return." According to The Washington Post's Jackson Diehl, who had previously covered the region, "Olmert's peace offer was more generous to the Palestinians than either that of Bush or Bill Clinton; it's almost impossible to imagine Obama, or any Israeli government, going further." Despite this, Abbas admitted to Diehl that he walked away.

Rep. Omar has got it exactly backwards. If there have been evil doings against the Palestinians, the perpetrators she should be upset with are the Arab and Palestinian leaders, especially Yasir Arafat and Mahmud Abbas, who did their best to nurture and perpetrate the conflict, rather than ending it on an honorable basis, all at the expense of the ordinary Palestinians Ilhan Omar claims to care about.
Omar on Anti-Semitic Tweets: I Did Not Apologize for Being Anti-Semitic
Commenting on anti-Semitic tweets she wrote earlier this month, Rep. Ilhan Omar (D., Minn.) said she did not apologize for being anti-Semitic during an interview with The Intercept released on Thursday.

"You've since apologized unequivocally for the tweet. You've said rightly that anti-Semitism is real. But just to be clear, I mean we're a few weeks on now, what were you apologizing for? Was it a badly worded tweet that you were apologizing for? Or was it for being anti-Semitic, wittingly or unwittingly?" host Mehdi Hasan asked around the 12:45 mark of the audio at the link above.

"Oh absolutely not," Omar responded. "I apologized for the way that my words made people feel. Oftentimes, you know, we are in places where someone will say something, and they might not know how it makes you feel and it's not acceptable, that once you express to them that this is hurtful, that you have felt attacked by their words, they should acknowledge how you feel, they should speak to that, they should apologize and figure out a way to remedy that situation."

"That's why you apologized?" Hasan asked.

"That's why I apologized," Omar said.

"And is that why you deleted your tweets this week?" Hasan asked. "The chairwoman of the Republican Party is all over Twitter suggesting that was some sort of … bad faith move on your part."

"I mean for a Republican who always makes a bad faith move to call someone out on that is laughable … The reason and the purpose of the apology was to make sure that the people who were hurt felt understood and heard, and leaving the tweets up no longer would be part of that," Omar said.