From Ian:
Israel Foreign Minister Lapid celebrates Unilever's Ben & Jerry's sale as 'victory' against BDS
Israeli Foreign Minister Yair Lapid hailed Unilever's decision to sell its Ben & Jerry's business interests in Israel as a "victory," as the new arrangement allows the ice cream products to be sold throughout Israel and the West Bank.

Last year, Ben & Jerry's announced that they would no longer sell their products in the West Bank, which it referred to as "Occupied Palestinian Territory." That policy is now scrapped, now that parent company Unilever is no longer involved in the Israeli market after selling the interests to American Quality Products Ltd, which had been the Israeli licensee for Ben & Jerry's.

"The Ben & Jerry's factory in Israel is a microcosm of the diversity of Israeli society," Lapid tweeted Wednesday. "Today's victory is a victory for all those who know that the struggle against BDS is, first and foremost, a struggle for partnership and dialogue, and against discrimination and hate."

The initial decision to end sales in the West Bank was met with sharp criticism from Israeli and American officials alike.

"Now we Israelis know which ice cream NOT to buy," former Prime Minister Benjamin Netanyahu said at the time.

Unilever has insisted that they have never supported BDS, the anti-Israel Boycott Divestment and Sanctions campaign that seeks to isolate Israel in order to pressure the Jewish state into changing its policies regarding Palestinians. The BDS movement had celebrated last year's decision to stop selling the ice cream in the West Bank, which includes Jewish settlements and Palestinian territories.

The statement continued: "We have never expressed any support for the Boycott Divestment Sanctions (BDS) movement and have no intention of changing that position."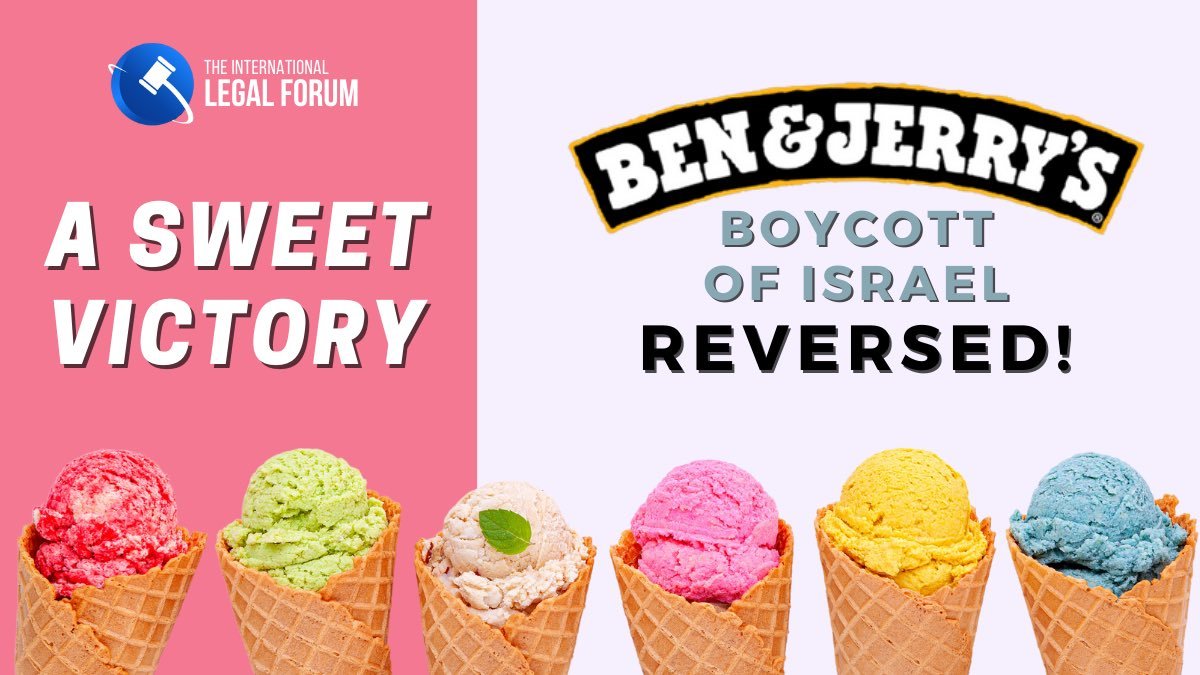 From my interview with @davidmatlin on @i24NEWS_EN on @Unilever's reversal of @benandjerrys boycott of #Israel:

"A sweet victory and a clear, unequivocal repudiation of the racist, antisemitic BDS movement promoted by Ben & Jerry's."

Full interview: https://t.co/HjdBZNrh0u pic.twitter.com/hyzHYB8xLL

— Arsen Ostrovsky (@Ostrov_A) June 30, 2022
Today is a great day for the fight against BDS's hate speech & bigotry towards #Ben&Jerry's Israel.
A huge thank you to Unilever and all those who supported us in this moral fight against hate! pic.twitter.com/etsBvAXJQd

— Lior Haiat ???? (@LiorHaiat) June 29, 2022
Ben and Jerry's Denounces Unilever's Move to Stay in Israel
Ben & Jerry's boycott of Israel is still intact even though the local company can continue to produce ice cream under an amended brand name, the Vermont-based creamery clarified on Twitter.

"Our company will no longer profit from Ben & Jerry's in Israel," Ben & Jerry's said in a statement after an agreement was announced on Wednesday that ended a year-long battle by businessmen Avi Zinger.

Under an agreement reached as the result of a lawsuit Zinger filed in New Jersey Federal Court together with the Louise B. Brandeis Center for Human Rights Under Law, he is allowed to continue making the ice cream under his company, American Quality Products.

Zinger can continue to make the same Ben & Jerry's ice cream the Israeli consumers have come to know, but he cannot do so under Ben & Jerry's English-language brand name. He can only use the name Ben & Jerry's in Hebrew and Arabic.

His company will also now be independent from Ben & Jerry's and its parent company the London-based conglomerate Unilever. The agreement was reached between Unilever and Zinger.

Ben & Jerry's objection
"We are aware of the Unilever announcement. While our parent company has taken this decision, we do not agree with it," Ben & Jerry's tweeted.

It underscored that there would now be no connection between its Vermont-based company known for taking social values stands and the Israeli company.

"Unilever's arrangement means Ben & Jerry's in Israel will be owned and operated by AQP," Ben & Jerry's said, referencing Zinger's company.

"We continue to believe it is inconsistent with Ben & Jerry's values for our ice cream to be sold in the Occupied Palestinian Territory," Ben & Jerry's tweeted.
Will you be boycotting @Unilever then? https://t.co/Ih729N6EwV

— Eugene Kontorovich (@EVKontorovich) June 29, 2022
Unilever reverses @benandjerrys decision to boycott #Israel ???? and condemns the BDS movement. ?? pic.twitter.com/rRka9vnOWO

— Emily Schrader - ????? ?????? (@emilykschrader) June 29, 2022
1. Unilever says they will have no part of an antisemitic boycott.

2. Ben and Jerry's have just officially said they are not happy with that.

3. Conclusion: Ben and Jerry's support antisemitic boycotts.

Thankfully their hate driven agenda has totally failed.

— David Collier (@mishtal) June 29, 2022