From Ian:
Bernard-Henri Levy:
Sarah Halimi's Law
Everything about this case is heartbreaking.

The fate of a retired kindergarten teacher, beaten and then thrown from a window.

The evasiveness about whether a murder committed to cries of "I've killed the devil!" was or was not an anti-Semitic act.

The silence of the feminist groups that typically do such remarkable work in support of battered women and victims of domestic abuse, but who had nothing to say about this case.

The December 2020 decision of the court of appeals, confirmed by the high court on April 17, that Kobili Traoré, the killer, whose criminal record contains 20-odd convictions, was, in this instance, overcome with a delirious episode and thus could not be held criminally responsible.

Not to mention the good souls who, clearly perceiving that the courts have spoken but justice not done, keep repeating that they "understand the feelings of the Jewish community," as if it were the latter alone, and not the French nation as a whole, that had reason to feel cheated by a trial that was whisked away, making it impossible to reach closure.

In the face of this legal and moral defeat, I offer three observations.

First, since judges are ordinary mortals, subject to prejudice, errors of judgment, and even emotion, it is not inappropriate, contrary to ubiquitous assertions to the contrary, to "comment on a court decision."

Indeed, the derailment inflicted by the high court is revolting.

Indeed, we live in a country, France, where a man who throws his dog from his fourth floor is sentenced to a year in prison, whereas if he murders an old Jewish woman, he may face no consequences whatsoever.

Indeed, it is worrisome to know that the murderer, who had no history of psychiatric problems, who suffered and suffers from no pathology, and who, since his hospitalization, has received no medication, will soon regain his freedom.

And, no, it is not inappropriate to worry about the state of a legal system that is too often the prisoner of the culture of excuses: In Sarcelles, we witnessed the inability to call by its proper name the act of an individual armed with a knife who attacked three people leaving a synagogue wearing yarmulkes.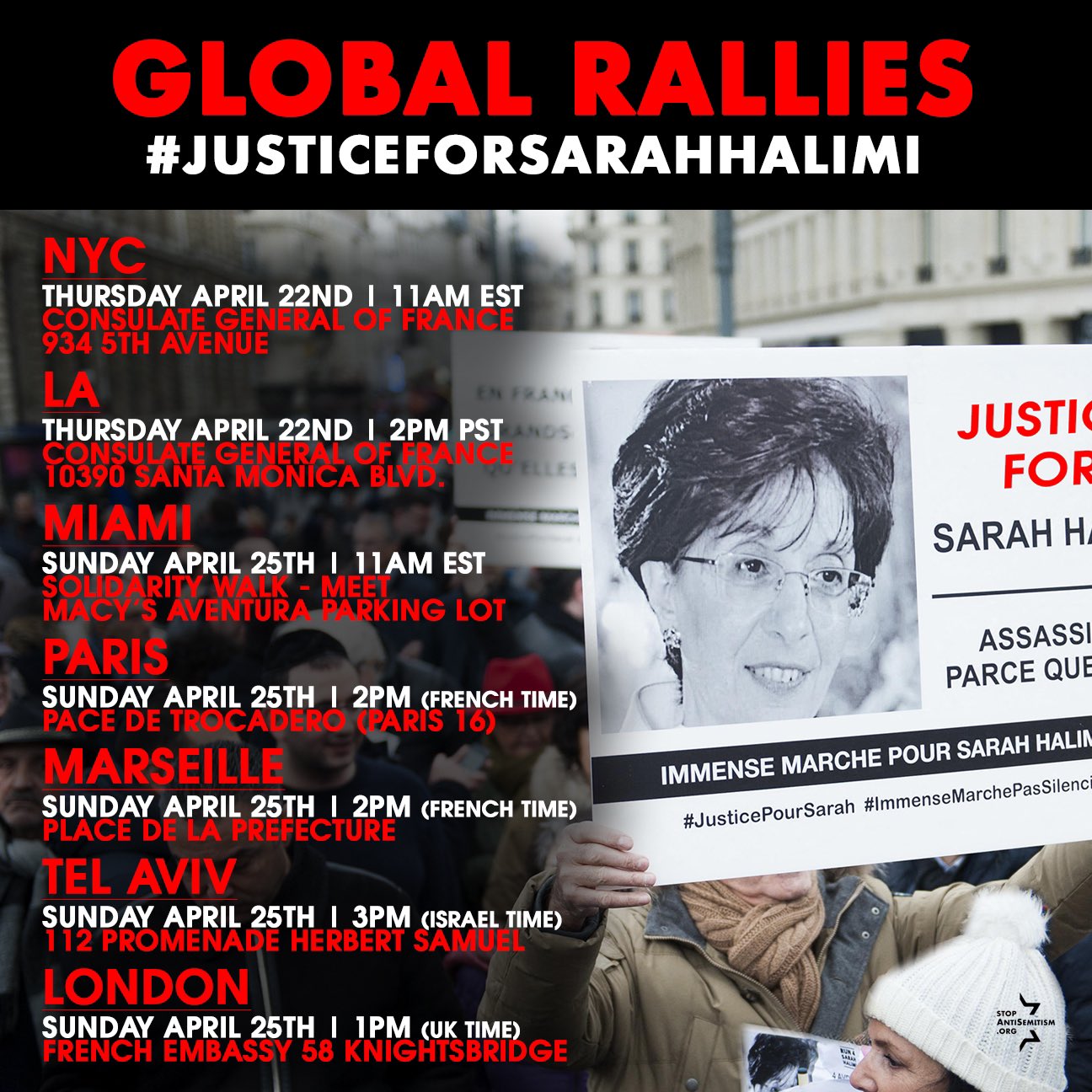 JPost Editorial:
Sarah Halimi murder: No excuse for killing, hating Jews - editorial
The fact that the man shouted religious slogans during the killing provides evidence that this was not just a random drug-fueled murder. Throughout history Jews have been murdered for blood libels, hacked to death by Crusaders, and stuffed into gas chambers and crematoriums. In recent years, France's Jews have often been targeted by Islamist extremists. For instance, in 2012 a Jewish school in Toulouse was targeted by a murderer who filmed the killing of a teacher and children. Mohammed Merah, the murderer, shouted "Allahu akhbar" while killing others during his campaign of terror.

Then, in 2015, four people were killed at a kosher supermarket in Paris. That attack was also mistakenly dismissed as "randomly shoot[ing] a bunch of folks in a deli" by former US president Barack Obama. One wonders again whether, had they not been Jews but another minority group, and had they been targeted in a unique traditional food store, it would have been labeled "random."

It was not random when France's "Gang of Barbarians" murdered Ilan Halimi in 2006. He was targeted for being Jewish, and during the trial the ringleader of the murderers claimed "all the Jews in the world are enemies," a statement we Jews have heard before.

Unfortunately, in France there is a long list of wannabe Hitlers who have targeted our people, from Ilan Halimi, to Sarah Halimi. The difference is that the law has now decided in France that so long as people have taken a bit of drugs, they are no longer responsible for their murderous actions. Any "angry" person can now murder a Jew in France and claim he took drugs beforehand and have a reasonable chance of walking free.

While it is a positive step that Macron has called for the law to change, it is years too late. Macron has said that he wants to assure the family and relatives of the victim and all fellow citizens of the Jewish faith that they have his support. Then why do they keep getting murdered in France?

Jews make up a small, historic minority in France. Many have left the country over the years for Israel, the United States or Canada, seeking to build a new life. They shouldn't have to flee for safety or put up more bars and walls around their synagogues to feel safe. It's not enough to change a failed law that enables people to murder so long as they are "high." Society in France should have been educated long ago not to hate Jews and not to call Jews "Satan." Crimes of people shouting "God is great" while killing members of another faith should be prosecuted as religious-inspired hate crimes. The excuses have to stop.
Many ppl joined me at the French consulate to demand justice for Sarah Halimi because if this judgment is allowed to stand, then murder has become legal in France so long as a murderer gets high on marijuana first and their victim is Jewish!

READ LETTER:https://t.co/Y5PQDn5c7e pic.twitter.com/kJ0m6P7Y46

— Dov Hikind (@HikindDov) April 21, 2021
Sarah Halimi's family to seek Israeli trial, lawyers say
Sarah Halimi's sister is set to file a legal complaint in Israel against her killer who was recently found criminally not responsible by a French court.

Ms Halimi died in 2017 aged 65 after being pushed from her Parisian apartment window by her neighbour Kobili Traoré, who has since remained in psychiatric care.

He had shouted 'Allahu Akbar' before the attack.

Lawyers representing the victim's Israeli sister, Esther Lekover, said they will lodge a complaint in Israel where some antisemitic offences committed abroad may also be prosecuted.

Gilles-William Goldnadel and Francis Szpiner said they "deplored" having to take the step but "could not accept a denial of justice which offends reason and fairness far beyond France's Jewish community."

They also expressed their "consternation" at the cour de Cassation's recent ruling.
France's Jews Outraged After Sarah Halimi Murderer Acquitted
Just HOW bad is Jew hatred in France?

SO bad that Uber needs to advertise in public subway platforms there's no antisemitism allowed in their cars.

Is it any wonder Jews are fleeing France in records numbers for Israel? pic.twitter.com/pkkCnwtwMv

— StopAntisemitism.org (@StopAntisemites) April 21, 2021