From Ian:
Israel set to come to standstill to remember 23,928 fallen
Israelis paid tribute to the country's 23,928 fallen soldiers and terror victims starting on Tuesday evening, bowing their heads for a minute of silence as sirens sounded around the country to mark the start of Memorial Day.

The one-minute siren at 8 p.m. was immediately followed by the state ceremony at the Western Wall in Jerusalem. On Tuesday night, additional public memorials will be held, including at Tel Aviv's Hayarkon Park and in the Knesset in Jerusalem.

During the siren, traffic around the country came to an abrupt halt, as Israelis stopped driving to stand beside their cars and people at home stood in somber silence on their balconies or in their yards.

A second, two-minute, siren will go off at 11 a.m. Wednesday, which will be followed by the main Memorial Day ceremony at Mount Herzl military cemetery in Jerusalem, and smaller events at cemeteries across the country.

The Memorial Day events officially began at the Yad LaBanim center in Jerusalem on Tuesday afternoon, with Prime Minister Benjamin Netanyahu, Knesset Speaker Yariv Levin and Chief Justice Esther Hayut in attendance.

Speaking at the ceremony, Netanyahu said Israel will make "every effort" to return its captives, which include two civilians and the bodies of two IDF soldiers believed to be held by the Hamas terror group in Gaza.

"This is a sacred mission that we're not letting go of," he said.

Speaking at the official state ceremony held at the Western Wall, President Reuven Rivlin said the message of the day was that citizens of the Jewish state must not take it for granted.

"From here, I want to speak to you, the commanders, the soldiers, those soon to enlist, the young generation. I grew up as a child at a time when we did not have a state. For me, for those of my generation, the State of Israel is not something to be taken for granted. This strong and powerful country you see was established by the heroism and dedication of young people of your age," Rivlin said.

"Today, the task of protecting the State of Israel, is on your shoulders. Remember, without love of the homeland, dedication to mission, aiming for victory, comradeship, purpose, personal example and the purity of weapons, a free people will not be established here. The Israel Defense Force and the State of Israel, we, need you young, strong, united, united, united, determined to lend a hand, determined to continue to prevail, ready when necessary, to pay a price," he entreated.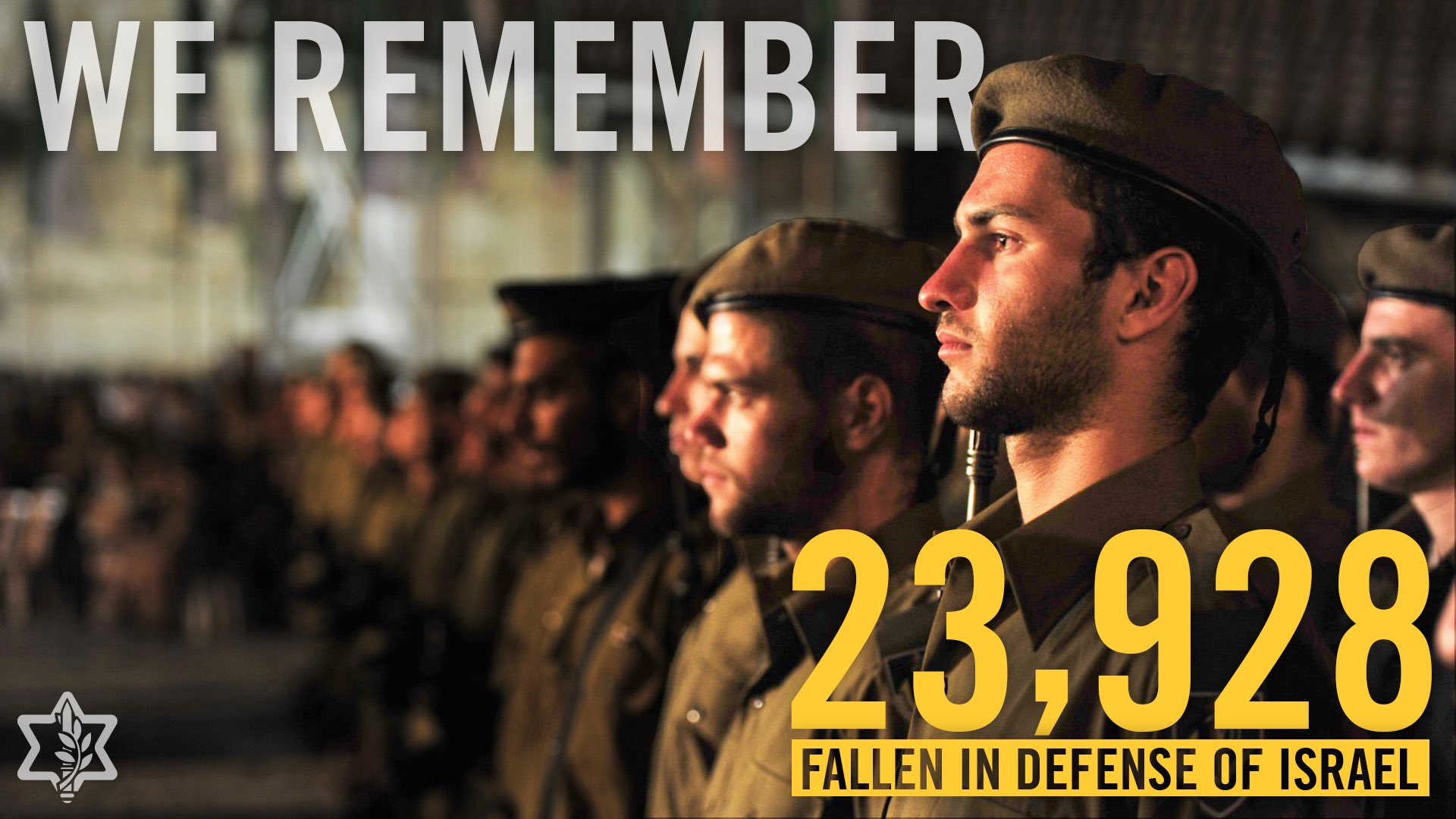 Danny Danon:
The memories we are forced to imagine
On Israel's Fallen Soldiers and Victims of Terrorism Remembrance Day we will unite, as we do every year, in the memory of our heroes who sacrificed their lives for the independence and security of Israel. On this day we put all of our differences aside; there will be no right and no left – only a sense of unity and shared destiny.

On Memorial Day, my personal grief meshes together with the national grief felt by all Israelis. As fate happened, my own father, Yosef Danon, became one of those 23,928 fallen, dying around Memorial Day. Every year, when I accompany my mother to the military cemetery in Kiryat Shaul to mark the anniversary of his death, we feel the entire country bowing its head in commemoration of our personal hero. Indeed, this is the power of every Memorial Day in Israel, where for one day, personal pain and grief are felt by the whole nation.

My father, one of the best reconnaissance navigators the IDF has known, was mortally wounded during one of his stints of reserve duty in the Jordan Valley when he sustained a severe head injury in a battle with terrorists who had infiltrated Israel. He struggled with his injuries for many painful years, until they eventually led to his death on the eve of Memorial Day, a day he revered and honored his comrades who never returned from the field of battle.

For the bereaved families, remembrance is a lifeline. Every picture, film, or story brings back to life our fallen loved ones. Because the majority of the fallen died young, the reservoir of memories is relatively limited. I carry the memory of my father with me every day, but I've carried his memory for far longer than the years I was able to be with him. Most bereaved families are in a similar situation, having had short periods of time with their loved ones to build memories and decades of coping with bereavement and clinging to those memories.
The fallen made us stronger
Israeli society must persevere and stand those challenges through its unique blend of multi-generational stamina and liberty, creativity, and constructive focus that give meaning to this life. Some tribal societies have learned to live in the shadow of violent conflicts by developing resolve, even if at the price of curtailing personal liberties and undermining human dignity. Their only accomplishment is survival, at the expense of the constructive and creative elements of society: Life continues but its quality declines and it has a bitter taste. It's no wonder that such societies have failed in dealing with the challenges of the modern age.

Societies that are open, thriving and prosperous run the risk of losing their stamina. They often preserve individual liberties and economic wellbeing at the expense of their right to self-defense. They do so by capitulation to extortions. The violent tribal distortion has sealed the fate of most Arab societies, and appeasing haplessness is very common in Europe. It appears that most of those who are addicted to violence get overrun by it, and those who refuse to confront it with determination cannot properly deal with its challenges and deter his or her enemies. This is very much on display in Syria and eastern Ukraine.

Israel will be liquidated if it falls into one of those traps. If it slides toward the appeasement route it would be destroyed by its violent enemies. If it bolsters its defenses at the expense of its people's liberties and constructive elements, it would lose its raison d'etre and its finest men and women who want to live in it and defend it. Without them, it would simply disappear. It must preserve its stamina just enough so that it could remain an open and thriving society and radiate toughness. It has had to continue fighting in recent generations because it is surrounded by enemies that engage in wild violence even toward their own compatriots and coreligionists.

It appears that our regional environment is not going to see a fundamental improvement in its situation. In the future, we will have to fight and lose our finest people in doing so. The pain will feel as bad, but we will know that their fight and their sacrifice will have significantly helped mitigate the threats on Israel. The fact that the fallen have knowingly agreed to risk their lives for the protection of society and the life we enjoy in Israel offers some comfort for all of us.
Zionism: New Goals & Old Struggles - Prof. Gil Troy | OP-ED
In celebration of Israel's 73rd Independence Day — Yom Ha'atzmaut — we are sharing professor Gil Troy's essay "Why I am a Zionist." Twenty years ago he wrote this affirmation essay sharing his reasons for being a Zionist, and how we all have a hand in fulfilling Theodor Herzl's timeless belief that "If you will it, it is no dream." This year, we are revisiting and updating it.
My dear friend Eyal Banin, fallen IDF Medic
On Israel's Rememberence Day for its fallen soldiers and victims of terrorism, Wednesday, April 14, sadly, there are so many dear souls to remember. Friends, family members, neighbours, members of our community and beyond. There is almost no one in Israel untouched by this reality. Many of these unique individuals remain in my memory throughout the year but as this day approaches, one cannot help give some extra thought to who these people were, what they achieved and stood for in their too short lives and where they would be today.

One of them, is my dear friend, Eyal Banin.

On my final night of basic training in the Israeli army, June 14, 2002, I was part of an IDF unit made up of 60 soldiers who, laden with 30 kilograms (66 pounds) of equipment and ammunition on our backs, set off on a gruelling 70-kilometer (43-mile) hike along the hilly Negev desert in the southern part of Israel. This maneuver was the climax of almost five months of basic training and at the end of it we were to receive our unit's beret.

It was the height of the Second Intifada, and due to security precautions, all army hiking routes had been redirected to the Negev desert in order to avoid proximity to the nearby Palestinian Arab villages and cities. Approximately fifteen kilometers into the hike as the sun was setting, we passed a construction site with large Caterpillar diggers parked on the side. With the exception of one soldier at the back of the group, no one noticed that one of the trucks had started its engine and was making its way in the direction we were walking.

The driver of the digger positioned his machine alongside the two rows of soldiers, lifted the vehicle's large spade, and as he shouted, Allahu Akbar, (God is great, in Arabic,) he put his foot on the gas pedal and sped full-throttle toward us, intent on killing as many soldiers as he could. With the vehicle closing in on us, chaos ensued, with soldiers running in every direction to get out harm's way.
Emily Schrader:
Israel is now situated in the new Middle East
The Abraham Accords, like the peace agreement with Egypt and with Jordan, was a top-down government decision. But while Egypt continued to foster hate and teach incitement to the public for decades, while also working with Israel at the same time, the UAE's courage in forging a new path by immediately teaching about tolerance, about Jewish history, about the State of Israel, opened the doors to a new Middle East.

In working with Israeli companies in the private sector, and in collaborating on healthcare, security and finance, while encouraging people-to-people relations and collaborations, both parties – the UAE and Israel – have set a stellar example of what people can do for the future of the entire region, and that vision is already manifesting itself.

As we know, UAE's peace with Israel set in motion normalization agreements with Sudan, Bahrain and Morocco, and laid the groundwork for change on the ground with Morocco and even Egypt modifying their school books to teach about Jewish history for the first time in recent history.

OF COURSE, not everyone agrees. An anti-normalization page called UAE for Palestine called for boycotting the UAE over the warming Israel-UAE relations. Similarly, Boycott, Divestment and Sanctions groups and even members of Hamas in Gaza took to social media to bash the normalization this trip represented. Basim Naim, a BDS leader and a former health minister in Gaza, posted on Instagram in response to the Holocaust memorial event, "....This is tasahyun (becoming Zionist)! Does reconciliation with any country require we adopt its religion, culture and narrative? May you get what you deserve from Allah and your people for this hypocrisy."

But despite these extremists, the attitude on the ground remains strongly pro-normalization, thanks to the work of courageous leaders in the UAE.

It's no longer acceptable in the Middle East to have government-level peace and incitement against Jews and Israelis on a person-to-person level. For that, we have the UAE to thank.
Iranians Aim to Build Friendship with Israelis by Countering Anti-Semitism on Social Media
Iranians inside Iran have been operating a Twitter account for a non-profit organization whose mission is to counter the Iranian regime's anti-Semitic propaganda as a means to encourage friendly relations between Iranians and Israelis.

The Twitter account, Friendship Council for People of Iran and Israel (@fcpii_official), currently has over 3,200 followers and operates under anonymous management for security purposes, allowing them to successfully push back against the Islamic Republic's anti-Semitic narrative from inside Iran for over 10 years.

"As the name of the association suggests, our main goal is to promote the friendly relationship between the people of Iran and Israel. All our efforts are to acquaint the Iranian people, who have been under the regime's propaganda bombardment against Israel and the Jews for 42 years, with the facts," FCPII's founder "Kourosh," who is based in Iran, said in an interview with Lisa Daftari Monday.

"My mother and father traveled to Israel between 1977 and 1977 to seek help from Israeli doctors to have children," Kourosh said, describing the progressive fertility treatments his mother received at Israel's Hadassah Hospital.

"When I was growing up, they explained to me that thanks to the knowledge of Jewish doctors, I was able to be born. It has always been with me that I owe my existence to the Jews. I always felt good about the Jews, and although there was little information available and no internet in those years, I really wanted to know more about Israel and the Jews," he said.
'These people and their f***ing tree houses', Cuomo said at Sukkot fundraiser
New York Gov. Andrew Cuomo has long prided himself on his strong relationship with the Jewish community — a relationship he dates back to his father's three terms as governor.

But that love for the Jewish community apparently does not extend to the Jewish holiday of Sukkot.

In a story about Cuomo's political career, The New York Times Magazine reported Cuomo's frustration with a campaign appearance at a Sukkot event during his run for attorney-general in 2006.

"These people and their f***ing tree houses," Cuomo said to his team, according to the Times.

A spokesman denied the comment.

"His two sisters married Jewish men, and he has the highest respect for Jewish traditions," the spokesman said.

Sukkot is marked by eating, and sometimes sleeping, in a sukkah, a temporary hut often built from wood and covered in tree branches.
Randi Weingarten and the Antisemitism That Marx Built
In fact, Marx asserted, Judaism was the essence of the ownership class and the ownership class the essence of the Jews. "The Jew who exists as a peculiar member of bourgeois society, is only the particular expression of the Judaism of bourgeois society," he claimed.

"We therefore perceive in Judaism a general pervading anti-social element," Marx said, and posited that this "element" had to be, in effect, eliminated in order to achieve genuine human freedom.

"The emancipation of the Jews in its last significance is the emancipation of mankind from Judaism," he stated.

And as a result of this, Marx did not shy away from the quintessential expression of antisemitism itself: total dehumanization. "Out of its own entrails," he said, "bourgeois society continually creates Jews."

This was a stunning statement, because unlike even the worst antisemites of his time, Marx did not confine himself to the claim that the Jews were subhuman animals. He went much further than that. To Marx, the Jews were quite literally the excrement of capitalist society.

Marx was by no means the only leftist hero who engaged in dehumanizing antisemitism. Anarchist philosopher Pierre-Joseph Proudhon, for example, wrote in 1847, "The Jew is the enemy of humankind. They must be sent back to Asia or be exterminated." Hatred of the Jews, Proudhon added, "should be our first article of political faith."

All of this is to say that, despite the fantasies of many, the left has a venerable and highly influential tradition of antisemitism. Like all other forms of antisemitism, it identifies the Jews with the things it hates the most — in this case, bourgeois society, or the "ownership class." This antisemitism was formulated by the founders of the modern left itself, and it is the same as any other form of antisemitism: dehumanizing, violent, and hateful. And like its predecessors and successors, it has caused brutal violence and oppression — from the persecution of Jews by the Soviet Union to the left-wing terrorists who collaborated with Palestinian terrorism to the current anti-Israel racism that pervades the left. It is not new, it is not benign, and it is not acceptable.

Weingarten may or may not be an expert on Marx, and she is reported to be heavily involved in some form of Judaism, as her spouse is a rabbi. But she has nonetheless internalized the antisemitic tradition Marx founded, with everything that implies. She has work to do.
Straight From the Horse's Mouth: Antisemitism Is Inherent to SJP Activism
On February 26th, Students for Justice in Palestine (SJP) at Brown University hosted an event featuring speakers who discussed Palestinian activism.

Unsurprisingly, it was an exercise in antisemitic rhetoric and argumentation, including hateful tropes such as, "These attacks on capital, on money are what scares them [Israelis, Zionists, Western collaborators] the most."

One speaker vociferously called for all Palestinian prisoners in Israel to be freed — all of them, including those convicted of murder and terrorism. The same speaker, Palestinian poet and New York City-based activist Mohammed El-Kurd, later asserted that "Hamas has a right to exist under international law, [which] doesn't mean I agree or disagree with them." He promoted the fallacy that "Israel [needs] to vaccinate us [Palestinians] to comply with international law," and referred to all of the land as "Palestine."

But the Q&A session afterward is when things really got interesting. I posed a question, asking if Palestinian activism can ever wade into anti-Jewish rhetoric. The short answer was no, never.

The long answer can be found in the following comments from El-Kurd:
Palestinians in Occupied Palestine have dealt with their oppressors for 70+ years. Their oppressors happen to be Israeli Jews. If Palestinians feel some kind of tension or fear or anger towards Jewish Israelis, and say some sorts of things that attack Jewish Israelis, that is completely fine given the context of them being subjugated and having their land stolen from them and rotting in Israeli prisons and having their roads divided. Yes, antisemitism is horrible and should be combated and should be a value that is instilled in the Palestinian liberation movement, we don't disagree on that. But I'm not going to waste my time, waste my advocacy punishing Palestinians for choosing to speak about their oppressors in a certain way.

Is El-Kurd arguing that all hate speech targeting Israeli Jews and Diaspora Zionist Jews — from the denial of Jewish indigeneity to openly supporting the killing of Jewish children and non-combatants — is a legitimate expression of the struggle toward achieving what they view as justice?

It certainly seems that way.

Does he feel the same about calling Jews and Israel Nazis? Accusing Jews of trying to poison Palestinians? Encouraging further discrimination and violence against Israeli Jews and Diasporic Jews alike?
J Street to present Jimmy Carter with peacemaker award
J Street, the liberal pro-Israel group, is presenting Jimmy Carter with a peacemaker award at its conference, recognizing the former president, who has frequently tangled with the mainstream pro-Israel community, for brokering the 1979 Egypt-Israel peace.

"By helping to broker the incredible Camp David Accords between Israel and Egypt, President Carter demonstrated that determined American diplomacy can end decades of conflict and bring together even the most determined foes," J Street President Jeremy Ben-Ami said Monday in a release sent to the Jewish Telegraphic Agency.

J Street's Tzedek v'Shalom award goes to "distinguished individuals who have made critical contributions in their lives to the cause of peace for Israelis, Palestinians and the wider Middle East," the release said.

The award is in line with the longstanding claim by J Street, itself a group that forcefully criticizes Israeli policies and pro-Israel orthodoxies, that doing good work on Israel's behalf sometimes requires tough love.

"With visionary moral clarity, he has emphasized that the well-being of the Israeli and Palestinian peoples are inextricably intertwined — and has never given up the hope that the occupation and their conflict can and must be brought to a just and peaceful end," Ben-Ami said.
Rashida Tlaib's Finance Director Gives Props to PFLP Terror Group Reps
Last month, Rasha Mubarak, Finance Director for US Representative Rashida Tlaib, hosted a podcast, where she interviewed Muslim activist Sumaya Awad about a new book Awad had just co-edited. During the show, amidst verbal attacks against America from the two, Awad provided examples of Palestinian entities that are Socialist in nature, specifically the Popular Front for the Liberation of Palestine (PFLP), members of which Mubarak promotes on social media, and the PFLP spinoff, DFLP. Both groups have been involved in mass murders of Israeli civilians. Question: How could treason and terror coming from a congressional staffer ever be tolerated?

Mubarak's podcast, 'Unbought Power,' was created to bash the Jewish state. Awad's book, 'Palestine: A Socialist Introduction,' with its cover image of the full map of Israel, satisfies both this and Mubarak's other obsession, Socialism. When Mubarak asked Awad how "Palestine" can connect to Socialism in "our future," Awad mentioned two terrorist groups. She stated, "I think there were different movements across the Middle East and certainly in Palestine that posited Socialist or Communist ideas. In Palestine, there's a number of groups. People usually mostly know about the PFLP and the DFLP."

The PFLP is a group that has been designated as a terrorist organization by the United States, Canada, Japan and the European Union. It has been involved in multiple plane hijackings and suicide bombings targeting Israeli civilians. Its murder victims include over 20 US citizens. The DFLP or Democratic Front for the Liberation of Palestine is a PFLP offshoot. The group is infamous for a 1974 terrorist attack it perpetrated on a school in Ma'alot, Israel, killing 25 hostages, 22 of whom were children.

Does any of this bother Mubarak? Not in the least. She describes these terrorist organizations to her guest, just as their namesakes, as "liberation movements." For Mubarak, killing Israeli or American Jewish civilians in the cause of "Palestine" is not an evil act, but a means to liberation – liberation meaning all of Israel, like the cover graphic on Awad's book or the Israel map pendant resting on a chain around Mubarak's neck – and so she lauds and defends the killers.
America's most anti-Israel lawmaker
BDS: 21st century Nazism taught in schools and in music
Hate does not just rise up out of nowhere. It has to be taught. Fearing someone who is different is not unusual. That is our instinctual brain putting us on notice. In a spilt second-well nano – second, our brain decides if the person in front of us is friend or foe. This response comes to us from our cavemen ancestors. Something different was always frightening but the brain learned to tell the difference between friend and foe; not based on characteristics, but character.

Hate for Jews has been in our world view for more than 3000 years. From Pharaoh to Rome to the world- hate for Jews has been taught. It is the only systemic, innate, endemic hate everywhere. There is no corner of the earth, no nook nor cranny where one cannot find hate for Jews.

Today, we are witnessing the repeat of the teaching of hate for Jews as was taught in Nazi Germany. Get them at school. Teach them early. Promote it in the universities, with Jew hating professors. BDS is repeating the hate from Nazi Germany.

From my book The Serpent and the Red Thread: The Definitive Biography of Evil:

"In universities in the 1880's the cry was heard, 'The Jews are our misfortune' In the fall of 1880, the Anti-Semites petition was circulated by two school teachers depicting the Jews as exploitative masters, who would destroy the German fatherland. 'Jews are alien people', they said."

'Their thinking and feeling are completely alien to the German Volk. If the German people are not to be destroyed and fall into economic slavery by the Jews, steps need to be taken to liberate the German people from this Jewish danger.' By the spring of 1881, there were 225,000 signatures, mostly Prussian; 9000 from Bavaria, and 4000 university students."

Antisemitic rhetoric began to lead to attacks against Jews.
Politicians in Berlin Call for Total Ban on Upcoming Antisemitic 'Quds Day' Rally
Politicians in Berlin are calling for an outright ban on this year's "Al Quds Day" March and rally currently scheduled to take place in the German capital on May 8.

Sponsored by the Iranian regime, the annual event calling for Israel's destruction takes place in Tehran and several other cities, prominently featuring the flag of Hezbollah, Iran's proxy Shi'a terrorist organization in Lebanon, which is banned in Germany and other European nations.

Last year's event was cancelled due to the COVID-19 pandemic. However, the previous year more than 2,000 anti-Israel demonstrators gathered to chant antisemitic and anti-Zionist slogans near Berlin's Brandenburg Gate. A Jewish counter-demonstrator was told by one of the rally's organizers that "Hitler needs to come back and kill the rest of the Jews."

On Monday, a leader of the liberal FDP Party in the Berlin Senate called for an outright ban on this year's planned Al Quds Day rally.

Holger Krestel — the FDP's spokesperson on the protection of the constitution — urged senators to "use all legal means to prevent this shameful event."
Antisemitism masked as anti-Zionism once again at UC Berkeley.

The brazen Jew hatred is nauseating.

👉🏻 "actively Zionist candidate" aka JEW
👉🏻 "good thing THEY took a big fat L" aka JEWS pic.twitter.com/LexoFj8v3e

— StopAntisemitism.org (@StopAntisemites) April 12, 2021
Any Palestinian solidarity group who opposes IHRA is effectively saying they can't function without comparing Israel to Nazi Germany, calling for the killing of Jews, denying the Holocaust, or hold Jews collectively responsible for Israel's actions. https://t.co/IWMYwOmzmo

— The Mossad: The Social Media Account (@TheMossadIL) April 13, 2021
Stand With Us: What I Told My Daughter About Israel
In Johannesburg, South Africa, Executive Director of StandWithUs Israel, Michael Dickson addresses an audience of 5,000 people at the Sinai Indaba Conference, Sandton Convention Center. Filmed March 2018.
BBC Arabic edits to AFP report omit 1941 pogrom, downplay persecution of Iraqi Jews
In short, BBC Arabic saw fit to edit out the following information from a report about Iraqi Jews and their history:
- The occurrence of the "early 1940s" (June 1941) Farhud pogrom, which killed "more than a hundred" (179) of them.
- That Iraq was party to the 1948 war with Israel.
- That in the early 1950s, Iraqi Jews were forced to forgo their nationality and property in exchange of the authorities allowing them to flee the country.
- That Jewish individuals are still being targeted in Iraq even in the passing decade, reportedly having suffered mistreatment at the hands of local authorities, as well as violence at the hands of militias.
- That "promoting Zionism" is punishable by death in Iraq even today.

On the other hand, BBC Arabic added an "according to AFP" disclaimer in the one section discussing the 1950s state persecution against Jews.

Additionally, BBC Arabic emphasized that the number of Iraqi Jews started to decrease only after Israel was already in existence, having been "a key part of the country's diverse religious and social fabric" just shortly before. Thus, the BBC misleads readers unfamiliar with the Jewish experience in Iraq between 1941-1949 (again, mentions of the Farhud and Iraq's participation in the 1948 war were left out of the report), creating the impression that Jews only began to be persecuted later on.

This is not the first time that BBC Arabic has removed details unflattering to the way Arab governments and Muslim majorities have historically treated Jewish minorities. In November 2019 it was the history of Syrian Jews which received similar treatment; BBC Arabic editors then left the infamous 1840 Damascus blood libel, as well as the 1947 Aleppo pogrom and the 1949 Damascus synagogue bombing, out of a timeline they claimed to have accurately quoted from the website of San Francisco-based NGO "JIMENA".
NBC Corrects 3400-Year-Old Pottery Not From 'Palestine'
NBC has corrected an erroneous reference to 3400-year-old pottery originating from "Palestine." "Lost golden city of Luxor," a fascinating segment about a recently discovered ancient city in Egypt which aired in the April 9 broadcast of "News with Shepard Smith" erred : "There has never been this much pottery discovered at one site — and it comes from all over Syria and Palestine, the artifacts museum ready." Of course, the region of Canaan, as it was known at the time, did not take on the name "Palestine" until more than 1500 years later, when the Romans named Judea "Palestina" in 135 CE, after the Jews' ancient enemy. (The kingdoms of Israel and Judea arose in the early Bronze Age, around 1000 BCE).

The error was initially commendably and thoroughly fixed at some of NBC platforms, for instance, here and here. The latter page carries an editor's note, stating: "A previous version of this story misidentified the regions where the pottery was found." A note super-imposed on the video itself on both pages states: "A previous version of this story misidentified the regions where the pottery was found." In these versions, the phrase "and it comes from all over Syria and Palestine," was deleted.
Argentinian Journalist Exposes Antisemitic, Neo-Nazi Groups in Latin America
Argentinian journalist Julio López recently discovered a Spanish-speaking hate network by creating a computer program that scans websites for hate speech. A journalist and hacker by trade, López originally sought to search for groups like QAnon, wondering if there were similar groups in Argentina. His study unexpectedly uncovered a secret network of alt-right, Nazi groups in Latin America that perpetuate conspiracy theories related to Jews.

"I found out there are groups like QAnon in Argentina—there are many—and they're large and have done a tremendous job" infiltrating the web, López told JNS. After creating computer code utilizing terminology that is considered hate speech, his program scanned thousands of sites, exposing a "breeding ground" for hate that he says is experiencing a "boom."

"The first one I found had a YouTube channel with 220,000 subscribers, 3,000 hours of video and over 24 million views," he explained. "They were recording on a TV studio to replicate regular media content." The channel, named TLV1 to pose as a legitimate Israel-based news site TLV1Radio, violated YouTube community standards and was eventually taken down for inciting hate.

Conspiracy theories perpetuated, according to López, such as "theories like the Andean plan for Jews to merge a nation into Patagonia, and the idea of a new order governed by key positions that are occupied by Jews"; ideas about "a superior race and the male man as the center of the family"; as well as portraying Jews as "immigrants who steal jobs."
Israeli Singer Noga Erez Makes US TV Debut Performing on 'Jimmy Kimmel Live'
Israeli singer-songwriter Noga Erez made her debut on American network television Monday night with a performance on "Jimmy Kimmel Live."

From a remote location, Erez and her band performed "Views," her collaboration with Reo Cragun and her creative and life partner Ori Rousso. A critique of the digital era and people buying fake "views" on social media, the song's lyrics include: "People buy views, I know it's old news/ But I got bad news for everybody/ Holy water is no juice, but I know us Jews/ We don't like to lose to anybody." The track is off Erez's new album "Kids," which was released in March.

Earlier on Monday, Israeli actress and "Wonder Woman" star Gal Gadot posted a video on Instagram of herself and one of her daughters dancing to Erez's song "End of the Road," which is also from "Kids."

Erez finished "Kids" — her second album, after 2017's "Off the Radar" — during the coronavirus pandemic.
Nvidia Unveils Next-Generation Processor Developed in Israel
Nvidia unveiled a line of new products at the GTU Technology Conference 2021 on Monday, including the world's first-ever data-processing unit (DPU) that computes data using an ARM-based data center. Among the technologies unveiled at the conference, which took place in Silicon Valley, California, were its BlueField-3 DPU, the company's next-generation of data center processors developed in Israel, among others.

These technologies will make Nvidia a leading-performer of the next-generation of devices, and have been developed all over the world. In Israel, the company has 2,400 employees who are employed at seven development centers, and worked on the BlueField-3 DPU.

NVIDIA next-generation DPU, the BlueField-3, is capable of delivering powerful software-defined networking with accelerated cybersecurity capabilities for data centers. It is the first such DPU built for and equipped with advanced computing, allowing enterprises to create applications with top-level performance and enhanced data security. BlueField-3 DPU delivers the equivalent data center services of up to 300 CPU cores, freeing up valuable CPU cycles to run business-critical applications. The company's BlueField-3 DPUs transform traditional infrastructure into "zero-trust" environments, where every data center user is authenticated and verified. This secures enterprises from cloud to core to edge while increasing efficiency and performance.

"Modern hyperscale clouds are driving a fundamental new architecture for data centers. A new type of processor, designed to process data center infrastructure software, is needed to offload and accelerate the tremendous compute load of virtualization, networking, storage, security, and other cloud-native AI services," said Jensen Huang, the founder and CEO of Nvidia.
Joint Israel-UAE taskforce to study ways to boost tech cooperation
The UAE's new ambassador to Israel, Mohamed Mahmoud Al Khajah, and Start-Up Nation Central, a nonprofit organization seeking to boost Israel's tech ecosystem, will set up a joint task force that will study ways to boost innovation cooperation between the nations.

The joint task force will aim to bring people together, share ideas and generate economic value for both countries, SNC said in a statement.

During his visit to SNC's offices in Tel Aviv on Monday, the ambassador met with the nonprofit's CEO Eugene Kandel and discussed areas of collaboration, including joint events, conferences, and ongoing meetings and programs to help both sides learn about each other's tech ecosystems.

Teams from the embassy and Start-Up Nation Central also discussed ways of connecting Emirati and Israeli companies and entrepreneurs, especially in the fields of fintech, agri-food tech, education, cyber, digital health, energy, petrochemicals, cleantech and sustainability.

The parties agreed to use the UAE-IL Tech Zone community, set up last year, as the basis of the new relationship. Launched in December, the UAE-IL Tech Zone is an innovation community designed to enable practical collaboration between the two ecosystems. With over 1,000 members, the UAE-IL Tech Zone invites entrepreneurs, senior business executives, government officials and technology companies to join and cultivate the talent and resources shared by the UAE and Israel.
Israel's Mobileye to supply self-driving systems for delivery truck startup
Intel on Monday said it was supplying self-driving systems to Silicon Valley startup Udelv, which plans to have a fleet of autonomous delivery vehicles in action within two years.

Udelv and the Mobileye unit at Intel, a Jerusalem-based maker of self-driving technologies, aim to produce more than 35,000 driverless "Transporters" by the year 2028, the companies said in a joint release.

"Our deal with Udelv is significant for its size, scope and rapid deployment timeline," said Mobileye chief Amnon Shashua.

"COVID-19 has accelerated demand for autonomous goods delivery, and we are delighted to partner with Udelv to address this demand in the near term."

The comprehensive Mobileye Drive system will allow Udelv to ramp up production and deployment of Transporter vehicles, according to the startup's chief executive, Daniel Laury.

Udelv automated delivery vehicles combine self-driving technology with robotics to assist with unloading cargo, according to its website.

"Early on, we determined that one element is inseparable from the other," Udelv said in a post.
Israeli lab 'cures' mice of COVID-style inflammation using yogurt molecules
An Israeli lab has "cured" mice suffering from an immune reaction like that found in serious coronavirus patients, using molecules from probiotic yoghurt.

The lab triggered a cytokine storm — the immune reaction that causes the extreme inflammations suffered by many serious COVID-19 patients — in dozens of mice.

"We induced aggressive cytokine storms in mice, akin to those of COVID-19 patients who are in very critical condition, and healed 100 percent of those that received the molecules," Prof. Raz Jelinek of Ben Gurion University told The Times of Israel. "But the other mice all died within two to three days of the cytokine storm being induced.

"Among those who received the molecules, clinical conditions and clinical markers improved to normal levels, and they lived. If it turns out that this could be given to critical people, and have the same effect, that would be wonderful."

The cytokine storm research is one of a string of experiments conducted by Jelinek, his PhD student Orit Malka, and their colleagues, after they identified two molecules in a fermented milk drink called kefir that they say deliver major therapeutic benefits and could be used to make drugs of the future.
The Life of Berthe Badehi | Episode 2 | Israeli Memorial Day
This three-part series focuses on the life of Berthe Badehi, a remarkable woman who survived the Holocaust and went on to immigrate to Israel and build a life here. Since 1956, Berthe has lived in Israel and proudly raised her family here. Berthe has lived through many struggles and losses, yet she still bravely shares her story with the world.

Every year, on Israeli Memorial Day, Berthe remembers her grandson, Lt. Gil z"l, who was a platoon commander in the IDF Armored Corps. Gil was killed in action in 2002 during an IDF operation in western Ramallah. After being critically wounded by terrorist gunfire, he was taken to a hospital in order to receive medical treatment, where he later passed away.
Isi Leibler, leading campaigner for the release of Soviet Jewry, dies at 86
An Australian activist who is credited with being among the first to prompt global awareness of Jews who were prevented from leaving the former Soviet Union died Tuesday in Jerusalem at 86.

Beginning with an article he wrote in 1959, Leibler launched a press and lobbying campaign that brought Australia to discuss the human rights issues of Soviet Jewry in its own parliament and raise the issue at the United Nations.

"Isi was the gold standard of global Jewish leadership," said Mark Leibler, Isi's brother, who lives in Australia, The Age newspaper reported.

When, in 1988, 15 Soviet Jews were allowed to leave the country, then-prime minister of Australia Bob Hawke remarked, "I venture to say, Isi, that nobody has made a greater individual contribution than have you," according to the report.

Leibler's nephew Jeremy Leibler, the president of Zionist Federation of Australia, said his uncle had shown how a single person "can indeed change the world," reported the Jewish News, a partner site of the Times of Israel.

"That is exactly what Isi achieved in the role he played in the fight to free Soviet Jewry," Leibler said. "He was fearless and uncompromising in his dedication to the Jewish people and the State of Israel.

"He enjoyed success in all aspects of his life but his passion was always defending the Jewish people and ensuring the centrality of the State of Israel to Jewish life in the Diaspora," he said.
Isi Leibler: A voice of moral clarity
When Greer Fay Cashman and I went to interview Isi Leibler in his Jerusalem home on Ahad Ha'am Street on February 21 for the cover story of The Jerusalem Report, his health was failing, but his mind was as sharp as ever.

As we sat with Isi, his wife, Naomi, and his son Jonathan in his study, where I had frequently visited him, I thought of my father and grandfather. Isi, who died at the age of 86 on Tuesday, was the classic Jewish father and grandfather, tough and loving, with acute moral clarity, deep religious conviction and fervent faith in the future of Israel and the Jewish people.

That's why we chose to call the story, "A believer in miracles," recalling David Ben-Gurion's famous line, "In Israel, in order to be a realist, you must believe in miracles. "

We could not pretend to cover the wide scope of Leibler's life, as Suzanne D. Rutland did in her new book, Lone Voice: The Wars of Isi Leibler, but rather concentrate on his essence.

Isi told us he still regarded the realization of the centuries-old dream of the Jewish people as a modern-day miracle.

"If there's one thing that runs through my mind all the time, it's the fact that from the outset, the very day when Israel was declared – and when the Russians and Americans, who were engaged in the Cold War, both agreed on the State of Israel – it was the beginning of a series of miracles, which to my mind have continued to this very day," he said.

The Belgium-born, Australian-Israeli businessman served in a series of leadership roles, including with the Executive Council of Australian Jewry and the World Jewish Congress. He played a key role in exposing corruption in the Claims Conference and Israel's establishment of diplomatic relations with India and China, before making aliyah with Naomi in 1999.
23,928 stories,
23,928 legacies,
23,928 lives cut short.

On Israeli Memorial Day,
we mourn the IDF soldiers
& victims of terror who fell
defending their homeland. 🕯 pic.twitter.com/7xeDXidOhM

— Israel Defense Forces (@IDF) April 13, 2021
---
---