From Ian:
Human Rights Watch: Israel commits crime of apartheid, UN must apply sanctions
The right-wing Israeli group NGO Monitor condemned the apartheid accusations, saying they were part of larger global campaign to discredit Israel and undermine its identity as a Jewish state.

"HRW's report is part of a concerted NGO campaign over the past 18 months to interject the term 'apartheid' into discourse about Israel," it said. "Indeed, HRW reiterates, cites and quotes many of these NGOs in its publication."

"In a broader context, this report is another move in the decades-long series of obsessive attacks against Israel and its legitimacy as the nation-state of the Jewish people," NGO Monitor said.

HRW's report distanced its accusation of apartheid from any comparisons with South African apartheid, which is often used to discredit that claim.

Instead, HRW spoke of a three-pronged definition based on the Rome Statute: an intent to maintain racial domination by one group over another; a context of systematic oppression of one group over another; and inhumane acts.

Israel's treatment of the Palestinians, both within and outside sovereign Israel, met this definition of the crimes of apartheid, HRW said. The report did not take direct issue with Israel's identity as an ethnically national Jewish state. But as an example of discrimination, it cited Israel's Law of Return, which grants citizenship to Jews who want to immigrate to Israel. Palestinian refugees and their descendants who had lived on territory now under Israeli sovereignty did not have that same right of return, it said.
New @kohelet report debunks @HRW's propaganda doc on Israel: a mix of lies and fantasies; an alternate reality where the Palestinian Authority doesn't exist, terrorism doesn't exist, and Israel agreeing to the "Right of Return" amounts to Apartheid https://t.co/Q7h0nLSjiP

— Eugene Kontorovich (@EVKontorovich) April 26, 2021
Gerald Steinberg:
Human Rights Watch demonizes Israel via propaganda of apartheid - opinion
Beyond South Africa, no other regime or government has been deemed to meet the international definition of apartheid, not even murderous and oppressive regimes practicing separation based on race, religion, and gender such as Saudi Arabia and China.

In pursuing this 20-year campaign, HRW, led by Kenneth Roth, has continuously invoked the "Israel apartheid" theme, including playing a central role in the notoriously antisemitic NGO Forum at the 2001 UN Durban conference. The final declaration referred to Israel and apartheid repeatedly, and called for the "complete international isolation of Israel as an apartheid state."

After members of HRW's board criticized this involvement, Roth replied cynically: "Clearly Israeli racist practices are an appropriate topic." Roth and other top officials have repeated the apartheid and racist smears frequently since then. In one of many examples, in the context of the 2017 white supremacist march and violence in Charlottesville, Roth tweeted a link to a propaganda piece headlined "Birds of a feather: White supremacy and Zionism." He included a picture depicting a Confederate and Israeli flag, commenting, "Many rights activists condemn Israeli abuse & antisemitism. Some white supremacists embrace Israel & antisemitism."

A major addition to the usual allegations is that the planned annexation of parts of the West Bank controlled by Israel under the Oslo framework (the strategic and sparsely populated Area C) constitutes apartheid (repeated 32 times in the HRW text). Indeed, at the time when Israeli officials made such statements, HRW and the NGOs issued a wave of apartheid condemnations. Now, even though the annexation was dropped, the condemnations remain, again demonstrating the centrality of slogans over substance.

In 2009, HRW founder Robert Bernstein, writing in The New York Times, took on his organization, criticizing the leaders for losing their moral compass, and "issuing reports on the Israeli-Arab conflict that are helping those who wish to turn Israel into a pariah state." Many years later, and with much larger budgets and visibility, the organization's delegitimization continues.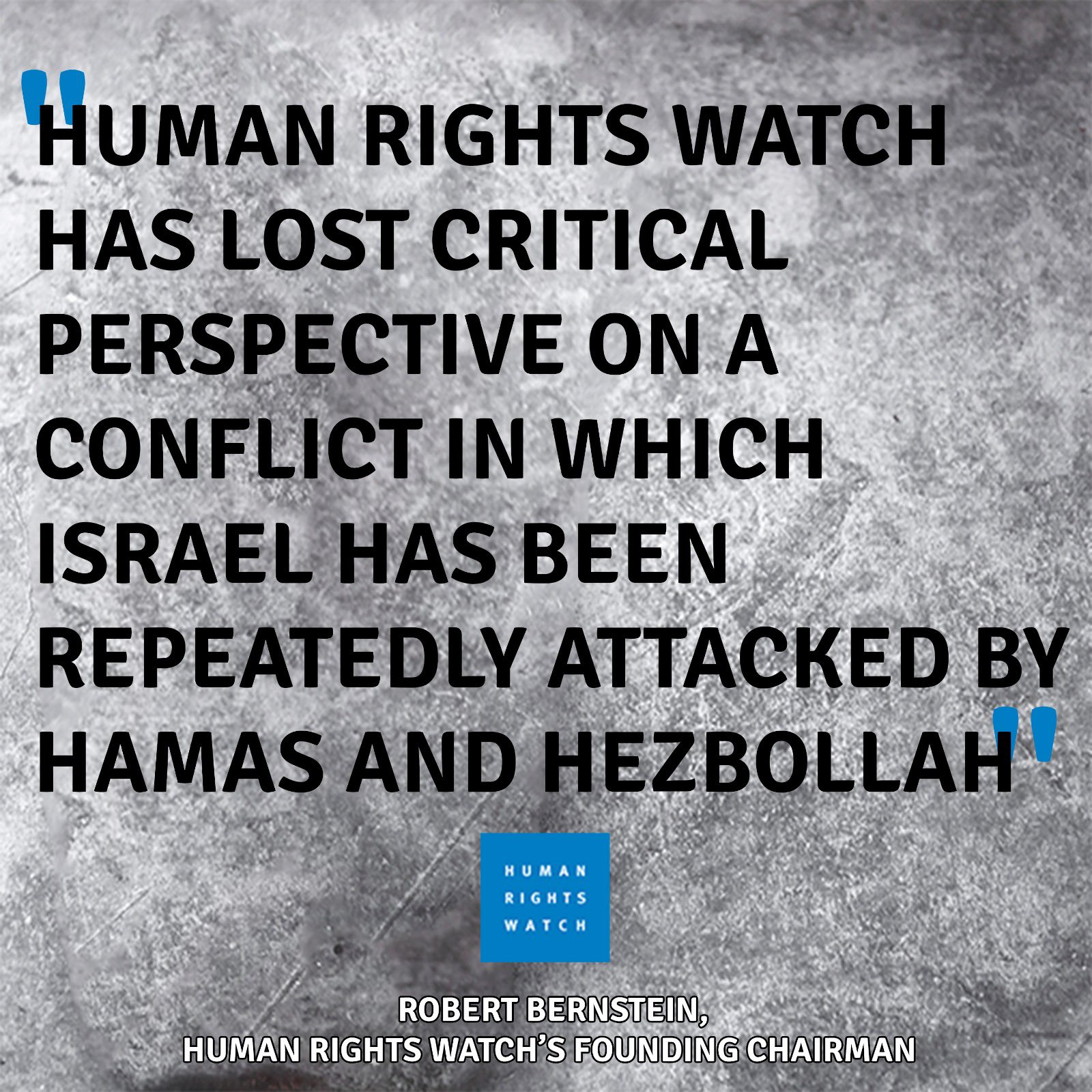 Ben-Dror Yemini:
A most dangerous and mendacious report
Let us imagine for just one moment that an Iranian official penned a damning report on human rights in Sweden, or a member of the American far-right wrote about the Democratic Party in the U.S.

Would anyone take such a document seriously?

But we are expected to all take heed of "A Threshold Crossed," a new report criticizing Israel written by Omar Shakir, who heads the Israeli-Palestinian desk at Human Rights Watch.

Shakir is a provocateur and a quarrel-monger, who has spent more than a decade campaigning to deny Israel's right to exist.

He actually resided in Israel until the Supreme Court revoked his residency permit when the scale of his actions against the very existence of the State of Israel was revealed.

He was also denied entry to Bahrain when he wanted to attend a FIFA conference solely to persuade the organization to boycott the Israeli national soccer team.

Shakir's abysmal hatred of Israel is evident even when compared to the established hostility of other bodies branding themselves as "human rights organizations."

As far back as 2010, Shakir was urging the Palestinians to abandon the right to self-determination and instead adopt the terminology of apartheid and universal rights in order to make a single binational state a reality.

In 2015, he signed a petition opposing a visit to Israel by a group of Muslims who were supposed to be guests of the Hartman Institute in Jerusalem.

It goes without saying that Shakir is a clear supporter of the Boycott, Divestment and Sanctions movement, an organization whose leaders do not try to disguise the fact that they are working for not peace but for the elimination of Israel.
JPost Editorial:
Israel is not an apartheid state
HRW asserts that Israel's treatment of the Palestinians, both within sovereign Israel and in the territories, meets the legal definition for apartheid crimes set out by the 2002 Rome Statute of the International Criminal Court. Apartheid crimes are defined as inhumane acts of a character similar to other crimes against humanity "committed in the context of an institutionalized regime of systematic oppression and domination by one racial group over any other racial group or groups and committed with the intention of maintaining that regime."

To back up its claim, HRW points to Israel's 1950 Law of Return, which grants citizenship to all Jews who want to immigrate to Israel. It says this discriminates against Palestinian refugees and their descendants who want the same "right of return." It also cites the 2018 Nation-State Law, saying the legislation shored up Israel's identity as a Jewish state at the expense of equality for all its citizens. Laws and policies adopted by the Israeli government to preserve a Jewish majority have afforded benefits to Jews at the expense of the fundamental rights of Palestinians, it alleges.

Yet, as organizations such as NGO Monitor and CAMERA have correctly pointed out, the Law of Return is neither racist nor peculiarly Israeli. "Similar laws have been in effect in many democracies, especially those with large diasporas, such as Mexico, Ireland, Finland, Greece, Poland, Germany, Italy and Denmark," said Alex Safian, the associate director of CAMERA. Safian said such laws are expressly permitted by the 1965 International Convention on the Elimination of all Forms of Racial Discrimination, which permits nations to favor certain groups for citizenship provided there is no discrimination targeting any particular group.
Israeli Officials Blast 'Apartheid' Claims by Human Rights Watch Report as 'Preposterous and False'
Israel's Strategic Affairs Minister Michael Biton emphasized that "the Israeli judicial system is globally renowned for its independent, steadfast and tireless work to protect the rights of all citizens and individuals."

"There is no connection between HRW's report and the legal, social, and moral truths which are prevalently found throughout Israel. The purpose of this spurious report is in no way related to human rights, but to an ongoing attempt by HRW to undermine the State of Israel's right to exist as the nation state of the Jewish people," Biton added.

As part of its recommendations, HRW urged countries to establish a UN commission of inquiry to investigate "systematic discrimination and repression in Israel and Palestine" and "to mobilize international action to end persecution and apartheid worldwide."

Israel's Ambassador to the US and UN Gilad Erdan called the report "a collection of lies and fabrications, bordering on antisemitic."

"When the authors of the report cynically and falsely use the term apartheid, they nullify the legal and social status of millions of Israeli citizens, including Arab citizens, who are an integral part of the State of Israel," said Ambassador Erdan.

The HRW report also called upon the prosecutor of the International Criminal Court (ICC) to "investigate and prosecute those credibly implicated in the crimes against humanity of apartheid and persecution." Israel this month rejected the ICC's authority to investigate alleged war crimes committed by the Jewish state in the West Bank, Gaza Strip, and eastern Jerusalem.

"HRW promotes the investigation against Israel in the ICC and seeks to preach morality while conducting a campaign on behalf of our enemies," tweeted Danny Danon, former Israeli ambassador to the UN. "It would be advisable for HRW to focus on human rights violations in Syria and Iran before attacking the only Middle East democracy."
"Human Rights Watch has lost critical perspective on a conflict in which Israel has been repeatedly attacked by Hamas and Hezbollah, organizations that go after Israeli citizens and use their own people as human shields."
—Robert Bernstein, founder of HRWhttps://t.co/A752Bz4kaS

— Hillel Neuer (@HillelNeuer) April 27, 2021
These were the deadliest conflicts of 2020:

🇦🇫 42K dead in Afghanistan
🇾🇪 21K in Yemen
🇸🇾 11K in Syria

HRW didn't write one report on them this year

Instead they focused on Israel where less than 100 were killed (mostly terrorists)

This is antisemitism posing as human rights https://t.co/B7TOv7cb2b

— Israel Advocacy Movement (@israel_advocacy) April 27, 2021
2. Liars

Badawi also got caught spreading false images and was FIRED from the @UN (h/t @HonestReporting)

HRW's report is written by Israel-hating politicised liars who spread fake images. pic.twitter.com/X0qEuGkqvX

— David Collier (@mishtal) April 27, 2021
Human Rights Watch Report Maligns Israel with Lies on Top of Lies
Human Rights Watch has published a new report that recycles old, debunked charges to portray Israel as engaging in, among other things, apartheid, a crime against humanity. The report, A Threshold Crossed – Israeli Authorities and the Crimes of Apartheid and Persecution, is far from the first attack against Israel by Human Rights Watch.

Unfortunately, the organization has a long history of anti-Israel agitation and propaganda, perhaps best illustrated by the facts about Joe Stork, who served for many years as HRW's Deputy Director of Middle East issues. Before being hired by HRW, Stork openly supported Palestinian terror attacks against Jewish civilians, and opposed any and all peace treaties between Israel and Arab states.

Stork even traveled to Saddam Hussein's Iraq for a conference on "Zionism and Racism." His very appearance at a conference sponsored by the brutal regime of Saddam Hussein should have disqualified him from working for any human rights group, but apparently that's not how HRW saw it.

At the conference Saddam Hussein himself could not have outdone Stork, whose presentation referred to the "Zionist colonization of Palestine," the "Zionist settler-colonial enterprise," the "infamous Balfour declaration," and the "Zionist theft of the property and productive resources."

Analyzing Israel's victory in the 1967 War, Stork suggested what would be needed for the Arab states to reverse the outcome and destroy Israel:
There were, to be sure, many contributing factors to this devastating defeat, and it would be a mistake to overlook, for example, the degree of imperialist collusion that lay behind the Israeli blitzkrieg. But the single most important cause lay with the failure of the regimes in question to mobilize their societies for the kind of protracted struggle that is critical for the liberation of Palestine. … the surplus extracted from the masses was used to construct a military machine that was completely inadequate to the task of liberating Palestine …

Since he is speaking here of the 1967 war, which triggered Israel's presence in the West Bank and Gaza, it is clear that Stork means by the "liberation of Palestine" the destruction of Israel.
Here's a more useful GIF, which explains why @hrw is guilty of blatant antisemitism! https://t.co/V7nAHTNPgE pic.twitter.com/cKlE6ayFJl

— Arsen Ostrovsky (@Ostrov_A) April 27, 2021
For many French Jews, Halimi murder a 'watershed moment' of distrust in France
A rumble rose from the 20,000 Jewish protesters at Trocadero Square, then exploded into shrill screams.

"I don't even know whether to reassure you or cry out my fury," boomed Joel Mergui, president of the Consistoire, the organ of French Jewry responsible for providing Orthodox religious services. "Yes, cry out your fury!"

French Jewish events are usually dignified affairs that often end with the singing of the Marseillaise, the French national anthem. But the rally on Sunday protesting the fate of the man who murdered his Jewish neighbor Sarah Halimi in 2017 — the largest Jewish gathering in France in at least a decade — was a rare show of raw emotion from a community that has questioned its future in France in recent years.

The protest, which had smaller offshoots in other cities such as Tel Aviv, Miami, London and the Hague, was triggered by the April 14 ruling by a high French court in the Halimi case. A man named Kobili Traore, who was 27 at the time and a devout Muslim who would spend entire days at a nearby mosque, entered Halimi's apartment and beat her to death while shouting about Allah. Traore then threw Halimi out the window.

Traore had targeted Halimi, a physician in her 60s, because she was Jewish, a lower court established. But federal judges determined that marijuana that Traore had smoked before the killing had made him psychotic and unfit for a trial.

Many at the rally and beyond found the moment to be a final straw in the strained relationship between France's Jews and its justice system, and in their tenuous position in a country known for its high rates of antisemitic incidents.
Commentary Magazine Podcast:
Who's Doing the Culture Warring Here?
The podcast discusses a heartening display of defiance in France to protest the unjust verdict rendered in the anti-Semitic murder of Sarah Halimi, which further reinforces the case for Zionism.
French Judge Retires His Robes in Protest at 'Catastrophic' Decision in Sarah Halimi Antisemitic Murder Case
A French judge with more than 25 years of experience on the bench resigned from his post on Monday, citing the decision earlier this month of France's highest court to excuse from trial the accused antisemitic killer of a Jewish woman in her Paris home in 2017.

82-year-old Jack Broda — an associate judge at the judicial tribunal in the city of Nancy — told media outlets that he could no longer serve the French judicial system following the April 14 decision of the Court of Cassation not to try 31-year-old Kobili Traore for the brutal murder of Sarah Halimi, a 65-year-old educational specialist, on the grounds that his consumption of marijuana had rendered him temporarily insane on the night of the killing. Under the French penal code, an accused person deemed by court-appointed psychiatrists to have lost their "discernment" cannot be held responsible for any crimes subsequently committed, even if the accused entered this mental state through the voluntary consumption of drugs.

"I am Jewish, but it is less the emotion I feel than the catastrophic dysfunction of the instruction in this case, that made me make this decision," Broda told his local news outlet, L'Est Republicain, on Monday.

In an extensive interview with the national newspaper Le Figaro, Broda revealed that "my first reaction as a judge [to the Halimi decision] was to say to myself 'I'm dreaming!'"

"To protest, I decided to resign from my post," he said. "My resignation was accepted and … regretted."

Broda added that "as a Jew, this obviously troubled me. What is this justice which takes up the cause of what appears to be an antisemitic assassination?"
Jewish Groups Horrified Over 'Antisemitic Bigot' Louis Farrakhan's Appearance at Funeral of Rapper DMX
Jewish organizations expressed outrage on Monday over the prominent attendance of Nation of Islam leader and notorious antisemite Louis Farrakhan at rapper DMX's funeral service on Sunday.

Farrakhan delivered an 18-minute eulogy via webcam at DMX's "Homegoing Celebration," a close-knit service held at the Christian Cultural Center in Brooklyn, NY, following a more public memorial service on Saturday at Barclays Center in downtown Brooklyn. In his speech, Farrakhan called DMX — whose real name is Earl Simmons — a prophet from God, spoke about his global influence and addressed the rapper's 15 children, saying, "Your father is not gone. He's absent, but you can bring him back."

The service was live streamed on YouTube by BET Networks, which has over 3 million subscribers.

"While we would not normally comment on those chosen to deliver such remarks, it must be acknowledged that Farrakhan is an unrepentant demagogue, responsible for some of the most vile and open expressions of antisemitism, homophobia and bigotry," B'nai B'rith International told The Algemeiner. "Particularly at a time such as this, we must all remember that tolerating any form of hate is a danger to all communities. Farrakhan must never be legitimized by those in positions of influence in our society."

Liora Rez, the executive director of StopAntisemitism.org, told The Algemeiner, "We continue to be horrified that an antisemitic and homophobic bigot like Farrakhan continues to be given a platform in the black community. In a time of horrid racial division in this country, problematic and hate filled individuals like Farrakhan do nothing but promote even MORE conflict and discord."

Entrepreneur and "Shark Tank" investor Daymond John initially praised Farrakhan's speech on Twitter, and said about the Nation of Islam leader: "his deep understanding of the Bible and respect for other people's religions was truly inspiring." However, by Sunday night, John deleted the comments and issued a follow-up statement, after facing criticism over Farrakhan's history of antisemitic statements.
Thankfully @BETMusic took this tweet down a few hours ago.

We must not allow Farrakhan's and the Nation of Islam's hatred become mainstream. pic.twitter.com/k4OwXkuYTH

— StopAntisemitism.org (@StopAntisemites) April 26, 2021
Jewish Voice for Peace and 'Medical Apartheid'
The Pittsburgh branch of Jewish Voice for Peace (JVP) recently circulated a petition that claims that Israel's alleged refusal to vaccinate Palestinians in the West Bank and Gaza is "medical apartheid" — even though these Palestinians are not citizens of Israel and live under the purview of their own independent governments — which said they did not want the COVID vaccine from Israel.

JVP's national organization has employed this "medical apartheid" myth repeatedly.

The Pittsburgh petition claims that "The US funds Israel's system of separate-and-unequal control" over the West Bank and Gaza, and that Israel is obligated to vaccinate Palestinians under international law. But Palestinians are not citizens of Israel — and the Palestinian Authority (PA) is the entity ultimately responsible for procuring vaccines for its residents.

Israel's responsibility is to vaccinate its own citizens, just like every other country in the world. The Israeli government rolled out one of the most successful vaccination programs in history — and offered the vaccine to every single Israeli citizen regardless of race or ethnicity.

The PA has its own vaccination program and initially refused any cooperation with Israel's efforts to procure vaccines.

But now, because it has lagged far behind Israel's program, Palestinian leaders have changed the narrative to blame Israel — and anti-Israel groups have followed their lead.

JVP's insistence that Israel is neglecting its obligations under international law does not hold up under scrutiny.
AP Clarifies Israel Vaccinated Jerusalem Palestinians, 100,000 West Bank Palestinians
Uninformed readers would have no way of knowing from this paragraph that Israel indeed has taken full responsibility for vaccinating east Jerusalem Palestinians, one of the geographic locations explicitly addressed in the paragraph. In addition, Israel has taken responsibility for vaccinating over 100,000 West Bank Palestinians.

AP agreed that the paragraph was misleading, and commendably inserted the following clarifying sentence before the final excerpted sentence: "Israel has vaccinated Palestinians in annexed east Jerusalem and inoculated some 100,000 West Bank laborers who work in Israel and its settlements."

CAMERA's timely action vis-à-vis AP's article yesterday underscores the value of the organization's monitoring and responding to wire stories in the same news cycle as they appear. With this preemptive work CAMERA helps prevent misinformation from appearing in media outlets around the world. Indeed, the amended version appears in The Washington Post and Toronto Star.
Remember @NaamodUK?

You know those Jews that said Kaddish for Hamas 🤨

Well they're at it again, this time they decided to protest Her Excellency @TzipiHotovely (Israel's ambassador to the UK).

Only this time the idiots protested outside the wrong building 😂😂😂 pic.twitter.com/CoxtpqJAxt

— Israel Advocacy Movement (@israel_advocacy) April 26, 2021
Pomona student gov't passes BDS bill to cut club funds violating UN blacklist
The student government at California-based Pomona College voted unanimously on Thursday on a resolution calling the student union to cut funding for any clubs not boycotting companies that "support the Israeli occupation of Palestine."

The resolution at Pomona, which is one of the colleges in the Claremont College Consortium, was first proposed by Claremont Students for Justice in Palestine (SJP) and Claremont Jewish Voice for Peace (JVP) along with several other student organizations, and includes the cutting of all funds to any clubs that would "knowingly invest or spend their funds of items that contribute to further encroachment into Palestinian occupied territories," according to the resolution, which was viewed by The Jerusalem Post.

In addition, stores managed by the student government, known as the Associated Students of Pomona College (ASPC), will also be prohibited from using and selling products from the boycotted companies, according to student news outlet Claremont Independent.

So far, the ASPC is the second student government in the Claremont Consortium to boycott Israel, following the Pitzer Student Senate at Pitzer College, which did so in 2017.

But the ASPC resolution is different in a number of ways. Most notable among them, however, is its broad scope. The list of companies that Pomona clubs would lose funding if they engaged with them is taken directly from a United Nations Human Rights Council (UNHRC) blacklist released in February 2020. The list itself included 130 businesses, many of whom are among the largest international companies and conglomerates such as General Mills, Expedia, TripAdvisor, Airbnb, Booking.com and Motorola.
Reuters Deletes Erroneous Reference to 'Palestine'
CAMERA's Israel office yesterday prompted correction of a Reuters video which had erroneously stated, "Palestine and Israel state claim over East Jerusalem. . . "

References to modern "Palestine" in the West Bank and Gaza are inaccurate and are not consistent with Reuters' own style. Correct nomenclature for the Palestinian government is "Palestinian Authority," and the territories they control are accurately referred to as "Palestinian territories," or West Bank and the Gaza Strip, to designate the geographic area. In the case of the Reuters video, appropriate wording is:
"Palestinians and Israel state claim . . . "

Reuters has commendably corrected the identical error in the past, both in English and Arabic.
AP Corrects Captions Which Cast Palestinian Rioters in Jerusalem As 'Worshippers'
In response to communication from CAMERA, AP commendably corrected all of the relevant captions. The amended captions, appearing in the news service's photo archive under the prominent heading "Correction," no longer refer to "worshippers in Jerusalem." Instead, the captions now accurately state: "Palestinian demonstrators who have been clashing with Israeli police outside Jerusalem's Old City following the closure of a popular Ramadan gathering spot."
The Holocaust will never be retro chic
Armani, known for being sleek and polished, recently stumbled. Big time.

It all started in early April when a private citizen named Janet Rosenblatt spotted a striped jacket in the window of Armani's Beverly Hills store. Given how common stripes are, that wouldn't have been noteworthy, except that Armani's navy-and-gray vertical stripe design strongly resembled a concentration-camp prisoner's uniform.

Roz Rothstein, the co-founder and CEO of the non-partisan organization StandWithUs that educates the public about Israel and combats anti-Semitism, said, "There are many people who live in the greater Los Angeles area who are survivors of the Holocaust and descendants of survivors, like Janet Rosenblatt and I. To have a jacket like this as part of an Armani collection is insensitive to so many of us who are directly or indirectly connected to the greatest tragedy of the Jewish people."

After spotting the jacket, Rosenblatt called the store manager, while also pressing Armani to pull the jacket on Facebook and Instagram. Roz Rothstein tweeted about it. And Lili Bosse, the mayor of Beverly Hills, also made calls to Armani's Beverly Hills store and their corporate office.

Gabriela Romo, Armani's Beverly Hills' store director, wrote to Rosenblatt, "It was never our intention to be disrespectful and we sincerely apologize for any offence unintentionally caused. We take your complaints with the utmost severity and we wish to confirm that the items in question have been removed from our commercial offering."
Over 7 antisemitic incidents per day in Canada in 2020 - B'nai Brith
Over seven antisemitic incidents were recorded every day in Canada in 2020, with the number of incidents breaking a record for the fifth year in a row, according to B'nai Brith Canada's advocacy arm, the League for Human Rights.

The data, published in the 2020 Annual Audit of Antisemitic Incidents on Monday, showed an 18.3% increase in antisemitic incidents compared to 2019, with 44% of the 2,610 incidents reported being COVID-19-related.

Crime data for 2019 shows that 15% of all hate crimes in Canada targeted Jews, despite Jews making up just 1% of the country's population, according to the Canadian Center for Justice and Community Safety Statistics.

Of the incidents reported in 2020, 2,483 incidents were cases of harassment, 118 were cases of vandalism and nine were cases of violence. The number of cases of violence reached its lowest level in years.

The report emphasized that Atlantic Canada, which usually has the lowest number of recorded incidents in the country, experienced a spike of over 226% in antisemitic incidents in 2020. The League for Human Rights stated that it would monitor the trend to search for causal factors, as the rise in incidents was "uncharacteristic, and cause for concern."

Alberta, on the other hand, experienced a significant drop in cases, with a 27% decrease in antisemitic incidents recorded.
French comedian Dieudonné seeks asylum in Turkey after hate speech ban
French comedian Dieudonné M'bala M'bala, notorious for developing the quasi-Nazi "quenelle" salute, has said he will seek political asylum in Turkey because of the racism he experiences in his home country.

The activist and performer says he wants to leave France permanently because his opportunities to work are being obstructed.

"Freedom of expression no longer exists for people like me here [in France]," he told Turkey's official news agency Anadolu.

"The Prime Minister of France has done everything so that I cannot organise shows in this country."

The 55-year-old's performances were banned in France following at least seven convictions for inciting racial hatred against Jews.

The quenelle salute he has helped promoted was interpreted by authorities nearly a decade ago as an inverted Nazi salute.
Germany restitutes medieval painting stolen by Nazis to rightful heirs
Germany has returned a painting that was stolen by the Nazis to its rightful owners: The heirs of A. S. Drey, a notable Jewish art dealership. The Bavarian State Painting Collections, which manages art collections in museums throughout the German State of Bavaria, has restituted a ca. 1480 painting to the collective heirs of a prominent Jewish art dealer that owned a gallery in Munich during World World II.

The painting, which depicts St. Florian of Lorch, also known as the patron saint of Linz, Austria, was restituted to the heirs of A. S. Drey, a Jewish art dealership that operated in Munich, London and New York throughout the 19th and early 20th centuries.

The painting, created on a wooden panel, is believed to have been created in a Bavarian workshop during the 15th century, though the artist behind it remains unknown. The painting was originally part of a medieval altarpiece collection, meaning that it was used to decorate the space above the altar in a Christian church. We know today that many altarpiece works of art from that era were not attributed to their creators, which may explain its unknown origins.

The painting was seized by the Nazi regime in 1935, when the Reich Chamber of Fine Arts informed art dealers at the Munich National Art Gallery that the gallery was going to be dissolved and that they would need to pay extensive sums of money in taxes as a result, practically forcing them to concede paintings and pieces of art in their possession.
ADL: Pandemic gives rise to antisemitic 'Zoom bombing'
Antisemitic incidents remained at a historically high level across the United States in 2020, with a total of 2,024 incidents of assault, harassment and vandalism reported to the Anti-Defamation League. While antisemitic incidents declined by 4% after hitting an all-time high in 2019, last year was still the third-highest year for incidents against American Jews since ADL started tracking such data in 1979.

ADL's annual Audit of Antisemitic Incidents, issued on Tuesday, recorded a total of 1,242 incidents of harassment, an increase of 10% from 2019. At the same time, reported acts of vandalism and assault declined by 18% and 49%, respectively, and there were no antisemitic fatalities reported in 2020.

"While any decline in the data is encouraging, we still experienced a year in which antisemitic acts remained at a disturbingly high level despite lockdowns and other significant changes in our daily lives and interactions with others," said ADL CEO and National Director Jonathan A. Greenblatt.

"We can't let our guard down. As communities begin to open up and people spend more time in person with others, we must remain vigilant."

The year was dramatically impacted by the COVID-19 pandemic, which led in some cases to Jews and other marginalized communities being blamed or scapegoated for spreading the virus.

The ADL also noted an increase in incidents of antisemitic "Zoom bombing" – the intentional disruption of live videoconferences. In 2020, ADL recorded 196 incidents of antisemitic videoconferencing attacks. Of those incidents, 114 targeted Jewish institutions such as schools and synagogues.
California Is Now Home to 22 Israeli-Founded Unicorns
Five privately held Israeli-founded companies in California reached or surpassed a $1 billion valuation in 2021, boosting the state's nation-leading unicorn count to 22, according to the United States-Israel Business Alliance.

Each of these companies has at least one Israeli founder and maintains its global or US headquarters in California.

These unicorns are all located in Silicon Valley, except for Orca Security, a cybersecurity firm for cloud-based assets. In March, the Los Angeles company closed a $210 million round at a $1.2 billion valuation. Eight Israeli-founded unicorns headquarter in San Francisco, the most of any US city behind New York. Deel, with its office just beyond Oracle Park's leftfield foul pole, is the most recent addition to the prestigious group. Last week, the payroll and compliance platform upstart announced the completion of a $156 million funding round, driving its valuation to $1.25 billion. Deel has raised $206 million total — all in the past 11 months. Less than a mile away, ironSource, an app monetization and distribution pioneer, recently revealed its plans to go public through a special purpose acquisition company. The agreement with Thoma Bravo Advantage surged the company's value to $11.1 billion, surpassing the $10.4 billion SPAC merger between New Jersey-based eToro and FinTech Acquisition Corp. V. The hefty valuation follows ironSource's 83% year-over-year revenue growth in 2019 and 2020.

Trailing San Francisco, Palo Alto now has seven Israeli-founded unicorns, including insurance disruptors Hippo ($5 billion) and Next Insurance ($4 billion). On March 22, Wiz closed a $130 million round. CEO and co-founder Assaf Rappaport proclaimed that Wiz had become the "fastest-growing security startup ever," having achieved a whopping $1.7 billion valuation only "three months since emerging from stealth."

"California continues to attract many of the best and brightest innovators in the world," USIBA president Aaron Kaplowitz said. "We're seeing today a new generation of Israeli entrepreneurs contribute to northern California's innovation ecosystem and benefit from a deep bench of venture capitalists.

"Silicon Valley lives by the 'move fast and break things' mantra," Kaplowitz added. "The Israelis, of course, have a word for that: chutzpah."
Israel plans to reopen to tourists in May, eyes travelers from UAE
Tourism Minister Orit Farkash-Hacohen is anxious to welcome tourists back to Israel, and not a moment too soon.

Farkash-Hacohen unveiled a four-part plan to reporters on Tuesday, including a global advertising campaign, flight incentives to Eilat, the reintroduction of large international events, while outlining the more technical aspects of travel during the pandemic, including vaccinations and serological tests.

"We want to breathe oxygen back into the tourism economy of Israel, and Israel has the advantage as a healthy, vaccinated country," said Farkash-Hacohen at a press conference Tuesday in Tel Aviv.

The Tourism Ministry's plan is to reopen the country to vaccinated tourists from next month, with Israel specifically seeking to woo travelers from the United Arab Emirates, the United States and United Kingdom.

"These are the countries with a high percentage of vaccinations, and cities with great economic potential for Israel," said Farkash-Hacohen.

The Health Ministry, however, on Tuesday recommended delaying the relaunch of tourism until June, citing deadly coronavirus variants sweeping many countries, most notably India.

At Tuesday's press conference in Tel Aviv, Farkash-Hacohen announced the launch of a campaign to welcome as many tourists as possible to Israel in the remaining months of 2021.
Birthright resuming trips to Israel for vaccinated or recovered US Jews from May
After a yearlong hiatus, Birthright Israel will resume its trips to the Holy Land, the organization announced Tuesday.

Starting in May, vaccinated or recovered participants from the United States will be able to travel to Israel to participate in a 10-day tour. Birthright discontinued its trips in March 2020 due to COVID-19.

The free 10-day trip takes participants throughout the country — from the stone streets of Jerusalem and the beaches of Tel Aviv to the ancient plateaus of Masada and the Golan Heights.

"With the input of Israel's Health Ministry, we're confident that we've developed the best plan to safely and efficiently resume our trips, which play such a critical part in strengthening the Jewish identity of hundreds of thousands of young people around the world," Birthright Israel CEO Gidi Mark said in a statement.

"The last year has been hard, but we never lost hope that there was light at the end of the tunnel. Now, the wait is over, and it is time to come back to Israel on Birthright Israel," Mark added.

Participants will be required to present a negative PCR test before they fly and undergo a serological test upon arrival in Israel, which tests for antibodies. They will also be asked to maintain social distancing and mask-wearing measures in accordance with the Health Ministry guidelines.

Groups will be limited to 20 participants, half the size of Birthright groups pre-pandemic.
New dawn: Portugal Jewish community springs to life
Experts in global Jewish history believe that highlighting minority voices within the Jewish community has the power to honor its nuances and interconnectedness. JNS's new series highlighting Jewish ethnic minorities aims to elevate their voices, and in turn, celebrate the beautiful mosaic that is the Jewish people.

The history of Jews in Portugal predates the country's official founding in 1143, as Jews lived in the kingdom for millennia, even prior to the Roman Empire. The Jewish people have thrived in the land, been expelled from the land, returned, and have, in the past six years, experienced a rebirth.

Through the 12th to 15th centuries, the small Jewish community in Portugal, numbering about 70,000 people, thrived and were well-regarded, occupying prominent positions in the kingdom. As the Spanish edict of expulsion was given in 1492, around 120,000 Spanish Jews fled to Portugal, though the Portuguese issued its own edict of expulsion in 1496, causing Jews to flee to Turkey, Morocco, Syria, Amsterdam, and other countries.

Some remained as practicing Jews and hid; in fact, a community of "secret Jews" continued to practice in the mountains of Portugal but weren't discovered until the 20th century. Others converted, and thousands were killed. The edict of expulsion was not extinguished until the 19th century, and as a result, there has been very little opportunity for a flourishing Jewish community until lately.

At the end of the 19th century, Jewish settlers from Morocco and Gibraltar, as well as Ashkenazi merchants from Poland, Russia and Germany, began to arrive, founding a congregation in Lisbon, and later Porto, so that by the start of the 20th century, Jewish practice returned to Portugal.

Today, Portugal is home to between 5,000 and 6,000 Jews, with the majority in Lisbon and Porto, whose communities have around 500 formal members each. The majority of Jews are scattered throughout Portugal and not affiliated with religious communities.
New Adidas Ad Features Orthodox Jewish Marathon Runner
Orthodox Jewish marathon runner and mother-of-five Bracha "Beatie" Deutsch stars in a new advertisement for Adidas.

Deutsch, 29, shared on April 20 the new Adidas Facebook ad, which features a partial view of her face and the message, "Where some see an Orthodox runner, I see my belief pushing me forward. Impossible is nothing."

The US native, who moved to Israel a decade ago, also wrote a lengthy Facebook message about perseverance, saying, "if there's anything I've learned from running, it is to stand strong and stay positive, to drown out the voices of self-defeat and hold on to faith. And that nothing is ever IMPOSSIBLE … Thank you @adidas for the opportunity to share this powerful message."

Deutsch is the Israeli national champion in the marathon and half marathon, according to her website. She was named one of the 50 most influential Jews of 2019 by The Jerusalem Post.

In 2016, she finished sixth in the Tel Aviv Marathon just four months after began running. She had dreamed of competing in the upcoming Tokyo Olympics, but recently lost a competition that would help her qualify for the Olympic Games.
Mandy Patinkin breaks down in tears learning he lost family in Holocaust
Jewish actor Mandy Patinkin never thought he had family members who died in the Holocaust. The team behind "Finding Your Roots," the long-running PBS celebrity genealogy show, proved he was mistaken.

In his episode airing Tuesday night, Patinkin learns that he has family who were rounded up in Bransk, a town in northeastern Poland, and sent to the Treblinka concentration camp.

As he reads out a description of how his family members — along with the thousands of other Jews in Bransk — were burned in a crematorium at Treblinka, Patinkin breaks down.

He says he would always explain in interviews that he wasn't directly related to any Holocaust victims.

"I don't have words," he says in this clip of the show, which is premiering on the Jewish Telegraphic Agency.

Before becoming emotional, Patinkin is asked by host Henry Louis Gates Jr. how he thinks the Holocaust could have happened.

"My job is to imagine, that is my profession," he says. "I have never been able to get ahold of that."
How Armenia's 1915 'Musa Dagh' fighters inspired Jews to resist Nazi genocide
When Jewish fighters in Nazi-built ghettos were looking for inspiration to resist deportation to the death camps, they turned to a fact-based novel about the Armenian genocide.

Written by Prague-born Franz Werfel, "The Forty Days of Musa Dagh" was tailor-made for the plight of aspiring resisters. The novel, published in 1933, fictionalized the siege of Musa Dagh — Turkish for "Mount Moses " — where 250 Armenian fighters held off Ottoman-Turkish forces for nearly two months in 1915.

Since then, Turkey's government has denied a genocide took place during World War I. This week, United States President Joe Biden officially recognized the murder of up to 1,500,000 Armenians by Ottoman-Turkish forces as a genocide. Israel has continued to stop short of recognition.

Although Armenian fighters held out at Musa Dagh for 53 days, Werfel made the siege last 40 days to resonate with the Old Testament. The German-language novel brought the Armenian genocide to the attention of millions of people around the world, in turn helping to raise significant funds for the refugees.

"To be an Armenian is an impossibility," according to an old Armenian saying included by Werfel in "Musa Dagh."

Six years after the novel was published, Nazi Germany started to conquer Europe. Almost instantly, copies of "The Forty Days of Musa Dagh" spread like wildfire among young adults, some of whom found themselves in circumstances similar to those faced by Armenians during the previous war.