From Ian:
---
Israeli Teenage Girl Killed in Bombing at West Bank Spring
An Israeli teenage girl was killed and her father and older brother were wounded on Friday when a bomb was detonated at a natural spring near the West Bank settlement of Dolev.

The fatality was identified as 17-year-old Rina Shnerb, from the central Israeli city of Lod. Her father Eitan, 46, and brother Dvir, 21, were helicoptered to a hospital in Jerusalem for medical treatment. Neither is in life-threatening condition.

The late Rina Shnerb.

The IDF is conducting searches for the perpetrators of the attack.

The scene of the incident — the Bubin spring, a popular recreation spot — is located about halfway between Modi'in and Ramallah, adjacent to Dolev and the Palestinian village of Deir Ibzi.

It is believed that an improvised explosive device was planted on an access route to the site and later set off remotely when the Shnerb family was in its vicinity.

Israeli Prime Minister Benjamin Netanyahu stated, "On behalf of myself and the citizens of Israel, I send deep condolences to the family of young Rina Shnerb who was murdered in a harsh terrorist attack this morning, and wishes for a quick recovery to her father, Rabbi Eitan, and her brother Dvir."

"We will continue to strengthen settlement," Netanyahu added. "We will deepen our roots and strike at our enemies. The security arms are in pursuit after the abhorrent terrorists. We will apprehend them. The long arm of Israel reaches all those who seek our lives and will settle accounts with them."
IDF chief: I believe in our ability to 'quickly' locate killers of Rina Shnerb
Security forces launched a large-scale manhunt throughout the central West Bank on Friday, after terrorists set off a bomb in a spring near the Dolev settlement, killing a teenage girl and seriously injuring her father and brother and the IDF chief said he believed they would apprehend the killers "quickly."

"We are in the midst of a manhunt that is being led by troops from the Israel Defense Forces, Shin Bet security service and Israel Police. We are focusing our large operational intelligence effort to finding the perpetrators of this severe and deadly terror attack," IDF chief Aviv Kohavi said at the site of the bombing on Friday afternoon.

At approximately 10:00 a.m., the explosive device was detonated at a natural spring, known as Ein Bubin, northwest of Ramallah, as three members of the Shnerb family from the central Israeli town of Lod were visiting.

The teenage daughter, Rina, 17, was pronounced dead at the scene. Her father, Eitan, a rabbi in Lod, and her brother Dvir, 19, were taken by military helicopter to a Jerusalem hospital in serious condition.

The army said an improvised explosive device was used in the attack. Police sappers determined that the bomb had been planted earlier at the spring and was triggered remotely when the family approached it.

Security services were reportedly tracking a car that fled the scene shortly after the explosion, believing it to have been used by the culprits.
From hospital, dad of murdered teen tells funeral: 'We're strong, will prevail'
Hundreds gathered Friday to bury Rina Shnerb, an Israeli teenager killed in a terrorist bombing in the West Bank earlier in the day. Her father, wounded in the attack along with her brother, was unable to attend but addressed mourners by telephone from his hospital bed.

"We are trying to be strong here in the Land of Israel, the people of Israel, Rina believed in that," said Rabbi Eitan Shnerb. "Our response to the murderers is that we are here and we are strong and we will prevail."

Shnerb, her father Eitan and 19-year-old brother Dvir were all wounded in the explosion at a natural spring outside the Dolev settlement. Shnerb was pronounced dead from her injuries, while her father and brother were hospitalized in serious condition.

"We're in a war of love against hate and hope against despair. We came here in order to accompany our loved one," said Eli Weissberg, Rina's uncle, at the funeral in her home town of Lod.

Weissberg said Rabbi Shnerb had asked him to convey a message to the funeral: He "asked us only to deal with the strength and love we have and the wonderful nation we have here in this great land of ours," said Weissberg.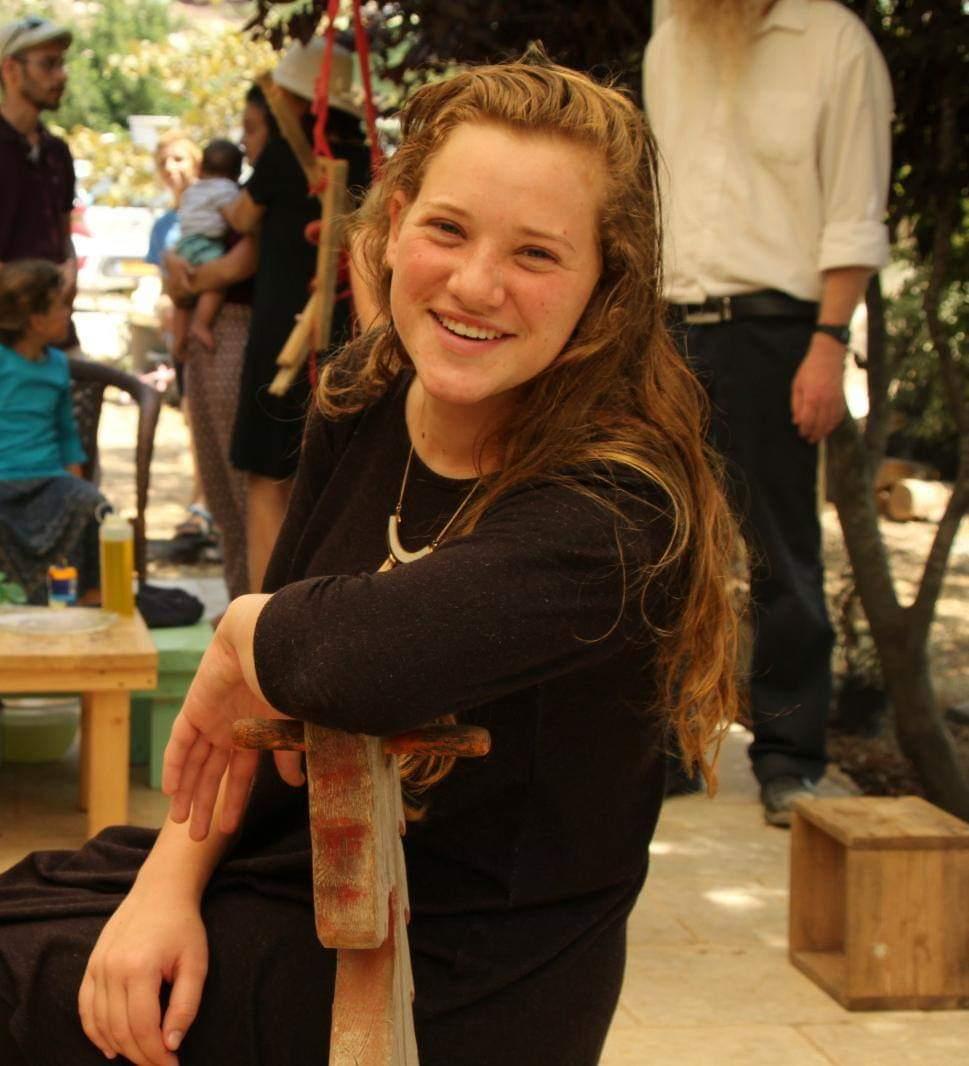 US envoys condemn 'savage' West Bank bombing that killed teenage girl
The US on Friday condemned a bomb attack that killed a teenage Israeli girl and wounded her father and brother as "another savage attack by Palestinian terrorists," saying that further terror would only bring about "endless suffering."

"Another savage attack by Palestinian terrorists kills an Israeli teenager enjoying time with her family. This isn't the path to peace, just endless suffering," tweeted US Mideast envoy Jason Greenblatt.

"May her memory be a blessing. Our prayers are with her family especially her father & brother also wounded in the attack," he said.

Rina Shnerb, 17, of Lod, was critically wounded in the attack and received treatment at the scene from civilian and military medics before being pronounced dead of her injuries. Her father Eitan, a rabbi in Lod, and brother Dvir, 19, were taken by military helicopter to a Jerusalem hospital in serious condition, the Magen David Adom ambulance service said.

US Ambassador to Israel David Friedman also tweeted that he was "heartbroken and outraged by the brutal terrorist attack."

"No words to describe the sadness of the moment as we grieve and pray for the injured to recover. May they receive God's blessings," he wrote.
After deadly attack, right-wing calls to annex West Bank, criticizes PM
Right-wing lawmakers on Friday called for Israel to annex the entirety of the West Bank after security officials said an Israeli teenager had been killed in a terror attack in the Ramallah area.

Seventeen-year-old Rina Shnerb was killed when a homemade explosive device detonated near a natural spring outside the settlement of Dolev where she was sitting with her family. It was not yet clear whether the bomb had been planted there in advance or hurled at the family. Shnerb's rabbi father and 19-year-old brother were critically injured in the attack, and Israeli security forces launched a manhunt for the perpetrators.

Prime Minister Benjamin Netanyahu offered his "deep condolences" to the family and vowed to "continue strengthening" Jewish communities in the West Bank. Though he did not explicitly promise to extend sovereignty over the territory claimed by Palestinians for their future state, he promised to "spread our roots deeper and strike out at our enemies.

"Security forces are in pursuit of the vile terrorists. We will reach them. Our long arm will pay them their dues," Netanyahu vowed.

Avigdor Liberman, the leader of the Yisrael Beytenu party who has in recent months become Netanyahu's bitter enemy, blasted the prime minister's policies vis-à-vis the Palestinians, calling the attack "a slap in the face to [his] policies of surrender."

The Netanyahu government "has chosen to abandon the security of Israeli citizens in favor of buying quiet from the Palestinian Authority and Hamas until the elections," he tweeted Friday afternoon.
Hamas lauds 'heroic' perpetrators of bombing attack in which Israeli teen killed
The Hamas terror organization on Friday praised the perpetrators of a bombing in the West Bank that claimed the life of a 17-year-old Israeli girl and seriously injured her father and brother.

No group has yet claimed responsibility for the attack, and Israeli officials have yet to indicate who could have been behind the deadly attack.

Hamas in a statement said the bomb attack was "proof of the vitality and bravery of the Palestinian people, and of the fact that it will not surrender to the crimes and terrorism of the occupation."

The group noted that it came on the 50th anniversary of the torching of the Al-Aqsa Mosque in Jerusalem, and said it showed that "our people have not abandoned and will not abandon the Al-Aqsa Mosque even for a day, whoever the victims may be."

Hamas leader Ismail Haniyeh, in his Friday sermon in the Gaza Strip, called the killing "a heroic attack," though he claimed ignorance as to who was responsible.

But it "shows that the default state in the West Bank is one of resistance, despite what our residents suffer there. The West Bank has strong people who are no less faithful and steadfast than their brethren in Gaza," he said.
Rina Shnerb was murdered today by a Palestinian terrorist. The news broke 3 hours ago, but has yet to appear in the Middle East section of the @Guardian, the @Independent, and the @nytimes.

The @AP filed a story on the attack 6 hours ago, but these news outlets have not run it. pic.twitter.com/YnUtS1rd4m

— HonestReporting (@HonestReporting) August 23, 2019
16 years ago, 23 people were murdered just north of Mea Shearim
On the 21st of the Hebrew month of Av in the year 5763, 23 people were killed and more than 130 wounded when a Palestinian suicide bomber detonated a five-kilogram device on an Egged bus #2 in the heart of the Beit Yisrael neighborhood of Jerusalem.

Beit Yisrael is a predominantly Haredi neighborhood in central Jerusalem, just north of Mea Shearim.

The Hebrew date falls on Friday, August 23 this year - marking 16 years since these 23 people were killed.

The attackers, members of the Hamas terrorist organization, murdered seven children. Many of the passengers were returning from prayer at the Kotel. The attack happened on the eve of the Hebrew month of Elul, the last month of the year, and time of year when many seek repentance and renewal in preparation for Rosh Hashanah.

Six terrorists were involved in the attack: the suicide bomber, two terrorists who were caught and killed and three others who were arrested and sent to jail. According to Palestinian Media Watch (PMW), those incarcerated terrorists and the families of the dead terrorists have received a cumulative NIS 2,692,500 from the Palestinian Authority since 2003.

Each month, the three incarcerated terrorists receive a monthly salary of NIS 7,300, explained PMW. After being in jail for 15 years, the PA raised the terrorists' monthly salaries from NIS 6,000 to NIS 7,000. Further, because the terrorists held "blue IDs," as they were residents of Jerusalem at the time of the attack, each terrorist receives an additional NIS 300 per month.

In four years, the PA will raise their salaries again, as per the government's terrorist pay scale. The terrorists can ultimately get as much as NIS 12,000 per month plus the NIS 300, so long as they stay in prison.
Cutting aid – be careful what you wish for
So what would change if America 'punished' Israel by stopping aid?

Not all that much. Unlike other recipients of American aid, such as India, Egypt and Afghanistan, all previously Russian clients, Israel really has no choice but to be America's ally.

On the other hand, not being compelled to buy American gives Israel the freedom to shop around and enter weapons research deals with others. Because other countries buy American, at least in part, because Israel wins with American weapons. So not only could Israel become be a competitor but its role as 'celebrity endorser' of the American product would be greatly reduced.

Would Israel cease being what late former NATO's Supreme Commander and US Secretary of State General Alexander Haig, described as "the largest, most battle-tested and cost-effective US aircraft carrier …"††? Would it cease its role as a major intelligence source?

Once again, probably not. Mutual interest rules, again. Still imagine if Israel charged the real price for services it provides? Israel is responsible for over 600 modifications in the current generation of General Dynamics' F-16 fighter aircraft. What would that be worth in money terms?

Going a little off in a tangent. Sometimes defenders of Obama's hostile relationship with Israel point to his raising military aid from $3.2 billion p.a. to $3.8 billion as refutation. In my opinion that had little to do with love for Israel. His 'lame duck' F.U. at the United Nations proves that. It was far more likely a response to pressure from his own Pentagon and the American arms industry.
EU cites diplomatic immunity as it funds PA takeover of Area C
The European Union is citing diplomatic immunity as it continues to fund illegal activity by the Palestinian Authority while claiming its actions are protected by diplomatic immunity. For years, the EU has been involved in illegal construction in Area C, the most well-known example being the Bedouin outpost of Khan al-Ahmar.

EU funds have been invested in a hostile agricultural takeover project being led by Ramallah that has seen the PA taken over state land located in the heart of Gush Etzion through the use of fencing and the planting of thousands of trees. As the EU emblem was displayed on the sign announcing the financing of the illegal activities, Israeli activist watchdog group Regavim listed the body as a respondent to a petition it filed to the High Court of Justice over the lack of government enforcement in the area.

In its response to the petition, the state noted that the EU had recently dispatched a letter to the Foreign Ministry claiming that it's being added as a respondent contravenes the EU's immunity in Israel, in accordance with the agreement between a 1980 agreement between the State of Israel and the European Commission that holds that "the commission's representatives will enjoy the rights and immunities granted in accordance with the Vienna Convention on Diplomatic Relations" and that the petition, therefore, contravenes the EU's immunity from jurisdiction and as a result, cannot be invoked.

It should be noted that the EU is a witness signatory to the 1993 Oslo Accords, which explicitly state that the State of Israel has full administrative responsibility and authority over Area C. In addition, the EU's foreign policy principles dictate that its "work in the international arena will be guided by the principles that inspired its creation … democracy, the rule of law, and respect for the principles of international law."
PA President Abbas: We Shall Enter Jerusalem — Millions of Fighters!
In a visit to the Jalazone Refugee Camp near Ramallah earlier this month, Palestinian Authority President Mahmoud Abbas claimed that the Palestinians "will enter Jerusalem - millions of fighters."

In a video uploaded to Abbas' Facebook page on August 10, and reported this week by the Middle East Media Research Institute [MEMRI], the Palestinian president stated that the Palestinian people "shall remain [here], and nobody can remove us from our homeland."

Referring to Israelis, he continued, "If they want, they themselves can leave. Those who are foreign to this land have no right to it.

"No matter how many houses and how many settlements they declare that they [plan to build] here and there – they shall all be destroyed, Allah willing. They will all go to the garbage bin of history."

To back up his statements, Abbas went on to claim that the Palestinians are descended from the people of ancient Canaan, saying "This land belongs to the people who live on it. It belongs to the Canaanites, who lived here 5,000 years ago. We are the Canaanites!"

The audience can then be heard chanting, "To Jerusalem we march, martyrs by the millions!"
Israel's Relations with the International Criminal Court
PA President Mahmoud Abbas' spokesman recently announced the PA's intent to demand that the prosecutor of the International Criminal Court at The Hague file charges against senior Israelis for the "crime" of approving the construction of 650 residential units in Beit El. This demand joins a list of dozens of Palestinian complaints to the ICC about imaginary "crimes" of Israeli politicians and soldiers.

Several months ago, they demanded the filing of criminal charges against U.S. Ambassador to Israel David Friedman for the "crime" of verbally supporting the potential legal rights of Israel in Jerusalem and Judea and Samaria.

The Palestinian demands for criminal charges against Americans will go unfulfilled due to the Americans' strategy that is based on understanding that the ICC is a hostile political organization. Israel still insists on viewing the ICC as a legitimate legal institution.
The American strategy expresses itself in three areas:
1. A complete refusal to cooperate with the ICC, anchored in U.S. legislation.
2. A campaign to delegitimize the ICC that includes transferring U.S. responsibility for dealing with the ICC to security officials rather than lawyers and presenting the ICC as an undemocratic, unaccountable, illegitimate institution that endangers the sovereignty of the U.S. and the constitutional rights of its citizens.
3. Concrete threats against The Hague, including a threat to liberate Americans with force should they be arrested at the request of The Hague.

The U.S. responded to the ICC prosecutor's request to open a full investigation of alleged crimes committed by American soldiers in Afghanistan by canceling the visas of ICC teams and threatening additional steps. Soon after, The Hague judges decided to close the case and terminate the investigation.

The ICC prosecutor has already surrendered to Palestinian demands and opened a preliminary investigation against Israeli "criminals." Israel's state attorneys are engaging in "informal" cooperation with ICC lawyers to try to convince them that the ICC lacks legal jurisdiction to act against Israelis. These claims are correct, but the American experience shows that they will be ineffective.

An effective Israeli strategy vis-a-vis the ICC requires only determination to fight a political battle, ending the treatment of the ICC as a professional legal institution, and an uncompromising struggle against its legitimacy.
No joke: brutal regimes now running for a 2020-22 seat on the UN Human Rights Council include:
🇮🇶 Iraq
🇱🇾 Libya
🇸🇩 Sudan
🇲🇷 Mauritania
🇻🇪 Venezuela

Current members already include:
🇸🇦 Saudi Arabia
🇵🇰 Pakistan
🇸🇴 Somalia
🇳🇬 Nigeria
🇶🇦 Qatar
🇪🇬 Egypt
🇨🇺 Cuba
🇨🇳 China https://t.co/4Em1Se2lrP

— Hillel Neuer (@HillelNeuer) August 22, 2019
Hedging bets in the gulf
In recent years, it has been an open secret that Israel and the United Arab Emirates enjoyed shared positions on a wide range of key issues in the Middle East. The existence of some level of communications between the two countries was also widely known. Israel and the UAE shared deep concerns in two key areas: first, regarding the Iranian ambition to attain regional hegemony; and second, on the threat of Sunni political Islam in general and of the Muslim Brotherhood in particular.

The UAE lacks the Islamist foundations of Saudi Arabia, and in Crown Prince of Abu Dhabi Mohammed Bin Zayed, it possesses a leader highly regarded by Western and Israeli officials as a sophisticated strategic thinker.

Nor were the Emiratis focused only on theorizing. The UAE has invested heavily in its armed forces in recent years. Its air force recently provided effective air support to Gen. Khalifa Haftar's Libyan National Army. The UAE's Presidential Guard, commanded by former head of the Australian SAS Maj.-Gen. Mike Hindmarsh, is a premier fighting force in the Arab world. The readiness to engage the UAE's armed forces led former US defense secretary James Mattis to dub the country "little Sparta."

As a result, those analysts who posit the existence of a "moderate alliance" of Middle East countries, of which Israel is a member, united by concerns regarding Iran and Islamism, tend to give the UAE high billing within this group.

Recent moves by the UAE, however, suggest this rosy picture only reflects part of the reality, and needs to be amended. Observe.
New Saudi Voices Seek Peace with Israel
Sultan, 37, a clerk from Riyadh whose Twitter account is almost entirely dedicated to relations with Israel and the Jews, told the Times of Israel: "We, the young generation, aspire to have normal relations with all states. We also know that 70 years ago there was no Palestinian state, while the Jews have existed for 3,000 years. For us, Jerusalem has no significance; Islam's holy places are in Mecca and Medina. We want peace and coexistence."

Saudi analyst and journalist Abdul Hamid Ghbein told the Times of Israel: "There is no doubt that the attitude of Arabs, and specifically of the Saudis, has changed a lot, and that Israel is no longer an enemy state but a part of the region. I believe that there will be diplomatic, economic, and cultural relations with Israel before the end of 2020. The Jews have a right to this land where their ancestors were living thousands of years ago. The stories of the kings and the prophets in the Quran are clear evidence for that."

"The Arabs, and especially the Saudis, are amazed by the Israeli scientific, technological and cognitive development in all fields, and they know that the Jewish people are good and peaceful people. Very soon, there will be Saudi students studying in Israeli universities as well as Israeli students studying in Saudi universities."
Agreement with Algeria will 'legalise theft of Jewish heritage'
A Memorandum of Understanding signed earlier this week by the US State Department with Algeria is causing consternation among organisation representing Jews from the Middle East and North Africa. They argue that it is simply an instrument for legitimising the seizure of Jewish heritsge in that country.

In the past JIMENA, the US organisation representing Jews from the MENA, has clearly stated its objections to such MOUs: "These MOUs claim to be about looting, but their broad scope and limited evidence of success suggests their real impact is providing a legal vehicle to legitimize foreign confiscations and wrongful ownership claims. Legitimate efforts to curb looting are essential, but they must be targeted to preserve archaeological resources, and not to disguise the brazen property confiscations of tyrants."

The Jewish community of Algeria, once numbering 130,000, no longer exists. Synagogues, cemeteries, sifre torah and other Judaica were abandoned at the time of the great exodus of 1962, when Algeria acquired its independence.

In April 2019,Rep. Lee Zeldin (R, NY-1) introduced the Protecting US Heritage Abroad Act. With North African Jews in mind who are now US citizens, the bipartisan legislation, cosponsored by Rep. Michael McCaul (R, TX-10) and Rep. Debbie Wasserman-Schultz (D, FL-23) would extend the current mandate of the US Commission for the Preservation of America's Heritage Abroad to include the Middle East and North Africa, and would provide access to protected cemeteries, monuments and buildings.
IDF stops Gaza terrorist entering Israel after grenades thrown at troops
The IDF stopped yet another terrorist from entering Israel near the southern community of Kibbutz Nachal Oz, late Thursday night.

"The gunman," as a Hamas affiliated Telegram channel referred to the attacker, approached the Gaza 'security fence' and "hurled several grenades at IDF soldiers," the IDF Spokesperson's Unit said in a tweet.

The IDF "troops charged and stopped the terrorist," the tweet said.

Palestinian media sources reported that the terrorist was killed by IDF troops. No Israelis were reported injured in the incident.

The Hamas affiliated Telegram channel said the terrorist "was shot before crossing the border," implying the armed Palestinian was attempting to enter Israeli territory.
אמש (ה'), סוכל פיגוע חדירה בצפון רצועת עזה, במהלכו מחבל השליך רימונים לעבר לוחמי צה"ל. המחבל זוהה על-ידי תצפיתניות ולוחמי צה"ל הוקפצו לנקודה. הלוחמים הסתערו לעבר המחבל מעבר לגדר, ופגעו בו pic.twitter.com/NIkYmrLD3f

— צבא ההגנה לישראל (@idfonline) August 23, 2019
IDF on high alert ahead of Gaza protests, preparing for possible escalation
The Israeli army was on high alert along the Gaza Strip's border with Israel Friday ahead of weekly border rallies, amid concern of a potential escalation after days of rising violence in the region.

There were conflicting reports as to the intentions of the Hamas terror group, which rules the territory, ahead of the afternoon demonstrations.

Lebanese newspaper Al-Akhbar reported that Israel was conditioning the entry of new Qatari cash into the Strip on Hamas maintaining the peace until after the Israeli elections on September 17. But it said Hamas intended to raise tensions at the protests, with sources in the organization saying events would be more violent than in recent weeks, and that Hamas was considering renewing widespread sabotage attacks on the security fence, launching of arson balloons and nighttime rioting.

However, Gaza sources quoted by the Kan news broadcaster said Hamas was not seeking to agitate and would deploy its so-called restraint forces to ensure the demonstrations remained contained, and organizers urged participants to keep the rallies peaceful.
IDF Warns Hamas to Control Islamic Jihad Violence; FM Katz Says Israel Prepared for Major Military Op in Gaza
The Israeli military issued a stern warning to Hamas on Thursday, saying it must enforce its control over other terrorist groups like Islamic Jihad as tensions continue to simmer on the Gaza Strip border, while Israel's foreign minister said the IDF was prepared for a major operation in Gaza.

Recent days have seen an uptick in attacks on southern Israel, with rockets and mortars being fired, as well as an infiltration attempt. The IDF has engaged in measured retaliation for each incident, many of which are believed to be the work of Iran-backed Islamic Jihad.

Israel holds Gaza-ruling Hamas responsible for all violence emanating from the coastal enclave.

The Israeli news site Walla reported that Avichay Adraee, the IDF's Arabic-language spokesperson, addressed Gazans directly in a post on his Facebook page.

"The #Gaza strip is at the height of a path in which civil actions are implemented that will make tangible improvements in the civilian life of the population in the short and long term," he said.

"It is enough to realize that follow-up on the state of electricity, fishing, export and import in the sector before and after these steps," he added.

However, Adraee continued, "The #Islamic _ Jihad movement acts to destabilize, distort and prejudice those understandings. The Islamic Jihad movement has previously committed and is planning to commit subversive attacks, including rocket launches. #Israel does not and will not accept such attacks."
American officials confirm Israel behind strikes in Iraq – report
American officials have confirmed that Israel has been carrying out airstrikes against Iranian targets in Iraq, the New York Times reported on Thursday. One senior official also expressed concerns that Israel was pushing the limits and its operation could eventually lead to the US withdrawing its troops from Iraq.

According to the US officials, Israel was behind several raids that struck military targets in Iraq with connections to Iran, including an attack that on July 19 hit a base used by the Iranian Revolutionary Guards to transfer weapons to Syria.

The NYT report added that the July 19 attack was carried out from within Iraq and destroyed a load of guided missiles with a range of 125 miles.

On Tuesday, explosions rocked an arms depot belonging to the Popular Mobilization Forces (PMF) near Balad air base some 80 km. north of the Iraqi capital Baghdad.

The PMF – militias incorporated into Iraq's security apparatus in 2016 to fight against Islamic State are directly financed and equipped by Iran. However, the PMF still cooperate with Iraqi troops, who work with the US military in the region. The Balad base itself hosts US forces and contractors, according to Reuters.

After the latest strike, Iraq's national security adviser Falih al-Fayadh said that Baghdad did not want to take a side in the conflict between Iran and other countries and being "pushed into a war," the NYT added. Al-Fayadh also stated that they did not know yet who was behind the attack.
Ex-Iraqi PM warns Israel of 'strong response' if it proves to be behind strikes
Israel has recently carried out a series of airstrikes against Iranian-linked military targets in Iraq, two senior US officials told the New York Times on Friday.

The officials said that Israel has carried out "several strikes in recent days on munitions storehouses for Iranian-backed groups in Iraq."

A senior Middle Eastern intelligence official said that Israel was also responsible for the July 19 strike on a military base north of Baghdad being used by Iran's Revolutionary Guards to transport weapons to Syria.

The official said this Israeli strike was launched from inside Iraq, though he did not provide further details. He said it destroyed a cache of guided missiles with a range of 200 kilometers (125 miles).

The report comes on the heels of remarks by Prime Minister Benjamin Netanyahu that hinted that Israel was responsible for the spate of attacks against Iran-backed militias in Iraq over the past month.
Palestinian Authority to accept NIS 2 billion in fuel tax from Israel
The Palestinian Authority has agreed to accept approximately NIS 2 billion in fuel tax money from Israel, a move that alleviates some financial pressure but falls short of resolving the PA's financial crisis.

The PA has been on the verge of financial collapse this year after it protested Israel's decision to withhold a portion of the tax revenues it transfers. Israel this year decided to deduct from those transfer the same of money that the PA gives monthly to terrorists and their family members.

In response to that decision the PA has refused to accept any of the tax revenues.

PA Prime Minister Mohammed Shtayyeh said on Thursday that it was too early to talk about an end to the crisis with Israel surrounding the deduction of payments to families of security prisoners and "martyrs" from tax revenues Israel collects each month on behalf of the Palestinians.

Shtayyeh confirmed that the PA and Israel have reached "understandings" on the fuel tax." He said that in accordance with the understandings, the PA will start importing fuel without the tax."

PA Minister for Civil Affairs, Hussein al-Sheikh, announced that the PA has fuel tax (dubbed the "blue tax") that were deducted by Israel for the past seven months.

The recovery of the funds, he said, "means the end of the oil tax crisis between the Palestinian Authority and Israel after painstaking negotiations."
MEMRI:
Hizbullah Sec.-Gen. Nasrallah: If Israel Attacks Lebanon, Israeli Army's Destruction Will Be Broadcast For All To See; Our Resistance Front Stretches From Palestine To Lebanon, Syria, Iraq, Iran, Yemen; Western War Against Iran Would Set Region Aflame
Hizbullah Secretary-General said in an August 16, 2019 speech that aired on Al-Manar TV (Lebanon) that if Israel attacks Lebanon, Hizbullah will destroy its military units and its tanks, and he threatened this will be broadcast live for the entire world to see. He said that the resistance axis is thriving and increasing in power and size, and he said that it enjoys support from the Bahraini, Tunisian, Algerian, and other nations. Nasrallah went on to say that reliance on the resistance axis will prevent terrorism from re-emerging in Syria and Iraq from falling into American "hegemony." He also said that it will bring about the end of the "aggression" against Yemen and the return of Jerusalem, and that it will fill the hearts of the Palestinians with hope. In addition, Nasrallah reiterated that a Western war against Iran would "set the entire region aflame." The audience chanted: "We respond to your call, oh Nasrallah!"

"You Will Watch A Live Broadcast Of The Destruction Of Israel's Tanks, Battalions, And Brigades Should They Enter Southern Lebanon"

Secretary-General Hassan Nasrallah: "I say to all of Israel's brigades, battalions, and elite units: if you enter our land, every inch of our land in southern Lebanon will be like this area of steadfastness where we are celebrating today, only it will be 500 times greater. Your brigades will be destroyed, your battalions will scatter, and your tanks will be ruined, and this will be captured on camera for the entire world to see. I promise you again that you will watch a live broadcast of the destruction of Israel's tanks, battalions, and brigades should they enter southern Lebanon."
Cash terror: Hezbollah's money smuggling mechanism revealed
The photo could easily be mistaken as an advertisement for "Narcos," the popular television series about Central American drug cartels: A man, sitting on piles of cash, cigar in his hand and a look of content on his face. This is no television series, however; it's the reality in the Middle East.

The man in the photo is Amar Shweiki, a Syrian businessman who functions as one of the central conduits for moving money across the Middle East, helping Iran bypass economic sanctions and fund Hezbollah. In an article that will appear in full on Friday, Israel Hayom exposes Tehran's sophisticated mechanism for funding the Lebanese Shiite terrorist organization and terrorist activity across the region, and Western efforts to cut off its monetary supply.

Over the past year, Hezbollah has been mired in a severe financial crisis, and Iran has been forced to adopt unorthodox methods to fund the organization under US sanctions. Consequently, cash is used in a large portion of this financial activity. The US administration recently released a comprehensive document detailing Iran's efforts to circumvent sanctions. The aim of the document, earmarked for use by foreign governments, is to sever the numerous cash pipelines used by Tehran.

These counter-efforts have forced Iran to put increasing faith in cash. For example, Iran's foreign ministry delivers some $100 million in cash to Hezbollah annually: Iranian diplomats arrive in Beirut via commercial flights carrying suitcases stuffed with dollars and hand them over to Hezbollah officials. The money itself is categorized as diplomatic mail, while the couriers themselves exploit the immunity provided by their diplomatic passports. Although the identities of those involved and the transfer dates are known to Western agencies, the channel is still active.

It appears that the economic campaign against Hezbollah won't succeed if Lebanon remains out of bounds.
Lebanese Researcher Rafik Nasrallah: Arabs Should Stop Procreating So That We Become Extinct
Rafik Nasrallah, the Director of the Lebanese International Center of Media and Research, said in a May 23, 2017 interview on Al-Jadeed TV that the Arab world has entered a "period of historic stupidity" and that U.S. President Trump is deceiving the Arabs. He sarcastically called upon Arabs to stop having sex so that they would stop procreating and so that they will be extinct in 20 years, because they have proven themselves to be a nation unworthy of being alive.
Britain Unlikely to Change Iran Stance at G7 Despite Trump Meeting
Britain is unlikely to alter its approach on Iran despite Prime Minister Boris Johnson meeting US President Donald Trump, as the 2015 deal remains the best way to ensure Tehran does not get nuclear weapons, a British diplomatic source said on Friday.

"We are strong supporters of the JCPOA (Iran deal). We think that it is very important that Iran doesn't get the nuclear weapons," said the diplomat speaking ahead of the G7 leaders summit in Biarritz, where Johnson and Trump will meet.

"It is important that it continues and I don't think you will find any change in the British government position."

The source said it was critical that Iran fully complied with the accord, but that while Johnson would listen to the US's position, there would not be a radical change in approach.
ADL: Iran's Regime Stokes More Anti-Semitism
With Washington increasing economic pressure on the Islamic Republic, and the mullahs responding with a series of naval provocations, Iranian media are claiming that Jews and Zionists are behind it all. David A. Weinberg writes:

After the U.S. blamed Iran for . . . attacks in June on two [oil] tankers in the Gulf of Oman, Iran's semi-official Tasnim news agency cited a former Iranian government spokesperson calling the attacks "a plot hatched by the Zionist regime of Israel and the U.S. to exert more pressure on the Islamic Republic." . . .

After British authorities seized an Iranian oil tanker suspected of violating international sanctions on Syria on July 4th, the focus of Iran's aggression and anti-Semitic conspiracy theories shifted somewhat from the United States to Great Britain. On July 19th, Iran seized at least one British oil tanker in the Persian Gulf in retaliation. . . . Iran's Press TV reported in mid-July on Boris Johnson's efforts to replace Theresa May as UK prime minister with the headline "The Zionists Tighten Their Stranglehold on British Politics." The focus of this article was on decrying what it called "the depth of Zionist penetration across the British political establishment."

[In May], Iran's government-run Hamoon TV aired a music video showing the Statue of Liberty with a Jewish menorah in place of its torch, which the singer describes as "a flame straight from hell." That same day, Supreme Leader Ali Khamenei's official representative to the Iranian city of Birjand called Iran's enemies "a fusion of Jews and polytheists" who are "impure and evil, . . . a crossbreed of dogs and wolves that has pounced on the convoy of humanity, [and] predatory, reptilian, and satanic".
Iran has highly accurate missiles which it has not publicized
Iran has produced highly accurate missiles which it has not publicized, Iranian Deputy Defense Minister General Qassem Taqizadeh said on Friday, according to the semi-official Fars news agency.

Taqizadeh did not provide details about the weapons.

U.S. President Donald Trump pulled out of an international agreement on Iran's nuclear program last year and stepped up sanctions on Tehran in order to curb Iran's development of ballistic missiles and its support for proxies in Syria, Yemen, Lebanon and Iraq.

"Today we have very accurate missiles which we have not publicized," Taqizadeh said, according to Fars.

Iran displayed what it described as a domestically built long-range, surface-to-air missile air defense system on Thursday, amid rising tensions with the United States.
Iran to skip World Judo Championship to avoid competing against Israelis
In a move that should surprise no one, Iranian judokas will boycott the World Judo Championship 2019 in Tokyo next week, despite a public promise issued by Iran's Olympic committee that its athletes would cease boycotting such competitions for political reasons.

The Israeli national team had believed that only Iranian judokas in specific weight classes would refuse to compete against Israelis, but the Iranian team, it now appears, won't arrive in Tokyo altogether.

In May, the International Judo Federation and media celebrated Iran's declaration that it would no longer boycott athletes from certain countries, but it was clear, even then, that they had no intention of ever competing against Israeli judokas.

The IJF said in a statement at the time that the Iranian commitment came after several rounds of talks regarding a "disturbing phenomenon" in which Iranian athletes suddenly claim "injuries" or intentionally fail their weigh-ins to avoid meeting athletes from certain countries, alluding to Israel.

Perhaps the most famous incident was the decision by two-time judo world champion Arash Miresmaeili, who deliberately showed up overweight for his bout against an Israeli at the 2004 Athens Olympics and was disqualified.
---
---
We have lots of ideas, but we need more resources to be even more effective. Please
donate today
to help get the message out and to help defend Israel.