From Ian:
---
IDF strikes Hamas targets in Gaza in response to earlier rocket attack
The Israel Defense Forces attacked Hamas targets in Gaza overnight Friday-Saturday in response to a rocket that was fired by Palestinian terror groups into Israel earlier Friday, the army said in a statement.

"A short time ago, IDF warplanes and aircraft attacked two underground terror structures of the Hamas terror group in the north and center of the Gaza Strip," the IDF said.

"The attack was carried out in response to the rocket that was launched from Gaza earlier tonight. The IDF will continue to act against attempts to harm Israeli civilians and sees the Hamas terror group as responsible for all that is done in the Gaza strip," the statement said.

The rocket that was fired into Israel earlier was intercepted by the Iron Dome defense system and caused no injuries or damage.

Rocket sirens wailed in southern Israel on Friday evening near the Gaza border and local residents reported hearing explosions.

The sirens sounded in the town of Sderot, and in the communities of Or Haner, Nir Am, Erez and Gevim.

The rocket fire came after several thousand Palestinians joined protests on the Gaza Strip border earlier Friday, with several hundred rioting and throwing stones and explosive devices at Israeli troops.

Soldiers responded with tear gas and occasional live fire. The Hamas-run Gaza health ministry said 16 Palestinians had been injured.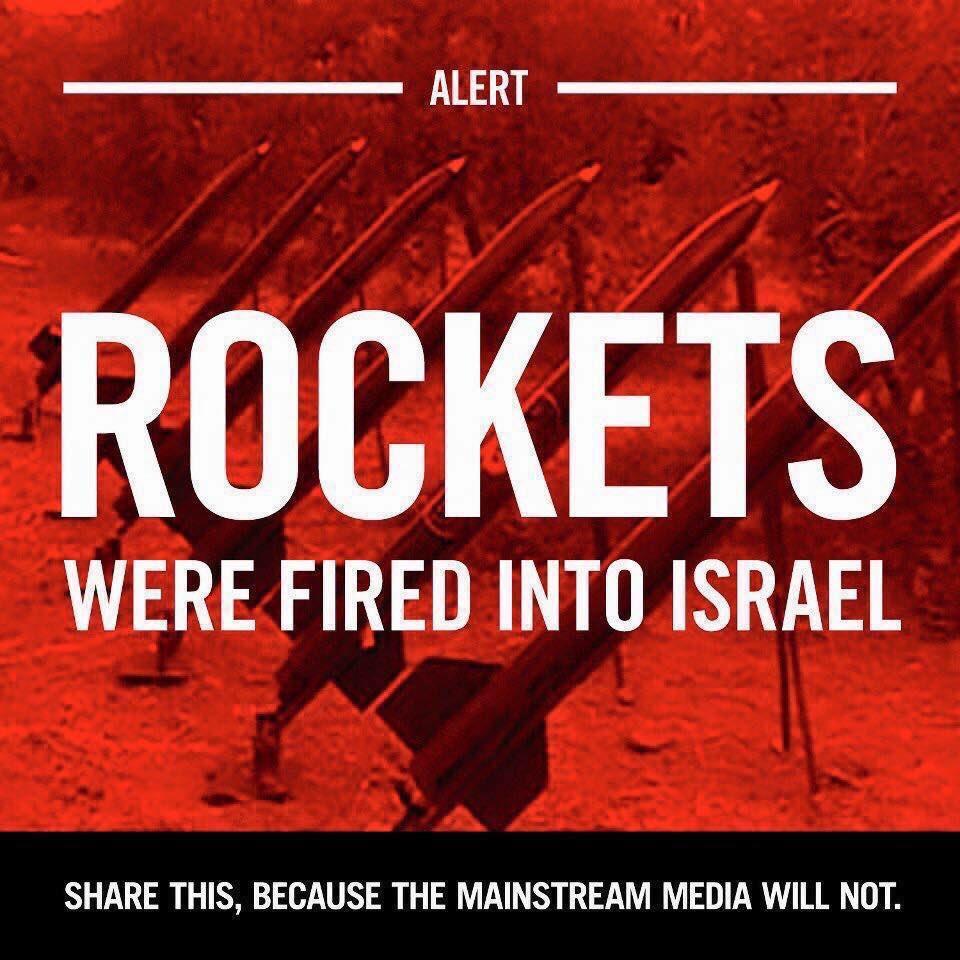 Rocket Sirens Sound as Iron Dome Intercepts Gaza Projectile
Red alert sirens rang out in southern Israel near the border with Gaza once again. An Iron Dome missile intercepted the projectile from the Gaza Strip, as well. Our Daniel Tsemach reports.
Rockets fired at Israel from Gaza for second night in a row; 2 of 3 intercepted
Palestinian terrorists in the Gaza Strip on Saturday night fired three rockets at southern Israel, two of which were intercepted by the Iron Dome missile defense system, the military said.

Rocket fragments struck the yard of a home in the town of Sderot, causing damage.

There were no physical injuries caused by the shrapnel in Sderot. One woman received medical treatment after she suffered an acute anxiety attack because of the impact, medics said.

In addition, two people sustained minor injuries while running to bomb shelters, according to the Magen David Adom ambulance service. Elsewhere, three other people were treated for acute anxiety attacks brought on by the rockets. One of them, a 76-year-old woman, required hospitalization, medics said.

Shrapnel also landed inside a community in the Sha'ar Hanegev region of southern Israel, northeast of Gaza, causing no injuries, local officials said.

It was the second night in a row that sirens sounded in Sderot.
IDF kills armed Gazans on Israeli border as tensions spike
Israeli forces shot dead a group of armed Palestinians along the Gaza Strip's security fence late Saturday night, hours after three rockets were fired at southern Israel from the restive coastal enclave.

The exact number of Palestinians killed during the suspected infiltration was not immediately known. Gaza-based news outlets reported four or five people killed in the strike.

Palestinian media reported that the men were members of the Iran-backed Palestinian Islamic Jihad's military wing, Saraya al-Quds. This could not be immediately confirmed.

The Israeli military said an attack helicopter and a tank were used to kill the suspected terrorists.

"A short while ago, IDF troops spotted armed suspects near the security fence around the northern Gaza Strip. An IDF attack helicopter and a tank fired at them," the army said in a statement.
Trump slams Tlaib via her grandmother, who 'doesn't have to see her' now
US President Donald Trump slammed Congresswoman Rashida Tlaib on Friday night saying that now when she declined to come to Israel despite getting permission to do so from Interior Minister Aryeh Deri "the only real winner" is her grandmother who "doesn't have to see her now!"


Rep. Tlaib wrote a letter to Israeli officials desperately wanting to visit her grandmother. Permission was quickly granted, whereupon Tlaib obnoxiously turned the approval down, a complete setup. The only real winner here is Tlaib's grandmother. She doesn't have to see her now!

— Donald J. Trump (@realDonaldTrump) August 16, 2019



Tlaib sent an official request to Deri requesting to enter the Jewish State to visit her grandmother, citing this very well could be her last chance to see her.

Her grandmother resides in the West Bank.

She was granted permission to do so but decided not to go to the West Bank after all.

Calling her rejection of the permission she sought "obnoxious," Trump called the whole thing a "complete setup."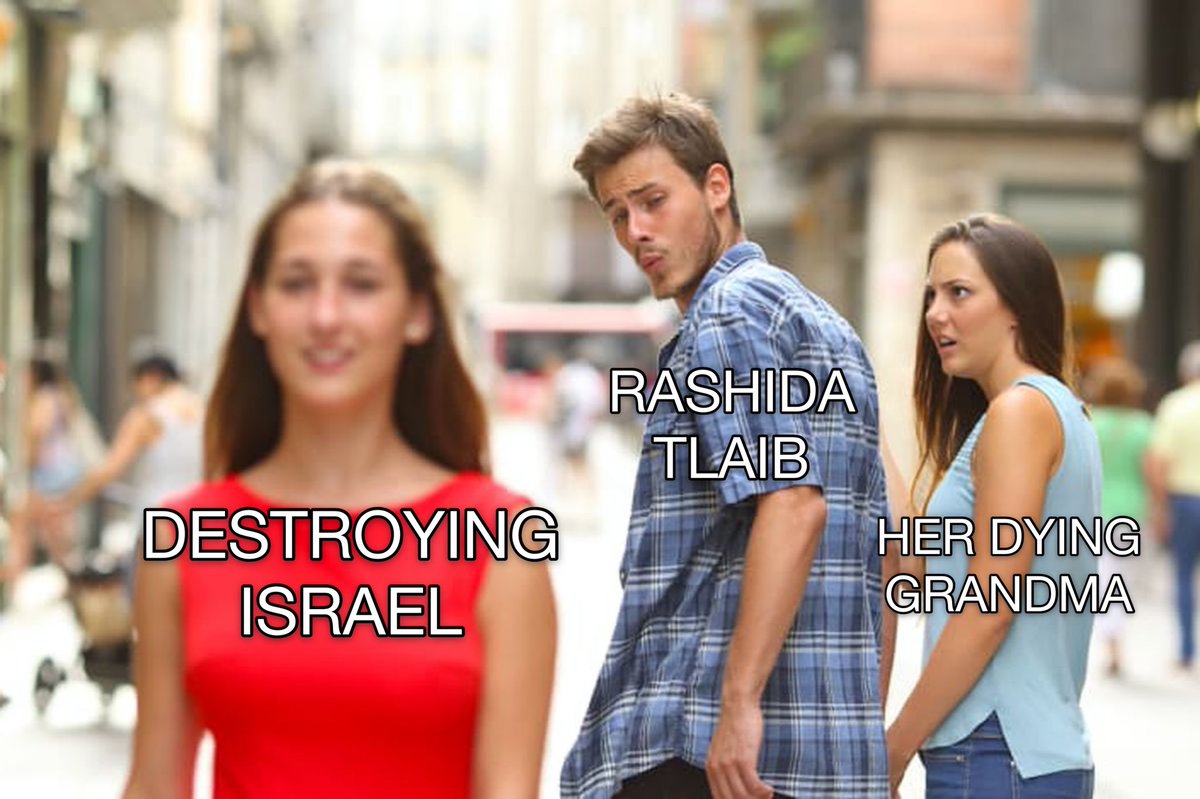 Tlaib's grandmother wishes 'ruin' on Trump after he mocks her on Twitter
The Palestinian grandmother of US congresswoman Rashida Tlaib wished "ruin" on US President Donald Trump on Saturday after he mocked her relationship with her granddaughter on Twitter.

"Trump tells me I should be happy Rashida is not coming," Muftia Tlaib told Reuters. "May God ruin him."

The 90-year-old, who lives in the West Bank village of Beit Ur Al-Fauqa near Ramallah, also reacted to the lawmaker's canceled visit with disappointment and confusion.

"It's been a long time since I've seen her — five to six years. But sometimes I see her on TV and talk with her on the phone," she told NBC News.

"Why didn't they allow her to come here?" she said. "I can't do anything. I'm really very sad. I hope, God willing, that she will come back. I'm waiting for her."

Tlaib had been granted permission to visit her grandmother on humanitarian grounds after she and Rep. Ilhan Omar on Thursday were barred from visiting Jerusalem and the West Bank in their capacity as US lawmakers because of their support for boycotting Israel. Tlaib changed her mind about the family trip hours after it was approved on Friday, citing its "humiliating" terms.
"Peace will come when @RashidaTlaib will love her grandmother more than she hates us."
- Golda Meir

— The Mossad: Elite Parody Division (@TheMossadIL) August 16, 2019
Did Rashida Tlaib refuse to meet with Palestinian Authority's Abbas?
Palestinians reacted with mixed feelings to Palestinian-American Congresswoman Rashida Tlaib's decision to cancel her planned visit to east Jerusalem and the West Bank.

Some Palestinians criticized Tlaib (D-Mich.) for writing a letter to Interior Minister Aryeh Deri requesting permission to visit her relatives in the village of Beit Ur al-Fauqa, west of Ramallah. In her letter, Tlaib said she wanted to see her grandmother and promised to "respect any restrictions" and "not promote boycotts against Israel during my visit."

Tlaib's letter drew criticism from several Palestinians, who took to social media to express their opposition to the congresswoman's request to visit her relatives in accordance with Israeli preconditions.

Some Palestinians claimed that Tlaib and members of her delegation had made it clear that they were not interested in meeting with Palestinian Authority officials, including President Mahmoud Abbas, during their visit.

"We supported Tlaib, but we later learned that she and her friends would have refused to meet with President Abbas even if they had been allowed to enter the country," said an activist with the ruling Fatah faction in the West Bank.

Her critics also did not like Tlaib's pledge not to promote boycotts against Israel and called on her to reject Israeli preconditions. "Why didn't she ask her grandmother for her opinion about the Israeli preconditions?" asked one Palestinian on Facebook. "Her grandmother would have surely said no."
NYT: 'Storm of Palestinian Criticism' of Tlaib Is Behind Her Cancellation of Trip to Visit Grandmother
The Times had a reporter on the ground in Israel who described Tlaib's "ancestral home:"

In a small stone house on the edge of a sleepy Palestinian village near Ramallah, an elderly woman ran a string of wooden worry beads through her gnarled fingers on Friday, silently reciting the 99 names of Allah, almost oblivious to the maelstrom of world politics swirling around her and her granddaughter, Representative Rashida Tlaib.

"I'm happy that Rashida will come," Muftiya Tlaib said, barely an hour after the interior minister's announcement. Dressed in a colorful, intricately embroidered traditional Palestinian thobe, she added, "But I hear they won't let her."

But while people were speculated why she would give up seeing her grandmother, the Times, which reported Trump is responsible for Israel denying the two Muslim women entry into Israel, said it was the Palestinians who made Tlaib change her mind.

"A storm of Palestinian criticism on social media denounced Ms. Tlaib for selling out the cause in exchange for a glimpse of her grandmother, and a few hours after gaining Israeli approval, she announced that she would not come after all," the Times reported, incorrectly saying in its article that Tlaib's relatives live in Palestine.

"Visiting my grandmother under these oppressive conditions stands against everything I believe in," Tlaib wrote on Twitter.

Tlaib also called Israel's policies "oppressive and racist."
Comedian Bill Maher calls BDS 'a bulls**t purity test'
Comedian and Real Time host Bill Maher criticized the Boycott, Divestment and Sanctions (BDS) movement on his show on Friday, calling it a "bulls**t purity test."

Maher, who has openly endorsed Democrat Bernie Sanders since the 2016 US elections, asked his panel if BDS was a fair organization to support in light of the cancellation Rashida Tlaib and Ilhan Omar's visit to east Jerusalem and the West Bank. He soon enough took the matter into his own hands, however, and said he would answer the question himself.

"It's a bulls**t purity test," said Maher, who has said in the past that he is "more on the side of the Israelis" in regard to the Israeli-Palestinian conflict. "BDS is a bulls**t purity test by people who want to appear 'woke' but actually slept through history class.

"I think it's very shallow thinking that the Jews in Israel are mostly white and Palestinians are mostly brown, so they must be innocent and correct and the Jews must be wrong," he continued. "As if the occupation came right out of the blue, that this 'completely peaceful people' found themselves occupied. Forget about the intifadas and the suicide bombings and the rockets and how many wars."

When discussing Omar and Tlaib's planned trip, Maher presented different statements Omar has said about Israel in the past, including, "It's all about the Benjamins" when referring to the American Israel Public Affairs Committee (AIPAC), "Israel has hypnotized the world" and "May Allah awaken the people and help them see the evildoings of Israel."

"I see why they don't get a hero's welcome," Maher added.
This!!!@billmaher on the @RashidaTlaib / @IlhanMN controversy:

"#BDS is a bullshit purity test by people who want to appear woke, but actually slept through history class."

Maher then questions why the media does not pay enough attention to BDS goals to destroy #Israel. pic.twitter.com/4BQbtxgIzk

— Arsen Ostrovsky (@Ostrov_A) August 17, 2019
Israel was not wrong to ban Congresswomen Rashida Tlaib and Ilhan Omar from entering
This is the crux of the matter: Both Representatives Tlaib and Omar are supporters of the BDS — Boycott, Divestment and Sanctions — movement, which, despite claims of protest by peaceful means, has been described by its founders as just another way of trying to throttle Israel.

To spin this, as some have, as an Israeli ban on Muslims entering the country is remarkably disingenuous. Since 2017, Israel has been stopping avowed supporters of BDS – including some Jews — from entering the country.

This is eminently reasonable: every country, including western democracies like America and Britain, can and does decline access to people whose views it considers dangerous. This has included elected representatives of other countries — the US has previously denied entry to Israeli Members of the Knesset.

So when it comes to Israel, why should a country welcome in people who support a campaign designed to destroy it? Especially when the clear purpose of their trip is designed to do little more than help boost and promote that narrative?

On Friday, Israel announced it would let in Ms Tlaib on compassionate grounds. Her elderly grandmother lives in the West Bank and the politician asked Israel to permit a visit, promising to refrain from promoting a boycott while there. Ms Omar may yet be allowed to visit as well.

But I would ask those who have so vocally condemned the decision to ban them to take a step back for a minute and ask yourselves: when did you decide that supporting a campaign boycotting Israel and no other country was somehow acceptable behaviour?

And why should Israel welcome in those who promote that campaign? (h/t IsaacStorm)
What Omar, Tlaib were going to do on their thwarted trip to Jerusalem, West Bank
Years later, in 2013, Miftah staffer Nawaf Al Zaru posted an article on its site criticizing US president Barack Obama for hosting a Passover seder at the White House. In the article, Al Zaru repeated a false accusation that Jews kill non-Jewish children and use their blood in religious rituals.

"Does Obama in fact know the relationship, for example, between 'Passover' and 'Christian blood'..?! Or 'Passover' and 'Jewish blood rituals?!'" Al Zaru wrote. "Much of the chatter and gossip about historical Jewish blood rituals in Europe are real and not fake as they claim; the Jews used the blood of Christians in the Jewish Passover."

At first the group defended the article by saying the blogger [Elder of Ziyon] who first criticized it had "wrongly accused MIFTAH and Dr. Ashrawi of promoting Jewish blood libel during Passover through its publication of an Arabic-language article that briefly addressed the subject." But the group deleted the article from its site, apologized and said it disciplined Al Zaru.

"The said staffer has been reprimanded and all our staff has been informed as to the disgusting and repulsive phenomena of blood libel or accusation, including its use against Jews," the apology said.

In a statement, Miftah called the ban on Omar and Tlaib "an affront to the American people and their representatives. It is an assault on the Palestinian people's right to reach out to decision-makers and other actors from around the world." The group said it wanted to facilitate Omar and Tlaib's "direct contact with the Palestinian people, who are subject to Israel's cruel regime of colonization, oppression and land grab."

Ashrawi did not returned a request for comment.

Why was this trip different?
This was not the first congressional delegation to Palestinian areas sponsored by Miftah. Politico first reported Friday that Miftah co-sponsored a trip by five Democratic congressmen to Israel and the West Bank in 2016 that was allowed into Israel without a problem. The participants were Matt Cartwright, Dan Kildee, Hank Johnson, Luis Gutierrez and Mark Pocan.

The itinerary of that trip was similar to Omar and Tlaib's would-be visit, but the representatives did meet with Arab-Israeli lawmakers. Other than that, the trip was centered on visiting Palestinian areas and Arab cities in Israel, and on meeting with Palestinian activists and groups.

But while both Omar and Tlaib support boycotting Israel, all of the congressmen had been to Israel previously or otherwise had spoken out in support of Israel, though they have also criticized its policies, at times harshly. All five were endorsed by JStreetPAC, the political funding arm of the liberal Israel lobby. JStreetPAC did not endorse Tlaib or Omar.
Examining Politics Podcast:
Seth Mandel & Shelby Emmett
Seth Mandel, Executive Editor of the Washington Examiner Magazine, joins the podcast to discuss the facts surrounding Rep. Ilhan Omar and Rep. Rashida Tlaib's partnering with an anti-Semitic organization to plan their trip to Israel. Larry also spoke with Shelby Emmett live from the ALEC conference in Austin about protecting free speech.
Tlaib attends Shabbat event with pro-BDS group after rejecting West Bank visit
Democratic congresswoman Rashida Tlaib met with supporters Friday at a Shabbat event in Detroit sponsored by a left-wing Jewish group that backs the boycott of Israel. The event took place after Tlaib said she would not visit her family in the West Bank despite being granted permission by Jerusalem.

Tlaib requested and was allowed to visit her grandmother on humanitarian grounds after she and Rep. Ilhan Omar on Thursday were barred from visiting the West Bank and Jerusalem in their capacity as US lawmakers because of their support for boycotting Israel. She changed her mind about the family trip hours after it was approved on Friday, citing its "humiliating" terms.

The Detroit News reported that around 60 people attended the event in Detroit's Pallister Park organized by Jewish Vote for Peace, a new group that describes itself as the sister organization to Jewish Voice for Peace and as its political and advocacy arm. Jewish Voice for Peace supports the Boycott, Divestment and Sanctions (BDS) movement against Israel.

Organizers called the event "Shabbat in the Park with Rashida." Video from the scene showed attendees reciting prayers and singing songs in Hebrew and holding signs with the slogan "Dignity from Detroit to Palestine" (Tlaib represents Michigan's 13th congressional district, which includes parts of Detroit).
The words "Jewish" and "Peace" in that organization's name are analogous to the words "democratic" and "republic" in North Korea's. https://t.co/0El63FxHbX

— neontaster (@neontaster) August 16, 2019
The day Netanyahu helped anti-Israel Democrats gain resonance and credibility
This much can be said of Prime Minister Benjamin Netanyahu's decision on Thursday to bar two American congresswomen from entering Israel: He has unified the Democratic Party in its opposition to him.

Freshmen representatives Ilhan Omar and Rashida Tlaib — who both support the Boycott, Divestment, and Sanctions campaign (BDS) against Israel — have been polarizing figures within the caucus since their November 2018 arrival on Capitol Hill.

Democratic leaders like House Speaker Nancy Pelosi and House Majority Leader Steny Hoyer had more than once argued that their views on the Mideast were marginal — that they are not representative of the party.

That seems to remain the case; a House resolution condemning the BDS movement overwhelmingly passed the chamber just a few weeks ago, with only 17 members of Congress, including Tlaib and Omar, voting against it.

But after Netanyahu apparently capitulated to US President Donald Trump's demands that he prohibit Omar and Tlaib from visiting Israel — under a 2017 Israeli law that allows the country to ban any foreigner who knowingly promotes boycotts of Israel — he turned two figures who were sources of Democratic discord into victims of Israeli oppression.

As a consequence, pro-Israel activists in Washington say, the case for traditionally supportive postures on the Jewish state will henceforth be more difficult to make. In other words, Netanyahu just gave anti-Israel activists in America one of the biggest boosts they could possibly imagine.
Was Israel Justified in Banning Tlaib and Omar?
The decision has been made and the visit canceled. Looking back on the latest back-and-forth that took place between Capitol Hill and Jerusalem, was it the right decision for Israel to ban the two congresswomen? Analysts Brooke Goldstein, Nadav Tamir and Mark Mellman debate.
House Democrats said weighing censure of Israeli, US envoys over entry ban
Top Democratic lawmakers in the US House of Representatives have reportedly discussed censuring the Israeli envoy to the United States and the American ambassador to Israel over the Jewish state's decision to bar entry to congresswomen Rashida Tlaib and Ilhan Omar.

According to a report Friday in the McClatchy news service, around a dozen Democrats have begun talks on how to express a "deep lack of confidence and trust" in Ron Dermer, Israel's ambassador to the US, and US envoy to Israel David Friedman.

Citing two unnamed sources familiar with the discussions, the report said the lawmakers were considering putting out a statement of no confidence in Dermer and pushing for an inspector general investigation into Friedman.

Among those reportedly involved in the talks were House Foreign Affairs Committee Chairman Eliot Engel and House Appropriate Committee Chairwoman Nita Lowey, two prominent Jewish lawmakers from New York.

"We are reviewing all of our options," McClatchy quoted a congressional source saying. "With Dermer, the issue is that there already was a severe lack of trust. But now there is a severe lack of confidence. It is completely unclear that he represents his government given he has made promises that he has not kept and wasn't clear if he ever had any chance of keeping."
Pelosi: We can't let 'weakness' of Trump, Netanyahu harm US-Israel ties
House Speaker Nancy Pelosi said Friday that the US-Israel relationship can withstand the "weakness" of US President Donald Trump and Prime Minister Benjamin Netanyahu, who shook diplomatic norms this week in barring two members of Congress from visiting the country.

Pelosi told The Associated Press Friday that the "weakness of Netanyahu and the weakness of Donald Trump combined" into a policy that's "a no."

"We have a deep relationship and long-standing relationship with Israel that can withstand Donald Trump and Benjamin Netanyahu," Pelosi said. "We cannot let their weaknesses stand in the way of our ongoing relationship."

She said the US commitment to Israel isn't dependent on either leader, a sign there may not be lasting fallout from this week's incident, particularly in terms of foreign aid, which must be approved by Congress.
Top Democrat slams Israel's 'disrespect' in releasing letter signed by Tlaib
A senior Democratic lawmaker, who has just returned from Israel after leading a 41-member delegation, on Friday slammed the Jewish state for forcing Democratic Congresswoman Rashida Tlaib to sign a letter promising not to promote boycotting Israel during her visit

House Majority Leader Steny Hoyer, a staunch supporter of Israel, called the incident disrespectful to Tlaib and to the US Congress.

Hoyer said he was upset Israel reversed its initial decision and decided to bar Tlaib and fellow Congresswoman Ilhan Omar because of their backing for the boycotting of Israel.

"Even more disappointing is that, after deciding to allow Rep. Tlaib to visit her grandmother, who lives in the West Bank, the Israeli government required her to sign a letter in some way limiting her actions while in Israel and/or the West Bank," Hoyer said in a statement.

"To my knowledge, no Member of Congress has ever been asked to agree to preconditions in order to visit Israel. The public release of that letter compounded the unacceptability of this requirement," he said. "Not only was this request disrespectful of Rep. Tlaib but of the United States Congress as well.
Ilhan Omar Calls for U.S. to Use Aid as Leverage Against Israel
Omar reacted to the continuing fallout in a series of tweets Friday afternoon, admitting their original intention to "witness firsthand what is happening on the ground in Palestine."

"Let's be clear: the goal of our trip was to witness firsthand what is happening on the ground in Palestine and hear from stakeholders — our job as Members of Congress," she tweeted, adding, "But since we were unable to fulfill our role as legislators, I am sharing what we would have seen."

She followed with a lengthy thread and ended with a call, urging the U.S. to use aid as leverage against Israel due to what she believes is the mistreatment of Palestinians:

Omar, however, failed to mention that "notorious Palestinian extremist and Israel boycott defender Hanan Ashrawi" co-sponsored and organized their trip.

As Breitbart News reported:
The cancelled visit was partially organized and co-sponsored by Miftah, an anti-Israel organization headed by Ashrawi, a member of the Palestine Liberation Organization's executive committee and supporter of BDS.

Ashrawi claimed the trip was supposed to be a way for Omar and Tlaib "to engage with the Palestinian people directly and to see things on the ground."

NGO Monitor, a watchdog on extremist nonprofits, notes that Miftah has accused Israel of committing "massacres," "apartheid," "summary executions" of Palestinian youth and "Judaizing" Jerusalem. It has also accused Israel of "ethnic-cleansing of Palestinian-Israeli Arabs."

According to the report, Ashrawi, a leader for the violent First Palestinian Intifada and deputy to late Palestine Liberation Organization (PLO) chair and arch-terrorist Yasser Arafat, is known for her support of anti-Israel conspiracy theories and her attempts to justify Palestinian resistance against Israel.
Bernie Sanders: Israel shouldn't take US aid if it stands by ban of Omar, Tlaib
Sen. Bernie Sanders suggested that Israel should not receive foreign aid from the United States if it stands by its decision to deny entry to Reps. Ilhan Omar and Rashida Tlaib.

Appearing on MSNBC on Thursday, the Democratic presidential candidate was responding to Israel's decision that day to bar entry to Omar and Tlaib, two Democratic congresswomen from Minnesota and Michigan, respectively. Israel said it was barring them because they support the movement to boycott Israel and were not meeting with Israeli officials on their trip.

"But the idea that a member of the United States Congress cannot visit a nation which, by the way, we support to the tune of billions and billions of dollars, is clearly an outrage," Sanders, I-Ver., said.

"And if Israel doesn't want members of the United States Congress to visit their country to get a firsthand look at what's going on — and I've been there many, many times — but if he doesn't want members to visit, maybe he can respectfully decline the billions of dollars that we give to Israel."
Palestinian groups behind Omar-Tlaib canceled trip express anti-Semitism, links to terrorism
Founded in 1998, Miftah's vision is a "sovereign, independent, democratic, tolerant and inclusive Palestinian state, which grants Palestinians their basic rights, preserves their dignity, and enjoys international recognition and respect," according to the group's website.

Despite such claims, Miftah, which is mainly funded by a number of E.U. countries and the United Nations, has been tied to terrorist sympathizers and anti-Semites, as well as openly accusing Israel of committing atrocities and support for the BDS movement.

Miftah apologized for an article using blood libel

According to NGO Monitor, Miftah's publications use highly politicized language, accusing Israel of "massacres," "apartheid," "summary executions" of Palestinian youth and "Judaizing" Jerusalem.

Miftah founder Hanan Ashrawi, also chair of its board of directors, has also accused Israel of "persistent colonialism, apartheid, racism and victimization," and said in a 2017 interview that Palestinian terrorist attacks "are seen by the people as resistance. And you cannot somehow adopt the language of either the international community or the occupier by describing anybody who resists as terrorists."

Miftah's website also praises Wafa Idress, a female suicide-bomber who killed an 81-year-old Israeli and wounded 150 others in January 2002 as part of the "resistance movement."

In 2013, Miftah apologized for an article on its website using a blood libel and accusing Jews of using "the blood of Christians in the Jewish Passover."
Here's the original tweet:https://t.co/Jzw0aWynpY

— Jeryl Bier (@JerylBier) August 16, 2019
OMG. How will we ever live knowing these 'celebrities' disapprove! pic.twitter.com/osmIyxNoep

— Arsen Ostrovsky (@Ostrov_A) August 17, 2019
Jpost Editorial:
A tale of two cities
For 52 years we have been blessed with a reunified Jerusalem. On paper.

We tell ourselves Jerusalem has been reunited for over half a century, but a short walk through the streets paints a different picture. While the city's west side appears cared for and prosperous, the east seems neglected in comparison. From road quality and trash collection to safety and security, those in the east side– predominantly Arab Israelis but also many Jews who returned to these parts of Jerusalem after 1967 – live in a completely different Jerusalem from neighborhoods on the west side. This is not what sovereignty looks like.

If we are concerned about this disparity in services received, we ought to be even more alert to the sociological impact of this chasm. It has, in many ways, given rise to a divided society: Children in east Jerusalem often learn to direct animosity toward the Jews living just a few minutes away, who are meanwhile afraid to walk through whole neighborhoods of this so-called "unified" city and bring their own prejudices. Evidently, as long as Jerusalem remains a tale of two cities, we cannot justify calling her "reunified."

So what do we do?

A unified Jerusalem cannot be built on de jure status alone. We need to take it a step further. We need to take responsibility. Only then will the united Jerusalem truly be under Israeli sovereignty.

Let's not fool ourselves; east Jerusalemites may have permanent residency status here in Israel, but they are far from eager to live under Israeli authority. Some not only vocalize their opposition to this State, but demonstrate it: Throughout the Intifada, east Jerusalem civilians carried out countless acts of terrorism, large and small. And lest we convince ourselves such behavior is firmly in the rear-view mirror, we need only recall the onslaught of violence in summer 2014. Triggered by Operation My Brother's Keeper in the aftermath of the kidnapping and murder of Eyal Yifrah, Gil-Ad Shaer and Naftali Fraenkel, east Jerusalemites rioted. They threw Molotov cocktails, pipes and stones at police. They smashed windows and cameras, and set fire to trashcans and train stations.
Teen seriously hurt in car-ramming remains in serious condition after surgery
A teen seriously wounded in a car-ramming attack in the West Bank remained in serious condition Saturday after undergoing neurosurgery.

Nahum Nevis, 17, and his 19-year-old sister Noam were hit by a car Friday as they waited for a bus outside the Elazar settlement.

The car rolled over after the terror attack, and when the assailant tried to emerge from it, he was shot dead by an off duty police officer who was driving behind him.

While Nahum remained sedated and hooked up to a respirator, the Walla news site reported a slight improvement in Noam's condition as she was transferred from Shaare Zedek Medical Center to Hadassah Ein Kerem Hospital, where her brother is.

The director of Hadassah, prof. Yoram Weiss said Friday Nahum had suffered a skull fracture and a brain injury. Doctors at Shaare Zedek said Noam had injuries to her limbs.

The siblings are residents of Elazar.
A 19 year old and a 14 year old child we're seriously wounded in a car ramming attack by Palestinian terrorists today.

Pictured below: @RashidaTlaib and @IlhanMN missing out on the Palestinian celebration of the attack. pic.twitter.com/1tJiV0Bfvc

— The Mossad: Elite Parody Division (@TheMossadIL) August 16, 2019
Palestinians fear UNRWA mandate may not be renewed
The Palestinian leadership is worried that the mandate of the United Nations Relief and Works Agency for Palestinian Refugees (UNRWA) may not be renewed next month due to charges of corruption in the agency.

The Palestinians are also concerned about the recent decision of the Netherlands, Switzerland and Belgium to temporarily suspend funding for UNRWA in the aftermath of allegations of graft and sexual misconduct among the its senior management.

PLO Secretary-General Saeb Erekat on Saturday called on UN Secretary-General Antonio Guterres to expedite the completion of the current investigation into suspicions and allegations of corruption in UNRWA before the end of September.

"An investigation is ongoing," and the UN Secretary-General is "committed to acting swiftly upon receiving the full report," UN spokesperson Farhan Haq told reporters in New York two weeks ago.

Haq spoke in the aftermath of an Al-Jazeera article, which said it had received a copy of a 10-page internal UNRWA report that allegedly pointed at UNRWA commissioner-general Pierre Kranhenbuhl, deputy commissioner-general Sandra Mitchell, chief of staff Hakam Shahwan and senior adviser to the commissioner-general Maria Mohammedi, and called for their removal. Mitchell and Shahwan left UNRWA in July.

The report accused the UNRWA officials of nepotism and alleged they had created an atmosphere of fear, bullying and intimidation, indicating that the problems became more acute in 2018.

Erekat's appeal reflects growing concern among Palestinians that the corruption scandal may affect UNRWA's services to Palestinian refugees and pave the way for ending the agency's mandate.
Hamas: Israeli strikes in Gaza meant to distract from West Bank attacks
A Hamas spokesman claimed Saturday that Israeli strikes on targets linked to the terror group following rocket fire from the Gaza Strip were meant to distract from recent violence in the West Bank.

The military said it struck two underground sites belonging to Hamas overnight after a rocket was fired from Gaza at Israel.

The rocket, which set off sirens in a number of southern communities, was intercepted by Iron Dome defense system.

"The Israeli attack is a message of escalation and aggression that is meant to distract from the acts of heroism in the West Bank, which have confused the calculations of the enemy and deepened its internal crises," Hamas spokesman Fawzi Barhoum was quoted saying by Hebrew media.

His comments came a day after two Israeli teenagers were injured in a car-ramming attack in the West Bank and over a week after a yeshiva student was stabbed to death by terrorists outside a nearby settlement.

One of the teenagers remained in serious condition Saturday after undergoing surgery.

The assailant in Friday's attack was killed by an off duty police officer while the Palestinians behind the stabbing were arrested last week by security forces.

The army said Nasir Asafra, who along with his cousin Qassem Asafra is suspected of murdering Dvir Sorek, is a Hamas member.
Hizballah Is Gaining Support from Christians, Sunnis, and Druze
Created by Iran in the 1980s as a Shiite fundamentalist militia, Hizballah has in the past decade strengthened its popularity with other Lebanese religious groups. To this end, it has recruited a significant number of Sunni fighters and formed an alliance with the Christian Free Patriotic Movement (FPM). Michal Kranz explains:

As Hizballah has set its sights on cross-sectarian, national-level power as a political party as well as a militant group, support from non-Shiite communities has become an ever more important part of its calculus. It has been able to capitalize on feelings of popular discontent among all of Lebanon's sects and today enjoys more influence among Christians, Sunnis, and Druze than ever before. . .

[After] the May 2018 parliamentary elections, Hizballah was able to increase significantly its influence among non-Shiite sects in parliament. Not only did the elections that year see Hizballah's bloc gain seats, but the FPM, still its ally, became the most powerful Lebanese Christian party. In addition, a group of six pro-Hizballah Sunni deputies were elected to parliament, and the traditionally dominant anti-Hizballah Sunni party, the Future Movement led by Prime Minister Saad Hariri, lost a third of its seats. . . .

Hizballah's outreach to Sunnis may still have a way to go, but . . . Lebanese Christians have embraced and accepted Hizballah to a much greater degree. With FPM founder Michel Aoun's ascension to the presidency in 2016 and the party's large gains in 2018, Hizballah's outreach to the Christian community has yielded real political dividends. . . . Since 2018, Hizballah's primary Druze ally, the Lebanese Democratic party led by Talal Arslan, has [likewise] been steadily asserting itself in the Druze community, which remains dominated politically by the anti-Hizballah Progressive Socialist party.

Both the cause and the effect of these developments is a situation where Hizballah is not simply a powerful terrorist militia operating within Lebanon but the country's main source of both power and authority.
JCPA:
The Iranian Conquest of Syria
The Syrian regime is still fighting for its survival, a situation that demands the ongoing military involvement of Iran and Russia in the long process of consolidation. Since the beginning of its intervention in Syria, Iran has seen the conflict as an opportunity to take over the country. Accordingly, Iran threw into the battle its foreign legions (Lebanese Hizbullah, Iraqi, Afghani, and Pakistani formations) together with a corps of Iranian officers belonging to the Al-Quds Division under the command of Qasem Suleimani.
Hizbullah commands five Shiite militias in the Golan area, each numbering several thousand fighters, and has been busy preparing a military option against Israel. Moscow brokered an arrangement with Tehran according to which Iran would remove its proxies from within 80 km. of the Israeli border and Russia would deploy checkpoints to serve as a buffer.
However, due to infiltration, Hizbullah and pro-Iranian proxy checkpoints have been erected almost adjacent to the Russian checkpoints. This has led to friction between the Russians and the pro-Iranian proxies. Furthermore, local leaders supported by Russia and local chiefs of pro-Iranian militias have been conducting mutual targeted killings.
Pro-Iranian proxies camouflaged in Syrian army uniforms and waving the Syrian flag have attempted to establish checkpoints and deploy Hizbullah and Revolutionary Guards elements in the vicinity of the Jordanian-Israeli-Syrian border area (the Yarmouk basin).
Elements belonging to the Russian Fifth Corps, together with the Russian Military Police responsible for operating the checkpoints, have waged armed attacks to dislodge them. Furthermore, the Russians established a local armed militia to defend the border towns adjacent to the Jordanian border.
Iran and its proxies with Hizbullah leadership have succeeded in infiltrating the Syrian Golan area and creating a fait accompli Israel cannot ignore. Iranian proxies are present at the very doorstep of the Israeli Golan, but still undercover and in modest formations.
Honest Reporting:
Iran: The Global Threat
The Islamic Republic of Iran is a global threat, synonymous with terror. Not without reason did president George Bush Jr. famously label Iran as part of the "Axis of Evil" in 2003 and call it out as the "primary state sponsor of terror" in 2005.

Fourteen years later, Iran has only grown bolder and more troublesome. Once merely a regional threat, Iran's influence and ambitions and dangers are now international. Tehran's support for global terror and its nuclear program are Iran's primary global threats, as explained below.

Iranian Government

Apart from its proxies, Iran is itself a global terrorist actor through its Iranian Revolutionary Guard Corps. The IRGC has been known to plant agents in diplomatic missions, who then target rival countries' diplomats and tourists, as well as prominent Iranian dissidents. The examples are limitless:
In June 2018, an investigation by Dutch intelligence led to the expulsion of two Iranian diplomats based at the Iranian embassy in Amsterdam from the Netherlands. This followed the assassination several months earlier of an Iranian Arab activist who was gunned down in the Dutch capital. In March 2018, Albanian authorities arrested two Iranian operatives on terrorism charges after being caught allegedly surveilling a location where Iranian New Year (Nowruz) celebrations were about to begin. In January 2018, after weeks of surveillance, German authorities raided several homes tied to Iranian operatives who reportedly were collecting information on possible Israeli and Jewish targets in Germany, including the Israeli embassy and a Jewish kindergarten.

All of that activity was in the span of only six months, and only in Europe; Iran's global threat and history of terrorism goes back further, starting immediately after the Revolution with the assassination of defectors and dissidents, spreading internationally. But terrorism is not the only global threat Iran presents.
Germany slammed for honoring 'barbaric' Iranian regime ambassador
German President Frank-Walter Steinmeier faced a new wave of criticism for glorifying the Iranian regime in a ceremony on Friday in Berlin that welcomed the new ambassador of the Islamic Republic of Iran.

"Great honor for a barbaric regime," read the Bild newspaper headline about the welcome of Mahmoud Farazandeh.

Steinmeier was embroiled in an alleged appeasement scandal in February because he sent a telegram to Iran's rulers congratulating the regime on the 40th anniversary of its Islamic revolution.

The US classifies Iran's clerical regime the leading international state-sponsor of terrorism.

According to Bild, a spokeswoman for Steinmeier said that "It is constitutionally regulated that the Federal President accredits and receives envoys."

The German government held a flag raising ceremony, with the Iranian regime's flag, at the president's residence at the Bellevue Palace in Berlin.

Bild asked: "Should the ambassador of a murderous regime really receive such a welcome like every other ambassador?"
Las Vegas Jewish Community Breathes Sigh of Relief After Arrest of White Supremacist Planning Antisemitic Attack
The Las Vegas Jewish community is breathing a sigh of relief after the arrest of a white supremacist who was planning an attack on Jewish sites in the city.

The Las Vegas Sun reported that Conor Climo, 23, was arrested by the FBI and local police last week. He was found to be in possession of materials used to manufacture explosives, as well as a notebook in which he wrote out his plan to attack Jews and LGBT people, which took shape over the course of two years.

Rabbi Yitz Wyne of Young Israel Aish synagogue expressed thanks to the law enforcement officers involved in preventing the attacks, saying, "We have a lot of gratitude toward the almighty, to the FBI and Metro. There's been strong (police) presence here. They've been wonderful, constantly circulating around."

"It really was an initial shock for a lot of people," Wyne said of the news. He also noted that an armed security guard was hired by the synagogue after the 2018 massacre at the Tree of Life synagogue in Pittsburgh.

"It does comfort people to know that there is someone outside," he said.

Wyne explained, however, that the synagogue's security expenses harm its ability to give to charity.

"Unfortunately, these things are expensive," he stated. "Every time there's an attack, resources go toward more security and putting in more barriers and cameras. That's money that could be going toward helping people."
Pro-Israel Scholars Counter Move by Major US Academic Association to Boycott Israel
Pro-Israel professors are once again gearing up to prevent the Boycott, Divestment, and Sanctions (BDS) campaign from hijacking an upcoming academic association conference.

The Academic Engagement Network (AEN) on Thursday sent a letter to Stephen Rathgeb Smith — executive director of the American Political Science Association (ASPA), which will be holding its annual meeting later this month — warning that BDS activists, who are "uninterested in debate or dialogue" could take over the meeting of the Foundations of Political Theory on Saturday, Aug. 31.

The AEN letter was signed by Mark Yudof, Chair of the Advisory Board, Miriam Elman, Executive Director, and Michael Atkins, the Deputy Executive Director of the organization.

Robyn Marasco, the chair of the meeting, acknowledged in an email obtained by The Algemeiner that while a pro-BDS resolution will be discussed at the meeting "there will be no vote on this resolution at APSA." She explained that "votes on new policy can only take place at the Business meeting," which was why she scheduled the discussion of BDS at an "Open Meeting."

She also claimed that her reason for entertaining the discussion is "with the hope and expectation that political theorists can discuss controversial issues that impact our professional (and not just our political) lives." She added that "I do not believe Foundations should be a partisan organization nor do I believe that I am promoting an agenda or that the organization has been 'captured' by activists.

However, in their letter, AEN warned that "the resolution's sponsors have already shown that they are uninterested in debate or dialogue with those opposed to academic boycotts in general, and of Israel's academy in particular."

The AEN recalled that last year, the same group now calling for a discussion of a BDS resolution organized a session that explicitly stated "we have no interest in giving another platform to BDS opponents" in its description.
Rachel Maddow's Racial Smear of Second Circuit Nominee Steven Menashi
In a lengthy segment on MSNBC last night, Rachel Maddow grossly distorts Menashi's argument and tries to twist it into "a high-brow argument for racial purity." (Video at 9:00-9:36.) She falsely claims that Menashi argues "how definitely democracy can't work unless the country is defined by a unifying race." (Video at 6:57-7:10.)

But Menashi's argument about national identity is clearly not about "racial purity" or a "unifying race." Indeed, the fact that Israelis from Ethiopia are black makes it impossible to take seriously the claim that Menashi is making a case for "racial purity." Menashi further states that it "is not even clear … that Israel's national identity can even be described as 'ethnic'" (in a narrow sense of that concept), as Israeli Jews come from "Argentina, Ethiopia, Germany, Morocco, Russia, and Yemen."

What actually fosters "ethnonationalism"—what makes a population regard itself as a nation, what gives rise to national self-consciousness—is a complicated matter that is far beyond Menashi's inquiry. He quotes at length from an International Commission of Jurists that explored whether the people of what is now Bangladesh constituted a distinct "people." That commission's discussion, which Menashi clearly finds intelligent, cites multiple elements—historical, racial or ethnic, cultural or linguistic, religious or ideological, geographical or territorial, economic—that might bear on whether a "particular group constitutes a people," but it also states that none of those elements is "either essential or sufficiently conclusive."

What matters for national identity, Menashi emphasizes—quoting John Stuart Mill—is that a people are "united among themselves by common sympathies which do not exist between them and any others, which make them cooperate with each other more willingly than with other people, [and] desire to be under the same government." That—and not race—is clearly what Menashi means by his broader concept of ethnic, or "ethnocultural" or ethnonational, identification. (h/t IsaacStorm)
---
---
We have lots of ideas, but we need more resources to be even more effective. Please
donate today
to help get the message out and to help defend Israel.