From Ian:
---
By its own standards, the New York Times deserves blame for the Poway synagogue shooting
Does anyone else remember when a New York Times editorial blamed Sarah Palin for the shooting of Gabby Giffords because of a bulls-eye on a map?

The New York Times published a hideous, obviously anti-Semitic cartoon the day before a gunman entered a Chabad synagogue in suburban San Diego, killing one person and injuring 3.

Rabbi Yonah Fradkin, executive director of Chabad of San Diego County, says in a statement that Lori Kaye, 60, of Poway was killed. He says those injured in the shooting Saturday were Rabbi Yisroel Goldstein, Noya Dahan, 8, Almog Peretz, 34.

By the standards that a 2017 New York Times editorial published after Bernie Sanders supporter James Hodgkinson attempted a mass assassination of members of the GOP House caucus, the Times bears some responsibility.

In 2011, Jared Lee Loughner opened fire in a supermarket parking lot, grievously wounding Representative Gabby Giffords and killing six people, including a 9-year-old girl. At the time, we and others were sharply critical of the heated political rhetoric on the right. Before the shooting, Sarah Palin's political action committee circulated a map that showed the targeted electoral districts of Ms. Giffords and 19 other Democrats under stylized cross hairs.

Keep in mind that an unsigned editorial means that it is the product of editorial board itself, not just one op-ed writer, and is this the Times' official position
Strategic Affairs minister: Times cartoon inspired synagogue shooter
In a Facebook post about Saturday's synagogue shooting near San Diego, Strategic Affairs Minister Gilad Erdan claimed that the shooter had been influenced by a blatantly anti-Semitic cartoon that appeared in the New York Times earlier this weekend.

Erdan wrote that anti-Semitism in political cartoons extended beyond the pages of newspapers and turned into the "blood of Jews" being spilled in synagogues or other places "identified as Jewish."

"That is always the true motive for terrorism and murder against our people – not 'the territories' or 'concessions,' – hatred of Jews," Erdan wrote.

"The loathsome terrorist who carried out the murderous act in the California synagogue and killed the late Lori Gilbert Kaye was inspired to kill by the same anti-Semitic motives in the cartoon published in the New York Times – [accusations] that the Jews run the world, that the prime minister of Israel runs the world. The Israeli prime minister is portrayed as a guide dog leading a blind man. How much hatred and incitement that illustration contains," he wrote.

"So people are saying that the newspaper supposedly apologized and that the cartoon's publication was an 'error in judgment.' … You wouldn't accept such a limp-wristed condemnation of racism and incitement if it were directed at any other minority," Erdan continued.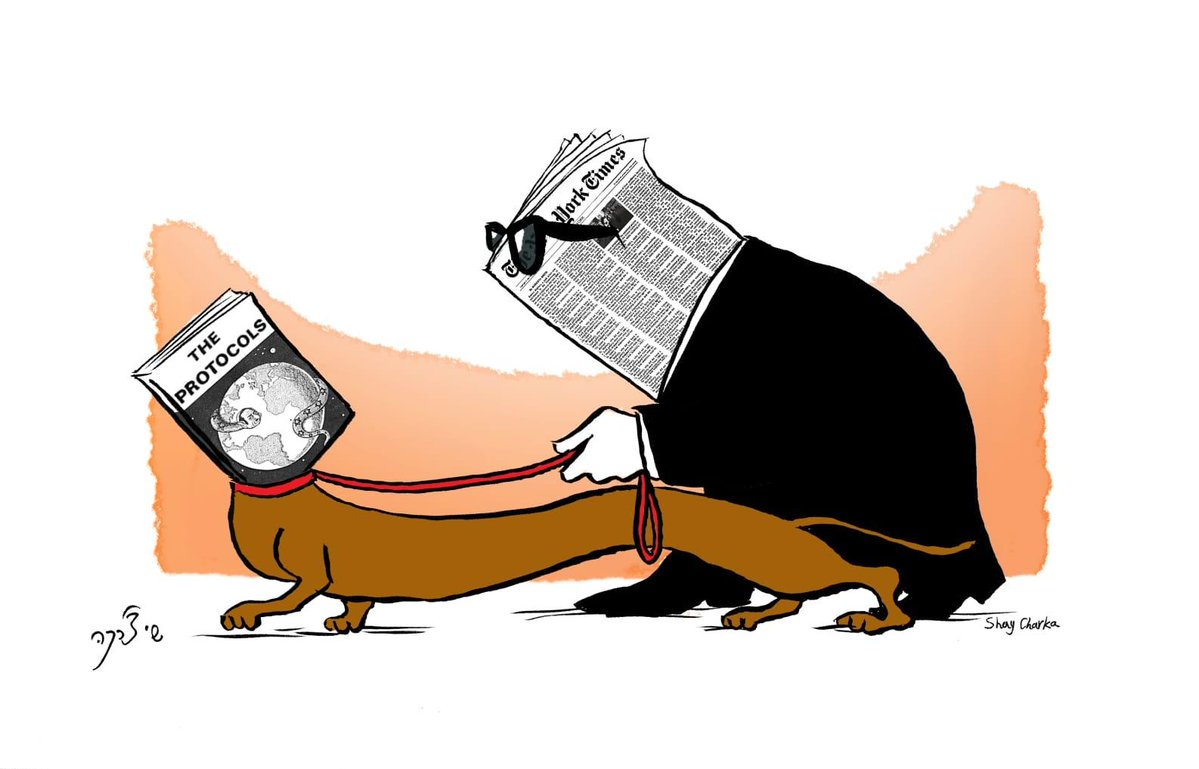 Imam Tawhidi:
Enough is enough, the war on Jews has to stop
Once again, the world witnesses another attack on Jewish people, this time by a white supremacist. It was only six months ago when we mourned the Pittsburgh Synagogue shooting, the deadliest attack on the Jewish community in the United States, which resulted in the killing of eleven people and injuring seven others.

Today however, the question isn't "why did it happen?", but perhaps: How we got here in the first place?

It was the last day of Passover. Members of the California Jewish community had gathered at Congregation Chabad in Poway, north of San Diego, when John Earnest, 19, opened fire at the congregants, claiming the life of an innocent 60-year-old woman. Three others were wounded, one of them a 57-year-old Rabbi.

While genuine condolences poured in to condemn the antisemitic attack, another group decided it was a good time to reveal their hypocrisy.

Let's start with the NYT, a left-leaning newspaper that's slowly becoming known for its antisemitism. Only three days ago, the NYT internationally printed an antisemitic cartoon of President Trump and Prime Minister Netanyahu.

The cartoon presents Trump as a blind Jew that is being guided by Netanyahu, an Israeli dog. The NYT then retracted the cartoon, and issued a non-apology. It's one thing to criticize Netanyahu and Israeli policy, and it's another thing to dehumanize an individual simply because he is Jewish.

Giant media corporations have the audacity to publish such content because they know that there is an audience willing to support their antisemitism, and in many cases, these audiences include somewhat influential figures like members of the KKK. Leader of the Nation of Islam, Louis Farrakhan for example, is a self-confessed antisemite. In one of his sermons, he states: "I'm not an anti-Semite. I'm anti-Termite."
PMW:
PLO: Mass murder of Christians by Muslims in Sri Lanka is same as Jewish presence on Temple Mount
The PLO sees Jews visiting the Temple Mount - Judaism's holiest site - as similar to Muslims massacring Christians in churches in Sri Lanka during Easter.

The Palestinian National Council - the PLO's legislative body - has compared "the deviant ideology" behind the mass murder of hundreds of Christians by Muslims in suicide bombings in Sri Lanka on Easter Sunday to "the ideology that causes settlers to break into the blessed Al-Aqsa Mosque in Jerusalem."

In a strategy to try to keep Jews away from the Temple Mount, the Palestinian Authority and its leaders have declared the entire Temple Mount a part of the Al-Aqsa Mosque and exclusively an Islamic site. To support this claim they vilify any presence of Jews on the mount as a "desecration," "defilement," "break-in," or "invasion" of the mosque.

This PA ideology has led to the odious comparison. The Palestinian National Council announced that the murder of more than 250 people in churches and hotels in Sri Lanka is similar to Jews visiting the Temple Mount.

The PNC described the attacks in Sri Lanka as "immoral and contrary to religious and human values," and similar to the ideology that makes Jewish "settlers" "break in" to the Al-Aqsa Mosque:
"[The PNC] added that the deviant ideology that caused these people to commit their despicable crime against the churches in Sri Lanka is the same ideology that causes settlers to break into the blessed Al-Aqsa Mosque in Jerusalem, do as they please with it, attack the Muslim worshippers, and prevent them from worshipping freely during the Hebrew Passover holiday (refers to West Bank and Gaza Strip crossings being closed during the holiday due to security concerns -Ed.)."
[Official PA daily Al-Hayat Al-Jadida, April 22, 2019]
Seth Frantzman:
Anti-Trump antisemitism: The link between Pittsburgh and Poway
Besides the links between the two synagogue attacks, there is widespread hatred of Trump on the far right emerging due to belief that he has been "Kushnered" by, in the words of one social media account "subversive nation-plundering Jews." Unsurprisingly, when we searched for other attacks on Kushner we found conspiracies about Kushner being tied to "globalist Jew George Soros." One woman, responding to the recent New York Times cartoon antisemitism controversy wrote, "Trump is controlled by Israel and Jared Kushner, the Jews control the media." Many attacks on Kushner over the years by what appear to be far-right social media accounts label him a "kike" and often say he should be removed from the White House. "Get this Kike out of Washington," for instance, one user writes. Another claimed he is behind conspiracies to allow undocumented migrants to stay in the US. No doubt, social media groups like Twitter have removed much of the most offensive content. On a website named "infostormer", we found a headline that notes, "Trump hails subversive Jew Jared Kushner."

Some of the anger over Trump's "betrayal" of white nationalists and their assertion that now the administration is "infested" with Jews goes back to the period when Steve Bannon left the administration in August 2017. A headline in April 2017 notes that far-right protesters had already turned out to accuse the administration of betraying their cause. Anti-Israel and anti-Zionist views also are common in this far-right antisemitic circle, sometimes overlapping or dovetailing with far-left antisemitic views, which are difficult to distinguish. When Trump recognized Jerusalem as Israel's capital, one person responded asking if white nationalists and "Aryan Brotherhood" felt betrayed. Trump "proves" that his is a "Zionist Occupied Government [ZOG]," tweeted one man who had an "America First" button as a profile in mid-April. Trump is accused of being a "cuck for Israel" and a puppet of the "ZOG." Trump is accused of being an "Israel first" president.

The obsession with Trump's Jewish family has led some on the far right to turn on Trump. Nevertheless, others are trying to continue to support him, despite feeling he has been "taken over." One website argues that Trump is still fighting the "shadow government and International Banking Cartel" and that he "requires the support of patriots."

What is clear is that there is a link between antisemitism on the far-right and anti-Trump views, a link that is also clear on the far-left and which tends to unite around hatred not only of Jews, but also Israel and beliefs that the US is controlled by Jews who in turn are accused of controlling banks or the media. It shows how antisemitism, when it is a defining worldview and ethos, can easily turn anyone into an enemy once that person is linked to Jews or "globalism."

Honest Reporting: Hate Endangers Us All
Sign our petition to demand the media adopt the international definition of antisemitism. Because hate against anyone endangers everyone. Click here: https://honestreporting.nationbuilder.com/ihra-antisemitism-definition

Mourning the Loss of Chabad Synagogue Congregant Lori Gilbert Kaye
Today an anti-Semitic hate crime shot and killed my friend Lori Gilbert Kaye z"l while she was praying in synagogue. Lori you were a jewel of our community a true Eshet Chayil, a Woman of Valor. You were always running to do a mitzvah (good deed) and generously gave tzedaka (charity) to everyone. Your final good deed was jumping in front of Rabbi Mendel Goldstein to take the bullet and save his life.

Your life was defined by your good deeds. Lori leaves behind a devastated husband and 22-year-old daughter. When I heard the horrific news, Lori I called your best friend Dr. Roneet Lev Lee who is at the hospital with the other victims. Friends, if you had not heard, please note and share this widely – Today at the Chabad of Poway Synagogue on Shabbat and the last day of the Passover holiday, 19-year-old John Earnest stormed in and said 'F*ck the Jews' and opened fire with an AR-type assault weapon during the Rabbi's sermon.

The hateful murderer had written and posted online a manifesto with anti-Semitic screeds and talked about planning the attack! He shot and killed Lori Kaye z"l who took the bullets for the Rabbi. Tragically the Rabbi was still shot in the hand and he STILL kept giving the sermon telling everyone to stay strong.
Chabad shooting victim named as Lori Gilbert-Kaye, said to have shielded rabbi
The US woman killed in a shooting at a San Diego County synagogue was named late Saturday as Lori Gilbert-Kaye, a 60-year-old mother.

Gilbert-Kaye was attending Passover services at the synagogue when a gunman opened fire with an assault rifle on worshipers at the Poway, California, synagogue, local authorities said.

Three other people were injured, including Rabbi Yisroel Goldstein, 57, who was leading services at the time and was shot in both hands.

The other two were Noya Dahan, 8, a girl originally from Sderot in Israel who was hit by shrapnel in the face and leg, and her uncle Almog Peretz, 31, who was shot in the leg as he ushered children in a playroom to safety, according to media reports. Israel's Foreign Ministry confirmed the two were injured, adding that the consul in Los Angeles, Avner Saban, had spoken with the girl's mother and offered help.

Authorities said all three were in stable condition.
Family of girl hurt in US shooting had left Israel after rockets hit their home
A relative of two Israelis who were injured in Saturday's shooting at a Chabad synagogue in Poway, California, said his family had moved to San Diego amid incessant rocket attacks from the Gaza Strip, some of which had damaged their home, causing injuries — only to be targeted by anti-Semitism in the United States.

Local authorities say 19-year-old John Earnest opened fire with an assault rifle on worshipers during morning services on the last day of Passover, killing 60-year-old Lori Gilbert-Kaye and wounding the rabbi, Yisroel Goldstein; Israeli girl Noya Dahan, 8, who was hit by shrapnel in the face and leg; and her uncle Almog Peretz, 31, who was shot in the leg. All three are in stable condition.

"We came from fire to fire," said Israel Dahan, Noya's father, referring to the family's move from the rocket-battered Gaza-border town of Sderot to California.

Dahan told Israel Radio that the family's home in Sderot had been hit by rockets several times over the years, and that he was injured on one of those occasions.

After moving to the US several years ago, he said, the family's new home was targeted — this time by anti-Semites, who spray-painted swastikas on the walls.

"It can happen anywhere. We are strong," he said.

Peretz said he was able to quickly protect children from harm during the attack due to instincts he honed over years rushing to shelters to hide from thousands of rockets fired by terror groups in the Gaza Strip over the last 15 years.
Post from a friend on FB who knows the victims of the Poway shooting -- amazingly, two of them were Israelis from Sderot, the town on the Gaza border that is regularly targeted with rockets pic.twitter.com/WbkDswF5xk

— Noah Pollak (@NoahPollak) April 28, 2019
'He pointed the gun at me but I had to get my nieces out'
Despite being shot in the leg, Almog Peretz was able to gather his nieces and escape the Chabad of San Diego County synagogue when the shooting began. "I wouldn't have been able to forgive myself if I wouldn't have saved the girls," Peretz tells Israel Hayom.

"I wouldn't have been able to forgive myself if I wouldn't have saved the girls," Almog Peretz told Israel Hayom Sunday morning from his hospital bed in Poway, California, after helping his three nieces escape a shooting attack during Shabbat services on Saturday.

"I had to do it, if I hadn't have done it – I'd have been a coward, I would have carried it on my conscience for the rest of my life," said Peretz, 34, who is in the United States visiting his sister, Eden Dahan, and her family, who moved there several years ago.

Peretz was sitting next to the emergency exit of the Chabad of San Diego County synagogue when the shooting began.

"I understood I had to get [the girls] out of the synagogue and run with them toward the houses [outside]. The emergency exit saved us; my luck was that I was right next to the door and he [suspected shooter John Earnest, 19, of San Diego] shot at me. He pointed the gun at me, I saw him do it. He saw me and didn't shout anything. He stood in the same spot the entire time, next to the entrance to the synagogue because he wanted to be close to the door – to get away. If I was losing my mind, imagine what the kids were going through; they didn't know where to run."

While in the midst of gathering his nieces, Peretz was shot in the leg. "While the shooting was going on I didn't feel a thing, just heat in the area I was hit; but in the moment I was full of adrenaline, I jumped from place to place. I didn't notice I was hit," he recounted.

Peretz was able to get the children outside to safety but when he reached the rabbi's home, he realized one of his nieces, Leanne, wasn't with him.
Chabad rabbi: We will not be intimidated by terror
Hours after an active shooter opened fire in the Congregation Chabad synagogue in Poway, its congregants were praying together again.

Rabbi Mendel Goldstein, the son of Rabbi Yisroel Goldstein, who was wounded in Saturday's attack, described how after three hours of questioning by police, members of the shul retreated to his nearby home to finish their morning prayers, including the Yizkor memorial prayer.

"We made a very special Yizkor," Goldstein told The Jerusalem Post from San Diego, where his father is still in the hospital with a bullet injury to his hand. "The men bentched [blessed] Hagomel and during Yizkor we prayed for Lori Gilbert Kaye and we said Am Yisrael Chai - we will be strong and continue on."

The Hagomel blessing is the Jewish prayer of gratitude, typically said after recovering from a serious illness or surviving a dangerous journey. Kaye was murdered in the shooting attack.

"Everyone was there together," continued Goldstein. "We were all mourning, we all had tears in our eyes, but we were looking forward.

"It is going to be tough, we will need a lot of help, but we will be strong."
Poway rabbi shot in hand recounts being face-to-face with synagogue killer
The rabbi shot while conducting services in Poway, California, told US media Sunday that his congregation would continue to grow from the "horrific" attack and would not allow terrorism to win, as he described coming face-to-face with the killer.

Rabbi Yisroel Goldstein was in stable condition after being shot in the hand by a gunman, identified by police as 19-year-old John Earnest.

Earnest, 19, surrendered to police after bursting into Chabad of Poway, north of San Diego, on Saturday and opening fire with about 100 people inside, killing Lori Gilbert-Kaye, 60, and injuring Rabbi Goldstein, Noya Dahan, 8, and Almog Peretz, 34, authorities said.

"I heard a large bang, a large noise," Goldstein told the Today show on Sunday. "I turned around and I am face to face with this murderer terrorist who is holding the rifle and looking straight at me, and then as soon as he saw me he started to shoot towards me and that's when I put my hands up and my fingers got blown away and then he continued on and he killed Lori Kaye right there on the spot.

"I turned around and I saw a group of children in the banquet hall, including my granddaughter and I just ran, not even knowing that my fingers were blown off, and got the kids outside, got everyone out of the sanctuary safely," said Goldstein, noting the presence of an off-duty guard at the site.

An off-duty Border Patrol agent working as a security guard fired at the shooter as he fled, missing him but striking his getaway vehicle.
Even after being shot and wounded, Rabbi Goldstein stood before his congregation at Chabad of Poway to finish his Passover sermon. He said: "We are strong. We are united. They can't break us." pic.twitter.com/edDcvgJMOf

— Leibel Mangel (@LeibelMangel) April 27, 2019
Horrified by the synagogue shooting? Here are 18 things you can do tonight to help heal the world the Jewish way:

#1: donate to the San Diego synagogue Go Fund Me: https://t.co/6K6COI3zL3

— Laura E. Adkins (@Laura_E_Adkins) April 28, 2019
World cries out in aftermath of Chabad shooting attack
How does the world react to a second shooting attack against in a synagogue in six months and the fourth large-scale, faith-based massacre in the same time period?

Politicians and thought leaders from across the spectrum took to Twitter and Facebook to express their sorrow in learning about the shooting attack on Chabad of Poway, a city in San Diego County, which took place on Saturday. A woman, 60, was killed and three others injured in the hate-based attack.

Prime Minister Benjamin Netanyahu said that within an hour of the shooting, he spoke to Israel's consul in Los Angeles, Avner Saban, directing him to provide any assistance possible to the synagogue and to continue to update him on developments.

"We were shocked and grieved to hear of the shooting at Chabad of Poway," said President Reuven Rivlin on Sunday. "The murderous attack on the Jewish community during Pesach, our holiday of freedom, and just before Holocaust Memorial Day, is yet another painful reminder that antisemitism and hatred of Jews is still with us, everywhere."

He said that the Jewish people will never allow antisemitism and hatred to triumph.

"We are strong and we are proud of our heritage, and our identity of love for each other and our fellow humans," the president added.

Knesset Speaker Yuli Edelstein said, paraphrasing the Passover Haggadah, that "in every generation they rise up against us to destroy us, but we will fight antisemitism in all its forms and wherever it raises its head."

Israeli Ambassador to the UN Danny Danon took a different approach, insinuating that the attack was made possible by the antisemitic language used by certain left-wing congresspeople and by the antisemitic cartoon that ran that morning in The New York Times, the latter portraying a Jewish US President Donald Trump being dragged along by the "dog" Netanyahu.

"The words, the demonstrators and the cartoons turn into shootings against worshipers in synagogues," Danon said. "This is the time for action - for a determined war and not for weak and hollow condemnations that allow the forces of hate to revive dark periods in history."
President Donald Trump remembers the victims of the Poway synagogue shooting and praises the off duty Border Patrol officer who helped save lives by shooting at the suspect pic.twitter.com/sMfX6YtPH6

— Ryan Saavedra (@RealSaavedra) April 28, 2019
San Diego shooter: From dean's list student to white nationalist terrorist
The 19-year-old suspect in the San Diego synagogue shooting on Saturday had no previous encounters with police, was on the dean's list at his local college where he studied nursing — and apparently posted a virulently anti-Semitic manifesto online shortly before he killed a female worshiper and injured several others, including a child, in a shooting spree.

John T. Earnest surrendered to police after bursting into Chabad of Poway, north of San Diego, on Saturday and opening fire with about 100 people inside. He killed Lori Gilbert-Kaye, 60, and injuring Rabbi Yisroel Goldstein, Noya Dahan, 8, and Almog Peretz, 34, authorities said.

Earnest, who had no previous contact with law enforcement, may be charged with a hate crime in addition to homicide, San Diego County Sheriff William Gore said.

Earnest is also being investigated in connection with an arson attack on a mosque in nearby Escondido, California, on March 24.

Shortly after fleeing the synagogue, Earnest called 911 to report the shooting, San Diego Police Chief David Nisleit said. When an officer reached him on a roadway, "the suspect pulled over, jumped out of his car with his hands up and was immediately taken into custody," Nisleit said.

Police said an assault rifle was found in Earnest's car when he was arrested. A Go-Pro camera was also found in the car, CBS reported, indicating he may have planned on filming the attack.
Suspect's manifesto: Jews deserve hell: I will send them there
The Poway Sheriff's Department has identified the suspect in the shooting at the Poway synagogue as John Earnest, a far-right activist who allegedly posted a manifesto shortly before the attack and may have been involved in another hate crime.

About twenty minutes before the attack, a Twitter user reported that a manifesto had been published on a site popularly used by the far Right and was worried that a mass shooting was imminent. The manifesto has been attributed to Earnest, but this is still under investigation.

The manifesto contained common far-right catchphrases, including descriptions of an "international Jewry" which is responsible for countless age-old blood libels, including the murder of Christ and alleged control over the media and the economy. This is similar to a trope in the antisemitic book The Protocols of the Elders of Zion.

Earnest wrote that: "Every Jew young and old has contributed to these. For these crimes they deserve nothing but hell. I will send them there."

He also stated that he hoped to inspire others to commit similar crimes and that he expected to be freed from prison and would "continue the fight."

The manifesto is full of religious imagery. He repeated throughout that he was carrying out the attack to be a good Christian, saying "My God understands why I did what I did." He proceeded to quote several verses from the New Testament as "proof."
CAMERA:
New York Times apes Der Sturmer with anti-Semitic Cartoon
A dog with a Jewish star around its neck and the face of a Jewish leader, leading a blind, yarmulke-wearing U.S. President would be standard fare for the notorious Nazi newspaper Der Sturmer, and for its modern descendants.

Unfortunately the New York Times must now be counted among those descendants. Just days after the Times published an op-ed falsely claiming Jesus was a Palestinian, the New York Times International Edition placed this cartoon on their op-ed page, depicting Israeli Prime Minister Benjamin Netanyahu as a dog leading a blind U.S. President Donald Trump:

The cartoon is by the award-winning (aren't they all) Portuguese cartoonist Antonio Antunes Moreira, and was distributed by the New York Times News Service and Syndicate.

After a wave of criticism – perhaps among the earliest was a tweet from the left wing site Jewish Worker – the Times removed the image and tweeted this statement:
A political cartoon in the international print edition of The New York Times on Thursday, included anti-Semitic tropes, depicting the Prime Minister of Israel as a guide dog with a Star of David collar leading the President of the United States, shown wearing a skullcap. The image was offensive, and it was an error of judgement to publish it. It was provided by the New York Times News Service and Syndicate, which has since deleted it.

Some have termed this an apology – it is not, it is cold-blooded and at best descriptive. Neither the word apology nor any synonym for apology is employed, and there is nothing about accountability or further steps the Times will take to make sure nothing like this ever happens again. This did not happen in a vacuum, but there is nothing about the responsible editor or editors being fired, or even disciplined. There is nothing about no longer accepting or distributing cartoons from the cartoonist Antonio, who has previously used religious symbols in an offensive way. For example, in the cartoon below the Jewish Star of David is represented as controlling the United States, and a crescent moon often associated with Islam is linked with dynamite.
The anti-Semitism of The New York Times
The Times has a shameful journalistic tradition as far as the Jews are concerned, despite, and possibly due to, the fact that its publisher and some of its most prominent writers are Jews. An examination of the paper's reporting during World War II found that out of the 23,000 front-page news articles the newspaper published over those six years, only 26 concerned the Holocaust. Despite the fact that the paper had fairly precise information on what was happening to the Jews across Europe, The Times dedicated only marginal coverage to these reports. In a documentary on The Times coverage during the war, various interviewees raised the hypothesis that the paper's Jewish publisher decided not to deal with the Holocaust out of concerns that reporting on German crimes against Jews would be detrimental to the newspaper's image, given American public opinion on Jews at the time. One of those interviewed in the documentary, a former employee of the paper, insisted that The Times should not be blamed for its conduct at the time. Instead, he said people should note how the newspaper had since learned its lesson.

Really? The cartoon published just a few days ago is reminiscent of posters and cartoons published in Nazi Germany, which depicted Jews as controlling the U.S. and the rest of the allied powers, dictating their policies and forcing the world into war. The American sector known for harboring anti-Semitic sentiments in the 1930s and 1940s has been replaced by members of the American Left. These people grow more resentful of Israel the more the current U.S. administration comes to understand that the time has come to change the parameters of the reality in the Middle East and begin to think outside the box. In its anti-Israel approach, The Times reflects the stagnation and fixation of the worldviews of the American Left and its emissaries in Israel.

I remember well how they came out against me when I reported on The Times refusal to publish an article by South African jurist Richard Goldstone in which he expressed regret over his team's report on "war crimes" Israel supposedly committed during 2008's Operation Cast Lead. In this paper, it is not only forbidden to undermine Israel's negative image, but it is also forbidden to reveal The Times' warped journalistic methods.

The Times wants to issue an apology for an anti-Semitic cartoon? Be my guest. On the first page, in the top story, publish a detailed explanation of the anti-Semitic issues with the cartoon's publication. At the same time, fire the editors who approved the cartoon's publication, regardless of whether or not they are Jewish, along with the cartoonist. In addition, announce the establishment of an independent team to investigate The Times' stance on Israel, from the end of World War II up until today. Any other response would be inconsequential and detrimental to the newspaper's standing.
Pic 1: The Jew leads Winston Churchill.
Nazi Germany 1940.

Pic 2: The Jew leads #DonaldTrump @nytimes USA 2019. pic.twitter.com/on0Nj6NueO

— Kay Wilson (@kishkushkay) April 28, 2019
ADL head calls NY Times cartoon 'vile anti-Semitic propaganda'
Anti-Defamation League chief Jonathan Greenblatt excoriated The New York Times over the weekend for publishing a cartoon that depicted anti-Semitic tropes.

"I thought the cartoon was disgusting," he told The Times of Israel on Saturday night, during an interview in which he also addressed a deadly shooting at a California synagogue. "I thought it was despicable."

The paper acknowledged on Saturday that a cartoon it published in its international edition "included anti-Semitic tropes" and called its running the image an "error of judgment." The Times did not explicitly apologize for carrying the cartoon.

The graphic, which was in Thursday's international print edition, showed Prime Minister Benjamin Netanyahu as a guide dog wearing a Star of David on his collar, leading a blind US President Donald Trump, seen wearing a skullcap and Hasidic garb.

"It was provided by The New York Times News Service and Syndicate, which has since deleted it," said the paper's statement, which was tweeted through its Opinion section's account.

"I wouldn't even credit it as a cartoon," Greenblatt said. "It was anti-Semitic propaganda of the most vile sort. Not only does it not belong in The New York Times, but it in any credible news outlet. It was unconscionable."
The New York Times has been running explanatory Editors' Notes at the bottom of anti-Semitic incitement they publish for the better part of half a decade, from their Iran Deal Jew Tracker project to this week's cartoon. It doesn't appear to be helping. pic.twitter.com/H3Hmaos53y

— Omri Ceren (@omriceren) April 28, 2019
"Well ackshually Jesus the Jew from Judea was a Palestinian" is among the hottest of reoccurring takes

— Jerry Dunleavy (@JerryDunleavy) April 27, 2019
JPost Editorial:
Palestinian revamp
Notwithstanding that regular Palestinians view the PLO and Fatah as unnecessary institutions which do not provide any needed civil service, they continue to function as shadow governments. While the PA is responsible for providing services to and managing the day-to-day affairs of the Palestinians, the PLO and Fatah do almost nothing.

Why then does Ramallah need three bloated ruling bodies: the PLO, Fatah and the PA government? Why do the Palestinians need a "governor" and "deputy governor" in each city – appointments of Fatah and PLO - in addition to a mayor? Why do some of the PA ministries have scores of deputy ministers and general directors?

We further wonder why the Palestinians need anachronistic national liberation groups that were formed more than half a century ago to "liberate Palestine" when there is a government in Ramallah which has signed agreements and held countless rounds of negotiations with Israel.

While revolutionary movements may have been legitimate when the two sides were engaged in ongoing armed conflict, their raison d'être is no longer relevant.

What benefit do the Palestinians receive from their chaotic and redundant ruling system? How do these institutions improve the quality of life for the residents of the West Bank and Gaza Strip? The answer is that they don't.

This system of cronyism in Palestine has resulted in fauda (unrest and disorder), fasad (corruption), fitna (inciting strife) and falatan (being licentious). And this must stop. For true peace to be possible, the Palestinians need to get their affairs in order. For the Palestinian people to experience the economic prosperity that peace will bring, they need to establish a united and honest government in Ramallah. The Palestinian people deserve good government. The continued bureaucratic nightmare needs to end.
Khaled Abu Toameh:
Palestinians launch bid to foil 'deal of the century'
PA Prime Minister Mohammed Shtayyeh again attacked Trump's unseen plan and said it was aimed at "blackmailing" the Palestinians. "Those who believe that the Palestinians could be blackmailed are mistaken," Shtayyeh said during a visit to Nablus. "We say no and 1,000 no's to any initiative that does not meet the minimum demands of the Palestinian people."

Shtayyeh said that the "blackmail" included a "financial war" that is being waged against the Palestinians. He pointed out that Israel has already deducted NIS 502 million from tax and tariff funds it collects on behalf of the Palestinians because of payments made by the PA government to families of security prisoners and "martyrs." As a result of Israel's measures, he said, Palestinian public employees have been receiving half of their salaries in the past three months.

Meanwhile, senior Fatah official Jibril Rajoub on Sunday urged Hamas to join efforts to thwart Trump's "deal of the century." Hamas, he said, "needs to take practical steps, and not emotional rhetoric, to establish a national front to fortify our national project, which is based on the establishment of an independent Palestinian state – with Jerusalem as its capital – on the 1967 borders, and the return of Palestinian refugees."

Rajoub said that Palestinian unity was needed to confront Trump's plan, "which aims to obliterate our national cause and transform it from a political cause to a humanitarian issue."

Rajoub's remarks came in response to statements by Hamas leader Ismail Haniyeh, who on Saturday reiterated his movement's rejection of the "deal of the century." Haniyeh, who was speaking during a meeting of various Palestinian factions in the Gaza Strip to discuss ways of foiling Trump's upcoming plan, claimed that the plan was already being implemented on the ground. The plan, Haniyeh said, is aimed at "redrawing the geopolitical map of the region."

The Hamas leader said that his movement was prepared to hold "urgent talks with Fatah and President Mahmoud Abbas to achieve Palestinian reconciliation and restore national unity."

Nafez Azzam, a senior Islamic Jihad official who attended the meeting in the Gaza Strip, said that Trump's plan was "dangerous" for the Arabs. "It's the duty of the Arabs to support the Palestinians in rejecting the deal of the century," he said. He also warned the Arabs against normalizing their relations with Israel.
Re: below.Worth recalling then-social democratic chancellor Willy Brandt abandoned Israel at the time and refused the US request to use the port of Bremerhaven to deliver weapons to the Israelis. Current German social democratic FM @heikomaas is pro-Iran
https://t.co/uRBxIUSf4V https://t.co/MwthUWgD7U

— Benjamin Weinthal (@BenWeinthal) April 27, 2019
Israel sends Syrian prisoners home a month after remains of IDF soldier returned
Israel released two Syrian prisoners back to Syria on Sunday afternoon as a "goodwill gesture" to Damascus following the return nearly a month ago of the remains of an Israeli soldier killed in the 1982 Lebanon War.

They were handed over to Red Cross officials at the Quneitra crossing between Israeli and Syrian territory on the Golan Heights at around noon on Sunday, the Israel Defense Forces said in a brief statement.

The two men were earlier identified by Israel as a Fatah operative jailed 14 years ago for an attempted attack on IDF soldiers and a drug smuggler.

Hamis Ahmad, a Fatah operative from the Yarmouk refugee camp in Damascus, was jailed in 2005 for an attempt to infiltrate into Israel and attack an Israel Defense Forces base, and was to be held until 2023.

Zidan Tweil, of the Syrian village of Khader, has been jailed since 2008 for drug-related offenses and was to be freed in July. According to the Haaretz newspaper, Tweil claimed during his trial that he was wanted by the Assad regime, saying it falsely believed he had collaborated with Israel against it. It was not immediately clear whether Tweil's claims were based in fact.

The two had their sentences commuted last week by President Reuven Rivlin to allow for their early release.

Israel confirmed on Saturday that the two Syrians would be released as a gesture to Damascus after the return of the remains of Zachary Baumel, an IDF soldier who fell in battle in 1982.

The body of tank commander Baumel, believed killed in the First Lebanon War's Battle of Sultan Yacoub almost 37 years ago, was brought from Syria to Israel about a month ago via Russia.
Shin Bet: Hamas planned suicide car bombing around Israeli election
The Israeli military last month arrested a Hamas operative suspected of planning a suicide car bombing to coincide with Israel's national elections, the Shin Bet security service said Sunday.

The suspect, 23-year-old Yahya Abu Dia, was arrested on March 31 in his hometown of az-Za'ayyem, the Shin Bet said.

News of the arrest was initially censored by the military, but the ban was removed ahead of his slated indictment later this week.

According to the security service, Abu Dia received his orders from Hamas members in the Gaza Strip.

"In his interrogation by the Shin Bet, Abu Dia said he was in touch with senior Hamas members in the Gaza Strip using the internet, had been recruited for military activities, and agreed to carry out missions and act as a suicide bomber," the Shin Bet said.

The security service said that by the time he was arrested in late March, Abu Dia had begun preparing to carry out the attack.

"Abu Dia was instructed to purchase a car and rent a storage facility in order to prepare the car bomb and also to track the best site for the attack in the area of Ma'ale Adumim, somewhere where there would be a high concentration of buses, civilians and soldiers," the Shin Bet said in a statement.
Palestinian dies a week after he was shot while allegedly attempting attack
A Palestinian man has died of his wounds, a week after Israeli authorities said he attempted to stab a Border Police officer at a West Bank junction, the Palestinian Authority health ministry said in a statement on Sunday.

It named him as Omar Awni Younes, 20, and said he died in an Israeli hospital near Tel Aviv — specified in other Palestinian sources on social media as Beilinson hospital — on Saturday evening.

Border Police shot and neutralized the alleged knifeman after he charged at an officer at Tapuah Junction in the West Bank, south of Nablus, police said at the time.

According to reports, Younes had aroused the suspicions of officers stationed at the junction. When several of them approached him, he fled.

One officer blocked the man's way with a car, whereupon he pulled out a knife and attempted to open the vehicle's door, police said.

The officer then shot the suspect.
IDF shoots at Gazans attempting to sabotage border fence
Israeli troops on Saturday shot at three Palestinian men as they attempted to sabotage the border fence in the northern Gaza Strip, the army said.

A military spokeswoman said the Israel Defense Forces opened fire at the group in accordance with standard procedure. She could not say whether any of the men were hit.

Also Saturday, arson balloons launched from the Gaza Strip sparked a fire at HaBesor Stream Nature Reserve in southern Israel, firefighting services said.

Firefighters managed to extinguish the flames, which caused damage to foliage but no casualties.

The incidents came a day after dozens of Palestinians were injured in clashes with Israeli troops at various locations along the Gaza-Israel border.

According to the Hamas-run Gaza health ministry 60 people were wounded on Friday, including 36 who were shot by live fire.
Just don't call her a Palestinian Arab! US media plays a game
If you read any American newspapers this week, you saw the headlines: "Wisconsin Mom Accused of Spreading Support for ISIS" … "Wisconsin Mother of Seven Charged with Trying to Recruit for ISIS" … "Wisconsin Woman Pleads Guilty to Terrorism Charges."

I've searched high and low, and I can't find a single major news media outlet that described the woman as a Palestinian Arab. Not in the headlines. Not in the articles. Nowhere.

Why do you suppose that is?

The woman, Waheba Issa Dai, "tried to recruit ISIS supporters to carry out attacks and provided them with information on making explosives and biological weapons," according to the prosecutors. She also "used hacked social media accounts to discuss possible attacks with self-proclaimed members of the IS."

Since a terrorist's nationality is often relevant to their motives for carrying out terrorism, you would think that the media would have mentioned that Dai is a Palestinian Arab. No such luck.

The Associated Press mentioned—all the way down in paragraph 7—that Dai was "born in Jerusalem." USA Today called her "a native of Jerusalem." But neither of them acknowledged her identity as a Palestinian Arab. Which is interesting, because when Palestinian Arabs in Jerusalem protest something, the American media always describe them as Palestinians. You don't see stories headlined "People Born in Jerusalem Accuse Israel of Persecuting Them."

Yet suddenly, when one of those "Jerusalemites" does something out of Israel that reflects badly on Palestinian Arabs, she is stripped of her Palestinian Arab identity by the news media.
Children's Indoctrination: Jordanian Boy Pledges to Be Martyred for Jerusalem In Viral Video pic.twitter.com/0RQm4mFRsf

— MEMRI (@MEMRIReports) April 28, 2019
Their pants are truly on fire https://t.co/v4ve3HBmoj

— Ozraeli Dave (((דיויד לנג))) (@Israellycool) April 27, 2019
When Menachem Begin Eviscerated Joe Biden For Threatening Him
Because he was Chairman of the Senate Committee on Foreign Relations, and Vice President, Joe Biden is supposedly an expert on foreign policy, and he might be. But just like everything else he has done in his public career, Biden is prone to screwing up his relationship with foreign leaders. And to paraphrase the former SCHMOTUS himself, screwing up in foreign relations "is a big f**king deal." (Note: SCHMOTUS stands for Schmo of the United States).

One of my favorite of all Biden foreign policy screw-ups happened in June 1982 when he took on then-Israeli Prime Minister Menachem Begin. For those who do are unfamiliar with Begin, the phrase "speaking truth to power" doesn't do him justice. Menachem Begin saw himself as a protector of the Jewish People who lost much of his family in the Holocaust and spent a year in a Russian gulag. Begin saw the much of the world do nothing about the Holocaust, and was determined not to allow it to happen again. That's one of the reasons he made peace with Egypt despite the objections of Jimmy Carter.

Anyone who bothered to prepare themselves for a meeting with Begin knew that he couldn't be intimidated, he already lived through the worst. But Joe Biden didn't bother to prepare. On June 22 of 1982, Menachem Begin testified before the Senate Foreign Relations Committee.

During that committee hearing, at the height of the Lebanon War, Sen. John Biden (Delaware) had attacked Israeli settlements in Judea and Samaria and threatened that if Israel did not immediately cease this activity, the US would have to cut economic aid to Israel.

"Don't threaten us with cutting off your aid. It will not work. I am not a Jew with trembling knees. I am a proud Jew with 3,700 years of civilized history. Nobody came to our aid when we were dying in the gas chambers and ovens. Nobody came to our aid when we were striving to create our country. We paid for it. We fought for it. We died for it. We will stand by our principles. We will defend them. And, when necessary, we will die for them again, with or without your aid."
PreOccupiedTerritory:
Democrats Confused By Popular Sympathy For Non-Muslims (satire)
Waves of empathy and condolences for the hundreds of Sri Lanka church bombing victims and their families have left prominent figures in the Democratic Party bewildered, aides report, as those victims of violence do not belong to the Islamic faith.

Staff members of Ilhan Omar (D-MN), Rashida Tlaib (D-MI), and other legislators and political leaders noted this week that in the aftermath of the attacks that left more than 360 dead and many more wounded, Democratic politicians continue to voice confusion at widespread outpourings of sympathy, goodwill, offers of assistance, and similar manifestations of care that those politicians had assumed only appropriate when Muslim suffering appears on the news.

"Some of them are really shaken up," observed an aide to Congresswoman Omar, speaking on condition of anonymity. "My boss, for example, spent much of last night on the phone with fellow Democrats discussing this phenomenon, which she described with words such as 'disturbing,' 'weird,' and frustrating.' There seems to be a general sense of the unfamiliar in party circles at the moment, because compared to when Muslim attacks on non-Muslims happen in the West, it's much harder in this case to fall back on the comfortable tropes of grievance, resistance, colonial baggage, or whatever. Those easy sound bites don't fit Sri Lanka. The whole thing feels very awkward."

"It's freaky," admitted presidential hopeful Kamala Harris. "We live under the assumption that the people who automatically get sympathy are Muslims, and then boom, so to speak, large numbers of people direct sympathy toward those who are not only non-Muslim, but victims of violence by Muslims. It's going to take some time to digest this."
Times of London columnist claims to have watched Jews pray at Al-Aqsa Mosque
Though a column at Times of London by Janice Turner (Let's break free of this age of intransigence, April 28) included only two sentences about Israel, nearly every word is misleading or false.



First, it's unclear what she's referring to when she speaks of the "peaceful co-existence" of the Oslo Accords, as there were nearly 300 Israelis killed in Palestinian terror attacks between 1993 (when Oslo was signed) to 2000. And, the Oslo Accords didn't die as a result of the assassination of Yitzhak Rabin. It died as the result of the 2nd Intifada and the Palestinian rejection of two Israeli peace offers after Rabin's death.

But, this is the least of Turner's deceit.

The first sentence in the paragraph we highlighted, where she claims to have watched "ultra-orthodox settlers enter the Al-Aqsa mosque" to "pray", would strike anyone familiar with regulations at the holy site as (at the very least) extraordinarily unlikely. Jews are not allowed in the Al-Aqsa Mosque, and are not allowed to pray anywhere on the Temple Mount. In fact, Jews even suspected of silently praying on the Temple Mount are often arrested. Further, we confirmed with Israeli Police spokesperson Micky Rosenfeld in a phone call this morning that – as we suspected – no Jews have entered the mosque and there have been no 'incidents' of illegal Jewish prayer.
AUSTRALIA: A militant Islamist group held a conference on Saturday afternoon discouraging members and their children from singing the Australian national anthem – while refusing to condemn ISIS.

https://t.co/RJlH0UuKtJ

— Imam Mohamad Tawhidi (@Imamofpeace) April 28, 2019
US to donate additional $500K to restore tomb of biblical prophet Nahum in Iraq
The United States announced Friday that it would contribute an additional $500,000 to help restore the tomb believed to be the resting place of the biblical prophet Nahum in the town of Alqosh in northern Iraq.

"Chargé d'affaires Joey Hood and Consul General Steve Fagin visited the Tomb of Nahum, a site rich in cultural importance to the region's Jews, Christians and Muslims," the US Consulate General in Erbil announced.

"The chargé announced an additional $500,000 in US government funding to help preserve the historic site. This project helps safeguard history, revitalize the local economy, and bring tourists to the area," the statement said.

Nahum was a minor prophet who wrote about the end of the Assyrian Empire, and its capital city, Nineveh.

In November 2018, the US also gave $500,000 to assist in restoring the tomb, according to Adam Tiffen, the deputy director of the Alliance for the Restoration of Cultural Heritage (ARCH), a US-based non-governmental organization overseeing efforts to repair the site.

Both private donors and the Prime Minister's Office of the Kurdistan Regional Government (KRG) have made donations to help ensure the conservation of the tomb as well, Tiffen told The Times of Israel in a phone call.

The 1,500-year-old building was for centuries the site of a major Jewish pilgrimage each year on the holiday of Shavuot.
---
---
We have lots of ideas, but we need more resources to be even more effective. Please
donate today
to help get the message out and to help defend Israel.