From Ian:
---
How the Palestinians Created Their Own Plight
The Palestinians could learn a lesson from the Jewish Zionists who created Israel. In seeking a state in Palestine, the Zionists used shrewd diplomacy and went about painstaking work over decades to reach their goal. They were visionaries grounded in hard-nosed realism who not only made moral, emotional, and historical arguments for their case, but also appealed to the brain, showing those leaders with the power to help them why supporting the Zionist cause was in their interests. Take the Soviet Union, which, contrary to popular belief, was as important as the United States in passing the partition resolution. Zionist diplomats, such as Eliahu Sasson, observed that the Soviets sought to counter the British in the Middle East, and therefore could view the establishment of a Jewish state as a means by which to eject Britain from the region. Moreover, as Martin Kramer notes, Zionist leaders, recognizing the importance of Soviet support for their cause, labored extensively to convince Moscow that, despite not being communist, they were kindred spirits that valued progressivism and collectivism.

And then, when the United Nations proposed its plan, thus endorsing the Zionist goal, the Jews took what they could get. Sure, the proposal gave them less land than they wanted—much of which was desert—and Jerusalem was to be an international zone surrounded by Arab territory. But national independence movements do not reject offers of statehood—except the Palestinians.

The point is that the Zionists did not have maximalist goals and were very practical. Moreover, they adapted to changing circumstances and deftly navigated the waters of high diplomacy with the world's great powers. Simply put, the Zionists put in the legitimate work to make their dream become reality. The Palestinians have not, seeking grand declarations of statehood at the U.N. without the prerequisite efforts to give them true legitimacy, which include negotiating with the Israelis. Meanwhile, the Palestinians, unlike the Zionists, make only crude, emotional pitches for statehood, motivated at their core by hate rather than aspiration. They do not show foreign leaders why a Palestinian state would help them, or the world more broadly. Even the Jews, who have much stronger legal, historical, and religious ties to the land of Israel, did not focus on the treatment they received during 2,000 years of exile while pushing for a Jewish state in the 1930s and 1940s. And then of course there is the Palestinian corruption, incitement, and terrorism, none of which makes for a promising state. If the Zionist approach to achieving statehood was a graceful ballet, the Palestinian one is a bomb hidden inside a teddy bear: a brute approach masquerading as a heartfelt plea for justice.

The Palestinians could take a few notes. So too could the media and anti-Israel politicians, who only perpetuate the conflict by giving the Palestinians a pass on accepting responsibility for their own stateless plight.
New York Times prints antisemitic cartoon of Trump, Netanyahu
The New York Times International Edition ran a cartoon of an apparently blind US President Donald Trump wearing a yarmulke being led by a dog with a Star of David for a collar and with a face of Prime Minister Benjamin Netanyahu on April 25.

The cartoon was part of its Opinion section and appeared next to a column by Thomas Friedman about immigration.

The cartoon was condemned by numerous people over the weekend. It appeared on the April 25 edition but in Israel was available with the end of the Passover holiday, coinciding with the holiday and Shabbat, two days when many observant Jews were not active online.

"Another disgusting display of vile anti-Semitic trope celebrated in the NY Times World. The NY Times is signaling to the world that antisemitism is real, here and welcome," wrote philanthropist Adam Milstein.

Imam Mohamad Tawhidi condemned it on social media, saying it was reminiscent of anti-Semitic Islamist texts comparing Jews and dogs. Others noted that while it had appeared online, it had been removed by Saturday afternoon. The New York Times Opinion twitter account included an editor's note that said the cartoon "included anti-semitic tropes."

The Times admitted that the image was "offensive, and it was an error of judgement to publish it." They said they had since deleted it online.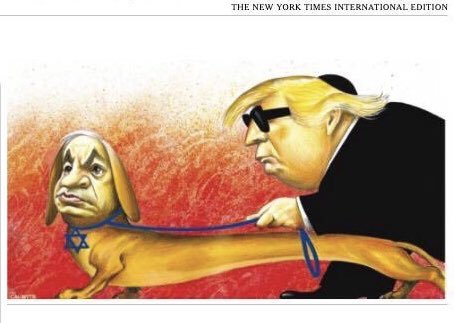 Seth J. Frantzman:
New York Times pathetic excuse for printing antisemitic cartoon - opinion
At a time of rising antisemitism, when we have become increasingly exposed to the notion of dog whistles and tropes that are antisemitic, when there is a lively and active debate about this issue in the US, The New York Times International Edition did the equivalent of saying "hold my beer."

You thought that Congresswoman Ilhan Omar's comments about foreign loyalty or "Benjamins" were problematic. The International Edition of the Times just said: "Let me show you what we can do," with a cartoon of a yarmulke-wearing, blind US President Donald Trump being led by a dog with a Star of David collar and Prime Minister Benjamin Netanyahu's face for a head.

I didn't believe the cartoon was real when I first saw it. Many of my colleagues didn't believe it either. I spent all day Saturday trying to track down a hard copy. I phoned friends, I got a PDF of the edition, and even then I didn't believe it.

I had to see for myself. So I drove to a 24-hour supermarket. There on the newsstand was the April 25 edition. I flipped gingerly through, fearing to see Page 16.

And then I found it. It stared back at me: That horrid image of a blind US President Donald Trump with a yarmulke being led by a dog with the face of Prime Minister Benjamin Netanyahu. Worse, the dog was wearing a Star of David as a collar.

This is what The New York Times thinks of us Israelis. Even if they subsequently said it was an error, they thought it was okay to print a cartoon showing the US president being blindly led by the "Jewish dog"?

And not only that, those who watched as it went to print thought it was fine to put a Jewish skullcap on the US president. Dual loyalty? No need to even wrestle with that question.
An awful lot of people at the NYT had to sign off on that cartoon for it to be published. Who are they, and how are they being held accountable?

This statement is a dodge.

https://t.co/2PGxJHfYhe

— Noah Pollak (@NoahPollak) April 27, 2019
One killed, 3 injured in shooting at Chabad synagogue in California
One person was killed and three more were injured when a gunman opened fire inside a Chabad synagogue outside of San Diego, California, during services Saturday morning, authorities said.

Poway, California, Mayow Steve Vaus told NBC News and CNN that one person had been killed in the synagogue shooting, which came exactly six months after a shooting at a Pittsburgh synagogue killed 11 people in the deadliest attack on Jews in US history.

"We had four folks with gunshot wounds. We do have one fatality. The rabbi was shot in the hand. My understanding is none of the other injuries are life threatening," Vaus told cable news network MSNBC.

A man was detained and authorities boosted patrols at places of worship as a precaution, San Diego Police Chief David Nisleit said.

Officials said San Diego County deputies were called just before 11:30 a.m. Four patients were admitted to Palomar Health Medical Center Hospital around 12:30 p.m., spokesman Derryl Acosta said.

The shooting came as the synagogue was hosting a celebration for the last day of Passover. Several children were said to be in the building at the time.
Can you be '100% pro-Israel' and call its government 'racist?'
It's true that Netanyahu got some well-deserved criticism for enabling one of his right-wing partners to form a pact with an extremist party led by followers of the late Rabbi Meir Kahane, some of whom might be termed racist. But none of them wound up winning Knesset seats, let alone a place in the prime minister's government. The claim that Netanyahu is tainted by their existence is no different from arguments that those Democrats willing to work with Sanders are now by definition socialists. Does the fact that two of the Democrats' young rock stars–Representatives Ilhan Omar (D-Minn.) and Rashida Tlaib (D-Mich.)–are supporters of the BDS movement and guilty of spewing Jew-hatred mean that all Democrats, including their leaders who benefit from their votes, are anti-Semitic?

Claims that Netanyahu's statement about applying Israeli law to existing settlements in the West Bank is akin to setting up an apartheid-like situation are equally disingenuous; doing so would not prevent the Palestinians from having a state if they were prepared to accept one alongside a Jewish state. Love him or hate him, Netanyahu is the head of a democratic government that upholds the rule of law and equal rights for all.

When Sanders balances his avowed support for Israel with false claims of racism, in addition to advocacy for lifting the blockade on the Hamas-run Gaza Strip that would facilitate more terrorism, and false accusations that the Israeli army has committed atrocities, he isn't being even-handed. Instead, he's providing ammunition to those who wish its destruction. The same is true of Jewish groups that echo such stands.

Calling Netanyahu's government racist is the moral equivalent of terming Zionism racism. That is calumny and not the act of someone who is "100% pro-Israel."

Democrats like Sanders, as well as Jewish groups that echo his equivocal stands, are entitled to disagree with Israel's government as much as they like. But when they ignore the truth about Palestinian intransigence and seek to lecture Israel's voters rather than listen to them, they aren't acting as supporters or friends. When they cross the line that separates legitimate criticism from words that call into question Israel's right to exist, they are doing more to help those who wish to see it destroyed than to defend its existence.
Zion Church, targeted in Sri Lanka, "has been praying for Israel every week"
A local from Batticaloa says the Zion Church, one of the churches targeted in the Islamic terror attacks in Sri Lanka, "has been praying for Israel every week".

A quote from Caroline Mahendran, a Sunday School teacher at the church, was shared by Hananya Naftali, Israeli Prime Minister Benjamin Netanyahu's Social Media Deputy Advisor, on Sunday:

"Today was an Easter Sunday school at the Church and we asked the children how many of you willing to die for Christ? Everyone raised their hands. Minutes later, they came down to the main service and the blast happened. Half of the children died on the spot," Mahendran said. A total of 29 people, including 14 children were killed at the blast at the church on Easter Sunday.

Zion Church, founded in the 1970s, was one of three churches along with three hotels targeted by Islamist suicide bombings that killed over 350 people – mostly Sri Lankan Christians but including 38 foreigners who were in the hotels – and injured hundreds more.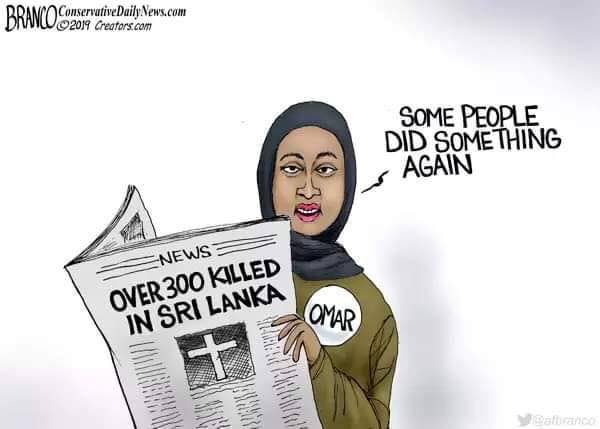 Gil Troy:
Israel and the Illiberal Liberals
Theodor Herzl had one genuinely big idea that worked brilliantly. His brainstorm, now known as the State of Israel, solved the two biggest psychological problems facing the Jewish people in 1896: homelessness and powerlessness. Since 1948, as it has welcomed more than 3.5 million Jewish refugees and has become the world's largest Jewish community, Israel has also healed the feelings of displacement and impotence that have afflicted many Jews.

Many, but not all. Susie Linfield's new book, The Lions' Den, shows that Herzl actually misunderstood the greatest practical problem facing the Jews. His grand Zionist solution failed to solve the Jewish Problem: anti-Semitism. Israel has become the collective Jew among the nations, attracting the kind of obsessive bigotry that individual Jews endured in Herzl's Europe.

Present-day anti-Semitism exposes Jew-hatred as the world's most plastic hatred: durable, adaptable, pliable. Anti-Zionist anti-Semitism keeps mutating, serving as a surprisingly versatile ideological glue, even bonding natural enemies: Christians with Muslims, believers with atheists, right-wingers with left-wingers, Jews with non-Jews. And for those Jews who have not experienced Israel's creation and flourishing as a form of healing, the existential problem of being Jewish has created a new form of Jewish self-hatred.

The Lions' Den tackles two perplexing phenomena: left-wing anti-Zionism and Jewish anti-Zionism. Linfield's fascinating intellectual history examines the views of eight thinkers and their writings on Israel and the Jews. And it also serves as a potent lament by a liberal about how leading liberals have betrayed and are betraying liberal ideals in illiberal ways.

Pulling no punches, Linfield diagnoses anti-Zionism's pathologies through her eight character sketches. Seven are Jewish. Six vilified Israel, some spasmodically, some obsessively: the philosopher Hannah Arendt (1906–1975), the novelist Arthur Koestler (1905–1983), the biographer Isaac Deutscher (1907–1967), the Middle East expert Maxime Rodinson (1915–2004), the journalist I.F. Stone (1907–1989), and the linguist Noam Chomsky (b. 1928).
French-Jewish intellectual: I can't show my face due to far-left anti-Semites
Alain Finkielkraut, a Jewish philosopher and one of France's foremost thinkers, said far-left protests against him mean he "can no longer show my face" on the street.

Finkielkraut made the remark in an interview Wednesday with the Marianne newspaper about protests against him the previous day at the Sciences Po university in Paris, where he spoke at a symposium on Europe's future. Far-left students demonstrated against his appearance there.

Amid threats of protests, organizers had announced the event's cancellation, and then its relocation to a nearby business school. Ultimately, however, the conference was held as planned under heavy security following what the Valeurs Actuelles website described as a confusing cat-and-mouse game between the university and protesters.

In their statement, the authors of the call to demonstrate outside Sciences Po wrote: "We cannot accept Finkielkraut's 'modern Europe' and his Islamophobic, racist, sexist and homophobic rhetoric." A Sciences Po spokesperson called the group "far left."

Finkielkraut has often warned of the danger posed to French society by insular Muslim immigrant communities and has blamed Islam for a resurgence of anti-Semitism in recent years.
Palestinian terrorist Vallmoe Shqaire, who lied to gain U.S. citizenship, gets 9 months in prison, will be deported
Attempted to blow up a bus in 1988, and later was convicted and served time in Israeli prison — then lied about his background to enter the U.S. and become a citizen.

In a case reminiscent of Rasmea Odeh, another Palestinian terrorist who concealed his terrorist past was indicted for obtaining naturalization by fraud.

In the September 28, 2018, Indictment, Vallmoe Shqaire was charged with one Count based on the following false statements:


False Statement 1:

Defendant SHQAIRE falsely stated that he had never been arrested for or convicted of a crime or served time in jail or prison, when, in fact, SHQAIRE had been arrested and convicted of crimes and was sentenced to a seven-year prison term and served approximately four years in Israeli custody.

False Statement 2:

Defendant SHQAIRE falsely stated that he had never been a member of or associated with any organization, association, fund, foundation, party, club, society or similar group in the United States or in any other place, when, in fact, SHQAIRE was a member of the Palestinian Liberation Organization's "Shabeda" cell in Israel.

False Statement 3:

Defendant SHQAIRE falsely stated that he had never given false or misleading information to any U.S. government official while applying for any immigration benefit or to prevent deportation, exclusion, or removal, when, in fact, SHQAIRE had attested under ath and penalty of perjury in connection with his June 5, 2002 application to become a Lawful Permanent Resident that he had never been arrested, cited, indicted, fined or imprisoned for breaking or violating any law or ordinance, when in fact, SHQAIRE had been arrested and convicted of crimes and was sentenced to a seven- year prison term and served approximately four years in Israeli custody.

As the case approached trial in mid-January 2019, Shqaire entered into a Plea Agreement in which he agreed to plead guilty, and agreed to the facts supporting the guilty plea:
Gunmen attack Christians near Ramallah after dispute involving PA official
Residents of a predominately Christian village in the West Bank have appealed to the Palestinian Authority to provide protection for them after they were attacked by a group of Palestinian gunmen.

The residents of Jifna, north of Ramallah, said the attack came following a dispute between a woman from the village and the son of a prominent Palestinian figure affiliated with the PA's ruling Fatah faction.

The dispute erupted after the woman filed a complaint with the PA police in which she accused the son of the Palestinian personality of assaulting her and her children while she was driving her car in the village.

After the police summoned the man for questioning, his father and scores of gunmen arrived at the village and began hurling insults at the Christian residents. Some of the gunmen, villagers said, also fired into the air and demanded that the Christians pay the Jizyah – a per capital annual tax – called the dhimmi - levied on non-Muslim subjects living under Islamic rule.

According to some eyewitnesses, the gunmen who ran amok in Jifna were Fatah activists from the Al-Am'ari refugee camp.

Villagers said that although they called the police, the PA security forces arrived at the scene three hours later.
Hamas developing Bitcoin system for secure international funding, report says
Hamas has launched an experimental program that uses a complex cryptocurrency system to raise money from international donors.

The terror group's military wing, the Izz ad-Din al-Qassam Brigades, called for digital currency donations in January, asking donors to send payments to a single digital address.

In recent weeks, the group adjusted its approach, with its website generating a new digital address for each transaction, according to a Reuters report released Friday.

The constantly changing online address is difficult for regulators to track and control, according to the analysis firm Elliptic.

From March 26 to April 16, donors sent Hamas around $3,300 via the new Bitcoin mechanism. It is a relatively small amount compared to the funding the terror group receives from Iran and other sources, but the new development could be a sign of things to come, analysts said.

Hamas is still in an "experimental stage" when it comes to cryptocurrency, Elliptic cofounder Tom Robinson told Reuters.
The US Sanctions on Mullahs are Working
According to the latest reports, US sanctions have also caused Iran to cut funds to its militias in Syria. Iran's militants are not getting their salaries and benefits, making it extremely difficult for them to continue fighting and destabilizing the region. A militant with an Iranian-backed militia in Syria told the New York Times, "The golden days are gone and will never return," he added "Iran doesn't have enough money to give us."

Feeling the pressure of sanctions on Iran, Hassan Nasrallah, the leader of Iran's proxy, Hezbollah, has also called on his group's fundraising arm "to provide the opportunity for jihad with money and also to help with this ongoing battle."

Iranian President Hassan Rouhani recently admitted that the Islamic Republic is encountering the worst economic crisis since its establishment in 1979. Iran's national currency, the rial, has dropped to historic lows — one US dollar, which equaled approximately 35,000 rials in November of 2017, now buys you nearly 130,000 rials.

Thanks to the Trump administration's sanctions, the flow of funds to the Iranian government is being cut off, thereby, in turn, impacting the Iranian leaders' efforts to fund and sponsor terrorist and militia groups across the region.

To the dismay of the proponents of the Iranian government and the advocates of pursuing policies of appeasement with the ruling mullahs-- and to the dismay of Trump's critics -- the US sanctions imposed on Iran are working.
Geraldo Rivera slammed for selfie with Iran FM Zarif
Talk show host and author Geraldo Rivera tweeted a photo on Friday in which he posed with Iranian Foreign Minister Javad Zarif. He was subsequently slammed on social media, accused of posing with a "terrorist" and of not understanding that Iran's regime routinely executes and suppresses people.

On Friday FoxNews put up a story about a forthcoming interview to be broadcast on Sunday with Iran's Zarif. Zarif told FoxNews Sunday's Chris Wallace that the Trump administration is "dragging the US into a conflict" with Iran. Rivera subsequently tweeted athe photo of him with Zarif. "With HE MJ Zarif, Iran's Foreign Minister. Whatever you think of his ancient country at least they're not slaughtering religious minorities like #SaudiArabia just did; executing 37, 33 of them Shiites."

A Saudi Arabia supporter replied that Iran executed innocent people from its Arab and Kurdish minorities. "You are so ignorant," wrote another of the 370 replies the photo had racked up. Writer Joey Ayoub slammed him by noting what Iran had done to Syria by supporting the Syrian regime. Reza Behrouz, who tweets about Iran, pointed out that Tehran has executed numerous minority Bahai women. Others posted photos of gay men executed by Iran and Iran's crimes against other minority groups and mass executions.
I guess you missed the January report that Iran's regime publicly hanged a man based on anti-gay charge. Iran's regime has executed between 4,000 and 6,000 gays and lesbians since 1979. Read

@Jerusalem_Post https://t.co/ATRH7iyav2

— Benjamin Weinthal (@BenWeinthal) April 26, 2019
Joe Biden and the trouble with old friends
Begin wasn't the last Israeli to be lectured by Biden, whose trademark loquaciousness and know-it-all routine has grated on the nerves of generations of prime ministers who regarded him as insufferable bore, even if his status as a senior member of the Senate and then vice president made tolerating his talks a necessary evil. Throughout the last few decades, Biden has clung to the same mantra about opposing settlements and the need for concessions to the Palestinians. But after the colossal failures and bloodshed caused by the Oslo process, the patience of Israeli politicians began to run thin for stunts such as his much-publicized hurt feelings after Israel announced approvals for building in Jerusalem while he was still in the city.

Few public figures have been more affable or charming than Biden, yet even fewer have been more consistently wrong about the Middle East—whether it was with respect to Palestinian willingness to make peace, or what to do about Iraq and Iran. Though wisdom is supposed to come with age, one of Biden's shortcomings has always been an inability to recognize his mistakes and learn from them. After nearly a half-century in politics, among the worst things you can say about Biden is that he is still convinced that what he thought at the start is still correct, largely ignoring intervening disasters like Oslo or the Gaza withdrawal that might have taught a more self-aware statesman some humility.

More to the point, Biden is running as the executor of Obama's foreign-policy legacy. That means he is deeply committed to reinstating the disastrous 2015 Iran nuclear deal, regardless of the implications for both Israel and Sunni Arab states that regard the pact as a piece of feckless appeasement that has been properly tossed on the ash heap of history by U.S. President Donald Trump. He would also probably revive Obama's embrace of a policy of more "daylight" between the United States and Israel, as opposed to Trump's warm embrace.

None of this will likely deter Jewish Democrats from latching on to Biden if they think he really is their best chance to defeat Trump. Biden's invocation of the neo-Nazi march in Charlottesville, Va., in his opening campaign address will also likely resonate with Jewish voters who are too appalled by Trump's behavior to care about his pro-Israel policies and equally as wary of their party's growing left-wing. But Israelis will regard Biden as an unfortunate relic of an Obama administration that is best forgotten. He may be an old friend, but his conceit that he knows better than they about what must be done is something Israelis lost patience with long ago.
Tlaib: I Was 'Really Afraid of My Fellow Americans' After 9/11
Rep. Rashida Tlaib (D., Mich.) said she was "really afraid" of Americans after the 9/11 terrorist attacks in an interview filmed for the women's media site Makers.

"I was probably in my second year in law school when 9/11 happened," Tlaib said. "And I was — I was really terrified of what was going to happen to my husband, who was only a green card holder at the time."

"I immediately called my brothers and told them to be very careful who you hang out with, telling my sisters, you know, just be real careful out there, and being really afraid of my fellow Americans," Tlaib continued. "It really pushed me to be more involved, and I got really curious and really angry. And I think that combination got me, you know, in front of a number of issues in the city of Detroit."

The video on Makers' website, in which Tlaib's remarks came out, was first reported on by TheBlaze.

Earlier this month, Tlaib defended Rep. Ilhan Omar (D., Minn.) after the latter described 9/11 as "some people did something." Tlaib condemned as racist the backlash against Omar for seeming to downplay the attacks.
Black Hawk Down Veterans Slam Omar for Accusing Them of Killing 'Thousands' of Somalis
Veterans of the 1993 Battle of Mogadishu, which was commemorated in the 1999 book Black Hawk Down, slammed freshman representative Ilhan Omar (D., Minn.) for accusing them of murdering "thousands" of Somalis.

Kyle Lamb, who served as a Delta Force operator, and Danny McKnight, who was the Ranger colonel commanding U.S. troops, defended their mission, saying they were in Somalia to protect Omar's clan, the Majerteen, from Mohammed Farah Aidid, a ruthless warlord, the Washington Examiner reported.

Nineteen U.S. troops were killed in Mogadishu in the bloodiest combat since the Vietnam War: 18 in the main battle from Oct. 3-4 and a 19th by a mortar two days later. The battle was immortalized in the 1999 book Black Hawk Down by Mark Bowden and the 2001 Ridley Scott movie of the same name that starred Josh Hartnett and Ewan McGregor.

"In helping her tribe, we had to eliminate those who were bad," Lamb told the Examiner. "She should be thankful we were there to help her people."

McKnight, who was shot in the neck and arm, told the Examiner: "I really am offended, truly offended, by her comment and her thought that thousands were killed by us. Not true. Not true at all."

Pilot Mike Durant, who was also injured after being captured and beaten when his Black Hawk helicopter was shot down, told the Investigative Project on Terrorism that he doesn't hold all "Somalis accountable for the actions of a few."

"As a nation, we and our political leadership should be proud of what we did there. We put our most precious resource on the line to help starving people. In return, my friends' remains and those of my comrades were dragged through the streets," Durant said. "I do not hold all Somalis accountable for the actions of a few, but I certainly take issue with the remarks of Congresswoman Omar."
Corbyn hinted 7/7 bombings linked to UK support for Israel, days after attacks
Jeremy Corbyn appears to have hinted that the 7/7 London bombings were linked to British support for Israel – days after the tragedy took the lives of 52 people.

Writing for the Morning Star in July 2005, Corbyn cited a report by the think tank Chatham House, which found the invasion of Iraq to have "given a boost to the al-Qaida network".

The column, which was written before Corbyn became Labour leader, was discovered by investigative reporter Iggy Ostanin, as reported by the Jewish Chronicle.

"The government was sent into a flat spin on Monday by the publication of an analysis stating that the London bombings were linked to the terror attacks," it reads.

"Think tank Chatham House's report merely merely echoed what has been common analysis for years – that the behaviour of the US, with British support, in Afghanistan and Iraq, was bound to have a consequence in the US."

It continues: "It also holds that a widely held belief that the US and Britain are supportive of Israel, despite the plight of the Palestinian people, is a major factor influencing opinion all over the Middle East."
Seumas Milne suggested complicity between Isis and Israel
Jeremy Corbyn's strategy and communications director Seumas Milne has hinted at a possible link between Jihadist groups and Israel.

In a video discovered by investigative reporter Iggy Ostanin, the Corbyn aide expressed his views on the Middle East at a Stop the War Coalition conference in June 2015.

The event, titled Stop the War Coalition: Imperialism, ISIS and the Middle East, was also attended by Jeremy Corbyn, George Galloway and Andrew Murray.

"One of my friends from Egypt raised the situation about the Isis franchise and its relationship to Israel. I think that's a very interesting phenomenon myself," he told the audience.

"At the moment we have, on the effective Israeli border, you know, the ceasefire zone in the Golan heights, one of the most sectarian Jihadist groups, the Al Qaeda franchise, Jabhat Al-Nusra, which is actually on the border with the Israeli troops.

"Nothing happens, it's interesting, the Israelis don't seem too bothered about it. So I think that the role these groups are playing in the region is sometimes illuminated by that kind of fact, who their real enemies are."
— Tom Harwood (@tomhfh) April 27, 2019
Global Payment Giants Remove Account of BDS Organization Over Purported Links to Terrorists
Several global payment providers have cut ties with the BDS organization Samidoun over its alleged links to a Palestinian terrorist group.

In an email obtained by JNS, PayPal said it would "thoroughly review" Samidoun's account after the online payment giant was alerted to the group's purported links to a designated terror organization, the Popular Front for the Liberation of Palestine (PFLP).

PayPal said that it will "take further action as appropriate in this case." Donorbox and Plaid announced that they had already removed Samidoun's account, following a series of complaints.

"I'm very happy that most of the providers we approached were happy to cooperate and comply with the law," Yifa Segal, director of the International Legal Forum, told JNS.

"Supplying services to a designated terror organization is a serious crime, and we reserve the right to undertake further legal action against companies that continue supplying financial services to these affiliates," she added.

Samidoun recently made headlines when the group invited a convicted terrorist, Rasmeah Odeh, to speak at an event in Germany in support of the anti-Semitic Boycott, Divestment, and Sanctions (BDS) movement. Berlin's Foreign Nationals Office eventually revoked Odeh's visa on the grounds it would threaten public order, and she was forced to leave the country.

Odeh was convicted of a 1969 Jerusalem bombing that killed Jewish two students, Leon Kanner and Eddie Joffe. She was convicted in 2017 of immigration fraud and was deported from the United States to Jordan last year.
New law grants police stronger powers to stop display of terrorist flags ahead of annual "Al Quds Day" parade
The law has been tightened to grant police stronger powers to stop the display of proscribed organisation's flags prior to the annual "Al Quds Day" parade, which has traditionally been a pro-Hizballah event at which numerous supporters of the genocidal antisemitic terrorist organisation marched through London waving the organisation's flag, wearing clothing emblazoned with its emblem, and carrying placards stating "We are all Hizballah".

In February this year, Hizballah was completely proscribed by the Home Secretary, Sajid Javid, with the support of the Foreign Secretary, Jeremy Hunt. This followed a gruelling effort over several years by Campaign Against Antisemitism and our allies.

Until then, the British Government had distinguished between Hizballah's "military wing" and "political wing", even though Hizballah mocked the Government and said that no such distinction exists.

The loophole enabled brazen shows of support for Hizballah, including the pro-Hizballah "Al Quds Day" parade which is organised by a registered charity. Hizballah supporters marched through the heart of London, heard from antisemitic speakers and even draped babies in Hizballah flags.

In addition to the total proscription of Hizballah, the law has now been changed to enable police officers to take much firmer action.

The Counter-Terrorism and Border Security Act 2019 has changed the Terrorism Act 2000's provision against wearing the uniform of banned terrorist organisations, which also included waving terrorist flags.

Under section 13 of the Terrorism Act, "A person in a public place commits an offence if he wears an item of clothing — or wears, carries or displays an article [including a flag] — in such a way or in such circumstances as to arouse reasonable suspicion that he is a member or supporter of a proscribed organisation."
University of Maryland Students Reject BDS Following Five-Hour Passover Hearing
Student leaders at the University of Maryland, College Park, rejected a resolution supporting the boycott, divestment, and sanctions (BDS) campaign against Israel on Wednesday night, following a five-hour debate.

The Student Government Association (SGA) voted 25-9 with two abstentions against a resolution brought forward by Divest UMD, which called for the administration "to divest from companies engaged in human rights violations in Palestine."

Some criticized the decision to submit the resolution shortly before the holiday of Passover, when many Jewish students would be either away from campus or busier than usual due to holiday celebrations.

"To schedule a vote attacking the Jewish state in the midst of this Jewish holiday reeks of antisemitism," Jeffrey Herf, a history professor at UMD, wrote in an unpublished letter sent last week to the editor of the student-run Diamondback.

Deborah, a freshman member of Terps for Israel who asked to be identified only by her first name, said that while some students may have been preoccupied due to the holiday, most were back on campus and able to engage as the debate took place on chol hamoed — a time when most holiday restriction are lifted. She indicated that the date of the hearing did not make her feel limited in her participation, only that it was "more stressful time-wise."
Federal Judge Halts A High-Profile Anti-BDS Law In Texas
The law, according to the governor's press release, "prohibits the state of Texas from conducting business with companies involved in the Boycott, Divestment and Sanctions movement against Israel."

This past December, after groups such as the ACLU filed First Amendment claims against Texas's law, Texas Rep. Phil King (R-Weatherford) announced a plan to tweak the measure to better assure its constitutionality. USA Today reported:
The Texas lawmaker who wrote an anti-boycott of Israel law that has led to the canceling of contracts for a debate judge, a translator, a speech therapist and a public radio station reporter said Thursday that he will introduce legislation next month to clarify individuals were never the intended targets.

The comments by Texas Rep. Phil King follows the filing of a lawsuit by the American Civil Liberties Union of Texas over the 2017 law that requires contractors doing business with the state to certify they are not engaged in boycotts of Israel.

Earlier this month, the Texas Legislature ratified King's legislative amendments. According to the South Florida Sun-Sentinel, King stated from the Texas House floor: "Two years ago, the Legislature put this policy in place that said we didn't want taxpayer dollars being spent to promote a boycott against Israel. The intent of this legislation is to narrow the (law)...which had some unintended consequences." The Sun-Sentinel confirms that King's amended law would make categorical exceptions for "individuals and smaller companies, such as those with fewer than 10 full-time employees or valued under $100,000."

Alas, there was still a major setback yesterday for anti-BDS activists. Judge Robert Pitman of the U.S. District Court of the Western District of Texas, an Obama judicial nominee, enjoined enforcement of the initial 2017 statute on First Amendment grounds. The Texas Tribune reports:
A federal judge has temporarily blocked the enforcement of a state law that prohibits government agencies in Texas from doing business with contractors who are boycotting Israel.

U.S. District Judge Robert Pitman issued an injunction Thursday against the law, saying it threatens to suppress unpopular ideas and manipulates "the public debate through coercion rather than persuasion."

"This the First Amendment does not allow," he wrote.

Texas Attorney General Ken Paxton has already announced that he will appeal the ruling to the U.S. Court of Appeals for the Fifth Circuit.
A Harvard Conference Keynote Speaker Has Written That Religious Jews And Christians 'Deserve To Be Locked Up'
Yesterday, Harvard University's Faculty of Arts & Sciences (FAS) hosted an event entitled, "FAS Diversity Conference: A Decade of Dialogue." The event description highlighted that "anti-racism" activist Tim Wise would be the featured keynote speaker:

Over the last ten years, the FAS Diversity Dialogue Series has sparked conversation about diversity, equality and inclusion in the FAS community and beyond. Join us for a retrospective look at diversity and inclusion, a discussion of current issues, and practical guidance on how we can move toward greater inclusion and belonging at Harvard.

We are pleased to announce that our keynote speaker will be Tim Wise, prominent anti-racism writer, educator, and activist. A moderated discussion with Tim will be led by Renee Graham, an associate editor and columnist at the Boston Globe.

Hold aside for a second why Harvard would invite a white, reportedly heterosexual man to lead its ten-year commemoration conference on a diversity initiative. Because as conservative campus watchdog site The College Fix reports, this "anti-racism" activist has a rather colorful online history of grotesquely bigoted statements against religious Jews and Christians. Most specifically, Wise has publicly called for those who actually believe in the Hebrew Bible/Old Testament to be "locked up."
'No future for Jews in Germany,' says German Jewish teenager
The large German broadsheet newspaper Die Welt titled online on Saturday: "Why young Jews are leaving Germany."

According to the Die Welt (The World) article, 50 young German Jews left Germany in 2018 to enroll in the Israeli government-sponsored Naale program. Young Diaspora Jews can apply to be accepted into a high school program organized by the Naale scholarship program, with a view toward aliyah.

The 15-year-old Golda Maertens, who has been accepted to Naale, told Welt reporter Philip Kuhn "I also think that there is no future for Jews" in Germany.

In September, Golda will start school at the Mosenson boarding school outside of Tel Aviv.

The Jerusalem Post reported in 2018 that the 15-year-old Liam Rückert enrolled in Naale.

"I want to go to a boarding school like my brother in Israel," Ruckert said last year. "I already visited him and he is doing well there."

In 2016, a student of Arab origin reportedly said during a discussion of the Middle East conflict in Rückert's class in Berlin: "If there is a Jewish student in the class, I would kill him." Students of Polish and Arab descent have targeted Rückert with insults such as "shitty Israeli," and "shitty Jew."
Western Europe's rap scene has an anti-Semitism problem
On a warm summer day in Oslo last year, Kaveh Kholardi heartily greeted spectators at a city-organized concert celebrating diversity.

Kholardi, a popular Norwegian rapper of Iranian descent, wished his fellow Muslims "Eid Mubarak," a greeting in Arabic for the Eid al-Fitr holiday that marked the end of Ramadan.

He asked whether there were any Christians present, smiling upon hearing cheers. Then he asked if there were any Jews.

"F***ing Jews," he said after a short silence, adding, "Just kidding."

In Norway, the incident generated an uproar at the time and again last month, when the Scandinavian country's attorney general cleared the 24-year-old musician of hate speech charges, opining that his slur may have been directed at Israel.

It was a tenuous interpretation considering how Kholardi never mentioned the Jewish state on stage and five days earlier had tweeted "F***ing Jews are so corrupt."

From a broader European perspective, the incident demonstrates how the Continent's rap scene has become a haven and major avenue for the kinds of hate speech that governments are increasingly determined to curb online and on the street.
UN ambassadors from around the world to join March of the Living
Israeli Ambassador to the UN, Danny Danon, will lead a delegation of 30 of his peers from across the world to visit Poland and Israel next week. The diplomats, representing Kenya, Nicaragua, Guatemala, Honduras, Latvia, and Lithuania, will join him in the "March of the Living" on Holocaust Remembrance Day next Thursday.

More than 10,000 Jewish and non-Jewish youth from around the world will participate in the 31st annual International March of the Living to pay tribute to the victims of the Holocaust and call for an end to antisemitism.

Joining the UN ambassadors will be a delegation of senior American diplomats including US Ambassador to Israel David Friedman, as well as the US ambassadors to Germany and Poland.

According to the Israeli Mission to the UN, for many of the ambassadors from Africa, Asia, the Pacific Islands, Latin America and Eastern Europe, this will be the first time they will be taking part in the annual march. The group will visit the Auschwitz death camp and Krakow's historic Kazimierz Jewish quarter. After the Holocaust Remembrance Day, the group will fly to Israel for a five-day tour of Jerusalem and Tel Aviv.

In the capital, they will visit the Old City and its Western Wall, and Yad Vashem. Following a meeting with President Reuven Rivlin, Ambassador Danon will take the group to the Gaza border, where the diplomats are expected to attend a briefing with Senior IDF officers.

Ambassador Danon told The Jerusalem Post that "the participation of ambassadors in the March of the Living is proof that we are on the right track to crack the walls of the silence of the international community when it comes to antisemitism."
Israel launches investor visas for US citizens
The United States and Israel have launched a reciprocal policy allowing major investors to reside in each country.

Israel's Ministry of Foreign Affairs announced Tuesday that it would grant investor visas permitting US citizens, including vital workers and their families, to reside and work in Israel on a temporary basis for the purpose of managing and developing a business venture.

The visas are in response to an announcement earlier this month by the U.S. Embassy in Israel that it would grant US E-2 investor visas for Israeli nationals that allows them to invest in the US economy and send qualified employees to the United States to develop the enterprise.

Both countries' investor visas will be implemented starting May 1. (h/t Zvi)
Did an Irishman influence Napoleon to become a Zionist?
Exactly 220 years ago – on April 20, 1799, which was the first day of Passover that year too – Napoleon Bonaparte issued a proclamation to Diaspora Jews to return to the Land of Israel and re-establish their state there.

In 1799 Napoleon marched on Palestine from Egypt, conquering the coastal towns, the Sharon and Galilee. His reconnaissance parties reached Safed, but fortified Acre stood firm and refused to surrender to the pressure of his Army.

Napoleon's advance involved a significant historical fact, his attempt to win the good will of the Jews of Syria and Palestine, and indeed of the world, by his official pledge to restore Palestine to the Jews and establish a Jewish State.

Napoleon intends "to restore to the Jews their Jerusalem", read a French newspaper report at the time, while another report claimed that "Bonaparte published a proclamation that calls on all the Jews of Africa and Asia to rally around his flag in order to re-establish ancient Jerusalem".

While the proclamation itself was never found, a copy translated to German was uncovered in 1939, addressed to "the Jewish nation from France's top general, Bonaparte, and Rabbi Aharon in Jerusalem", saying, "Israelites, France offers you at this very time… Israel's patrimony; take over what has been conquered and with that nation's warranty and support, maintain it against all comers."

Some hold the statement to be an attempt to lure Haim Farhi, a Syrian Jew and chief advisor to Ahmad al-Jazzar of Acre, to betray his master by switching his support to the French. Whether this is true or not, Farhi defended the city with the rest of the Turks. Farhi played a key role in the city's defense. As al-Jazzar's adviser and right-hand man, he directly supervised how the battle against the siege was run.
Israeli Soldiers Sing 'Hatikvah' While in Germany for Training Exercise
The Israeli military published a video on Thursday showing a group of paratroopers singing "Hatikvah" — the Jewish state's national anthem — while participating in a training exercise in Germany.

"There is nothing more moving than hearing our paratroopers sing 'Hatikvah' on German soil," an IDF Facebook post said.

The Israeli soldiers flew overseas for the US-led "Allied Spirit X" drill, in which they were joined by counterparts from more than a dozen other countries.
---
---
We have lots of ideas, but we need more resources to be even more effective. Please
donate today
to help get the message out and to help defend Israel.