From Ian:
Border Police officer shot on Gaza border dies of wounds
A Border Police officer wounded during violence along the border with Gaza more than a week ago died of his wounds at Soroka Medical Center in Beersheba Monday afternoon, hospital officials said.

Barel Hadaria Shmueli, 21, had been fighting for his life since being shot in the head at close range by a Gazan attacker as he guarded the border on August 21. His plight had attracted nationwide attention and mass vigils outside his hospitals took place nearly nightly.

"The medical team fought for his life and he underwent multiple surgeries during his hospitalization," Soroka hospital said in a statement. "Despite the intense efforts, due to his serious injury the medical staff was forced to determine his death. We share in the heavy grief of his family."

The announcement of Shmueli's death drew an outpouring of condolences from leaders, politicians and others.

"There are no words to comfort his family amid their deep grief," said Prime Minister Naftali Bennett. "Barel was a fighter in his life and a fighter in his death. He fought for his life until the last moment, as all of the people of Israel were praying for him."

Shmueli was wounded last Saturday night as Gaza rioters at a Hamas-run rally surged toward the security fence. In videos from the scene, rioters could be seen attempting to destroy and then snatch a soldier's gun as it poked through a hole in the concrete wall. One man could then be seen running up to the wall, taking out a gun that had been tucked in his waistband and firing three shots through the hole at point-blank range. One of the rounds struck Shmueli in the head.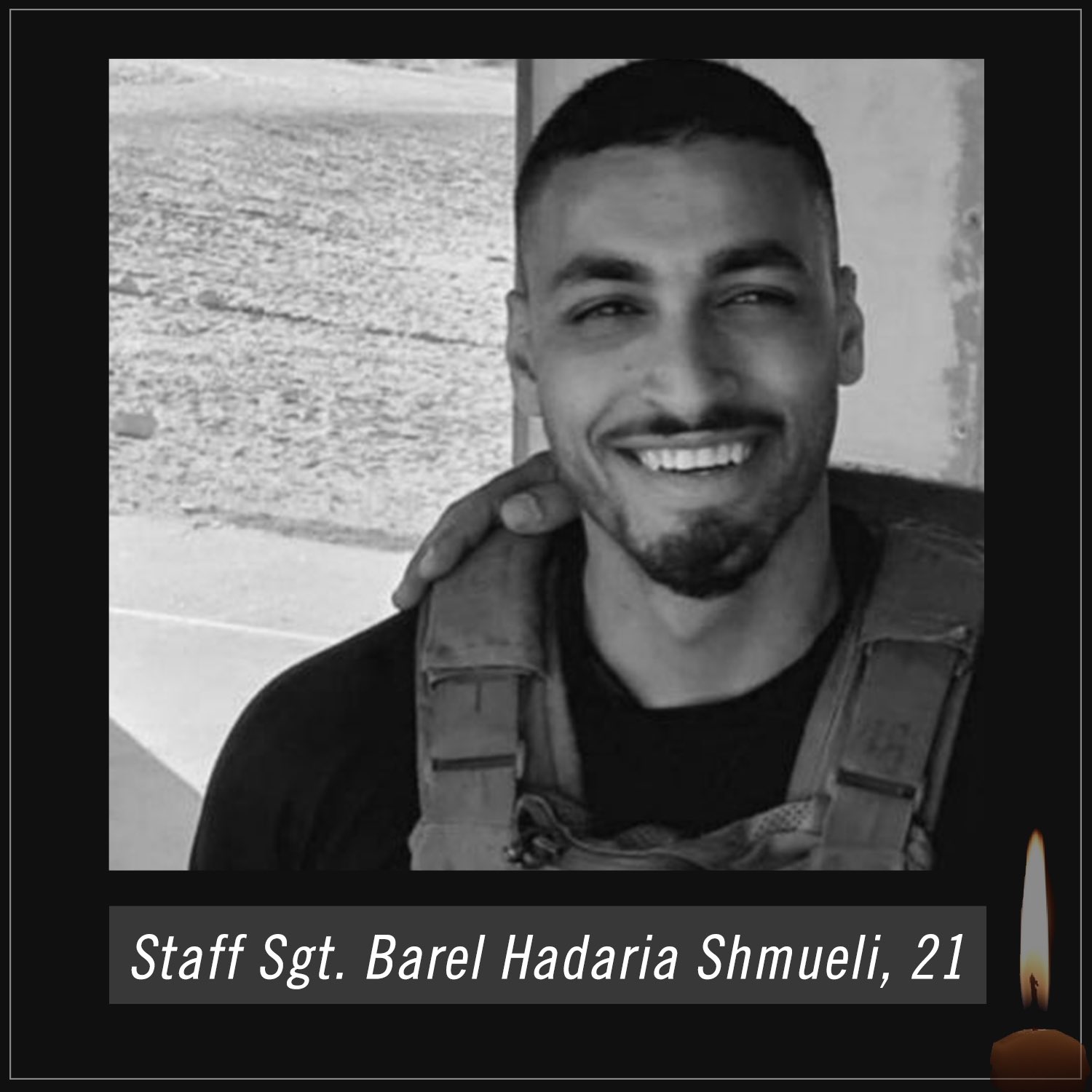 Heartbreak ?? after 9 days fighting for his life, Barel Shmueli succumbed to his injuries after being shot by Palestinian.

All of Israel mourns today. BDE pic.twitter.com/mTi12el30D

— Emily Schrader - ????? ?????? (@emilykschrader) August 30, 2021
Sick! Gazans pass out candy and celebrate the death of IDF soldier Barel Shmueli who was shot by a Palestinian terrorist at the Gaza border.

pic.twitter.com/9LVUxBtjFE

— Emily Schrader - ????? ?????? (@emilykschrader) August 30, 2021
On the #Lebanon side of the border, a mural has been painted depicting the Palestinian militant who shot a border patrol officer a couple of weeks ago at the #Gaza border. pic.twitter.com/qNE8mxD9RA

— Joe Truzman (@JoeTruzman) August 29, 2021
Amb. Alan Baker:
Is the Gaza Security Perimeter Defunct?
The unbelievable ease with which an armed Hamas terrorist was able to brazenly approach Israel's concrete defensive barrier that separates Israeli territory from the Gaza Strip, insert the barrel of his handgun into the narrow slit in the concrete and just blindly shoot, at close range, a border policeman, raises many serious questions.

By the same token, one may also ask how and why a regular phenomenon has been allowed to develop over the last few years by which large groups of violent, wildly incited Hamas demonstrators and armed terrorists, hysterically intent on infiltrating into Israel with the aim of harming Israeli soldiers and citizens, are able to so easily approach and storm Israel's security barrier.

One of the central security elements of the 1995 Israeli-Palestinian Interim Agreement (commonly termed "Oslo II") was the creation of what was called the "Delimiting Line" along the entire northern and western edges of the Gaza Strip, separating the Strip from Israel's sovereign territory.

Part of this central security element was the establishment of a "Security Perimeter" adjacent to that line, within the Gaza Strip, hundreds of meters wide. In that Security Perimeter, the PLO and Israel agreed that the Palestinian police would exercise "security responsibility for preventing infiltrations across the Delimiting Line or the introduction into the Security Perimeter of any arms, ammunition or related equipment."
Israeli Analyst: Iran Entrenching Itself on Israel's Border With the Syrian Golan
Iran is slowly entrenching itself in the Syrian Golan region at the border with Israel, a top Israeli analyst stated on Sunday.

The area of conflict is taking place in southern Syria, where certain rebel groups are still holding out after 10 years of civil war have seen the ruling regime of dictator Bashar Assad take back most of the country.

On the Syria Golan and the Hauran region, composed of south Syria and north Jordan, the Syrian army along with Hezbollah and Iran-backed militias — propped up by Russian political support — are besieging the city of Daraa, one of the last redoubts of the rebellion.

Veteran analyst Ehud Yaari writes on the Israeli website N12 that it is only a matter of time before Daraa falls, and the rest of what remains of the rebellion in the area will likely follow.

Jordan's King Abdullah is attempting a delicate balancing act, argues Yaari, noting that the king has expressed a willingness to renew ties with Assad and help do the same with the rest of the Arab world, but does not want a Hezbollah-Iranian presence on his border.

This is particularly the case because divisions of the Syrian regular army in the region are now essentially controlled by Iran and Hezbollah, of which Abdullah is well aware.

Israel, says Yaari, faces a difficult situation: it does not want a war with the Syrian army, to upset Russia, or to gamble on the various rebel groups in the region.
Ben-Dror Yemini:
The West must wake up to the threat of Jihad
Twenty years after the U.S. invaded Afghanistan, it leaves the country in the hands of the Taliban — the embodiment of the failed perception that placating Jihadi groups would make them change their ways.

"This is what Jihad is all about," Prime Minister Naftali Bennett should have told the Americans. "This is its nature and essence."

The mere thought that playing nice with Hamas by removing the blockade and supplying it with more supplies and funds, would make it mend its ways, is insane. That's not going to happen.

Hamas is part of the Muslim Brotherhood movement and its founder Hassan al-Banna proclaimed back in 1938 that its motto is "industry of death." Hamas' ideologues have repeatedly said that their goal is to establish an Islamic caliphate that would include both "big and small Americas," referring to the U.S. and Israel.

Then Iran joins the fray, having become a regional hub for terrorism.

Tehran's unrelenting race to lay its claws on nuclear arms is not only a problem for Israel or the West, but for all Muslims.

All, Shi'ite and Sunni, will become victims of its Jihad.

In 2014, American author Sam Harris released an episode on his podcast called "Why Don't I Criticize Israel?"

Despite the episode being rather critical, Harris ended it with some explosive words: "The truth is, we are all living in Israel. It's just that some of us haven't realized it yet."

I do wonder how many more innocent lives will be lost until the West, academia, the media and the White House realize this. Let us hope it will not be too late.
Instead of Surrendering to Taliban, Biden Could Have Declared Victory
The conventional wisdom is that Biden had the right idea to "end the war" but executed it poorly. That ignores the fact that the United States was no longer in the throes of a war that cost it a fortune in treasure and lives. The surprising development most people overlooked, including former President Donald Trump, is that the US military involvement in Afghanistan had turned into an amazing bargain. For a relatively minuscule investment, it could keep terrorists at bay, maintain a crucial ally and strengthen the free world.

"The fall of Kabul is not an isolated incident," professor of International Affairs at Georgetown University Paul Miller wrote in The Dispatch. "It is one more step along the road the world has been traveling for the past 20 or 30 years. The war in Afghanistan was a large, long and expensive effort to push back the boundaries of tyranny, terror and barbarism; to bring one small, poor country into the fold of the free world and thus to prove the concept that even the worst, poorest, most failed state could find a place here. We failed and the bad guys won."

We didn't have to fail. It certainly didn't help that hardly any media attention was given to the transformation of the so-called "forever war" in Afghanistan. Indeed, after 20 years it had morphed into a smart, sustainable enterprise.

As Miller writes, "There was no persuasive reason to withdraw the few troops remaining from Afghanistan in 2021. US troops prevented the Taliban from overrunning the country and giving safe haven to al-Qaeda. They helped train the Afghan army and keep them in the fight against Americans' and Afghans' common enemies. … There was no large-scale anti-war movement and no significant domestic political pressure to end our military deployment there. The US military presence in Afghanistan was indefinitely sustainable and strategically vital."

It's painful now to look at the chaos unfolding in Kabul — with resurgent violence, attacks on women, stranded Americans fearful for their lives and a revitalized Taliban humiliating the leader of the free world — and see the withdrawal as anything but a strategic and moral blunder. As Miller wrote shortly after the Taliban took over, "The entire world is less safe, less stable and less free than it was last week."

Our president snatched defeat from the jaws of victory.
Col Kemp: Joe Biden's 'catastrophic' Afghanistan exit strategy sees the west 'chased out under fire'
The world would not have seen the west being "chased out of Afghanistan under fire" if it wasn't for the Biden administration's "catastrophic" withdrawal strategy, according to former head of British forces in Afghanistan Colonel Richard Kemp.

"He didn't give enough time for the Afghan government and security forces to prepare themselves for a completely new situation without US support," Mr Kemp told Sky News Australia.

"He did it also at the height of the fighting season when the Taliban is at its most active.

"If he'd waited to give the Afghan government more time and to wait until say late Autumn or Winter when the Taliban are far less active – we would not have seen the west being chased out as it were out of Afghanistan.

"Not just chased out but chased out under fire as we have seen."

Mr Kemp said President Biden's withdrawal from Afghanistan was motivated by both his "long opposed" position on US military presence in the country and having an "eye on the mid-term elections" with an "overwhelming desire" to get out by 9/11.
Osama bin Laden's security chief triumphantly returns to hometown in Afghanistan
The man who served as Osama bin Laden's security chief at the battle of Tora Bora triumphantly returned to his home in eastern Afghanistan today, less than two weeks after the country fell to the Taliban. The Al Qaeda commander was reportedly freed by Pakistan a decade ago.

Dr. Amin al Haq, the former head of bin Laden's Black Guard, was captured on video in a large convoy as it traveled through a checkpoint in Nangarhar province. Haq was accompanied by a large convoy of heavily armed Taliban fighters in brand new SUVs. A small crowd flocked to Haq to shake his hand and take selfies with him.

The video of al Haq is evidence that Al Qaeda commanders now feel secure enough to appear publicly in a Taliban-controlled Afghanistan.

It was not immediately clear if al Haq was returning to his home in eastern Afghanistan for the first time, or if he has been in Afghanistan the entire time since being released from Pakistani custody. He may have also been traversing the porous border between Afghanistan and Pakistan. Either way, the confidence to travel and operate out in the open – in plain sight for the first time in a decade – speaks to the marked change in Afghanistan over the last month.

Al Qaeda leaders and fighters have been in Afghanistan supporting the Taliban's insurgency for the past two decades. Pakistan's cities and the tribal areas have served as safe havens for Al Qaeda over the past two decades.
I see myself in that Afghan girl – and I want to scream
I am so angry that I want to scream. I am so scared that I want to cry. I am so disgusted that I want to go into the trenches. But all I can usefully do now, during sleepless nights, is write.

Since the American "exit" from Afghanistan, I feel, by osmosis, that I can relate to every Afghan woman and girl who is stuck now in what can be only described as a hellish nightmare. I understand them, and I cry for them. Because until the age of 16, I lived their life. Well, more or less, but enough to grasp their deepest emotions and fear.

I was born in Tripoli, the capital of Libya, in 1951. I am the second oldest of six sisters and two brothers. Even though Libya was in some ways more cosmopolitan than Afghanistan — we had movie theaters and concerts, an American airbase, and Italian schools where I had my education — Muslim women still had to wear a burqa in the streets, covering the entire body except for a mesh screen to see out of, and did not work outside the house.

We, as non-Muslim (Jewish) females, were allowed to wear Western clothes. Yet, I knew from a very young age that I belonged to the worst group of all: Being both a female and an "infidel." You can argue which was worse. In my view, it was being a female.

Wearing Western dress made me a perpetual target. Or, to paraphrase the countless men and boys who tried to pinch me, touch my breasts, and expose themselves to me (and my sisters and female friends), I was a "whore," a "sinner," a "prostitute," and a "dog."
"In this longer video, the presenter interviews a Taliban fighter who presumably outranks the rest of the lot in the studio."https://t.co/z8phDxQXfj

— Hillel Neuer (@HillelNeuer) August 30, 2021
Senator Seeks Investigation Into Americans Reportedly Denied Entry to Kabul Airport
The ranking member on the Senate's Permanent Subcommittee on Investigations has instructed the Biden administration to hand over internal information about its decision to reportedly prevent a busload of Americans from entering Afghanistan's airport to be evacuated from the war-torn country.

Sen. Ron Johnson (R., Wis.) is using his oversight authority to investigate allegations that U.S. military leaders prevented U.S. citizens and others from entering the Kabul airport as part of emergency evacuation efforts coordinated by nonprofit groups.

Johnson says he has been "receiving reports that contradict the Biden administration's narrative and are troubling to say the least," according to an information request obtained by the Washington Free Beacon that was sent on Friday to the Biden Pentagon and State Department. This includes reports that "a group of over 400 individuals including U.S. citizens were turned away at the airport" on Thursday and told by a U.S. military commander that the "rescue is over."

Johnson is one of several congressional foreign policy leaders demanding the Biden administration turn over information related to its ongoing emergency evacuation of Americans from Afghanistan. Americans waiting to be rescued contradict the Biden administration's claims the mission is running smoothly. The administration maintains that it can rescue every American stranded in the country by an Aug. 31 deadline set by the ruling Taliban and agreed to by the United States. It is unclear, however, how many U.S. citizens are scrambling to leave.

Johnson is investigating reports by military veteran Chad Robichaux that rescue efforts coordinated with outside nonprofit groups are being met with resistance by American military officials on the ground. Robichaux said he organized a busload of 400 evacuees on Thursday and got them to the airport, only to be met by a commander of the 82nd Airborne Division who "told them to get back on their buses and turn around because 'the rescue was over,'" Johnson wrote. "It is not clear what happened to the Americans and the other individuals after they left the airport."
Jake Sullivan's spin didn't survive 8 hours' contact with events.

— Noah Rothman (@NoahCRothman) August 29, 2021
Hundreds of students from the American University of Afghanistan are stranded in Kabul. "The Taliban posted a picture of themselves at the entrance of a university building saying they were where America trained infidel "wolves" to corrupt Muslims minds" https://t.co/PU50HZ192U pic.twitter.com/N4srKlt4Nw

— Yalda Hakim (@BBCYaldaHakim) August 30, 2021
Rockets Target US Troops at Kabul Airport
U.S. anti-missile defences intercepted rockets fired at Kabul's airport early on Monday, as the United States flew its core diplomats out of Afghanistan in the final hours of its chaotic withdrawal.

The last U.S. troops are due to pull out of Kabul by Tuesday, after they and their allies mounted the biggest air evacuation in history, bringing out 114,000 of their own citizens and Afghans who helped them over 20 years of war.

Two U.S. officials said the "core" diplomatic staff had withdrawn by Monday morning. They did not say whether this included top envoy Ross Wilson, expected to be among the last to leave before the final troops themselves.

A U.S. official said initial reports did not indicate any U.S. casualties from as many as five missiles fired on the airport. Islamic State – enemies of both the West and the Taliban – claimed responsibility for the rocket attacks.

The rockets followed a massive Islamic State suicide bombing outside the teeming airport gates on Thursday, which killed scores of Afghans and 13 U.S. troops.

In recent days Washington has warned of more attacks, while carrying out two air strikes against Islamic State targets, including one on Sunday it said thwarted an attempted suicide bombing by blowing up a car packed with explosives.
Seth Frantzman:
Will US drone strikes face greater scrutiny after Afghanistan withdrawal?
The US has been accused of killing nine members of a family in a drone strike in Afghanistan. The strike was the second drone attack on what the US said were ISIS-K members linked to threats against American soldiers in Kabul.

It was not clear if the US assessment that it killed both ISIS planners of an attack and struck a vehicle carrying an ISIS bomber was accurate. Reports now indicate one drone strike may have led to civilian casualties.

The US relied on drones heavily in Afghanistan over the years, especially under the Obama administration. The Trump administration reduced the use of drones as it sought accommodation with the Taliban.

The Biden administration appears to have reduced armed-drone attacks to near-zero. The claims that civilians were killed in Kabul are being investigated, according to US Central Command.

The Taliban, with which the US has been coordinating in Kabul since mid-August, condemned the airstrikes. This presents a complex new turn of events for Washington, whereby groups such as the Taliban, which the US has been awkwardly working with, now want America's impunity to end. The US has generally had a legalistic narrative for its right to engage in attacks in places such as Afghanistan. While it may appear the US is just a global hegemon, occasionally behaving at times like a gorilla throwing its drones around, it actually has a very tailored excuse for its global war on terrorism and various principles that guide its approach to fighting groups such as ISIS or al-Qaeda.
Looking forward to the NYT front page story with photos of every reported civilian casualty. Or does that only happen to Israel when it defends itself from imminent terror attacks? A moment to reflect on the double standards applied to the IDF by many in America and Europe. https://t.co/GR1aITJdPq

— Richard Goldberg (@rich_goldberg) August 30, 2021
PreOccupiedTerritory:
Palestinians Confused By Kabul Rockets Not Aimed At Israel (satire)
A series of attacks on Hamid Karzai International Airport by various militant Islamist groups has residents of this coastal enclave and others farther inland wondering what those attacks targeted, given that few, if any, Jews, and certainly not the Jewish State, appear anywhere in or near the trajectory of the weapons the attackers launched.

Palestinian government and civilians voiced their puzzlement today following reports of rockets launched at the Afghan capital's main airport, because none of those rockets can even reach Israel, so what would be the point? The attacks game as tens of thousands of Afghans and others attempt to find a way out of the country, following the rapid collapse of US-backed government forces and takeover by the Islamist Taliban movement.

"I'm still trying to figure out what's going on there," admitted senior Fatah figure Jibril Rajoub. "We have Iran-backed and Iran-supplied militias; they have Iran-backed and Iran-supplied militias. We have virulently antisemitic culture and politics; they have virulently antisemitic culture and politics. Yet despite those important similarities, these incidents raise the troubling possibility that they prioritize their rocket use for something other than killing Jews, and I just can't wrap my head around that. Neither can many of my fellow Palestinians."
Prime Minister Bennett to President Biden: "We're in the Toughest Neighborhood in the World" (Israel Ministry of Foreign Affairs)
Prime Minister Naftali Bennett met with U.S. President Joe Biden at the White House on Friday and said:
"We cannot lose sight for even one moment that we're in the toughest neighborhood in the world. We've got ISIS on our southern border. Hizbullah on our northern border, Islamic Jihad, Hamas, Iranian militias that surround us."

"All of them want to kill us, kill Israelis. They all want to annihilate the Jewish state. And that's why Israel always has to be overwhelmingly stronger than any of our enemies, and indeed, of all our enemies combined."

"Iran is the world's number one exporter of terror, instability and human rights violations....We have got to stop them, and we both agree about that. So we have developed a comprehensive strategy."

"The first goal is to stop Iran's regional aggression and start rolling it back....The second is to permanently keep Iran away from ever being able to break out to a nuclear weapon."

"Israel never has and never will ask America to send troops to defend it. That's our job. We will never outsource our security. It's our responsibility to take care of our fate."

"But we do thank you for the tools and the backing you've been and are giving us."
Israeli Official: White House Not Optimistic about Iran Deal
The atmosphere in the White House is "not optimistic" about returning to a nuclear deal with Iran, said a senior Israeli official after Prime Minister Naftali Bennett met with US President Joe Biden on Friday.

The official stressed that the fate of the agreement depends on Iran.

Bennett's government opposes US efforts to return to the Iran nuclear agreement signed in 2015 by the Obama administration and abandoned three years later by Trump. Biden has been seeking a return to the deal, but this has looked increasingly unlikely as Iran has moved further away from its obligations and as a hardline president, Ebrahim Raisi, has taken office in Tehran.

During public remarks the two gave in the Oval Office, Biden still clarified that he prefers a diplomatic approach to block Iran's path to the bomb, namely the revival of the Joint Comprehensive Plan of Action. However, he said that "other options" would be pursued if those negotiations failed and vowed that the US would ensure Iran "never" attains nuclear weapons.

Later pressed on what was meant by other options, White House Press Secretary Jen Psaki declined to elaborate. Israel has been pushing the US to put a "credible military threat" against Iran on the table while negotiating to curb its nuclear efforts.

Biden and his staff surprised their Israeli guests by the attention they gave to the Iranian threat and how important it was to them, the Israeli official said.
Israel and US working on 'Plan B' if Iran nuke talks fail, Gantz says
Defense Minister Benny Gantz on Monday said Israel and the United States had restored intelligence ties and were working to develop a "Plan B" if the stalled talks between Washington and Tehran regarding a fresh Iran nuclear deal sputter out, following a meeting between Prime Minister Naftali Bennett and US President Joe Biden last week.

Gantz warned that if Iran becomes a nuclear state, it will trigger an international arms race in which many other nations, in the Middle East and beyond, will attempt to acquire an atomic bomb.

"The United States and Israel share intelligence information, and the cooperation with the United States in this field is only getting stronger. We are working with them in order to establish a Plan B and to demonstrate that if there is no deal, other activities will begin, as President Biden said," the defense minister said, speaking to military correspondents ahead of the Jewish New Year next week.

On Friday, the US president told a joint press conference with Bennett that his administration was "ready to turn to other options" if diplomatic talks with Iran failed, likely alluding to the possibility of clandestine operations and military strikes.

The White House meeting came a day after US officials told the New York Times that Israel's previous administration had downgraded intelligence sharing with the US after Biden took office. Bennett has sought to restore ties with US Democrats after their relationship with former prime minister Benjamin Netanyahu became frayed, though Iran was the focus of the Friday meeting.
Dan Shapiro appointed as State Department liaison to Israel on Iran
Former United States ambassador to Israel Dan Shapiro has been appointed by the US State Department as the liaison to Israel on the staff of US Special Envoy to Iran, Robert Malley. State Department officials told Walla News that Shapiro is also expected to focus on coordinating with Israel on the nuclear issue, but especially on Iranian activity in the region.

Indirect negotiations between the United States and Iran were frozen after the Iranian presidential election, and it is still unclear when it will resume. Given the positions of the new president Ebrahim Raisi and senior government officials, and their intention to present tougher positions than before - it seems that the chances of an Iranian return to the nuclear deal are now less than when Hassan Rouhani was president. Israel is very concerned about the situation in which there are no negotiations. Iran continues to advance its nuclear program and there are no new sanctions or other moves aimed at putting pressure on it. Prime Minister Naftali Bennett stressed in his talks in Washington that the US and Israel should start working on an alternative plan, in case the diplomatic channel stays frozen. US President Joe Biden said in a meeting with Bennett that if diplomacy with Iran fails he is ready to move forward in other channels.

In light of the understanding in Washington and Jerusalem that an alternative plan must begin to be considered, Shapiro's role will be more significant. Shapiro began serving as a senior part-time adviser to the US State Department's Iran staff last week. He went through a process of security classification and participated in several discussions on the Iranian issue and even advised White House officials ahead of the meeting between Biden and Bennett. However, he did not take part in meetings with the Israeli delegation itself.
Strange decision to staff up the team negotiating nuclear deal with Iran that'll dismantle all meaningful pressure on the regime, right after Israel's PM was in DC asking please don't do that.

Less strange to try to gaslight & say it's a pro-Israel move. That part's ?? on brand. https://t.co/1sDVgQXBPQ

— Omri Ceren (@omriceren) August 29, 2021
Gantz offers Abbas series of goodwill gestures in rare Ramallah meeting
Israel will make a series of goodwill gestures to the Palestinian Authority following a meeting between Defense Minister Benny Gantz and PA President Mahmoud Abbas on Sunday night, Gantz announced on Monday. Among the economic gestures Gantz offered Abbas at the late-night meeting was a half-billion shekel loan.

The two men also spoke about ways to regulate the status of thousands of West Bank Palestinians who lack documentation, as well as ways to streamline digital VAT accounting for all Palestinian businesses that make purchases from Israel. Many of the permit applications for Palestinians will be digitized in order to streamline the process and make it easier and cheaper.

The moves also include allowing an additional 15,000 Palestinians to work in Israel and the Civil Administration approving more building in Area C of the West Bank, which is under full IDF military and civilian control.

Gantz met with Abbas just hours after Prime Minister Naftali Bennett returned from Washington DC. The face-to-face meeting was the first in a decade between Abbas and such a high-level Israeli official.

"Neither we nor the Palestinians are going anywhere tomorrow morning," and steps must be taken to build trust between Israelis and Palestinians, Gantz said Monday afternoon in a briefing with reporters.
Israel agrees to send NIS 500 million to PA, bypassing terror stipend freeze
Defense Minister Benny Gantz on Monday said Israel had offered to transfer the Palestinian Authority NIS 500 million ($155 million) in order to keep the cash-strapped government afloat.

The arrangement announced by Gantz, which he described as a loan, will allow the Israeli government to effectively circumvent a law passed in 2018 that requires it to offset any payments made by the PA to Palestinians wounded, jailed, or killed by Israel — including avowed terrorists — by withholding the same amount from the Palestinian tax revenue that Israel collects.

Instead, Israel will loan the PA approximately NIS 500 million, and pay itself back next June out of the roughly NIS 600 million ($186 million) it withheld earlier this summer and put in escrow, which was estimated to be roughly the same as what Ramallah paid out in salaries to terror convicts and families of so-called martyrs in 2020.

Gantz's announcement came after a meeting he held the night before with PA President Mahmoud Abbas, the first such public meeting between high-level Israeli and Palestinian officials in over a decade. At a briefing Monday, Gantz called for the PA to be bolstered as a bulwark against Hamas and other terror groups.

"I told Abbas that we aren't going anywhere and that the Palestinians aren't going anywhere. I went to the meeting in order to build confidence and preserve the interests of the State of Israel and the important ties we have with the Palestinian Authority, which I believe we need to strengthen," Gantz said.
Bennett Moves to Play Down Defense Chief's Talks With Abbas
Israeli Prime Minister Naftali Bennett sought on Monday to play down any notion of a move towards renewed peace negotiations with the Palestinians after the highest-level Israeli-Palestinian meeting in years.

Hours after Defense Minister Benny Gantz and Palestinian President Mahmoud Abbas met, the main Israeli media outlets quoted "a source close to the prime minister" as saying: "There is no diplomatic process with the Palestinians, nor will there be one."

The session, which was not announced in advance, covered only "routine issues," according to the source. Hussein Al Sheikh, a member of Abbas' Fatah Central Committee, said the talks included "all aspects" of Palestinian-Israeli relations.

Gantz, who heads a centrist party, and Abbas convened two days after Bennett, a right-wing politician who opposes Palestinian statehood, met in Washington with US President Joe Biden, who backs the idea.

A White House statement said Biden reiterated to Bennett his support for a two-state solution to the Israeli-Palestinian conflict and "underscored the importance of steps to improve the lives of Palestinians."

Bennett did not mention Palestinians in public remarks at the White House that focused largely on arch-enemy Iran's nuclear program.
Hamas, Islamic Jihad condemn Abbas for 'reprehensible' meeting with Gantz
Hamas and Islamic Jihad condemned Palestinian Authority President Mahmoud Abbas on Monday for meeting with Defense Minister Benny Gantz, after the two held a rare high-level meeting of senior Israeli and Palestinian politicians on Sunday night.

"President Mahmoud Abbas's meeting with Israeli Defense Minister Benny Gantz is a stab in the back of the Palestinian people and what they have sacrificed. It is a betrayal of the blood of the martyrs," said Hamas spokesperson Abd al-Latif al-Qanou in a statement.

Gantz and Abbas met in Ramallah on Sunday night, in the first such meeting between the sides in over a decade. The last meeting of a similar stature took place between former prime minister Benjamin Netanyahu and Abbas in Jerusalem in September 2010.

A second Hamas spokesperson, Hazim Qasim, further accused Abbas of "encouraging Arab countries to normalize with Israel" by meeting the senior Israeli official.

"This weakens the Palestinian stance that rejects normalization," Qasim said.

The Islamic Jihad terror group slammed Abbas for meeting Gantz, a former IDF chief of staff who oversaw the Israeli military during successive battles between Israel and Hamas.

"The blood of children killed by the army on Gantz's orders has not yet dried, even as President Abbas meets him in Ramallah," said Islamic Jihad spokesperson Tariq Silmi in a statement.
HRW Does Not and Cannot Know Details of Gaza Airstrikes: Pseudo-reports as Propaganda
On August 23, 2021, Human Rights Watch (HRW) published its third (!) pseudo-report on the two-week armed conflict in Gaza and Israel, the latest titled "Gaza: Israel's May Airstrikes on High-Rises." Following its familiar trope, HRW alleges that Israeli actions "violated the laws of war and may amount to war crimes," specifically concerning several incidents that have already been extensively covered in the media and by other NGOs.

At the time of the strikes, the IDF stated that the target buildings were an "important base of operations for Hamas' military intel." In addition to gathering intelligence, the statement refers to Hamas operatives in these buildings who "manufactured weapons and positioned equipment to hamper IDF operations."

HRW laments that it does not have "the evidence" that the "Israeli military … says it relied on to carry out these attacks." Indeed, without such information, the NGO cannot possibly comment meaningfully on the incidents. Instead, and consistent with the absence of credible research methodology and its invented legal standards, HRW's "analysis" relies entirely on phone interviews with supposed Palestinian witnesses, as well as their attempt to interpret video footage and photographs taken on unspecified dates after the attacks.

Interviewed by phone?
HRW does not identify how its "witnesses" were selected, nor does it clarify whether or how it investigated possible witness affiliations to Palestinian armed groups. Similarly, HRW does not specify how it verified interviewee claims regarding the presence or lack thereof of combat activity or military infrastructure.

Additionally, HRW continues to erase the reality in Gaza, where Hamas controls information and regularly threatens retaliation against those who implicate the terror group in war crimes. For example, on May 13 Hamas issued a statement prohibiting Gazans from cooperating with individuals or organizations from outside of Gaza, announcing, "It is prohibited under all circumstances to provide details of events or to send messages and videos that discuss locations of bombing and its outcomes or rocket launching sites of the resistance."

Indeed, even HRW's own witnesses contradict its politically motivated conclusions. Accordingly, "One businessman said that Hamas had offices in Hanadi tower, but he could not identify who the tenants were or what they did, or that they had any links to Hamas's armed wing."
HonestReporting: AP Doubles Down: Terrorists And Rioters In Gaza Described as 'Activists'
Hundreds of Palestinians have been rioting on the border between the Gaza Strip and Israel, in the latest escalation orchestrated by Hamas.

Members of US-designated Palestinian terror groups burned tires and hurled explosives towards the security fence. Israeli civilians have described the situation as "ineffable suffering." Nevertheless, the Associated Press has twice in the past week referred to the rioters and terrorists as "activists."

Palestinian terrorist organizations have warned that "nightly harassment units" would intensify their efforts to harm Israelis, including through ongoing incendiary balloon attacks.

HonestReporting has called out the AP for its egregious use of "activists" to describe Gazans perpetrating violence. In response, the wire service announced it would "weigh whether they are best called Hamas fighters, militants or activists."
Hundreds of rioters in Gaza are at the security fence burning tires, hurling explosives and causing chaos.

This chaos is masterminded by Hamas.

While people in Gaza lack basic necessities, Hamas instead uses its resources to incite violence and spread hatred. pic.twitter.com/nyTuQ7wvkM

— Israel Defense Forces (@IDF) August 29, 2021
PMW:
Terrorist murderer Dalal Mughrabi is a role model at PLO camps - "The Sisters of Dalal Mughrabi summer camp"
At least two summer camps organized by the PLO Supreme Council for Youth and Sports this year were named after the female terrorist murderer Dalal Mughrabi who led the murder of 37 civilians, among them 12 children, in 1978.



The image above shows a group of female summer camp participants making a "V" for victory while standing in front of a banner featuring a picture of terrorist Dalal Mughrabi.

Text on banner: "The [PLO] Supreme Council for Youth and Sports
The Fatah Movement – Tubas organizational area, Tubas branch
and the [Fatah] Shabiba High School Committees warmly welcome you
to the Sisters of Dalal Mughrabi summer camp"
[Facebook page of the PLO Supreme Council for Youth and Sports, Aug. 4, 2021]

Whereas this camp was in the Tubas area in the northern West Bank, at least one other camp promoted the murderer - The Sisters of Dalal summer camp in Tulkarem:

[Facebook page of the PLO Supreme Council for Youth and Sports, Aug. 6, 2021] As Palestinian Media Watch has exposed for years, murderer Mughrabi is one of the primary role models in Palestinian society, heavily promoted by the PA particularly to youth. Accordingly, the PA has named summer camps after Mughrabi before, as well as schools, and sporting events.
Palestinian Activist and Singer Ramze Alokk Brandishes a Sword at a Khan Yunis Border Protest, Declares: We Sharpen Our Swords so It Will Cut Swiftly, Because We Do Not Want to Torture Anyone We Slaughter #Gaza #Palestinians pic.twitter.com/1ToLNZXY85

— MEMRI (@MEMRIReports) August 30, 2021
Abdel Karim Al-Shabaki, 24, arrested by Hamas for trying to fire a rocket at Israel. (Amad) pic.twitter.com/SAQv0OXixR

— Khaled Abu Toameh (@KhaledAbuToameh) August 30, 2021
Khaled Abu Toameh:
The Failed State of Lebanon to Combat 'Normalization' with Israel
"Normalization" with Israel is not what is plaguing Lebanon. The Lebanese who are dying for lack of medication could not care less about "normalization" with Israel.

"Unfortunately, they sentenced me to 10 years in prison, but they sentenced the Lebanese people to life in poverty and humiliation. The military court in Lebanon did not give me any opportunity to defend myself. The court did not inform my lawyer in Beirut even of the trial date. It did not inform me personally of anything. The least that should have been done was to inform me of the date of the trial so I could defend myself." — Dr. Jamal Rifi, sentenced to 10 years in prison for treating Israeli Arabs at the request of the Palestinian Authority, arabsaustralia.com, August 24, 2021

The case of Dr. Rifi is yet another example of the blind hatred in Lebanon and other Arab countries towards Israel. These countries are so blinded by their hate for Israel (and Jews) that they are even prepared to punish a physician who helped Palestinians living in Jerusalem. It can be fairly said of these Arabs that they are willing to fight Israel to the last Palestinian.

There is a further ironic twist to this fiasco. While most Arab countries are turning a blind eye to the deepening crisis in Lebanon, there is one country that appears ready to help the Lebanese people: Israel.

One day after the court verdicts were issued against Dr. Rifi and the other two Lebanese, Moshe Arbel, a member of the Israeli parliament (Knesset) called on Minister of Health Nitzan Horowitz to provide the Lebanese health system with emergency humanitarian assistance in light of the public health crisis as a result of the COVID-19 pandemic and the political and economic crisis in Lebanon.

It is no wonder that Lebanon -- which is dominated by the Iranian-backed Hezbollah terrorist militia -- has become a failed state and is on the brink of collapse. A country that prioritizes fighting "normalization" with Israel over rescuing its own people from disaster will never be able to recover from its chronic illness of bigotry and hate.
From the Second Lebanon War to Regional War
The Israeli government's decision to launch a ground attack in the last two days of the 2006 Second Lebanon War was controversial. In retrospect, the attack seems to have contributed to the relative stability created since then on the Lebanese front, as Hezbollah leadership fully recognized the significance of the move: a flanking maneuver that would have encircled most of the organization's forces south of the Litani River. With that understanding, Hezbollah hastily accepted a ceasefire.

The organization was quick to draw lessons from the experience. In its systemic reassessment, four trends could be identified:
- A boosting of fighting capabilities in villages, nature reserves, and mountain areas, entailing defense systems in mountainous thicket, underground fortifications in villages, mobile anti-tank systems, and a supportive fire system.
- Deployment of forces and fire assets throughout Lebanon up to Beirut, including the Lebanon Valley, in a manner that prevents the IDF from easily encircling Hezbollah forces south of the Litani River.
- Extensive quantitative and qualitative intensification of rocket/missile firepower. On the eve of the Second Lebanon War, Hezbollah's firepower was estimated at fewer than 15,000 rockets/missiles. Since then, its array has expanded in both quality and quantity. The arsenal is now estimated at more than 150,000 rockets/missiles, giving it a significant chance of survival even if the IDF succeeds, as it did in 2006, in destroying some of Hezbollah's rocket arrays in a preemptive airstrike.
- Buildup of commando forces to be used for a frontal assault on Israeli border towns and villages as well as key strategic points along the confrontation line. Beyond the immense psychological impact of such actions, the like of which haven't happened since the 1948 Independence War, they would be intended to disrupt and delay a ground offensive into Lebanon.
Lebanese Prime Minister-Designate Najib Mikati Pleas with Arab League to Help His Country: Lebanon Is in Existential Danger; We Will Not Allow Iranian Fuel Ships to Unload Their Cargo If This Brings More Sanctions upon Lebanon #Lebanon #Iran @Najib_Mikati pic.twitter.com/wHK15Ozc3C

— MEMRI (@MEMRIReports) August 30, 2021
Zionists the main reason for regional instability, says new Iranian FM
Iran's new foreign minister, Hossein Amirabdollahian, visited Damascus on Sunday and gave a speech decrying American sanctions against Syria, as well as blasting Israel.

"The Zionists are the main reason for the instability that is engulfing the region," Amirabdollahian said at a joint press conference with his Syrian counterpart.

"Christians, Muslims, and even Jews are being held prisoner by the Zionist entity in Palestine's historical territory," he said, adding, "only regional cooperation between Muslim states can lead to a stable security situation in this regard."

Amirabdollahian stressed that Iran would work to strengthen economic ties with Syrian and help it overcome the ongoing economic crisis caused by years of war and US sanctions.

"We are working on an economic plan that will include cooperation on trade and energy, with the goal being to battle the United States' oppressive sanctions on the Arab Republic of Syria," the foreign minister said.

Amirabdollahian also hinted that Iran wanted to create a new regional order, based on forces loyal to its regime: "We see the recent developments in the region. We believe that any political or security arrangement in the region should involve its sovereign states, including Iraq and Syria."
Great timing. Biden says he cut and ran in Afghanistan in order to focus more on North Korea and China -- and North Korea seems eager to help him to focus. pic.twitter.com/y9PGRue7TG

— Mike (@Doranimated) August 29, 2021