From Ian:
Teachers' Union Head Rips Jews in Interview on School Reopening
Union leader Randi Weingarten criticized Jews as "part of the ownership class" dedicated to denying opportunities to others in an interview released on Friday.

Weingarten—who is herself Jewish and draws a six-figure salary as head of the American Federation of Teachers (AFT)—took aim at American Jews in an interview with the Jerusalem Post. When asked about parents critical of the AFT's resistance to school reopening, Weingarten took aim squarely at Jewish critics.

"American Jews are now part of the ownership class," Weingarten said. "Jews were immigrants from somewhere else. And they needed the right to have public education. And they needed power to have enough income and wealth for their families that they could put their kids through college and their kids could do better than they have done."

"What I hear when I hear that question is that those who are in the ownership class now want to take that ladder of opportunity away from those who do not have it," she said.

Weingarten's comments come after months of political conflict about whether to reopen school system as vaccinations ramp up and the coronavirus crisis recedes.

A major Jewish advocacy group ripped Weingarten for being "inaccurate and dangerous" in her generalizations about the Jewish community. StandWithUs, a pro-Israel advocacy organization, said the union boss was "out of touch" with the experience of Jewish students and came close to trafficking in anti-Semitism.

"As a non-partisan Israel education organization, StandWithUs takes no position on the debate over when schools should reopen," Roz Rothstein, cofounder and CEO of StandWithUs, said. "We work with many Jewish students and parents in Los Angeles and are extremely disappointed by Randi Weingarten's inaccurate and dangerous generalizations about our community.
Houda Nonoo:
Commemorating the Holocaust while building a more tolerant Middle East
Today, we pay tribute to the memory of six million Jews who perished during the Holocaust. Their only crime was that they were Jewish. The heinous atrocities of the Holocaust happened because the world let blatant intolerance seep into our society. Today, on Holocaust Remembrance Day, those of us in Bahrain commemorate the travesty of the Holocaust while remaining appreciative of His Majesty King Hamad bin Isa Al Khalifa and our government for leading the region in building a more tolerant society.

As a Jew living in the Muslim world, I am often asked if it is safe to be Jewish in Bahrain. My answer is emphatically yes. In fact, when I read the newspaper or turn on the news and see reports of antisemitism on the rise in the United States and Europe, it reminds me how lucky I am to be Jewish in our country. Under His Majesty King Hamad bin Isa Al Khalifa's leadership, Bahrain has been committed to spreading the culture of peace, dialogue and coexistence. These values of tolerance and coexistence are ingrained within us as children. While many people in the Gulf have recently partaken in different tolerance initiatives, tolerance is part of our very core.

This past October, H.E. Dr. Sheikh Khalid bin Khalifa Al Khalifa, chairman of the board of trustees of the King Hamad Global Center for Peaceful Coexistence, and Elan S. Carr, former US Department of State special envoy to monitor and combat antisemitism, signed a memorandum of understanding (MoU) on antisemitism in Washington. The document outlined goals to eradicate antisemitism and promote respect and peaceful coexistence between Arab and Jewish people through education and programs.

The MoU states, "His Majesty King Hamad bin Isa Al Khalifa has made it a top priority for Bahrain to lead the Middle East toward a future of tolerance, mutual respect and cooperation between Muslims and Jews." Coexistence is something that we feel every day in Bahrain. We recognize how lucky we are to live in a society where respect for all religions – including Judaism – is a top priority. It is something that is inculcated within our children from a young age, and as they become the next generation of leaders in government, academia and business, they bring with them a culture of understanding and tolerance which in turn creates a better society.
Gerald Steinberg:
Antisemitism: A unique evil that must not be ignored - opinion
In United Nations frameworks, such as the notorious 2001 Durban conference held under the façade of eliminating racism, and in the sessions of the Human Rights Council in Geneva, the insidious drawing of parallels between Israel and the Nazis is a central and frequent theme. When Israel is accused of ethnic cleansing and even genocide, the audience of diplomats and UN employees remains silent – some even nod their heads in agreement.

The same is true for officials of powerful organizations claiming to promote moral principles, such as Ken Roth of Human Rights Watch and the leaders of Amnesty International. And when they are not making the direct comparison, as is often the case, their frequent accusations of Israeli "war crimes" and "collective punishment" create the same message for their audience. As they march closer to their 20-year goal of bringing Israel before the International Criminal Court (the successor to the Nuremberg Tribunal that condemned the Nazi war criminals), the intensity of this repulsive campaign increases. At the same time, the repeated refusal of these individuals and frameworks to include antisemitism on their agendas and to document the renewed hatred speaks volumes.

With the same immoral purpose, the so-called Jerusalem Definition of Antisemitism, which is being marketed cynically as a means of displacing the IHRA text, the rejection of the comparison between Israel and the Nazis is conspicuously absent. Not surprisingly, this campaign is led by some German "intellectuals" on the far Left who obsessively target Israel in the effort to offset the guilt of their parents and grandparents. By seeking to turn the Jews (Israel) into the new Nazis, and the Palestinians into Jews, they are trying to mitigate the evil of the concentration camps and the Final Solution.

But the Nazis and their accomplices did not behave like other conquering armies by blindly pillaging, looting and killing the enemy. Their cold inhuman killing machines stand out as a uniquely calculated form of evil.

Our parents, grandparents, aunts, uncles, cousins, their neighbors and every other victim were killed by monsters who hated them for one reason – because they were Jews. In honoring their memories, we must not be silent when Jews – individually or collectively - are again singled out for the same reasons.
The IHRA definition of antisemitism is supported by:

👉🏻 past & current POTUS
👉🏻 past & current SOS
👉🏻 34 countries
👉🏻 and now countless academics globally

Who DOESN'T support #IHRA?

❌ Sarsour, Tlaib, Omar, Falk, IfNotNow, JVP - the usual bigots#Academics4IHRA #AdoptIHRA pic.twitter.com/T0Lf3uxMsl

— StopAntisemitism.org (@StopAntisemites) April 6, 2021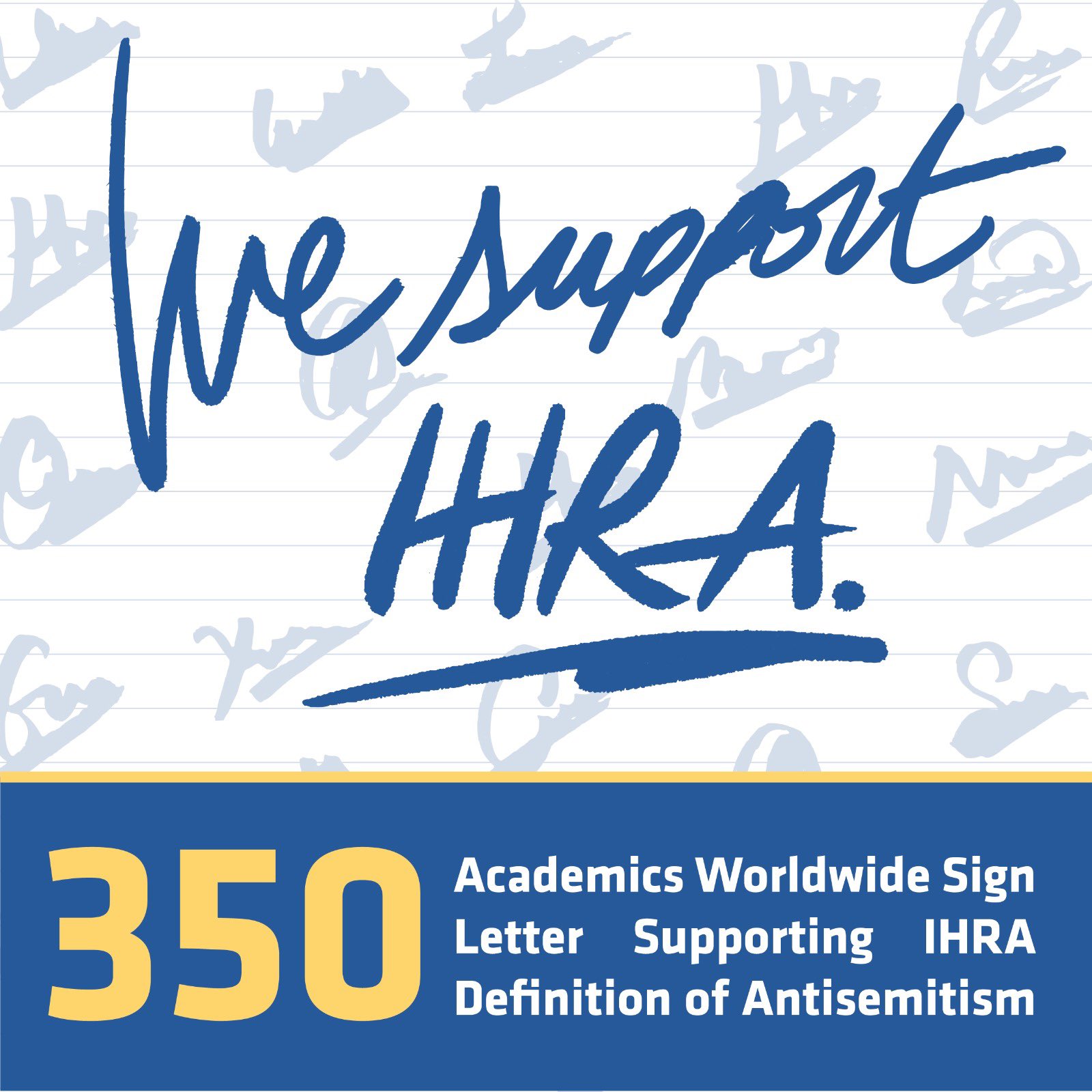 Mission implausible: The story of the police unit that protected Eichmann
"Adolf Eichmann formed himself a method for understanding people in order to exploit them for his own purposes. People are not human beings in his eyes, but figures, scarecrows, nothing but statistics on the stage of his life. Other people are used only for him to satisfy his own demands. His world is worthless of reality because it reflects his passions, needs, and demands. He has strong aggressive impulses and a lust for power. Within the framework of the Nazi Party and the SS, he gained a great deal of self-confidence, and thus found a framework in which aggression has a clear positive value," psychiatrist Dr. Shlomo Kulcsar worte in an expert opinion brief to the Supreme Court on June 11, 1961, after seven sessions with Eichmann, a major Holocaust perpetrator, whom Kulcsar met in his cell in an Israeli jail. The Eichmann trial, which began on April 11 1961, changed immensely how the Israeli public dealt with the Holocaust. At the time there were hundreds of thousands of survivors in the country, who were suppressing memories and trauma. The discussions revealed wounds that didn't heal, the horrors, the physical and emotional hell they went through.

The personal stories of the survivors overshadowed the work of the police in the Eichmann affair. On the one hand there were the Bureau 06 investigators, who came across thousands of documents proving his guilt. On the other hand, was the "Iyar Unit", which protected the archvillain until the day he was hanged, on May 31, 1962.

The story of the Iyar Unit remained untold, even though its officers were close to Eichmann. They sat with him in the holding cell while he ate, when he slept, when he showered and when he wrote his memoirs. Some were by his side even when he underwent the psychiatric diagnosis, and heard the answers that showed his psychopathic nature and lies.

Throughout the period, the police documented Eichmann, and in the photos taken, the archvillain is seen cleaning the toilets in his cell, hanging laundry, brushing his teeth, being examined by a doctor or sitting on the iron bed in the cell, wearing slippers.

The documentation also appears in a new book slated to be released in a few weeks. Operation Iyar – The Activities of the Israel Police in the Eichmann Affair is, in fact, a second in-depth study by the police, after the first study into the work of Bureau 06, was published last year.

Both studies were written by Inspector Yossi Hemi, a historian and head of the Israel Police Heritage Center. For many months, Hemi searched the police archives and state archives and retrieved documents, correspondences, drawings and photographs documenting the behind-the-scenes of the trial, including the tight security arrangements, along with Eichmann's daily routine and interaction with his investigators.
Jonathan Tobin:
Why are Jews, Poles still arguing about the Holocaust?
It's a controversy in which there are no heroes, as well as one that in a more rational world no one would bother with. That's the only way to describe the increasingly complicated brawl that is going on over what some Poles did during the Holocaust that has been revived just in time for this year's commemoration of Yom Hashoah.

The most recent chapter of this ongoing historical debate started with a court case centering on the actions of a man named Edward Malinowski in a small town called Malinow in Eastern Poland. According to a book published in 2018 that relied upon recently discovered testimony, Malinowski, who had been mayor of the town before the Germans conquered Poland in 1939, led the Nazi occupiers to a forest where 22 Jews were hiding. According to the account, that resulted in 22 of the Jews being slaughtered by the Germans.

A descendant of Malinowski who had previously been thought of as someone who had helped Jews escape the Germans sued the two historians and book authors – Jan Grabowski and Barbara Engelking – for defaming him. A Polish court ruled against the writers and mandated an apology though denying the plaintiffs the damages they wanted. The authors are appealing the court's unjust order.

The context for this case is an ongoing battle inside Poland in which that country's government has passed legislation that said public claims that either the "Polish Nation" or the "Republic of Poland" was responsible for Nazi crimes were punishable by fines or imprisonment.

The law was motivated by resentment on the part of Poles against efforts to treat them as perpetrators of the Holocaust rather than fellow victims of a murderous German occupation. But it was also an attempt to whitewash the historical record of Polish anti-Semitism before, during and after World War II, coupled with the fact that there were numerous instances of Poles collaborating with the occupiers of their country and assisting in the murder of the Jews. As such, efforts like those to punish the historians who told Malinowski's story are historical revisionism intended to repress the truth about the past.
Alcee Hastings, Black congressman who led advocacy on Jewish issues, dies at 84
Rep. Alcee Hastings, the Florida Democrat who led advocacy on Jewish issues in Congress and helped guide Black-Jewish relations through periods of tension, died Tuesday at 84.

Hastings, who until his death represented Florida's 20th District encompassing majority-Black areas in and around Fort Lauderdale, had an extended struggle with pancreatic cancer.

Hastings was known for his pre-congressional career as a lawyer who won a number of civil rights victories in the 1960s and '70s when segregation and racism were prevalent in south Florida, and then as a federal judge impeached by Congress in 1988 in a bribery scandal.

Hastings, who had been acquitted in criminal court, was convicted in the Senate but was not banned from holding public office.

He came back to public life with a vengeance in 1992, defeating the favored candidate, Lois Frankel, in the Democratic congressional primary before winning in the general election. (When Frankel, who is Jewish, finally made it to Congress years later they became close friends.)

Hastings, who had made Jewish allies in his days as a civil rights lawyer, emerged as a lead spokesman for causes favored by the Jewish community. He was seen as the pro-Israel community's most reliable ally in the Congressional Black Caucus.

For many years he was a co-chairman of the US Helsinki Commission, the US arm of the international parliamentary human rights monitor, and he made a priority of speaking out against anti-Semitism in Europe and elsewhere. Hastings called for the preservation of Jewish heritage sites and pushback against left-wing anti-Semitism in the guise of anti-Israel activism.
One of the very few Democrats that voted against the Iran deal, Alcee Hastings once led an effort in Israel to replant a forest that was destroyed by Hezbollah, naming it after Coretta Scott King.

Always a friend to the Jewish people, he will be very much missed.

— StopAntisemitism.org (@StopAntisemites) April 6, 2021
The British Jew Crushing it with the Truth about Israel Even with British Muslims
The Israeli-Palestinian Context | Unpacked: Does Israel Act as an Apartheid State?
Have you ever heard someone say that Israel acts as an apartheid state? You may have come across this political phrase, a policy of governmental oppression best known from South Africa, being used as a smokescreen to describe the relationship between Israelis and Palestinian Arabs living in the West Bank and Gaza. In this episode of The Israeli-Palestinian Context we uncover how this misappropriated connection between apartheid and Israel came to be and find out the true history behind the Israeli government's relationship with its one million Arab citizens.
B'Tselem is Not a Human Rights Organization
Many people think that B'Tselem is a legitimate, credible source of information when it comes to human rights in Israel. Unfortunately, they are a biased, left-wing NGO who delegitimize Israel's right to even exist. Even Israel's liberal politicians denounce this factually inaccurate organization.

Did you know that ¼ of all Arab localities in Israel have an original Hebrew name? This helps to identify Jewish culture and towns that were close to many Arab towns today.
Coronavirus Pandemic Brought 'Vicious and Outrageous' Antisemitic Discourse to the Fore in 2020, New Tel Aviv University Report Concludes
A dip in acts of physical and verbal aggression towards Jews worldwide during the COVID-19 lockdowns of 2020 was exceeded by the "skyrocketing" spread of antisemitic tropes on social media as well as increased vandalism of Jewish sites, a new report from Tel Aviv University disclosed on Wednesday.

The annual antisemitism report published by Tel Aviv University's Kantor Center in cooperation with the European Jewish Congress (EJC) observed that while "the total worldwide number of violent antisemitic events decreased from 456 (2019) to 371 (2020) … a 20 percent increase was observed in desecrations of synagogues, graveyards and Holocaust memorials (which were closed or unguarded due to the lockdown and therefore easy prey for antisemitic vandalism)."

The report also highlighted "new phenomena developed on the internet, such as zoom bombing and the darknet, which are difficult to quantify."

On the issue of online antisemitism, the report noted that moves by social media giants like Facebook to curb antisemitic and racist postings had led to a 50 percent drop in anti-Jewish invective since 2018. During 2020, one million antisemitic statements were recorded by Israel's Ministry of Diaspora Affairs, with 500,000 posts written in Arabic and a further 250,000 in French.

However, the report continued, there was a "downside to this improvement: the decrease of antisemitism in the leading networks led to a strengthening of undercurrents — namely, the darknet."
UConn Students Rally to Combat Hate Following Antisemitic Incidents on Campus
Students at the University of Connecticut held a rally on Monday against hate speech and antisemitism following a number of incidents on its main campus in Storrs.

"Antisemitism, like all forms of hatred and bigotry, has absolutely no place on UConn's campuses," said a university spokesperson, reported NBC Connecticut. "The university proudly supports all those gathering in solidarity on the Storrs campus today not only to condemn these vile acts but to express the shared values that truly reflect our community." On the first day of Passover, a swastika was found spray-painted on the side of the chemistry building. A few days later, another one was found spray-painted on the campus's Philip E. Austin Building. A university spokesperson said "UConn Police documented the graffiti in both cases and are actively investigating."

In February, a swastika was found on the wall of a men's bathroom, along with an "anti-black racial slur," according to the school's student-run publication The Daily Campus.

Avital Sutin, vice president of UConn's Hillel chapter, said that in the past academic year, seven antisemitic incidents have taken place on campus. Students who rallied on Monday are calling for more education that would help combat hate on campus.
Cliff note summary:

- vilify staunch advocates like Bari Weiss
- cheerlead bigots like Ilhan Omar
- continue on the political divide front full steam ahead, bulldozing moderates on both sides of the isle

— StopAntisemitism.org (@StopAntisemites) April 6, 2021
For the last time (we hope) Jesus was NOT Palestinian

After every Christian holiday there is some anti-Israel activist who uses the holiday to lie about how Jesus is Palestinian. He wasn't.

Watch me and Israeli Arab @yosephhaddad, an Israeli Arab from Nazareth, explain: pic.twitter.com/5HEbCT1Ate

— Emily Schrader - אמילי שריידר (@emilykschrader) April 6, 2021
Nation of Islam Calls Member Who Assaulted U.S. Capitol 'Brother With Such Great Potential'
The Nation of Islam said it is investigating what caused one of its followers to stage a deadly assault against U.S. Capitol police last week, calling the deceased attacker a "brother with such great potential" who could have been a "star in the mission of the resurrection of our people."

The group distanced itself from the attack by its supporter Noah Green, saying it "absolutely disavow[s] this act that resulted in the senseless loss of life," and indicated that it was looking into a number of potential explanations for "what caused this"—including mental illness, depression, Green's own claims that his food was being poisoned, and that he was under "mind control."

"I am sure, had [Green] been blessed to come through the crisis that he was going through, he would have been a star in the mission of the resurrection of our people," said Nation of Islam leader Louis Farrakhan. "We need to know what happened to our brother."

Green, a 25-year-old Nation of Islam supporter, killed Officer William Evans after ramming his car through a barrier at the Capitol on Friday. Green attacked a second officer with a knife before being shot and killed by police.

The Nation of Islam described Green as a young man who "struggled in his early life but overcame much as a student to graduate with a degree in finance. He had a wonderful, noble idea to help the black and brown people through his knowledge of finance."

The organization added that "our research is continuing into what happened to this young man and we cannot rest until we find out what caused him to take a turn like this. We are saddened by the loss of this brother with such great potential."
Policy Changes Drive Orthodox Jews from Amazon
Rule changes to one of Amazon's major programs for small sellers have driven many Orthodox Jews out of the program, confirming their fears when the rules were first announced.

The changes to Seller Fulfilled Prime—billed as improving Amazon customer experience—have made acceptable performance metrics harder to achieve. As the Washington Free Beacon reported last February, Orthodox Jewish sellers are especially hard hit by six-day shipping requirements that make it more difficult to observe the Sabbath and maintain high one-day shipping numbers. Orthodox Jews make up a disproportionate number of the small sellers on the retail platform, with one estimate suggesting they are 15 percent of all small sellers. At the time, participants warned the changes would drive them off the platform.

Months later, those fears are being validated. One informal poll in a private group of Seller Fulfilled Prime participants found only 5 percent of users understood how to meet the new metrics. Another poll found over half of a group of Orthodox Jewish participants had been suspended from the program in the past two months.

The Seller Fulfilled Prime program allows small sellers to list their own items for Amazon Prime. But in February, Amazon required that sellers list items for two-day delivery on six days of the week. Orthodox Jews cannot work on Saturday, and many sellers report local carriers will not pick up packages on Sunday.

One Orthodox Jewish seller who asked not to be named said his shipping costs had jumped since the rule change, and that he was eliminating expensive items from Prime in response. "I don't understand what Amazon gains by shutting out millions of items from SFP," he said. Other sellers complained that Amazon had put the additional pressure to satisfy consumers on them, rather than lobbying UPS and other carriers to ship items on Sunday.
Guardian publishes fawning review of anti-Israel film
Any film with a pro-Palestinian message is all but guaranteed to garner a positive review by the Guardian, and their recent profile of a short film – nominated for an Academy Award for best Live Action Short – by British film-maker Farah Nabulsi called 'The Present' is no exception.

The piece by Cath Clarke ("Film-making? Bring it on!': ex-stockbroker Farah Nabulsi on her Oscar nomination") focuses in part on the unlikely journey of a well-to-do British women to film-maker:
Seven years ago, [Nablusi] went back [to the Palestinian territories] for the first time in 25 years. It was life-changing. "That first trip was everything," she says, and the words come out in a rush: "There's 100 Israeli checkpoints all over the West Bank. This is not in Israel." Her hands hang in the air at the indescribability of it. "This is in the West Bank. And there's the wall that separates families and separates people from their work, from their lands, from their schools. You've got these illegal settlements, illegal by international law."

She talks about the separate licence plate system, separate roads, and the military policing of Palestinians:"

Of course, the "separate license plate system" merely refers to the fact that Palestinians living in the Palestinian controlled territories, and therefore not Israel citizens, are naturally issued license plates by the Palestinian Authority.

The reference to "separate roads" is, as we've demonstrated repeatedly, extraordinarily misleading, as the overwhelming majority of West Banks roads are open to both Israeli and Palestinian traffic. A small percentage (about 40 km in total) of West Bank roads are restricted to Palestinian traffic for security reasons – though even these roads are open to Israelis of all religious faiths, Palestinian residents of east Jerusalem and visitors.

Her skewed view clearly informs the (Qatari-funded) film she created.
BBC One recycles four-year-old Easter programme impartiality failure
Some nine minutes into that otherwise apolitical 58-minute film, viewers are told that:
"The gospels tell us that before Jesus and his disciples entered Jerusalem, they first went to a village on its outskirts. In biblical times, this town was called Bethany. Now it's al-Eizariya. This is a nice little town. People going about their daily business on a Monday morning. But life here isn't as simple as it first looks because, running through the town, is a wall built by Israel for what it says are security reasons. Oh, my goodness! Now you've heard about the wall. Look at this. This is the wall. And that is not a thing of beauty, is it? Oh, my goodness, look! You hear about humans erecting big walls like this in the middle of cities. Obviously Berlin, here, possibly between Mexico and America. This is madness. Just to keep the people out. You wouldn't be able to climb up that – would you? – that's for sure."

Although viewers hear blatant editorialising from Fern Britton, as is the case in so much BBC content relating to that topic, they receive no proper explanation of why the anti-terrorist fence was constructed and hear no mention whatsoever of the thousands of Israelis murdered and injured in the suicide bombings and other terror attacks that structure was designed to prevent.

Not only did the BBC fail to address that glaring breach of BBC editorial guidelines on impartiality when the programme was first shown in April 2017, it found fit to rebroadcast it in Easter programming in 2019 and now again in 2021.
Pandemic fueled anti-Semitism, with vaccine firm heads likened to Nazis – study
Coronavirus lockdowns last year shifted some anti-Semitic hatred online, where conspiracy theories blaming Jews for the pandemic's medical and economic devastation abounded, including likening Israeli and Jewish executives in vaccine companies to the Nazis, Israeli researchers reported Wednesday. That has raised concerns about a rise in anti-Semitism in the post-pandemic world.

The findings, which came in an annual report by Tel Aviv University's researchers on anti-Semitism, show that the social isolation of the pandemic meant that Jews weren't generally in close physical proximity to people who wished to harm them.

The number of violent incidents toward Jews across some 40 countries dropped last year, from 456 to 371 — roughly the same levels the researchers reported from 2016 to 2018.

Online, the scene was very different, researchers reported — a potential warning sign that as pandemic restrictions ease, hateful conduct toward Jews could intensify as it has during some of humanity's other historic struggles.

"Anti-Jewish hatred online never stays online," said Moshe Kantor, president of the European Jewish Congress. "We have to be prepared that anti-Semitic conspiracy theories could lead to physical attacks on Jews when lockdowns end."
Pears Foundation withdraws name from Institute for Study of Antisemitism led by controversial Prof. David Feldman
The Pears Foundation has withdrawn its name from the Institute for the Study of Antisemitism at Birkbeck. The news comes following a series of controversies involving the Institute's Director, Prof. David Feldman, who opposes the adoption of the International Definition of Antisemitism by universities.

In a statement, the Pears Foundation, which established the Institute in 2010, said that "The Institute has gained an international reputation for its innovative approach to the research and teaching of antisemitism." However, the statement went on to say that "As the Institute increasingly tackles challenging and divisive issues in the public sphere, the Foundation's Trustees have decided that continuing to be so closely associated with the Institute is no longer in the Foundation's best interests."

Accordingly, from 4th May the Institute will no longer bear the Pears Foundation's name, however the Pears Foundation will continue to support the Institute "as one of several funders".

Prof. Feldman has come under fire over the past several years for hindering the fight against antisemitism, including most recently his opposition to the adoption of the International Definition of Antisemitism by universities.

Birkbeck, University of London has adopted the International Definition of Antisemitism, against the wishes of Prof. Feldman.
75-year-old Jewish woman opens front door to man screaming at her that Jews should leave the UK
A 75-year-old Jewish woman opened her front door only to be confronted by a man screaming at her that Jews should leave the UK.

The incident took place on 26th March on Darenth Road in Stamford Hill and was reported by Stamford Hill Shomrim, the Jewish volunteer neighbourhood watch patrol.

If you have any more information, please contact the police on 101 or Stamford Hill Shomrim on 0300 999 0123, quoting reference number: CAD 6798 31/03/21.

Campaign Against Antisemitism's analysis of Home Office statistics shows that an average of over three hate crimes are directed at Jews every single day in England and Wales, with Jews almost four times more likely to be targets of hate crimes than any other faith group.
Day-to-day Antisemitism: Testimonials read by Holocaust survivors and Israeli students
WATCH: Antisemitism has become the new pandemic. But what about the day-to-day antisemitic events that are not reported? Here are just some anonymous testimonials from Jewish students read by Israeli teenagers and Holocaust survivors. These are the stories of the voiceless.

Today on Yom HaShoah, as Israel and the Jewish world commemorate the Holocaust and its victims, we must speak out and fight against Antisemitism in all its forms. In the face of darkness, be the light.
Virtual Easter Sunday service hacked; culprits spew racist, homophobic and anti-Semitic speech
A portion of an Easter Morning worship service that was being live-streamed over Zoom, was infiltrated by people spewing racist, homophobic and anti-Semitic slurs.

The Senior Pastor at Grace Baptist Church (GBC) in San Jose told ABC7 News, he believes the five minute-tirade took aim at him.

After censoring the obscene language, ABC7 viewers will notice the dozens of "beeps" throughout the Zoom recording. Each covers a barrage of profanities heard in real-time by those attending Easter Sunday worship service.

"F*** the f*****g Jews, man. Send Jews to the concentration camp and gas all the f*****g stinky Jews," one of the hackers is heard saying.

"They had a purpose. This church hires a gay, Black pastor... They come and spew profanity about Black people and LGBTQ persons," Reverend George Oliver said. "And on the last day of Passover, talk about gassing Jews? So, I don't think this is some kind of coincidence."

Reverend Oliver started as Senior Pastor on March 1. He said he recognizes Grace Baptist as the most progressive church in the city, which he understands has made it prone to criticism.
E-commerce platform sells Nazi-themed items, ignores removal request
An e-commerce platform has continued to sell merchandise that promotes racism, antisemitism and white supremacy after being asked to remove the items from its website.

GearBubble, a Las Vegas-based e-commerce platform that allows businesses to sell products online, has been endorsed by "Shark Tank" investor and entrepreneur Kevin O'Leary, NFL legend Terrell Owens and entrepreneur Bethenny Frankel, among other celebrity figures.

The website currently has available for sale various mugs, pillowcases and apparel that feature Nazi dictator Adolf Hitler, the Nazi "death's head" symbol, swastikas, "Heil Hitler" insignias, the neo-Nazi black sun and white-power symbols, as well as other neo-Nazi and fascist symbols.

One T-shirt has an image of "baby Hitler" while another has the face of US President Joe Biden slightly morphed to resemble the Nazi leader. Other items feature quotes from Hitler and many different types of merchandise featuring a fictional character called "Moon Man," which has been appropriated by white supremacists and favored by the alt-right since the 2000s, according to the Anti-Defamation League.

The Counter Extremism Project (CEP), a nonpartisan advocacy organization that was the first to notice the antisemitic and racist items, wrote a letter to GearBubble CEO Donald Wilson on Feb. 4, informing him of the merchandise and asking GearBubble to suspend the accounts that posted the objects.
Intel unveils highest performing data-center processors, made with Israel team
Intel Corp. has unveiled its highest performing data-center processor, optimized for the cloud and high-end computing and promising a performance 46% higher than the previous generation of products. The core of the processors, called Ice Lake Server, launched by the US tech giant on Tuesday, was developed in Haifa and produced at its Kiryat Gat plant in Israel.

Intel said that its latest, third-generation scalable Xeon processors, which use 10 nanometer process technology, are optimized for multi-cloud environments and enable the world's broadest range of workload requirements, including 5G networking, artificial intelligence (AI), high performance computing (HPC), and intelligent edge infrastructure.

The firm hopes the processors will give it an edge in the competitive data center market.

The US tech giant said that all of the world's largest cloud service providers, including Google, Microsoft, Amazon and Dell, plan to offer the new Intel processor-powered services in 2021, including providers of infrastructure-as-a-service, e-commerce, content distribution and social media.

"Our 3rd Gen Intel Xeon Scalable platform is the most flexible and performant in our history, designed to handle the diversity of workloads from the cloud to the network to the edge," said Navin Shenoy, executive vice president and general manager of the Data Platforms Group at Intel, in a statement. "Intel is uniquely positioned with the architecture, design and manufacturing to deliver the breadth of intelligent silicon and solutions our customers demand."
Israeli Redis Labs Valued at Over $2 Billion in Latest Funding from SoftBank, Others
Redis Labs, a real-time cloud analytics platform firm, said on Wednesday it has raised $110 million in its Series G round from investors including SoftBank Group Corp's Vision Fund, valuing the firm at over $2 billion.

The latest round, with funding from new investors Vision Fund and Tiger Global Management and existing investor TCV, brings the net amount raised by Redis Labs so far to $347 million.

The company's investors include Bain Capital Ventures, Francisco Partners, Goldman Sachs Growth, Viola Ventures and Dell Technologies Capital.

Founded in 2011 by Ofer Bengal and Yiftach Shoolman in Tel Aviv, Israel, Redis Labs' platform helps organizations process, analyze and forecast data effectively with its in-memory database. It acts as a custodian for open source database Redis.

The Mountain View, California-based firm has more than 8,000 paying customers including MasterCard Inc, Dell Technologies Inc, Fiserv Inc, Home Depot Inc and Microsoft Corp.
With normalization, Sudanese who descended from Jews hope to connect with Israel
In a corner of a shabby central Khartoum neighborhood, Hebrew-lettered gravestones jut up from a rubble-strewn plot, remnants of the small but vibrant Jewish community that once lived in Sudan.

The cemetery stood for years as a reminder of an oft-overlooked chapter in Sudan's history, but for decades it has been neglected, abandoned among cracked streets littered with trash and lined by tire shops.

"All we have from Sudan's Jewish community is this rundown cemetery, some old photos and memories," pharmacist Mansour Israil told AFP.

The grandson of an Iraqi Jew who settled in Sudan, Israil, whose family later converted to Islam, still lives in a neighborhood once known as "the Jewish quarter" in Omdurman, the capital's twin city across the Nile river.

The Jewish community in Sudan was already one of the smallest in the Middle East, and it dwindled in the latter half of the 20th century, as tensions surrounding the 1948 creation of Israel permeated the region.

In Sudan, like elsewhere in the Arab world, local Jews bore the brunt of growing anti-Israel sentiment.

"The hearts of many in Sudan changed," said 75-year-old Israil, who watched his lively, diverse neighborhood transform, and his Jewish friends leave Sudan.
Italian Holocaust survivor 'senator for life', gets antisemitic threats
The reassuring speeches, the morale-boosting flyovers and the evening balcony applause for medical staff have done little to impress 90-year-old Liliana Segre.

A prominent lawmaker in her native Italy who barely survived Auschwitz as a teenager, she has maintained a sober attitude throughout the COVID-19 pandemic, which hit Italy early and hard in February 2020.

"In the disease's early days, there were flags on the windows and singing from the balconies," she told La Repubblica last month. "I remained pessimistic. I saw that in reality there isn't much left of that fraternity."

Segre has been sounding the alarm about divisions within Italian society for years as one of the country's most vocal Holocaust survivors. Her critical voice and indefatigable efforts to warn her countrymen about the dangers of indifference and hatred have made her a hero to many — and a target for many others.

The subject of multiple death threats, Segre has been under police protection since 2019. In February, a renewed wave of hatred against her surged online after the government in Milan, where she lives alone, posted a video of Segre being vaccinated against COVID-19 and recommending that Italians follow her example.
At Yad Vashem, six Holocaust survivors carry torch in memory of 6 million lost
The six Holocaust survivors slowly made their way in wheelchairs, or lean on canes or on their children's or grandchildren's arms, toward the six torches set up for the official Yad Vashem ceremony for Holocaust Remembrance Day.

An instructor told the survivors where to stand to look out to the audience, and how to hold the unwieldy torches in their sometimes shaky hands when the time came to light the ceremonial lights Wednesday night, to mark the start of Yom Hashoah.

"What did she tell me to do?" Shmuel Naar, 96, said to his granddaughter, Geffen Naar, who accompanied him to the rehearsal and will be with him for the ceremony.

It was hard to hear, as singer David D'or and his band were rehearsing on the stage just below the torchlighters, testing sounds and amplifiers.

Naar was ready, however, to light the torch and honor his family and his former community of Thessaloniki, a center of Greek Jewry almost completely wiped out during the Holocaust.

Naar, who was the only survivor from his family, made it through Auschwitz and Bergen-Belsen. He returned to Greece after the war before boarding an illegal immigrant ship to pre-state Palestine. He and his wife now have 10 grandchildren and 13 great-grandchildren.
'Field of Flags' Memorial at University of Rhode Island Honors Holocaust Victims
Hillel at the University of Rhode Island has created its annual "Field of Flags" memorial in honor of Yom Hashoah, or Holocaust Remembrance Day, which begins on Wednesday night.

The exhibit is set up on the Hammershlag Mall, a walkway between the Multicultural Student Services Center and the Carothers Library, on the university's Kingston Campus. The flags were planted on Monday and will remain in place until April 12.

The university's Hillel has planted the "Field of Flags" in memory of Holocaust victims every year since 2006.

Each of the 2,400 flags in the exhibit signifies 5,000 people—representing 11 million in total—who perished in the Holocaust. Jews are represented by yellow flags; Soviets, Poles, the disabled, homosexuals and other groups who were targeted by the Nazi regime are represented by red, orange, white, purple, blue and green flags.

"The display is a striking visual reminder for the university community of the Holocaust while underscoring the need to remain vigilant in the face of present-day hatred and discrimination," said the university's department of external relations and communications.
Reverend Chris Edmonds tells the harrowing story of his father, Master Sergeant Roddie Edmonds, who, while facing down the barrel of a gun, refused to turn his Jewish American soldiers over to the Nazis. Edmonds saved 200 Jewish American POWs.

"We are all Jews here."

He was 25. pic.twitter.com/3oO6ypG89g

— The Conspiracy Libel (@ConspiracyLibel) April 6, 2021
The Life of Berthe Badehi | Episode 1 | Holocaust Remembrance Day
This three-part series focuses on the life of Berthe Badehi, a remarkable woman who survived the Holocaust and went on to immigrate to Israel and build a life here. Berthe was born in Lyon, France in 1932. In December 1941, Berthe was taken to live with a Christian family in order to protect her from the Nazis. Berthe was forced to hide her true identity in order to stay alive. She was sheltered by a kind woman named Madame Massonnat and lived in a small village in the Alps called Le Montcel. Next week, we will publish part two of Berthe's story. Subscribe in order to be notified.
---
---