From Ian:
---
Defense minister claims Israel's biological institute developed virus antibody
Defense Minister Naftali Bennett on Monday said he witnessed a "significant breakthrough" by Israel's defense biological research institute in developing an antibody to COVID-19, as the researchers wrapped up the development phase and moved to patent and mass produce the potential treatment.

Bennett visited the labs of the Israel Institute for Biological Research (IIBR), a secretive unit that works under the Prime Minister's Office, in Ness Ziona and was shown the "antibody that attacks the virus in a monoclonal way and can neutralize it within the bodies of those ill," according to a statement from his office.

The statement said the antibody's development had been completed. The institute was in the process of patenting the find "and in the next stage, researchers will approach international companies to produce the antibody on a commercial scale."

"I am proud of the institute staff for this terrific breakthrough," said Bennett. "Their creativity and the Jewish mind brought about this amazing achievement."

It was not immediately clear if the breakthrough presented to Bennett was in addition to progress that was reported in late March, and no further details were provided. The statement also did not specify whether human trials were conducted.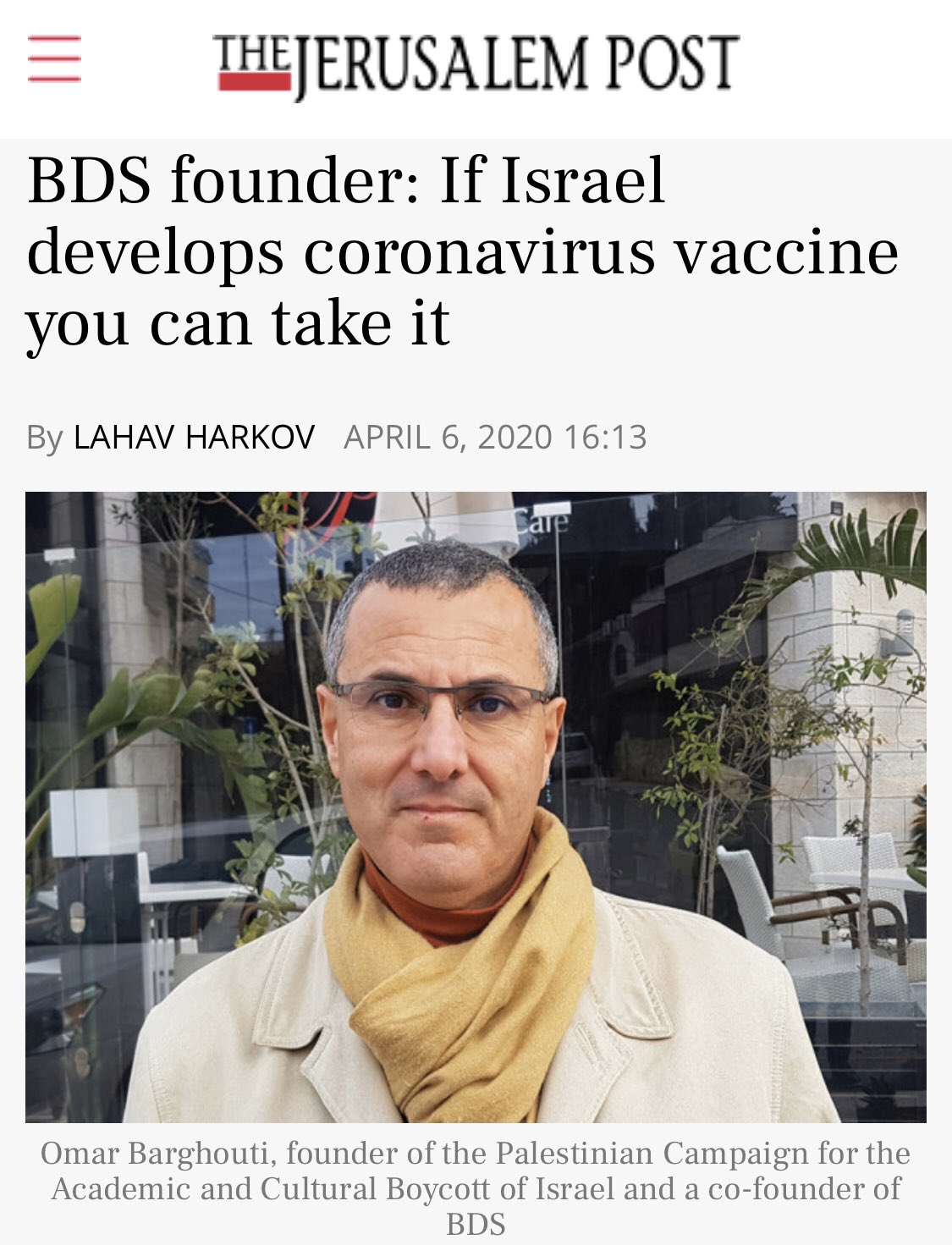 31 new infections recorded over past day; virus death toll rises to 237
The Health Ministry on Tuesday reported 31 new coronavirus cases over the preceding 24 hours, bringing the total number of infections in Israel to 16,268.

Three people died from COVID-19 over that period, putting the death toll at 237.

According to the Health Ministry, 5,808 people in Israel were sick with the virus, 89 of whom were in serious condition. Of those in serious condition, 66 were on ventilators.

Another 58 Israelis were in moderate condition and the rest had mild symptoms.

There were 10,223 people in Israel to have recovered from the virus, an increase of 365 since Monday morning.

Among those to recover were an 11-year-old and a 16-year-old who had been hospitalized in serious condition at Rambam Medical Center in Haifa.
Netanyahu celebrates a victory over COVID-19; it marks his political triumph too
Less than eight weeks after he warned that the coronavirus pandemic could kill tens of thousands of Israelis, and intimated that tens of millions might die worldwide, Prime Minister Benjamin Netanyahu told the nation on Monday night that Israel has brought the virus under control, at least for now, with its death toll at a strikingly low 235.

"Every death is a great loss… it's heartrending," he said. But overall, he declared, Israel's battle against COVID-19 has been "a great success story."

Throughout the past eight weeks, Netanyahu has frequently held evening broadcasts: to tell the citizens of the latest restrictions being imposed on their lives in the first weeks of the crisis, and, more recently, to tell them of limitations being gradually eased. On Monday night, during an unprecedentedly lengthy appearance summed up by TV commentators as a kind of "victory over coronavirus" event, Netanyahu announced that the State of Israel was now gradually reopening — for business, and for something akin to normal life.

Taking questions, sharing the forum with ministers and experts, a strikingly upbeat Netanyahu announced that citizens are now free to travel as far as they like from their homes; families can visit their elderly relatives; gatherings of up to 100 will be permitted by the end of the month, and unlimited gatherings by mid-June; the whole school system will be open by the end of the month; sports and leisure will be unlimited by mid-June; and Israel is looking for ways to work toward a resumption of international flights without risking new waves of infection from countries that have handled the pandemic less effectively. "We want to reconnect to the world," he said, but without importing a new wave of contagion.

Every effort would now be made to get the economy back on track, he said, and to get compensation more effectively distributed to battered companies, freelancers and small business owners than has been the case to date. "We've made mistakes too," he allowed. "Not everything is perfect."
Israeli masks designed with unique anti-pathogen fabric enter US market
The Israeli startup Sonovia, which sped up efforts to manufacture masks using its anti-pathogen fabric at the start of the coronavirus crisis in Israel, has launched commercial sales.

The company's technology is based on a lab-scale sonochemical process that was developed at Bar-Ilan University. Sonovia started manufacturing its product in March at a plant near Nahariya when Israel had only 200 patients, and has sold 30,000 masks. Most of its clients are distributors and nonprofits in the United States.

"When coronavirus started, we were an Israeli startup," Dr. Jason Migdal, a research scientist with Sonovia, told The Jerusalem Post. "Now, we are a commercial business that is having success internationally."

Sonovia developed an almost-permanent, ultrasonic, fabric-finishing technology for mechanical impregnation of zinc oxide nanoparticles into textiles.

"The technology is based upon a physical phenomenon called cavitation," said Migdal. "Sound waves are used to physically infuse desired chemicals onto the structure area of materials, enhancing them with clinically proven antiviral and antibacterial properties."
Today, @Chabad in Bayonne, NJ distributed 60k masks, 120k gloves, disinfectants, etc. to thousands of residents. Yesterday, Chabad in Hackensack (@mkaminker) did the same, and @ChabadNJ is poised to do the same across the state with hospital PPE. #StrongerTogether pic.twitter.com/LsFBgbsW9F

— Motti Seligson (@mottiseligson) May 5, 2020
Haaretz Falsely Reports Shin Bet Monitoring Phone Conversations
In a blatantly false claim, Haaretz's English edition last week erroneously reported that the Shin Bet security service is monitoring Israeli citizens' phone conversations as a step to contain the spread of the coronavirus. The article, which appeared in the May 1 print edition and online here, errs ("Israel Back on the Learning Curve as Schools Set to Reopen"):
The state is defending the Shin Bet monitoring of cellular phone conversations as an effective means against the spread of the coronavirus.


Of course, the Shin Bet is monitoring the location of phones, not the conversation themselves, a very significant difference. The Shin Bet is not listening to or tracking the contents of conversations to fight the spread of the virus, which would be a violation of privacy on a whole different level.

As Haaretz itself has previously detailed ("Israeli Coronavirus Surveillance Explained: Who's Tracking You and What Happens With the Data"):
The police will be able to collect the data on the location of the person under surveillance and to send it to the Health Ministry. For the purpose of enforcing the quarantines, the data on an individual's location will be collected as a sample, which is not prolonged or consecutive. This refers to the person's last location.

The Shin Bet will be able to access all the information from the cellphone, with the exception of the content of the conversations and messages, which is considered wiretapping and requires a specific court order.
"Once Upon A Virus" - Arabic-Language Chinese TV Airs Animation Mocking U.S. Response to COVID-19 pic.twitter.com/NwvvcBNxwc

— MEMRI (@MEMRIReports) May 5, 2020
JCPA:
Legal Assault: How the ICC Has Been Weaponized Against the U.S. and Israel
This study describes how radical NGOs, some of which are affiliated with terror organizations, collaborated in promoting the complaints against the U.S. and Israel at the International Criminal Court (ICC).
Legal Assault 2020 (PDF)
Col. Richard Kemp:
The contortions and collusions of ICC's Bensouda - opinion
The International Criminal Court should be an important part of the international rule of law. The court's founding Rome Statute allows investigations only within the sovereign territories of state parties to the treaty. But ICC Chief Prosecutor Fatou Bensouda has unlawfully accepted delegated jurisdiction over the West Bank, east Jerusalem and Gaza from what she calls the "State of Palestine," despite the fact that Palestine is not a state and never has been.

The ICC was not established to replace national judicial systems but to complement them - to act only where states themselves lack the capability or will to conduct their own investigations and prosecutions. Israel has a long-established and internationally-respected legal system.

The U.S., never a party to the ICC, is rightly defending itself against the court. Other Western countries should now leave the ICC and defund it. This would force the court to act as the Rome Statute intended, dealing only with member states without functioning judiciaries that are unable to apply international law themselves.
Of course @KenRoth is promoting the @IntlCrimCourt prosecutor's bogus "state of Palestine" jurisdictional claims - the entire political campaign (under a legal facade) is driven by @hrw and other NGOs. See our detailed report https://t.co/Iak9zKyO8y https://t.co/rA2s0EZTIx pic.twitter.com/9JhGrOPRYV

— Prof Gerald M Steinberg (@GeraldNGOM) May 4, 2020
ICC Prosecutor Recommends Israel Be Investigated for War Crimes — Why the US Should Care
So, why should the US care about Israel's latest woes at the Hague? Well for starters, since March 2020 the US itself is already under investigation for alleged crimes committed by US forces in Afghanistan in the early 2000s. These include allegations of torture, rape, and cruel treatment of individuals.

The investigation into the US was green-lit in 2020 after Bensouda requested authorization from the ICC in 2017 for crimes allegedly committed since 2003, meaning a 14-year gap between the alleged crime and the request for authorization. Conversely, Bensouda originally requested authorization for an investigation into Israel in December 2019 for crimes allegedly committed in 2014 — a mere five-year gap. Evidently, the crime-to-investigation process vis-à-vis Israel far outpaces that of the US.

It is therefore entirely within the realm of possibility that an investigation into Israel will both begin and conclude before the US investigation is completed, especially since the time-frame being investigated in the Israeli case is far shorter than the American case. In other words, although the investigation into US conduct has already been authorized by the court while the investigation into Israel has not, the Israeli case could still be an indicator of what lies ahead for the US at the Hague.

Furthermore, President Donald Trump has been characteristically outspoken about his contempt for the ICC. In his 2018 speech at the UN General Assembly, the President stated that "as far as America is concerned, the ICC has no jurisdiction, no legitimacy, and no authority." The president's dislike of supra-national and intergovernmental institutions extends far beyond the walls of the Hague. For example, the Trump administration cut the US contribution to the UN budget, defunded UNRWA for perpetuating the Palestinian refugee crisis, withdrew from the anti-Israel and anti-US Human Rights Council, and most recently halted funding to the World Health Organization over its handling of the coronavirus pandemic. And let's not forget his rocky relationship with NATO and his criticisms of the WTO.

Decision-makers in the US as well as President Trump himself would be wise to carefully scrutinize the developments in the Israeli case as a harbinger of what might await them should the ICC's investigations yield results. Israel and the US appear to be in close contact on matters pertaining to the Hague. On the same day the investigation into the US was authorized, an Israeli delegation traveled to the United States to coordinate a possible US-Israeli campaign against the ICC's judicial overreach. Realistically, this campaign has likely been sidelined as both states deal with the COVID-19 crisis. Once the pandemic and its immediate fallout are behind us, the US and Israel should resume organizing their joint campaign immediately.

If the president's apparent reluctance to accept the vision of global governance holds true, he and his administration must exhibit the same steadfastness against the ICC as it has and stand firmly with Israel in the face of Bensouda's gross miscarriage of justice
David Friedman:
Obama alums wrong on all counts in attacks on Trump Mideast peace plan
Two of the architects of the last administration's Mideast policy - Philip Gordon and Robert Malley writing in Foreign Policy - have publicly offered their advice on how to frustrate President Trump's vision for the pursuit of peace between Israel and the Palestinians.

The authors argue that the limited annexation of West Bank territory that is envisioned would jeopardize Israel's future as a Jewish state. Wrong. Israel would be claiming sovereignty over a fraction of the West Bank, comprising territories that either are sparsely populated or overwhelmingly populated by Israeli Jews.

The authors argue that the U.S. vision would jeopardize Israel's democracy. Wrong again. A majority of Israelis, as well as Israel's democratically elected government, support the president's vision. It is ironic that so many of Israel's critics, who purport to care so much about democracy, condemn Israel when it adheres to the will of its own citizens.

The authors charge that the U.S. vision relegates Palestinians to second-class status. Wrong again. The vision gives Palestinians a clear path to statehood and a huge influx of economic investment that would allow them to live independently with peace, prosperity and dignity.

The authors want the U.S. to reject any action the Israelis take unless the Palestinians agree. Wrong. That approach was taken for 53 years and led nowhere. Giving the Palestinians a veto on progress guarantees stagnation and violence.

The authors would withhold aid to Israel and deny it support at the UN if the Jewish state declares sovereignty in conformity with the Trump vision. Extremely wrong. Israel has made enormous concessions in agreeing to negotiate in accordance with the Trump vision, and it shouldn't be punished for acting in accordance with its commitment to Washington.
Jamaat-e-Islami More Dangerous in the U.S than Muslim Brotherhood
MEMRI:
Iran Accused Of Drowning Afghan Migrants, Taliban Say: '57 Afghans... Were Initially Tortured By Iranian Border Guards'
The following report is a complimentary offering from MEMRI's Jihad and Terrorism Threat Monitor (JTTM). For JTTM subscription information, click here.

Reports have emerged in the Afghan press that the Iranian security forces arrested 57 Afghan migrant workers, tortured them, and threw some of them into a river in which many died.[1] Afghan nationals routinely try to enter Iran in search of work.

It is understood that the incident occurred on April 29 on the Iranian border along the western Afghan province of Herat. The victims were allegedly arrested in Zulfiqar Valley, which is on the border. The incident was reported by some survivors and family members of some of the victims, according Afghan news website ToloNews.com.[2]

Officials at the Herat district hospital confirmed that some of the dead bodies were brought to their hospital. According to eyewitnesses, out of the total of 57 people who were thrown into the river, 23 of them are still missing, the ToloNews.com report noted.[3] (h/t Zvi)
Iran border guards beat & torture Afghan migrants before throwing bodies intro river.@mbachelet, why is the U.N. Human Rights Council silent?
https://t.co/be7kNQWKIk

— UN Watch (@UNWatch) May 5, 2020
The U.N. with its 2010 peacekeepers literally brought cholera to Haiti, causing the deaths of at least 10,000 people.

Then they pledged $400 million for a clean-up mission, raised just $21m, and spent a pitiful $3m. https://t.co/dzfYzfIYiv

— Hillel Neuer (@HillelNeuer) May 5, 2020
Civilian hero eliminates terrorist: 'The shooting was done lawfully'
Deputy State Attorney Nurit Litman rejected Meretz MK Tamar Zandberg's claims based on B'Tselem organization materials, and stated that Eloh Moreh resident Yehoshua Sherman who fired at an attacker who tried to stab him, did so lawfully.

Litman wrote to Zandberg that the attempted attack in April 2019 near Huwwara in Samaria was investigated by the police, and examination of the investigation file established no suspicion of unlawful shooting.

It was also stated that the videos documenting the attack, as well as other findings at the scene, support Sherman's version. "A knife was found in the scene, near the site where [the terrorist] El Fatah fell. In addition, rocks were found in the front of Sherman's vehicle and a bullet was found inside the vehicle. Investigative materials do not establish suspicion of unlawful shooting."

Litman's office added: "It would have been better if the B'Tselem's investigators were cautious before stating that 'settlers carried out an execution and the army covered up their actions.' It would have been better to wait for the results of the investigation before reaching that conclusion. Moreover, B'Tselem did not pass on to the police any evidence to support their claims.''

The attack occurred in April 2019. A Muslim tried to carry out a stabbing attack near Habetot Junction in Samaria near Huwwara. The Muslim was armed with a knife and attacked a vehicle driven by Yehoshua Sherman bringing his daughter from Elon Moreh. The attacker tried to open the front door of the vehicle and stab the passengers. Sherman drew his weapon, opened fire at the attacker, and eliminated him.
Long War Journal:
Israel steps up military campaign against Iran's military entrenchment in Syria
Military pressure has not deterred Iran

Iran has not been discouraged from achieving its goals in Syria. Years of advanced weapons transfers followed by Israeli airstrikes and attacks along the Syrian-Golan bolsters this assessment.

Undeterred by Iran's activity in Syria, Israel's government remains confident that it will succeed in removing Iran from Syria.

"We have moved on from blocking Iran's entrenchment in Syria to muscling it out of there, and we shall not stop. We won't allow further strategic threats to sprout just across our borders without taking decisive action," Israel's outgoing Defense Minister Naftali Bennett stated April 28.

It is unlikely Israel will be able to remove Iran from Syria by airstrikes alone. Iran has entrenched itself in Syria having heavily invested in its government financially and militarily.

For Israel's objective of removing Iran and its proxies from Syria to be achieved, Iran must be forced to believe that its military interests in Syria are outweighed by its cost. This is why the effort, primarily led by the U.S. of imposing sanctions on Iran is important to Israel. The effect of sanctions including Israeli military action in Syria could lead Iran to rethink its current strategy.

Israel will continue its military operations as long it views Iran as a threat in Syria. The two foes have seemingly reached a point of inevitable wide-scale conflict.

It is the assessment of FDD's Long War Journal that if both sides continue their current military strategies, the risk of a breakout of conflict between Iran, its Shiite proxies and Israel is substantial.
Air Force Strikes Forcing Iran Out of Syria, Israeli Officials Say
Under the pressure of continuing IAF air strikes, Iran is beginning to drawn down its military presence in Syria, unnamed Israeli security officials were quoted as saying on Tuesday.

The Israeli news site Walla cited the officials saying, "For the first time since Iran entered Syria, it is reducing its forces there and evacuating bases."

"Syria is paying an increasing price due to the Iranian presence on its territory for a war that is not [Syria's]," they added.

"Iran has turned from an asset for Syria into a burden," the officials asserted.

They added that Israel would maintain pressure on Iran "until it leaves Syria."

Recently, Israel has stepped up its attacks on Iranian targets in Syria, including an air strike on Monday night near Aleppo. Strikes last week hit Homs, Quneitra and the outskirts of Damascus.

Defense Minister Naftali Bennett vowed Israel would not permit Iran to entrench itself in Syria, saying, "For Iran, Syria is an adventure a thousand miles from home, for us it's our lives."

"We are much more determined" than Iran, he declared.

Iran has been a staunch ally and sponsor of Syrian dictator Bashar al-Assad during the nine-year civil war in Syria in which hundreds of thousands of people have been killed.
Danon: No need for a UNIFIL paralyzed by Hezbollah
Israel may change its mind about the need for a UN Interim Force in Lebanon if it continues to let Hezbollah run rampant in southern Lebanon, Ambassador to the UN Danny Danon said at a UN Security Council meeting on Monday.

"If Hezbollah continues to paralyze UNIFIL's actions and reinforce its terrorist positions in the area, there will be no choice but to draw conclusions about the necessity of the forces in its current format," Danon warned.

UNIFIL is a UN peacekeeping mission on the border of Israel and Lebanon, established in 1978 after Operation Litani, when the IDF responded to the Coastal Road massacre in which a Palestinian terrorist killed 38 Israelis, including 13 children, by attacking PLO positions in southern Lebanon, attempting to push them away from the border with Israel.

Since the 2006 Second Lebanon War and UN Security Council Resolution 1701– the topic of Monday's meeting – UNIFIL's mandate has been to help the Lebanese Armed Forces maintain the Lebanese government's sovereignty in the area.

Danon's comments come in light of Hezbollah's attempts in recent weeks to breach the fence on the Israel-Lebanon border and infiltrate Israel.
The UN Security Council plans to hold further meetings to discuss a necessary change to UNIFIL's mandate, ahead of its renewal in August.
7 east Jerusalem residents arrested for conducting PA operations in Israel
Seven east Jerusalem residents were arrested on Tuesday after an undercover investigation by Israel Police found evidence that they had been working for and funded by the Palestinian Authority within Israeli territory.

Police detectives went to the homes of the suspects early on Tuesday morning to conduct the arrests. Searches in the homes found more evidence to back the suspicions against the suspects.

Arrested in the raids were secretary-general of the Popular National Conference for Jerusalem Maj.-Gen. Bilal Al-Natsheh; his office manager Muath Al-Ashhab; the Israeli court-appointed custodian of the Mamilla Cemetery Hajj Mustafa Abu Zahra; and the mayor of Kafr Aqab Imad Awad, according to the Palestinian Safa News Agency. The writer, poet and activist Rania Hatem and journalist Tamer Obeidat were arrested in the raids as well.

The conference was founded to "deal with [the] people of Jerusalem to protect them and their families from occupation in all aspects" and "to keep the unity structure of [the] population in the city between religions," according to the Anna Lindh Foundation.
PMW:
"Strike Tel Aviv... terrify the Zionist" is actor's ringtone in PA TV comedy
Strike Tel Aviv, strike it, and terrify the Zionist!
During Islam's current month of Ramadan, official PA TV is treating Palestinians to a variety of drama series. One of them, The Damascus Gate, included a scene in which the main character's phone rings while he is sleeping and as he gropes for the phone, the song Strike Tel Aviv plays as its ringtone. The song urges Palestinians to carry out terror and "terrify the Zionist!":

Song on ringtone:
Strike Tel Aviv, strike it,
and terrify the Zionist!
Either it will work out
or we will destroy it
Strike, strike Tel Aviv
Strike, strike Tel Aviv
O occupier, you must know
The Palestinian will never be humiliated
We want to strike Tel Aviv.
Israel's oppressing army,
[Do] anything, all the way to Gaza!
Here, the definitive response has reached you.
Strike, strike...
Man picks up the phone: "Hello"
[Official PA TV, The Damascus Gate, April 26, 2020]

Palestinian Media Watch has documented that this song was played at a rally in the town of Azzoun in the West Bank in 2013, celebrating Palestinian Prisoner's Day and commemorating the death "as a Martyr" of arch-terrorist Abu Jihad who orchestrated attacks in which 125 were murdered:
We are trying to amplify worldwide awareness of the Palestinian Authority's #PayforSlay #PayToSlay policy.
We encourage everyone who sees this tweet to share it as widely as possible, visit our site (https://t.co/dXHhw1bspa) & click the hashtags to read about the terror rewards. pic.twitter.com/UDE0VPXQxh

— Pal Media Watch (@palwatch) May 5, 2020
Russian Radar Systems Deployed in Egypt
The Russian publication NZIV reported this week that the Russian Armed Forces have deployed their Resonance radar system in two locations in Egypt "that can detect planes and missiles up to 1,100 km. away."

"One station was built in Javelin Oved at a distance of about 40 km. east of the Suez Canal." A "second post was in the Gulf of Suez on a hill between Jabel al-Galla and Kabir."

"Equipping Egypt with state-of-the-art radars is part of the accelerating process of arming and building military infrastructure, mainly in eastern Egypt and the Sinai. The system also provides data for intercept systems within 350 km. This area includes all of Israel."
JPost Editorial:
Banning Hezbollah: A welcome and overdue step
In a welcome step, Germany last week banned all activities of the Lebanese terrorist organization Hezbollah. Announcing the move, German Interior Minister Horst Seehofer declared that Hezbollah's activities "violate criminal law, and the organization opposes the concept of international understanding."

The ban was long overdue. Hezbollah's record as the perpetrator of major terrorist atrocities around the world has been known for decades: Its history includes the bombings, orchestrated by Imad Mughniyeh, of the US Embassy and the military barracks in Beirut in 1983; the bombing attacks on the Israeli Embassy in Buenos Aires in 1992 and the AMIA Jewish center there in 1994; the bombing attack against US military forces stationed in Saudi Arabia in 1996; the murder of Lebanese prime minister Rafik Hariri; the bombing of a tour bus carrying Israeli tourists in Burgas, Bulgaria, in 2012; not to mention the myriad attacks against and kidnappings of Israelis, Europeans and Americans; its role in provoking the Second Lebanon War in 2006 and its part in the Syrian civil war, where it helped Iran create a corridor of terror from Tehran to Beirut.

Hezbollah's ongoing efforts to obtain precision-guided missiles and the discovery of a warren of terrorist attack tunnels crossing from Lebanon into Israel are yet more indications that it has not given up its dreams of death and destruction.

The US and Israel for years urged Europe to ban Hezbollah, but it was only after Hezbollah carried out the attack in Burgas that the European Union was moved to act. In July 2013, EU governments agreed to partially blacklist Hezbollah as a terrorist organization, but they made an artificial and dangerous distinction between the "military" arm of Hezbollah and the "political" arm. This is a distinction that the terrorist organization itself does not make. It is ridiculous and counterproductive to pretend there is a difference between the "political" and "military" activities of an organization whose terrorists have caused such high death tolls and suffering globally.
Hassan Nasrallah: Germany's Decision to Ban Hizbullah Activities Is Capitulation to U.S. and Israel
Hizbullah Secretary-General Hassan Nasrallah said in a May 4, 2020 speech that was streamed on the Newsgate YouTube channel (Lebanon) that Germany's recent decision to ban Hizbullah activities is "capitulation" to American and Israeli desires and that the U.S. and Israel want to chase down the resistance movements throughout the Middle East. He said that Germany has provided no evidence that Hizbullah has had any kind of terrorist activities or any other activities in Germany. Comparing Hizbullah to prophets who were killed by people who want to get close to tyrants and dictators, Nasrallah said that this ban is an "honor."
Senior defense official: Iran reducing presence in Syria
For the first time since Iran entered Syria with thousands of troops and militia fighters, the Islamic Republic is reducing its forces and clearing out from bases in the war-torn country, a senior defense source said Tuesday.

Iran has been one of the Syrian regime's main allies in the war that has ravaged Syria since 2011, sending thousands of militia fighters and equipment to the war-torn country and continues to insist that it is in Syria as a guest of Damascus and would only leave at its request.

Though it was once seen as an asset which was key to keeping the regime in power, according to a senior defense source, Iran has become a burden for the regime of Syrian President Bashar al-Assad which is paying increasingly heavy prices due to its presence on its territory.

Israel has warned repeatedly about Iran's nuclear ambitions as well as aspirations of regional hegemony and has admitted to hundreds of airstrikes as part of its "war-between-wars" (known as MABAM in Hebrew) campaign to prevent the transfer of advanced weapons to Hezbollah in Lebanon and the entrenchment of its forces in Syria where they could easily act against Israel.

"We are determined, more determined, and I will tell you why - for Iran, Syria is an adventure 1,000 miles from home, but for us it is life," Defense Minister Naftali Bennett said Sunday. "Iranian soldiers who come to Syria and act there are endangering their lives. They are risking their lives and will pay with their lives. We will not give up nor allow the establishment of a forward Iranian base in Syria. "
JCPA:
Iran Is Working to Thwart U.S. Efforts to Extend the Embargo on Arms Sales to Iran
Iranian spokesmen have warned of "grave repercussions" if the UN Security Council decides to extend the arms embargo on Iran. Iran's concern is prompted by recent efforts by the United States – a permanent member of the Security Council – to prolong the embargo which, according to the Joint Comprehensive Plan of Action (JCPOA) 2015 nuclear deal, is supposed to be lifted in October.1

The U.S.-Iranian struggle continues to be waged in several arenas simultaneously – from the waters of the Persian Gulf and Iraq to the corridors of the United Nations, and is occurring in parallel with both countries' fight against the coronavirus.

The Security Council unanimously approved Resolution 2231 as part of the nuclear deal's implementation. The resolution stipulates that the Security Council will remove UN sanctions that had been imposed on Iran due to its illicit nuclear activities, the moment the International Atomic Energy Agency (IAEA) provides the council with a report confirming that Iran is fulfilling its obligations under the deal. The resolution also states that the supply and export of heavy weaponry to and from Iran will be prohibited until October 18, 2020. The prohibition on missile deliveries, however, will continue until 2023. But, according to the resolution safeguard mechanism, if a party to the JCPOA informs the Security Council that Iran is in breach of its commitments under the agreement, such a declaration will automatically trigger the reimposition of the sanctions within 30 days – or, as the Obama administration termed it, "snapback sanctions."

The head of Iran's Supreme National Security Council, Ali Shamkhani, warned that the shaky nuclear deal between Iran and the international powers will "die forever" if the clause on lifting the embargo on arms sales to Iran, which is included in Security Council Resolution 2231 of July 2015,2 is extended beyond October.

Shamkhani added that the "sanctions virus" is a survival mechanism for the United States in light of its waning hegemony, and he wondered which side Europe is on – whether it wants to preserve its dignity and support multilateralism or bow to repeated humiliation (by the United States) and support unilateralism. Iran's permanent representative to the United Nations, Majid Takht, said on April 29 that the United States is acting as if it is still a signatory to the agreement.3
Sanctioned Iran airline flew first cases of coronavirus into Mideast
The US sanctioned Iranian Mahan Air ignored travel and safety restrictions, enabling the first cases of the deadly coronavirus to spread into Iraq and Lebanon via its planes.

BBC Arabic reported on Tuesday that: "As coronavirus spread worldwide, strict travel restrictions were imposed. But they were ignored by some .@BBCArabic can reveal that the first coronavirus cases in Iraq and Lebanon were flown into the country, on Mahan Air flights"

According to BBC, "An investigation by BBC News Arabic has analysed flight tracking data and open source footage which shows how Iran's largest airline - Mahan Air - continued to fly while government flight bans were in place, and contributed to the spread of Covid-19 in the Middle East."

The British network added that "Mahan Air ran hundreds of flights to and from Iran, Iraq, the United Arab Emirates and Syria between late January and the end of March. All these countries gave Mahan Air permission to land. And they did so while their own bans on routine flights from Iran were in place."

BBC Arabic continued that "sources within the airline told the BBC that dozens of Mahan Air's cabin crew were showing symptoms of Covid-19 and that when staff tried to raise concerns about the airline's management of the crisis and provision of safety equipment, they were silenced."
The Jerusalem Post reported in March that a pilot for Mahan Air died from the coronavirus.
Ali Al-Yasiri, Secretary-General of Iraqi Shiite Militia Saraya Al-Khorasani: America, Zionists, Saudis Brought ISIS to the Region; Iran is Defending the Islamic Nation from Israel pic.twitter.com/Rbw5rVqYpB

— MEMRI (@MEMRIReports) May 5, 2020
Iran approves plan to cut four zeros from falling currency -report
Iran's parliament has passed a bill allowing the government to slash four zeros from the rial, Iranian state media reported on Monday, after a sharp fall in the value of the currency as a result of crippling U.S. sanctions.

Iran's national currency will be changed from the rial to the Toman, which is equal to 10,000 rials, under the bill.

"The bill to remove four zeros from the national currency was approved by lawmakers," Iran's Students News Agency ISNA reported. The bill needs to be approved by the clerical body that vets legislation before it takes effect.

Iran's state TV said the Central Bank of Iran will have two years to "pave the ground to change the currency to Toman".

The idea of removing four zeros has been floated since 2008, but gained strength after 2018, when U.S. President Donald Trump exited Iran's 2015 nuclear deal and reimposed sanctions, as the rial lost more than 60% of its value. (h/t Zvi)
Venezuela's sending its gold reserves to Iran: This is where socialism leads
It's come to this: Venezuelan dictator Nicolás Maduro is now sending a good chunk of the nation's gold to Iran in exchange for help propping up the decrepit oil industry.

At least nine tons of gold, worth about $500 million, flew off to Iran last month, government officials told Bloomberg News. That leaves the crisis-plagued nation with a scant $6.2 billion in hard-currency assets, the lowest amount in three decades.

For decades, Venezuela's oil industry thrived. But under Maduro and his predecessor, Hugo Chávez, the government took over — and began milking it for fast cash while firing expert workers and managers and slashing spending on maintenance, repairs and other vital capital investment.

As a result, everything's breaking down and output has crashed — even as global oil prices have also collapsed during the pandemic, further squeezing revenues.

Because Maduro won't allow safe private investment, he has to turn to his "allies" in Tehran — except the regime there insists on hard payment for its expertise. No honor among thieves, y'know.

Nor is oil the only industry in collapse: Reliable electricity, health care and even food are increasingly rare in Venezuela thanks to the Chávez-Maduro regime's "Bolivarian socialism." (h/t Zvi)
Iran to Hold First 'Death to Israel' Zoom Meeting (satire)
With the coronavirus preventing large rallies, Iran's leaders have been forced to cancel this year's anti-Israel "Quds Day" protests and instead will lead a series of "Death to Israel" and "Death to America" chants via Zoom conference.

The rally will feature tens of thousands of Zoom attendees each taking turns calling for death to one of Iran's eternal enemies. In order to prevent a spate of house fires, Supreme Leader Ali Khamenei has encouraged attendees to type alternating flag and fire emojis instead of burning American and Israeli flags.

"It won't quite be the same atmosphere as Quds Day rallies of past years, but there are some benefits to holding the march online," Khamenei told The Mideast Beast. "For example, I've changed my Zoom background to the al Aqsa Mosque, so it will look like I am at the gates of al Quds [Jerusalem] and not on the crapper, where I'll probably be."

The rally will be held in 40-minute increments, however, as Iran could not afford to upgrade to Zoom Pro due to American sanctions.
---
---
We have lots of ideas, but we need more resources to be even more effective. Please
donate today
to help get the message out and to help defend Israel.