From Ian:
Palestinianism: The global Intifada
Palestinianism, therefore, is a threat to the ideals of Western civilization. It promotes violence against Jews as a value, and one which justifies suicidal attacks as a worthy ideal. That includes attacks against those who support Israel, and targets like New York City. It is what inspired Islamic leaders, such as al-Husseini, to instigate pogroms against Jews during the 1920s, 30s and 40s, and why he supported the Nazis and their "Final Solution."

It was a way of turning Arab nationalism (as it was known before 1948) into a destructive force. It was and is the basis of the PLO, Hamas and other terrorist organizations. And it is the basis of "Jihad." Palestinianism seeks to turn the world against the Jewish people, especially those in Israel. That is the meaning of Intifada.

Palestinianism promotes the "Nakba" narrative: that Israel's establishment in 1948 was and continues to be a catastrophe; that Israel expelled and slaughtered Arabs in the war that resulted when it was attacked by five Arab countries, supported by Britain; that those who became refugees and their descendants are entitled to return to Israel; and that Jews who live in areas conquered by the IDF in 1967 must be expelled.

This, however, is only the first step in the crusade to destroy Israel, now supported by Iran and Arab countries such as Qatar – and, of course, global jihadists, like ISIS and al Qaeda.

Those who support "Palestinian self-determination" and the two-state solution, therefore, must consider what that means and understand why all efforts to resolve the conflict have failed. How would a second Palestinian state, in addition to Jordan, resolve the Arab refugee problem?

How would such a state resolve the issue of millions of Arabs living in UNRWA towns and villages, in addition to millions who live in the region and around the world and consider themselves to be Palestinians? Why shouldn't Jordan be recognized as the "Palestinian homeland?" What is a humanitarian solution? What makes sense?
Israel shouldn't let the US dictate its final borders, Friedman says
Israel shouldn't allow the United States to dictate what its final borders should be in Judea and Samaria and the Jordan Valley, former American ambassador David Friedman told the Tivah Fund's Conservatism Conference in Jerusalem.

"Israel must decide this issue. Because I can guarantee you that if any other body decides this issue, very few in Israel will be happy with the outcome," said Friedman, who was the Trump administration's envoy to Israel.

The administration had secured Israel's agreement to suspend its plans to annex West Bank settlements in exchange for the Abraham Accords, under whose rubric it normalized ties with four Arab states.

But on Thursday, Friedman urged Israel not to abandon its sovereignty plans and to begin to prepare a national consensus for what its final borders should be, based on former US President Donald Trump's peace plan. That plan placed all the West Bank settlements and most of east Jerusalem within Israel's final borders.

Friedman recalled that Israel had annexed the Golan Heights in 1981 and eventually received US recognition of its sovereignty there. Similarly, he said, the US recognized Israel's sovereignty in Jerusalem.

"When the nation of Israel said 'Haam eem Hagolan,' [the nation is with the Golan] the government responded, just as it did with Jerusalem, Israel's eternal and undivided capital," he said. "And the world respected Israel even if it didn't agree. Then we came along and agreed with Israel on both Jerusalem and the Golan and the UN condemned us. But the sun rose the next morning, Israel continued to flourish and we even managed to achieve the Abraham Accords."

Now, he said, Israel should do the same thing in the West Bank, regardless of US opinion.
81 members of Congress say US must stop Israeli eviction of Hebron Hills' Palestinians
A group of 81 Democratic members of Congress sent a letter to Secretary of State Antony Blinken urging him to "immediately engage with the Israeli government on the potential evictions of more than 1,000 Palestinians from their homes in Masafer Yatta in the West Bank."

The bicameral letter was led by New Mexico Rep. Melanie Stansbury and Oregon Sen. Jeff Merkley.

"We write with urgent concern over the decision by Israel's High Court to allow the military to evict approximately 1,000 Palestinian people from their homes in the Masafer Yatta region of the occupied West Bank," they wrote on Thursday.

They spoke out after the High Court of Justice ruled earlier this month that Palestinians living in some eight to 11 herding villages of modular homes, such as huts and tents, could be evicted because they were located in an IDF firing zone.

The court said the Palestinians had failed to make their case that they had lived there prior to its declaration as a firing zone.

The members of Congress who signed the letter sided with the Palestinian claim that their presence there predated the creation of what is known as Firing Zone 918 in the South Hebron Hills.

"We are deeply concerned that this relocation of Palestinian families from homes they have lived in for generations could spark violence, is in direct violation of international humanitarian law, and could further undermine efforts to reach a two-state solution," they continued. "As supporters of a strong US-Israel relationship, we believe such evictions undermine our shared democratic values, imperil Israel's security, and disregard Palestinian human and civil rights."
Yehuda Glick:
We should restore the sounds of holiness to Jerusalem's Temple Mount
As Israel celebrates Jerusalem Day (Yom Yerushalayim), commemorating 55 years since the city's miraculous reunification in 1967, I question the current status quo in Jerusalem and at the holiest of sites: the Temple Mount.

What has happened to the Zion (the Temple Mount) in Zionism? What has happened since God gave us the biggest gift at the end of the shortest and most miraculous war that Israel and the world had ever witnessed, the 1967 Six Day War?

Violence. Hate. Curses. Vandalism on Zion – the Temple Mount. The desecration of God Almighty.

In April alone, during the Jewish holiday of Passover, Israeli newspapers reported violence on the Temple Mount from "suspects who barricaded themselves inside the mosque, causing severe damage, throwing thousands of stones, launching fireworks, and violently rioting for many hours."

How many more years will it take? How much more will we allow this to happen before we wake up and change the music?

On Sunday, the Jerusalem Magistrate's Court ruled that Jews are permitted to recite the "Shema" prayer (Deuteronomy 6:49) and bow during visits to the Temple Mount. This ruling came in response to an appeal made by three teenage boys arrested after bowing on the Mount and reciting Shema, one of the basic tenets of the Jewish faith.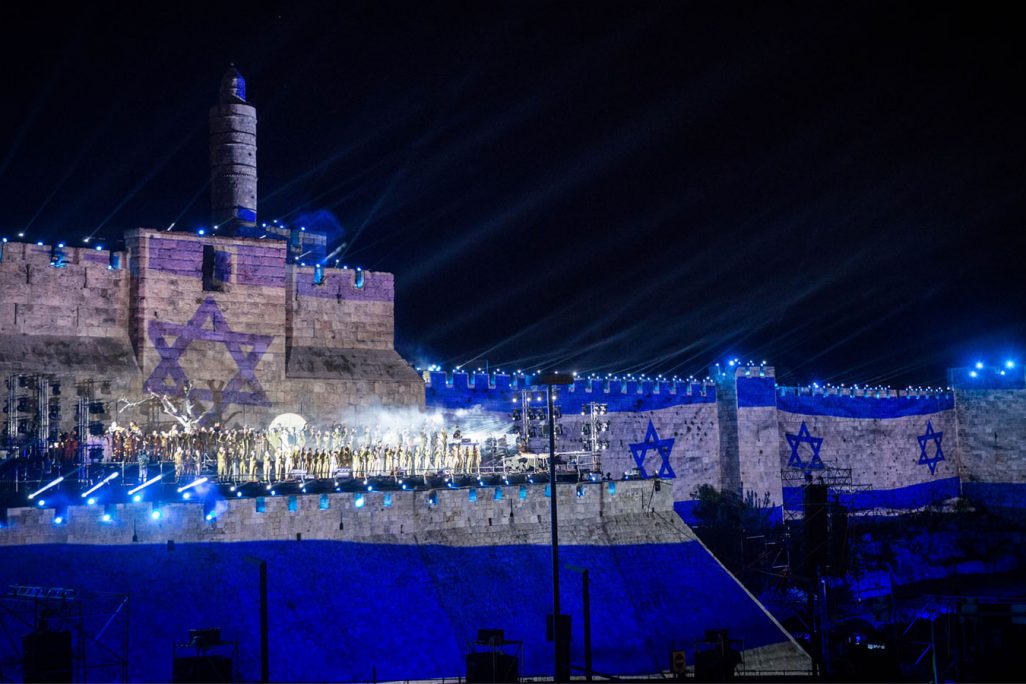 Two Nazi officers and a UK UN representative - opinion
Things are not always what they seem to be. Two different people can look at the same event and experience different emotions. Individuals may have the same title in a governmental office and conduct themselves in completely different ways toward the public they serve.

We all experience this kind of duplicity. We stand in line and hope to get the clerk who is compassionate. In court, appealing a large fine for a traffic ticket we didn't deserve, we hope to get the judge who is reasonable and kind.

In today's column, we look at two men who wore Nazi uniforms, but what a difference. But we need to view the two Nazis in the lens provided by the UN ambassador from the UK.

Major Karl Plagge, a member of the Nazi party until he quit the party in 1939, served as a Wehrmacht officer in Vilna during the German occupation of Lithuania, in the summer of 1941. Through his efforts, the lives of hundreds of Vilna Jews were saved.

Kurt Becher was an SS officer in Budapest during the German occupation of Hungary, in the spring of 1944. Through his efforts, over 1600 Jews on the Kastner train escaped to Switzerland.

But now for the comparison. Plagge is enshrined in Yad Vashem among the Righteous Among the Nations; Becher is not. Both were Nazis and both rescued some Jews from the clutches of the Final Solution.

At first glance, one might think that they complement each other in an effort to save Jews from their would-be murderers. But they do not!
California's Ethnic Studies Curriculum is Hiding Its Anti-Jewish and Anti-Israel Teachings
Though advocates of Liberated Ethnic Studies claim the right to define both Judaism and antisemitism, they seem ignorant about both. Our case details how the commitment of the Jewish people to their return to Zion is manifest throughout the Jewish bible, its oral law, its prayer books and its calendar. And that's true across all Jewish denominations, not just the Orthodox. The Reform movement's official platform, for example, is wholeheartedly committed to the State of Israel. It states:

"We believe that the renewal and perpetuation of Jewish national life in Eretz Yisrael is a necessary condition for the realization of the physical and spiritual redemption of the Jewish people and of all humanity. While that day of redemption remains but a distant yearning, we express the fervent hope that Medinat Yisrael, living in peace with its neighbors, will hasten the redemption of Am Yisrael, and the fulfillment of our messianic dream of universal peace under the sovereignty of God."

The Reform siddur includes the blessing for the State of Israel as "reishit tsmichat geulateinu" – "the beginning of the flowering of our redemption."

No one can speak for every single Jew in the world—not even Moses was up to that job. And our case certainly doesn't presume to take on such an impossible task. But the broad consensus among Jews that the existence of a Jewish state of Israel is a good and even necessary thing reveals just how dangerous is the falsehood that one can propose to eliminate the Jewish state without meaning to attack the Jews. After two thousand years of wandering the planet, and having absorbed the disastrous consequences of Jewish weakness and dependence on the kindness of strangers, most Jews know that the Jewish people needs a room of its own, at least one small place where they can be a free people in their own land. Denouncing that aspiration, or libeling it, is an attack on Jewish peoplehood and on Jewish people — actual flesh and blood people who will get hurt or die if the Jewish state does not defend them and their aspiration to live as Jews. That's why it's no coincidence that the people who claim to be outraged about Israel's defense against the terror rockets from Gaza took out their anger on Jews. Not Israelis and not even Zionists. Just Jews. Remember last year's attacks by Palestinian flag-wielding thugs on Jews dining at a Sushi restaurant? Before attacking, the thugs demanded to know "who are the Jews?"

In a backhanded way, the Consortium folks acknowledge that all Jews are Zionists — at least Zionist enough to be categorized as bad. As part of its effort to defeat attacks on its curriculum, the Consortium warns that its enemies—whom it refers to as Zionists—include organizations such as the Anti-Defamation League, the Jewish Federation, the Jewish Community Relations Councils, and even the Simon Wiesenthal Center, not to mention organizations such as the Zionist Organization of America. People who actually are Jews know that there's a very wide space between the ADL and the hawkish ZOA. But for the Consortium, all Jewish organizations look alike.

In a sense, the Consortium is right: Virtually all Jewish organizations do support the existence of the Jewish state. What the Consortium fails to accept is that this is so because, throughout the Jewish canon, customs, holidays, and history, the yearning of the Jewish people for sovereignty in the land of Israel is built into the DNA of Judaism.

As a legal matter it's certain that what's required in our case is a sincerely-held religious belief, which our clients in this case hold, in the idea of Zionism. Our case demands that publicly-funded California teaching materials not denounce that belief, any more than such publicly-funded materials would denounce as racist or apartheid the Muslim commitment to the holiness of Mecca and Medina, and so too the principle of sharia law that denies entrance to that city to any non-Muslim, or the imposition of sharia law by dozens of officially Muslim countries.

As a practical matter it's hard to see what innocent explanation there can be for the Liberated curriculum's obsession with Israel, while ignoring countries where slavery is legal; where kleptocratic dictators leave their people starving; where the internet is closed and people are force-fed a restricted diet of state-generated propaganda; or where children labor and die in mines.

Indeed, it's hard to see quite a number of things about the Liberated Curriculum's teachings about Israel and Zionism, because the Consortium has taken active steps to hide these elements from the public. Much of the evidence we have quoted is gone from the website. The press release issued last spring condemning Israel is gone; also gone from the website is anything to do with teaching about Palestine/Israel, including lesson plans. That's why it's hard to learn not only what they say about Israel and the Palestinians but also where they obtained these so-called facts. Our research also reveals that their teaching materials are verbatim copies of documents found at teachpalestine.org. That material, also since vanished from its website, was prepared by an organization called the Middle East Children's Alliance, which is aligned with the Popular Front for the Liberation of Palestine — a designated terror organization committed to the destruction of the Jewish state. This is the source of the material that the Liberated Ethnic Studies Model Curriculum Consortium wants taught to California public school children about the Jewish state.
PSA @staceyabrams - campaigning with one of America's biggest antisemites isn't a good look.

Just a reminder Linda Sarsour was booted from the Women's March due to her vile Jew hatred. pic.twitter.com/GzgRgJxtOE

— StopAntisemitism (@StopAntisemites) May 28, 2022
Blinken Stresses Importance of Concluding Israeli Probe into Reporter's Killing
US Secretary of State Antony Blinken spoke on Friday to Israeli Foreign Minister Yair Lapid and stressed the importance of concluding Israel's probes into the killing of Al Jazeera journalist Shireen Abu Akleh.

"Secretary Blinken underscored the importance of concluding the investigations into the death of Palestinian-American Shireen Abu Akleh," the US State Department said in a statement.

The Palestinian Authority said on Thursday its investigation showed that Abu Akleh was shot by an Israeli soldier in a "deliberate murder." Israel denied the accusation and said it was continuing its own investigations.

Abu Akleh was shot dead on May 11 while she was covering an Israeli military raid in the city of Jenin in the West Bank. She had been wearing a helmet and a press vest that clearly marked her as a journalist.

Israeli police officers, on May 13, charged at Palestinian mourners carrying the coffin of Abu Akleh, before thousands led her casket through Jerusalem's Old City in an outpouring of grief and anger over her killing.

The Israeli army had said previously that she might have been shot accidentally by one of its soldiers or by a Palestinian militant in an exchange of fire.

Palestinian Attorney General Akram al-Khatib told reporters on Thursday that its inquiry showed there had been no militants close to Abu Akleh when she died.
It's not 'evidence', it's a one-sided hit job. The fact you rely on it as such, only underscores your own bias and hostility against Israel. https://t.co/Ou1IvmKccn

— Arsen Ostrovsky (@Ostrov_A) May 28, 2022
Journalism is dead pic.twitter.com/nYvNG7EyM2

— Emily Schrader - ????? ?????? (@emilykschrader) May 28, 2022
Hamas attacks 'anti-Palestinian' Twitter after account suspended
Twitter has suspended the account of Palestinian terrorist group Hamas, the Gaza-based terror organization said on Saturday.

In a scathing attack on the social media platform, Hamas claimed that Twitter "insists on silencing Palestinian voices and fully siding with the Zionist narrative."

Hamas also bemoaned the "severe restrictions" put on what a statement on its official website described as Palestinian content. By contrast, the terror group said, Zionist lies are allowed "unfettered space."

"While Twitter imposes severe restrictions on the Palestinian content, it allows unfettered space for the Zionist occupation's lies" Hamas, May 28

The "double standards" set by social media platforms will not discourage Palestinians from "continuing their legitimate right to resist the occupation," Hamas vowed.

Are Facebook and Twitter pro-Zionist?

Before Hamas' criticism, social media platforms such as Facebook and Twitter have been accused of wrongfully removing content such as pro-Palestinian posts and tweets, both by Palestinians and their supporters and by international NGO Human Rights Watch (HRW).

HRW claimed in an October 2021 report that Facebook applied censorship on the profiles of Palestinian activists. HRW warned that relying on the US' foreign terror organization blacklist for designating "dangerous" organizations, as Facebook does, is a "threat to free expression."
Erdogan-controlled judiciary releases 29 Turkish Hezbollah terrorists
Turkey's judiciary released 29 Turkish Hezbollah terrorists who were incarcerated for their role in the murders of over 100 civilians in the Kurdish-majority city of Diyarbakir in southeastern Turkey in the 1990s, according to a May report from anti-government secular newspaper Sözcü.

The story first broke in two articles. Turkey's Hezbollah is a Kurdish-dominated Sunni terrorist organization that seeks to set up an Islamic state in southeastern Turkey based on the Iranian regime model but it is not linked with the clerical regime in Tehran or Hezbollah in Lebanon.

"The Turkish judiciary system's release of mass murderers who acted on behalf of Turkish Hezbollah should be understood as part of the Turkish government's broader support for jihad terrorist organizations. Hamas, for instance, counts Turkey as an ally, Uzay Bulut, a Turkish journalist, told The Jerusalem Post.

Bulut, who would likely face arrest if she returned to Turkey due to her critical journalism about the country, termed the release of the Turkish Hezbollah terrorists as a "scandal" because the AKP government [of Erdogan] does not see these people as criminal.

She added the Turkish Hezbollah terrorists were released before the local elections in 2019 and this appears to be the first media coverage of their freedom. Bulut said there is "no independent judiciary in Turkey."

Sözcü reported that "while the convicted defendants were serving their sentences in different prisons, they applied to the High Criminal Court, where they were tried collectively before the March 2019 local elections, and requested a retrial."

The Turkish Hezbollah operatives killed a total of 114 people during the attack for which they were convicted.
How to Stop Iran's Nuclear Program: A Bigger Carrot and Bigger Stick
The failure of the international community to stop Iran's progress toward a nuclear weapon, should cause those involved in negotiations with the Islamic Republic to stop and rethink their strategy. The warning signs are blinking red in both Jerusalem and Washington, and to increase their leverage in the nuclear talks, the US and its negotiating partners need a bigger carrot and a bigger stick.

In an eye-opening speech on May 17 at Reichman University in Herzliya, Israeli Defense Minister Benny Gantz said that Iran "stands just a few weeks away from accumulating fissile material that will be sufficient for a first bomb."

This assessment was made by David Albright, one of America's leading experts on nuclear weapons, and the head of the Institute for Science and International Security. On April 11, Albright wrote this chilling warning: "As soon as mid-to-late April, Iran is expected to reach a new dangerous, destabilizing threshold, having enough highly enriched uranium (HEU) to fashion a nuclear explosive, about 40-42 kilograms (kg) of 60 percent enriched uranium (uranium mass)."

It is obvious that the current negotiating strategy of the P5+1 — the United States, China, Russia, France, Germany, and the United Kingdom — has failed. It seems even the Biden administration has realized this, as it has refused to give into Iranian demands, and even issued new sanctions on the regime.

In order to deter Iran from reaching a nuclear breakout, the US and its negotiating partners must adopt a new strategy that significantly changes the cost-benefit analysis of Iran's leaders.

We have seen signs of the beginning of a change in strategy, with Israel's large-scale military exercise currently under way named "Chariots of Fire," which replicates the challenges Israel would face in a war on multiple fronts.
Suicide drones launched from inside Iran said to have hit Parchin military site
A deadly explosion at Iran's Parchin military complex on Wednesday was caused by quadcopter suicide drones, in an attack that fits a pattern of previous strikes that have been attributed to Israel, The New York Times reported Friday.

The report cited three Iranian sources along with a US official, who confirmed drones hit the site, but declined to say who was behind the attack. It said the drones exploded into a building being used for research on Iran's drone development.

The blast killed a young engineer at the site and injured one other person.

The report noted that the strike fits a pattern of previous attacks that have been attributed to Israel, including previous strikes against Iran's drone program.

Iranian sources told the Times that the drone attack was launched from inside Iran, not far from the Parchin military base — which the Islamic Republic uses to develop missile, nuclear and drone technology — noting that quadcopter drones have a short flight range, and Parchin is a long way from Iran's borders.

While Iranian officials initially used the word "accident" to describe the explosion, the Defense Ministry in a later statement called it an "incident" and labeled the casualty a "martyr," suggesting that Tehran is convinced it was an attack by a foreign entity.
Iran Seizes Two Greek Tankers Amid Row Over US Oil Grab
Iranian forces seized two Greek tankers in the Gulf on Friday, shortly after Tehran warned it would take "punitive action" against Athens over the confiscation of Iranian oil by the United States from a tanker held off the Greek coast.

"The Revolutionary Guards Navy today seized two Greek tankers for violations in Gulf waters," said a Guards statement, quoted by Iranian state news agency IRNA. It gave no further details and did not say what the alleged violations were.

Greece's foreign ministry said an Iranian navy helicopter landed on Greek flagged vessel Delta Poseidon, which was sailing in international waters, 22 nautical miles from the Iranian shore, and took the crew hostage, among them two Greek citizens.

It said a similar incident took place on another Greek-flagged vessel near Iran, without naming the ship, adding both actions violated international law and Greece had informed its allies, as well as complained to Iran's ambassador in Athens.

Greece-based Delta Tankers, which operates the Delta Poseidon, could not be immediately reached for comment.

Greek authorities last month impounded the Iranian-flagged Pegas, with 19 Russian crew members on board, near the coast of the southern island of Evia due to European Union sanctions.

The United States later confiscated the Iranian oil cargo held onboard and plans to send it to the United States on another vessel, Reuters reported on Thursday.
Can anyone recall @NIACouncil or @tparsi criticizing the Iranian regime for "politicizing sports" when it forbids Iranian athletes from competing against Israelis?

NIAC is a DC-based propaganda arm of the Iranian regime. https://t.co/2ZwRQXnVJS

— Noah Pollak (@NoahPollak) May 28, 2022
"Blatantly antisemitic" motion rescinded
The University of Melbourne Student Union (UMSU) has rescinded a motion that was labelled "blatantly antisemitic" when it passed in late April.

The motion, titled "UMSU stands with Palestine – BDS and Solidarity Policy", called Israel a "settler colonial apartheid state", accused it of "massacres, forced expulsion and ethnic cleansing of Palestinians", called Zionism "a racist, colonial ideology" and tacitly endorsed terrorism in supporting the right of Palestinians "to engage in self defence against their occupiers".

It also stated that "Judaism or Zionism are not to be conflated".

The Australasian Union of Jewish Students (AUJS) said on Thursday that UMSU decided to rescind it "after countless meetings between AUJS and UMSU and after the legal action taken by Melbourne University student Justin Riazaty against UMSU for racial discrimination".

"AUJS and Melbourne University Jewish Students Society (MUJSS) welcomes today's decision by the UMSU University of Melbourne Student Union to rescind the resolution," AUJS said in a statement.

"The original UMSU motion was put forward over the objections of Jewish students. UMSU attempted to define Judaism, Zionism and antisemitism in a way that solely reflects the views of a fringe group of Israel-haters but bears no relationship to the lived experience of the Jewish people."

AUJS said the recent move by the ANU Students Association to support the now-rescinded UMSU resolution made it evident that it "blindly followed virtue-signalling rather than consultation".

"AUJS calls on UMSU and other student unions to ensure that unions represent the viewpoints of all students. Universities and their student representative bodies should be places for well-informed, nuanced and open dialogue rather than hectoring polemics," AUJS continued.

"We simply ask that student unions consult AUJS and relevant Jewish bodies on campus before putting forward motions impacting Jewish students on campus."
Kristen Stewart directing BDS activist's memoir film
American actress Kristen Stewart is directing the film adaptation of Boycott, Divestment and Sanctions (BDS) activist Lidia Yuknavitch's memoir The Chronology of Water, according to a report in IndieWire on Wednesday.

Stewart, who starred in the vampire romance film series The Twilight Saga, told IndieWire that she hoped to finish her new film by the end of the year.

But the Oscar-nominated actress has not yet secured the financing for the film, the report said, in part because Stewart wanted to limit the film crew to just five people, with a loose schedule.

The film highlights Yuknavitch's struggles with addiction and coming to terms with her bisexuality, as well as her activism in the BDS movement, IndieWire reported.

Stewart told the independent film review website that Yuknavitch's writing resonated with her on a personal level, saying, "She's in my blood."
Toronto Man Arrested After 'Disturbing' Threats to Kill Jewish Students
A delivery driver is facing possible hate crimes charges after making violent threats to Jewish students at a yeshiva in Toronto and assaulting a staffer there, a Canadian Jewish group said Thursday.

According to Yeshiva World News, the Uber Eats deliveryman showed up at Toronto's Yeshiva Gedolah, accosting students and saying he would "kill 30 Jews today." The disturbing scene was witnessed by the school's cook, YWN reported, who was punched in the face after asking the man to leave. The cook then tackled the perpetrator and detained him until the arrival of police, who discovered that he was armed with a knife.

Friends of Simon Wiesenthal Center confirmed Thursday that the driver now faces criminal charges, including assault and communicating threats.

"It is extremely troubling that a man with a weapon violently threatened people at a yeshiva and, even more disturbingly, yelled that he wanted to kill Jews, " said Jaime Kirzner-Roberts, director of policy at the Toronto-based Jewish organization. "Such an attack comes on the heels of the Toronto Police Service's most recent annual hate crime report that once again showed the city's Jewish community as the most targeted group."

The Toronto Police Service report found that 257 hate incidents took place in the the city last year, with 56 targeting Jewish victims.

"Jewish students deserve to go to school without fearing threats and violence," Kirzner-Roberts continued.
Israel Hosts Its First Independence Day Celebration in Gulf Region
The Israeli Embassy in Bahrain hosted on Thursday the first celebration of Israel's Independence Day to be held in a Gulf Cooperation Council (GCC) country.

The GCC states include Bahrain, Saudi Arabia, Kuwait, the United Arab Emirates, Qatar and Oman.

Hundreds of Bahraini government officials and business leaders attended the event, as well as heads of major companies from Israel's oil and gas, cyber, manufacturing, fintech, high-tech, pharmaceutical and logistics sectors. Israeli "Fauda" star and singer Tsahi Halevi gave a performance, and Israeli chef Doron Sasson prepared a special menu combining Bahraini and Israeli dishes. The band of Bahrain's Ministry of Interior played the Israeli and Bahraini national anthems.

The evening, which highlighted the ties that have developed between Bahrain and Israel since the signing of the Abraham Accords, included a recorded message from Israeli Foreign Minister Yair Lapid, who opened the Israeli Embassy in Bahrain in September 2021. There were also speeches by Ambassador Dr. Sheikh Abdallah bin Ahmad Al Khalifa, undersecretary in Bahrain's Foreign Ministry, and Israel's first Ambassador to Bahrain, Eitan Na'eh.

"Our Yom Haatzmaut reception shows the authentic, warm and genuine relationship between Israel and Bahrain — its leadership and people," said Ambassador Na'eh at the event, held several weeks after Israel marked Independence Day. "The new Middle East is built upon a shared desire to cooperate in all areas from security to sustainable energy, water and food security to tourism and other areas."
I love this scene on #Jerusalem from 'Cast A Giant Shadow' (starring Kirk Douglas).#JerusalemDay #YomYerushalayim #Israel pic.twitter.com/LiJtl4Ztus

— Arsen Ostrovsky (@Ostrov_A) May 28, 2022
Ahead of #JerusalemDay Parade tomorrow, there is a lot of misinformation and Palestinian incitement. Watch this video and see for yourself! pic.twitter.com/W8WJFFiMmW

— The International Legal Forum - ILF (@The_ILF) May 28, 2022
Walls of the Old City of #Jerusalem now, in celebration of 55 years since reunification of #Israel's sovereign, united and eternal capital. #JerusalemDay pic.twitter.com/6LzDqauZ7a

— Arsen Ostrovsky (@Ostrov_A) May 28, 2022
Eternal capital of Israel! United Jerusalem! #JerusalemDay

pic.twitter.com/9mjugx2GmH

— Emily Schrader - ????? ?????? (@emilykschrader) May 28, 2022
---
---
Buy the EoZ book, PROTOCOLS: Exposing Modern Antisemitism today at Amazon!

Or order from your favorite bookseller, using ISBN 9798985708424.

Read all about it here!