From Ian:
---
Sirhan Sirhan, Forgotten Terrorist
Because the assassination came just over four years after his brother President John F. Kennedy was murdered in Dallas, and just two months after Martin Luther King Jr. was gunned down in Memphis, the nation focused on gun violence and hatred of the Kennedy family in its aftermath. Many blamed right-wing racists, since the Kennedys had supported the civil-rights movement. I was in school back then, and I remember the most common phrase: "They killed another Kennedy." The "they" was generic. It wasn't an individual; it referred to a supposed violent streak that ran through American culture and mythology all the way back to our frontier days.

But a single individual killed Kennedy for very specific reasons. Sirhan was obsessed with both Israel and Jews. He was born in British Mandatory Palestine in 1944 and emigrated to the United States in 1956, attending school in Los Angeles. Yet even though the California economy of the 1950s and 1960s was one of the strongest in the world, Sirhan never took advantage of what surrounded him: He worked as a stable boy and never became a U.S. citizen.

The shooting took place on the one-year anniversary of Israel's victory in the Six-Day War. This was no coincidence. When Kennedy was 22 years old, he traveled to Palestine, writing articles for the Boston Post about his admiration for the country's Jewish inhabitants. As a senator from New York, Kennedy continued his strong support of Israel. Shortly before the assassination, in a televised debate with his chief Democratic rival, Minnesota senator Eugene McCarthy, Kennedy said he supported the sale of fighter jets to Israel.

Indeed, Kennedy was a consistent and staunch supporter of Israel — which infuriated Sirhan. In a 1989 interview with David Frost, Sirhan said: "My only connection with Robert Kennedy was his sole support of Israel and his deliberate attempt to send those 50 bombers to Israel to obviously do harm to the Palestinians."
The Southern Poverty Law Center Is Indifferent to Muslim Antisemitism
Muslim antisemitism receives scant mention from the Southern Poverty Law Center (SPLC), an organization that is supposed to be dedicated to "fighting hate and extremism." Its website has 1,327 articles on non-Muslim antisemitic actions, statements, or hate crimes. But less than 10 articles out of thousands mention Muslim antisemitism.

Instead, the SPLC aligns with Islamist groups and leaders — including the Council on American Islamic Relations (CAIR) — while giving their antisemitism a pass.

The SPLC's credibility has already been questioned. It took down its media guide this year after Quilliam Foundation co-founder Maajid Nawaz pointed out that it contained fabrications about him.

While the report may be gone, SPLC Intelligence Project Director Heidi Beirich has yet to correct a false accusation she made against Nawaz, claiming that he was placed on a list of anti-Muslim extremists in part because he supported vast surveillance of Muslims.

Beirich has produced no evidence to support the claim, which Nawaz insists is a lie.

"The SPLC says it fights hate. Yet it criticizes groups that call out Jew-hating Islamists and ignores groups packed with Jew-hating Islamists," Center for Security Policy Executive Vice President Christopher Hull told the Investigative Project on Terrorism.
U.N. Accused of Doctoring Video to Erase Leading Pro-Israel Speaker's Credentials
The United Nations is facing accusations it doctored an official video to remove all mention of a leading pro-Israel speaker's credentials ahead of a scathing speech accusing the international organization of promoting anti-Semitism and hatred against Israel, the Washington Free Beacon has learned.

Professor Anne Bayefsky, the director of the Touro Institute on Human Rights and the Holocaust and president of Human Rights Voices, was recently invited by the Israeli government to speak at an event at the U.N. on anti-Semitism about the harmful impact of the Boycott, Divestment, and Sanctions movement, or BDS, a global campaign to economically isolate the Jewish state that has widely been discredited as anti-Semitic in nature. Bayefsky specifically addressed anti-Semitism at the U.N. itself.

In an official video of the May 30 event posted on the U.N.'s website, all mention of Bayefsky's credentials and longstanding status as a leading expert on anti-Semitism was initially erased, leaving a confusing gap that she claims diminished the speech's impact.

Bayefsky, a vocal critic of the U.N.'s anti-Israel bias, alleged in a subsequent video highlighting the U.N.'s deletion that the international body was engaged in an attempt to revise history and weaken a speech that called out in stark terms the entire U.N. for its promotion of anti-Israel and anti-Semitic policies.

U.N. officials who spoke to the Free Beacon admitted the original video deleted all mention of Bayefsky's credentials, but explained this was due to a technical issue that was rectified soon after the Free Beacon began its initial inquiries in the matter.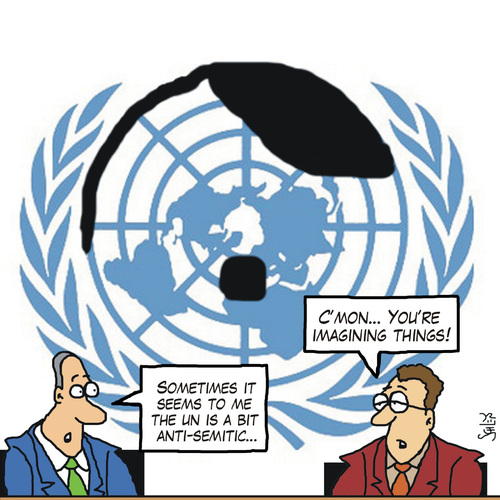 Toward a Judaism of Resistance
My first encounter with antisemitism came quite late, as I was lucky enough to be born into one of the diseases' rare incubation periods, and it came at the hands of a progressive.

He was a gangly, bearded, slightly effeminate scion of the professoriate, possessing a Ph.D. but lacking the intellect to ever be more than an adjunct teaching night school to underachievers like my then-self. In keeping with his occupation and no doubt disappointing station in life, he was obsessed with race, Noam Chomsky, and the depredations of the American Empire. His self-regard was epic in scope, fed by a kind of allophilic Manicheanism in which he was, naturally, one of the Children of Light. As such, he was typical.

The day after 9/11, I discovered he was also typical in a way I had not anticipated. During a long discourse on why America thoroughly deserved what it got, he wrote out "Israel" in enormous leaders on the chalkboard — we still used chalkboards back then — and like a pronouncement from on high, flush with triumph, declaimed "The Cause!"

To my credit, I think, my first instinct was to put his nose through the back of his head. The second was to attempt to argue with him. This proved a depressing experience, as he unceremoniously told me in a voice of depthless unctuousness that in blaming Jews for the murder of 3,000 Americans — an atrocity committed, ironically, by a gang of Jew- and Israel-hating Arabs — he was merely "criticizing Israeli policies." This was the sum total of what he told me, with copious repetition, over the course of a three-day correspondence. By the end of it, I realized, as I imagine Jews over centuries have realized, one by one, in terrible solitude each time, that nothing, absolutely nothing I could say would ever change his mind.
Argentina officially cancels Jerusalem match, says it's 'nothing against' Israel
Argentina's soccer association on Wednesday officially announced the cancellation of his country's friendly soccer match against Israel which was to have been held on Saturday in Jerusalem.

"Unfortunately we cannot come to Israel in the current situation," said Claudio Tapia, president of the association, at a press conference in Barcelona where the national team has been training ahead of the start of the World Cup tournament in Russia on June 14.

"It's nothing against the Israeli community, it's nothing against the Jewish community," Tapia said, adding that he hoped "everyone will take this decision as a contribution to peace."

Tapia said, "The last 72 hours led us to make the decision not to travel," stressing that his primary responsibility was to look out for the health and safety of the team.

He apologized to Israelis who had purchased tickets.

Tapia said Argentina had "left open" the possibility of playing Israel in the future, either in the Jewish state or elsewhere.
Culture minister: Argentina soccer match canceled over terrorism, not a boycott
Culture and Sports Minister Miri Regev on Wednesday said the cancellation of a friendly match in Jerusalem with Argentina's national soccer team was not the result of pressure applied by Israel boycott activists, but was rather a capitulation to terrorism.

At a press conference, the Likud minister also lashed out at criticism of her decision to relocate the match to Jerusalem and likened Palestinian threats against the Argentine players to the 1972 Munich massacre of Israeli Olympians.

"The game was canceled for one reason only — threats to the life of the star Messi," Regev told reporters. "The terror threats against him and his family overwhelmed the world soccer star," she said, adding that this information came from the producers of the event.

Showing images of some of the threatening posters sent to players and officials from the Argentine team, Regev drew a comparison between the threats and the deadly 1972 attack, when Palestinian terrorists kidnapped and killed 11 Israeli athletes competing in the Munich Olympics.

"These are photos by terror factions threatening Argentina's team members," she charged. "This is a new-old form of terrorism which scares, deters and terrorizes athletes. This is the terrorism that causes the Munich attack."
Pretty much every major Argentine media outlet is attributing Argentina's cancellation of its friendly match against Israel to threats to the team and security concerns. Advocates of racist boycotts against Israel win by intimidation. Sad. pic.twitter.com/kpZYgFVInA

— Avi Mayer (@AviMayer) June 5, 2018
Behind the scenes of Argentina cancellation: 'Israel helped the Palestinian campaign'
Efforts to find a formula that would allow Argentina's national team to play in Israel continued Wednesday following Tuesday night's cancellation of the World Cup warmup match, but Israeli officials realize the chances of that happening are not high.

The only chance of reversing the Argentine decision has to do with the grim financial situation of Argentina's Football Associations, which will be required to pay the Israeli production company NIS 7.5 million (about $2.1 million) in damages—a sum it does not have.

The proposal raised by the Argentines to hold the match in Barcelona is unpractical. Moving the game from Jerusalem back to Haifa likely won't change the players' mind, and it's hard to believe Israel will agree to such a humiliation after the US Embassy move festival.

The game's cancellation is an unprecedented public opinion victory for the BDS movement and the Palestinians, in which they achieved more than they achieved in all the protest march on the Gaza border. According to Israeli diplomatic officials, this creates a very dangerous precedent that could spread beyond the world of sports and soccer. Israel has experienced quite a few cancellations of concerts, but the non-arrival of a national team like Argentina is a much more significant event.

Diplomatic officials say the successful Palestinian campaign enjoyed an Israeli contribution in light of the high expectations ahead of the game and the decision to move the match to Jerusalem, which they say worsened the problem.
Israel to file complaint with FIFA against PA
Israel's soccer association announced Wednesday it will file a complaint to FIFA accusing its Palestinian Authority counterpart of pressuring Argentinian players and staff into cancelling a friendly match.

Rotem Kamer, vice-president of the Israeli Football Association, accused the PA's FA of "football terror" after its leader called for protests against Argentina in the buildup to the game against Israel that had been scheduled for Saturday.

We are confronting a football terror from the Palestinian Football Association and its president (Jibril Rajoub)," he said, accusing them of "threatening soccer players (against) coming to Israel."

He also alleged the families of players were threatened.

"We are seeing it as crossing a red line and we cannot accept it."

"We are going to send an official complaint to (world football's governing body) FIFA and the disciplinary committee to take action."
Terror victims group asks police to investigate PA official over threats
The Almagor Terror Victims Association called on the Israel Police to open an investigation into senior Palestinian Authority official Jibril Rajoub over allegations that he had launched a series of threats against Israeli soccer players in Argentina.

Rajoub. who is the former head PA Preventive Security Force in West Bank, is currently the Palestinian Football Association and the Palestine Olympic Committee head.

According to Almagor, Rajoub appears in Israeli media outlets as a supporter of peace, but Palestinian Media Watch released a video showing the PA official inciting terror within the Palestinian community.

The Argentinian soccer team late Tuesday night announced it would cancel its participation in a game that was set to take place in Jerusalem's Teddy Stadium between Israel and Argentina, five days ahead of the opening of the World Cup. There was controversy surrounding the game among Palestinians and anti-Israel activists who argued holding it in Jerusalem would legitimize Israel's "occupation" of the city.
Argentine pundits lambaste national team's 'hypocrisy' on Israel game
Argentina's leading newspaper on Wednesday printed two scathing rebukes of the national team's decision to cancel its friendly game with Israel scheduled for Saturday.

In an opinion piece published in Clarin and featured at the top of the publication's website, journalist Miguel Winazki suggested it was time to "abolish soccer and lift the World Cup in hypocrisy."

In order to be consistent in its decision to avoid controversy abroad, Winazki wrote, the national team should also "not play in Russia, because the Kremlin was behind the decision to launch military incursions in Syria in complicity with the tyrant Bashar Assad, causing the deaths of thousands of citizens of that country."

It should also stay away from Iceland due to its involvement in alliances "that invaded Iraq and Afghanistan by blood and fire," he wrote.

"Nor against Nigeria in protest against the atrocities perpetrated by the terrorist group Boko Haram against thousands of victims, mostly women," he said.

"We will not play against Spain, for its colonial enclaves in Ceuta and Melilla" on the Moroccan coast, Winazki added, and "for the electrified gates at those sites that kill migrants."
Hamas, PA officials hail cancellation of Argentina soccer game in Jerusalem
The Hamas terrorist group and Palestinian Authority officials on Wednesday applauded the decision by Argentina's national team to call off a friendly match in Jerusalem.

"Argentina's decision to cancel a friendly match with the Israeli Occupation's team is highly commendable and is a very appreciated position," said senior Hamas official Husam Badran.

The Israeli embassy in Argentina earlier announced the "suspension" of Saturday's sold-out game in Jerusalem because of what it called "threats and provocations" against Argentinian soccer superstar Lionel Messi. The Culture and Sports Ministry said last-ditch negotiations to salvage the Saturday night match was ongoing.

On Wednesday, the head of the Palestinian soccer organization Jibril Rajoub and senior PA official Saeb Erekat said Culture and Sports Minister Miri Regev and Defense Minister Avigdor Liberman received their comeuppance with what they said was a cancellation.

"This decision well answers Ministers Miri Regev and Liberman, and other officials in the current extremist Israeli government, that the world will not submit to Israel's state terrorism, extortion, threats, and intimidation, all fully backed by President Trump's Administration," said Erekat in a Wednesday statement.

Palestinian Football Federation chief Rajoub on Wednesday called a press conference in Ramallah to welcome the decision by the Argentinian team.
How BBC News framed the Argentina-Israel football match story
In the BBC's report, however, a truncated version of that quote was presented as supporting the BBC's framing of the reason for the cancellation rather than relating to the threats against players that the BBC did not fully report.

The BBC's report tells readers that the venue for the game is located in "West Jerusalem".

"The match, which was to be Argentina's final game before the start of their World Cup campaign in Russia later this month, was set to be played at a stadium in West Jerusalem."

The fact that the Argentinian national team played (and lost) a friendly match against Israel in the same Teddy stadium twenty years ago was not mentioned. The article went on:

"The status of Jerusalem is highly sensitive. Israel regards Jerusalem as its "eternal and undivided" capital. Palestinians see the eastern part of the city as the capital of a future Palestinian state, and were angered by a decision to relocate the game there from Haifa."

As was the case in BBC reporting on the relocation of the US embassy to Jerusalem, readers were not provided with any explanation as to why a ninety-minute football match at a location in Jerusalem to which the BBC repeatedly tells its audiences the PA does not lay claim should 'anger' Palestinians.
NGO Monitor:
The Latin American BDS Network
Overview

Anti-Israel campaigns in Latin America, specifically in Argentina, Brazil, Chile, and Mexico, have grown in recent years. For decades Latin American governments generally had strong ties with Israel, but this shifted during the 2000s when many governments demonstrated solidarity with Palestinians by recognizing a Palestinian state and condemning Israeli actions in Gaza. Still, countries such as Mexico and Argentina have substantial trade with Israel and have called for greater economic cooperation with the State. Furthermore, several of the Latin American countries that unilaterally recognized a Palestinian state chose to abstain in the UN vote on the US decision to move its embassy from Tel Aviv to Jerusalem – demonstrating ties to Israel.1

In contrast to the strong economic and diplomatic ties with Israel, many local non-governmental organizations (NGOs) are active in promoting BDS (boycott, divestment, and sanctions), lawfare, and various other delegitimization campaigns against the State of Israel. These campaigns are often accompanied by demonizing and antisemitic rhetoric, as extreme as their radically anti-Israel counterparts. These organizations appear to receive no government support and therefore rely on international BDS groups, as well as American, European, Israeli, and Palestinian NGOs for assistance in their campaigns. There is, however, an overall lack of transparency on both the part of the NGOs and the government donors, reflecting a lack of accountability. Ecumenical Accompaniment Program in Palestine and Israel (EAPPI), a program of the World Council of Churches that brings volunteers to the West Bank for three month periods, also has a strong presence throughout Latin America. EAPPI volunteers consistently demonize Israel; make accusations of "apartheid," "war crimes," and "Bantustans"; and are leaders of BDS campaigns in their home churches.
Michael Lumish:
This Week on Nothing Left
This week on Nothing Left Michael Burd and Alan Freedman have cooked up the following.

They are going forth and kicking ass.
3 min Editorial: Julie Bishop and Palestinian payments
11 min Vic Alhadeff, NSW Jewish Board of Deputies on SWF
25 min Lawrence Money and Gary Mallin, former Age journalists
51 min Daniel Luria, Ateret Cohanim on 60 Minutes segment
1 hr 13 min Simon Plosker, Honest Reporting on Gaza violence
1 hr 31 min Arnold Roth in Jerusalem on ex-IDF soldier 'Rebecca'
'Pinkwashing'? Seattle vs. Israel
In 2012, a long-planned visit approved by Seattle's then-mayor and the city's LGBTQ Commission of a LGBTQ delegation from Israel was cancelled a day before the Israelis were to arrive. The Seattle LGBTQ commissioners had concluded, no doubt after much abstruse research, that receiving their Israeli counterparts would be an act of "pinkwashing" the Jewish state.

They had been told by their leftist friends that Israel is as black as Gehenna and the pit of hell, and the fact that it is a "gay friendly" state was not a powerful enough detergent to remove the primeval stain. That nasty episode of Seattle's history was retold in late May of this year by "Pinkwashing Exposed," which the poverty of the English language compels one to call a documentary. Recounting the tale from both before and after the 2012 cancellation of the Israeli visit, it is in fact an attempt to depict Israel as the devil's own laboratory, and add its two cents to the worldwide campaign to turn the pariah people into a pariah nation.

On May 24 of this year an event hosted at public expense by Seattle's official LGBTQ Commission, in concert with its Commission for People with DisAbilities [sic] and presided over by City Council member Kshama Sawant, not only showed the film but followed it with a panel discussion in which, by miraculous coincidence, all agreed that support of LGBTQ rights and common decency towards Israel are incompatible. Sawant, a member of the Socialist Party, has long been known for what might delicately be called a lack of sympathy for Israel.
Rockefeller Bros Fund gives to groups funding Palestinian terrorism
The Rockefeller Brothers Fund (RBF), a major American foundation that contributes to many pro-Palestinian causes, gave grants to organizations which funnel money and support to terrorist groups, and continued to do so after being told about the NGOs' activities, The Jerusalem Post has learned.

The two organizations are Education for Just Peace in the Middle East, also known as the US Campaign for Palestinian Rights, and Defense for Children International-Palestine, which received grants of $60,000 and $25,000, respectively, from the RBF in March 2017.

Consul-General to New York Dani Dayan said on Monday that he met with RBF president Stephen Heintz in early 2017 to inform him of these connections. Dayan came to the meeting with documentation on RBF-funded NGOs that encourage terrorism or do not recognize Israel's right to exist.

"He denied the claims, but the facts were too strong," Dayan said.

Defense for Children International-Palestine (DCI-P) is a Ramallah-based NGO meant to promote Palestinian children's rights, and tries to convince foreign governments and UN bodies that Israel is systematically abusing Palestinian children. Many of its officials and board members are linked to the Popular Front for the Liberation of Palestine (PFLP), designated as a terrorist organization in the US, EU, Canada and Israel.

The PFLP is responsible for hijacking an Air France plane to Uganda in 1976, which led to the famous IDF raid on Entebbe; attacking a preschool on Kibbutz Misgav Am in 1980, killing two-and-a-half-year-old Eyal Gluska; and for massacring Jewish worshipers in a Jerusalem synagogue in 2014, among many other terrorist attacks.
Tweets by British journalist Sarah Helm demonstrate her pro-Palestinian advocacy
When asked – in the context of false or misleading news we expose – whether journalists outright lie, we respond that we don't believe this is the case in the overwhelming majority of cases.

Rather, the biggest problem we encounter – what we believe to be the single biggest factor driving the media's institutional bias against Israel – is advocacy journalism. That is, many of the journalists covering the region see their work as reporters as an extension of their broader political activism, and so their coverage is often coloured by this intrinsic bias.

One recent example is the case of AFP's Nasser Abu Baker. Abu Baker, CAMERA research revealed, was a former delegate to the Fatah Congress and, while reporting for the influential French wire service, was chairman of the Palestinian Journalists' Syndicate, the leading force for the boycott of Israeli journalists and media.

However, even those journalists not affiliated with organisations advocating highly politicised, anti-Israel agendas can engage in activity (often on social media) which undermines any claim to objectivity. One such case involves British journalist Sarah Helm, who contributes to publications such as the Guardian, The Independent and New Statesman (among other publications) on issues concerning the Israeli-Palestinian conflict.

As followers of this blog already no doubt know, Helm has displayed a consistent pattern of pro-Palestinian bias, and a recent Twitter exchange over factual claim she made in a Guardian article – which culminated in UKMW being blocked by Helm after we politely challenged her – inspired us to take a look at her Twitter timeline.

What we found isn't at all surprising, but should concern anyone who takes seriously the journalistic principles of fairness and objectivity.

She cites, as news, anti-Israel agitprop from the Hamas affiliated Shehab News Agency.
Inaccuracy, omission and oddity in a BBC Radio Ulster item on Israel – part one
While we have seen some problematic programmes relating to Israel on BBC Radio Ulster in the past, the May 20th edition of the station's "religious and ethical news" programme 'Sunday Sequence' included a long item (from 34:04 here and also aired on BBC Radio Foyle) which was even more remarkable than usual – not least because one contributor managed to shoehorn the Eurovision Song Contest, the 9/11 terror attacks, BDS, Salisbury and Iranian youth unemployment into the discussion.

"After a week of horror in Gaza, is the roadmap to peace now in complete ruins? Dr Julie Norman, Rev Gary Mason and Tom Clonan discuss how peace could somehow yet be found."

Four days before this programme went on air a Hamas official had announced that fifty of those killed during the 'Great Return March' rioting on May 14th were members of Hamas. Prior to that, the Palestinian Islamic Jihad had claimed three of the dead. Information available to the public had already shown that some 80% of those killed since the pre-planned rioting began at the end of March were members of various terror factions in the Gaza Strip.

None of that information was communicated to listeners in presenter Roisin McAuley's introduction to the item, or indeed in the rest of the broadcast. Listeners did, however, repeatedly hear the use of the term 'Palestine' – despite the fact that the BBC Academy's "journalists' guide to facts and terminology" states "in day-to-day coverage of the Middle East you should not affix the name 'Palestine' to Gaza or the West Bank".
Inaccuracy, omission and oddity in a BBC Radio Ulster item on Israel – part two
Following some echo-chamber agreement between Mason and McAuley with regard to the US administration's role in solving the conflict – and the claim that the opening of the US embassy in Jerusalem was "a real slap in the face to Palestinians" – the presenter continued:

[45:07] McAuley: "So Tom, who in your opinion can help then? If the US is not in a position to be seen as an honest broker, who is?"

Clonan: "I would strongly hope that the European Union would step up to the plate and begin to impose sanctions and trade embargoes on Israel. And I certainly think individually as nations we could begin by boycotting the Eurovision Song Contest next year. And I say that with great regret because I'm on the record…I've written to all of the newspapers in the [Irish] Republic repeatedly over the years saying that we should not boycott Israel. But unfortunately of late Israel has been behaving like a rogue state and should be treated as pariah by the international community. I mean there was a great deal of unanimity of condemnation, quite rightly, of a chemical attack – or a suspected chemical attack – on civilians in the suburbs of Damascus. We also expelled diplomats on suspicion of a chemical weapon attack in Salisbury which injured – seriously injured – two people. Now we need to have that same level of unanimity when it comes to Israel's actions this week."

Following some reminiscing from Clonan about the Irish peace process, McAuley revisited his BDS messaging while again promoting her own pet 'most important thing in the world' theme.
UN releases first education guide on fighting anti-Semitism
The United Nations has released its first ever guidelines on fighting anti-Semitism in education.

UNESCO, the UN's cultural body, launched the publication on Monday in Paris in collaboration with the Organization for Security and Co-operation in Europe, the OSCE.

The guide, aimed to be used by young people, the teaching world, as well as political leaders, was presented by Audrey Azoulay, UNESCO's first Jewish director general.

Azoulay said that the need for an educational guide has become imperative in today's schools, universities, and other educational institutions.

"Many Jewish communities across the world are facing increasing threats. (Jews) have become targets for terror attacks in Paris, Brussels, and Copenhagen," she elaborated.

"Fear of anti-Semitism, harassment, and even physical assault has grown particularly near Jewish culture centers, religious sites including synagogue, museums, and schools," Azoulay lamented.

"This is a warning call for those who survived the Holocaust. Europe's Jewish communities sense a renewed danger of anti-Semitic attacks," UNESCO's first Jewish director general warned.
Northernmost Swedish Jewish Group Folds Under Nazi Attacks, Police Indifference
The Jewish Association in the city of Umeå announced its termination at a board meeting in late May, under threats from the neo-Nazi Nordic Resistance Movement, the newspaper Dagens Nyheter reported.

Nordiska Motståndsrörelsen, the Nordic Resistance Movement (NRM) is a Pan-Nordic neo-Nazi movement which functions as a political party in northern Sweden. NRM has been banned in Finland.
Carinne Sjöberg's campaign poster

"It's a heavy blow," said Carinne Sjöberg, the first and last chairperson of the Jewish association of Umeå. "I'm very sad about it, and have even shed a few tears."

The Jewish community of Umeå numbers fewer than 50, and it relies heavily on the participation of Israeli students attending Umeå University. An Israeli mother and Umeå City Council member, Sjöberg organized the Jewish community center back in 2010, where local Jews and Christians celebrated Jewish holidays.

Umeå is the largest city in Norrland—the northernmost, largest, least populated region of Sweden—and the thirteenth biggest city in Sweden, with 85,000 residents.
Philips to buy Israeli cardiac imaging firm for nearly $300m
Dutch consumer electronics giant Philips Electronics NV has signed an accord to buy EPD Solutions, an Israeli maker of cardiac imaging and navigation systems for treatment of heart rhythm disorders, for 250 million euros ($294 million) and milestone payments.

The Dutch firm said on Tuesday that the deal would be in cash, followed by additional payments of some €210 million in payments dependent on milestones. On completion of the deal, EPD and its employees will become part of Philips' Image-Guided Therapy business.

The deal will further expand Philips' image-guided therapy business and its portfolio of interventional imaging systems, smart catheters and planning and navigation software. Philips bought heart disease devices maker Spectranetics last year for billions of dollars, and the vascular imaging company Volcano in 2015.

EPD Solutions, based in Caesarea and registered in the British Virgin Islands, has developed technology that allows image-guided procedures to treat cardiac arrhythmias and heart rhythm disorders. EPD's cardiac imaging and navigation system helps electrophysiologists find their way to the heart, creating detailed 3D images, while also monitoring the location of catheters during procedures to detect and treat cardiac arrhythmias.

Philips said this technology has the potential to simplify navigation and treatment, immediately assess the treatment result and increase procedure efficacy.
Jason Derulo: 'I'm so excited' for Israel show
Singer and songwriter Jason Derulo has recorded a message for his Israeli fans ahead of his huge concert coming up this summer.

"Tel Aviv, what's happening? It's Jason Derulo, and I'm so excited to be coming back," he said in the video released on Wednesday. "August 1, it's going down – it's called Coca Cola WOW Fest and it's going to be myself, Rita Ora – it's going down, crazy. It's going to be an unbelievable show, I can't wait to see y'all very soon."

Derulo – one of the biggest current names in pop music – will be joined by British singer Ora along with a slate of local talent at the festival in Rishon Lezion (not, as Derulo stated, Tel Aviv) on August 1. Eliad Nahum, Axum, Arutz Hakibud and Adi Ulmansky will also be performing.

Derulo, a 28-year-old global sensation in the pop and hip-hop world, is best known for his songs "Talk Dirty," "Wiggle," "Ridin' Solo" and "In My Head." He has sold more than 30 million singles over his decade-long career, and collaborated with Demi Lovato, Pitbull, Nicki Minaj and Jennifer Lopez.

Derulo was last in Israel in 2016 for a concert, and at the time he posted on Twitter: "Life changing trip 2 Israel. The holy land indeed! Blessed 2 c the many wonders of the world."
Dani Dayan jokes at Dr. Ruth's birthday party
Hang around Dr. Ruth Westheimer for more than a few minutes and she's bound to ask you about your sex life. Even if you're Israel's top diplomat in New York.

Hundreds gathered on Monday night at the Museum of Jewish Heritage in New York City – where Westheimer is a board member – to celebrate her 90th birthday.

Among those in attendance was Dani Dayan, Israel's consul-general, who – according to the New York Post's Page Six – said that Westheimer always asks everyone about their sexual habits, including his security detail and driver.

"The driver always blushes," Dayan said.

On Wednesday, Dayan shared the Page Six article on Twitter, writing that "A lot of things I was not prepared for are happening to me in New York. Appearing on Page Six – and about this – is one of the bizarre ones."

Plenty of other well-known faces turned out for the party for Westheimer – who is a regular attendee at the Jerusalem Post Conference in New York. Westheimer and musician Tom Chapin sang together, and Klezmer band Golem also performed. Former New York City mayor David Dinkins stopped by, as did supermodel Petra Nemcova. A film crew – who are working on a documentary about her life - were also in attendance.
Students on archaeology program unearth 1,700-year-old coin
Students from schools in the Lev Hasharon Regional Council helping on an archaeological dig on the Sharon plain have unearthed an ancient coin dating back to the year 300 C.E., among other finds.

Most of the finds at the Kilodia site near Moshav Kfar Yavetz, east of Netanya, date to the early Muslim period (700-1050 C.E.). They include glazed bowls, wine jugs, decorative bronze weights, a bronze bell, and semiprecious stones. The coin predates all these discoveries by several centuries.

The excavation is a joint project with Ariel University and is being overseen by archaeologist Ahiya Cohen-Tabor. Researchers believe that Kilodia was populated in the Byzantine period, based on the discovery of a wine press with a mosaic floor typical of that era.

The students are helping with the excavation as part of the local council's Karev program, which is designed to interest young students in history and which spearheaded the first excavation at the Kilodia site. Relics were unearthed in the very first dig.

Cohen-Tabor said, "What's nice here is that local children are coming to investigate a site very close to their homes, and are discovering and getting to know the children who lived in the same place 1,000 years ago.
OPERATION FINALE Official Trailer
This thrilling true story follows the 1960 covert mission of legendary Mossad agent Peter Malkin as he infiltrates Argentina and captures Adolf Eichmann, the Nazi officer who masterminded the transportation logistics that brought millions of innocent Jews to their deaths in concentration camps. Cast: Oscar Isaac, Ben Kingsley, Lior Raz, Melanie Laurent, Nick Kroll, Joe Alwyn, Haley Lu Richardson, Michael Aronov, Ohad Knoller, Greg Hill, Torben Liebrecht, Mike Hernandez, Greta Scacchi and Pêpê Rapazote
---
---
We have lots of ideas, but we need more resources to be even more effective. Please
donate today
to help get the message out and to help defend Israel.