From Ian:
Dutch Government Cuts Funding to Leading Palestinian NGO, Citing Extensive Individual Ties With PFLP Terror Organization
The Dutch government on Wednesday announced that it was cutting funds to a Palestinian NGO working in the agricultural sector over its ties to the Popular Front for the Liberation of Palestine (PFLP) — designated as a terrorist organization by the US, the European Union, Israel, Australia, Canada and Japan.

The decision means that the Netherlands will not pay out the next installment of an aid grant to the Union of Agricultural Work Committees (UAWC), a Palestinian NGO that has so far received approximately $25 million of Dutch taxpayer money.

In a lengthy joint statement, Ben Knapen, the Dutch Foreign Minister, and Tom De Bruijn, the Dutch Minister for Foreign Trade and Development, said that research commissioned by the Netherlands cabinet from an independent consultancy had "provided sufficient evidence that there were ties at the individual level between UAWC staff and board members and the PFLP for a considerable period of time."

The statement noted that "for the government, the findings on individual links between the UAWC and the PFLP and the lack of openness about this from the UAWC, also during the investigation, are sufficient reason to stop financing the activities of the UAWC. The Netherlands will not proceed with payment to UAWC of the last part of the financial contribution under the Land and Water Resource Management Program."

Last October, the UAWC was one of six Palestinian organizations proscribed by the Israeli government over their connections with the PFLP. Formed in 1967 as an ideological fusion of Marxism and Arab nationalism, the PFLP's overarching goal is the violent defeat of the State of Israel and its replacement with a Palestinian state extending from the Mediterranean coast to the Jordan River.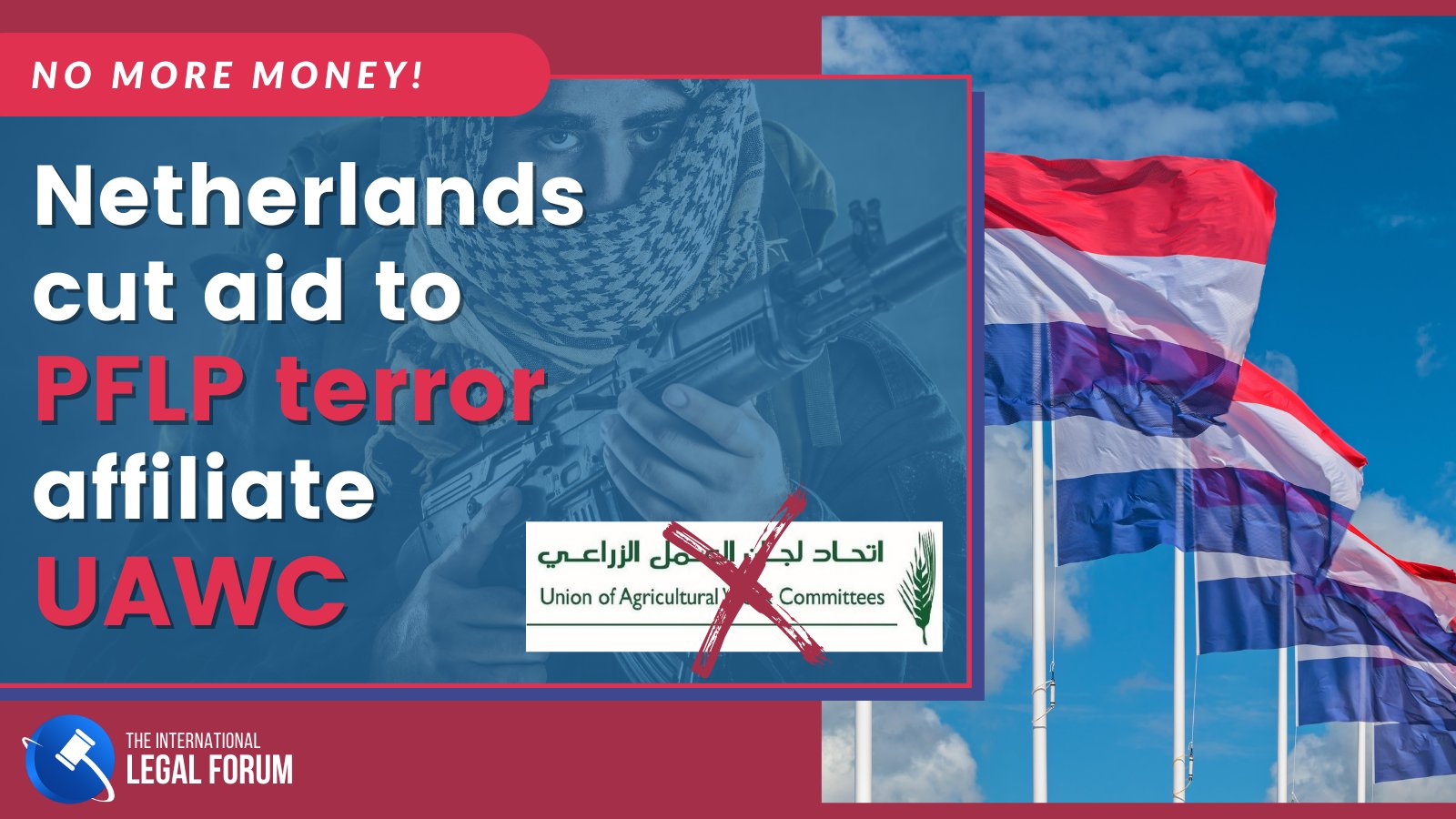 Netherlands defunds blacklisted Palestinian group
Former Dutch prime minister criticized for accusing Israeli settlers of poisoning Palestinians
A former prime minister of the Netherlands, Dries van Agt, said in an interview for a recently aired documentary that Israeli settlers poisoned their Palestinian neighbors in 2015, drawing criticism from Dutch Jews who say he is perpetuating a centuries-old antisemitic blood libel.

B'Tselem, the leading Israeli organization devoted to documenting alleged human rights violations, said it is not aware of the incident described by van Agt.

"The colonizers who conquered the hill a week or two earlier came each night to pound on their door at night, to achieve maximum intimidation, to tell them to go away and they refused," Van Agt said in the interview for a documentary on antisemitism that was aired in November by the KRO-NCRV broadcaster. "And then one morning something terrible happened: The olive grove and the vegetable garden below — the colonizers always take to top hills – were strewn with poison. And a three-year-old child became very ill. The only explanation was that she drank the milk of a poisoned goat. She was poisoned."

Van Agt, 90, then began crying and apologized for his emotional state. The incident occurred in 2015 near Nablus, he said.

His interviewer, Frans Bromet, asserted: "These things, they're not unusual.Van Agt replies: "Oh, no. That's what the wonderful people from the peace organization say. This happens all the time in the occupied territory."
David Singer:
Grovelling before Abbas
It didn't take long for President Biden and Israeli Prime Minister Naftali Bennett to be shown up as inept political leaders following the much-publicised visit by President of the Palestine Liberation Organisation (PLO) and Chairman of Fatah its largest faction – Mahmoud Abbas - to the home of Israeli Defence Minister Benny Gantz.

Their two-and-a-half hour's meeting was Abbas's first in Israel since meeting then Prime Minister Benjamin Netanyahu and US Secretary of State Hillary Clinton in Jerusalem in 2010.

Whilst Bennett privately criticized Gantz's intention to hold the meeting and expressed resentment about the hosting of Abbas in Gantz's home – he did nothing to prevent it occurring.

Some Ministers in Bennett's Government were not so circumspect.

Housing Minister Ze'ev Elkin said:
"I wouldn't have invited to my home someone who pays salaries to murderers of Israelis and also wants to put senior IDF officers in prison in The Hague, including the host himself."

Elkin was referring to Abbas's:
- Pay for slay policy: paying monthly stipends to terrorists in Israeli jails and the families of slain terrorists killed while committing terror attacks. These annual payments now total over US$300 million – about 8% of Abbas's budget.

- Campaign to see Israeli security officials - including Gantz — a former Israeli chief of staff — being prosecuted by the International Criminal Court as war criminals.

Israel's Communications Minister - Yoaz Hendel – said he:
"personally wouldn't have met" with Abbas, who "in my eyes is still a Holocaust denier and is playing a very strange double game."

However Abbas's visit brought this effusive response from US State Department Spokesperson Ned Price: "The US is very pleased Defense Minister Gantz hosted PA President Abbas at his home in Israel. We hope confidence-building measures discussed will accelerate momentum to further advance freedom, security, and prosperity for Palestinians and Israelis alike in 2022."
Public losing faith in IDF, but trusts it more than any other institution – poll
The public's confidence in the Israel Defense Forces has decreased over the past year, continuing a downward trend, though the military remains the most trusted institution in the country among Jewish Israelis, according to a poll published Thursday.

The survey, conducted annually by the Israel Democracy Institute, found that 78 percent of Jewish Israelis said they had "very much or quite a lot" of trust in the military in 2021, compared to 81% the previous year and 90% the year before. That is the lowest level of confidence in the IDF since 2008, according to the think tank.

The IDF said in a statement on Thursday that it was taking the poll seriously and considered public trust to be "an important factor in fulfilling its mission."

The poll was conducted on the internet and by telephone on June 15-24 and October 24-27, with 1,004 men and women being interviewed in Hebrew and 184 in Arabic, in accordance with the rough Jewish-Arab proportions of the population.

Military officials have in downplayed similar findings by the annual survey in previous years, maintaining that its own internal polling has not found the same drop in public support, though that data has not been released to the public. IDF officials have also noted that neither the poll nor the IDI has identified any particular causes for the drop in confidence and that public trust has decreased among Jewish Israelis across the board, not just in the military.
Iraqis want a peace deal with Israel - opinion
Given that these Arab countries are pragmatic about establishing official ties with Israel, it is also reasonable to expect Iraq to follow suit. After all, relations with Israel could have a significant impact on Iraq. Trade between the two countries would create jobs for Iraqis and lead to foreign direct investment. The purchasing of weapons and aircraft from Israel, and holding joint military exercises would strengthen the Iraqi army, which was brushed aside by the Islamic State in 2014. Despite these possible advantages of normalization with Israel, the Iraqi government's opposition to the conference was severe (with allegations of treason and unconstitutionality). The backlash undermines the Iraqi citizens' right to express themselves within a supposedly democratic atmosphere in post-war Iraq.

The actual reasons for the government's anti-Israel politics
We know that this Iraqi government's backlash, as well as any of its decisions, is aligned with Iran's agenda: seeming to be an opponent to Israel. This level of opposition to the conference also represents the anocracy state, the current sectarian ruling in Iraq. Post 2003, a power vacuum facilitated the external influence initiated by Iran, supported by the Shia majority. Also, the advent of the Islamic State and its control of parts of Iraq (and Syria) in 2014 provided Iran with another opportunity to expand its influence. As a result of Iran's control, Iraq's political issues have deepened divisions in the multi-ethnic multi-sect country and dramatically weakened the government's ability to create a functioning society and economy. Alliance with Iran will never lead to positive change, since Iran, the role model itself, is a failing deteriorating state. In October 2019, protests began in Iraq demanding an end to Iranian backed sectarianism and militarization. Here, as an Iraqi, my question is: Why do we maintain harmful relations with Iran while opposing potentially advantageous normalization with Israel? Unfortunately, Iraqis know that for the current Shia government officials, safeguarding their own existence and allying with Iran is more important than the interests of their people.
Morocco interested in Israel's Barak 8 missile defense system
Israel Aerospace Industries is reportedly in talks with Morocco to sell the North African kingdom the Barak 8 Medium-Range Surface-to-Air Missile system.

Despite reports that IAI marketing director Sharon Bitton led the negotiations, IAI refused to comment on the matter, and sources involved in the matter told The Jerusalem Post that such a deal had not yet been signed.

Morocco's defense budget for the coming year has allocated $12.8 billion to modernize its military.

Rabat has held negotiations with different suppliers from several countries to buy medium- and long-range air defense systems, including the American Patriot system, China's North Industries Group Corporation Limited (NORINCO)'s Sky Dragon 50 medium-range surface-to-air missiles, France's short-range VL Milka missile defense system and others.

The Barak-8 MR-SAM system is able to shoot down enemy aircraft at a range of 50-70 kilometers. It is designed to defend naval vessels against a myriad of short-to-long range airborne threats like incoming missiles, planes, and drones at both low or high altitudes.
Yemen's Houthis claim they targeted UAE ship as 'warning' to Israel - analysis
Iranian media claimed an "exclusive interview with senior Yemeni official," had revealed that the Iranian-backed Houthis in Yemen seized an "Emirati ship" as a "warning to Israel."

This would be a major shift for the Houthis to actively seek to strike at ships linked to the UAE and also claim they are confronting Israel or sending a warning through actions.

In the past, the Houthis, who received weapons and support from Iran, have generally slammed Israel and put up antisemitic statements "cursing the Jews," but haven't attacked Israel.

Concerns about the Houthi threats to Israel go back years. There were reports in January 2021 that a new Iranian drone called a Shahed 136 had been spotted in Yemen from satellite photos and that it had a range that could reach Israel.

The Houthis have targeted ships in the past, and Saudi Arabia intervened in Yemen in 2015 to stop the Houthis from conquering Aden.
Deputy minister assails settlers at illegal outpost as 'subhuman,' sparking furor
Deputy Economy Minister Yair Golan of the liberal Meretz party on Thursday morning said Jewish settlers residing in an illegal outpost in the northern West Bank were "subhuman," sparking a severe backlash, including calls for his dismissal.

"People who settle in an area that was legally evacuated — nobody should be there. When I was commander of the Judea and Samaria Division I didn't let anyone return to settle there," Golan told the Knesset Channel, referring to the outpost of Homesh, which was evacuated in 2005, then was partially resettled, and in recent weeks became a flashpoint for Israeli-Palestinian violence.

"These people who come to settle there, riot in the [adjacent Palestinian] village of Burqa, smash gravestones — they are carrying out a pogrom. We, the Jewish people, who suffered pogroms throughout history, are now carrying out pogroms on others?" he exclaimed.

"These aren't people; they are subhuman, despicable people… they should not get any support and they should be removed by force from there," Golan said.

Hitting back, Prime Minister Bennett tweeted that Golan's remarks are "shocking, generalizing and a borderline blood libel."

But Golan doubled down. "In my remarks, I referred to the destroyers of graves, attackers of innocents, destroyers of property… How should [one] treat such people? How should [one] call such people? It's time to tell the truth — this is not our Judaism," he tweeted.
Arab Israelis speak on why they choose to serve in the IDF
An Arab officer says 'I'm proud… Because I was born in this land, I was born in Israel'

i24NEWS' Yoseph Haddad met with members of the Bedouin desert reconnaissance unit to provide a rare glimpse into the lives of Arabs who choose to serve in Israel's military.

A soldier identified as "A" spoke of his experience as an Arab Israeli serving in the unit.

"I am from the Negev desert, where crimes take place… so I thought to myself, what will I achieve in the end?" he told i24NEWS.

The soldier said he left home due to violence, and entered a boarding school, which enabled him to receive an education from the state.

"It gave me so much and never asked for anything in exchange," he said.

However, news of his service was not well received in his home village.

"They did not accept me in any way… I got away from them, and told them to get away from me," the serviceman continued.

For many Arabs serving in the state's military, the decision to enlist is driven by shared concerns regarding the threats facing their home country - Israel.
Dan Uzan z"l was murdered preventing a massacre in a Copenhagen synagogue, where Hannah Bentow was celebrating her Bat-Mitzva.

7 years later, Hannah & family made Aliyah to @israel where she'll join the @IDF: "our soul is here, in our #Jewish home where we live fearless" ???????? pic.twitter.com/z0SBte3zQO

— Shahar Azani (@ShaharAzani) January 6, 2022
Palestinian gunman killed in gunfire exchange with IDF soldiers in Nablus
A Palestinian gunman was killed in a gunfire exchange with IDF soldiers during an operation to arrest a wanted man in Nablus early Thursday morning, according to an IDF spokesperson.

The gunman, Bachar Hashash, initiated the gunfight and was shot dead at the entrance to the Balata refugee camp, according to reports from the Palestinian media.

Hashash's brother claimed that he had been wanted by Israel for some time according to a Ynet report.

There were no IDF casualties in the incident and the wanted man was captured.

Another terror incident occurred in Nablus last month, where another Palestinian gunman was killed following an operation by border police undercover fighters along with IDF forces.

As security forces left the scene, rioters threw explosives, who were met with gunfire response by officers. This occurred after an operation conducted by Israel Police at the home of a man previously wanted for his involvement in a prior attack on security forces.
IDF troops came under fire in the Balata refugee camp in Nablus overnight while arresting a wanted Palestinian. Bakir Hashash was killed by troops who returned fire pic.twitter.com/D5VlTDQebf

— Anna Ahronheim (@AAhronheim) January 6, 2022
PMW:
Fatah on its anniversary: Murderers are role models; terror will enable "Palestine" to replace Israel
Celebrating its 57th anniversary counted from its first terror attack against Israel on Jan. 1, 1965 when terrorists tried to blow up Israel's National Water Carrier, Abbas' Fatah Movement reiterated its goals and ideologies.

Statements by top PA and Fatah leaders and top officials unequivocally show that terror is still on the Palestinian agenda. Posters used at public ceremonies and posted on social media make it clear that terrorists remain role models for Fatah and that the destruction of Israel remains the Palestinian goal.

Below are examples from Fatah's celebrations of its anniversary, clearly communicating Fatah's message of violence and terror to Palestinians. Israeli and world leaders would be wise to take note as well, since this shows that Fatah is far from the "moderate peace partner."

In a speech at an event celebrating Fatah's anniversary, PA and Fatah Chairman Mahmoud Abbas not only praised imprisoned, wounded, and dead terrorists as "brave" and "heroic," but also implied that PA/Fatah won't hesitate using violence and terror to get rid of Israel, i.e., "occupation and settlements remaining on our land." To its own people, the PA and Fatah define all of Israel as an "occupation" and all Israeli cities as "settlements." Only in international forums and when meeting Israelis does the PA accept Israel's existence:
PA Chairman Mahmoud Abbas: "We also send our brave prisoners a salute of honor and appreciation for their giving, their sacrifices, and their patience for the confrontation with the occupation and its prison guards, in order to defend their freedom, the freedom of the homeland, and the honor of our people and its rights. We also salute our heroic wounded and tell our heroes the prisoners and the wounded and their families and the families of the Martyrs that we won't abandon you. Your struggles are lofty medals of honor that testify to your sacrifices for the sake of defending your homeland and your people. May you all be blessed."

[Official PA TV, Dec. 31, 2021]
My machine gun is in my hand… My machine gun and my bullets are the path to salvation– song on PA TV
Student recites "Oh God, take [the Jews] to hell… grant victory to the Muslims"
"We waved the RPG," PA TV broadcasts song glorifying terror attacks on Fatah anniversary
"Wave the rifle… we won't cast our weapons from our hands" – on Fatah's anniversary
Hamas Headquarters in Istanbul 'Directed Hundreds of Terror Attacks'
The Hamas headquarters in Istanbul has directed hundreds of terrorist attacks against Israelis and laundered millions of dollars, according to a recent report by the Jerusalem Center for Public Affairs.

The report noted that "a decade has passed since the official opening of Hamas' offices in Istanbul, and Turkey is courting Israel anew. Turkey collaborates with terror organizations on both the ideological and operational levels. Terrorists working on Turkish soil establish infrastructures and plan terror attacks against Israel."

According to the report, Hamas senior officials — most of them former security prisoners serving sentences for terrorism, who were released in the Gilad Shalit prisoner exchange — "are operating from Turkey against Israel. Some have even been granted Turkish citizenship."

It noted that the December counter-terror raid in Nablus and Hebron by Israeli security forces was accompanied by a no-departure ban on several senior Hamas operatives who allegedly "would link up with Hamas officials overseas."
Palestinian Islamic Jihad held a military parade in #Gaza in honor of Hisham Abu Hawwash ending his hunger strike. First photo shows a poster of Abu Muhammed al-Ajouri who is Islamic Jihad's 'military commander.' He is PIJ's Muhammed Deif. pic.twitter.com/xiVGo5cOQF

— Joe Truzman (@JoeTruzman) January 5, 2022
Palestinian Islamic Jihad militants brandish surface to air missile systems during a military rally earlier today in #Gaza. pic.twitter.com/H2GUj348Be

— Joe Truzman (@JoeTruzman) January 5, 2022
Canada, Other Nations Vow Action Against Iran Over Reparations for Downed Jet
Canada, Britain, Sweden and Ukraine on Thursday said they had abandoned efforts to talk to Tehran about reparations for an airliner downed by Iran and would try to settle the matter according to international law.

Most of the 176 people killed when Iran shot down the Ukrainian jet in January 2020 were citizens from those four countries, which created a coordination group that seeks to hold Tehran to account.

"Despite our best efforts over the past two years and multiple attempts to resolve this matter through negotiations, the Coordination Group has determined that further attempts to negotiate with Iran … are futile," it said in a statement.

"The Coordination Group will now focus on subsequent actions to take to resolve this matter in accordance with international law," it continued, but did not give details.

Tehran says Revolutionary Guards accidentally shot down the Boeing 737 jet and blamed a misaligned radar and an error by the air defense operator at a time when tensions were high between Tehran and the United States.
Iran's wrestling president says 'Death to America' before US match
The president of the Islamic Republic of Iran's wrestling federation, Alireza Dabir, declared "Death to America" in a television interview on Wednesday prior to a slated February wrestling dual meet between the national teams of the US and Iran to be held in Texas.

"We always chant 'Death to America' but importantly is showing it in action," said Dabir, who won a gold medal in freestyle wrestling for Iran at the Olympics in Sydney in 2000. Dabir added that "A doctor, he might even be wearing a tie, but he is doing his job well. He is saying 'Death to America.' Some talk a lot but don't do much. We need to prove it with an action that [Death to America]."

Dabir's call for the abolition of the United States comes a little over a month before the US national team is slated to compete against Iran's team in Arlington, Texas on February 12 in what Gary Abbott from USA Wrestling termed "the first-ever Bout at the Ballpark."

Sardar Pashaei, the Iranian-American former head coach of Iran's national Greco-Roman team, told The Jerusalem Post on Thursday that "It's painful for me as a wrestler and national team coach to listen to these words. When I and many other athletes who have been forced to leave their homeland due to pressure from the Iranian government see Alireza Dabir, the president of the Iranian Wrestling Federation, say 'Death to America, while he has the US Green Card in his pocket."

Pashaei, a former world champion in Greco-Roman wrestling, oversees the United for Navid campaign. The organization seeks justice for Navid Afkari, a champion Greco-Roman Iranian wrestler, who the clerical regime executed in 2020 because he protested against the regime's political and economic corruption in 2018.
GOP Slams Biden Decision To Ignore Mandate To Disclose How Iran Sanctions Relief Funds Terrorism
Congressional foreign policy leaders slammed the Biden administration's decision to not comply with a legal mandate to detail to Congress how sanctions relief for Iran will bolster the regime's ability to conduct terror attacks.

Republicans in Congress, in comments to the Washington Free Beacon, accused President Joe Biden of obstructing the legislative branch's constitutional oversight role. They say the Biden administration does not want Congress to know how much money sanctions relief provides to Iran's terrorist allies as negotiations with Tehran over a revamped nuclear deal drag into another year.

"President Biden thinks the rules don't apply to him. He thinks he can ignore a statute that mandates he tell Congress how much money he's sending to terrorists," Rep. Jim Banks (R., Ind.), a member of the House Armed Services Committee who helped spearhead the reporting mandates, told the Free Beacon. "Well, he better be ready in 2023. House conservatives will hold him accountable to the law."

Biden, in a statement issued during the Christmas holiday, said he would not fully obey a reporting provision included in the bipartisan spending bill that mandates the administration account for every dollar Iran receives as a result of lifted sanctions. The administration said providing that information would "include highly sensitive classified information, including information that could reveal critical intelligence sources or military operational plans."

The strenuous reporting requirement, written into the National Defense Authorization Act (NDAA), is one of the first of its kind and would have forced the administration to provide an unprecedented look into how the easing of sanctions enriches Tehran's terrorist allies, such as Hamas, Hezbollah, and the Houthi rebels in Yemen. The noncompliance announcement comes as the Biden administration attempts to reenter a nuclear deal with Iran—using sanctions relief as a bargaining chip. The Biden administration waiver also applies to other NDAA provisions requiring a full accounting of the equipment and classified materials abandoned in Afghanistan when the United States left the country last year, as well as a detailed report on joint U.S.-Taliban intelligence-sharing operations.
This is a strategic disaster. If Sullivan proposed threatening snapback only as a deterrent to weapons-grade enrichment, then Iran has boxed Biden into accepting all sunsets regardless of whatever deal gets cuts in Vienna. Snapback should happen, period. https://t.co/upUgQrYJyH

— Richard Goldberg (@rich_goldberg) January 5, 2022
A map of recent pro-Iran militia/proxy attacks targeting US in Iraq and Syria, and US response in Syria; there have now been at least five attacks. Details courtesy @nafisehkBBC and @AuroraIntel pic.twitter.com/auB8q2ZHY0

— Seth Frantzman (@sfrantzman) January 5, 2022
"Prominent figures" quoted in Iran video as proof that Islamic Revolutionary Guard Corps mass murder Gen. Qassem Soleimani was a hero:
1. Ayatollah Khamenei
2. Hezbollah chief Nasrallah
3. Hezbollah #2 chief Naim Qassem
4. China regime spox
5. Irish MEP @wallacemick
6. Iraq pres https://t.co/akNgShkqVa

— Hillel Neuer (@HillelNeuer) January 6, 2022
It's not accidental that Amnesty International chose Agnes Callamard to be its new secretary-general.

Supporting misogynists, homophobes and terrorists is not a bug at Amnesty, it's a feature.

??: https://t.co/65rzD0Ag3T

— Hillel Neuer (@HillelNeuer) January 5, 2022
Thank you, Ayatollah, for comparing a mass murderer and terrorist mastermind to Jesus Christ and for using Twitter (which you have denied to your own 84 million people since 2009) to make violent threats.

And thank you, @Twitter, for your fair application of rules and standards. https://t.co/TnAtTOVfhl

— Hillel Neuer (@HillelNeuer) January 6, 2022