From Ian:
4 killed in Vienna 'Islamist terror attack'; Jewish institutions to remain shut
Austrian security forces were carrying out a massive manhunt Tuesday for at least one attacker still on the run, a day after several gunmen opened fire at multiple locations across central Vienna, killing at least four people and wounding 15 more.

"We experienced an attack last night by at least one Islamist terrorist," Interior Minister Karl Nehammer told reporters.

"This is a radicalized person who felt close to IS," said Nehammer, referring to the Islamic State terror group.

Two of the dead were men and two were women. No details were given on their identities.

On attacker was shot dead by police, and a manhunt was underway for at least one more assailant. Austrian authorities have not publicly identified the attackers.

Police said at least one of the attackers was wearing what appeared to be an explosives belt that turned out to be fake.

Austrian Chancellor Sebastian Kurz described the assault as a "repulsive terror attack" and said he could not rule out an anti-Semitic motive for the onslaught, given that the shooting began outside Vienna's main synagogue. It was closed at the time.
Early Report: 7 Reported Killed in Ongoing Shooting Near Jewish Community Center in Vienna
'Israel stands with Austria,' Netanyahu tells Kurz after Vienna attack
Israel and Austria are sharing intelligence in the aftermath of a shooting at a Vienna synagogue, Prime Minister Benjamin Netanyahu said on Tuesday.

Netanyahu said he spoke to Austrian Chancellor Sebastia Kurz and told him "the people of Israel stand with Austria…against the savagery of Islamist terrorism.

"We are cooperating in every way, with our intelligence and every other way we can," Netanyahu added.

The prime minister made the remarks in a statement with Romanian Prime Minister Ludovic Orban, who was in Jerusalem.
PM Netanyahu: "I spoke to our colleague @sebastiankurz in Austria. I told him the people of Israel stand with Austria, as I know the people of Romania do and so many others, against the savagery of Islamist terrorism. We are cooperating with our intelligence and every other way" pic.twitter.com/gupxJBpchh

— PM of Israel (@IsraeliPM) November 3, 2020
Our prayers are with the people of Vienna after yet another vile act of terrorism in Europe. These evil attacks against innocent people must stop. The U.S. stands with Austria, France, and all of Europe in the fight against terrorists, including radical Islamic terrorists.

— Donald J. Trump (@realDonaldTrump) November 3, 2020
Vienna's Chief Rabbi Schlomo Hofmeister has told LBC he saw multiple gunmen firing into bars and restaurants during tonight's attack@TomSwarbrick1 pic.twitter.com/IRHXrDn4m2

— LBC (@LBC) November 2, 2020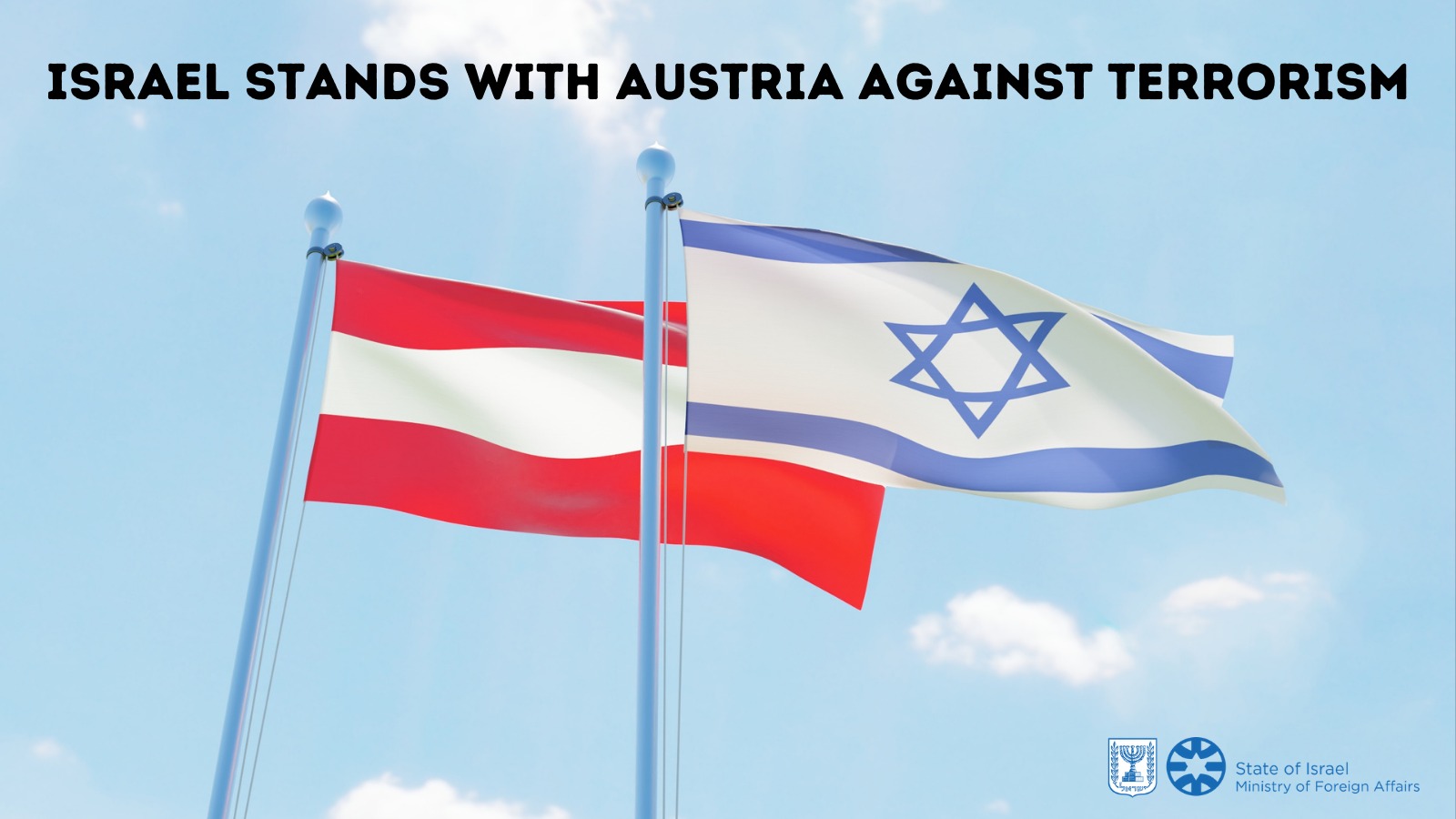 Austrian minister: Vienna terrorist was convicted for trying to travel to Syria
Nehammer later told the Austrian APA new agency that the dead assailant, who had roots in the Balkan nation of North Macedonia, had a previous conviction in under a law that punishes membership in terrorist organizations. He was convicted in April 2019 for trying to travel to Syria, Nehammer said.

Fifteen house searches have taken place and several people have been arrested, he added.

The attacker, he said, "was equipped with a fake explosive vest and and an automatic rifle, a handgun and a machete to carry out this repugnant attack on innocent citizens."

Authorities were still trying to determine whether further attackers may be on the run. People in Vienna were urged to stay at home if possible on Tuesday and children did not have to go to school. Some 1,000 police officers were on duty in Vienna on Tuesday morning.

Nehammer said two men and two women died from their injuries in the attack Monday evening.

Vienna's hospital service said seven people were in life-threatening condition after the attack, APA reported. In total, 17 people were being treated in hospitals, with gunshot wounds but also cuts.

Among those wounded in the attack was a police officer, said Nehammer. The 28-year-old officer was in the hospital but was no longer in a life-threatening condition.

The shooting began shortly after 8 p.m. (1900 GMT) Monday near Vienna's main synagogue as many people were enjoying a last night of open restaurants and bars before a month-long coronavirus lockdown, which started at midnight.

Vienna police chief Gerhard Puerstl said the attacker was killed at 8:09 p.m.

Chancellor Sebastian Kurz said that "we are victims of a despicable terror attack in the federal capital."
Vienna Chief Rabbi: Terror attack 'assault on coexistence, tolerance'
The Chief Rabbi of Vienna Rabbi Jaron Engelmayer has condemned Monday night's terror attack in the Austrian capital as an assault against coexistence in the city and against tolerance and peace in Austria itself.

Speaking to The Jerusalem Post Tuesday morning, Engelmayer emphasized that it is still too early to tell if the attack targeted the Jewish community, and said the Jewish community was in "a state of uncertainty" while information about the precise motives of the attack are collected.

He added that the Jewish community stands together with the victims of the attack and is praying for their recovery.

Three people were killed and 15 injured in the terror attack in central Vienna on Monday night, with the Austrian Interior Minister Karl Nehamme describing the assailant as "an Islamist terrorist" and an ISIS sympathizer.

"I totally condemn this attack which was an assault against coexistence," said Engelmayer.

"Many communities live here side by side in peace and in tolerance, and this attack is designed to disturb that peace and tranquility."
Vienna terrorist likely acted alone, 'fooled' de-radicalization program
Austrian police have arrested 14 people in raids linked to Monday's deadly terror attack in Vienna and have found no evidence that a second shooter was involved, Interior Minister Karl Nehammer said Tuesday.

"There have been 18 raids in Vienna and Lower Austria and 14 people have been detained," Nehammer told a televised press conference.

The minister added that police believe that the attack in central Vienna was carried out by a lone gunman, Kujtim Fejzulai, a 20-year-old Islamic State sympathizer who was killed by police on Monday night.

The video material evaluated by the police "does not at this time show any evidence of a second attacker," Nehammer said.

Fejzulai, a dual Austrian and Macedonian national, was sentenced to 22 months in prison in April 2019 because he had tried to travel to Syria to join the Islamic State terror group.

Nehammer said he had been on a de-radicalization program and had managed to "fool" it and secure an early release in December under juvenile law.

"The perpetrator managed to fool the de-radicalization program of the justice system, to fool the people in it, and to get an early release through this," the minister said.

Nehammer told news agency APA that Fejzulai had posted a photo on his Instagram account before the attack that showed him with two of the weapons he apparently used.
Austrian Police Arrest 14 in Dragnet After Gunman Kills Four on Rampage
Austrian police raided 18 locations and arrested 14 people in a massive dragnet on Tuesday, after a gunman killed four people in a rampage in the center of Vienna overnight.

The gunman — who was shot dead by police minutes after he opened fire on crowded bars — was identified as a 20-year-old convicted jihadist released from jail less than a year ago, who had managed to convince authorities that he was no longer a threat.

An elderly man and woman, a young passerby and a waitress were killed in the attack, and 22 people including a policeman were wounded, Interior Minister Karl Nehammer told a news conference. Vienna's mayor said three people were still in critical condition.

Describing the assault as a terrorist attack, Chancellor Sebastian Kurz said in a televised address: "This is not a conflict between Christians and Muslims or between Austrians and migrants. No, this is a fight between the many people who believe in peace and the few (who oppose it). It is a fight between civilization and barbarism."

Authorities had previously said they could not rule out the possibility that other shooters were still on the loose and asked people to avoid the center of Vienna, which was largely deserted on Tuesday with most shops closed.

Nehammer said footage of the incident filmed on mobile phones showed no evidence of a second gunman, although the possibility had not been completely ruled out.
Ladies and gents, the editor of 5 Pillars, a British Muslim website which wants people to mistake it for a credible news outlet. https://t.co/qIWVjYWT8F

— HonestReporting (@HonestReporting) November 3, 2020
Khaled Abu Toameh:
The Real Enemy of Islam
"The beheading of the French history teacher proves that political Islam has become a real threat to world peace in light of its expansionist tendency, which is currently embodied by Erdogan's project, which not only targets the societies of Muslim countries, but also other societies that incubate important Islamic communities." — Al-Habib Al-Aswad, Tunisian journalist, Al-Arab, October 28, 2020.

He wants to represent himself as a defender of Islam. Which Islam does he speak for? Erdogan has committed crimes in Libya, Syria and all Arab countries. He is the one who is offending Islam." — Mustafa Bakri, Egyptian media personality, Al-Dostor Studio, October 30, 2020.

The reactions of many Arabs and Muslims show that they view Erdogan as a more serious threat to Islam than Macron or others in the West.
French Jews Praise Interior Minister's Ban on Violent Turkish Neo-Fascist Group
France's Jewish community on Monday welcomed the decision of the country's interior minister to ban a violent Turkish fascist group that adheres to antisemitic ideology.

In a post on Twitter, CRIF — the representative organization of French Jews — praised Interior Minister Gerald Darmanin's move to ban the "Grey Wolves," an ultranationalist organization with a record of assassinations and bombings that stretches back to the 1960s.

"Their violence, expressed again this weekend against the Armenian community in France, has no place in the territory of the Republic," CRIF said — referring to attacks this week by Grey Wolves supporters on an Armenian demonstration against renewed fighting in the Nagorno-Karabakh region, as well as the vandalizing of a monument to the Armenian genocide in the city of Lyon.

The ban on the Grey Wolves comes amid rising tension between France and Turkey following the beheading last month of a Paris school teacher by an Islamist assailant.

Darmanin described the Grey Wolves as "particularly aggressive" in comments to French legislators.

A Grey Wolves terrorist — Mehmet Ali Agca – was famously responsible for the attempted assassination of Pope John Paul II in Rome in 1981.
Terry Glavin: Trudeau's incoherence has disappointed the French and all Muslims
French President Emmanuel Macron could really use some friends right now. He's being burned in effigy, and bloodcurdling vows to avenge the Prophet Muhammad have been shouted in street protests in Bangladesh, Egypt, Kuwait, Qatar and Palestine. The world's theocracies are taking aim at him and at the economy of the French republic itself, the birthplace of liberté, égalité and fraternité.

It's a shame no help is coming from Prime Minister Justin Trudeau, whose point-missing incoherence has sidelined Canada in the effort to defend France in its current agonies. Expressions of solidarity and sympathy are all well and good, but Macron's defence of the right of satirists to publish vulgar cartoons was not a defence of the right, as Trudeau absurdly suggested last Friday, "to shout fire in a movie theatre crowded with people."

A target had been painted on Macron's back long before the 47-year-old middle-school teacher Samuel Paty was beheaded in broad daylight Oct. 16, the grisly culmination of a methodically organized incitement campaign orchestrated by France's Hamas-affiliated Collective Cheikh Yassine. The pretext for the feigned outrage was Paty's use of the contentious Charlie Hebdo cartoons of Muhammad from 2015, in a class discussion, to explore the disputes and arguments around free speech.

And those cartoons were not published in order to "arbitrarily or unnecessarily injure those with whom we are sharing a society and a planet," as Trudeau put it. Specifically, the cartoons depicted Mohammad — a blasphemy all on its own, by some Islamic standards — lamenting the barbarism so often carried out in his holy name. For this, 11 Charlie Hebdo staff members were massacred on Jan. 7, 2015. To mark the beginning of the trial of those terrorists and their accomplices, Charlie Hebdo republished the cartoons on Sept. 1. In anger, a crackpot wielding a meat cleaver attacked and seriously injured two people Sept. 25 on the street where the Charlie Hebdo office used to be.

Neither did it help — although it was perhaps some small mercy that he was being merely obtuse and oafish — in the way Trudeau classified the acts of beheading a 60-year-old worshipper and slitting the throat of a 55-year-old church sexton and stabbing a 44-year-old mother of three to death at the Notre-Dame Basilica in Nice last Thursday morning. These are "unjustifiable acts," Trudeau asserted, "which have no place in our society."

Was this really something any of us needed to be told? Is France "our society"? Is it just "our" society where Trudeau would want us all to refrain from such savagery? Are there other societies where Trudeau considers head-chopping and the public disembowelment of innocents to be unobjectionable?
The Secretary General of the Houthi movement in Yemen claims French President Emmanuel Macron is a "toy" and "puppet" of the "Zionist Jews".

The Iranian revolutionary form of Islamism views Western democracy as an international Zionist plot, echoing Nazi propaganda in 2020: pic.twitter.com/xJqQ50wpaP

— The Conspiracy Libel (@ConspiracyLibel) November 2, 2020
Over 100 years ago Erdogan's predecessor also incited terrorist attacks. Two Afghans, Badsha Mahomed Gül & Mullah Abdullah, murdered 4 & wounded 2 at Broken Hill, NSW, Australia, in 1915 responding to a call to jihad from Ottoman Sultan Mehmed V. pic.twitter.com/AWBlpptdPU

— Rɪᴄʜᴀʀᴅ Kᴇᴍᴘ ⋁ (@COLRICHARDKEMP) November 3, 2020
Where @khamenei_ir is defending the vile Islamic terror attacks in Europe, which he himself has helped incite.

But that's ok @jack @Twitter, nothing to see here! https://t.co/8H5NtoRFbI

— Arsen Ostrovsky (@Ostrov_A) November 3, 2020
Iraqi Militia Official Sheikh Yousuf Al-Nasseri: The West Trains People to Carry out Terrorist Attacks, Then Blames the Attacks on Muslims to Prevent Conversion to Islam pic.twitter.com/3vjjaQu3vD

— MEMRI (@MEMRIReports) November 3, 2020
Netanyahu scolds EU, says bloc doesn't understand changing nature of Middle East
Prime Minister Benjamin Netanyahu on Tuesday appeared to criticize the European Union for failing to understand the changing nature of the Middle East after Israel's recent normalization agreements with the United Arab Emirates, Bahrain and Sudan.

At the beginning of a meeting with Romanian Prime Minister Ludovic Orban in Jerusalem, Netanyahu thanked Bucharest "for helping us present a sensible case to the EU."

"We're in a period of peace. We've made peace and normalization agreements with three Arab countries in six weeks. So obviously they have a different view of the situation here in the Middle East than some of the traditional bureaucracies of the EU," Netanyahu said.

"We will continue to value your assistance in explaining to the EU the changing circumstances in the Middle East that are advancing peace and prosperity for all."

Orban, who had arrived in Israel earlier on Tuesday, said that he would discuss with Netanyahu the "critical importance of building a stable regional security environment in the Middle East."
Seht Frantzman:
Five Middle East foreign policy crises for next US president
The next US President, whether US President Donald Trump remains in office or if Democratic challenger Joe Biden takes home a victory, will face several crises in the Middle East. These include dealing with the Iranian threat, the emerging extremism of Turkey, the failing leadership of the Palestinians, problems in Libya and the Eastern Mediterranean and an emerging disaster in the Sahel and potential destabilization of Iraq.

The Middle East has always been a challenge for US presidents going back fifty years. Many administrations come into power wanting to "do something" relating to the region, usually "solving" the Israel-Palestinian conflict. However the last decades have shown that this conflict is not the central conflict in the region. Other problems in the region, such as Islamist extremism, also appear to be reduced in the last years as ISIS was defeated. What is left is rising authoritarian regimes such as Turkey and the Iranian attempt to achieve hegemony over Syria, Iraq and Lebanon.

Here are some of the five crises the US President must address.

Turkey's growing extremism The Turkish government of Recep Tayyip Erdogan has become increasingly extreme. This year alone it created a crises with Greece several times, bombed Iraq, continued military threats in Syria against US partner forces, threatened Armenia, Israel Egypt, the UAE and other countries. Turkey is at the intersection of the Middle East and Europe and it uses this to blackmail Europe regarding migrants and to meddle in all its neighbors.

Mounting evidence shows Turkey's extremism is not only fueling terrorism but that it also is destabilizing the region. Countries and groups are seeking out Russia as they are increasingly pressured by Turkey, enabling Turkey, Russia and Iran to partition the region. This is because the US has not stood up to Turkey and defended its friends and allies. Turkey has lost out on the F-35 but is buying the Russian S-400 air defense system and has used it to threaten Greece. These are serious problems. There are calls to remove Turkey from NATO but Ankara's lobbying arm in the US claims that if Turkey is pressured it could become more dangerous than Iran. In addition Turkey sells itself as balancing Iranian and Russian influence.

The reality is that Turkey is fueling extremism and working with Iran and Russia to remove US influence. The next US president will have to confront Turkey's ambitions to control the eastern Mediterranean. In addition Turkey's hosting of terrorists and incitement against Europe and others needs to be stopped. It is only a matter of time before Ankara sets its sights on Israel, the way it has threatened others.
Kamala Harris: We will restore aid to Palestinians, renew ties
Democratic Party candidate for vice president Kamala Harris indicated on Saturday in an interview via email with The Arab American News that under a Joe Biden administration, the United States will renew its ties with the Palestinians, and oppose Israeli unilateral actions that undermine a two-state solution.

Harris also said that a Biden administration will take immediate steps to restore economic and humanitarian assistance to the Palestinians, attempt to address the humanitarian crisis in Gaza and reopen the US consulate in east Jerusalem, in addition to working to reopen the PLO mission in Washington.

In an email to Detroit weekly bilingual newspaper, Harris said that "Joe and I also believe in the worth and value of every Palestinian and every Israeli, and we will work to ensure that Palestinians and Israelis enjoy equal measures of freedom, security, prosperity and democracy. "We are committed to a two-state solution, and we will oppose any unilateral steps that undermine that goal. We will also oppose annexation and settlement expansion," she added.
Senior Campaign Official Says Biden Would Keep Golan Heights Recognition
Were former US Vice President and current Democratic presidential nominee Joe Biden to be elected, he would likely not reverse the US recognition of Israel's sovereignty over the Golan Heights, a senior Biden campaign official told JNS.

When asked if Biden would maintain the recognition in March 2019 by US President Donald Trump, the senior official said, "I don't think a Biden administration would reverse that," adding that "it was de facto recognized anyway. It was largely symbolic. It didn't really change the calculus either by the United States or Israel or any of the neighboring nations."

Biden, who faces Trump on Nov. 3, has said that he would leave the US embassy in Jerusalem, despite disagreeing with its relocation from Tel Aviv in May 2018, five months after Trump recognized Jerusalem as Israel's capital.
Time for an Israel-Iraq peace deal
The United Arab Emirates has become the first Arab country in decades to break through the fictional wall between Israel and Arab countries. It is now time for other countries, including Iraq, to follow in their footsteps to bring peace and prosperity into the region.

There is a rich history between the Jewish population of Israel and Mesopotamia, where Jews lived for thousands of years, and where they played a part in the construction of the country from the very beginning. Iraq's Jewish community is the oldest Jewish community outside of Israel, dating back to the prophet Abraham. This community was established in Iraq for thousands of years, until the beginning of the first half of the twentieth century, when 120,000-130,000 Jewish Iraqis were airlifted to Israel.

Since the 1950s, various Iraqi regimes rejected the State of Israel and worked against it many times. However, despite these issues, the current situation is quite different, with a new pro-democratic Iraqi government in place. The new government, led by Mustafa al-Kadhimi, is looking forward to expanding its diplomatic relations and broadening its economic, infrastructure and energy relations with other states.

On August 25, Kadhimi met with the presidents of Jordan and Egypt in Amman, Jordan. Kadhimi wanted to expand Iraq's economic ties with its regional neighbors, and he believed that these three countries might one day play a vital role in the region. Just weeks after their meeting, the UAE signed a historic deal with Israel, followed by the Kingdom of Bahrain.

Even though the Iraqi prime minister's spokesmen recently affirmed that Iraqi laws do not allow such relations with Israel, this may be challenged if there is a strong determination from both parties. Hassan Kaiba, the Israeli Foreign Ministry spokesman, announced that Israel wishes to build a relationship with Iraq and looks forward to signing a peace deal with it.
Malawi to be first African state with embassy in Jerusalem
Malawi plans to open an embassy to Israel in Jerusalem, making it the first African state to do so, Malawian Foreign Minister Eisenhower Mkaka announced during his visit to Israel on Tuesday.

Mkaka said that Malawi, which does not have an embassy to Israel, plans to open one by summer 2021.

Foreign Minister Gabi Ashkenazi called Malawi a "pioneer," and said the decision is "further proof of the ties between the country and the widening of the circle of peace.

"Jerusalem, the eternal capital of the State of Israel, will be a bridge of peace for the whole world, and I call on more countries to follow in Malawi's path and move their embassies to Jerusalem, the capital of Israel," Ashkenazi stated.

The US and Guatemala are the only countries that currently have embassies in Jerusalem, though several other others have said they would open one, such as Brazil, Serbia, Kosovo, Croatia, Honduras, Moldova, Romania and the Czech Republic.

Malawi is one of the few African states with which Israel has continuously had diplomatic relations since its founding in 1964, and Israel provided Malawi with aid, especially in the area of agriculture, for many years.
Clashes Erupt as IDF Razes Home of Terrorist Who Killed Rabbi Shai Ohayon
The Israel Defense Forces on Sunday razed the home of the Palestinian terrorist who murdered Rabbi Shai Ohayon in Petach Tikva in August.

Ohayon, a 39-year-old father-of-four, was found unconscious near the Segula Junction with multiple stab wounds and was pronounced dead shortly thereafter.

A manhunt for his killer was launched immediately, resulting in the arrest of 46-year-old Khalil Doikat of Rujeib, a Palestinian town just under 2 miles southeast of Nablus in northern Judea and Samaria. Doikat held an Israeli work permit, allowing him to travel freely in the country.

He was found in the possession of a bloodstained knife, believed to be the murder weapon. Doikat was charged with Ohayon's murder in September.

Sunday's demolition was carried out after the High Court of Justice denied an appeal by Doikat's family to stop it.

Some 150 Rujeib residents clashed with security forces, burning tires and hurling firebombs and stones at the troops, who responded with crowd control measures.
Lebanon decides not to charge ex-boss of Nissan over Israel trip
Lebanon's prosecutor general decided Tuesday not to charge fugitive ex-auto tycoon Carlos Ghosn for visiting Israel in 2008 because a statute of limitations has expired, a judicial source said.

Three lawyers filed a motion in January calling for the 66-year-old businessman to be prosecuted over his trip to the Jewish state as Renault-Nissan chairman.

Lebanon is technically still at war with Israel and forbids its citizens from traveling there.

"Prosecutor general Ghassan Oueidat decided… not to prosecute Ghosn for the crimes attributed to him of entering the enemy country and dealing with it economically," the source told AFP.

"A statute of limitations of ten years had passed since the alleged crime," the source added.

Ghosn on January 8 apologized to the Lebanese people for having visited Israel to sign a deal to produce electric vehicles, saying he traveled on business for Renault on a French passport.

He also holds Lebanese and Brazilian nationalities.
Suspected Gaza Drone Found in Southern Israel Field
A drone suspected to have been launched from the Hamas-ruled Gaza Strip was found in a field in southern Israel on Monday.

The Israeli daily Yediot Aharonot reported that the drone set off an infiltration alert, prompting the Israeli Air Force to dispatch fighter planes to intercept it.

The drone was apparently too small to be detected by the planes, and seemingly crashed on its own in an open field.

The IDF Spokesperson's Office issued a statement saying, "Earlier today, fighter jets were scrambled to the Gaza Strip area following suspicion that an aircraft had penetrated Israeli territory from the territory of the Strip."

Ground searches were subsequently conducted, leading to the discovery of the drone.
PMW:
All of Israel is "Palestine" in Fatah message
In a recent Facebook post, Abbas' Fatah Movement made it clear what it means when it refers to "Palestine" – it includes the entire State of Israel.

As part of its protests against the recent normalization agreements between Israel and the UAE, Bahrain, and Sudan – and the fear that more Arab states will follow– Fatah posted the image above with four repetitions of the PA map of "Palestine" that includes all of Israel.

Posted text: "Our people's resolve is stronger than all the enterprises of normalization, annexation, and treason, because the voice of truth is louder; here we remain and we will not leave; Palestine is a goal that dignifies and a flag that waves"

[Facebook page of the Fatah Commission of Information and Culture, Oct. 28, 2020]

Each map of "Palestine" is accompanied by an image of an upraised fist and the Palestinian flag with "Normalization is treason" written above it. Similarly, each section has "#Normalization_is_treason - #No_to_normalization" written in the upper right corner, whereas the upper left bears the Fatah logo that includes a grenade, crossed rifles, and the PA map of "Palestine."
Palestinian security prisoner's hunger strike hits 100 days
Palestinian security detainee Maher al-Akhras continued his hunger strike for the 100th consecutive day on Tuesday in protest of his detention without trial by Israeli authorities, who have accused him of involvement in a terror group.

For over a month, his attorney and human rights organizations involved in his case have been warning that al-Akhras is in serious medical danger should his hunger strike continue.

"He is in immediate, fatal danger. People who begin hunger strikes and drink nothing but water for days on end begin to die around the 75th day," said Physicians for Human Rights-Israel staffer Anat Litvin, who specializes in prisoners' rights.

The Palestinian Prisoners' Commission said in a statement on Sunday that al-Akhras's health has severely deteriorated over the past few days, and he has begun to lose his sight and hearing due to the damage caused by his self-imposed starvation.
2 Hamas figures got their assets frozen by the new Sudanese regime. Having lost their safe haven, Maher Salaam & Bassam Ahmed flee to...wait for it...Turkey.

H/T @lennybendavid & @TobyDersh https://t.co/xakzW4JlSc

— Jonathan Schanzer (@JSchanzer) November 2, 2020
PreOccupiedTerritory:
Scientists Glimpse Israeli Genocide Of Palestinians In Other Universe Where It Actually Happened (satire)
Researchers reported this week they have managed what many are calling a tantalizing look into a long-theorized dimension of existence outside our own, in which organized massacres and systematic Zionist attempts to exterminate non-Jewish inhabitants of the Holy Land did in fact take place.

A series of experiments at Harvard University's Smithsonian Institute for Astrophysics and several other allied facilities around the world resulted in a brief look at another universe, the scientists reported in a press release, a universe that appears to resemble this one in most respects but for the occurrence in the glimpsed universe of an actual genocide of Palestinians at the hand of Jews establishing and securing a homeland of their own in what is now Israel and the territories it controls. A full write-up of the discovery has a tentative publication date of January 2021 in the journal Science.

Astrophysicists, quantum physicists, astronomers, particle physicists, mathematicians, and a total of more than four hundred scientists and engineers at eight scientific institutions worldwide collaborated on the unprecedented work, which integrated observations of matter-antimatter dynamics, the effects of gravity, subatomic particle behavior, and numerous other disciplines in an effort to open a lens to a realm that has been inferred, but never directly observed. The effort allowed the researchers to gain a snapshot picture of a small portion of a realm with different physical laws, a difference that accounts for the occurrence of a Palestinian genocide in that universe, when in this one the Palestinian population has mushroomed and no evidence of any such genocide exists outside the fevered imaginations of the malignant or deluded. The groundbreaking discovery of a universe in which this universe's Palestinian propaganda is actually true already has members of the scientific community mouthing the words "Nobel Prize." Analysts differ on which prize the discovery merits: physics, peace, or literature.
Turkey Glorifies Historic Crimes
"In our civilization, conquest is not occupation or looting. It is establishing the dominance of the justice that Allah commanded in the [conquered] region.... This is why our civilization is one of conquest." — Turkish President Recep Tayyip Erdogan, MEMRI.org, August 26, 2020.

"Turkey will take what is its right in the Mediterranean Sea, in the Aegean Sea, and in the Black Sea.... This is why we are determined to do whatever is necessary politically, economically, or militarily. We invite our interlocutors to put themselves in order and stay away from mistakes that will open the way for them to be destroyed." — Turkish President Recep Tayyip Erdogan, MEMRI.org, August 26, 2020.

"The most savage treatment was always reserved for those visibly proclaiming their Christianity: clergy and monks 'were burned to death, while others were flayed alive from head to toe.'" — Raymond Ibrahim, historian, Frontpage Magazine, August 7, 2019.

In 2018, the Speaker of Turkey's parliament, Ismail Kahraman, described Turkey's military offensive against northern Syria as "jihad." "Without jihad," he added, "there will be no progress." During the same offensive, Turkey's Directorate of Religious Affairs (Diyanet) also called for "jihad" and declared in a weekly sermon that "armed struggle is the highest level of jihad."
MEMRI:
Russian Professor Tevdov-Burmuli: Recent Terrorist Incidents In France Show That A Synergy Has Been Created Between Accumulated Terrorist Potential And Turkish Institutional Backing
In a Rosbalt interview titled "Turkey Openly Backs the Islamic Ummah of Europe", Aleksey Kuchin interviewed Professor Alexander Tevdoy-Burmuli, an expert on ethnopolitical processes. Tevdoy-Burmuli saw Turkish influence behind the recent acts of terror in France and claimed that a dangerous synergy is created "when the accumulated [Islamic] terrorist potential and the corresponding practice... receives institutional support from the Turkish authorities." Tevdoy-Burmuli believes that Russian Muslims are being drawn into this trend as could be seen at the anti-Macron demonstration in Moscow, where the demonstrators shouted "Allah Akhbar". Tevdoy-Burmuli mildly criticized Russia's law enforcement authorities for treating the Muslim demonstrators more leniently than at other unauthorized demonstrations.

The interview with Tevdoy-Bumuli follows below:[1] Russian Muslims demonstrate against Macron at French embassy in Moscow (Source: Ria.ru)

"In the single day of October 29, three terrorist attacks by radical Islamists occurred against French citizens, including another beheading - this time that of an innocent woman in a Catholic cathedral in Nice. Additionally, attacks took place on police officers in Avignon and on a guard of the French mission in the city of Jeddah, Saudi Arabia.

"These events forced Paris to declare the highest level of terrorist threat throughout the country. By order of French President Emmanuel Macron, the army was brought into French cities. Let's note that the aforementioned attacks took place less than two weeks after the brutal murder of a college teacher, Samuel Pati, in the Paris suburb of Conflans-Saint-Honorine.

"Now, many claim that these tragic events coincided in time with a sharp deterioration in Franco-Turkish relations. The publication of a caricature of Erdogan in the notorious Charlie Hebdo added fuel to the fire. After Macron's statement on firmly defending the principles of freedom of speech and conscience, Turkish President Recep Erdogan spoke about his French counterpart in an insulting manner. Things got to the point that France recalled its ambassador from Ankara, and the Turkish president called for a boycott of French goods in Muslim countries.
Syrian Minister of Religious Endowments Dr. Mohammad Abdul-Sattar Al-Sayyed Speaks out Against Arab Normalization with Israel: The Quran Repeatedly Tells Us about the Evils of the Israelites pic.twitter.com/pdidjX2fMU

— MEMRI (@MEMRIReports) November 3, 2020
MEMRI:
Iran Responds To Bahrain And UAE Normalization With Israel: Israel's Destruction Is Near, The Gulf State Regimes Are In Danger
The normalization between Israel and the Sunni Arab Gulf states of Bahrain and the UAE is perceived by the Iranian leadership as a direct threat to it, and as trespassing in its backyard in the Gulf. The normalization agreements endanger Iran's hegemony in the Gulf – an exclusive hegemony that the Iranian regime has taken care to establish.[1] Furthermore, the Arab Gulf states' public joining up with and normalization with Israel deal a severe blow to Iran's narrative of Islamic unity and Islamic values, and to the ideological messages of the Islamic revolutionary regime in Iran that claims to be the standard-bearer of the defense of the pure and correct Islam.

Tehran called the UAE "a traitor to the Islamic ummah and to Palestine" and issued warnings and vague threats to it (see MEMRI Special Dispatch No. 8928, Iran Reacts To UAE-Israel Normalization: UAE Rulers Are 'Traitors'; The Agreement 'Heralds A Dangerous Future... Particularly For The Residents Of The UAE's Glass Palace,' September 11, 2020). However, Tehran's threats against the Bahraini royal Aal Khalifa family and its rule, after Bahrain announced that it too was normalizing with Israel, were much blunter and more and explicit.

Until 1971, as the Iranian regime mouthpiece Kayhan underlined on September 13, 2020, the Shi'ite-majority Bahrain was Iran's 14th province. On September 19, 2020 Kayhan claimed that Bahrain is "a province belonging of the Iranian people." Iranian officials regularly stress Iranians' sentimentality regarding Bahrain, and even reiterate Iran's demand for Iranian sovereignty over it.[2] Bahrain is perceived by Iran as the latter's strategic stronghold against its Sunni Arab rival Saudi Arabia, because of Bahrain's Shi'ite majority which Iran backs and cultivates. The Iranian regime has more than once been accused by Bahraini authorities of encouraging civil rebellion against Bahrain's Sunni regime.

Iranian spokesmen clarified to the Arab Gulf states that now, as they have openly stood alongside Israel, Tehran will treat them like an enemy, and warned them again that their move destabilizes their regimes. They also explicitly warned, on behalf of the resistance front and the Palestinians, of a decisive response and of the destruction of Israel.
Iranian Foreign Minister: Biden a 'More Promising' Candidate
Iranian foreign minister Mohammad Javad Zarif said Tuesday that the Biden ticket is his country's "more promising" option in the 2020 presidential election.

"The statements by the Biden camp have been more promising, but we will have to wait and see," Zarif told CBS News.

Zarif said he would not renegotiate the Iran deal with a Biden administration but hopes it would "act differently" from the Trump administration.

During the Obama administration, Biden and top Middle East hands supported increased engagement with Tehran. Obama's presidency also brought the Iran nuclear deal—and many fits and starts in the bilateral relationship between the United States and Israel.

Many current top Biden advisers have had similar qualms about the Trump administration's Iran policy, in which the United States has moved closer to Israel and engaged with Gulf countries.

Despite criticisms, Trump's moves have helped Israel retain its cutting-edge defense capabilities while normalizing ties between the Jewish state and Muslim-majority countries such as Bahrain, the United Arab Emirates, and Sudan. Those same countries have also increasingly condemned Iran and the Palestinian Authority.
In March @Twitter told @SenTedCruz the reason they continue to provide acct to @khamenei_ir, despite US laws imposing criminal penalties for doing so, is because "to deny our service to [Iran] leaders at a time like this would be antithetical to the purpose of our company" 🤔 https://t.co/cdRjolqhLr

— Omri Ceren (@omriceren) November 3, 2020
Iranian Majles Passes a Bill Obligating Government to Increase Nuclear Activity; Delegates Celebrate by Chanting "Death to America!" pic.twitter.com/uL0qjCVo30

— MEMRI (@MEMRIReports) November 3, 2020
IRGC Aerospace Force Commander Gen. Hajizadeh in an Iran TV Documentary: Germans and Japanese Felt Our Attack on Ayn Al-Asad Airbase Was Revenge for WWII; Show Ends with the Trump Family, Pence, Netanuau Being Targeted by Crosshairs pic.twitter.com/a6rnk3tupG

— MEMRI (@MEMRIReports) November 3, 2020
Iran to send gamers to Israel for international e-sports competition
Iran will send representatives to compete in the international e-sports world championship in Eilat this February, representing a significant departure from its longstanding policy.

Organized by the South Korea-based International e-Sports Federation (IESF) as well as with Maccabi World Union and the Culture and Sport Ministry, the decision for the tournament to be held in Israel was a closely guarded secret for months, and was the result of efforts made by Ido Brosh, chairman of Israel's representative organization in the IESF, the Israeli e-Sports Association (IESA) and a member of the IESF's board.

At the time the original announcement was made, Iran, alongside other nations that do not have diplomatic ties with Israel such as Indonesia, had expressed disappointment, as it seemed they wouldn't be able to compete. And while some countries in the region such as Lebanon and Syria did not agree to come, Iran did, after its teams won their regional qualifying tournament yesterday for eFootball PES Series, one of the three official games played at the event.

Speaking to The Jerusalem Post, Brosh said they were excited to welcome Iranian representatives to their country, and explained that e-sports is a very effective means of bringing people together even when a lack of normalized ties could get in the way. "E-sports is a tremendous bridge between people," he explained.
---
---
We have lots of ideas, but we need more resources to be even more effective. Please
donate today
to help get the message out and to help defend Israel.