From Ian:
---
On eve of 1st UAE flight, PM claims Palestinians can't 'veto' Israel-Arab peace
Israel's normalization of ties with the United Arab Emirates will pave the way for treaties with more Arab countries since it has removed the "Palestinian veto" on peace between the Jewish state and the Arab world, Prime Minister Benjamin Netanyahu said Sunday, as he hosted senior American officials who brokered the historic deal between Jerusalem and Abu Dhabi.

Netanyahu spoke Sunday during a press conference alongside US President Donald Trump's senior adviser Jared Kushner and US National Security Adviser Robert O'Brien, a day before a US-Israeli delegation including Kushner is set to take the first-ever Israeli commercial flight from Tel Aviv to Abu Dhabi to put the Israeli-UAE normalization deal into practice.

Kushner echoed the assertion that other Arab and Muslim states would make peace with Israel and said that Trump, his father-in-law, was "writing a script for a new Middle East."

The August 13 Israel-UAE diplomatic breakthrough "will pave the way for other countries to normalize their ties with Israel," Netanyahu said. "I think for too long the Palestinians have had a veto on peace. Not only between Israel and the Palestinians but between Israel and the Arab world."

"If we have to wait for the Palestinians, we would have to wait forever. No longer," he said. The Palestinians, when they realize that their veto has dissipated, "will be hard pressed to remain outside the community of peace," he added.

Palestinian leaders have sharply criticized the UAE for agreeing to normalize relations with Israel, calling the move despicable and a betrayal.

Recalling that Kushner had been ridiculed for suggesting this process could happen, Netanyahu said the critics have been proved "dead wrong." "We know that reality has changed," Netanyahu said, "because we have changed it."
Benjamin Netanyahu, Jared Kushner, Robert C. O'Brien Address Media in Jerusalem
JCPA:
The Agreement between Israel and the United Arab Emirates
For the first time, there is a "warm peace" between Israel and an Arab state, where both sides see the mutual advantage from their scientific, economic, cultural, and strategic cooperation.

In contrast, Egypt, Jordan, and the Palestinians maintained "cold relations" with Israel that were meant to extract the maximum concessions from Israel while minimizing normalization with it.

With this diplomatic achievement, Israel is taking a huge step towards one of its long-term strategic goals – integration into the region.

The pragmatic Arab camp members feel that the radicals are weaker. Israel is perceived as a powerful country that dares to act against the extremists and will not change its position.

The agreement is a historic achievement for Israel, the UAE, the United States, and the pragmatic camp. It creates a potential for further achievements at the regional level and in the Palestinian context, as progress continues in the normalization process.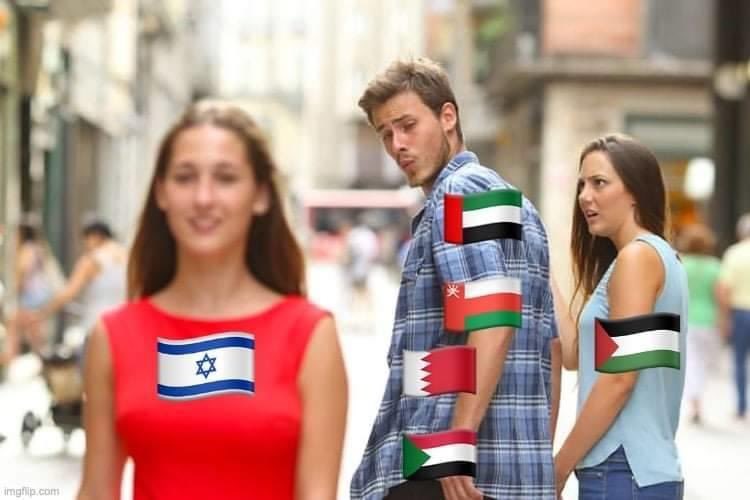 Seth Frantzman:
Why aren't pro-peace voices celebrating the UAE-Israel deal? – analysis
The anomaly of Israel's lack of relations – and the theory that Israel must make peace with Palestinians to achieve relations – is not found in any other conflict. India doesn't have to come to an agreement with Pakistan over Kashmir to have relations with countries, for instance.

The theory that lack of normalization has pressured Israel to make peace with the Palestinians has little evidence to back it up. Decades of lack of normalization didn't bring Israel and the Palestinians closer to a solution – if anything, it entrenched Israel's role in the West Bank after it left the Gaza Strip.

Much of the discussion about peace therefore centers primarily on Israel achieving peace, even if neither the Israelis or Palestinians can agree on basic aspects of it – such as Jerusalem, refugees and removing Jewish communities in the West Bank – creating a Catch-22 in which Israel can't achieve peace with the Ramallah-based Palestinian Authority, and therefore can't achieve normalization anywhere else.

It appears that much of what was put into the Oslo process in the 1990s was doomed to create impossible "final status" issues, put off to the end and thus making it impossible for Israel to reach beyond the Palestinians to peace with more countries in the region.

The UAE deal breaks that trend.

CRITICS SAY this means that Israel doesn't have to make concessions to Ramallah. However, 15 years of the Palestinians being divided between Hamas-run Gaza and PA-run Ramallah seem to illustrate that even if Israel has a peace-driven prime minister, which it hasn't for a decade, little progress will be made. A divided Middle East, with Iran and Turkey backing Hamas while the UAE and its allies want a greater role in Ramallah, make things more complex.

The end result is that the Israel-UAE deal generally got a lukewarm response for many reasons: partisan opposition to the Trump administration; criticism that it doesn't achieve much for Palestinian demands; concern that it was done cynically or for weapons sales; anger over it appearing to cement a victory for Netanyahu and Trump; and criticism of the UAE by those who are closer to the regional views of Turkey or Iran. In many ways, it was seen as linked to US domestic politics or was overshadowed by the domestic crises in the US, and thus didn't inspire voices to celebrate the agreement.
All you need to know about the historic Tel Aviv-Abu Dhabi flight
The first-ever commercial flight from Tel Aviv to Abu Dhabi is set to take place on Monday, with Israeli and US officials taking off to finalize the peace deal between the Jewish state and the United Arab Emirates.

The 737-900 El Al aircraft, named Kiryat Gat in honor of the southern town, will have 16 Business Class seats, with one aisle. With several dozen onboard, including senior adviser to President Donald Trump, Jared Kushner, some of the officials will have to sit in Economy Class.

The flight will most likely go over Saudi Arabia, marking the first time the Israeli national carrier gets a green light for such a path. The flight will last about 3 hours.

The Emirati hosts are also gearing up for the historic occasion and have already made sure that the Israeli officials will get kosher food. Israel Hayom has learned that the royal family has even contacted the well-known Orthodox Union organization, through the local Jewish community, to ensure that it sends proper mashgichim (kashrut supervisors) who would be on hand to ensure that the Jewish dietary law is followed at the hotel hosting the Israelis and where many meetings will take place.
El Al plane carries new message of 'peace' on official flight to UAE
In May, the first-ever direct flight from Abu Dhabi landed in Israel, but it was a cargo plane carrying aid for Palestinian. Monday's flight will take Israeli and US officials to the UAE, after Israel and the UAE announced a pact to normalize ties last month.

The route between Tel Aviv and Abu Dhabi is bound to prove popular with Israelis, who will enjoy the chance to visit somewhere new and exotic.

Ben-Gurion Airport's website, which lists upcoming arrivals and departures, shows that the first flight will depart Tel Aviv for Abu Dhabi on Monday, August 31 at 10 a.m. The first return flight will take place the following day, and is due to land at 3:15 p.m.

The route will be operated by El Al, and the Boeing 737 was chosen over the Dreamline 787 as the latter is not yet equipped with the Israel Aerospace Industries's Skyshield systems, according to Ynet. As part of the security requirements, El Al was required to set up an aircraft with the protection system manufactured by IAI.

The Embassy of Israel in the USA tweeted the scheduled flight on Friday, commenting: "FYI: the flight from Israel is flight number 971 (phone country code); the returning flight is 972 (phone country code)!"

And it seems excitement for the anticipated flight is reflected in the UAE, with the State of Israel's official Twitter account tweeting a video of Emirati children waving Emirati and Israeli flags while singing "Hatikva."
#Israel's El-Al Airlines added the word 'Peace' in Arabic, English and Hebrew to the plane that will be flying an Israeli delegation tomorrow in a historic first commercial flight from #TelAviv to #AbuDhabi. 🇮🇱🇦🇪#UAEIsrael #IsraelUAE #UAEMessageOfPeace

سلام - שלום - Peace pic.twitter.com/nA6HbMZSeR

— Ido Daniel (@IdoDaniel) August 30, 2020
BEAUTIFUL: Children in United Arab Emirates wave UAE & Israeli flags, also on the cake & balloons, to the tune of Israeli national anthem Hatikvah. (h/t @kaisos1987)@mbachelet @UNHumanRights Learn from the children: instead of demonization, maybe try 1 minute of peace & love? pic.twitter.com/bK3dK0RPx4

— UN Watch (@UNWatch) August 30, 2020
Palestinian Politician Edward Kattoura: The Oslo Accords Were Signed without Consulting the UAE or Other Arab Countries; Is It Forbidden for Others to Negotiate with Israel? pic.twitter.com/D812qvEtj9

— MEMRI (@MEMRIReports) August 30, 2020
Australian Islamic Activist Ismail Al-Wahwah: The Muslim Rulers Who Recognize Israel Will Be Beheaded by the Same Knife They Used to Partition Palestine pic.twitter.com/dtHX18qaab

— MEMRI (@MEMRIReports) August 30, 2020
HRC Webinar: Israel and the Jewish People's Legal Rights to Judea and Samaria
Save the Date: HonestReporting Canada's next Insider Briefing webinar is on Sunday August 30 at 12:30pm ET with all-star panelists Arsen Ostrovsky and Professor Eugene Kontorovich, who will examine Israel and the Jewish people's legal rights to Judea and Samaria.

While there's been much discussion in the media about Israel's proposed sovereignty plans which are congruent with the Trump peace plan, learn about the facts and context that have gone under the media's radar. You don't want to miss this one!

Please note that there's no registration required to join our free Zoom webinar. To participate, simply connect via either of the following on the day and time of our scheduelled webinar: https://zoom.us/j/97414498125
.@PeterBeinart has claimed he supports a binational state in Israel where Jews have a safe haven and homeland, if not a state.

His new friends disagree. Even a one state solution isn't enough. They want us to rewrite and turn history upside down: pic.twitter.com/gyX3FZnIYW

— The Conspiracy Libel (@ConspiracyLibel) August 29, 2020
972 Mag is an extremist fringe publication, that caters to the far left and serves as a propaganda outfit for Palestinians, to vilify Isrsel and whitewash Palestinian terror. So, it is only fitting that @OmarSShakir of @hrw would recommend it so fervently. https://t.co/GFOoPUzQXK

— Arsen Ostrovsky (@Ostrov_A) August 30, 2020
Coronavirus deaths in Israel double in a single month
The 10,594 coronavirus tests processed Saturday identified 899 new cases in Israel, the Health Ministry reported Sunday, a positive rate of 9% – higher than the percentage of positive results in recent days, which hovered at around 6%.

Since the start of the epidemic in Israel, 113,648 Israelis have contracted the virus. As of Sunday morning, there were 20,151 symptomatic cases.

Three more people succumbed to the virus on Saturday, bringing the death toll to 909 – more than double what it was on July 24, when the total number of deaths stood at 448. Of all the corona patients to die of the virus in Israel, 90 (nearly 10%) died this past week.

On Sunday there were 892 coronavirus patients hospitalized, 441 of whom were listed in serious condition, including 121 on ventilators.

The only coronavirus units at over 90% capacity were those at Shaare Zedek Medical Center in Jerusalem, Laniado Hospital in Netanyahu, Sheba Medical Center at Tel Hashomer, and the Old Scottish Hospital.

Cities designated "red" because of high rates of COVID spread included Bnei Brak, Tira, Kafr Qasim, Umm al-Fahm, Daliyat al-Carmel, Laqiyya, Maaleh Iron, Yakir, Kisraa-Samia, Furedeis, Tifrach, Kaabiyye-Tabbash-Hajajre, Buka'ata, and Yad Binyamin.
Families of three murdered teenagers sue Hamas for over NIS 500m.
The families of murdered teenagers Eyal Yifrah, Gil-Ad Shaer and Naftali Fraenkel, represented by Shurat Hadin, sued Hamas on Sunday in the Jerusalem District Court for around NIS 520 million in wrongful-death compensation.

Although the civil lawsuit was filed against Hamas, which was behind the 2014 attack, the true purpose is to block the Palestinian Authority from transferring funds to Hamas.

Shurat Hadin's strategy is to press for the government to confiscate customs taxes from the PA if it continues to transfer funds to Hamas – at least until the compensation is paid.

Previously, the two Hamas terrorists who actually murdered the teens were killed while resisting arrest, and the mastermind was captured and sentenced to life in prison.

In addition, Shurat Hadin made some progress with a wrongful-death civil lawsuit in the US, but the case was eventually sidelined.

In 2017, the NGO demanded that INTERPOL (International Criminal Police Organization) arrest Saleh al-Arouri, who was known to direct many of Hamas's terrorist attacks and was residing in Turkey at the time.

According to a study conducted for the prosecution by Lt.-Col. Alon Eviatar, an expert on Palestinian affairs and a former adviser to the Coordinator of Government Activities in the Territories (COGAT), the PA transfers $50m.-$100m. monthly to Hamas. The money is transferred to government offices and other bodies in Gaza that Hamas controls, the report said.
PMW:
Top PA official promotes terror: "All the types of resistance" are valid "against all expressions of the occupation"
Following the peace agreement between the United Arab Emirates and Israel, top PA official Jibril Rajoub stressed to Palestinians that terror is an option in "the struggle" against Israel.

Since Rajoub and other Palestinians have presented terror as an option - after a long period of quiet - there have been two serious Palestinian terror attacks. One Palestinian terrorist stabbed an Israeli man last weekend in Rosh Haayin, wounding him critically, while another murdered an Israeli four days ago in Petach Tikva.

Using the Palestinian euphemism for violence and terror, Rajoub stated that "all the possibilities are open to all the types of resistance":
Fatah Central Committee Secretary Jibril Rajoub: "Our interest is that the struggle will damage the occupation, and that the cost of the occupation will be on the occupation and not on us. But all the possibilities are open to all the types of resistance in the occupied lands against all expressions of the occupation, the symbols of the occupation."
[Official PA TV, Aug. 17, 2020]

Rajoub's advocacy for violence and praise for terror is not new. Palestinian Media Watch has documented his views in favor numerous times. During the wave of Palestinian terror attacks in 2015/16, Rajoub praised the terrorists – including murderers – as "heroes and a crown on the head of every Palestinian."

But it isn't necessary to search for such statements in the past. Rajoub continues to reiterate his support for violence and murder of Israelis. Earlier this year, he mentioned several murderers by name, calling their attacks "glorious acts that teach generations":
Palestinian Islamic Scholar Dr. Omar Fora: Only Mizrahi Jews Would Have the Right to Live Amongst the Palestinians; Ashkenazis Should Go Back to Where They Came from pic.twitter.com/QJ0nnnNsd3

— MEMRI (@MEMRIReports) August 30, 2020
The story in #Gaza in one photo: Haniyeh sends the children of Gaza to riots and demands they attack #Israel knowing theyll be injured, but what does he care? They arent his kids who are busy getting degrees in Europe. Hamas cares ONLY for Hamas. This is the true tragedy in Gaza pic.twitter.com/05vVPYAqxP

— יוסף חדאד - Yoseph Haddad (@YosephHaddad) August 30, 2020
The French Wish List for Lebanon
The first defect of the Macron plan, as we understand it, is that it treats what Lebanon faces as a humanitarian disaster, something like a major earthquake or tsunami, rather than a man-made tragedy plotted outside and executed by elements in the Lebanese political system. In other words, Lebanon's crisis is caused by geopolitical factors with internal manifestations.

Tehran has tried to rewrite the Lebanese rules of the game in two ways. First, it has recruited, often purchased, allies not to say clients, in all communities. To be sure, Hezbollah remains Tehran's main Trojan horse. But Iran also has baby Trojan horses in all other communities.

The second way in which Tehran has changed the rules of the game is to transform Hezbollah into a state-within-the-state, turning the official institutions of the Lebanese state into empty shells. Worse still, Hezbollah itself is held on an increasingly tight leash from Tehran. Those who follow the official narrative in Tehran know that the hard core of the Islamic Republic leadership treat Hezbollah as servants rather than allies.

Even before the mullahs seized power in Tehran, Iran exercised some influence in Lebanon and is likely to maintain a high profile there even after the mullahs are seen off the stage. But, while Iran will always be here, it would be wrong to assume that the Islamic Republic, too, will always be there.
Nasrallah: We're looking to kill an Israeli soldier — and aren't in a hurry
Hezbollah will only be satisfied when it has killed an Israeli soldier, thereby reestablishing "deterrence," the Lebanon-based terror group's Secretary General Hassan Nasrallah said on Sunday.

"I want to be more clear than at any previous time: when Israel kills one of our fighters, we will kill one of your soldiers," Nasrallah said in a televised speech to mark the holiday of Ashura.

Tensions have been rising between Hezbollah and Israel since the IDF reportedly killed Hezbollah commander Ali Kamel Mohsen in a July 20 airstrike near the Damascus airport. In general, Israel does not comment on whether it carried out specific strikes in Syria, although it has acknowledged generally that it carries out periodic raids to fight Hezbollah and Iranian military entrenchment in the neighboring country.

The Israeli army has said it prevented at least three infiltrations over the past several weeks and brought down a Hezbollah drone flown into Israeli territory from Lebanon. Last Tuesday, Israeli forces fired numerous flares over south Lebanon in response to an attempted incursion. Israel also reportedly shelled Hezbollah-affiliated "environmental organization" Green Without Borders.

Nasrallah said that Israel was hoping to allow for a simple exchange of fire which would cause material damage on both sides and end the escalation of hostilities.

"This is the equation. We're not going to blast sites and iron fences and tanks. [The enemy] has all the money in the world to replace them. That is not what creates deterrence with Israel," Nasrallah said.

According to Nasrallah, Hezbollah fighters operating along the fence in previous weeks had refrained from targeting Israeli equipment as they searched for an Israeli soldier to kill.
Acclaimed Israeli Jazz Player Avishai Cohen Told Boycott Movement Representatives to 'Go F*** Yourself'
Acclaimed Israeli jazz player Avishai Cohen had a short and sweet response when asked to boycott Israel: "Go f*** yourself."

Cohen told Israeli news website Walla on Sunday that he was approached by representatives of the BDS movement due to a song on his 2017 album Cross My Palm With Silver about Israel's presence in the West Bank. They asked him not to play a concert in Israel.

"I never paid attention to them," Cohen said. "And when they came to me, I told them 'Go f*** yourself.'"

"It's not your business to tell me where to play and where not to play," he said he told them.

Cohen, who was born in Tel Aviv, has recorded 10 albums as a bandleader and collaborated with some of the biggest names in jazz. He has been voted Rising Star-Trumpet by the famed jazz magazine Down Beat for four years in a row.
Antisemitic mural resurfaces at March on Washington 2020
A mural which gained prominence as the subject of a row over antisemitism within the British Labour Party two years ago has seemingly been taken up by black equality activists in America.

Two protesters at the March on Washington 2020 were photographed on Friday wearing t-shirts depicting the image first painted as a mural in London by the artist Mear One. The image depicts Jewish bankers playing a game similar to monopoly on the backs of people of color, underneath the masonic Eye of Providence.

The image on their shirts was flanked by the phrase: "All we have to do is stand up and their little game is over."

The mural gained prominence in the UK in 2018 when a row broke out in the Labour Party over whether then-leader Jeremy Corbyn was wrong to voice support for the artist behind it. The mural was scrubbed from a wall in London in 2012, prompting the artist to protest on the basis of freedom of speech. Commenting on the mural's removal, Corbyn wrote on Facebook: "Why? You are in good company. Rockerfeller [sic] destroyed Diego Viera's [sic] mural because it includes a picture of Lenin."
If you're participating in a racial justice protest while wearing #antisemitic cartoons on your clothing, you're not interested in equality.

You're simply just a bigot like the ones you're rallying against.

📷: today's DC March (@JennieSTaer)#DCMarch pic.twitter.com/UnQRHb8b3D

— www.StopAntisemitism.org (@StopAntisemitsm) August 28, 2020
Honest Reporting: Snoops Dogg Whistle Minimizes Holocaust
Iconic rapper Snoop Dogg has courted controversy by posting a black and white US flag with the image of a swastika peeking out from behind -- suggesting that the most successful democracy in history is infused with Hitler-like racial-based fascism. In doing so, an iconic musical figure has -- intentionally or not -- belittled the Nazi genocide of 6 million Jews.

The post comes amid emotionally-charged and often violent protests in the US demanding equality for African-Americans. A valiant and long-overdue endeavor, but one that has been marred by repeated incidents and expressions of Jew-hatred and anti-Zionism.
This @AP story republished in @WashingtonPost neglects to describe Hezbollah as it really is: a genocidal terrorist organization which has shot hundreds of rockets into Israel, bombed Jews in Europe and South America, and glorifies the murder of Israeli children. pic.twitter.com/AXjp8RaTLk

— HonestReporting (@HonestReporting) August 30, 2020
And later down the same article, a variation of the mistake is repeated. BDS is not merely about pressuring Israel to change its policies.

Per BDS leader As'ad AbuKhalil: "The real aim of BDS is to bring down the State of Israel…this should be stated as an unambiguous goal." pic.twitter.com/Oo9oqQlCCP

— HonestReporting (@HonestReporting) August 30, 2020
National Security Adviser Robert O'Brien: Trump fighting anti-Semitism, here and abroad
Last month, the first-ever Justice for Uncompensated Survivors Today (JUST) Act report was released by the U.S. State Department. It shows America has persuaded countries around the world to return or provide compensation for property confiscated during the Holocaust or subsequently nationalized during the Communist era.

The report also describes international efforts, led by the United States, to commemorate the Holocaust's survivors and victims, including the estimated 80,000 survivors living in the United States. Archives will be opened and Holocaust education promoted. All of these efforts are to ensure such atrocities never happen again.

Sadly, anti-Semitism is surging at home and abroad. According to the Kantor Center at Tel Aviv University, violent anti-Semitic attacks have increased 18 percent globally since 2018, the largest increase since 2014.

Within the last year alone, over 200 Jewish graves in Eastern France were desecrated with Nazi symbols. A gunman killed two people attempting to break into a synagogue on Yom Kippur in Germany. Neo-Nazis blocked the entrance to a Holocaust exhibition in southern Sweden.

In the United States, anti-Semitic incidents have been rising since 2013. FBI statistics show that Jews are victim to the largest number of hate crimes of any religious group every year for the past 20 years.
Unsealed Vatican documents detail Pope Pius XII Holocaust complacency
The Vatican both fought efforts efforts to reunite two Holocaust orphans with their relatives and urged Pope Pius XII not to protest the Nazi deportation of Italian Jews, Brown University historian David I. Kertzer has found.

Kertzer published the results of his investigation into Vatican documents unsealed in March in an article published by The Atlantic on Thursday.

He revisited the high profile story of Jewish twins Robert and Gérald Finaly, who were kidnapped and baptized by French Catholic priests.
Angelo Dell'Acqua, a Vatican Secretariat of State official who later became the cardinal for Rome, played a key role in the smuggling of the Finaly twins from France to Spain.

That happened after French judges ordered the boys, who were hid from the Nazis at a Catholic monastery, be handed over to their aunt. That
finally happened in 1953, and the twins now live in Israel.

Pius XII has long been accused of turning a blind eye to the Holocaust, which happened early on in his stint of nearly 20 years as pope, until his death in 1958.

Kertzer's findings add to this widely-accepted impression. They include a memorandum advising Pius against formally protesting the rounding up of about 1,000 Jews in Rome in 1943 for deportation to Auschwitz.
In the 1930s, the British Union of Fascists were driven from our streets.

Yesterday - in 2020 - the British Union of Fascists stood with the hard-left at Trafalgar Square.

Nobody blinked. None fought them.

We need to pay attention to what is brewing in our sewers.

— David Collier (@mishtal) August 30, 2020
Thank you @ReinsteinJosh for having me on your #AskTheSource show, discussing everything from #Israel, Zionism, Sovereignty, Human Rights & more. Always a pleasure & I'm still yet to find a better backdrop than yours!

You can watch my segment 10 min in:https://t.co/KFKAfpBQEK

— Arsen Ostrovsky (@Ostrov_A) August 29, 2020
Aliyah and Zionism go to very core of who I am as a Jew, an #Israeli & as a person. I had the chance to speak more about how important these values are to me, with @ReinsteinJosh on his #AskTheSource show (see below).

You can also watch full program here: https://t.co/j7pULMUXti pic.twitter.com/clVB09HvLI

— Arsen Ostrovsky (@Ostrov_A) August 30, 2020
Esther Levens, founder of Unity Coalition for Israel, passes away at 95
Esther Levens, the founder and former CEO of the Kansas-based Unity Coalition for Israel (UCI), passed away on August 21 at the age of 95, according to her surviving family.

Esther and her late husband Vrem had spent most of their lives in national politics working to strengthen the bond between the United States and Israel. Vrem so much that he worked as part of the Sonnenborn group before the 1948 War of Independence, attempting to secure armaments for pre-state Israel.

In the 1960s, Esther and Vrem worked on Bob Dole's campaign for Senate hosting events and fundraising parties before his election. By 1968, the couple became immersed in a life of politics through and through. After Vrem's passing, Esther continued to work alongside Dole on his finance committee during his presidential election run in 1988.

Following her work with Dole, Esther began focusing her attention on the negative publicity the Jewish settlements in Judea and Samaria were attracting across the world. She recalled back to her memories of what her husband Vrem might do, knowing he would not allow the settlements to tarnish the relationship Israel and the United States has, or the outward view Israel has to the rest of the world.

Knowing she needed to do something, and keeping in mind 2% of the US population is Jewish, she decided to assemble an alliance of Jewish-Christian partners, using the contacts she made from working for senator Dole all of those years and stumbled upon something much larger than she could have possibly imagined.
Our joint @IsraelMFA - @MOPSISRAEL delegation is on its way to the #USA 🇺🇸 where the #Israeli 🇮🇱 firefighters will join their counterparts, fighting the #CaliforniaFires. We are proud to stand together with our closest ally! @DavidRoet @ShlomiKofman @IsraelinSF @IsraelinUSA pic.twitter.com/D1p3tZFdpO

— Itai Bardov (@ItaiBardov) August 29, 2020
WATCH: Muslim IDF soldiers receive their rifle and Quran at the swearing-in ceremony. 🇮🇱☪️

Israeli Muslims are defending Israel shoulder to shoulder with their Jewish brothers. pic.twitter.com/x7RdO5PcT8

— Hananya Naftali (@HananyaNaftali) August 30, 2020
The 1st ever joint Israeli-German Air Force exercise in Germany has just ended.

Over the last 2 weeks, our pilots performed dozens of flyovers, practiced combat maneuvers and prepared for flights in unfamiliar environments.

Gemeinsam haben wir Geschichte geschrieben 🇮🇱🇩🇪 pic.twitter.com/v7vPSAy2HE

— Israel Defense Forces (@IDF) August 29, 2020
---
---
We have lots of ideas, but we need more resources to be even more effective. Please
donate today
to help get the message out and to help defend Israel.