From Ian:
---
David Collier:
An evening with Zoom. Delusion, propaganda and defeat
I sat through two events last night on Zoom. One was hard-core anti-Zionist, featuring several of the anti-Israel camps big names. It was all about how antisemitism doesn't exist. The other was a much more mundane affair, with Yachad hosting Husam Zomlot, the 'Palestinian Ambassador' to the UK. I came away feeling depressed. The level of discussion was so weak. If this is the best that both camps can do, then they are extremely lucky that some people can be so easily fooled.
The defeated conspiracy theorists on Zoom

The first event was hosted by the anti-Zionist Miko Peled. Peled should need little introduction to readers of this blog. Having been to several of his events, and read much of what he has written, I think the time I called him a deflated, lying buffoon sums him up best.

The others on the panel were
- Asa Winstanley the Electronic Intifada writer and ex Labour Party member. Despite his antisemitism, officially Winstanley wasn't expelled, just suspended – and he quit rather than face the music.
- Estee Chandler founder of the Los Angeles chapter of Jewish Voice for Peace. When an American Jew, hangs a US flag upside down, you just know she isn't operating with a full deck.
- Anya Parampil a hard-left correspondent for Russia Today in the US. She writes on Max Blumenthal's GreyZone about all the things you would expect – Venezuela, Cuba, China, Assange and anything else that can help to attack the US and the West.

During the Q&A, a fifth face appeared, Jamil Mazen to pick out which questions to put to the table.

The event was titled 'From Corbyn to Sanders', looking at whether 'Zionists' are targeting 'progressive politicians'. To be honest, these speakers came across as defeated and dejected. The conversation was dull and each of the speakers in turn played their part. Miko Peled was the buffoon. Chandlers role was to keep quiet and simply nod in agreement when everyone else was talking. When Parampil was on she kept talking for ages, throwing in keywords without making a point. And poor Winstanley could not string two coherent sentences together. 'Our Asa' was beyond awful.

Lost they certainly have, and it showed. The thing is, because they are so convinced they are right, the more they get beaten, the more insidious and hidden they believe the enemy they face. The entire conversation was a conspiracy theory. These four used the word 'they' to describe the invisible forces against them at least 100 times. Each of these people seem to believe in a Zionist monster that probably even reads their private emails. They are so lost in conspiratorial nonsense, not a single concrete argument was made. I couldn't help myself, in the end I even felt sorry for them (kidding).
PragerU: Lies About Israel Lead to Lies About Everything
Why would someone like Sebastian Cevallos, a university student in Ecuador, care about Israel? You'd think this tiny country on the other side of the globe from where he lives would have no bearing on his life. But it does. Here's why.
Daphne Anson:
An Interesting Facet of the History of Zionism
It's almost 15 minutes long, but is fast paced, this talk by a British academic who specialises in the history of British-Israel relations.

The speaker is Dr James Vaughan, of the Department of International Relations at the University of Aberystwyth in Wales, the first and arguably still the best such department in the world, which had as its inaugural head Professor Alfred Zimmern, who was of Jewish extraction.

Dr Vaughan is the author of Unconquerable Minds. The Failure of American and British Propaganda in the Arab Middle East, 1945-1957 (Palgrave, 2005), and while he continues to publish on British propaganda policy towards the Arab Middle East and Iran he is currently researching the changing attitudes and policies of Britain's main political parties towards Zionism, Israel, Palestinian nationalism and the Arab-Israel dispute.

The talk is entitled '"From Aberystwyth to San Remo" - The Birth of International Politics and the Jewish National Home' To quote the page of the original uploader, UK Lawyers for Israel Charitable Trust, it explains how scholars such as Zimmern and Sir Charles Webster

"combined idealistic internationalism and a 'Wilsonian' belief in the rights of small nations to self-determination with an ability to bridge the worlds of academia and politics, both through their connections to Chaim Weizmann and the Zionist Organization, and in their role as participants in the making of the post-war settlement."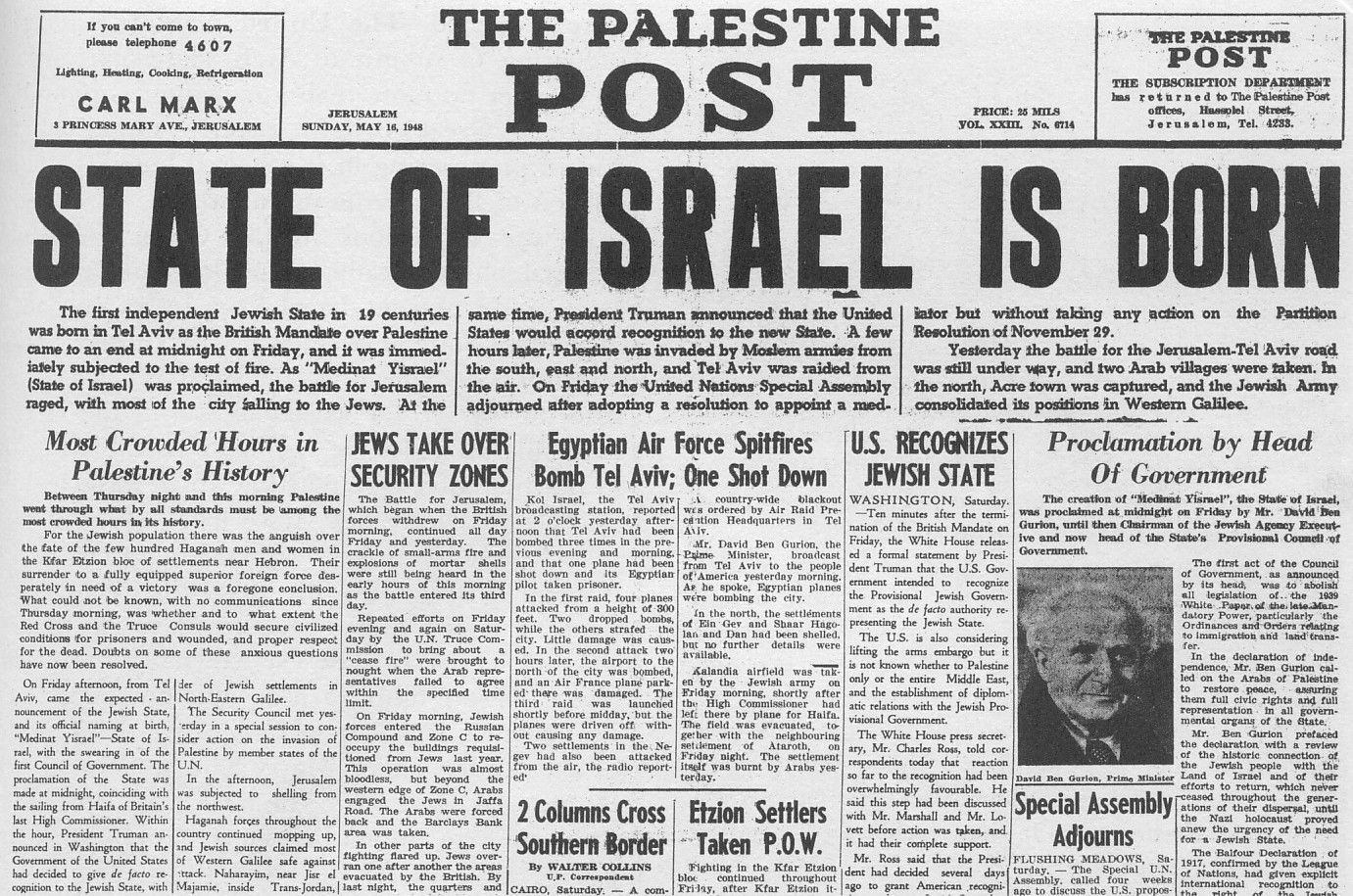 Top 10 reasons Israel has (so far) survived coronavirus
Israelis are now once again taking to the streets in large numbers. Automotive traffic has resumed full force, schools are opening, stores and gyms are reopened, and even indoor markets and malls are now opening for business. Some restrictions limiting the number of individuals within closed spaces are in place, and face masks are required by law.

That said, many Israelis are quickly ditching the masks, or wearing them around their chins or below their exposed noses, as the number of new coronavirus infections continues to decline. Prime Minister Netanyahu has announced that all coronavirus restrictions are likely to be removed by the middle of June, provided the numbers of new cases remains low.

Death tolls in Israel have been among the lowest in the world per capita and are comparatively lower than other First World nations with similar numbers of reported cases. Since the virus first hit Israel in March, 254 Israelis have died. Most of those who succumbed to the virus lived in nursing homes. Others were elderly and had pre-existing health conditions. The number of previously healthy individuals who died from corona measures at most a few dozen.

Each and every loss of life causes tremendous pain to the entire nation. Yet somewhat shockingly, a recent health ministry report revealed that 12 percent fewer Israelis died during March 2020 than March 2019. The two months of coronavirus outbreak in Israel have literally been the safest two months to live in Israel in the last several years.

These numbers represent a dramatic contrast to many of the communities around the world where Jews live in large numbers, including in Paris, London, New York, New Jersey, Chicago and Miami.

Below is a countdown presenting some reasons why Israel may have fared better than other countries during the outbreak (so far), and why Israelis are likely to continue to get back to normal over the coming weeks, while other countries deal with the virus's harsh aftermath.
3 more die from virus, bringing national toll to 264
The Health Ministry on Wednesday evening announced three more coronavirus deaths from the virus since the morning, bringing the national toll to 264.

It also reported 19 new coronavirus cases over the previous 24 hours, while the number of active infections further dropped.

Of the 4,052 active cases, 61 people were in serious condition, 52 of them on ventilators.

Another 48 people were in moderate condition and the rest had mild symptoms.

There have been 12,232 Israelis to have recovered from the virus.

The ministry said that 7,182 tests for the virus were performed Tuesday.

The number of new infections has slowed dramatically in recent weeks. Israel has gone 10 days without seeing over 100 new confirmed cases in a single day.
Positive diagnosis: Crisis leads to spike in Jews asking to volunteer in Israel
Some 5,500 Jews from around the world have had to wait for the resumption of normal travel and the lifting of restrictions so that they can come to Israel and volunteer. This number represents a significant increase in demand from past years, organizers say.

Each year, thousands of young Jews arrive in Israel from 60 countries around the world to intern and to teach in various programs led by the organization, Masa Israel Journey, founded by The Jewish Agency and Israel's government.

Fellows normally spend between two to ten months in Israel, in an effort to "contribute to society and economy, develop personally and professionally, and strengthen their Jewish identity and connection to Israel's heritage and culture," Masa said in a statement. "The number of completed registration forms is increasing, with 50% of applicants interested in interning at Israeli companies and participating in Masa's career development programs. The five countries with the most applicants are: United States, Canada, France, Argentina and Russia," the statement read.

"Israel is the most secure place to be, especially now, during the corona pandemic, as opposed to the conditions in Spain. I am not concerned; I am interested to grow in Israel and succeed there," said 18-year-old Erik Cohen, from Venezuela, who is currently in a student exchange program in Spain and waiting to travel to Israel.

According to Masa approximately 35% of program participants make aliyah.
After the Pandemic, a Return to a City of Bold Food and Fiery Dance
At the moment, all of our plans are on hold. But that doesn't mean we here at Bloomberg Pursuits aren't planning the experiences we'll rush out to enjoy when it's safe to do so. We're sharing our ideas with you in the hopes that they will help inspire you—and we'd love to hear what you are daydreaming about, too. Send us your ideas at daydreams@bloomberg.net, and we'll flesh some of them out for this column.

This week, dance writer and Pursuits contributor Brian Schaefer yearns to return to at a city he once called home—one filled with delights and contradictions, not to mention world-class food and culture.

On the Jewish holiday of Purim—a spirited mix of Halloween and Mardi Gras—costumed revelers are encouraged to drink until the world is turned upside down. I was in Tel Aviv during Purim this year, in March, watching pirates, princesses and many a Joker stumble down the wide, tree-lined Rothschild Boulevard. The bars were lively, if not quite as bloated as they should be on a holiday. Apprehension was in the air, some of my friends were already in quarantine, and there was a shared sense that this might be the last hoorah for a while, so better go for broke.

The next day, the world indeed turned upside down. As Israel and the United States competed to see which could shut down quicker, I grabbed one of the last seats on one of the last flights to New York, fleeing my favorite city. As Israel, which has witnessed more than 16,000 cases of Covid-19, begins to gradually open its doors again, I daydream about my return.

Tel Aviv has always inspired me with its contradictions: Lazy beach vibes mix with cosmopolitan ambition—part Paris in its pervasive café culture, part New York in its robust cultural scene, part San Diego in its sexy chillness—yet undeniably a product of the Middle East. There are chaotic open-air markets with piles of spices and dunes of dried fruit, calls to prayer echoing from Jaffa, and daily headlines to remind you that, despite such nonchalant swagger, Tel Aviv sits in the eye of an ever-swirling political storm. That potent cocktail of influences, moods, and flavors kept me constantly intoxicated during my three years there, initially on a yearlong fellowship, then as a graduate student and journalist. The city challenged me with its impetuousness and seduced me with its playfulness. I moved to New York seven years ago, but I've gone back to Tel Aviv every year to fill up on its charms and incongruities.
Some Israeli clinics said to start using new ultrasound coronavirus test
An Israeli health maintenance organization (HMO) has started using a new sort of test to immediately discover coronavirus carriers even if they aren't experiencing outward symptoms, a report said Thursday.

Patients of the Maccabi HMO can now undergo a special ultrasound test that scans their lungs and detects effects typically caused by the respiratory virus, Channel 12 reported, citing Maccabi officials.

The officials were quoted as saying the small, portable ultrasound kit called "Focus" had already helped discover several asymptomatic patients, and that several who tested negative were re-diagnosed with COVID-19.

One of them is a special education teacher who had caught the virus but was no longer showing symptoms and was cleared by a testing lab as recovered. Her test, taken out of caution before returning to work, revealed she still had the virus, according to Dr. Eran Shankar, who manages the Bnei Brak clinic.

The machine is currently in use only in virus hotspots such as the ultra-Orthodox cities of Bnei Brak and Elad, and will soon be available throughout the country, according to the report.
BGU professor develops coronavirus test producing results in one minute
A new method of testing for the coronavirus that produces results in under a minute and has a success rate of 90% has been developed by Ben-Gurion University of the Negev Prof. Gabby Sarusi.

In clinical trials done in conjunction with the Defense Ministry on more than 120 Israelis, results showed a success rate greater than 90% in comparison to the more common Polymerase Chain Reaction (PCR) used in coronavirus testing.

"Right from the beginning of the trials, we received statistically significant results in line with our simulations and PCR tests," explained Sarusi, deputy head for research at the School of Electrical and Computer Engineering and a faculty member of the Electro-Optical Engineering Unit at BGU.

Now that the test has been developed, Sarusi is validating the tests. Ongoing trials aim to determine if the test can identify the specific stage someone with the coronavirus may be afflicted with. (h/t Zvi)
NPR:
Jewish Americans Say They Are Scapegoated For The Coronavirus Spread
American Jews are finding themselves in a historically familiar position: Scapegoated for a plague.

Some of the first New Yorkers to contract the coronavirus were Jews in the Orthodox Jewish communities in and around New York City. In the weeks that followed, several Jewish weddings and funerals were held in violation of public health orders. Then came statements from public officials singling out Jews, and anti-Semitic threats on Facebook.

After New York City Mayor Bill de Blasio witnessed the NYPD break up a large funeral in Brooklyn for a prominent rabbi, the mayor tweeted: "My message to the Jewish community, and all communities, is this simple: the time for warnings has passed."

De Blasio was condemned by fellow Democrats and American Jews. There is no data indicating religious Jews are violating social distancing rules at a greater rate than other demographic groups. While there have been high-profile incidents of police disrupting Jewish gatherings, the NYPD has also made arrests of various sorts for failing to practice social distancing, like at a Brooklyn barbershop and at a Manhattan "marijuana party." And pictures of throngs hanging out at parks and closely congregating for the Navy Blue Angels and Air Force Thunderbirds flyovers indicated that not social distancing isn't a problem specific to a particular religious group.

De Blasio later said that he "spoke out of real distress that people's lives were in danger." He added: "I regret if the way I said it in any way gave people a feeling of being treated the wrong way, that was not my intention. It was said with love but it was tough love, it was anger and frustration."

By some accounts, religious Jews in certain neighborhoods of New York City have been stricken by the virus at high rates. At the same time, Jews who have recovered from the virus have donated plasma in extraordinary numbers in an effort to save others. (h/t Zvi)
Stranded Israelis Extracted From Morocco to Israel in Secret Operation
Twenty-six Israelis who had been stranded in Morocco for several weeks due to the coronavirus pandemic landed safely in Israel on Thursday morning, after being extracted from the Muslim country in a secret operation devised by Likud Knesset member and former Jerusalem Mayor Nir Barkat.

Among the passengers were Israeli youth who were on an overseas trip, an Israeli Bedouin from eastern Jerusalem and Israeli and Jewish businessmen with dual Israeli-Moroccan citizenship.

Morocco does not maintain diplomatic relations with Israel, which required the Israelis to appeal to private entities for assistance. The matter was brought to Barkat's attention and his took the lead on the extraction, keeping in constant contact with the group as various options were explored.

The Likud lawmaker appealed to American philanthropists Dr. Miriam and Sheldon Adelson for help in chartering a plane, who immediately agreed to help, granting Barkat use of one of their own planes to fly the group home. The group left Morocco on Wednesday for Paris on an Air France flight. Once in the French capital, the Israelis boarded the Adelsons' plane and headed home.

The extraction also involved intense efforts by the National Security Council at the Prime Minister's Office, which employed various diplomatic channels to facilitate the mission.

The group of Israelis sharply criticized the Foreign Ministry's handling of their predicament, alleging that not only did Israeli Foreign Minister Israel Katz fail to do enough to expedite their extraction, but also angered Moroccan authorities and delayed their extraction by tweeting about the efforts to bring them home.
Spain gives Sephardic Jews extra time for citizenship suits due to pandemic
Spain's government said Thursday it will extend the deadline for descendants of Sephardic Jews expelled from the country more than 500 years ago, who have launched the process of acquiring Spanish citizenship but couldn't complete it due to the pandemic.

The extension of one year until September 2021 only applies to those who had presented their preliminary request for citizenship before the October 2019 deadline.

Spain's Justice Ministry said the extension will allow applicants to sit for a mandatory test on their knowledge of Spain's Constitution and culture that had been canceled because of the pandemic, and give them more time to travel to Spain for a required appearance before a notary.

The ministry did not say how many applicants would need to use the extension.

In October 2019, the ministry said that more than 132,000 people who claim Sephardic origins had requested Spanish citizenship since the law offering them the opportunity took effect in 2015.

The Spanish government issued the law to redress the "historical mistake" Spain committed when it forced its Jewish population to convert or go into exile in 1492.
Biden's Pledge to Palestinian Terror
Sarsour is an avid supporter of the anti-Semitic Boycott, Divestment, and Sanctions (BDS) movement. Back in 2012, Sarsour tweeted, "Nothing is creepier than Zionism. Challenge racism, #NormalizeJustice."

Joe Biden should forcefully reject the support of Israel-haters like Linda Sarsour. Biden should also repudiate the endorsement of his candidacy by Progressive Caucus co-chairwoman Rep. Pramila Jayapal as well as her offer to "do everything I can to help him win back the White House." Jayapal was one of only 16 House Democrats who voted against a non-binding resolution that opposed the BDS movement. Squad members Rep. Alexandria Ocasio-Cortez, Rep. Rashida Tlaib, and Rep. Ilhan Omar joined Jayapal in the opposition. So did co-chairman of Sanders' campaign Rep. Mark Pocan, who has since also endorsed Biden's candidacy. But Biden has not pushed back. In his quest for the presidency, Biden has put out the welcome mat for Sanders supporters, irrespective of their views on Israel.

Emgage, which claims to be the largest Muslim political action committee in the country and originally backed Sanders' candidacy, has come out in support of Biden. "I am honored to receive the endorsement of Emgage PAC," said Biden in a statement. "I am excited to have Emgage PAC's support to mobilize Muslim Americans to vote in November and elevate the voices of Muslim Americans across the country." Emgage also endorsed Omar and Tlaib in 2018 and can be expected to do so again.

Helping Emgage get out the vote for Biden in New York will be Debbie Almontaser, who was named recently as the Senior Advisor for Emgage NY. Almontaser and Linda Sarsour are friends. They have appeared together, including back in 2015 on NY1 Online. Almontaser gained notoriety back in 2007 when she resigned under pressure as principal of the Arabic-themed Khalil Gibran International Academy days after she was quoted defending the use of the phrase "Intifada NYC" as a T-shirt slogan. Council on American-Islamic Relations (CAIR) -NY rallied to demand Almontaser's reinstatement. She repaid the favor by working with CAIR in its attack on the counter-terrorism efforts of the NYPD and also by speaking at a major CAIR fundraiser.

Joe Biden has been seeking the presidency for more than 30 years. Desperate to succeed with his final bid for the White House, Biden is willing to abandon his past strong support for Israel and accept help from progressive Israel-bashers.
Sanctions. https://t.co/nAvLoZQ2B1 pic.twitter.com/VNUOAO7MbY

— Absolute Shower (Will) (@ShowerAbsolute) May 13, 2020
This is pretty jaw-dropping. Clement Attlee's Labour government advertised jobs within the Ministry of Labour in 1946. Advert went out. "No Jews required". pic.twitter.com/olyP8mb9OA

— James Vaughan (@EquusontheBuses) May 13, 2020
It appears that @UKLabour shadow foreign secretary @lisanandy met with Palestinian ambassador @hzomlot last week.
- We hope she challenged his reported comments on the Holocaust ("they [Israel] are fabricating also the story of the Holocaust" (https://t.co/IFBTDTcf0r))...
1/2 https://t.co/njUv6enrYz

— LAAS (@LabourAgainstAS) May 14, 2020
Supporters of BDS Shouldn't Be University Administrators, Unless They Pledge to Put Their Prejudices Aside
George Washington University last week announced that Ilana Feldman, currently vice dean of the Elliott School of International Affairs and professor of anthropology, history and international affairs, will be the interim dean of the Elliott School. Feldman is a supporter of the academic boycott of Israeli educational institutions, and not merely a passive one (e.g., merely signing a petition or some such). Feldman has been a member of the eight-person organizing collective of Anthropologists for the Boycott of Israeli Academic Institutions. The "pledge" of supporters of the boycott was as follows: "We pledge not to collaborate on projects and events involving Israeli academic institutions, not to teach at or to attend conferences and other events at such institutions, and not to publish in academic journals based in Israel."

Feldman's appointment puts into stark relief something I have been thinking about for some time—is being a supporter of academic boycotts of Israel consistent with holding an administrative position such as being a dean?

I think the answer is no, for three reasons, with a caveat. The first reason is that almost all universities oppose academic boycotts of Israel. I am pretty sure that GW is among the institutions that have publicly taken that official position. If so, it should not be hiring faculty for administrative positions who have publicly dedicated themselves to the opposite position. For example, could one trust such a person to negotiate an exchange program that would benefit the university with Hebrew University? One would think not, given that she has pledged "not to collaborate on projects and events involving Israeli academic institutions."

Second, there is the matter of universities' legal responsibilities. Universities are bound by Title VI of the 1964 Civil Rights Act, which bans them from engaging in discrimination based on race (which, for these purposes, includes "ethnicity") and national origin. A dean or other administrator who is pledged to something like the AAA boycott would be opposed to funding students and faculty who wish to attend a conference in Israel, might not give someone proper credit for publishing in an Israeli academic journal, and so on. Inevitably, such policies will have a wildly disproportionate discriminatory effect on people of Israeli national origin, and to a lesser but still significant effect on Jewish students. If I were a university general counsel, would I want to risk the potential liability? Nope.
I just uploaded 'Landes, The Demopath s Lexicon a guide to Western journalism between the river and the sea' to @academia! https://t.co/F8Z3N5MIfz

— Richard Landes (@richard_landes) May 14, 2020
Reuters Whitewashes Suicide Bombers, Murderers as 'Killed in Unrest'
A May 6 Reuters article ("Palestinians say they will defy Israeli order in prisoner payments dispute") whitewashes suicide bombers and other Palestinian terrorists who died as they carried out deadly attacks against Israel as "those killed in unrest." Covering up the fact that the the Palestinian Authority pays massive amounts of funds to the families of terrorists, Rami Ayyub and Ali Sawafta began their article:

Palestinian leaders on Friday vowed to defy a new Israeli military order which they fear could lead to the confiscation of money destined for prisoners, their relatives and the families of those killed in unrest.

At no point does the article indicate that the payments benefit the families of suicide bombers and other terrorists killed as they were carrying out deadly terror attacks against Israelis.

Thus, for instance, among the beneficiaries of the PA payments is family of Izz al-Din Shuheil al-Masri, the suicide bomber who murdered 15 civilians, nearly half of them children, in the Sbarro pizzeria in Jerusalem on Aug. 9, 2001. According to Reuters, al-Masri was "killed in unrest."

Also among "those killed in unrest" is Abdel-Basset Odeh who walked into the Park Hotel in Netanya on March 27, 2002, and as guests were gathered for their Passover seder, exploded himself, killing 30 people, including elderly Holocaust survivors, and injuring 140.

Also "killed in unrest" is Saeed Hotari who blew himself up outside the Dolphinarium disco in Tel Aviv on June 1, 2001 murdering 21 people, mostly teenagers, and injuring 120.

There's also Abed Hassouna, "killed in unrest" as he stormed a bat mitzvah celebration in Hadera, spraying his assault rifle throughout the room, killing six and injuring 33.

The list goes on and on, claiming over 1000 Israeli bystanders whose lives were snuffed out first by cold-blooded murderers whom Reuters egregiously claims were "killed in unrest," their victims and heinous crimes forgotten.
SUCCESS! Radio-Canada Deletes Article Blaming Israel for Gaza's Plight in Fighting Coronavirus
On April 28, HonestReporting Canada filled a complaint directly with Radio-Canada Ombudsman Guy Gendron calling for immediate corrective action after our public broadcaster's French-arm published a report blaming Israel exclusively for Gaza's plight in fighting the Corona virus.

As we said in our complaint, "In an article about the impact the Coronavirus is having on blockaded Gaza, the (Radio-Canada) author maligned Israel as vital context was omitted which rendered the report unfair and unbalanced and as the article was replete with errors." See our complaint for 10 reasons why this article was biased.

On May 12, CBC Radio-Canada responded to our concerns via email acknowledging that their reporting fundamentally violated CBC's Journalistic Standards and Practices, while acknowledging that their article lacked balance and was therefore unfair. CBC, to its credit, took the unprecedented step of deleted their news article altogether from the RadioCanada.ca website and publishing a website update detailing the corrective action they've undertaken.
PreOccupiedTerritory:
6,922nd Reply To Twitter Post Thinks He Made Real Difference (satire)
A resident of this sleepy city on the Mediterranean voiced satisfaction today after he submitted the latest of what now number more than seven thousands responses to a social media post, stating that he now feels he has accomplished something, and perhaps even opened someone's mind, if not changed it.

Dudu Ben-Yisrael, a retired architect, took to Twitter Thursday morning to offer his two cents on post by a Hollywood celebrity with strong political opinions, doing so by hitting "Reply" on the celebrity's tweet. The septuagenarian grandfather of three decided to add his voice to the other 6,921 users who had already weighed in in that fashion, but whose tweets he admitted he did not have time to read.

"I had to say my piece" he explained. "Someone out there might get the wrong idea about the world unless my reply is out there, just after one that's probably from a Russian bot. Anyone who scrolls all the way through the other replies to get to mine will have the record set straight. We can't have some cloistered, safe-space showbiz snowflake pontificate on important issues about which she knows nothing, and have that go unanswered. I'm glad I did my bit to advance human enlightenment in this case."
Senate Passes Never Again Education Act
The U.S. Senate passed the Never Again Education Act, which seeks to expand Holocaust education in the United States, by unanimous consent on Wednesday.

The passage followed Sen. Mike Lee (R-Utah) lifting a hold on the bill on Thursday, a day after it was discharged from the Senate Energy and Natural Resources Committee. It also happens to come in Jewish American Heritage Month.

"It's very rare for a substantive bill to move like this without going through committee," a Hill aide told Jewish Insider. "[Lee] and his staff wanted to review the text."

Ultimately, no changes were made to the bill, the Hill aide told the outlet.

A hold is a procedure where a senator tells his or her floor leader that he or she does not want a specific measure to reach the floor for consideration, and therefore may filibuster any motion to proceed to debate the bill or other measure.

The legislation, which now goes to U.S. President Donald Trump for his expected signature into law, would expand the U.S. Holocaust Memorial Museum's (USHMM) education programming to teachers nationwide, requiring the museum to develop and disseminate resources to improve awareness and understanding of the Holocaust and its lessons.
PodCast:
Philippe Sands on the trail of Nazis
In this week's Book Club podcast my guest is the writer and human rights lawyer Philippe Sands. His new book The Ratline: Love, Lies and Justice on the Trail of a Nazi Fugitive describes his painstaking quest to track down the real story of a Nazi genocidaire who fled justice into the murky underground society of postwar Italy. Philippe tells me about the strange world of shifting allegiances he uncovered, and his own no less shifting relationship with his subject's son - who continued against all the evidence to believe his father was a good man.
Bosnian Catholic cardinal to honor Nazi collaborators in memorial service
Bosnia's most senior Catholic clergyman plans to host a memorial service on Saturday for Croatian civilians and soldiers of the Nazi-allied Ustasha forces, the Dnevni Avaz daily reported Monday.

Jews in Bosnia and Israel's embassy to that Balkan nation are protesting the plan, titled "Mass for Bleiburg," and to be held at Sarajevo's Heart of Jesus Cathedral.

Members of the Croat pro-Nazi Ustasha militia committed some of the goriest anti-Semitic murders documented in World War II. Tens of thousands of Jews, Serbs, Gypsies and anti-fascist Croats perished in the Ustasha-run death camps.

In May 1945, partisans killed tens of thousands of Ustasha soldiers and supporters who had fled to the Bleiburg environs in Austria, as the Allies progressed on Adolf Hitler's Germany and its allies. It is seen by historians as revenge by the victorious communist partisan fighters immediately after the war ended.

In recent years, commemorations of Nazi collaborators, including state and church officials, have become commonplace in Eastern Europe, where many regard them as patriots who fought Russian Soviet domination.

The event's organizers listed fascist leaders like Maks Luburic and Jure Francetic among those to be commemorated. They also said the event is meant to commemorate all war victims.
Queens Nazi-lover busted for buying a cache of 'ghost' guns, feds say
An anti-Semitic Queens man who fantasized about "martyring" himself in a mass shooting was busted with a pal for buying a cache of assault rifles from an undercover agent, the feds said Wednesday.

Joseph Miner, 29, and Daniel Jou, 40, allegedly met the undercover May 12 in a Queens hotel room.

Miner allegedly bought an "AR-15-style ghost gun with a silencer," a Mossberg 500 shotgun and a 9mm semiautomatic pistol, according to court papers. "Ghost guns" are firearms made from different gun parts and without serial numbers or other identifying markings, according to the feds.

Jou purchased a fully automatic Colt M4 assault rifle and a Glock 9mm semi-automatic pistol. The pair added ammunition and high-capacity magazines to their order, paying a combined $3,290 for the weapons stockpile, the complaint states. They were arrested as they left the hotel room.

Authorities began investigating Miner in late 2019 after he posted a series of disturbing messages on social media expressing hatred of Jews and blacks and extolling violence.

In response to a gruesome crime scene photo of the December 2019 machete attack at a Hanukkah party in Monsey, he allegedly wrote on Instagram, "ngl [not gonna lie] this is pretty f–king exciting."

In another post, he wrote "God I hate women jews and n—–rs" under a photo of himself giving a Nazi salute.
MEMRI: Moroccan YouTuber Anas Arex: The Jews Are the Brothers – Not the Offspring – of Apes and Pigs
Moroccan YouTuber Anas Arex said in a video that he uploaded to his YouTube channel on April 28, 2020 that Allah once tested a certain tribe of Jews whose livelihood was fishing by causing the fish to come only on Saturday, the Jewish Sabbath. Arex said that the Jews schemed to fish indirectly on the Sabbath by digging trenches that would trap the fish so that they could be collected on Sunday, and he said that as punishment for their disobedience, Allah transformed these Jews into apes. Arex clarified that since these apes did not have any offspring, today's Jews are the brothers of apes and pigs, because they resemble them in "conduct and traits", rather than the descendants of apes and pigs, as Jews have been sometimes referred
Tube hero Asma Shuweikh to testify in court if charges are brought against man who harrassed multiple Jewish families on Northern Line last year
Asma Shuweikh, who made headlines last year defending a Jewish family on the London Underground as they were subjected to 20 minutes of antisemitic abuse, has revealed that British Transport Police confirmed that the suspect also harrassed another Jewish family that day, also on the Northern Line, and if the case proceeds to court, she will testify.

The incident last November was caught on video by a commuter and involved the suspect, dressed in a hooded tracksuit top and a cap, reading from what may be a bible and gesturing at a Jewish father and his sons, who are wearing Jewish skullcaps called kippot. He tells them, "I will make them of the synagogue of Satan, which say they are Jewish, and are not, but do lie," adding: "Behold, I will make them come and worship before your feet, and they will know that I have loved thee."

The Jewish man can be seen calmly putting his arm around one of his sons and comforting him, saying: "just ignore him."

An upstanding male passenger, whose face cannot be seen in the footage, confronted the abusive man, who responded by saying "I'm no Christian pastor" and threatens to punch him and telling him to: "F*** off."

Ms Shuweikh, an observant Muslim who wears a hijab, then bravely stood up for the Jewish family, telling the abusive man not to use such language in front of children. The man replied: "These people are impostors, they are trying to claim my heritage and then try and tell me that it's cool and then they start the slave trade." The man continued ranting: "It's not my opinion, it's G-d's word", but Ms Shuweikh took issue with him again and tried to reason with him, distracting him from continuing his abuse of the Jewish family. The man exited the train at Waterloo Station.
Harry S. Truman and Israel, Legacy of a Great Statesman
May 14, 1948 will mark the 72nd anniversary of the founding of the modern State of Israel. Israel's War of Independence was arguably its most difficult. Six-thousand citizens out of 600,000 were killed. More than 2,000 of these were civilians.

But the war did not begin on May 14. It actually began on November 30, 1947 one day following a United Nations General Assembly vote in favor of partitioning Mandatory Palestine into Jewish and Arab states. The following day, Arab brigands attacked two civilian Egged buses on route from Hadera and Netanya to Jerusalem, killing six and injuring several more. That incident marked the beginning of the conflict.

In the first four months of conflict, the outlook for the Jews was bleak. Three successive Arab terrorist bomb attacks targeting high profile Jewish targets in Jerusalem inflicted mass casualties and sapped morale. Two of those attacks – the bombing of the Palestine Post newspaper offices and the Ben Yehuda Street bombing – were facilitated by British soldiers. The topography also favored the Arabs, who held much of the high ground and specialized in ambushing Jewish vehicles heading to isolated outposts.

Making matters worse for the Jews were the British occupation authorities, who openly sided with the Arabs. Right up until the end of their mandate, the British zealously enforced immigration quotas against the Jews but turned a blind eye toward organized Arab infiltration. In addition, they attempted to prevent the Jews from acquiring arms while the Arabs were free to purchase weapons on the open market. In one ignominious incident, four Jewish Haganah operatives were disarmed by British soldiers and released into the hands of an Arab mob where they were promptly lynched.

Thankfully, these reversals were temporary in nature and by late March early April, the military initiative swung in favor of the Jews, who launched a series of successful counteroffensives. By May 14, the military situation had improved markedly. Notwithstanding the improved military situation, Israel's Head of Operations Yigal Yadin informed David Ben Gurion, Israel's first prime minister, that the newly formed state had a fifty-fifty chance of fending off the combined might of five Arab armies in the invasion that was sure to come after the independence proclamation.

The political battle was no less important than the military one. The newly created State of Israel needed political recognition and extension of recognition by the world's greatest superpower would amount to nothing short of a monumental success, equal to the victories on the battlefield.
Harry Truman - The man from Missouri who helped change Jewish history
TRUMAN REMAINED loyal to his own favorite prayer, which he had memorized and would say often. "Almighty and Everlasting God, help me to be, to think, to act what is right, because it is right. Amen." To that he would add, "Say what you mean, mean what you say. Keep your word."

Truman's commitment to a Jewish state, however, was very different from Roosevelt's. When it came to a Jewish state, Roosevelt could not be trusted. To Zionist leaders, FDR made pro-Zionist statements, but when he met with Saudi leader Ibn Saud, the president said, "I learned more about the Muslim problem and the Jewish problem by talking to Ibn Saud for five minutes."

A few days later, he sent Ibn Saud a letter in which he wrote, "I will not undertake as the head of Executive branch... any action likely to be hostile to the Arab people."

As Michael Bar Zohar, David Ben-Gurion's biographer, writes, "If Roosevelt had completed his term of office, it is doubtful whether a Jewish State would have come into being."

As anyone who studies the Bible knows King David and Solomon did not reign in Portugal. Samuel was not a Judge in Spain. Ruth did not utter her famous "Where you go I shall go" from Brussels. When the prophet said "Houses, fields and vineyards will yet be bought in this land... soon will there be heard in the mountains of Judah and in the streets of Jerusalem the voice of joy and gladness," it was not the words of a foreign resident with an European passport, but the words of Jeremiah speaking from the heart of Jerusalem!

Truman understood that very well. When Israel's first chief rabbi, Isaac Herzog, visited the White House to thank Truman, he told him, "Mr. president, God put you in your mother's womb so you could be the instrument to bring about the rebirth of Israel after 2,000 years."

When the Rabbi finished, David Niles, the president's assistant, who was in the room, thought the rabbi might have overdone it until he looked at the president and saw tears running down his cheeks. That is why Harry Truman will never be forgotten by the Jewish people and the friends of Israel.
Today is the 2nd anniversary of the opening of the US Embassy in Jerusalem. Pls enjoy this video which captures some of the highlights, & shares some reflections, of that historic day. Thanks Pres. Trump for keeping a sacred promise to an ancient people. https://t.co/SsMn2Yd9Bc

— David M. Friedman (@USAmbIsrael) May 14, 2020
Picture of new immigrant absorption minister @pnina_tamano_sh arriving in Israel at age 3. @gantzbe, who made history by appointing her as the first Ethiopian immigrant to be be a minister, took part in Operation Moses that brought her to Israel. https://t.co/045YhvzJiL

— Gil Hoffman (@Gil_Hoffman) May 14, 2020
Seventy two years ago, on May 14, 1948, the modern State of Israel was established, but the bond between the Jewish people and their historic homeland 🇮🇱 dates back over three millenia.

This is our story. #israel72 pic.twitter.com/ItaYRfn8mv

— Israel ישראל (@Israel) May 14, 2020
This video always gives me goosebumps! #OnThisDay 72 years ago (1948), David Ben-Gurion proclaimed the independence of the State of #Israel and the re-establishment of the sovereign Jewish nation. #ThrowbackThursday pic.twitter.com/vQ3jeAFlqs

— Arsen Ostrovsky (@Ostrov_A) May 14, 2020
---
---
We have lots of ideas, but we need more resources to be even more effective. Please
donate today
to help get the message out and to help defend Israel.