From Ian:
---
Man stabbed in Monsey Hanukkah attack succumbs to wounds
A man seriously wounded in a Hanukkah attack on a Jewish gathering in Monsey, New York, has died, three months after the stabbing rampage.

Josef Neumann, 72, succumbed to wounds sustained during the December 29 machete assault, a local Jewish group said Sunday.

"We are sad to inform you that Yosef Neumann, who was stabbed during the Hanukkah attack in Monsey late Dec 2019, passed away this evening," the Orthodox Jewish Public Affairs Council said in a statement posted to Twitter.

Rabbi Yisroel Kahan, who is the community liaison for the Ramapo Police Department that serves Monsey and executive director of Oizrim Jewish Council, shared the news of Neumann's passing on his Twitter account as well.

"We were hoping when he started to open his eyes," Rabbi Yisroel Kahan told The Journal News on Sunday night. "We were hoping and praying he would then pull through. This is so very sad he was killed celebrating Hanukkah with friends just because he was a Jew."

Neumann was the most seriously injured in the attack and doctors had said there was little chance he would ever make a full recovery. He had been in a coma since the attack, according to NBC News.

His death came despite hopes that his condition may improve after he reportedly opened his eyes at the end of February.
16th Israeli dies of virus, Health Ministry predicts 150 critical patients
Israel's coronavirus death toll climbed to 16 on Monday after a 58-year-old man with underlying medical conditions died at the Yitzhak Shamir Medical Center, south of Tel Aviv.

The news came as Health Ministry Director-General Moshe Bar Siman Tov warned that there are likely to be over 150 coronavirus patients in a serious condition in Israel by the weekend.

"I don't see a model in which we end this situation with a small number of intubated patients or deaths," Bar Siman Tov told KAN Reshet Bet.

A total of 4,347 Israelis have been diagnosed with the novel coronavirus to date, including 80 people in serious condition - among them a young man in his 20s who was hospitalized at Assuta Ashdod University Hospital - and 63 patients requiring ventilation.

Despite testing close to 6,000 people on Sunday, Bar Siman Tov said the tests were only giving authorities a "very partial picture" of the real situation.
PMW:
Coronavirus and PA financial priorities
The amount the PA is paying terrorists this month could buy them 387,143 Coronavirus test kits or 465 ventilators instead

For which leaders is the payment of financial rewards to terrorists more important than supporting the needy or paying teachers?

The answer is, of course, the Palestinian Authority leaders– during the Coronavirus crisis!

Anticipating a fall in income, PA Prime Minister Muhammad Shtayyeh announced that the payment of the March salaries will be staggered, and every day a different group of PA employees will be paid. The order of payment is a clear indication of the PA's priorities.

Preceded only by the medical and supporting personnel, and the PA Security Forces members, third in line to receive their share of the limited PA budget are the terrorist prisoners and the families of the dead terrorists, the so-called "Martyrs."

"Since the wheels of production, import, and consumption have stopped, there will be a large drop of more than 50% in the PA's revenues… The international aid will decrease because the entire world is in crisis, and therefore we will work according to an emergency austerity budget by reducing the expenses as much as possible. However, we will pay the salaries for this month [March] in full and over the course of several days in order to prevent gatherings in front of the banks, and this [will be] in the following manner:

On Sunday the salaries of the medical and supporting personnel will be paid.
On Monday to the [PA] Security Forces members.
On Tuesday to the prisoners and [the families of] the Martyrs.
On Wednesday to welfare cases and the poor.
On Thursday to the teachers.
On Friday to the rest of the [PA] public employees.
The last payment, on Saturday, will be to senior officials, to high level state employees, and to the ministers."
[WAFA, Official PA news agency, March 29, 2020]

As Palestinian Media Watch has shown, this is not the first time the PA has clearly demonstrated its warped priorities. In 2019, when the PA decided to plunge itself into a self-made financial crisis and was forced to cut salaries to its law abiding employees, it nevertheless committed itself to paying, in full, the salaries of the terrorist prisoners and allowances of the families of the dead terrorists.

Similarly, the fact that the PA prioritizes the payment of the terror rewards over the payment of benefits to the needy Palestinians, is not a surprise. As PMW demonstrated, the PA devotes six times more of its budget to the terrorist prisoners and the families of the dead terrorists than it does to its needy.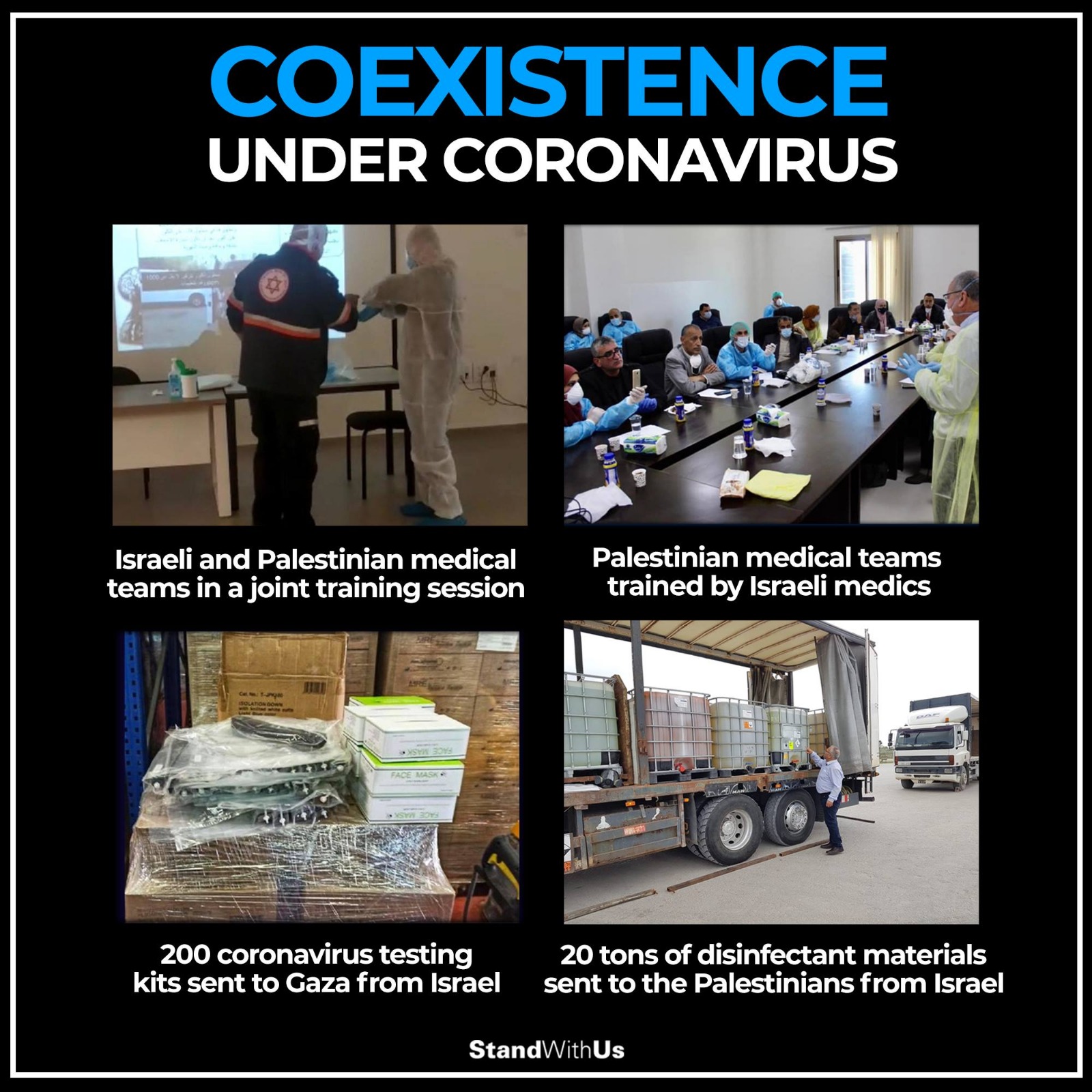 Poll finds public gives good marks to Netanyahu on coronavirus
In the midst of the crisis over the coronavirus, a majority of Israelis believe Prime Minister Benjamin Netanyahu is handling it well, according to a poll taken for the Israel Democracy Institute.

The poll of 611 Israelis representing a statistical sample of the Israeli adult population asked about several public figures and counted what percent of them gave the public figures grades of good or very good.

Sixty percent gave Netanyahu at lest a good grade. The only public figure who scored higher was Health Ministry Director-General Moshe Bar Siman Tov, with 68%.

The rest of the public figures did not get a positive grade from a majority of the public. Health Minister Yaakov Litzman got a good grade from 40% of respondents, Blue and White leader Benny Gantz from 34%, former Knesset speaker Yuli Edelstein 31% and incoming opposition leader Yair Lapid 18%.

As for institutions, the hospitals received a positive score from 83%, the media from 58% and the Finance Ministry from 39%.

Despite the crisis, a majority of the interviewees (60%) reported that their mood was very good or moderately good, while 37% defined their mood as moderately bad or very bad.

Seventy-five percent are very afraid or moderately afraid that they or one of their family members will be infected with the coronavirus, and about the same number (73.5%) acknowledge that they fear for their own economic situation.
Netanyahu, aides self-isolating as precaution after adviser infected with virus
Prime Minister Benjamin Netanyahu and his advisers are voluntarily entering quarantine as a precaution until Health Ministry officials finish their epidemiological investigation into whether he was exposed to the coronavirus, his office said Monday, hours after saying the move was unnecessary.

"Even before the epidemiological investigation is over and to remove all doubt, the prime minister has decided that he and his close staff will remain in isolation until the epidemiological investigation is completed," the Prime Minister's Office said in a statement.

"In accordance with the findings, the Health Ministry and the personal physician of the prime minister will set a day to end the isolation," it added.

Netanyahu's aide Rivka Paluch was confirmed infected with the virus on Sunday, but it remains unclear whether the prime minister was in close contact with her.

Reports earlier in the day had said Netanyahu would have to be quarantined, but his bureau countered that, saying in a statement that the premier hadn't been in the same room as Paluch in the last two weeks.
Honest Reporting:
Coronavirus And 7 Reasons Why There's No 'Gaza Siege'
Here are seven reasons why Gaza's situation is far removed from the definition above.

1. Israel does not want to capture Gaza. Israel withdrew its soldiers and its civilian population from the Gaza Strip in the 2005 Disengagement. If Israel wished to retake Gaza, it would not need to lay siege to the territory before using its considerable military power to retake it.

2. A siege is an aggressive military act. But who is actually attacking whom? All of Israel's military operations since withdrawing from the Gaza Strip have been in response to thousands of rockets fired by Palestinian terror organizations towards Israeli population centers.

3. In fact, Israel's blockade is a defensive measure meant to protect its population from terrorists by preventing those terrorists entering Israel, smuggling weaponry into the Gaza Strip, or getting hold of materials that could be used to manufacture weapons. Indeed, the primary reason for the Gaza blockade from both the Israeli and Egyptian sides is the threat of Hamas weapons smuggling.

4. What kind of "siege" can Gaza be under when the "besieged" call on their people not to travel abroad? Indeed, under the threat of coronavirus, the Hamas-run Health Ministry in March 2020, urged Palestinians in the Gaza Strip to avoid travel abroad. "We call on citizens to not depart the Gaza Strip — unless totally necessary — in order to preserve their well-being," the ministry said in a statement. Further evidence that movement of people, while restricted to those with permits from Israeli authorities and the few hundred per day allowed through the Egyptian Rafah border crossing, is still possible.
UN praises 'excellent' Israeli-Palestinian cooperation in fight against pandemic
Perhaps uncharacteristically, the United Nations has showered praise on Israel for its "excellent" cooperation with the Palestinian Authority in fighting the coronavirus.

PA government spokesman Ibrahim Milhem has repeatedly mentioned working together with Israel in his daily press briefings. However, other Palestinian top officials have continued to condemn the Jewish state, accusing it of cruelly abusing the health crisis to violate Palestinian human rights.

"We hold discussions and consultations every day with the relevant UN officials. We hear from them praise for the State of Israel for the coordination and good cooperation in dealing with the coronavirus crisis, which in our view is essential and necessary for an effective response to the spread of the virus," Alon Bar, deputy director-general for the UN and international organizations at the Israeli Foreign Ministry, said Sunday.

Israeli and Palestinian officials, having long worked together on security and civil matters, recently set up a special mechanism to communicate "moment by moment" on all issues related to the virus, a senior Palestinian official told The Times of Israel.

But while the Palestinians don't generally talk too much about their coordination with Israel, various UN officials went out of their way over the past week to highlight it.
When the UN is praising Israel, you know it's getting serious! https://t.co/4ooAYbkxTH

— Arsen Ostrovsky (@Ostrov_A) March 29, 2020
The coronavirus doesn't discriminate between nationalities, but this flawed map sure does. Memo to @WHO: Israelis are suffering too.https://t.co/wk4DFHLf8g pic.twitter.com/9ZLnWUZU5L

— HonestReporting (@HonestReporting) March 30, 2020
Tom Gross: Some European leaders thank Netanyahu for pushing them to act against coronavirus
Jack Ma, Alibaba Foundation Donate Medical Supplies to Israel to Fight Coronavirus
Jack Ma, the founder and former chairman of Alibaba Group Holding, through the Alibaba Foundation and Jack Ma Foundation has donated medical supplies to Israel to help fight the coronavirus (Covid-19) pandemic, the foundations announced Sunday. The supplies include Covid-19 test kits, face masks, face shields, and protective clothing.

The two cargo flights loaded with the medical supplies departed from Shanghai and arrived in Tel Aviv Sunday.

The foundations have also donated medical supplies and testing kits to 24 Latin American countries including Argentina, Brazil, and Chile, testing kits and masks to 54 countries throughout Africa, and 800 ventilators to different countries in Europe.

Ma has visited Israel twice, both times in 2018, during which he met with Prime Minister Benjamin Netanyahu, local tech entrepreneurs, and received an honorary doctorate from Tel Aviv University.
Coronavirus with VP Mike Pence and Dr. Deborah Birx | The Ben Shapiro Show Sunday Special Ep. 88
Vice President Mike Pence, Chair of the White House Coronavirus Task Force, and Dr. Deborah Birx, United States Global AIDS Coordinator and Response Coordinator for the task force, join me to discuss the White House decision making process, when we can expect all of this to come to an end, and much more.
US Ambassador to Israel donates $50 thousand for needy Israelis
For the upcoming Passover holiday, U.S. Ambassador to Israel David Friedman and his wife Tammy donated $50,000 to Leket Israel, Israel's largest food aid organization, to help fund their hot meals distribution program for needy populations across the country.

This contributes to the donation made by the Family Fund Of Inbar and Marius Nacht.

Ambassador Friedman and his wife are donating the $50,000 to help secure the nutritional security of the elderly and needy during the coronavirus crisis.

Throughout the year, Leket Israel deals with food rescue through donations of surplus food received from hotels, catering companies, the IDF and other sources.

In addition, the organization receives surplus agricultural food, transferring it through a process that ensures maximum food security, to about 200 nonprofits across the country that deliver food to approximately 175,000 people in need.
Johnson & Johnson to start coronavirus vaccine human trials in September
Johnson & Johnson said on Monday that it and the U.S. government will invest $1 billion to create enough manufacturing capacity to make more than 1 billion doses of a vaccine it is testing to stop the new coronavirus that has killed more than 35,000 people around the world.

As part of the arrangement, the U.S. government will pay $421 million to support the company's efforts to build new manufacturing capacity in the United States.

J&J said it had selected its own lead vaccine candidate and would start human testing by September, with an eye on having it ready under an emergency use authorization in early 2021, far quicker than the typical 18 month period that it takes for vaccines to be tested, approved and then manufactured.

J&J Chief Scientific Officer Dr. Paul Stoffels told Reuters the company had to start ramping up manufacturing capacity now, even before it has a signal that its experimental vaccine candidate works. The company will start making the vaccine at risk, without knowing for sure that it works.

"That is the only option for us to get it on time," Stoffels said in a phone interview.
Mossad obtains 10 million more coronavirus masks for Israel
The Mossad purchased 10 million protective medical masks to help deal with the coronavirus more than a week ago under the leadership of its director, Yossi Cohen, The Jerusalem Post has learned.

Due to the sensitivity of the information, the Post could not report the announcement until Monday when they arrived in Israel, but did note in a report on Friday that eye-popping new acquisitions were on the way.

In addition to the 10 million medical masks, the Mossad brought a few dozen ventilators, tens of thousands more test kits, around 25,000 N95 surgical masks that are designed to protect the wearer from airborne particles and from liquid – and the intelligence agency is expected to bring even more medical equipment to the country. Cohen is heading up a special command center along with other national security units and the Health Ministry.

Last Tuesday, Prime Minister Benjamin Netanyahu announced that Cohen was taking over the country's efforts to purchase medical equipment from abroad.

Cohen succeeded in bringing 100,000 test kits to Israel two weeks ago, with an estimated four million on the way.
Israel's tech industry rallies to virus war effort
Leading figures from the industry have set up a war room, and are importing medical equipment for hospitals.

Yasmin Yablonko A war room manned by Israeli technology industry volunteers has been operating in recent days, raising money and buying and importing medical equipment for hospitals in Israel in order to help them cope with the burden of the coronavirus epidemic.

A core of volunteers is coordinating this activity, among them Lemonade cofounder and COO Shai Wininger and Mellanox founder and CEO Eyal Waldman, who is handling purchasing and importing. There is also a larger group of volunteers from various companies, among them Omer Perchik from startup Any.do and Guy Globerman from Israel 2050. The group has already raised substantial sums, which it is using to buy medical equipment and import it to Israel, but it has yet to disclose details about its fundraising.

"It is wonderful to see the spontaneous and broad enlistment in this effort here: Mellanox, which has been dealing with the matter for a long time, and investing many resources, including air shipping of equipment; companies such as El Al and Israir, which are contributing cargo flights; and other entrepreneurs helping in fundraising and operations," Wininger says. He explains that the war room is operating in three main areas: fundraising, learning about hospitals' needs, and purchasing equipment and bringing it to Israel. Activity currently focuses on perishable equipment, such as masks, rather than respirators.
Ra'anana High School Team Invents Simple, Cheap Respirator, Soon to Be Mass Produced
Mentors in the robotics group Steampunk1577 from Avib High School in Ra'anana, Israel, have joined the Defense Ministry and the Administration for the Development of Weapons and Technological Infrastructure (MAFAT), which is relying on robotics teams around the country to create a new prototype for automated respirators.

The venture, which also includes the Air Force and MDA, was launched in preparation for an escalation of the coronavirus pandemic in Israel, which is expected to result in shortages of automatic ventilators. As part of the venture, robotics groups across the country which are enrolled in the robotics organization FIRST (For Inspiration and Recognition of Science and Technology), were requested to come up with a new, automated prototype, based on the Ambu resuscitator, which is used to manually blow air through a patient's mouth into the common in ambulances and hospitals.

The venture involves team mentors from the three groups that participate in the project: Aviv High School in Ra'anana, a group from Shoham, and a group from Binyamina.

Currently, the three groups have collaborated on a prototype that is already undergoing trials at Sourasky Medical Center (Ichilov) in Tel Aviv, one of Israel's largest hospitals. The prototype is expected to go into mass production in the coming weeks, and two new prototypes are on the way.
Prof. Levitt Explains his 'I'll Be Surprised If 10 Israelis Die' Statement
Finally, remember Professor Michael Levitt, the American-British-Israeli-South African biophysicist, and professor of structural biology at Stanford University, who gained notoriety in Israel a couple of week ago for saying, "I would be surprised if more than 10 people die in Israel"? Well, after the 15th victim had died on Sunday, Prof. Levitt was asked to defend his statement on Reshet Bet radio. He gave a good answer, but it involved using the blood-curdling logic of the folks who put together actuarial tables, determining the probability that a person of a given age will die before his or her next birthday.

Prof. Levitt explained that when he said "people" he meant individuals with a robust life expectancy. Statistically speaking, he noted, "the average age of the deceased in Israel is the highest in the world, 83-84," when it came to coronavirus victims. All those folks would have died anyway in a statistical minute, or as Levitt put it: "If you add up all the dead so far in Israel, it's like losing a single 31-year-old in a scooter accident," in actuarial terms.

Indeed, when you check the list of coronavirus casualties by country, you quickly realize that Israel has suffered the lowest number of dead compared to countries with the same general economic situation and a similar number of infections, as of Monday morning:
IDF returns Jordanian seeking coronavirus treatment after crossing border
A Jordanian citizen reportedly seeking treatment for the coronavirus was transferred back Jordan after being detained by IDF troops.

The man was identified by a resident of Beit Yosef after he crossed into Israel's northern Jordan Valley. While according to Kann public broadcaster, the man had crossed into Israel seeking treatment for the coronavirus, he was transferred back to Jordan by the IDF and Israel police.

Also on Monday, Defense Minister Naftali Bennett announced that all regional authorities will decide if individuals who have tested positive for the virus will be taken to quarantine facilities set up across the country or if they can safely self-quarantine at home without putting their families at risk.

"There is a difference between a single person living alone and a large family living in the same apartment," Bennett said during a daily press conference updating the public on the virus in Israel.

The defense ministry has opened several quarantine facilities in hotels across the country, including in Jerusalem, Tel Aviv, Haifa and in the south. More quarantine facilities are continuing to be opened, Bennett said.
Khaled Abu Toameh:
Palestinians close factories producing fake coronavirus masks, sanitiser
Several factories and businesses that were manufacturing unlicensed face masks and hand sanitizers to prevent the spread of coronavirus were closed by the Palestinian Authority in the past two weeks.

More than 40 suspects were arrested on charges of fraud, price gouging and manufacturing unlicensed products, a PA National Economy Ministry official said.

The crackdown came in response to complaints from many Palestinians that the products did not meet the standards and regulations of the PA Health Ministry and National Economy Ministry, the official said.

The unlicensed products were being sold at high prices to thousands of anxious Palestinian consumers in different parts of the West Bank.

"Most of the products carried fake labels indicating they had been approved by the Health Ministry," said Mohammed Nabil, a pharmacist from Hebron. "We were not aware that the face masks and hand sanitizers were fake until health officials and policemen raided our pharmacy and confiscated the gel bottles and masks."

Some businessmen were exploiting the panic over the coronavirus to make illegal profits, PA Health Ministry official Ashraf Abu Khalaf said.
"We won't hesitate to take strict measures against those behind this ugly and disturbing phenomenon," he said.
COGAT coordinates restoration of CT machine in Gaza
The Defense Ministry coordinated the transfer of medical equipment donated by the World Health Organization that will be used to repair the defective CT machine at the European Gaza Hospital.

The Coordinator of Government Activities in the Territories' (COGAT) Coordination and Liaison Administration (CLA) oversaw the transfer.

The hospital provides medical treatment for dozens of patients daily.

"The Coordination and Liaison Administration for the Gaza Strip is working around the clock in cooperation with international organizations in an effort to assist the Gazan health system provide optimal support in various areas for Gaza residents," said the Head of CLA Gaza, Colonel Iyad Sarhan. "This type of coordination is but part of the extensive action taking place under the leadership of CLA officers, soldiers, and other employees."

Sarhan stressed that the CLA is working to stop the spread of the coronavirus in Gaza. "CLA Gaza will continue to extend a hand to the international organizations operating in the Gaza Strip because only together will we succeed in our joint mission – stopping the spread of the epidemic," said Sarhan.

The United Nations expressed fears on Monday that the Gaza Strip's health system would not be able to handle the large number of cases if the coronavirus outbreak spreads. There are only 60 ventilators in the Gaza Strip for all medical emergencies among the population of 2 million.
Last week, hundreds of coronavirus testing kits and 1,000 protective medical gear kits were transferred by COGAT to Gaza.
PreOccupiedTerritory:
Shift To Work-From-Home A Snap For Hamas Bombmakers Using Family As Human Shields (satire)
Changes in professional habits in response to the dangers of the coronavirus pandemic have resulted in struggles for many employees and contractors transitioning to a transfer of at least some professional functionality to domestic environs, but that does not include ordnance manufacturers operating within the militant Islamist organization that governs this coastal territory, observers have noted, since those explosives producers already operate in such a setting to exploit the reluctance of the Israeli military to strike where they know noncombatant women and children also reside.

Hamas and other terrorist groups operating in the Gaza Strip have long placed their positions, facilities, depots, and other logistical and military assets inside, under, or in close proximity to homes, child care centers, hospitals, and similar sites, in violation of the Laws of Armed Conflict, knowing that Israel will often refrain from hitting such targets for fear of killing innocents, and that if Israel does conduct such a strike, the inevitable civilian casualties can serve as weapons in the ongoing propaganda campaign to portray Israel as monstrous. This disposition gave these groups a head start on the new trend amid COVID-19 adjustments taking place worldwide to mitigate the contagion of the pathogen by discouraging the congregation of people in offices, and enabling or mandating work-from-home arrangements, a spokesman for Hamas boasted today.

"We're way ahead of the game in that department," gushed Fawzi Barhoum. "We've been following the work-from-home model for more than a decade. Our experience in that mode of operation, that professional culture, has helped us avoid any major disruptions where others have encountered major management and logistical setbacks. It's in our wheelhouse."
Egyptian-American Researcher Samuel Tadros: There Is an Increase in Atheism in the Middle East because of Groups like ISIS, the Muslim Brotherhood; Religious Discourse Is Failing to Answer People's Questions pic.twitter.com/pnMSThNCul

— MEMRI (@MEMRIReports) March 30, 2020
MEMRI:
Syrian Opposition Websites: The Iranian Militias Are The Main Vector For Mass COVID-19 Infections In Syria – And The Syrian Regime Is Keeping It A Secret
As COVID-19 spread across the Middle East, the regime of Syrian President Bashar Al-Assad continued to assert until recently that it had not reached Syria. Only on March 22, 2020 was the first case in the country announced.[1]

However, Syrian opposition websites stated that the virus had arrived in Syria many days, even weeks, earlier, and that the regime was intentionally hiding the large number of cases in the country. These websites said that the main vector for the disease's spread in Syria was the pro-Iran militias coming in from Iran and Iraq, where the disease is rampant. They also said that the Syrian regime was concealing the number of those with the disease, warning medical staff not to reveal the numbers, and even killing off infected patients. At the same time, opposition elements expressed fears that the regime would say that oppositionists tortured to death in its prisons had died of COVID-19 instead.

The Syrian regime responded by saying that the only reliable information about the virus was on Syrian Health Ministry websites. Articles in the Syrian government press rejected the opposition's claims about regime concealment of the actual numbers of COVID-19 patients in the country and called for trusting the state and not believing elements trying to foment fear in society.
Iranian Diplomats Instigated Killing of Dissident in Istanbul, Turkish Officials Say
Two intelligence officers at Iran's consulate in Turkey instigated the killing last November of an Iranian dissident in Istanbul, two senior Turkish officials told Reuters. Masoud Molavi Vardanjani was shot dead on an Istanbul street on Nov. 14, 2019, a little over a year after he left Iran. He worked in cyber security at Iran's defense ministry and had become a vocal critic of the Iranian authorities.

A Turkish official said "the testimonies of the arrested suspects [showed] that these two Iranians, carrying diplomatic passports, had given the order for the assassination," and identified the two men by their first names and initials. Vardanjani posted a message on social media targeting Iran's Revolutionary Guards in August, three months before he was shot dead. "I will root out the corrupt mafia commanders," the post said. "Pray that they don't kill me before I do this."
This article is a mix of technical errors regarding how US sanctions work, a couple of stone cold Iranian regime talking points, and then the rest is stale fan fiction of the kind you can regularly find posted on Iran Echo Chamber accounts here on Twitter dot com. https://t.co/c7HeUB5QFp

— Omri Ceren (@omriceren) March 29, 2020
Iranian Researcher Amir Mousavi: Iranian, Russian, Chinese, Cuban Scientists Are Studying Possibility that the U.S. Created COVID-19; U.S. Does Not Mind Killing Its Own People, Like It Did on 9/11 pic.twitter.com/TlQTqJZjFE

— MEMRI (@MEMRIReports) March 30, 2020
IAF, USAF hold joint F-35 drill in southern Israel
Despite the coronavirus, Israeli Air Force F-35s trained alongside American F-35s on Sunday in the Enduring Lightening training exercise.

The drill had pilots drill on "a wide variety of operational theaters while strengthening the cooperation between the forces," as well as face various aerial and ground threats the IAF said in a statement

The drill saw Israeli Adir F-35s aircraft from the IAF's 140 Golden Eagle Squadron train alongside F-35s from the USAF's 34th fighter squadron, as well as IAF's 122 squadron which operates the Nahshon Gulfstream G-500 aircraft.

Maj. M, leader of the exercise on behalf of the 140 squadron, was quoted by the IAF's website as saying that "this will be the second time we'll fly alongside an American F-35. We aspire to stay as connected as possible to countries involved in its development project, and training with the Americans presents an excellent opportunity to do so since they have a lot of knowledge and expertise on the matter. The exercise we conducted was intimate. The forces flew in two formations of four, and communicated directly as opposed to through an indirect channel."

Despite the cancellation of all international joint exercises because of the continued spread of the deadly coronavirus across the globe, the drill had received special permission as it was due to take part in the air with no person-to-person contact.
Israeli Air Force & @usairforce 5th Gen. F-35 jets just completed the "Enduring Lightning" exercise over Israel's skies.

Both forces operated in full accordance with #COVID19 restrictions. Even at a distance, the US-Israel partnership remains as close as ever 🇮🇱🇺🇸 pic.twitter.com/tJLebP6Yzj

— Israel Defense Forces (@IDF) March 30, 2020
What a beautiful image from 1944/45.

Joseph Wald, a soldier in the Jewish Brigade - part of the British Army fighting the Nazis, and made up of Jews from the land of Israel - holding an artillery shell with "A Gift for Hitler" written in Hebrew plus a Jewish star. pic.twitter.com/aIeUxbrAf2

— AZ (@americanzionism) March 30, 2020
---
---
We have lots of ideas, but we need more resources to be even more effective. Please
donate today
to help get the message out and to help defend Israel.